Mouthwatering vegan meatballs filled with protein, iron and veggies. These are so versatile and perfect for pasta, sandwiches, as an appetizer or alone!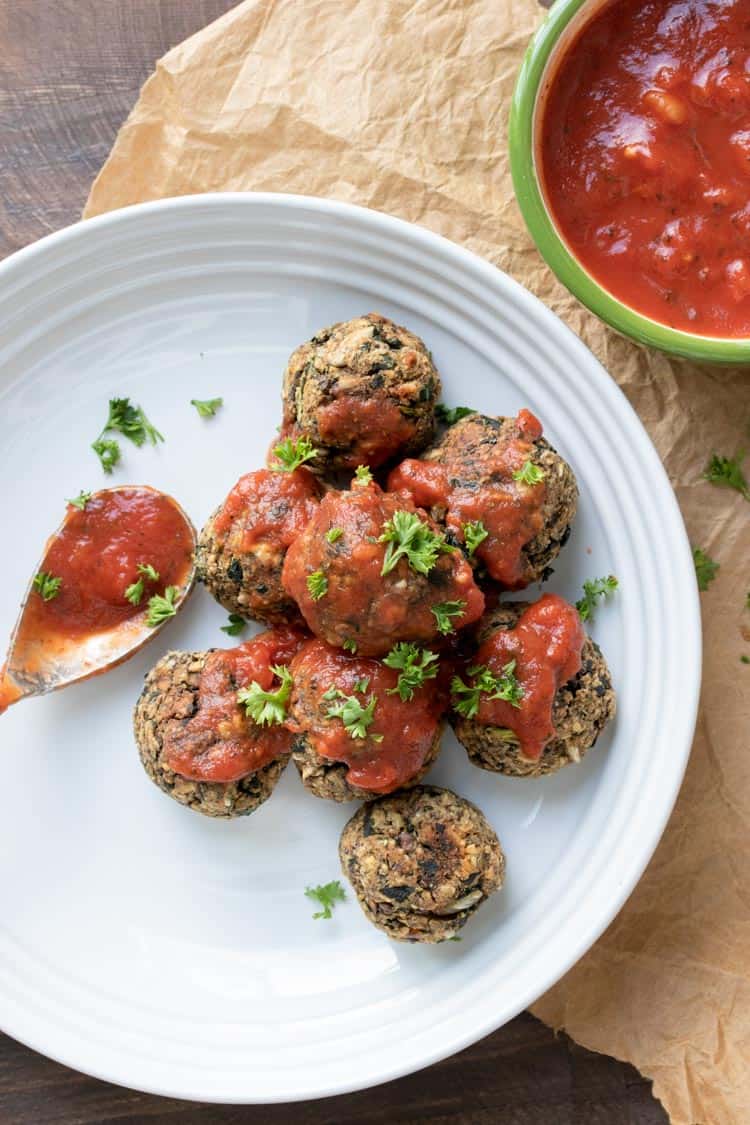 This recipe was originally published on 9/19/16
A meatball is really a round burger in my book. And since I am burger obsessed, I needed a good vegan meatball go-to in my back pocket. So here we go, filled with goodness, easy to throw together and perfect for the freezer!
Vegan Meatballs
There are many processed fake meat products out there that make vegan meatballs, but since we like to mostly focus on a more whole foods based diet, I needed to find a way to get a texture and flavor we loved with whole foods.
Because we are Italian food fanatics, I made these with an Italian flair (kinda like my husband ;)) and they turned out so good! We love the texture just as much as the flavor!
The idea for this recipe came from my lentil veggie burger recipe. It's simple with actual veggies and I love how it is easily made gluten free using gluten free oats. The combination of oats, lentils and mushrooms give these a great texture. And the added sunflower seeds give them a little extra oomph!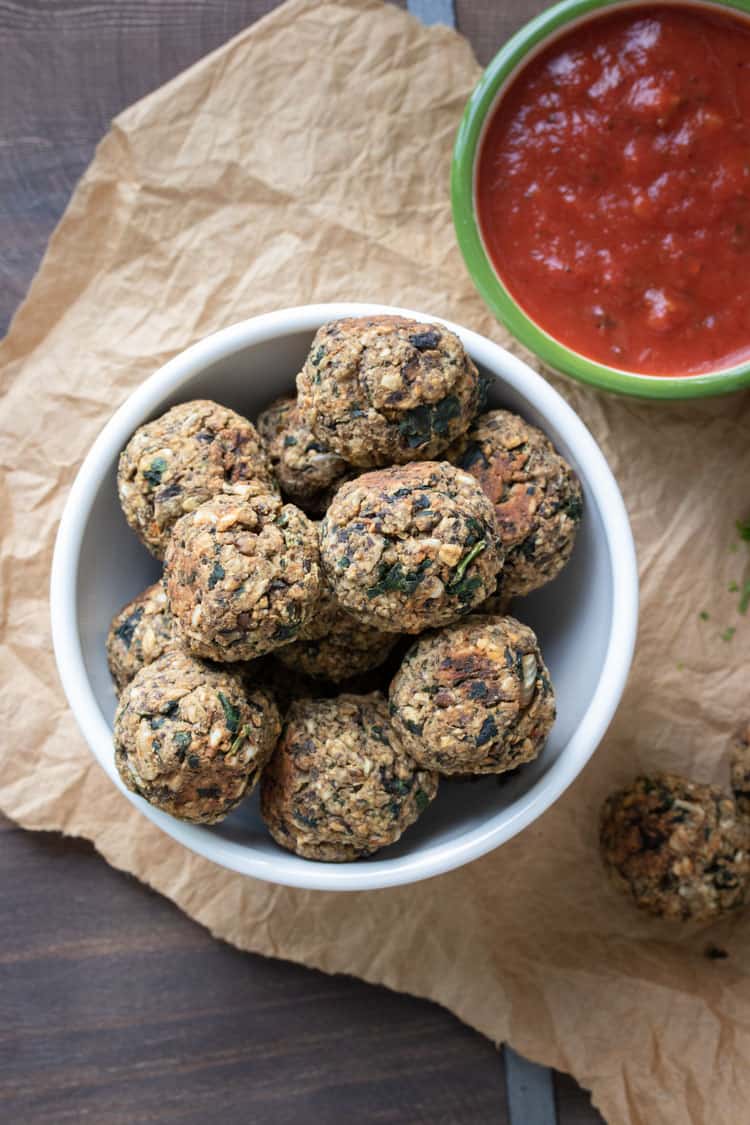 Can you freeze vegan meatballs?
This is what I love most, how great these freeze and can be pulled out for quick meals on busy nights. You can freeze them raw, but I found I like them best if I partially cook them, then freeze.
Here is how I prep them for the freezer after I allow them to cool completely:
wrap them in parchment paper
then wrap in tin foil
store in a ziplock freezer bag or airtight container
How do you cook frozen veggie meatballs?
Once you are ready to eat the frozen meatballs, take them out of the freezer and allow them to defrost to room temperature. Then cook them the rest of the way like it says in the instructions.
I like to write the date I froze them and how long they still need to cook and at what temperature so I have it easily ready to go!
What should I serve with meatballs?
These vegan meatballs are so versatile! You can do so many things with them. Here are some of my favorite ideas:
How to Make Vegan Meatballs
These meatballs are fairly simple to make and can be made without a food processor if you prefer and don't mind the chunkier texture.
Saute the veggies
Pulse everything in a food processor (or simply mash with your hands)
Shape into balls
Bake
Devour!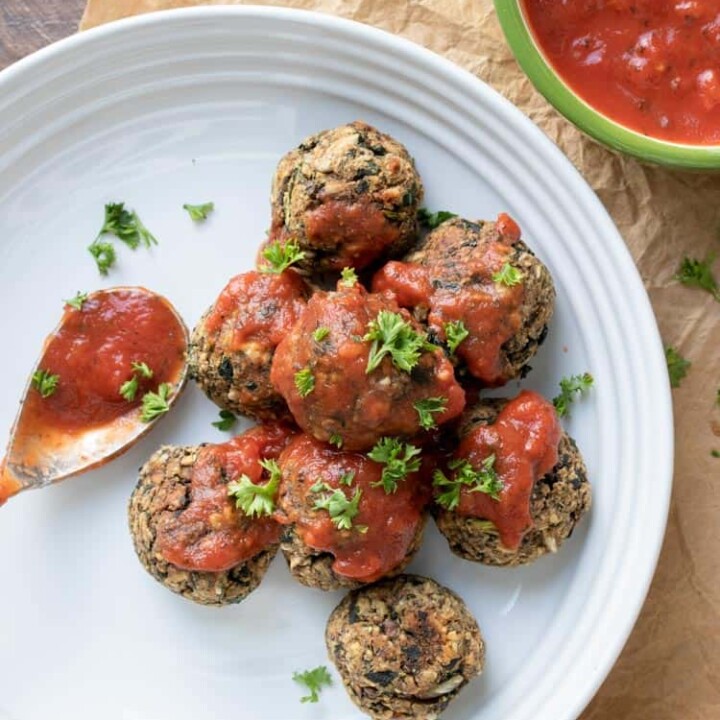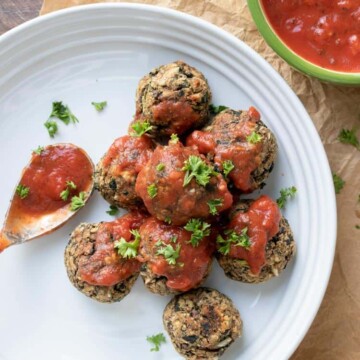 The Best Vegan Meatballs Recipe
Mouthwatering vegan meatballs filled with protein, iron and veggies. These are so versatile and perfect for pasta, sandwiches, as an appetizer or alone!
Instructions
Preheat oven to 350°F / 180°C

Saute mushrooms, kale, onion and garlic in a drizzle of oil or veggie broth until soft and no liquid remains. Set aside to cool.

Once cooled a bit, add them to a food processor and pulse a few times to get them chopped into small pieces. If you chopped them pretty finely before, you can simply add them to the processor and move to the next step.

Put lentils, oats, almond flour, sunflower seeds, oregano, smoked paprika, salt and pepper in the food processor and pulse until crumbly. Be careful not to overdo it. You can also skip the processor all together and just use your hands to mash them up and have a chunkier texture.

Allow mixture to set about 5-10 minutes so the oats can soak in some liquid (you can also do this after you shape into balls as well). I use this time to clean up a bit

Shape into 2-inch balls and place on a parchment lined cookie sheet.

Bake for 25 minutes, flip and bake 10 more minutes, or until they are browned on top.

Allow to cool so the texture settles and serve with almost anything!
Notes
This recipe makes about 16 balls, serving size is 4 meatballs.
You may need a little bit more oats if your mixture ends up too wet, which can happen depending on how much liquid is in the veggies you saute. You want most of it to evaporate.
If there is a nut allergy, you can sub more oats for the almond meal.
You can also use spinach or swiss chard in place of the kale.
To freeze for the best result, I half bake them, then freeze wrapped in parchment paper, then foil then put them in an airtight container. Once ready to eat, I defrost to room temperature then bake them the rest of the way. You could also freeze raw but you may have to reshape them a bit once they defrost.
Recipe by Veggies Don't Bite, visit our site for more great plant-based recipes.
Nutrition
Calories: 381kcalCarbohydrates: 51gProtein: 20gFat: 14gSaturated Fat: 1gSodium: 546mgPotassium: 1013mgFiber: 16gSugar: 7gVitamin A: 3035IUVitamin C: 34.2mgCalcium: 143mgIron: 6.6mg
Nutrition and metric information should be considered an estimate.
Never miss a recipe!
Sign up here and get a FREE quick and easy meal guide!