A comprehensive list of vegan Halloween candy to make your holiday the best ever! Whether you're on team fruity or team chocolate, there is a candy for you!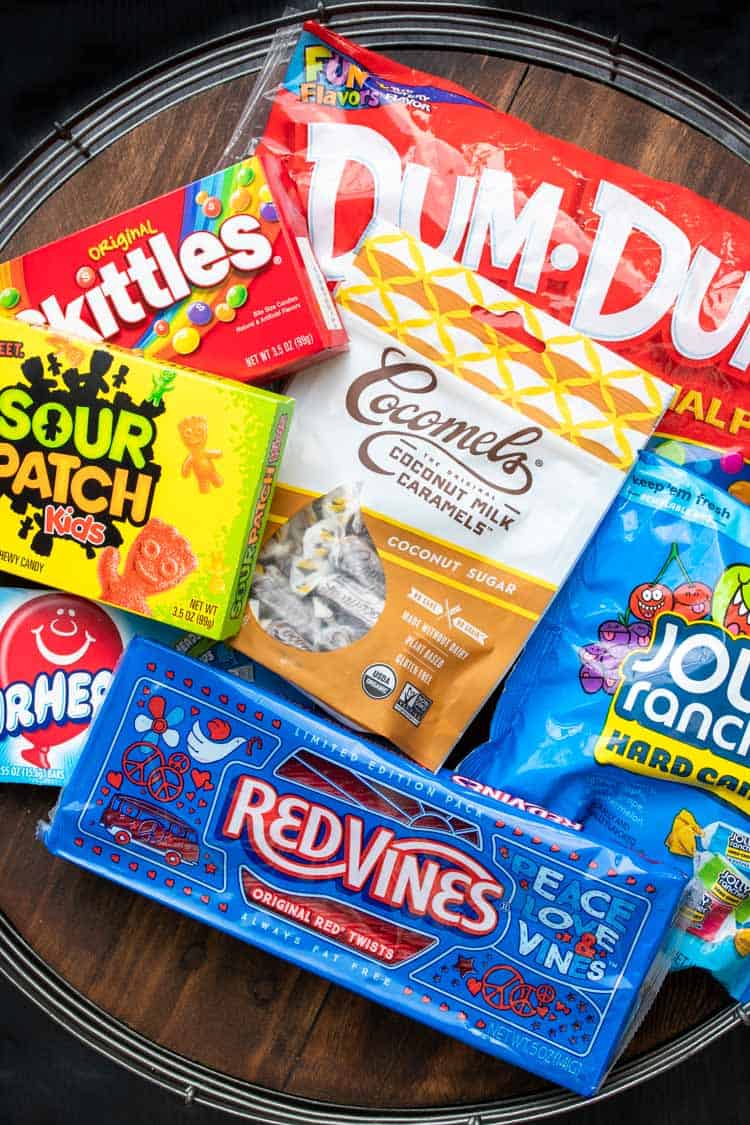 Halloween can be stressful if you are really careful about what candy you are eating or giving to your kids. But with this comprehensive vegan Halloween candy guide you'll be able to see if your favorites are on the list!
Vegan Halloween Candy
We are forced to love Halloween around here, it's my son's birthday. So while I'd love to skip the sugar meltdowns and crazy morning after, I have to admit it's pretty fun while it lasts.
I have learned to let go a lot over the years, and now we let them eat away the night of not worrying to much about what they choose to eat, but it's always nice to have a go to list of candy that is vegan. Keep in mind that much of this is also gluten-free candy.
This list has been verified from a variety of sources across the internet, including the popular Peta website. Keep in mind that ingredients and formulas are always changing so something on this list could potentially not be vegan at some point.
I update when I can but please let me know if you find a legitimate source showing non vegan ingredients in any of these.
What Halloween candies are vegan?
The most important thing to know if you are looking for 100% vegan candy, is read the label. Even candy that was vegan at one point can change, so turning that bag around and looking at the ingredients is super important.
Basically any candy that has no animal products in it is considered vegan. The problem is, that with candy, there are ingredients you may not know come from an animal. Here is a list of the most common ingredients in candy that are not vegan:
milk, casein and other milk byproducts
beeswax
gelatin- made from animals bones
carmine- a red pigment made from a beetle
shellac- glossy coating made from insects
Can vegans eat chocolate?
If the chocolate has milk, then no because milk is an animal derived product. However most dark chocolate is vegan because it does not contain milk. Read the ingredients and make sure there is no milk or milk derived ingredients listed.
Vegan Chocolate Candy
Here is the list of vegan Halloween candy that is chocolate based. Since formulas are always changing make sure to double check before eating. I am also including some vegan variations of popular non vegan candy bars and vegan chocolate candy.
Unreal Brand Cups- while Reese's Peanut Butter Cups are not vegan, this awesome brand has amazing duplicates! I may even argue they taste better.
Unreal Brand M&M type candies- while M&M's are not vegan, I love this brand of duplicates!
Unreal Brand Mounds Type Candy- if you like coconut this Mounds copycat is amazing!
Justin's- while there may be cross contamination since they also manufacture milk chocolate, the ingredients themselves are vegan. This peanut butter cup copycat is delish!
Enjoy Life- this brand creates vegan chocolate based candy and snacks
Alter Eco- amazing vegan chocolate based candy
Vegan Chewy Candy
While a lot of chewy candy contains gelatin or milk/butter, there are now a lot of brands that do not! Believe it or not, many popular brands like Skittles and Twizzlers are vegan.
Airheads
Cocomels- vegan decadent caramel candies
Red Vines
Swedish Fish (some contain beeswax so check the label)
Wholesome candies- a more natural gummy candy brand
Vegan Hard Candy
If you're not a chocolate or chewy candy fan and prefer the hard treats, this list is for you!
Nerds (this one gave me controversial info so read the labels)
Other Vegan Candy
Here are a few other vegan Halloween candy options that are common among kids.
Fun Dip (someone told me they think the sticks have milk but all I can find on their ingredient list is that they are made of sugar)