These vegan gluten-free scones are so flavorful and delicious. The apple cinnamon flavor paired with the easy cinnamon glaze is perfection!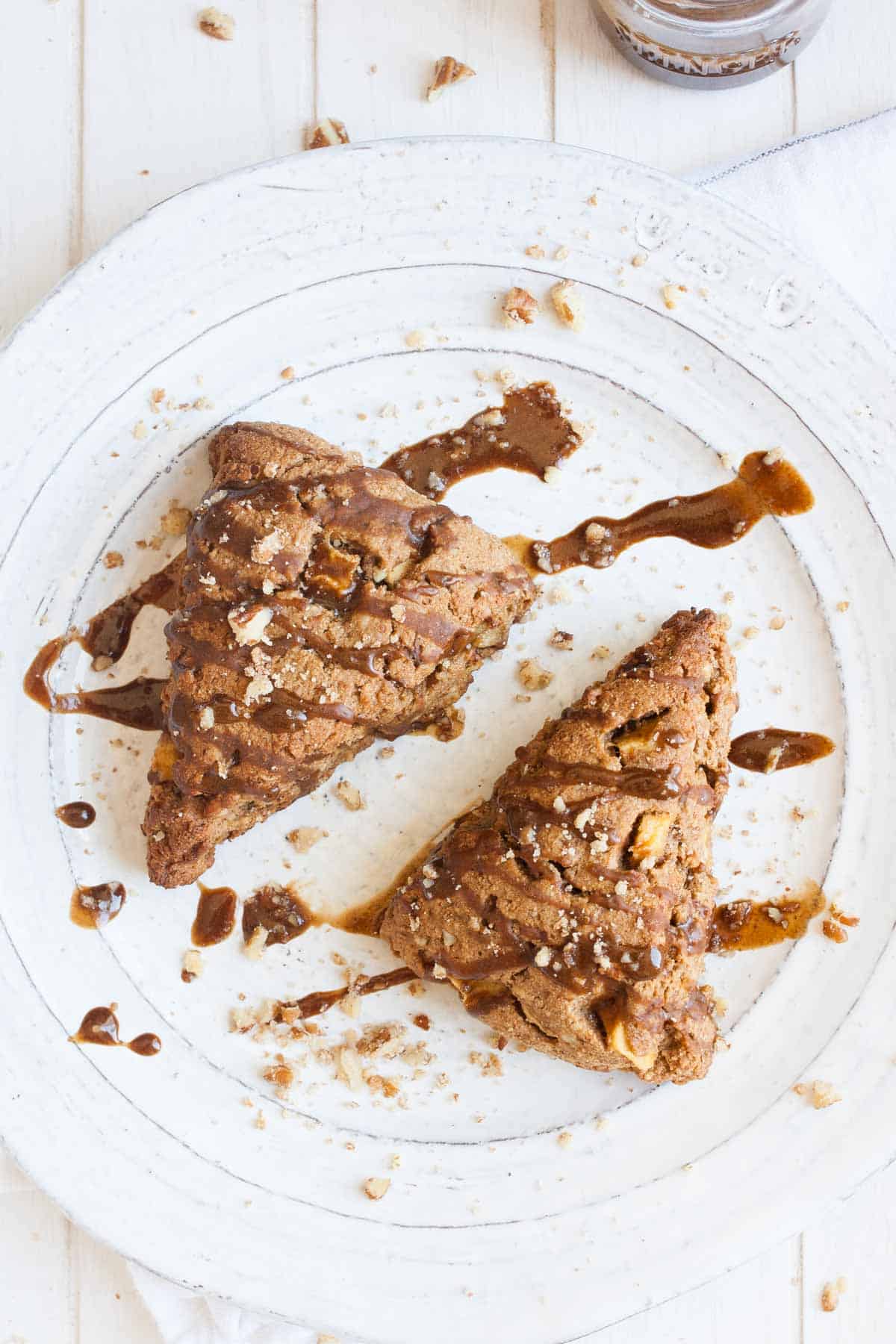 This post was sponsored by Silk but the content and opinions expressed are fully my own.
This post was originally published on October 24, 2016.
Let's put our hands up for fall! And by fall, I mean all things apple and cinnamon. Is there a better combo? I think not. It is hands down (or hands up...) one of my favorite flavor combinations.
Why Scones?
Truth be told, it was the glaze that came to fruition first. I was playing around in the kitchen and created this incredible cinnamon glaze that I couldn't stop eating. And it hardens like real glaze too!
So of course I needed to make something that it could be drizzled on...since simply licking glaze off a spoon all day was a little weird. Or maybe not, but it did need a home that wasn't my tongue.
Vegan gluten-free scones have been on my to do list, and this was the perfect time. Oh and did I mention no oil or butter? Yep, take a peek and see what I cut into the dry ingredients!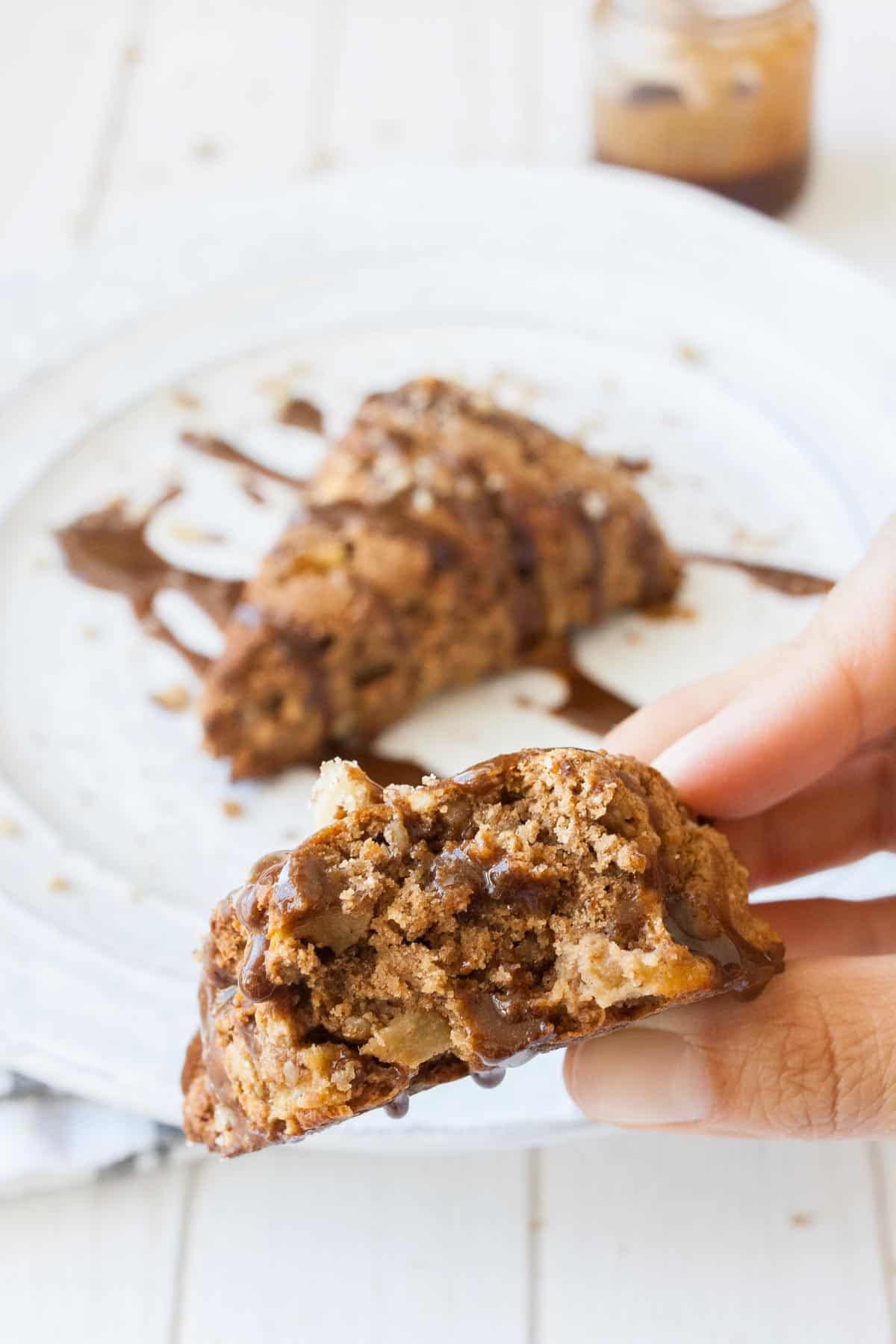 Ingredients
Getting the perfect scone texture is a tough one to crack when you aren't using butter or eggs. A big part of perfect vegan scone magic is the combination of ingredients I use.
Oat flour provides density
A little touch of coconut flour gives a hint of dryness plus a nice crisp outside
Dairy free milk helps with moisture
You'll also need a few other whole food ingredients:
Pecans
Almond butter
Apples
Coconut sugar
For this recipe, I decided to use the Silk unsweetened organic soy milk. It has a touch more fat than my usual go to cashew. But not too much.
If you can't have soy, then oat or coconut milk (carton not canned) would be another good alternative as it has a similar fat content.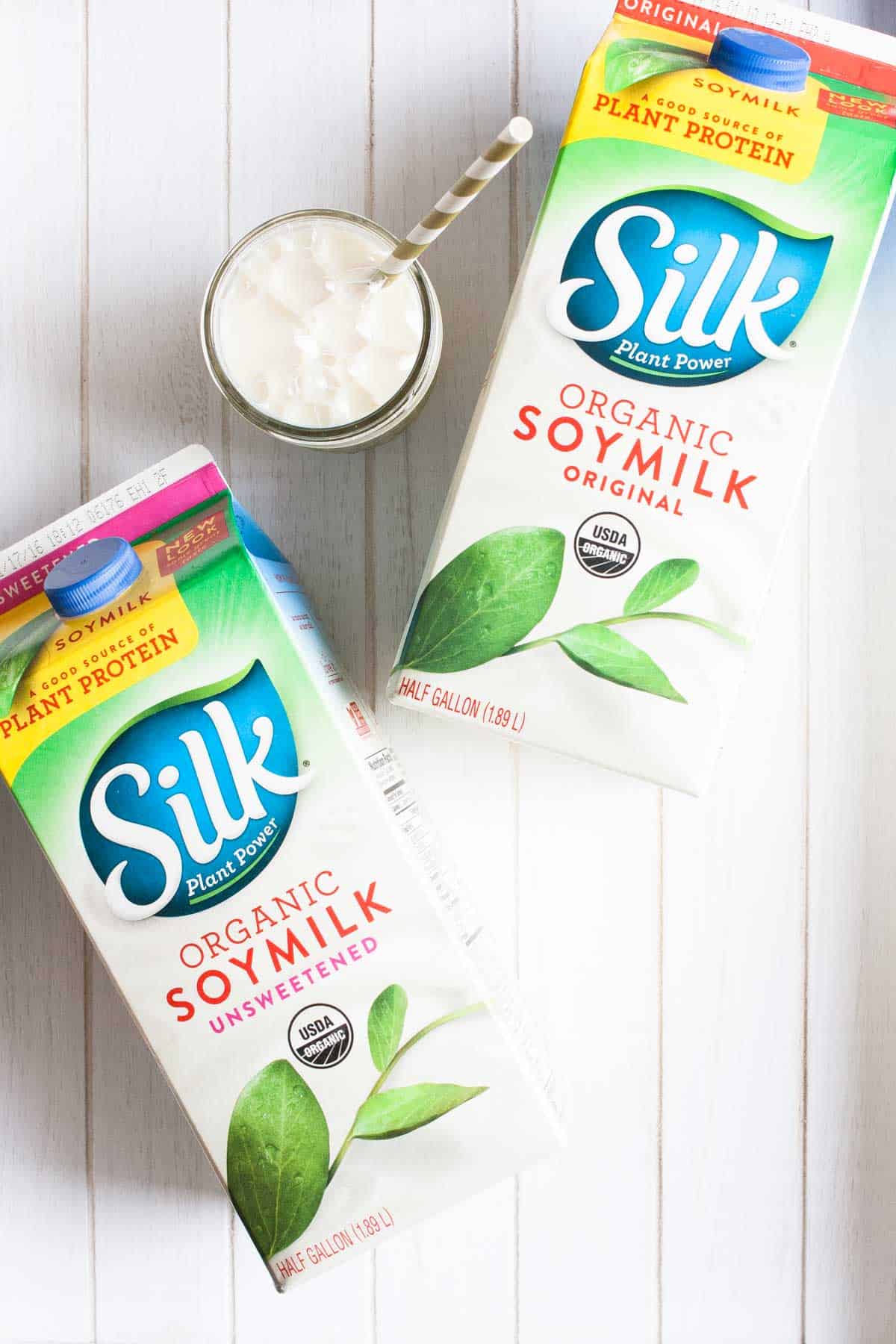 How to Make Vegan Scones
Since I don't use any oil or butter, making these scones is a tad different. Here are the steps:
Pulse dry ingredients in a food processor.
Add to a bowl and cut in almond butter to make crumbles.
Add the rest of the ingredients and make a dough.
Form into a circle and cut.
Separate pieces on parchment and bake.
Make glaze.
Drizzle with glaze and devour!
Serving suggestions
While these are a tasty treat all on their own, you could make them part of a breakfast spread! Here are some other recipes that would go perfect as part of this breakfast party:
Tips and tricks
Use a vegetable peeler to remove the skin from your apples.
Chop the apples in as much of a uniform size as you can so that they cook evenly.
The higher the fat in the milk, the better! Soy, coconut (in the carton), or oat is best.
Store your scones in a tightly sealed plastic bag, you can also individually wrap them in plastic wrap or foil. They'll stay fresh for about 2 days at room temperature.
Cooled scones can be frozen for up to three months. An airtight freezer safe container or bag is best. Defrost at room temperature.
Common Questions
Why are my scones dry?
If your scones are too dry, you may not be using enough milk or fat. However, scones are meant to be a bit crumbly.

Everyone is different with how they like their scones. I prefer dense and moist with a hint of dry. Not the kind of dry that you need a drink after the first bite, but the kind of dry that makes you think scone.
Should scones be hard or soft?
In between! You want them to be firm and dense, but not so rock hard you break a tooth.
What is the function of milk in scones?
Milk gives strength and structure to the dough. It also adds moisture, tenderness, and flavor to the finished product.
How do you freshen up scones?
If your scones go dry before you're able to eat them all up, there's a quick fix! Place the scone in the microwave alongside a mug filled with water and microwave for 10 to 20 seconds.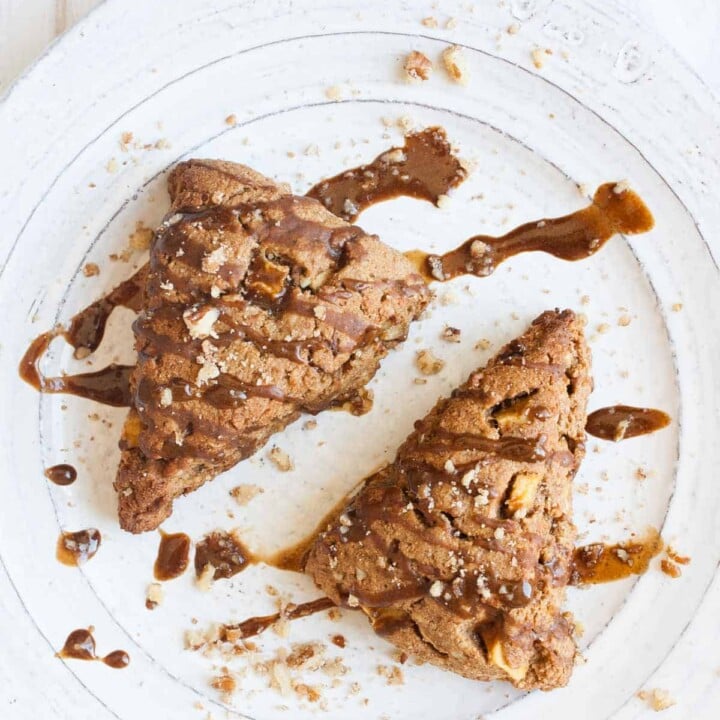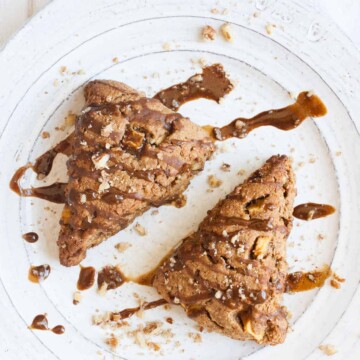 Vegan Gluten-Free Apple Cinnamon Scones
These vegan gluten-free scones are so flavorful and delicious. The apple cinnamon flavor paired with the easy cinnamon glaze is perfection!
Ingredients
1 ½ cups oat flour
¾ cup raw pecans , see note
½ cup coconut sugar
1 tablespoon coconut flour
1 tablespoon baking powder
2 teaspoons cinnamon
½ teaspoon sea salt
6 tablespoons cold unsalted almond butter (¼ cup plus 2 tablespoons)
¼ cup dairy free milk ,see note (I use Silk brand soy milk)
¾ cup peeled chopped apples
½ cup chopped pecans as topping , optional
Glaze:
½ cup powdered coconut sugar see instructions
1 tablespoon dairy free milk , I use Silk brand soy milk
½ teaspoon cinnamon
Instructions
Preheat oven to 400°F/ 200°C

Put all dry ingredients into a food processor (first seven ingredients). Pulse multiple times until pecans are in small pieces. You can leave them a little bigger if you prefer. Put mixture into a large bowl.

Put almond butter on top of dry mixture, and using a butter knife or pastry cutter, cut it into the mixture until crumbly. If you have never done this before, you literally cut the almond butter until you get crumbly pieces. You can also switch to using your hands to crumble it once the almond butter is covered in flour.

Put milk and apples into bowl and using your hands incorporate until you get a ball of dough.

Place dough on parchment lined cookie sheet. Form into a thick circle, around 7 inches in diameter and 1 inch tall.

Cut the circle into eight equal pieces and separate them.

Bake for 11-13 minutes, until they JUST begin to brown. Start checking at 11 minutes as all ovens vary. Don't over bake, they will cook more as they cool. Cool at least 15 minutes before glazing and eating.

While they are baking, make glaze by simply mixing all ingredients in a bowl until you get a thick glaze. To make powdered coconut sugar, simply pour regular coconut sugar into a blender and blend until it forms a powder. It works best in a high powered blender.

Once the scones are cool, drizzle glaze over the top. The glaze will harden eventually.
Notes
You can try using toasted pecan pieces but you may need a touch more milk to get back the moisture that raw pecans give to the recipe.
A higher fat milk is best, soy, coconut (in the carton) or oat is the highest in fat.
Tips to prep ahead:
Chop apples and pecans for topping. Make glaze.
Baby/toddler food idea:
Great snack for kids. For younger babies make sure to grind the dry mixture well to avoid large pecan chunks, and leave out the chopped pecans on top.
Recipe by Veggies Don't Bite, visit our site for more great plant-based recipes.
Nutrition
Calories: 326kcalCarbohydrates: 39gProtein: 6gFat: 17gSaturated Fat: 1gCholesterol: 0mgSodium: 196mgPotassium: 378mgFiber: 4gSugar: 15gVitamin A: 20IUVitamin C: 0.6mgCalcium: 132mgIron: 1.8mg
Nutrition and metric information should be considered an estimate.
Never miss a recipe!
Sign up here and get a FREE quick and easy meal guide!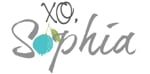 var ts=document.getElementById('ti-pixel-tracker'); var axel = Math.random() + ""; var num = axel * 1000000000000000000; var ti=document.createElement("img"); ti.style.display="none"; ti.src="https://tracking.tapinfluence.com/trk/ecG8d/eDztw/p.png?p=ESVdD" + String.fromCharCode(38) + "i=L0pmz" + String.fromCharCode(38) + "ord="+ num + String.fromCharCode(38) + "s=" + encodeURIComponent(document.referrer); ts.parentNode.replaceChild(ti,ts); JSON.stringify({"program_id":"69026c02-b985-11e5-a389-22000a66c666","post_id":"624377e4-c3b7-11e5-b360-22000a7d00a4"});