This gluten-free vegan cornbread is perfection. It is easy to make, with an amazing texture and rich flavor based on only 7 simple whole food ingredients!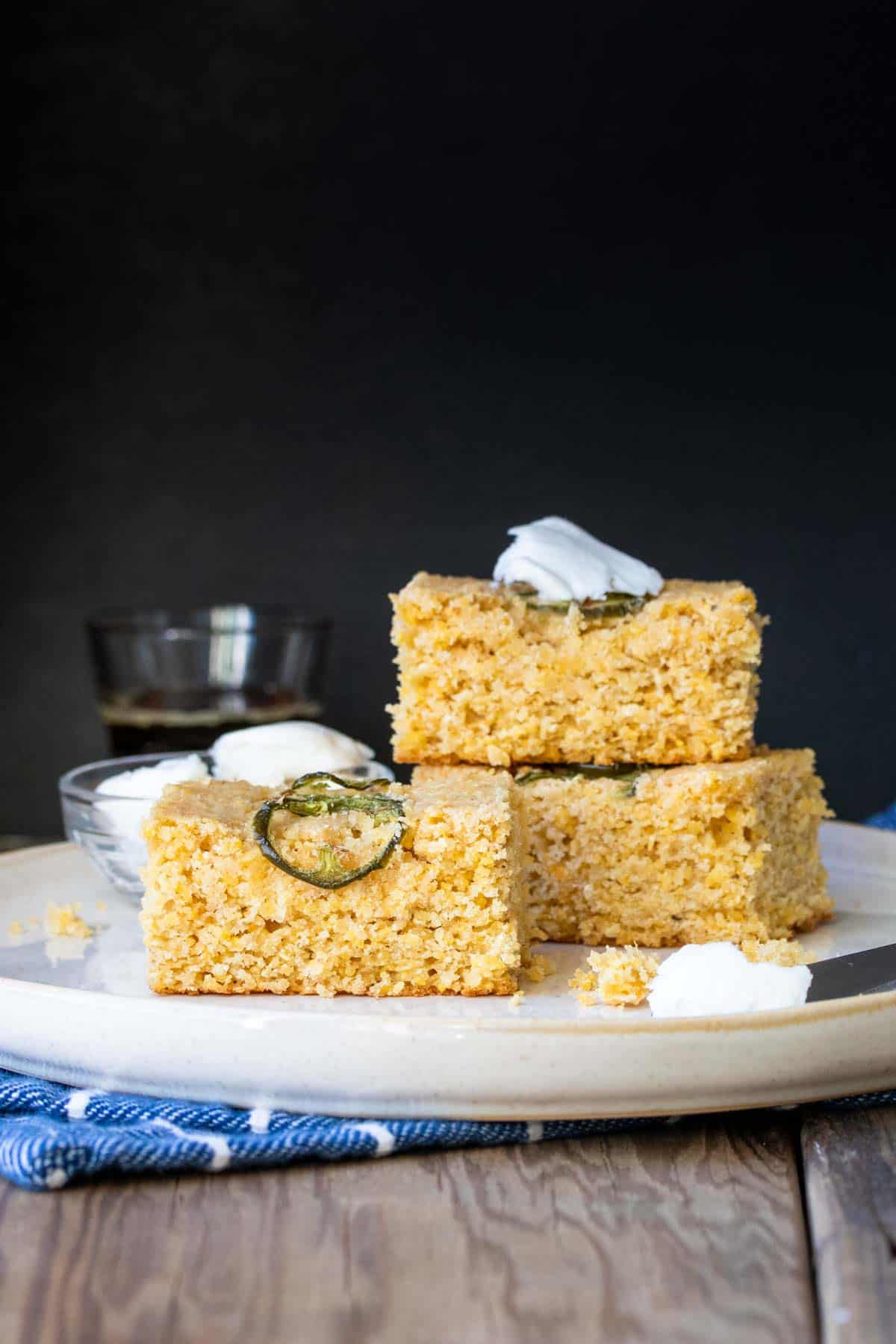 There is nothing like having a hot bowl of chili or soup with a slice of cornbread on the side. While many love it as a great addition to southern-style dishes, I love it with so many recipes. This vegan cornbread is amazing and made with no oil!
Gluten-Free Vegan Cornbread
This vegan cornbread recipe is not only also gluten free but it only take 5 minutes to prep! Let it cook for about 25 and you have amazing rich tasting cornbread just like the original!
Do you have to put eggs in cornbread?
Traditionally cornbread does include eggs, but the great thing about me and my love for creating things made from all plants, this recipe is egg free!
There are other binding agents that help hold this cornbread together and prevent it from crumbling into nothing. Part of what I love about baking is the science behind it and finding other ways to get the perfect end result!
Storing tips
The first thing you want to make sure is that you let the cornbread cool completely before storing it. Once it is cool, wrap in plastic or foil and store at room temperature for 2-3 days.
You can either cover the pan, or take it out of the pan and wrap it on it's own.
Can you freeze cornbread?
You sure can! Take the cornbread out of the pan, wrap it tightly in freezer plastic wrap or foil, then put it in a freezer bag or other airtight container. This will keep for 2-3 months at good quality in the freezer.
You can also cut it into servings. This makes it easy to prep ahead of time and pull out later to defrost and use.
Tips for prepping ahead
This vegan cornbread is best made fresh. Because it takes only 5 minutes to prep, it's quick and easy! However, if you want to add any optional mix ins, make sure those are prepped.
You could also have the dry ingredients mixed and ready to go.
What kind of pan to use
I trialed making this in all types of pans. Overall the end result was very similar. As long as you watch the cooking time, and use a tooth pick to check for doneness (there should be no batter on the toothpick, but a few dry crumbs are fine), you should be good.
The one thing that does matter is making sure your pan is prepared so the cornbread does not stick. Either use the oil spray, rub some oil on the pan, or use the parchment paper method where you cut parchment to line your pan.
I bake this in a loaf pan, but you can always double the recipe to make a square pan. You can also pour into muffin tins!
How To Make Gluten-Free Vegan Cornbread
Combine the dry ingredients in a bowl.
Add in the wet ingredients and mix well.
Put in pan and bake!
Topping ideas
There are so many yummy things that can go with cornbread, here are some traditional toppings with ways to keep them vegan, and also some non traditional things we like!
Honey butter- I love using Miyoko's Cultured vegan Butter and mixing it with maple syrup. I still use honey, but the flavor of a whipped maple butter is one of my faves! You can also use an Earth Balance spread Earth Balance spread.
Sriracha butter- just mix butter with your favorite hot sauce.
Jalapeños- I like to bake fresh slices right on top!
Drizzle of warm maple syrup.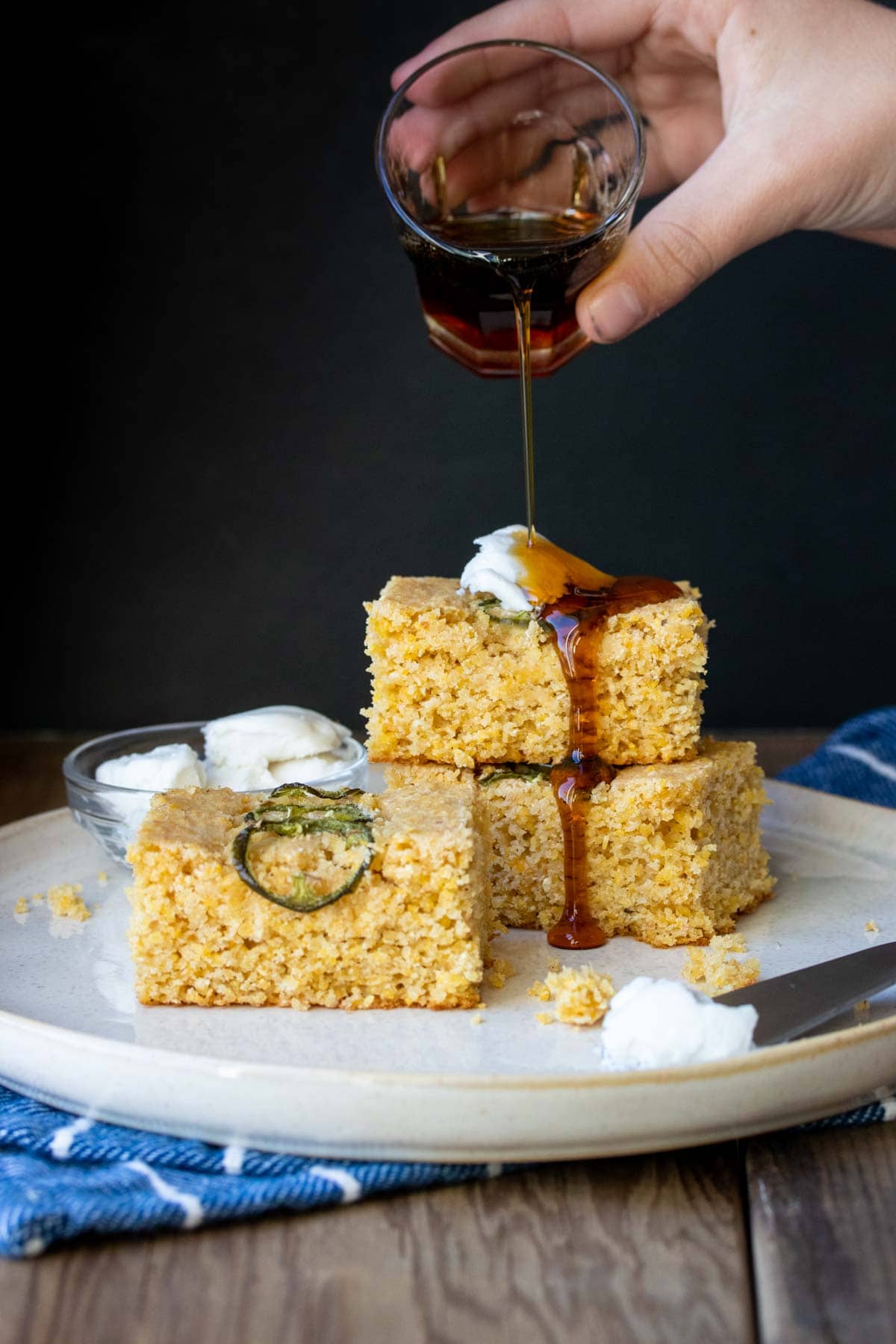 Mix in ideas
While my family tends to like their cornbread plain and simple, I like to add in some yumminess for that extra level. Here are some of my favorite mix in ideas:
Chopped jalapeños
Whole corn
Chopped peppers
Herbs- I live thyme
Chopped green chiles
Chopped garlic
Scallions
Any veggie type bacon pieces like this Vegan Coconut Bacon 
Any chopped veggie!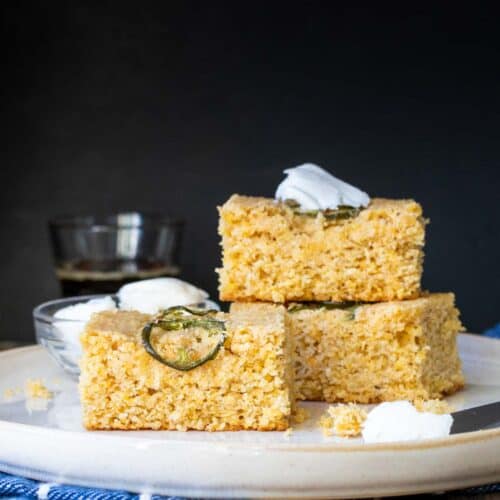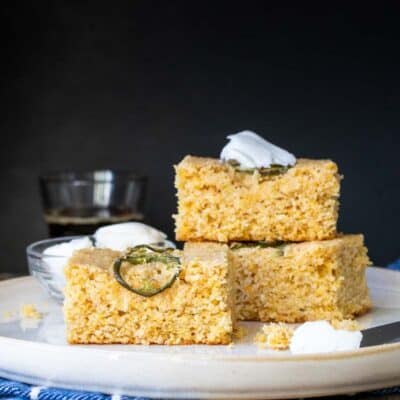 Easy Gluten-Free Vegan Cornbread Recipe
This gluten-free vegan cornbread is perfection. It is easy to make, with an amazing texture and rich flavor based on only 7 simple whole food ingredients!
Ingredients
10

tablespoons

fine grain cornmeal

, see note

10

tablespoons

fine grain almond flour

1

tablespoon

baking powder

½

teaspoon

sea salt

6

tablespoons

maple syrup

5

tablespoons

lite coconut milk

, from the can

1

tablespoon

apple cider vinegar
Instructions
Preheat the oven to 350 F/ 175 C

Mix the cornmeal, flour, baking powder and salt together in a bowl and whisk to combine.

Make a little well in the middle and add the maple syrup, milk and vinegar. Mix until everything is just mixed.

Pour into a prepared loaf pan.

Bake for 25-30 minutes. Start checking at 25, a toothpick should come out clean with a few crumbs on it. If you overbake, it will get too dry.

Allow to cool completely, as it sets more while it cools. If you cut too soon it will fall apart.
Notes
You can use medium grain cornmeal but you will need to reduce the milk by 1 tablespoon. Medium grain cornmeal gives a moister result.
I also tried this with a tablespoon of oat flour and it gave a lighter result. You can try this but you will need to up the milk to 6 tablespoons.
You can use cashew or almond milk but the end result won't be as rich and moist.
To make this in a square pan, double the recipe. The cook time will be about 5 minutes more.
To make muffins, drop into prepared or lined muffin tins. Start checking at 20 minutes to see if they are done.
Recipe by Veggies Don't Bite, visit our site for more great plant-based recipes.
Nutrition
Calories:
145
kcal
Carbohydrates:
22
g
Protein:
3
g
Fat:
6
g
Saturated Fat:
1
g
Cholesterol:
1
mg
Sodium:
134
mg
Potassium:
226
mg
Fiber:
2
g
Sugar:
9
g
Calcium:
100
mg
Iron:
1
mg
Nutrition and metric information should be considered an estimate.