When you aren't vegan and living with a vegan partner, it can be tricky. Just because you are a couple, doesn't mean you have to eat the same!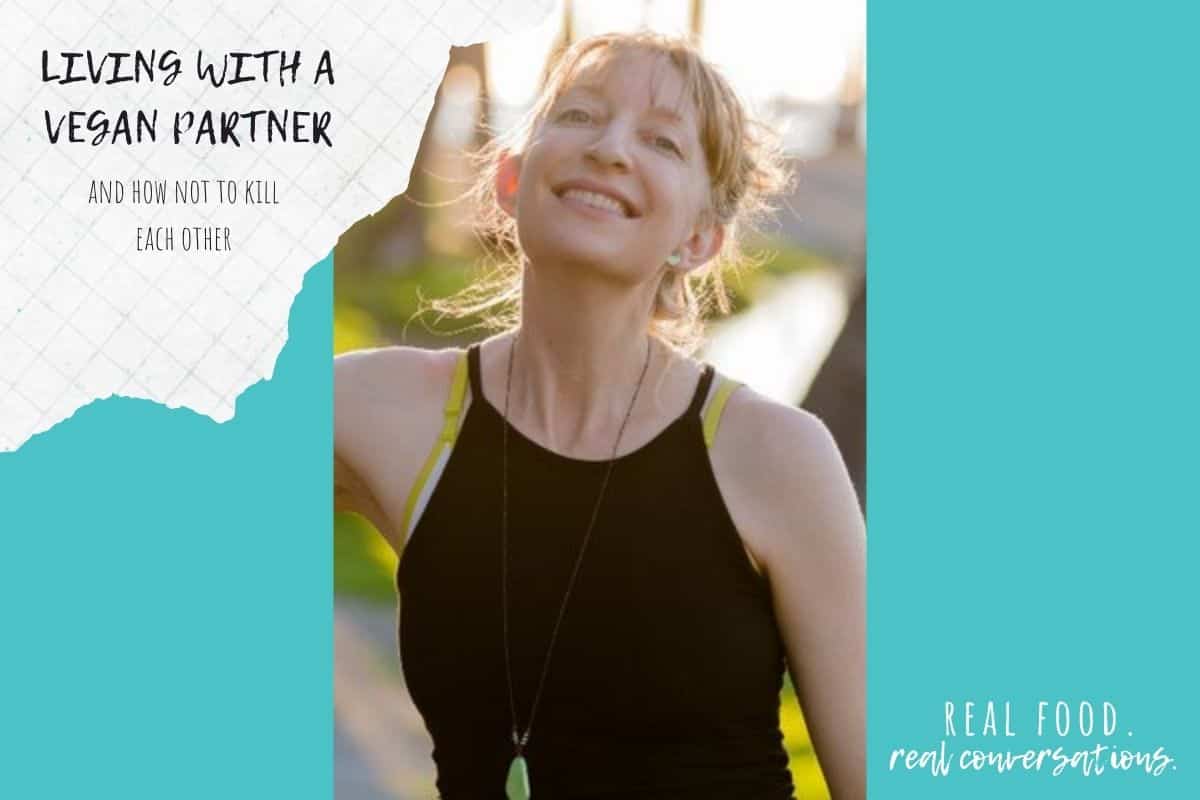 Today's guest knows about this first hand. She is sharing her experience and all the tips and tricks to make it work!
Podcast: Play in new window | Download | Embed

Subscribe now! Apple Podcasts | Google Podcasts | iHeartRadio | Stitcher | TuneIn | Deezer | RSS | More
Molly Patrick is from Clean Food Dirty Girl, where her mission is to help people eat more plants while finding joy in doing so.
Molly and her Dirty team custom create weekly Whole Food Plant Based Meal Plans to teach their subscribers how to shop, cook, and eat plants that taste damn good.
Upon signing up for the weekly Meal Plans, subscribers gain access to a personalized and customizable online classroom that Molly and her team built from scratch.
Molly has sent out a Sweary Saturday Love Letter to her email list since January 2014 where she celebrates human imperfections and all the messiness of life.
Couples and Different Diets
When Molly met her partner Luanne, food wasn't something that centered their relationship. Molly was a creative artist and foodie, and Luanne was in the tech world.
From how they eat to their strengths, they are very different people. They don't take themselves too seriously, and like they don't use their areas of expertise to judge the other person, food never entered their minds as something that would be an issue.
Molly is plant-based and has never eaten meat. Luanne is a meat eater who will eat Molly's food when she feels like it will satisfy her. Food is something that they each individually choose for themselves. It's as simple as that.
Can a vegan live with a meat eater?
A vegan can live with a meat eater if they choose to live with a meat eater. When it comes to relationships, you choose what you can accept and what you can't.
You are in charge of your happiness, and your partners food choices, car choices, music choices don't decide whether you are happy. So when you meet someone, you have to make a conscious choice to accept the other person as they are, or not.
How to Be Vegan if Your Partner Is Not
It's pretty simple, you just do it. It's all in how you look at it, like when your partner decides to buy a car you don't love or blasts the country music when you're a rocker.
We are in charge of ourselves and we don't get to be in charge of others. We can control how we think of someone else because we choose our own thoughts.
If you want to eat plants, then do it. If your partner wants to eat meat, then they can do it.
Compromising on Values and Goals
When we look for a partner in life, values come into play. This is why you have to decide what your "why" is for eating a certain way.
If eating a vegan diet is part of a bigger vegan lifestyle and you cannot compromise in that, and must have a partner who shares that same value, then this is something you need to look for when looking for a partner.
It's a similar issue as religion. If your religion means so much to you that you can't live a life with someone who believes in something different, then don't.
Again, we control our thoughts and decisions. We make our own choices.
How to Cook a Meal for Two Diets
If you do end up in a relationship with someone who eats very different then you, the logistics of meals can come into play.
With Molly, she and her partner have a very simple system.
Molly follows the meal plans from her website. Each week, she gives Luanne the menu and Luanne picks what sounds good. These are the meals Molly makes for them both.
Molly likes to batch cook, so everything is ready to eat when it's time for that meal.
If it is a meal that Luanne doesn't partake in, since she doesn't like to cook she usually will pick up take out of something she prefers.
It's really that simple. But that's not the only way to do it. Sometimes you want to make a meal that everyone can and will eat. I talk more about this in my episode on making one meal for all eaters!
Making things like stir frys, pastas, bowls, etc make it easy for each person to add what they like. If your partner eats meat, they can easily add that to the base veggie meal.