Move over tortilla soup, there's a new guy in town! Both healthy and flavorful, this vegan chickpea soup with tequila lime will be your new Mexican favorite!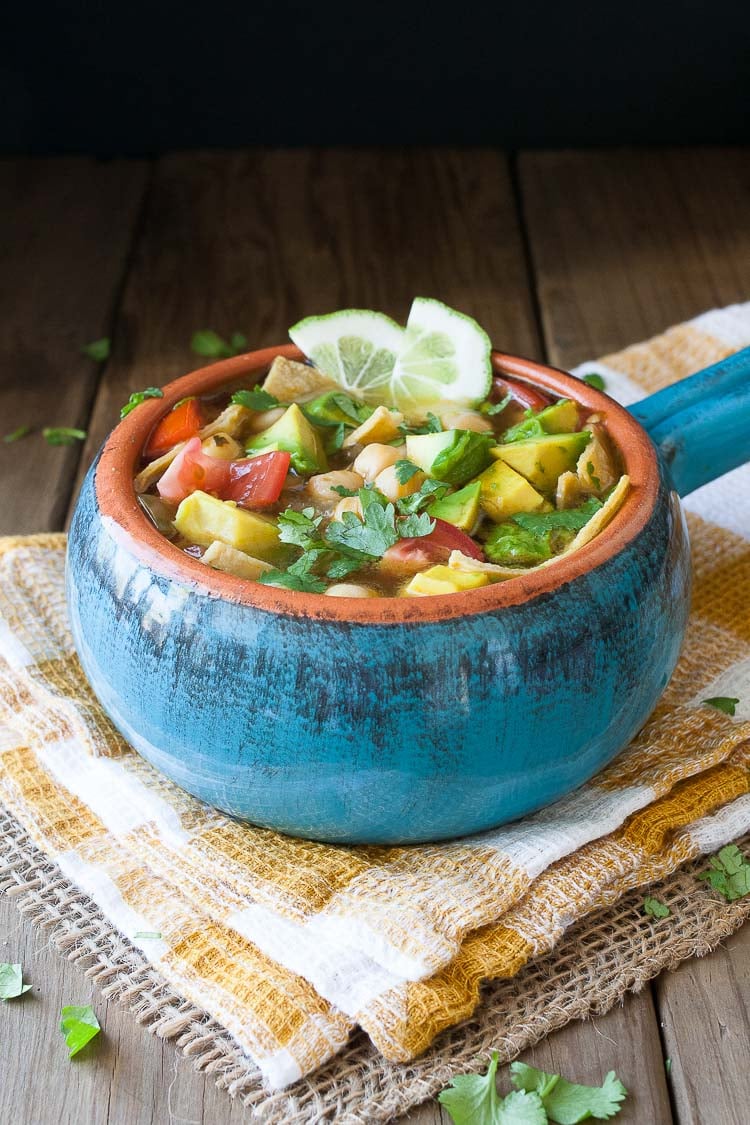 This post was sponsored by Le Creuset and Simply Organic, but the content and opinions expressed are fully my own.
Have you ever made a soup so good and hearty that you could eat it every day? This is how I felt when this creation entered my kitchen! Move over vegan tortilla soup, there's a new guy in town. Both healthy and flavorful, this tequila lime soup will be your new Mexican favorite!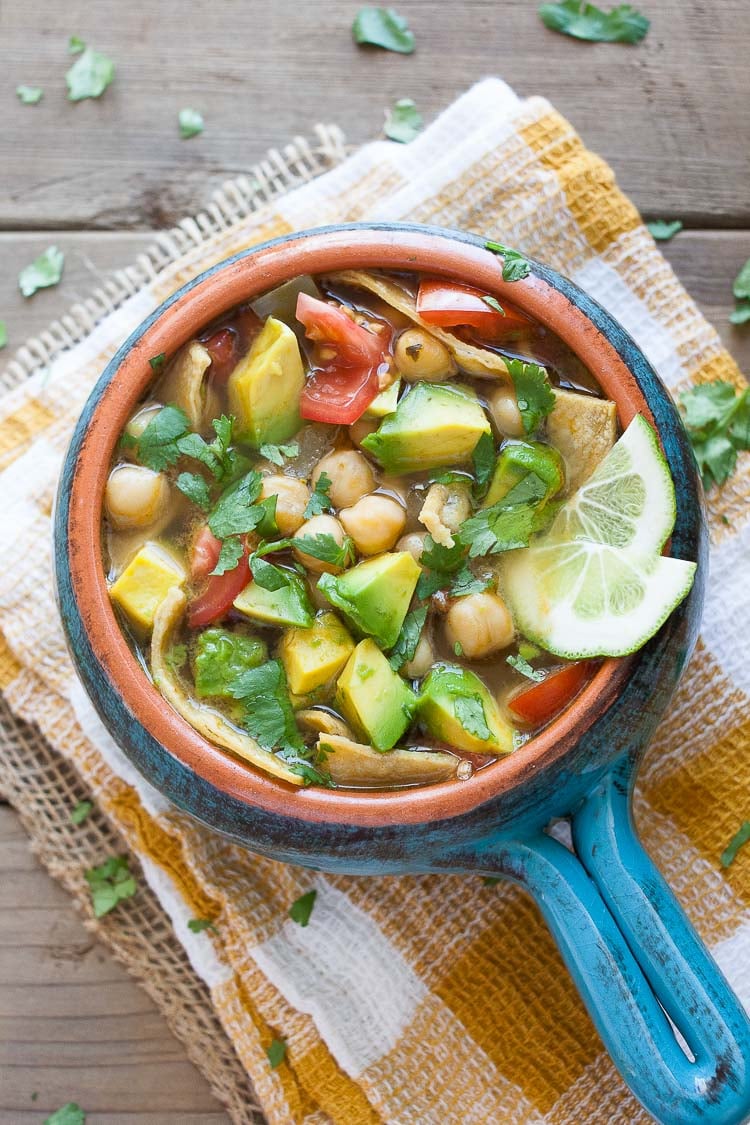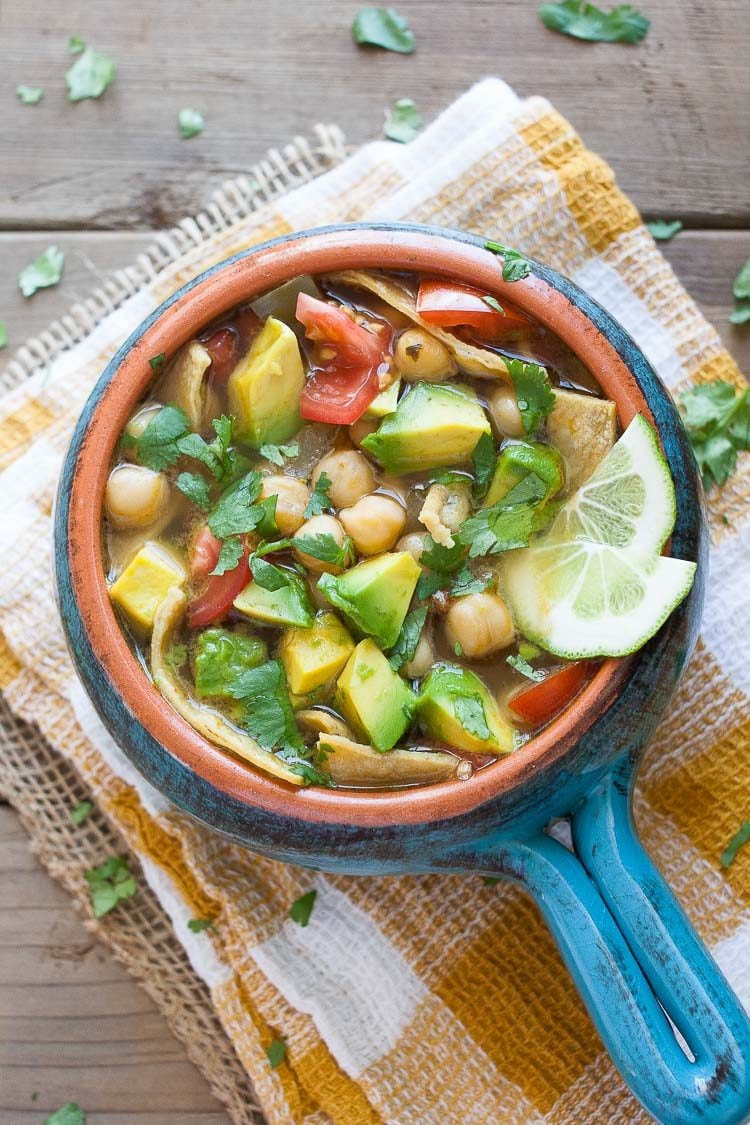 When I got the email from Le Creuset about working together, I was thrilled. I LOVE LOVE their products. They are so well made, work fantastic, and the brand itself is solid in customer service. I have had a dutch oven on my radar for quite some time, so when I got the opportunity to work with one for this job, it was a no brainer. Not only does it look amazing in my kitchen, I am OBSESSED with it. Seriously, I use it multiple times a week! (pssst, check out the surprise before the recipe!)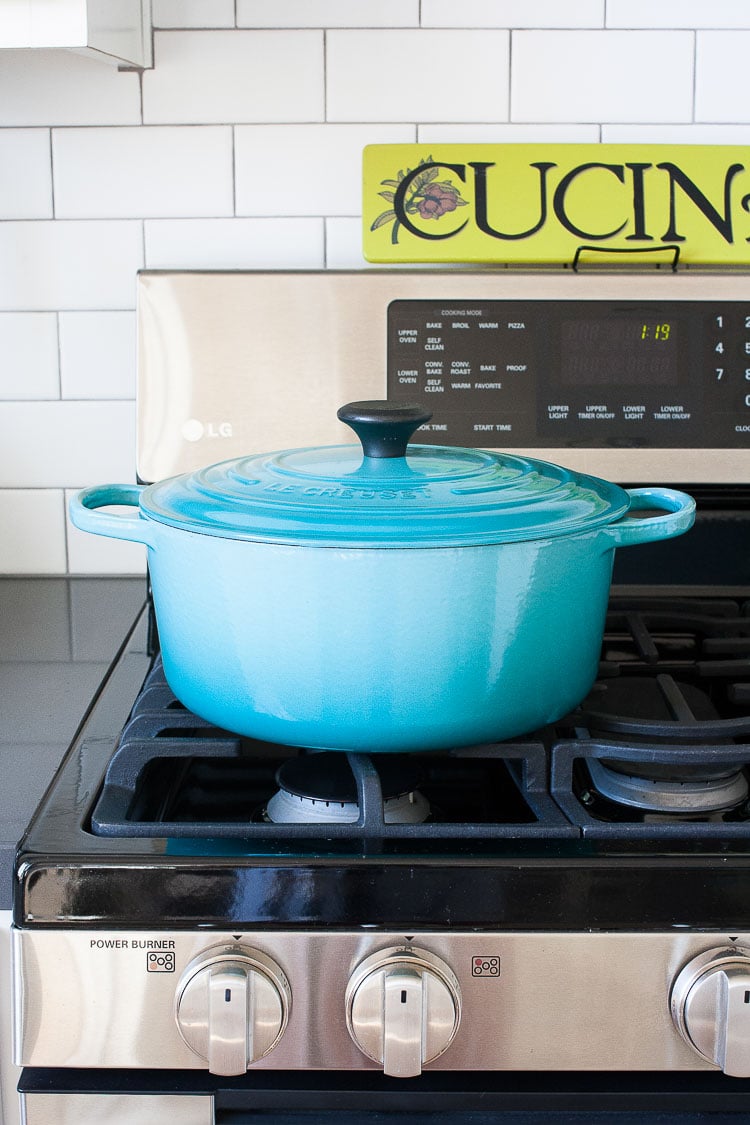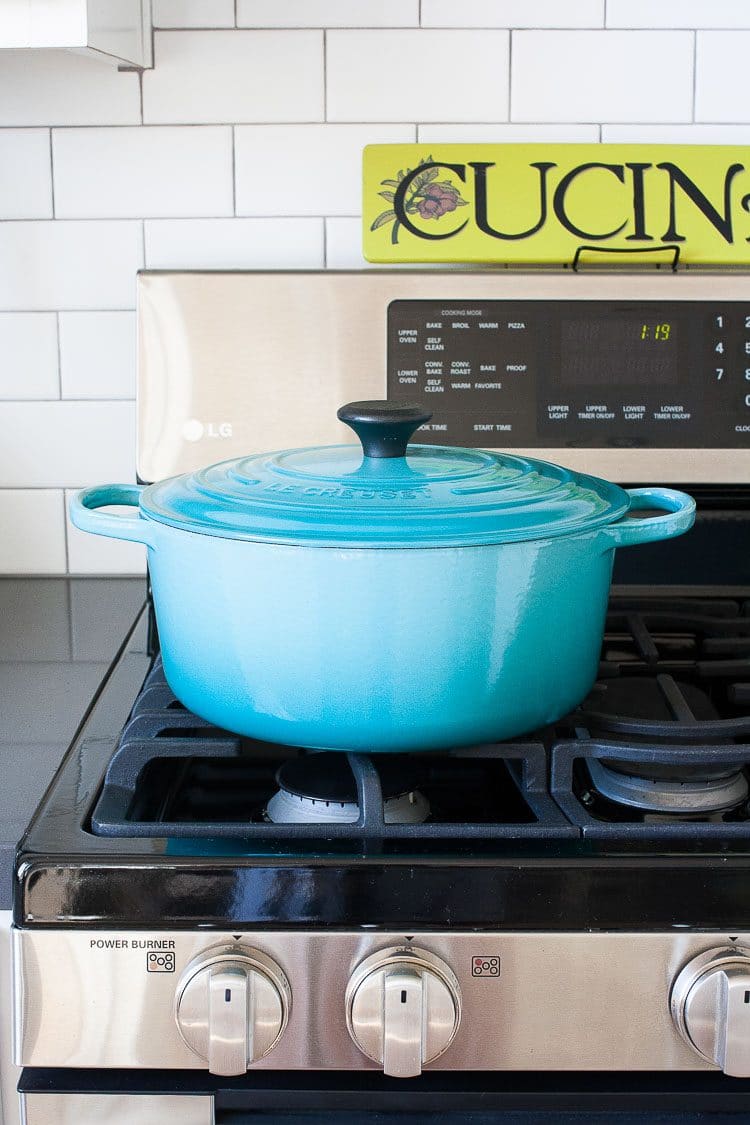 Preparing your food in a dutch oven just takes it to a whole new level. The flavors are amazing when you let them develop over time, especially in this vegan chickpea soup. Enter Simply Organic spices.
Has anyone ever done a side by side comparison with an average spice brand and Simply Organic? I have. I used to buy spices from another brand because of the price point. I never thought about there being a difference.
Then one day they were out of my spice, so I bought that spice from another grocery store, which carries mostly the Simply Organic brand. Fast forward to the next day when I used it. Just the aroma itself caught me off guard. It was so much more pungent! Simply Organic is hands down one of the best. Pair them with the Le Creuset brand cookware and we're talking food heaven.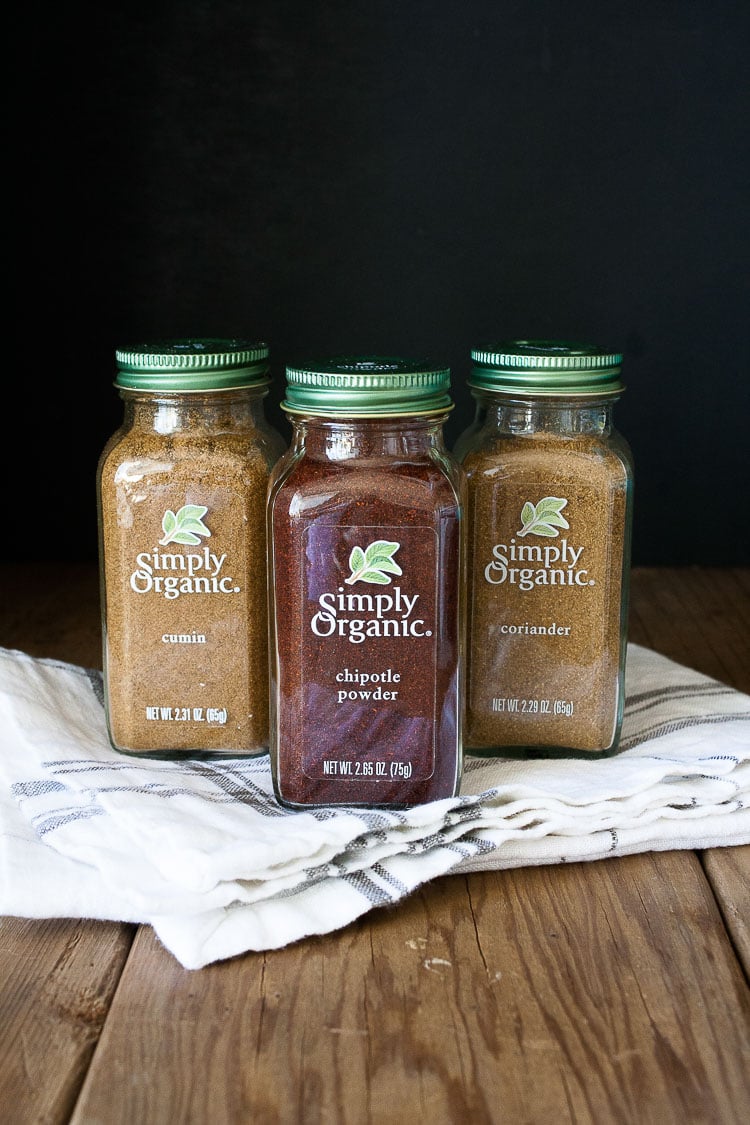 The Secret To Making This Vegan Chickpea Soup..
So back to my vegan chickpea soup. The base itself is quite simplistic actually. The key is dried chickpeas (just soak for at least 4 hours, or up to overnight), the Simply Organic spices and the dutch oven where flavors marinate and become incredible.
Of course you can make this in a regular soup pot, but the flavors won't be as deep and intense. Once the simple soup base is done, load it with fresh ingredients like avocado, tomato and cilantro and DIG IN. Try to take a breath from time to time.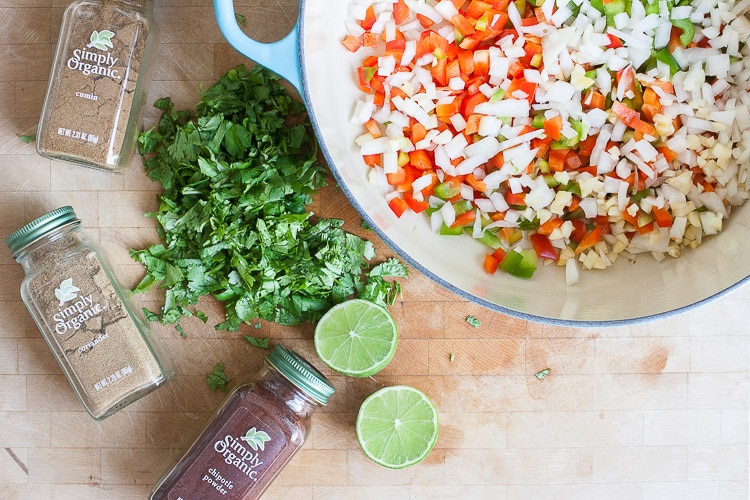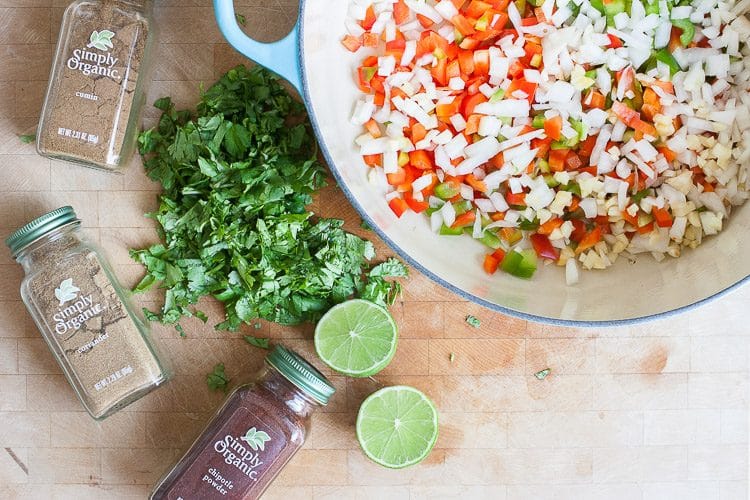 Why you need this vegan chickpea soup in your life:
a fun twist to the average vegan tortilla soup
the flavors are unique and so tasty, not your average vegan chickpea soup
chock full of healthy ingredients so it's a one pot meal
dinner for the entire family, puree it for the littles
perfect cozy meal
Check out these other delicious vegan soups you'll love and crave all of the time!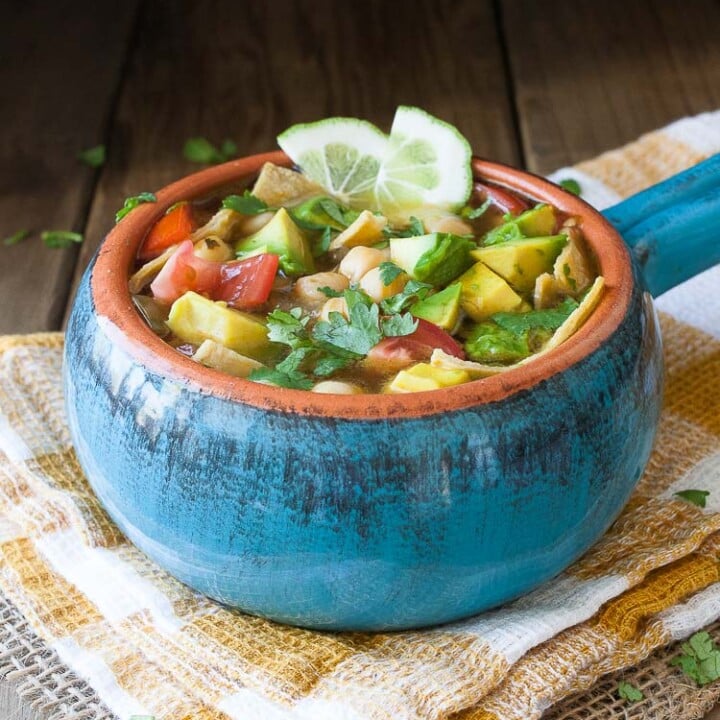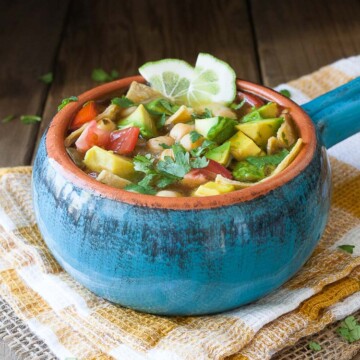 Mexican Tequila Lime Chickpea Soup (Vegan, Gluten Free)
Move over tortilla soup, there's a new guy in town! Both healthy and flavorful, this vegan tequila lime chickpea soup will be your new Mexican favorite!
Ingredients
½ cup diced red pepper
½ cup diced green pepper
½ cup diced sweet onion
3 cloves garlic chopped
½ cup tequila make sure it's vegan to keep this vegan
1 tablespoon fresh lime juice
2 tablespoons chopped fresh cilantro
1 tablespoon cumin Simply Organic brand
¼ teaspoon coriander Simply Organic brand
⅛ - ¼ teaspoon chipotle powder Simply Organic brand, less if you don't like spice
1 ½ teaspoons Himalayan pink salt divided (see instructions, may need less depending on broth used)
1 ½ cups dried chickpeas soaked overnight (or for at least 4 hours in hot water)
6 cups veggie broth plus some to sauté (or your favorite oil, see note)
Optional Toppings:
Corn tortillas sliced into thin strips (½-1 per serving)
Avocado chopped (¼-½ per serving)
Fresh cilantro
Fresh tomatoes
Fresh lime juice
Instructions
Preheat oven to 300°f (190°C) if using a Dutch oven

.

Saute peppers, onions and garlic over medium heat until just soft with only ½ teaspoon of the salt and using broth to sauté (or oil if using oil) until they just begin to get soft.

Add tequila, lime juice and cilantro. Cook until the liquid is reduced by half, it took me about 7-10 minutes.

Add spices, the rest of the salt, and the pre-soaked chickpeas and mix for about a minute. Then add the broth.

Bring it to a simmer, then if using the dutch oven, cover it and put it in the pre-heated oven and allow it to slowly cook for 45-60 minutes. Check at 45 minutes and if the chickpeas aren't soft yet allow it to cook longer. You can leave it up to 60 minutes to allow it to gain more flavor.

If you are using a regular soup pot, then once the soup starts simmering, turn heat to low and allow it to slowly cook, covered, for 30-60 minutes. Start checking at 30 to make sure you don't overcook the chickpeas. You can cook it up to 60 minutes as long as your chickpeas don't get too soft.

Once the soup is done, put tortilla strips in a bowl then pour soup over the top so they can soak and get soft.

Top with fresh toppings of choice and enjoy! You can also puree it using an immersion blender (or regular blender once cooled) for younger kids or if you have leftovers to make it a little different the next day. It was delicious whole and in pureed form!
Notes
The chipotle powder adds a nice flavor to this soup, but feel free to omit or only put a dash if you don't like spice. Or if you do, feel free to add more.
Depending on the type of broth you use, you may need more or less salt. You can sub some of the broth with water, but remember this may not make your soup as flavorful.
If you forget to soak the chickpeas (like I often do) you can also boil them for 20 minutes before using. This soup is designed to cook over a long period of time in order for the flavors to marinate and develop, so the chickpeas will have plenty of time to cook. If you find that they need more time, then cook the soup longer.
Tips to prep ahead: Soak chickpeas, chop/dice ingredients.
Baby/kid food idea: Puree the soup for kids of all ages to enjoy. Make sure to leave out the spice for the younger kids.
Recipe by Veggies Don't Bite, visit our site for more great plant-based recipes.
Nutrition
Calories: 390kcalCarbohydrates: 53gProtein: 15gFat: 4gSaturated Fat: 0gPolyunsaturated Fat: 0gMonounsaturated Fat: 0gTrans Fat: 0gCholesterol: 0mgSodium: 1106mgPotassium: 787mgFiber: 14gSugar: 11gVitamin A: 735IUVitamin C: 44.6mgCalcium: 101mgIron: 5.9mg
Nutrition and metric information should be considered an estimate.
Never miss a recipe!
Sign up here and get a FREE quick and easy meal guide!