Smoky kale and white bean soup made in less than 30 minutes thanks to the instant pot. The flavors in this super easy meal will make your mouth water!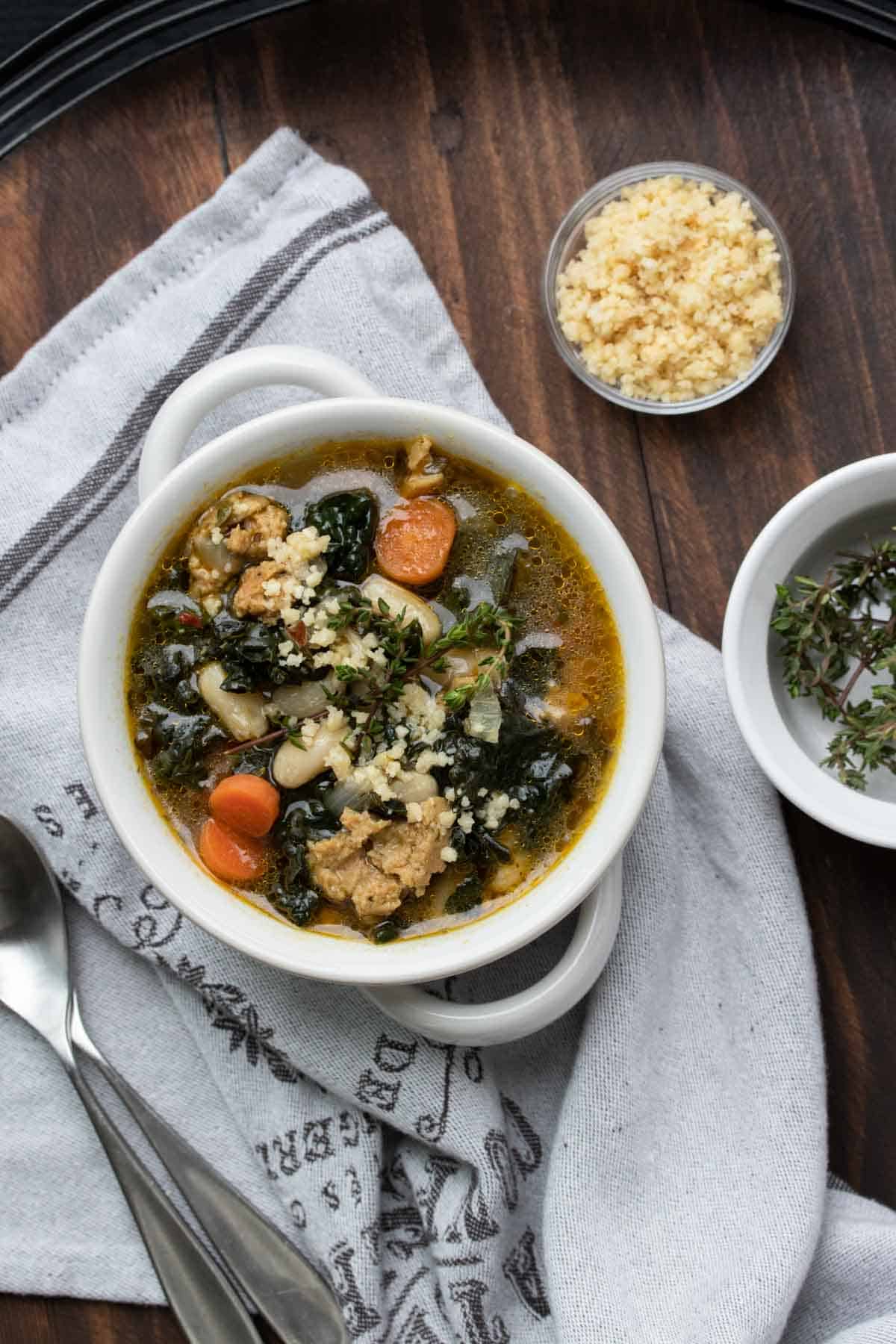 This recipe was originally published on 1/9/14
It's like soup magic has happened in my kitchen! Such an easy healthy meal done in less time than it takes me to break up a kid fight. Getting your protein and greens all in one step is often the easy road I need.
What is the healthiest soup?
Any recipe that includes all the nutrients you need in one easy to make meal is a winner. This kale and white bean soup has it all, protein, greens, veggies and loads of flavor.
If it's easy to make, even better. You are more likely to make easy meals again so healthy ones are always a good thing. Instant pot soup is a good go-to because they are ready quickly and you aren't waiting for hours.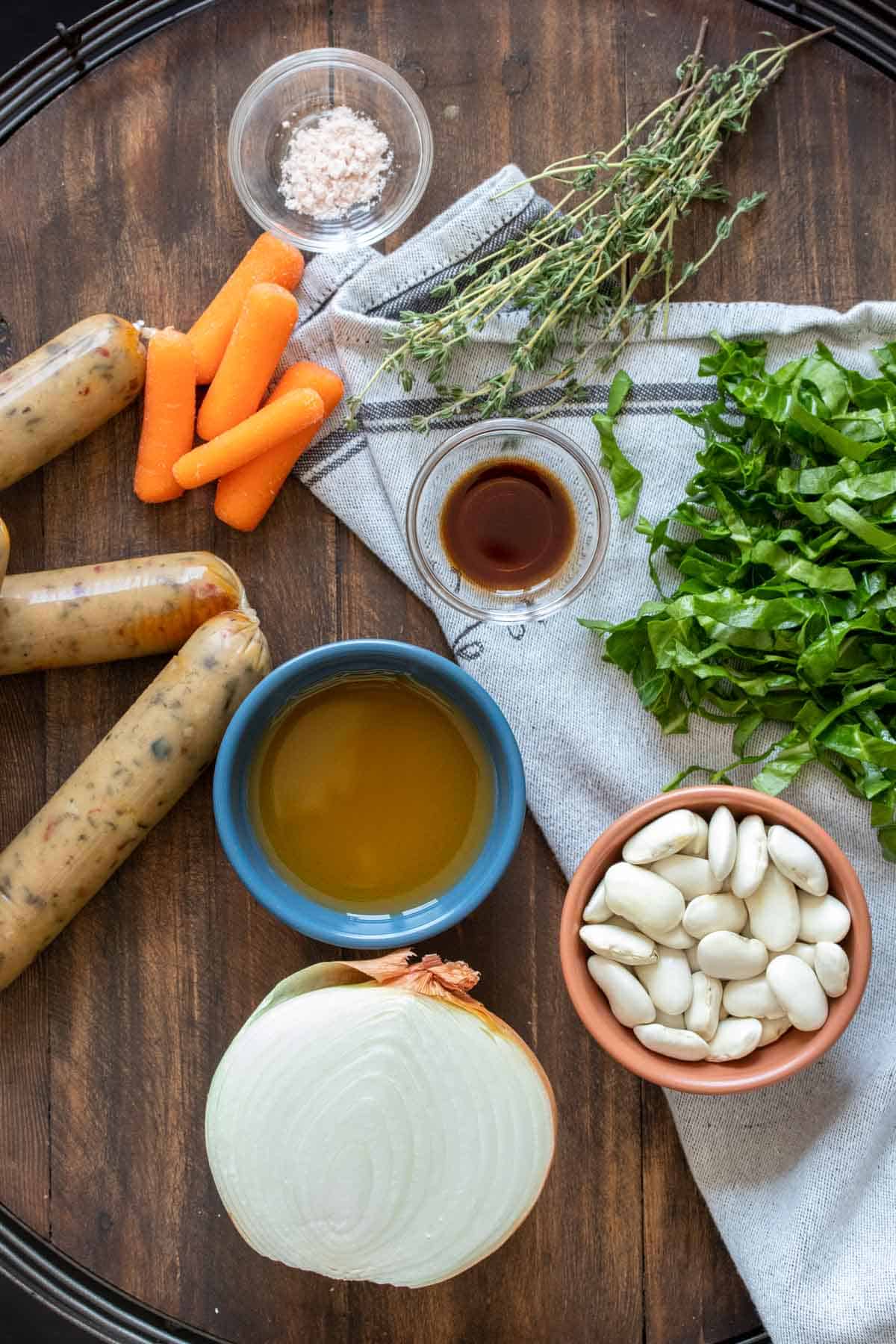 Do you have to soak dried beans before cooking them?
Soaking beans is optional, but there are a few benefits if you do:
You will remove some of the indigestible sugars which makes them easier on the belly.
They will cook much faster, mom win.
There are two ways you can soak your beans:
Overnight or for 8 hours, for when you are killing it prep wise.
The quick soak method, for the times you forget you need to feed your family.
How do you soak dried beans overnight?
Simple! Put them in a bowl and cover them with water. You want almost double to triple the water height because the beans will expand.
I also put 1 teaspoon baking soda per 1 cup beans. This helps reduce the indigestible sugars even more, it also helps the beans cook more evenly. Just remember to rinse the beans well to get all of the baking soda off!
Soak for 8 hours to overnight and rinse when done.
How do you quick soak dried beans?
Much like soaking overnight, you put the beans in a pot and cover with water about double the height of beans. I use the baking soda method here too.
Bring the beans to a boil over high heat, boil for 1-2 minutes. Take the pot off the heat, cover and allow to soak for about 1-2 hours. Rinse well.
How do you make Instant Pot kale and white bean soup?
It's one of the easiest and fastest soups I've made using dried beans!
Sauté using the sauce function on the Instant Pot.
Add the rest of the ingredients except the broth and sauté more.
Add the broth and pressure cook.
Eat it up!
How do you make kale and white bean soup on the stove?
You can definitely make this on the stove top. The only difference would be using a soup pot over the stove and increasing the cooking time significantly.
Can I use canned beans instead of dried?
Yep! All you do is add them at the very end, then cover and keep warm so they can heat up. I much prefer the texture of dried, but canned work too!
Looking for other heart-warming vegan soup recipes? Check out some of these favorites!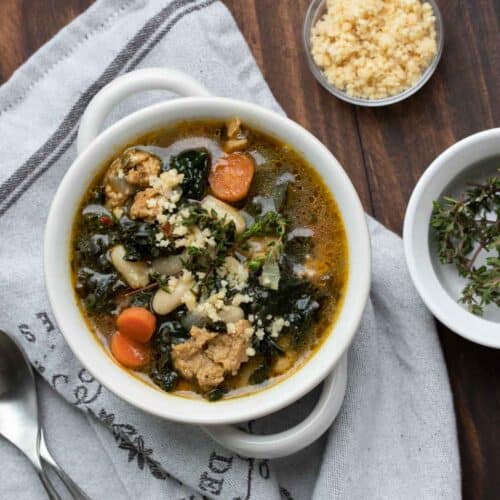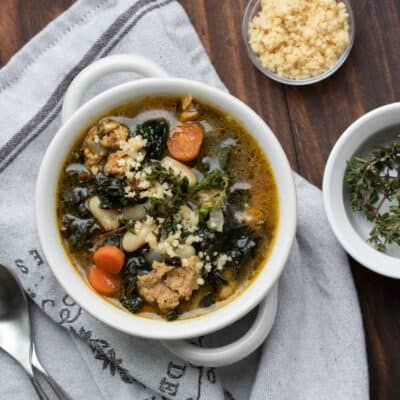 Instant Pot Smoky Kale and White Bean Soup
Prep for dried beans: Soak your beans for 8 hours to overnight or quick soak for 1-2 hours (see post for method).
Smoky kale and white bean soup made in less than 30 minutes thanks to the instant pot. The flavors in this super easy meal will make your mouth water!
Ingredients
2

cups

dry white beans

, soaked overnight or quick soaked with 2 teaspoons of baking soda (see note, can also use canned beans)

1

yellow or sweet onion

, chopped

1

cup

chopped carrots

1

tablespoon

fresh oregano

1

tablespoon

fresh thyme

1/2

teaspoon

sea salt

, optional depending on sausage used

splash of your favorite oil for sautéing

, or veggie broth if avoiding oil

2

vegan sausages

, smoky or Italian flavored (see note)

1

bunch

lacinato/flat leaf/dino kale

1/4 to 1/2

teaspoon

liquid smoke

, add more if not using smoky flavored sausage

8

cups

veggie broth
Grateable Vegan Parmesan Cheese

, optional
Instructions
Rinse soaked beans well to remove all traces of baking soda.


Turn the sauté setting on on the Instant Pot. Sauté onions, carrots, oregano and thyme with salt (if using) and a drizzle of oil or splash of broth until the onions begin to soften.

Add the beans (if using dried), sausage, kale and liquid smoke. Sauté for a few more minutes.

Turn the sauté function off and add the broth.

Put the top on and set to manual pressure cook on high for 20 minutes.

When it's done, release the steam valve carefully so you don't get a steam burn.

Allow all the steam to release then uncover and serve! If you are using canned beans, add them here after you drain and rinse them, put the top back on and allow to sit for about 10 or so minutes so the beans get warm.

Top with Parmesan if you want, but it's highly recommended!
Notes
See the post on soaking methods for the dried beans.
Make sure to rinse the soaked beans well to get off all of the baking soda.
You can also use canned beans, just add them to the end (see instructions).
I used precooked sausages, but if using uncooked then sauté them first with the onions and carrots.
You can also use tempeh instead of sausage.
This can easily be made on the stove by following the same directions except cooking it in a soup pot. Simmer for about 40-50 minutes, checking beans often for consistency. Add kale about 30 minutes into cooking so it doesn't get too soft. Once beans are soft turn off heat and serve.
Recipe by Veggies Don't Bite, visit our site for more great plant-based recipes.
Nutrition
Calories:
269
kcal
Carbohydrates:
42
g
Protein:
19
g
Fat:
2
g
Saturated Fat:
0
g
Polyunsaturated Fat:
0
g
Monounsaturated Fat:
0
g
Trans Fat:
0
g
Cholesterol:
0
mg
Sodium:
322
mg
Potassium:
1156
mg
Fiber:
8
g
Sugar:
3
g
Vitamin A:
6095
IU
Vitamin C:
43.9
mg
Calcium:
194
mg
Iron:
6.2
mg
Nutrition and metric information should be considered an estimate.