Heavenly vegan date sweetened brownies that are chewy and deliciously fudgy. These are gluten-free, easy to make and amazing! You NEED these in your life!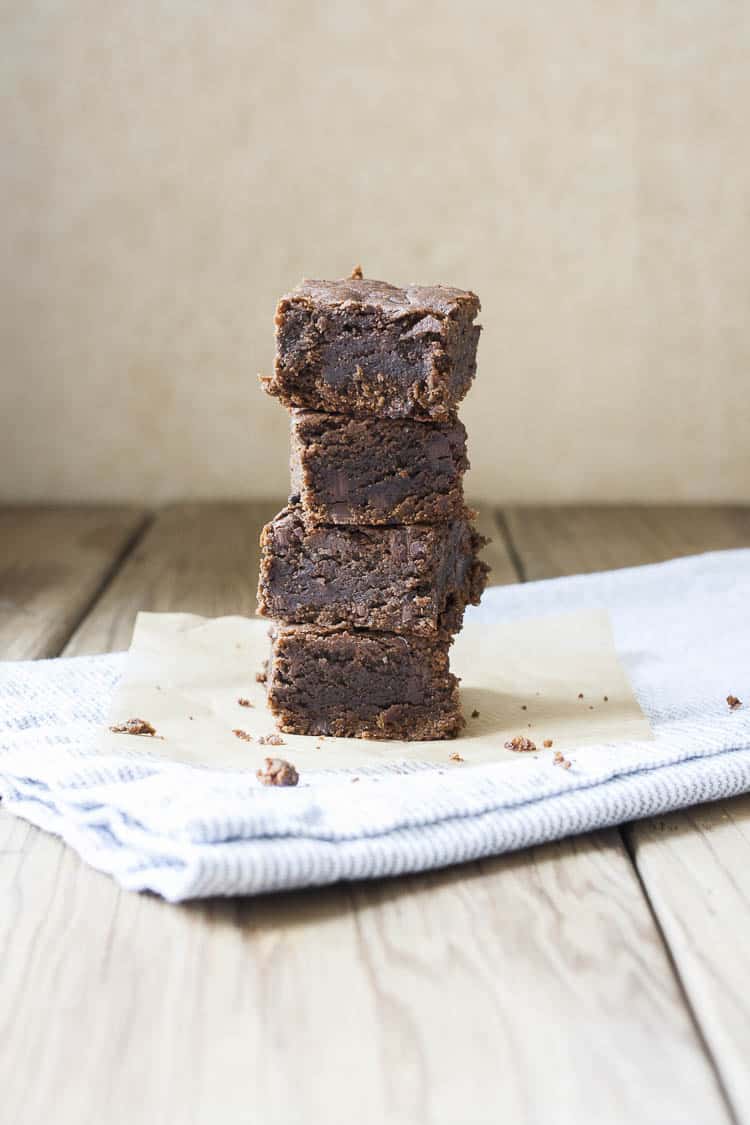 Originally published June 9, 2016.
I was going through trial after trial of brownies, trying to find that perfectly textured baked good. I finally got it right with these vegan date brownies. These are the perfect combination of chewiness and fudge!
Vegan Date Sweetened Brownies
I really wanted to create a brownie with a date sweetened base, but I wanted the texture to be chewy with a hint of fudge. If you are looking for a classic boxed brownie like texture, check out these vegan gluten-free brownies!
We all have different opinions on what is considered the perfect brownie. Some like them cakey, some super fudgy, and some are in the dense and chewy crowd. I am very picky when it comes to texture.
As much as I like fudge, I am not a fan of baked goods with too much moisture. It's like when you have a sandwich and the bread gets wet. Cue the gagging. So when I started my brownie journey, I knew I needed to make MY perfect vegan brownie.
I wanted just enough density, with the perfect chewy texture and a small touch of fudge. I wanted my sweetener to be dates, they give such a great chewy texture without the need for another sweetener (although I did many trials with sugar and maple syrup just to make sure dates were the best choice, they were).
These are gluten-free and have a nut-free option! Which makes them perfect for school safe sweets without sacrificing on taste and texture.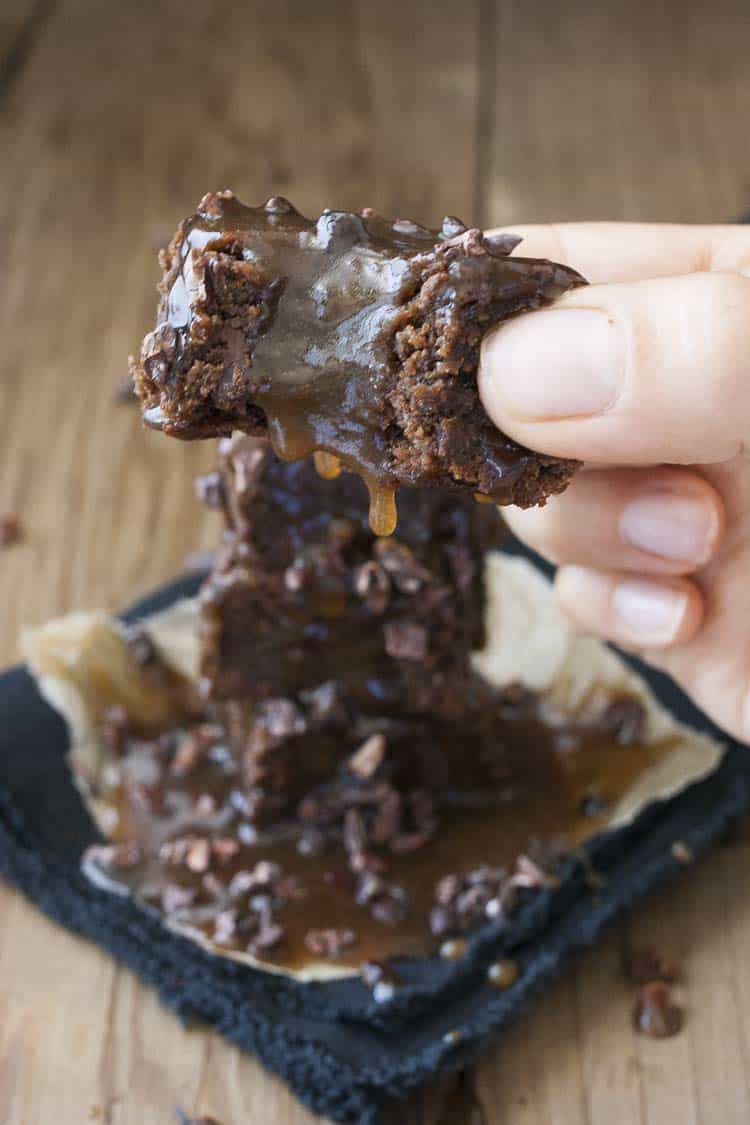 How do you use dates instead of sugar?
Dates are an amazing natural sweetener! They can be used in a variety of ways, from blended into a recipe like this one, to creating a smooth date paste.
Substituting dates for sugar isn't just about the sweetener, you need to take the other ingredients into account . Since dates are a moist sweetener, you will need to reduce the moisture of the other ingredients if substituting for a dry sugar.
If subbing for maple syrup or other wet sweetener, start with a 1 to 1 ratio and check the texture of the batter to see if you need any more moisture since dates can be less moist than other sweeteners.
Are dates healthier than sugar?
When substituting for white sugar, yes, dates are healthier. Dates are packed with nutrition, but they are still high in caloric intake and natural sugars. So you still are eating sugar, just in a more natural form.
In my opinion, I think it all depends on your intention. I love using recipes with dates when I want an every day sweet treat. I feel better when I am not overloading on white sugar.
However when I go in for dessert, I don't sweat it. But the good news, is these date brownies are the best of both! So indulgent and yummy, but still have less white sugar than traditional brownies.
How long do date brownies last?
Date brownies will still taste delicious for a few days out of the fridge, but after that the texture and flavor starts to be compromised. Once you put them in the fridge, they should last about a week for best results. But are still decent for about 10 days or so.
These should be stored in an airtight container for best results! And you can always freeze them. To keep date brownies best in the freezer, I wrap them in parchment or plastic wrap, then in foil. Then put in an airtight container or freezer bag.
Can you taste the dates?
The greatest thing about chocolate is that is covers up almost any flavor. It's my favorite choice when it comes to getting extra greens into my kids! Especially when I use chocolate chips like I do in this recipe, the date taste is not detectable.
The only thing you may notice here is the texture. Dates have a chewy smooth texture which is exactly what they contribute here. They also give a small caramel like hint to these so it makes them really deep and rich.
How To Make Vegan Date Sweetened Brownies
Combine ingredients and blend until smooth.
Put into a baking dish.
Bake and cover with optional caramel.
Toppings for date brownies
The ultimate ending in these vegan date brownies is the caramel crunch topping. On their own, these are amazing. But add caramel and a cacao nib crunch and these take you to a level of ultimate brownie heaven.
They are insane. I didn't even get sick of them after I made at least 5 extra trials to make sure they were perfect. I tried these vegan brownies on friends with double thumbs up all around!
Some other toppings you could try are:
More chocolate chips instead of cacao nibs
Walnuts or pecans with the caramel
What can I mix into these date brownies?
Although these are perfect as is, you can definitely make them more exciting by mixing in a few ingredients. In my instructions, I give the choice of blending all the chocolate chips in or letting them settle so you have a chocolate chip mix in. But here are some other favorites:
Walnuts
Pecans
Cacao nibs
Candy cane pieces
Peanut butter cup chunks
Peanut butter or other nut/seed butter
M & M like candy
Marshmallows (these vegan marshmallows are my favorite)
Graham crackers like cookies
Pretzels
Oreos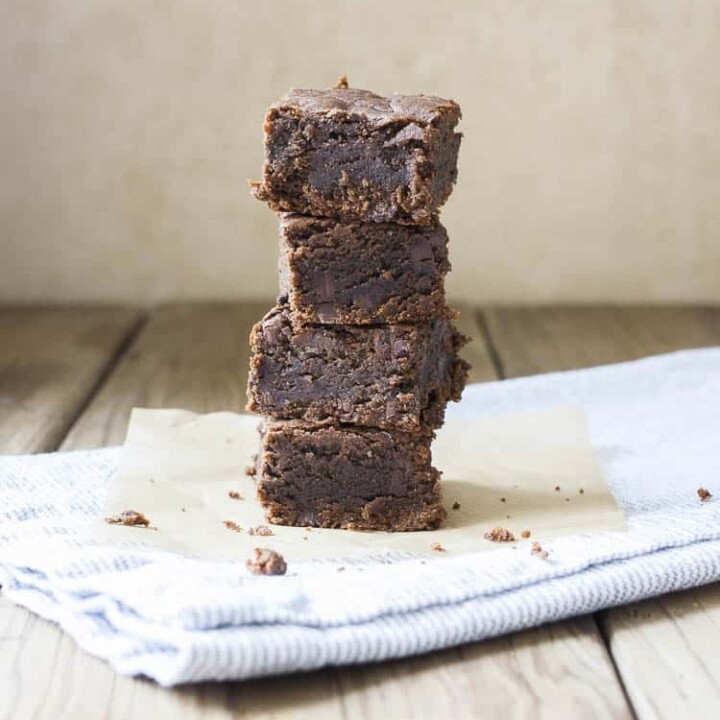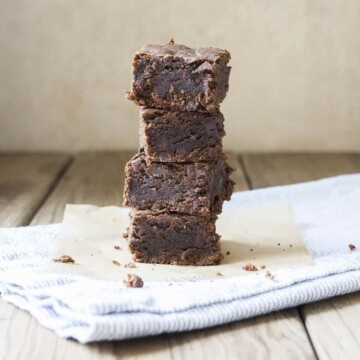 Ultimate Vegan Date Brownies (Gluten-Free)
Heavenly vegan date sweetened brownies that are chewy and deliciously fudgy. These are gluten-free, easy to make and amazing! You NEED these in your life!
Ingredients
½ cup brown rice flour
2 tablespoons tapioca starch
¼ teaspoon baking soda
½ teaspoon sea salt
2 cups chocolate chips , divided (dairy free to keep vegan)
1 cup cashew butter , room temperature (or tahini for nut free)
12 Medjool dates , soaked in hot water, plus ¼ cup of the soaking water
2 tablespoons molasses
1 teaspoon vanilla extract
Optional Caramel Crunch Topping:
¼ - ½ cup coconut sugar , depending on how sweet you want it
½ cup coconut cream , the top layer from about a can of full fat coconut milk, stored in refrigerator for 2-3 days or freezer for 2-3 hours
½ teaspoon vanilla extract
¼ teaspoon sea salt
¼ cup cacao nibs
Instructions
Preheat oven to 375°C/190°F. Soak dates in hot water, allow to soak while prepping the other ingredients. I soak mine with the pits because it is easier to remove the pits once soaked and soft.

Combine flour, starch, baking soda and salt in a small bowl and whisk to break up clumps. Set aside.

Melt 1 cup chocolate chips with cashew butter using a microwave or double boiler. If using a microwave, be sure to heat in short 10-15 second increments so you avoid burning it. Stir in between heatings to break down large chunks. It took mine a little over 1 minute to melt, but it will depend on your microwave.

Once melted, pour mixture into a blender or food processor (save the bowl you used for later). Add dates (make sure to remove the pits), ¼ cup of the soaking water, molasses and vanilla.

Blend until smooth. If you have some small chunks of dates that's okay, it will just contribute to the chewiness. Blend until really smooth if you prefer no chunks.

Add in the flour mixture. Blend again to combine. If your mixture is too thick to blend, you can also mix in a bowl (this is why I save the bowl I used to melt the chocolate). I usually do a little bit of both.

At this point you can either pour the last cup of chocolate chips into the blender or food processor and pulse to combine, or you can do this in a bowl.

Mix the chocolate chips in well. To avoid any chips getting chopped a bit which may happen if you combine in the blender or food processor, use the bowl method.

Pour batter into prepared pan (spray pan with a bit of oil or line with parchment paper) or into a nonstick pan. You can use either a 9 x 9 pan or an 8 x 8 pan for very thick brownies.

Bake for 15-20 minutes, until a toothpick comes out mostly clean. Ovens vary so keep a close eye around the 15 minute mark.

They cook more as they cool so make sure NOT to over bake. For fudgier brownies, you want the toothpick to be slightly wet when you test.

Allow to cool completely, at least an hour but the longer the better, and then cut and serve. These brownies get better the longer they set. I tried them the next day and even the day after that and they just got chewier and fudgier.


If you use the optional caramel crunch topping:
Make the caramel while brownies are cooking. Place all ingredients, except cacao nibs, in a small pot. Whisk over medium heat until you get a rolling boil.

Turn heat to medium low, then continue to whisk until slightly thickened, about 5-7 minutes.

Once it is done, allow it to cool in the fridge about 15-20 minutes. Once cool, pour on the brownies, then sprinkle the cacao nibs on the top.

You can also pour the caramel on the brownies when hot, then top with cacao nibs and place the entire pan in the fridge to cool. This may have an effect on the texture of the brownies, so keep that in mind.
Notes
Make sure all ingredients are at room temperature or the melted chocolate will harden and not mix well.
You can control how sweet these are by the type of chocolate used. For a deep dark flavor, use dark or extra dark chocolate. For a sweet traditional flavor, use regular or semi sweet chocolate. 
You can also use another variety of dates, just keep in mind the size and sweetness as compared to Medjool to ensure the same results.
Nutrition facts are for the brownies only. Caramel topping is optional.
Recipe by Veggies Don't Bite, visit our site for more great plant-based recipes.
Nutrition
Calories: 286kcalCarbohydrates: 40gProtein: 5gFat: 13gSaturated Fat: 5gCholesterol: 3mgSodium: 101mgPotassium: 264mgFiber: 2gSugar: 28gVitamin A: 77IUVitamin C: 1mgCalcium: 50mgIron: 1mg
Nutrition and metric information should be considered an estimate.
Never miss a recipe!
Sign up here and get a FREE quick and easy meal guide!