The best part of the holidays is being able to take those flavors and use them for more than baking. This DIY Gingerbread Sugar Scrub is the perfect use!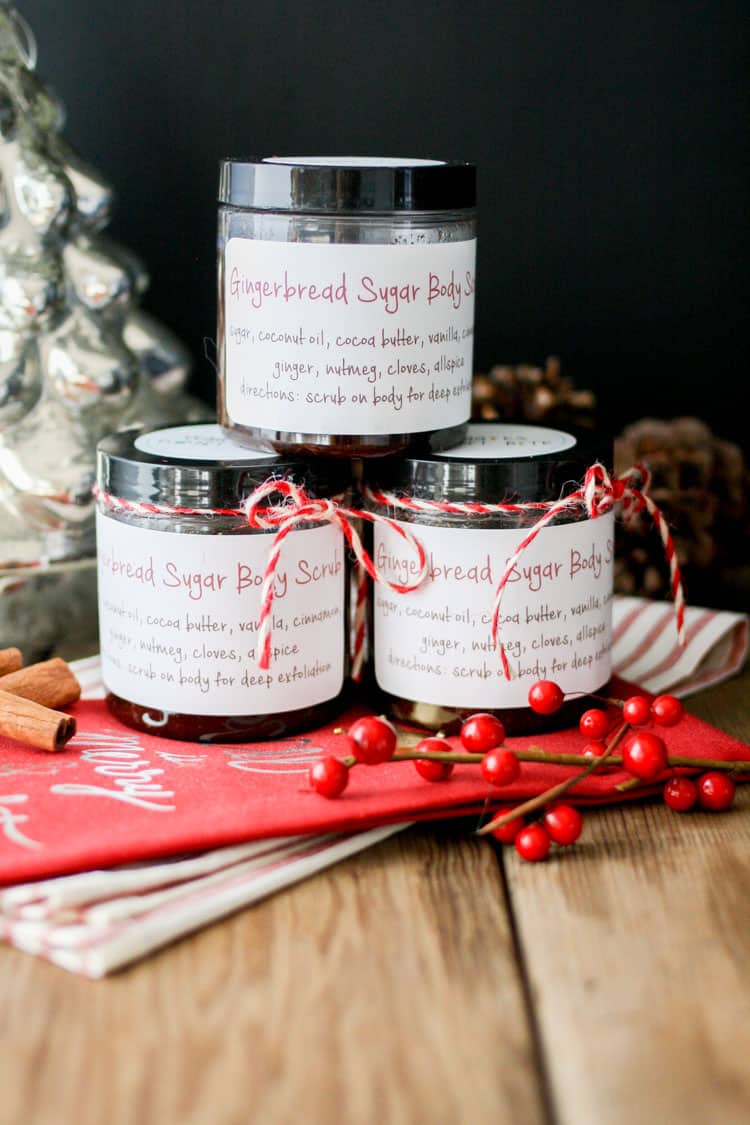 Originally published
Whether you're making this for your own use, or wanting to make up a huge batch to gift to friends; you can't go wrong with this Christmas sugar scrub! You basically put everything in a bowl and mix.
Simple and smells amazing! I'm giving you all the details on how to make this, as well as ideas on gift packaging below.

Gingerbread Sugar Scrub
This scrub is super simple, and most of the ingredients can already be found in your pantry! But just in case you're missing something I'll post links to where you can grab them from Amazon! The stores are CRAZY this time of year, and nobody wants to deal with that mess.
Here is all you need to make your own homemade gifts. These are just ideas, there are many other brands out there so feel free to use whatever you find!
Sunco Natural Raw Sugar, Natural Raw Cane Sugar, Turbinado Sugar, Demerara Sugar Bulk, Pack of 1
Viva Naturals Organic Extra Virgin Coconut Oil, 16 Ounce
Cocoa Butter - Molivera Organics Raw Organic 100% Pure Raw Premium Grade A Natural Cocoa Butter 16 oz. - Best for DIY Lip Balm, Sticks, Face, Skin, Hair and Stretch Marks
McCormick All Natural Pure Vanilla Extract, 4 Fl Oz (Pack of 1)
McCormick Ground Cinnamon, 18 Ounce (Pack of 1)
Simply Organic Ginger Root Ground Certified Organic, 1.64-Ounce Container
Simply Organic Nutmeg Ground CERTIFIED ORGANIC 2.3oz. bottle
Simply Organic Cloves Ground Certified Organic, 2.82-Ounce Container
365 Everyday Value, Organic Ground Allspice, 1.83 oz
How long do sugar scrubs last?
Most sugar scrubs will last up to 6 months when stored properly. Make sure the lid is always on the container you have it stored in!
Do sugar scrubs need to be refrigerated?
Depends on the ingredients. This particular scrub does not need to be refrigerated. Make sure you follow all the directions on the jar or in the recipe!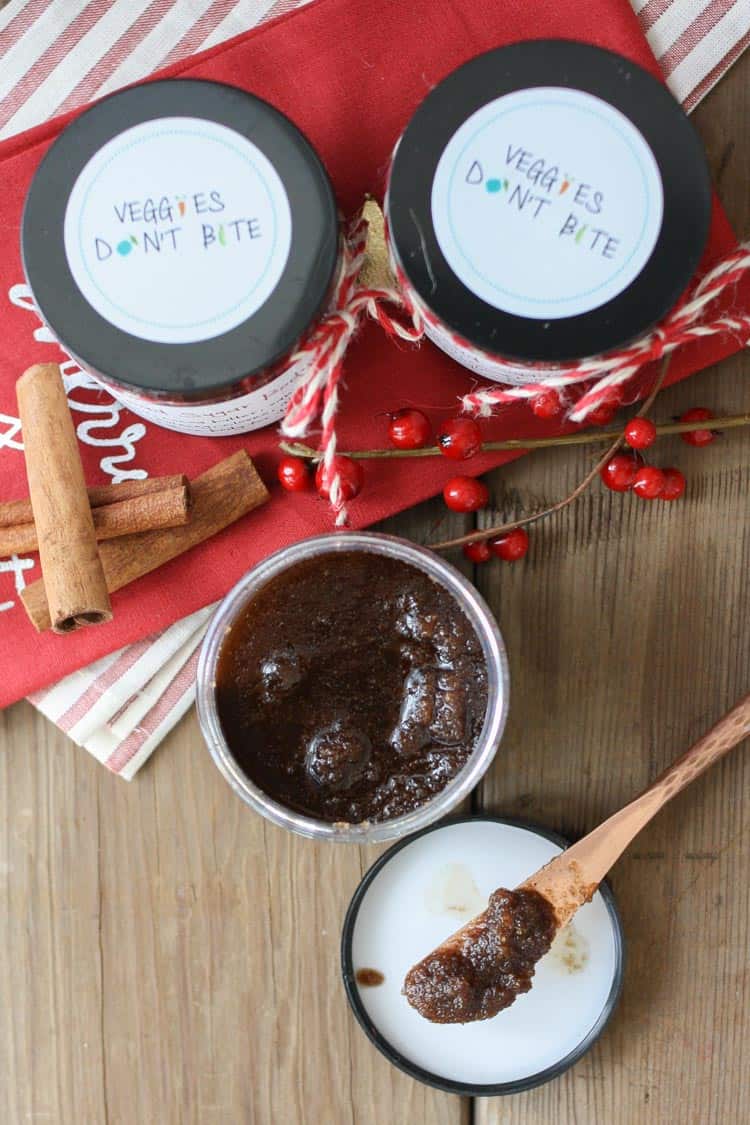 How do you make sugar scrub Christmas presents?
Making a large batch and then dividing into individual containers make for an awesome Christmas gift! Tie some pretty ribbon around the jar for some extra festive flair.
You can print off some super cute and personalized labels or here's a FREE copy of mine: Gingerbread Sugar Scrub Labels Yay!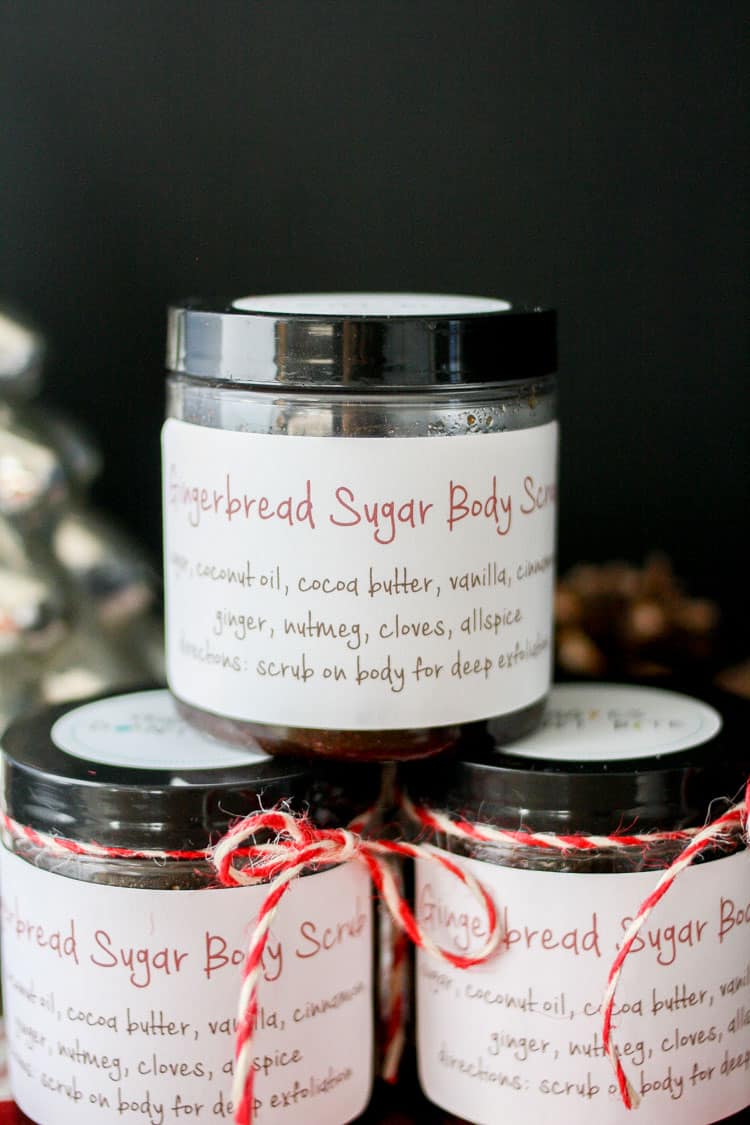 4oz Clear Plastic Jars with Labels & Spatulas & Lids (12-Pack); Straight Sided PET Low Profile BPA-Free Containers Great for Cosmetics, Kitchen, Gifts & Travel (12-Pack, Clear)
CREATRILL 3 Rolls Red Green Kraft ¼" by 492 Feet Raffia Ribbon/String, 164Feet Each Roll, Packing Paper Twine for Christmas
How To Make Gingerbread Sugar Scrub
Combine all ingredients into one bowl and mix!
Store in jars or other container with lid.
The boys had so much fun and felt such success. I loved the idea that they helped make their own teacher's gifts. And it's a pretty mess free project, with some adult help (definitely don't let them do it alone especially with some of the hot ingredients).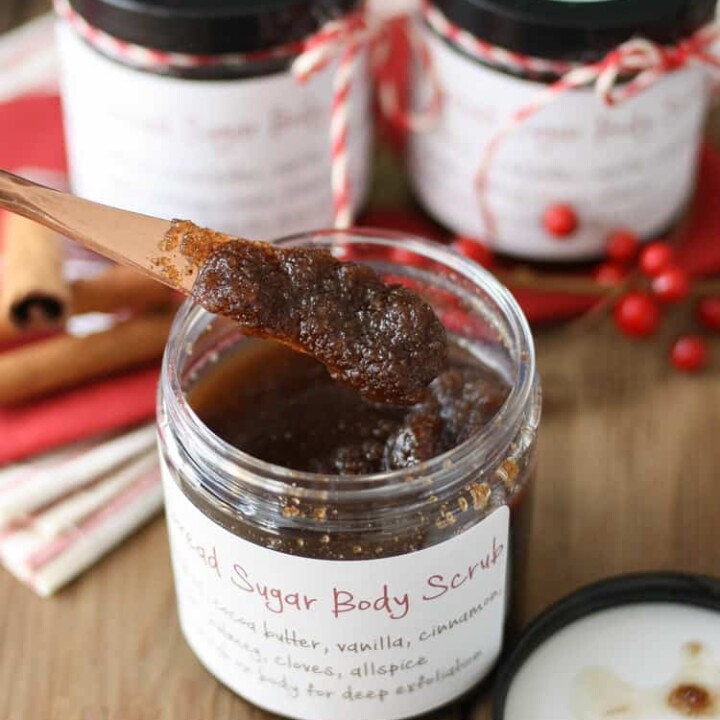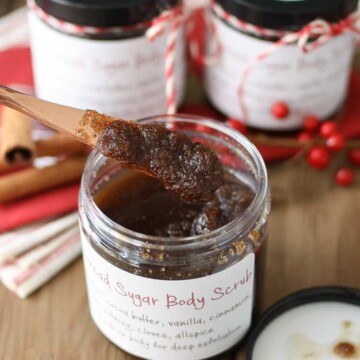 Homemade DIY Gingerbread Sugar Scrub
The best part of the holidays is being able to take those flavors and use them for more than baking. This DIY Gingerbread Sugar Scrub is the perfect use!
Equipment
plastic or glass jars to store in
Ingredients
3 cups sugar , I like turbinado sugar for a course scrub and brown sugar for a milder scrub, or a mix of both
¾ cup melted coconut oil
6 tablespoons cocoa butter , melted if using discs
1 ½ tablespoons vanilla extract
1 ½ tablespoons cinnamon
1 ½ tablespoons ginger
1 tablespoons nutmeg
1 tablespoons ground cloves
1 tablespoons allspice
Instructions
Melt coconut oil and cocoa butter into liquid form. I used the microwave, it took about 1-2 minutes. You can also use a double boiler.

Add all ingredients into a bowl and mix to incorporate. Store in plastic or glass jars. Use on body 1-2 times a week for deep exfoliation.
Notes
You can also use all coconut oil but the cocoa butter is very moisturizing and keeps the scrub together well.
Make sure the coconut oil and cocoa butter are melted before assembling and
Be careful when handling he hot cocoa butter and coconut oil.
Recipe by Veggies Don't Bite, visit our site for more great plant-based recipes.
Nutrition and metric information should be considered an estimate.
Never miss a recipe!
Sign up here and get a FREE quick and easy meal guide!