An amazing list of reader favorite healthy vegan recipes! From breakfast to dinner and everything in between, you'll have no idea that these are all vegan!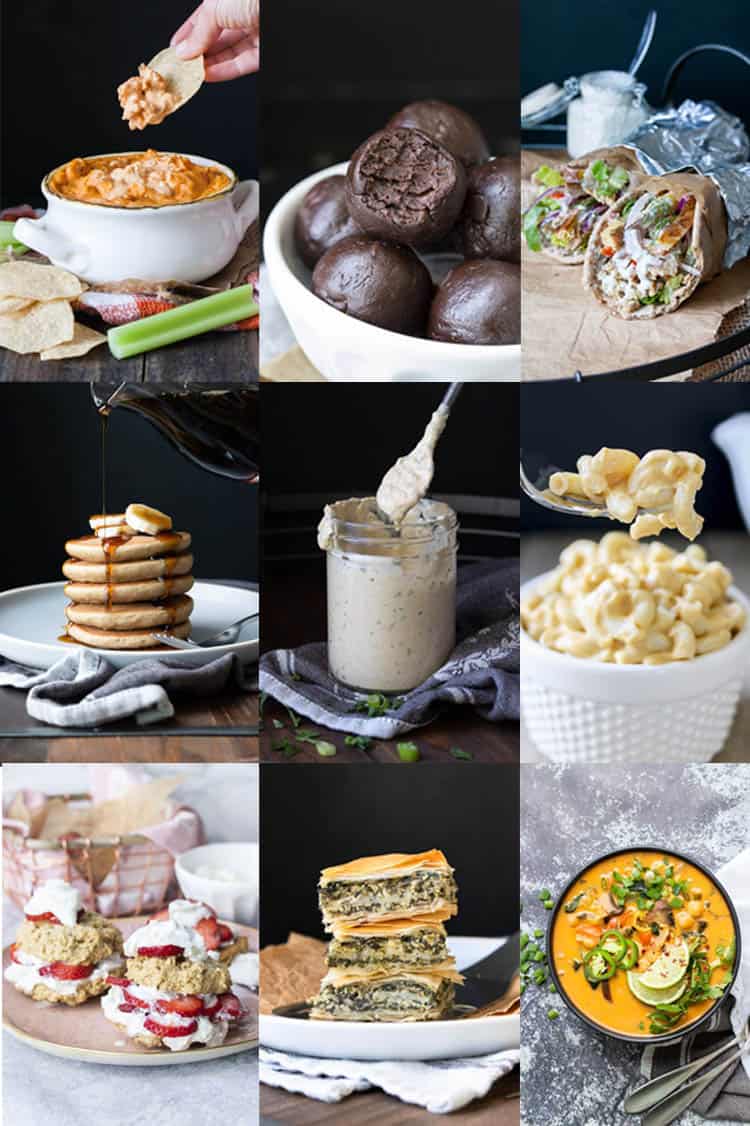 Food is meant to be enjoyed. And enjoying food doesn't mean you have to sacrifice when eating something nutritious.  It takes someone that loves to eat as much as I do to create healthy vegan food to show the world you can have the best of both!
Healthy Vegan Recipes
These healthy vegan recipes are hands down amazing. I'm talking drool inducing, out of this world, damn I need that kind of food. Desserts, main dishes, appetizers, you name it.
They are the most loved recipes by my readers (uh...you guys!) and many people keep coming back to them again and again. These recipes are a mix of easy vegan recipes and a few that take a little more time, but all of them are incredible!
If you're more of a simple eater and need easy, check out this list of 30 minute vegan recipes.
How can a vegan be healthy?
All of our bodies are different, so what works for one person may not work for another. No one dictates how many plant-based or vegan meals you must have in your diet, one to all it's up to you. I go more into the balance of plant-based eating in my podcast all about extremes and why it's best to find your own happy middle ground.
Sticking to mostly whole foods will give your body the nutrients it needs to function and feel it's best. But the exact amount will change from person to person. I know I can't do more than a few less nutritious meals in a row before my body starts to crave it's veggies.
However for you, maybe it's less. Maybe it's more. Listen to your body. If something sounds delicious but you feel awful after eating it, keep that in mind next time you make a choice. I have learned that when I pay close attention and listen, I feel the best.
While eating healthy is great, living a balanced life so you don't go insane is just as important. Healthy has to do with our whole body which includes your mind. Stress is can be just as unhealthy, or even more, than less nutritious food. Which is why I preach balance most of all.
What are the healthiest vegan foods?
First, I am not a dietician. I am not a nutritionist. And I am not a doctor. Any time you decide to fully change your diet, you should always talk to a health professional.
But one thing I can do, is help guide you to delicious healthy vegan foods recipes to add into your current diet plan. Because eating plant-based food is not an all or nothing thing.
I am a no compromise girl when it comes to food. If it's not good, I don't eat it. Which is why I take a balanced approach when I eat. And it's also why I create so many healthy comfort foods.
My cheese sauces are some of my top recipes, especially my Ultimate Creamy Vegan Cheese Sauce. And my Ranch Dressing is legit like regular dairy ranch. If there is a non vegan food I love, I will recreate it for those that want a vegan version.
When I create my recipes, I try and think big picture. Do I have some sort of protein? Do I have a healthy fat source? Do I have veggies? I like to include most of the main things our body needs.
However I also create plant based foods without these things, because balance and not everything needs to have the ultimate nutrition. I love creating sweet treats, and even some healthier vegan desserts (meaning desserts made with natural sweeteners such as dates, without butter or oil and mostly whole foods).
Overall, when it comes to healthy vegan food, it's those made with mostly whole foods that are your best bet. Processed vegan alternatives have their place but don't always include the nutrition your body needs to be at it's best.
Can you be an unhealthy vegan?
Absolutely. You can be an unhealthy anything. Looking at the nutrition standpoint, eating only processed food without any nutrition will not give your body what it needs to function. So yep, not very healthy.
However on the other side,  if you eat all whole foods, veggies, fruit and everything considered the ultimate "healthy" choice, you can still be unhealthy. Why?
Because of stress. Balance is such a key to living an overall healthy lifestyle. Putting yourself in a black and white world filled with extremes brings most of us stress. If you get anxiety when thinking of going out to eat, heading to a friends for dinner, etc. you may be overdoing it.
Food should be happy, I mean it's amazing! It should not cause stress. Think of your why for eating the way you do. If it's for health, think about your whole body including your mind.
If it's for ethical or environmental reasons, think about the fact that if you aren't working at your best, you can't make a difference in the world the way you want to.
Is vegan cheese unhealthy?
This all depends on the ingredients. If you are looking at a highly processed dairy free cheese, then it's not the most nutritious choice. Granted, if you love the way it tastes by all means allow yourself to eat the cheese sometimes.
However, you can definitely have amazing cheese that is made with mostly whole foods. One of my favorite brands is Miyoko's Kitchen. They use mostly whole food ingredients to create their artisan cheeses and dairy alternatives. And they are SO good!
I also love love creating my own cheese recipes. I am known for my cheese sauces and also have some amazing cheeseball recipes! Here are a few favorites:
Healthy Vegan Breakfast Recipes
Nothing like starting the day with something that feeds your belly, body and soul! I love a good delicious breakfast, and my kids love when I make it extra special!
Fluffy Vegan Banana Oatmeal Blender Pancakes
Vegan banana oatmeal blender pancakes are so delicious, fluffy, and soft you'll have no idea they are made with healthy whole food ingredients!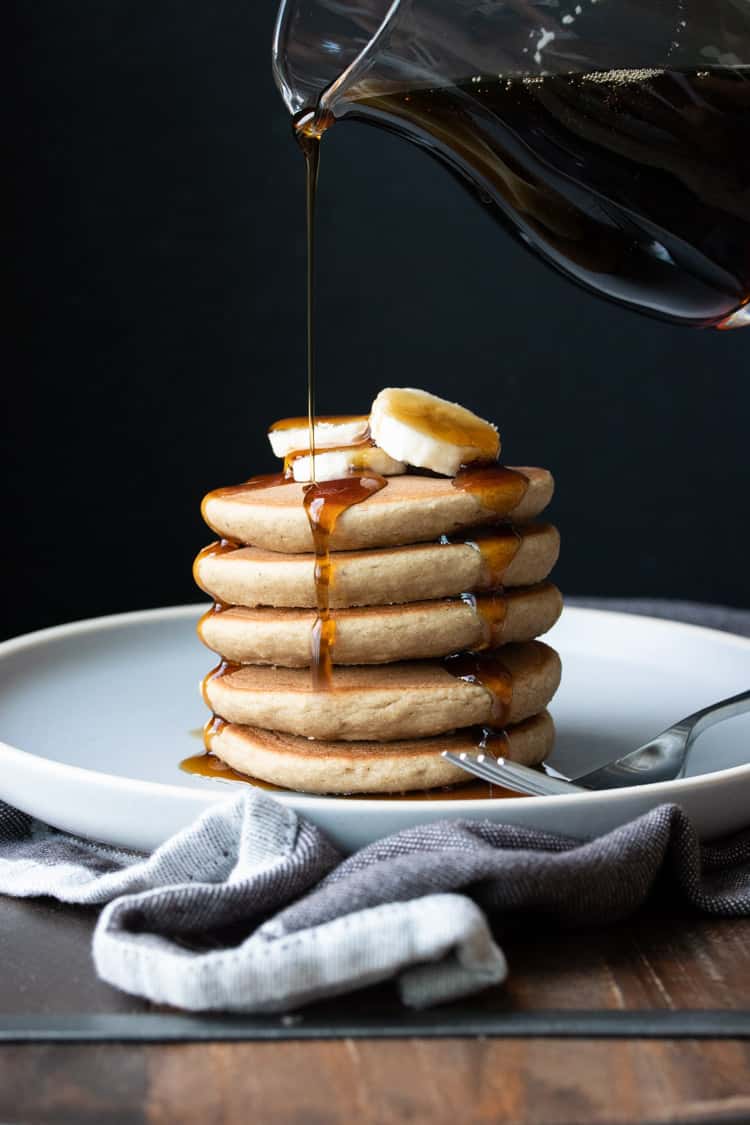 Vegan Blueberry French Toast Breakfast Muffins
Mixing up breakfast in the most delicious way with blueberry flavored french toast made into vegan breakfast muffins! Easy to put together and prep ahead.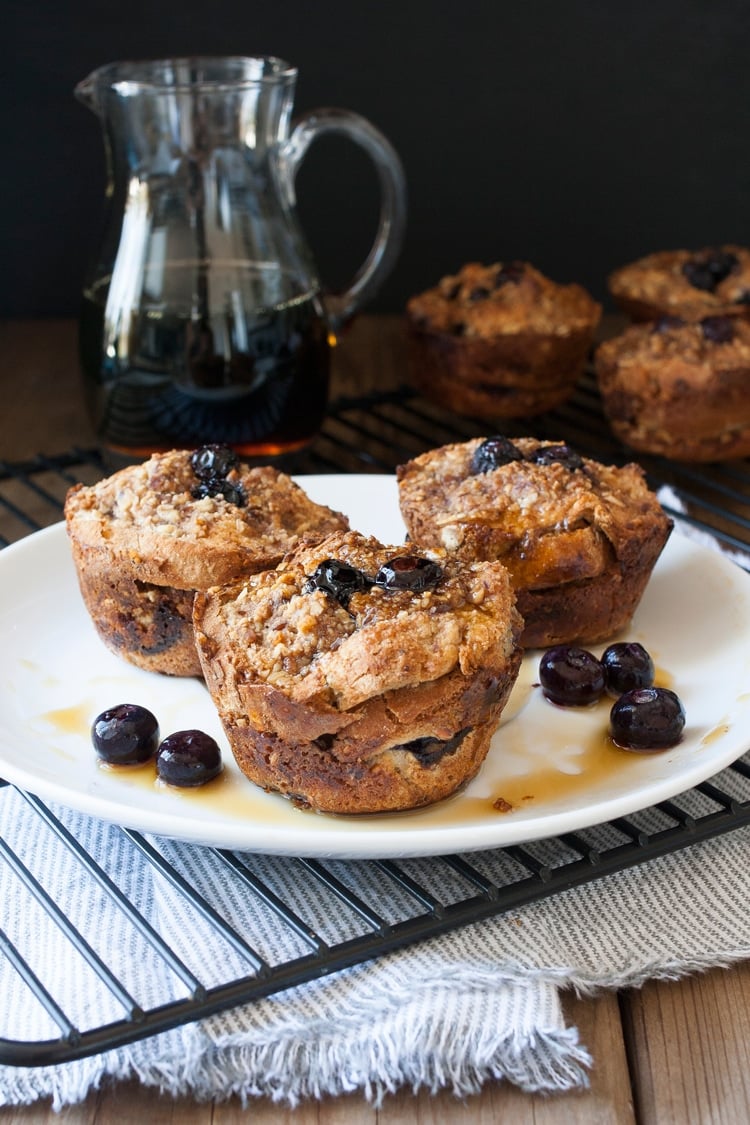 Vegan Creamy Spinach Savory Breakfast Oatmeal
With only 7 ingredients and 5 minutes to make, this vegan creamy spinach savory breakfast oatmeal is perfect for those cozy mornings that call for some comfort!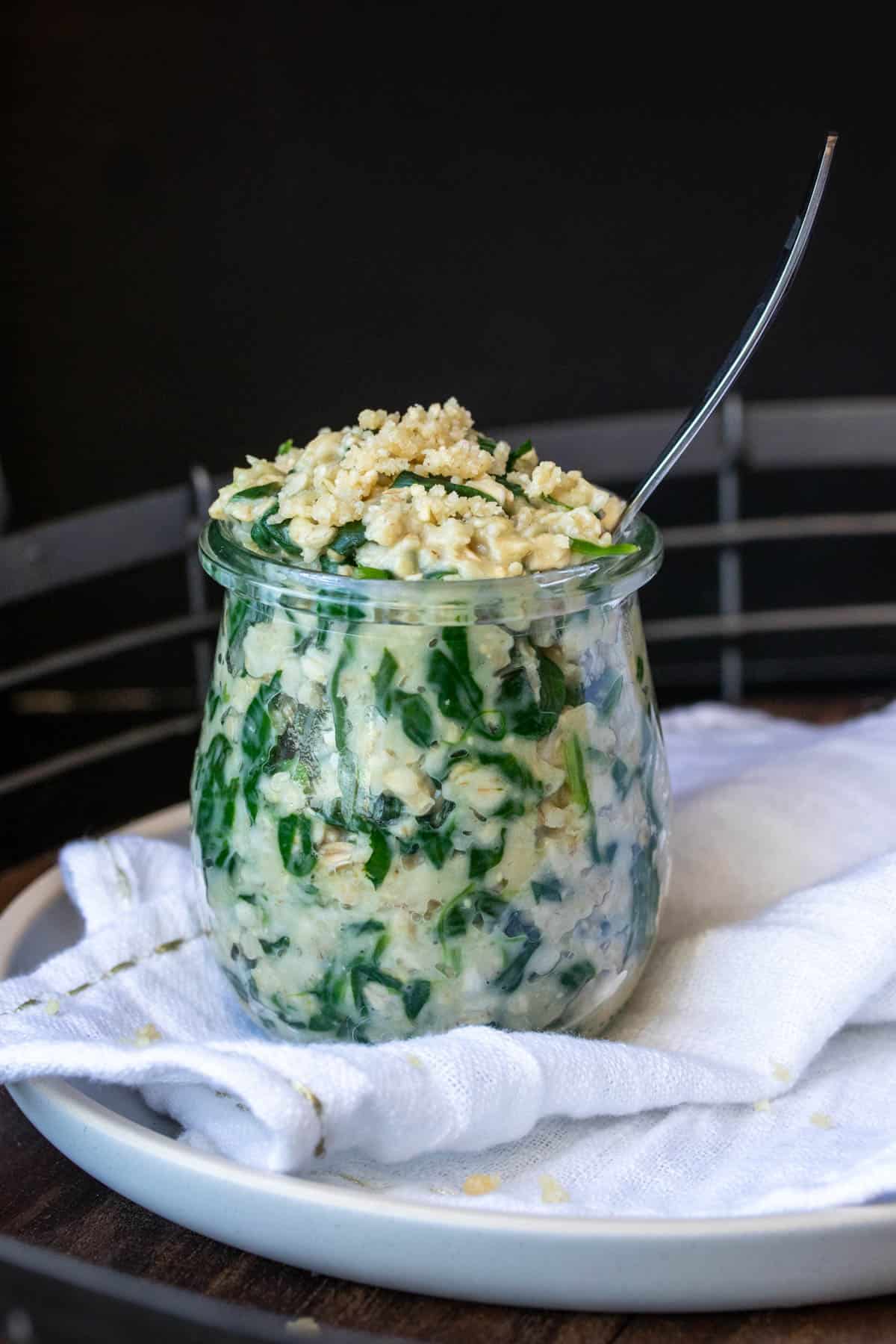 Burritos are life. I mean, is there anything you CAN'T wrap in a tortilla? I think not. This breakfast variety is filled with all the yumminess and will keep you going for hours.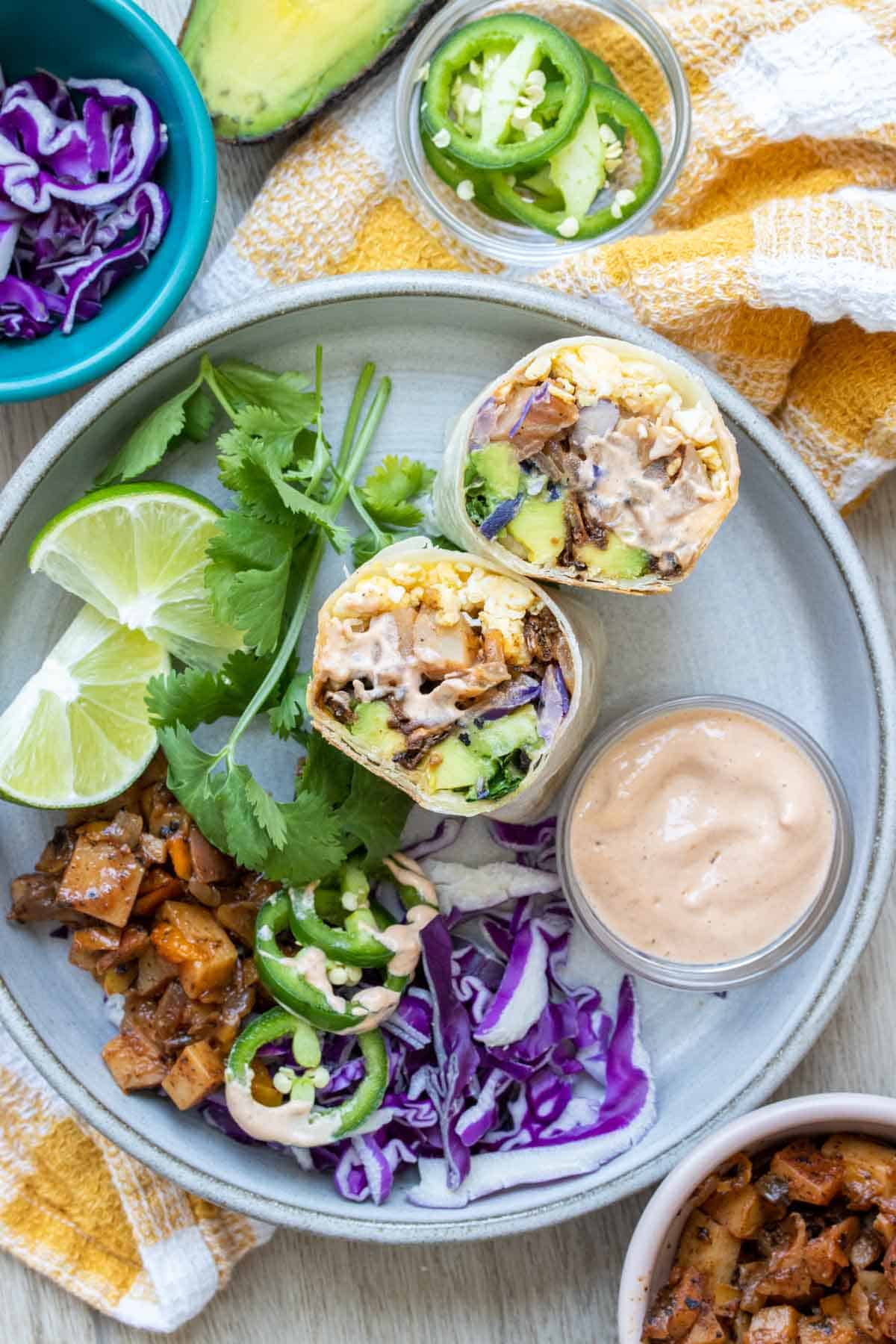 Healthy Vegan Appetizer and Side Dish Recipes
You may see these as appetizers or sides, but I say you can eat them as lunch or dinner too! I love snacky meals and these are top of my list.
Baked Vegan Buffalo Chicken Dip
I took a traditionally dairy filled party staple and turned it into a hot, creamy and mouthwatering vegan buffalo chicken dip! The most amazing remake ever!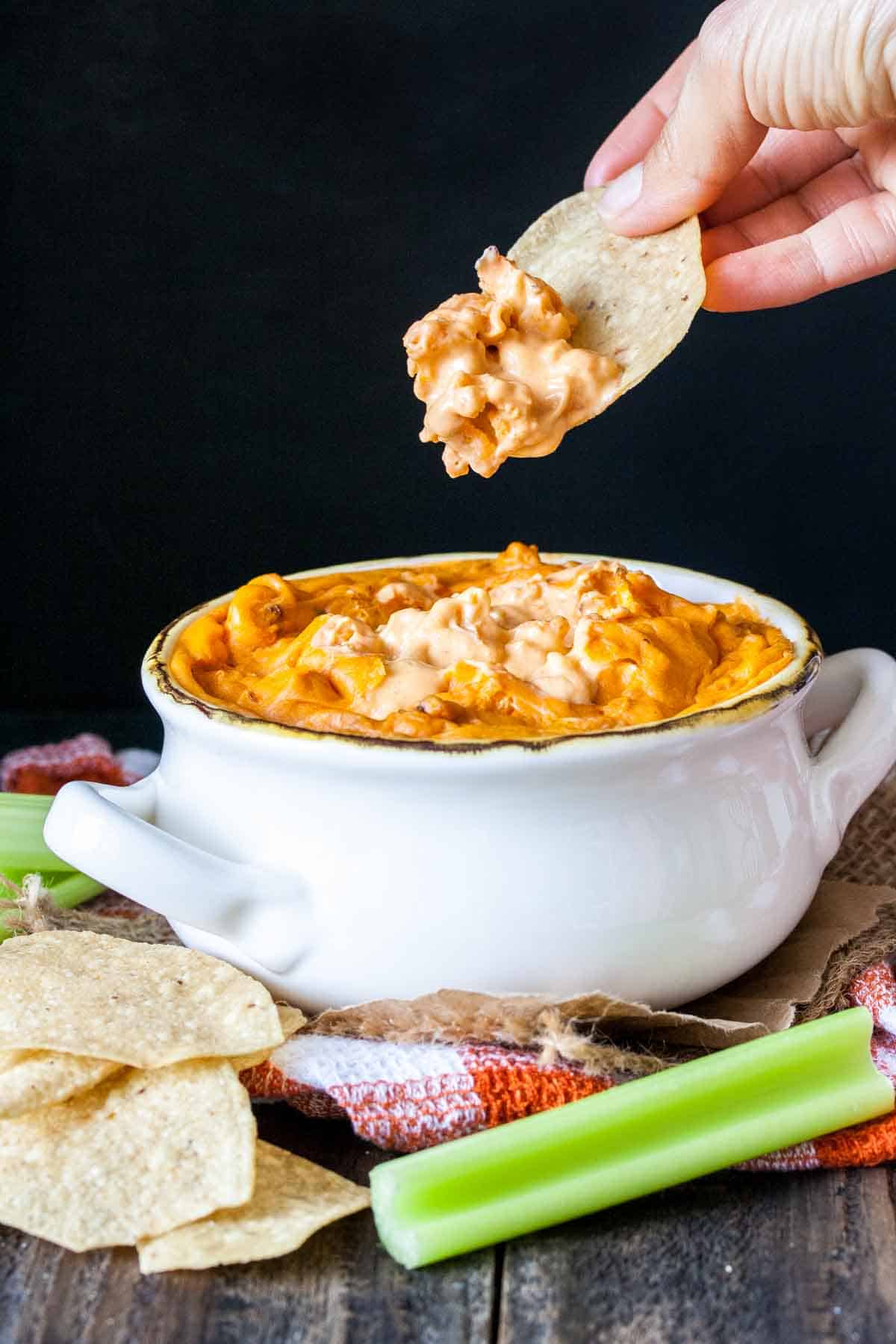 World's Best Greek Vegan Spanakopita
This authentic Greek recipe has gotten a makeover and is better than ever. This vegan spanakopita is hands down the absolute best you've ever had!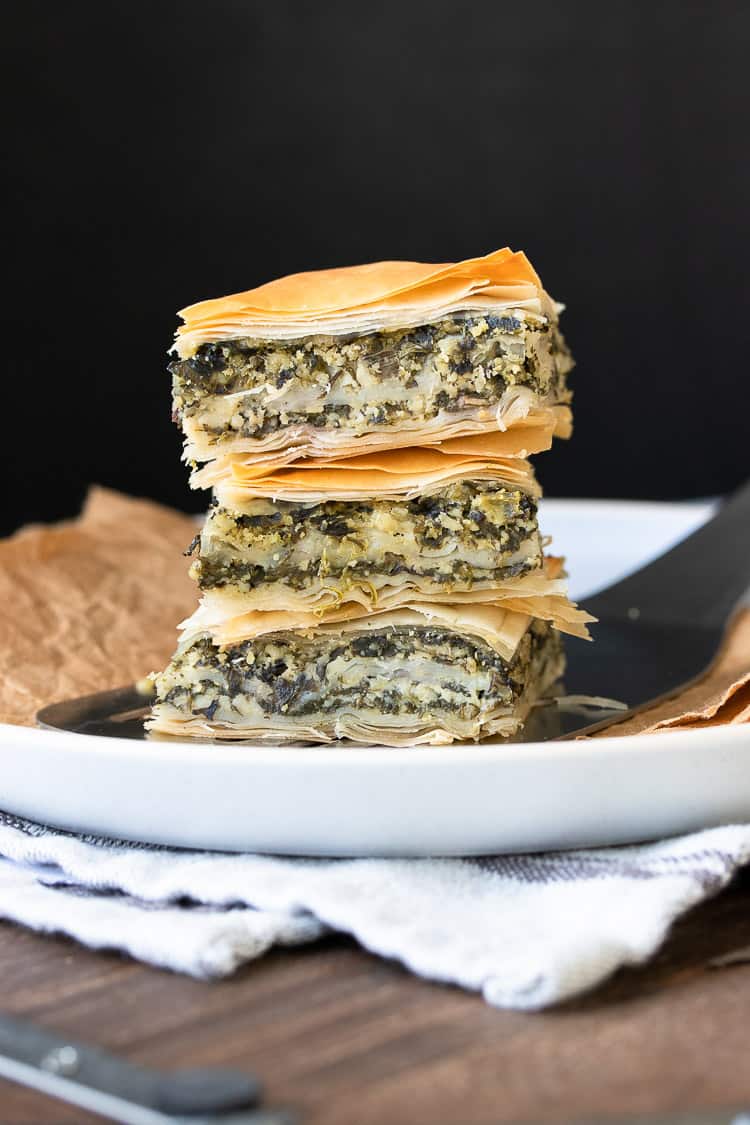 Ultimate Creamy Vegan Cheese Sauce
Creamy gooey cheesy goodness without the actual cheese! You will be amazed at how this combination of veggies and spices create this out of this world creamy vegan cheese sauce!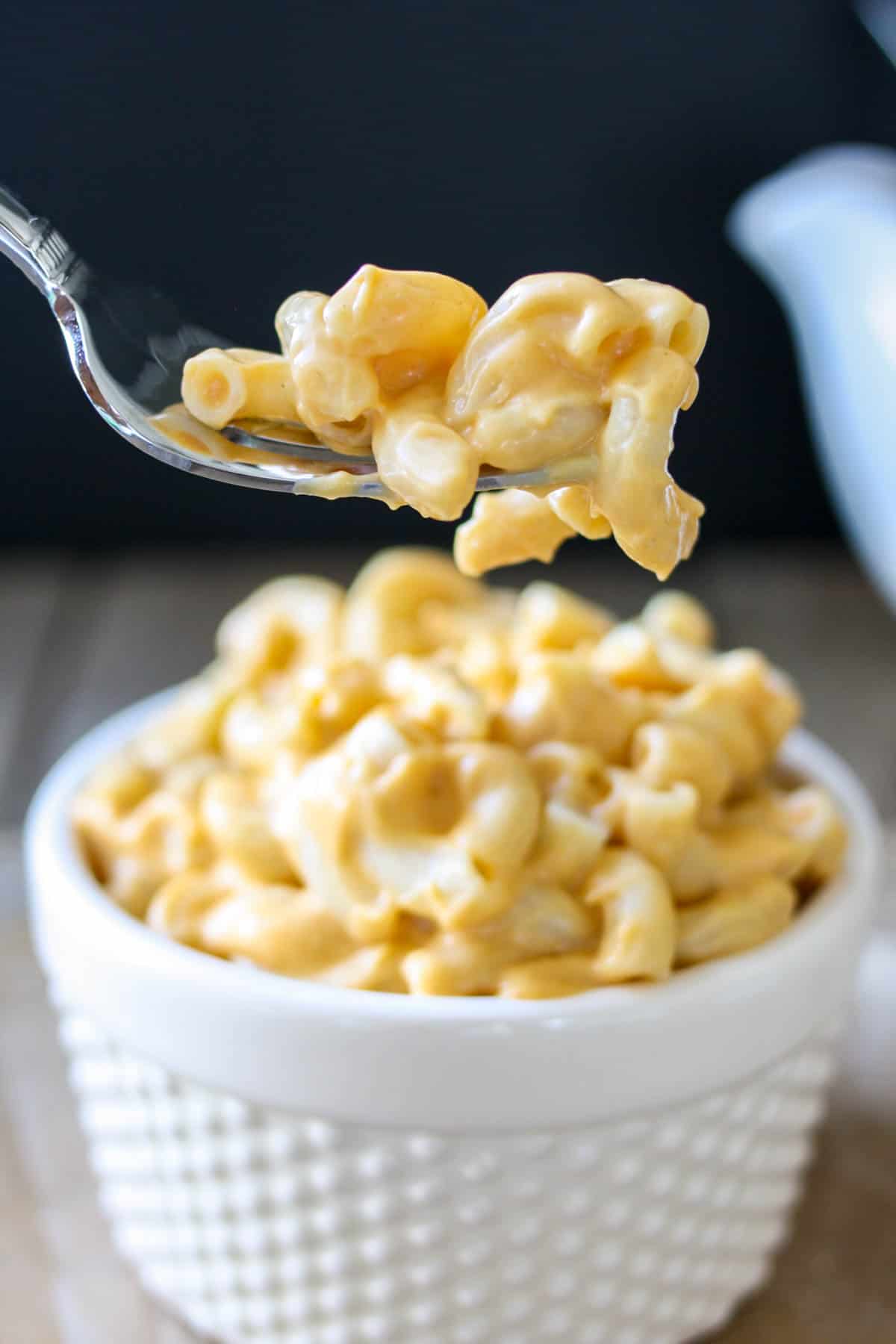 Mexican Coleslaw With Cilantro Lime Dressing
An easy to make Mexican coleslaw that pairs well with anything! Eat it in tacos, as a side salad or even as a main dish piled with toppings.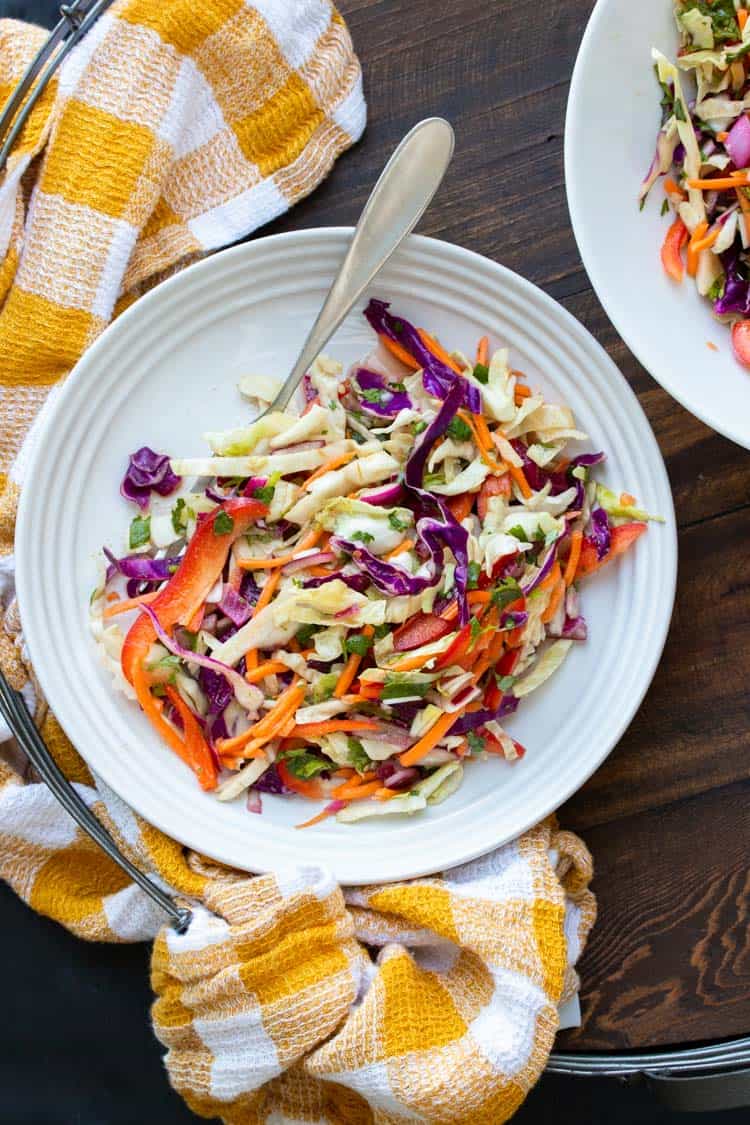 These vegan taquitos are out of this world delicious. Crunchy, taste like junk food, but filled with protein and veggies. It doesn't get better than this!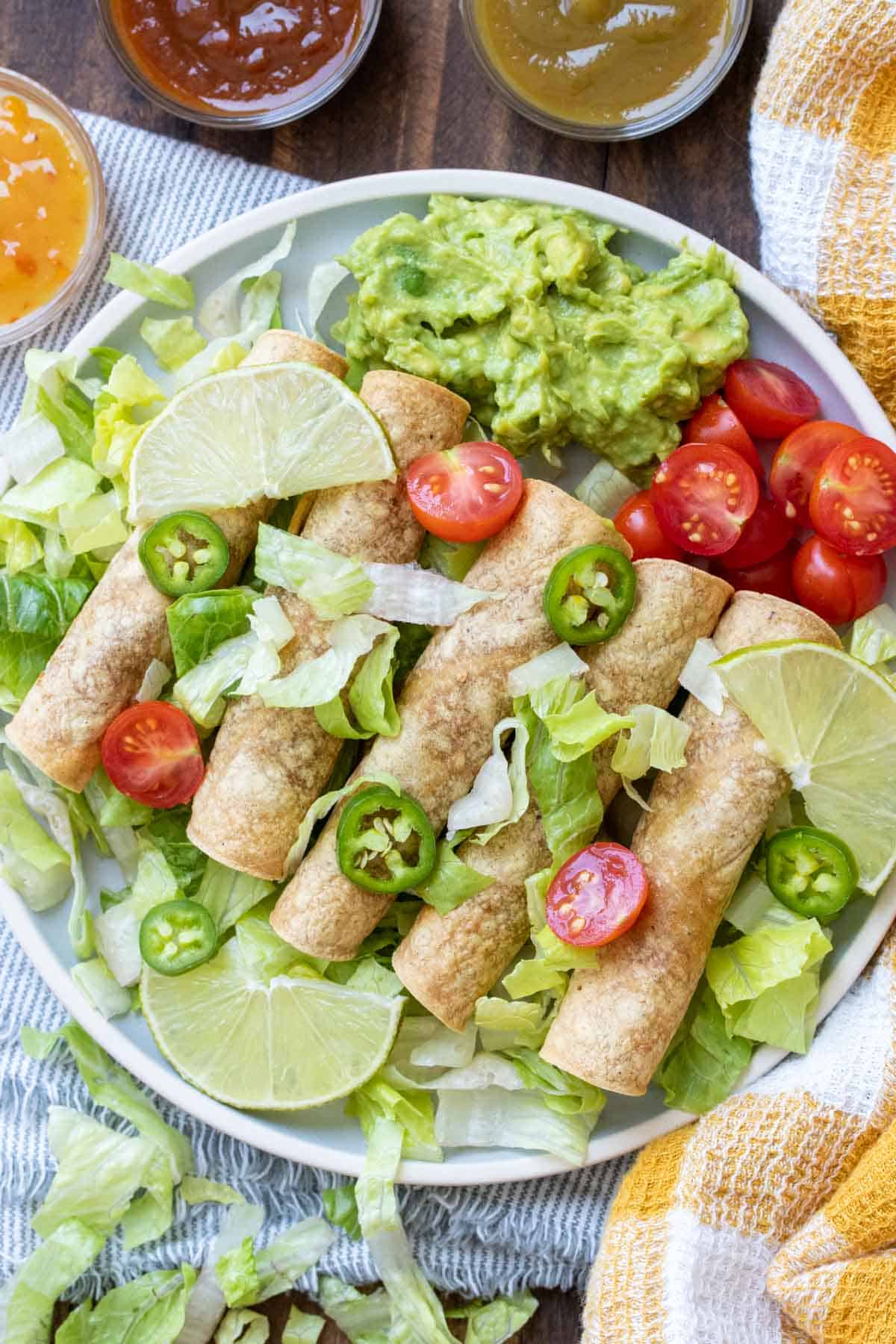 Healthy Vegan Lunch Recipes
I always feel like you can changeup the whole lunch and dinner thing, and really any other meal of the day. There are no rules when it comes to how you want to eat, but this group of recipes are great for on the go which is exactly what I am during the day!
Vegan Mashed Chickpea Salad Sandwich
Mashed chickpeas, piles of veggies, and a mayo free creamy base make this vegan mashed chickpea salad sandwich the perfect all in one recipe!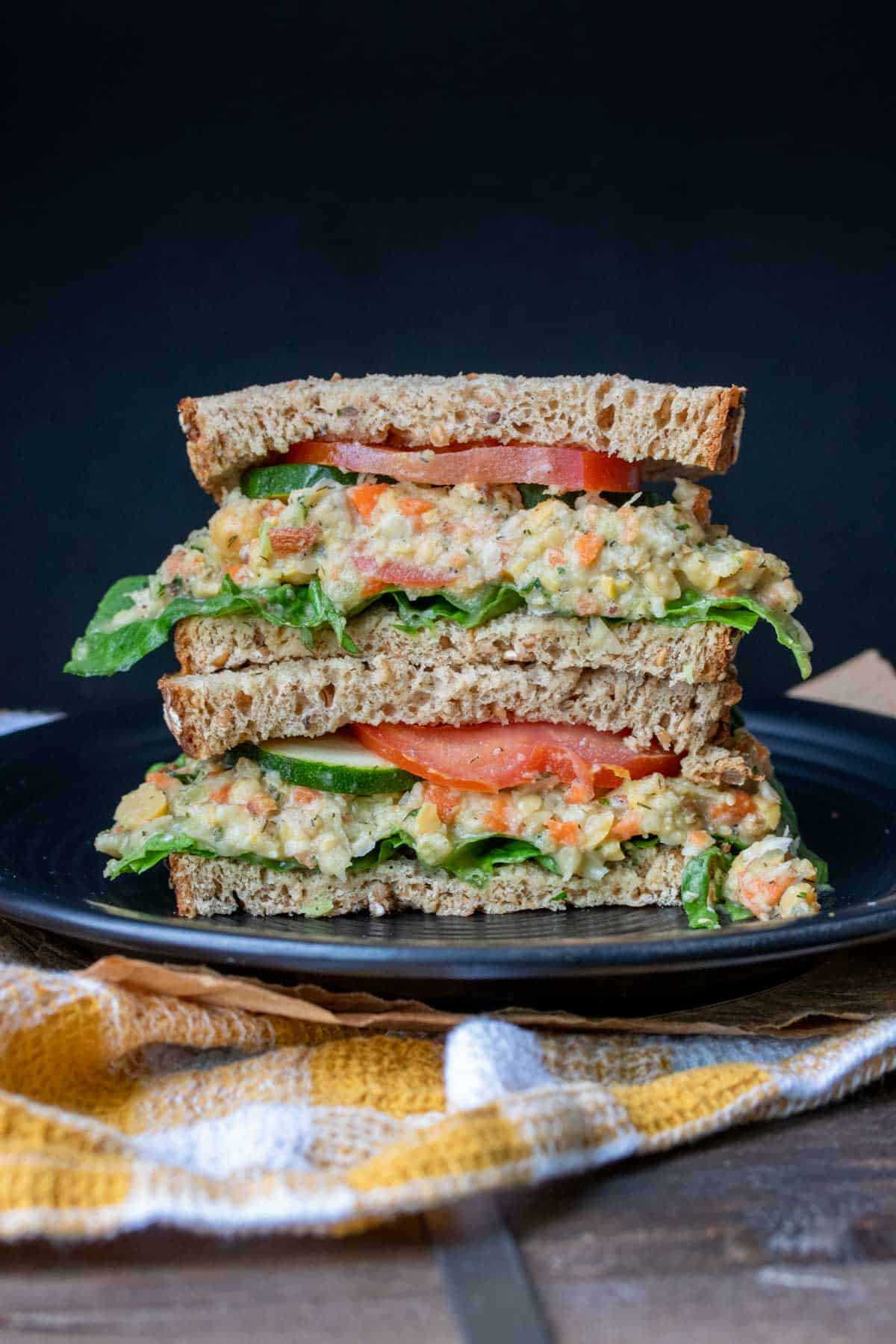 Creamy comfort food gone healthy in this vegan macaroni salad made with all whole food ingredients! Perfect for barbecues, picnics or a night on the couch!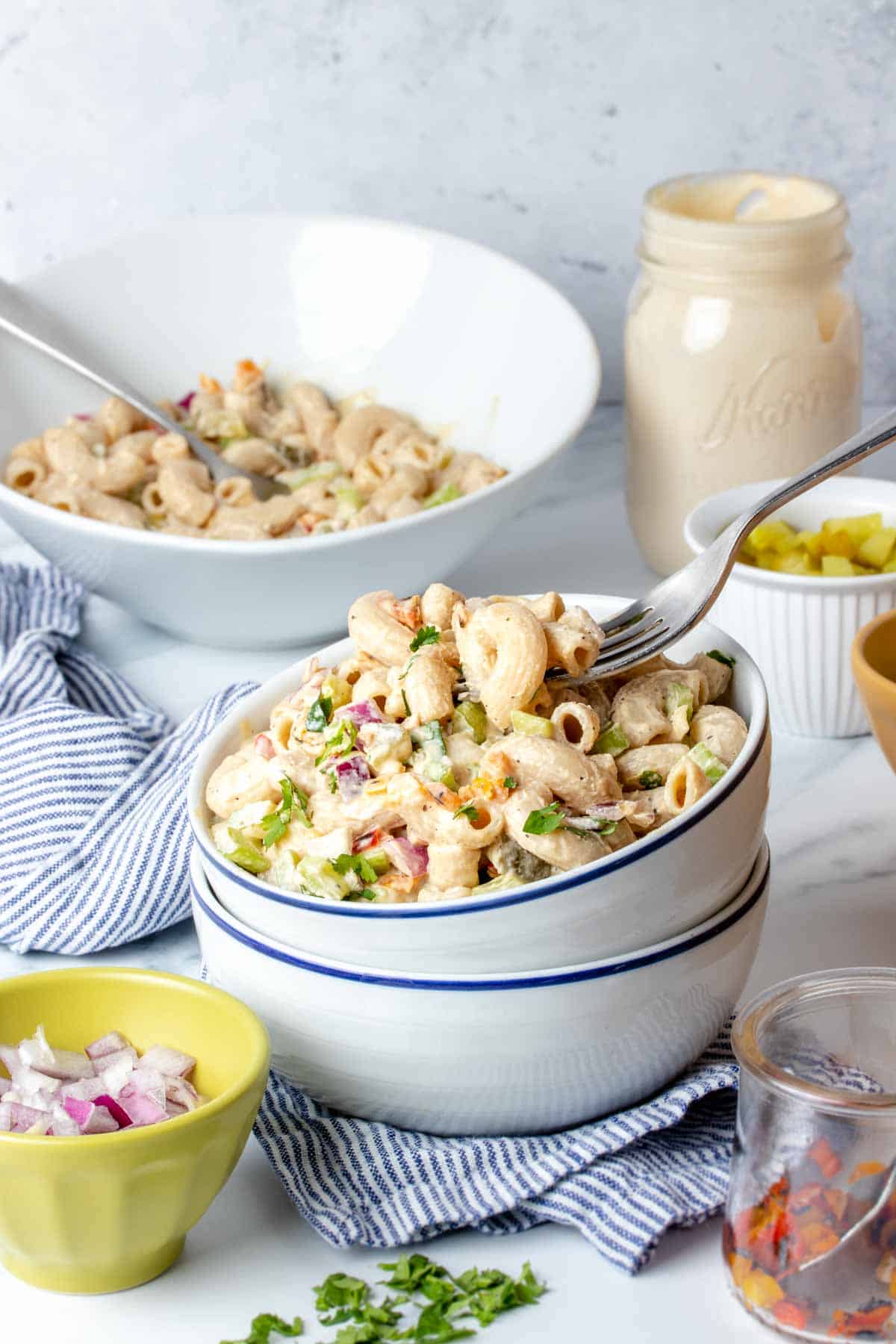 Vegan Burritos with Black Beans, Rice and Avocado
An easy throw together dinner that tastes amazing! These vegan burritos are filled with black beans, rice and avocado then grilled to a crispy perfection.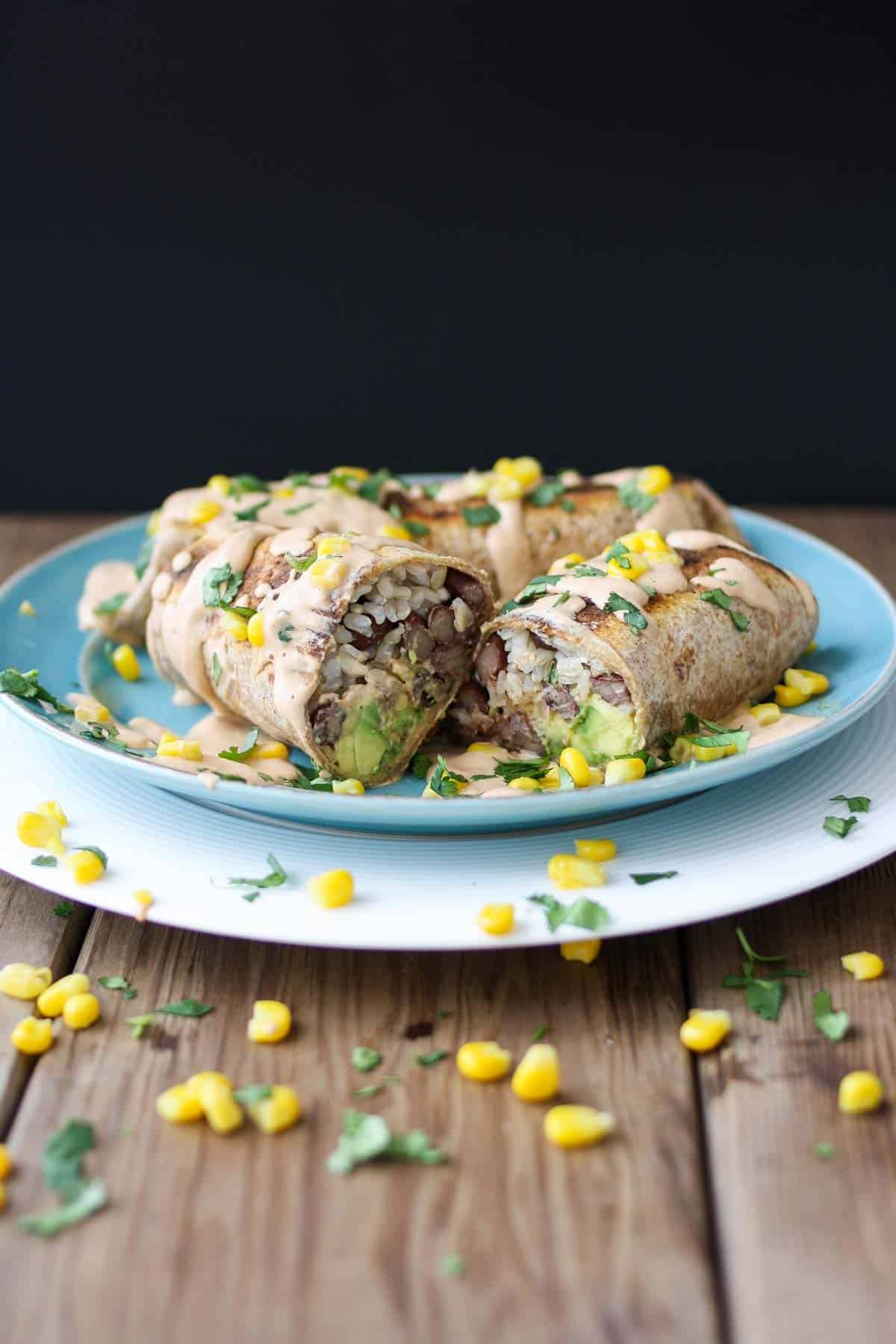 Vegan Pizza Burrito and Easy Pizza Sauce
Two favorite foods unite in this ultimate vegan creation. This pizza burrito and easy pizza sauce will quickly become your new favorite!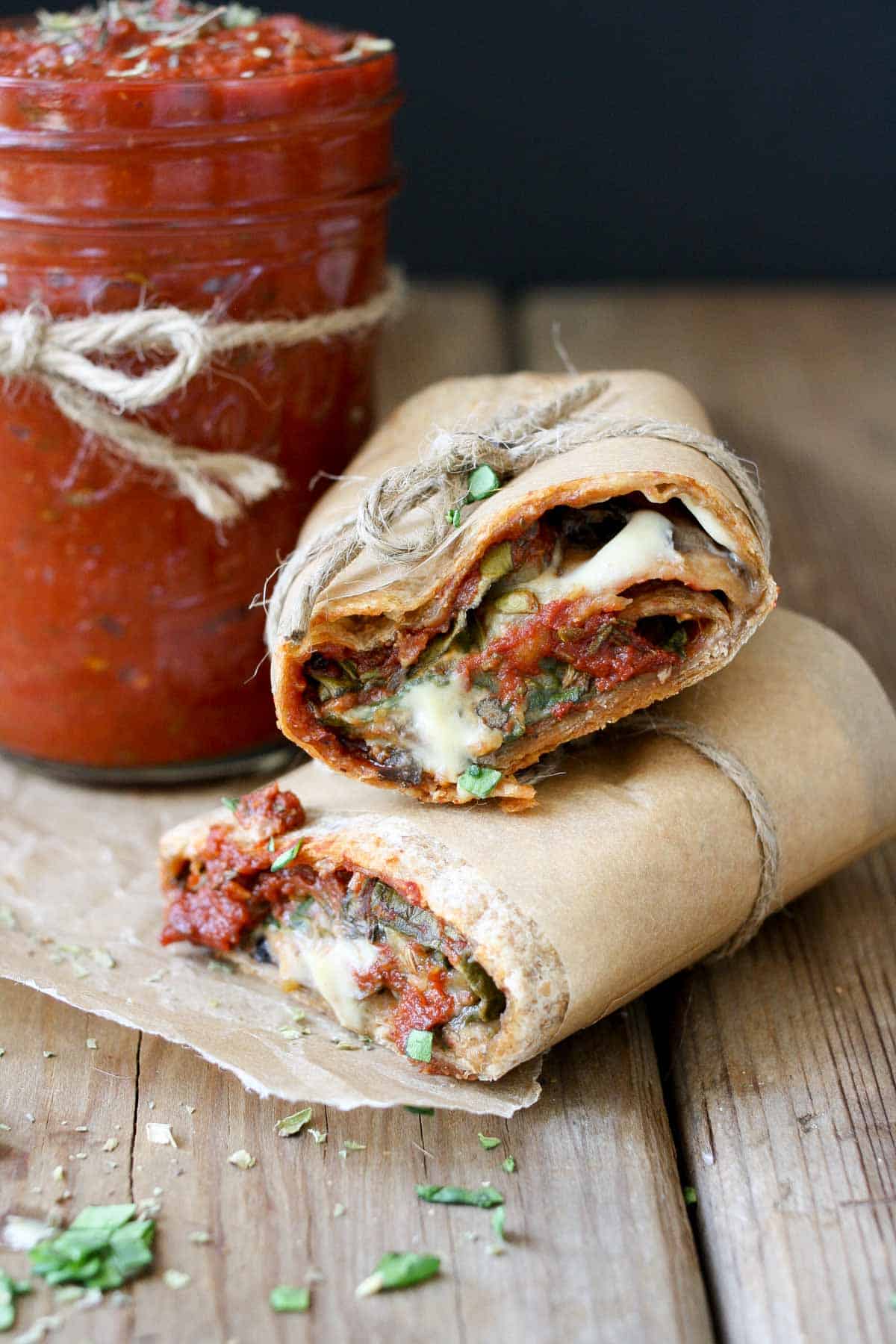 Vegan Pulled "Pork" Mushroom Sandwich
Thinly sliced shiitake and baby portobello mushrooms slathered in flavorful BBQ sauce makes this meaty and chewy vegan pulled pork sandwich the perfect addition to any party. Forget the grill and grab some buns!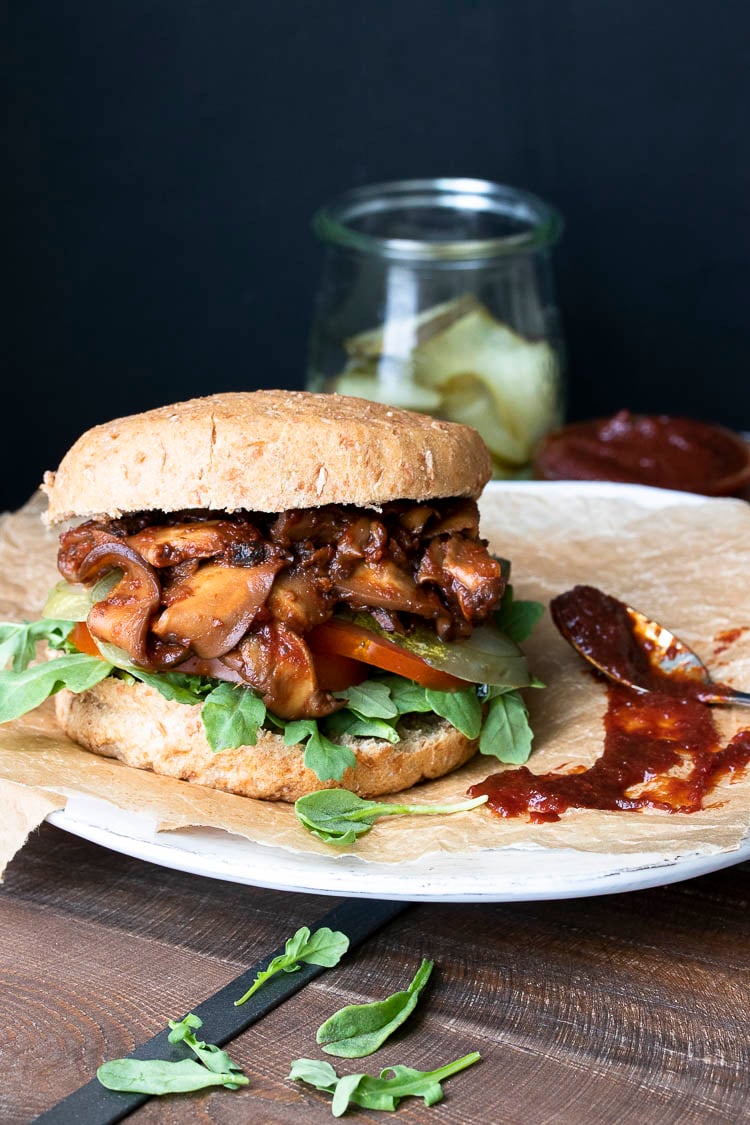 Healthy Vegan Dinner Recipes
This collection of amazing recipes are not only filled with nutrition but are comforting and make your belly happy.
Super Easy Healthy Vegan Vegetable Lasagna
This easy vegetable lasagna is not only vegan and healthy, but it's made with regular noodles that don't need to be boiled! So simple and quick to build!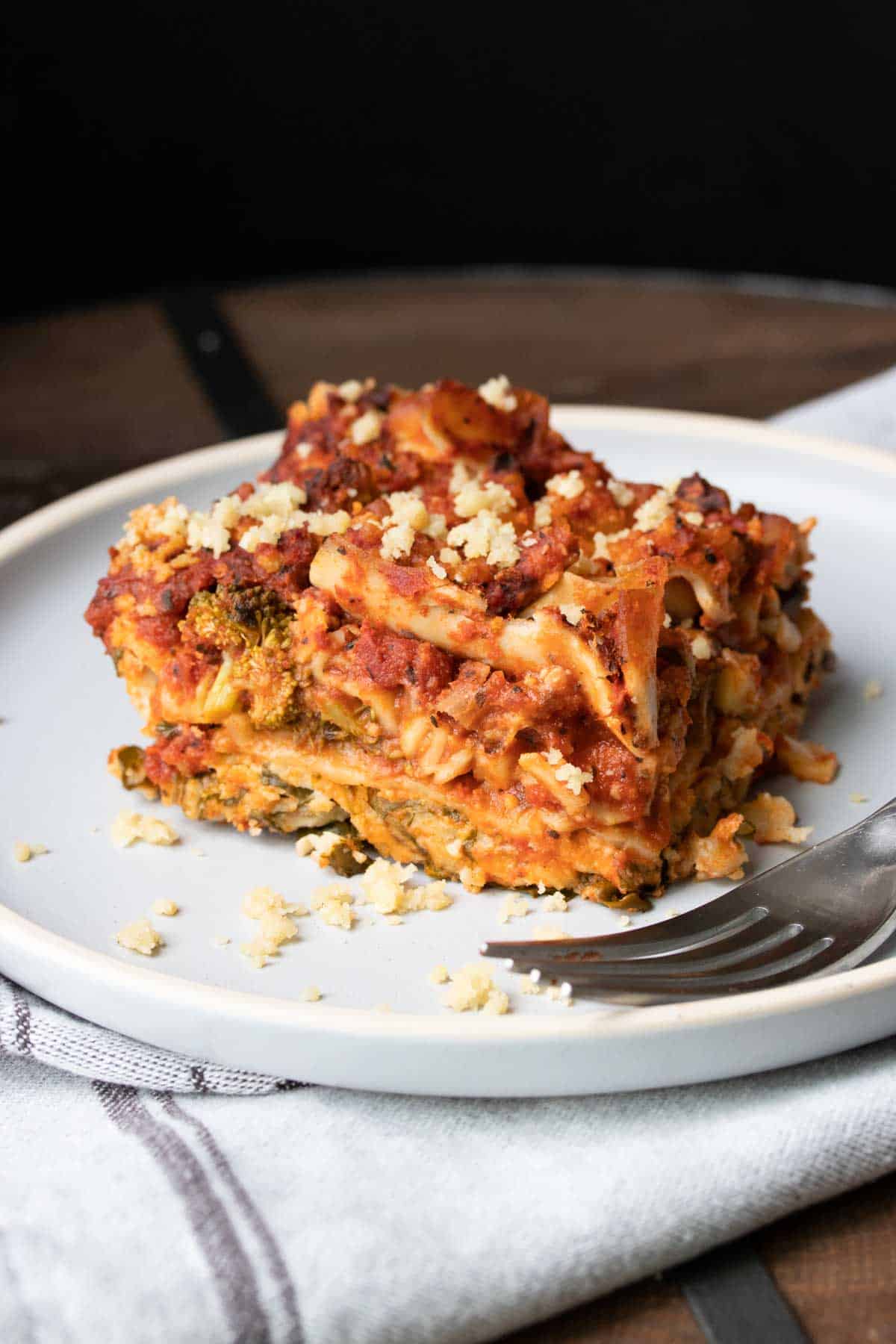 Rich and creamy vegan lentil stew to warm you from the inside out. Full of healthy ingredients and anti-inflammatory benefits, a perfect cozy meal!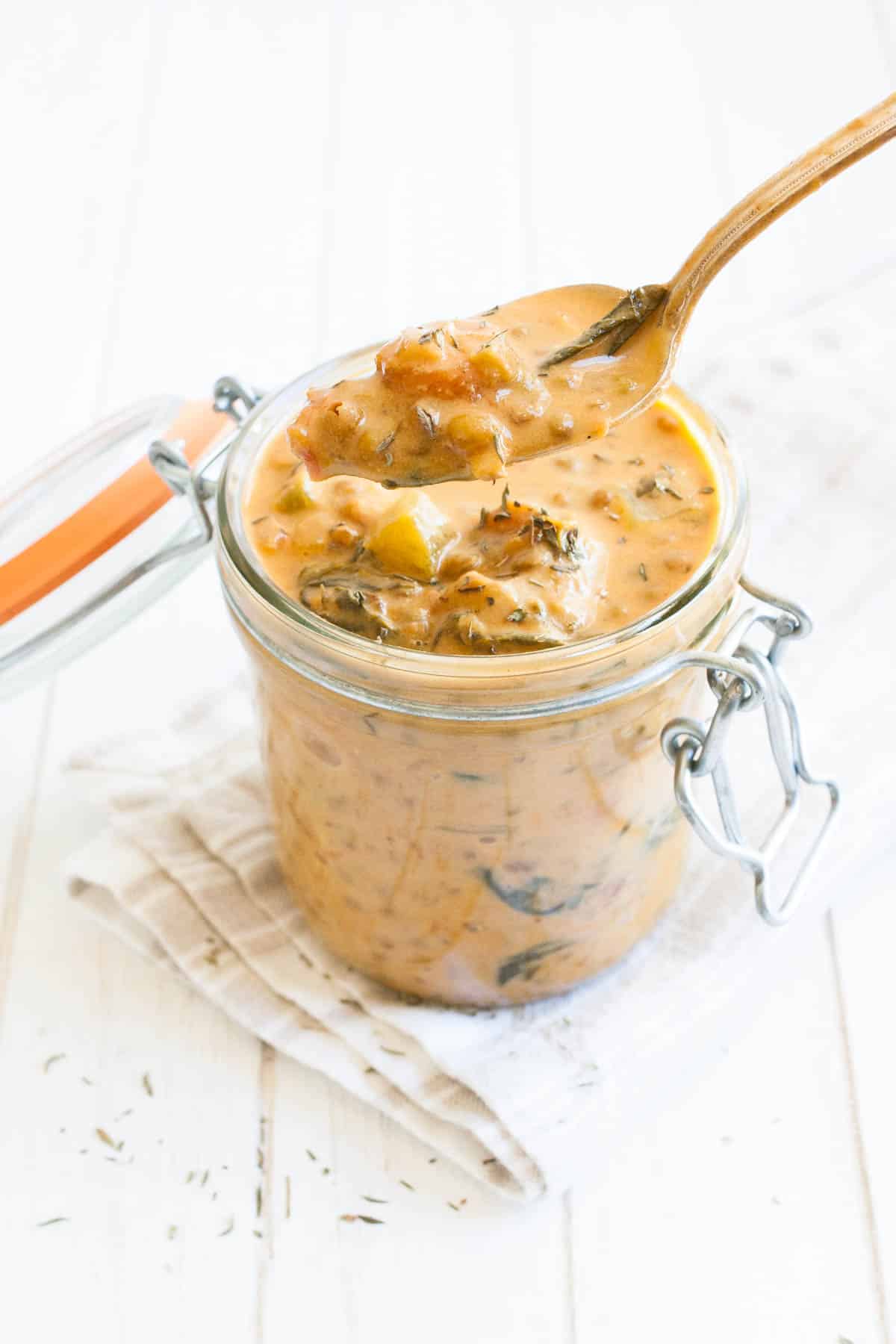 20 Minute Vegan Coconut Curry Soup
20 minutes and little effort for a vegan coconut curry soup with big flavor! This soup is filled with veggies and protein, a perfect well rounded meal that will easily make its way into your regular dinner rotation.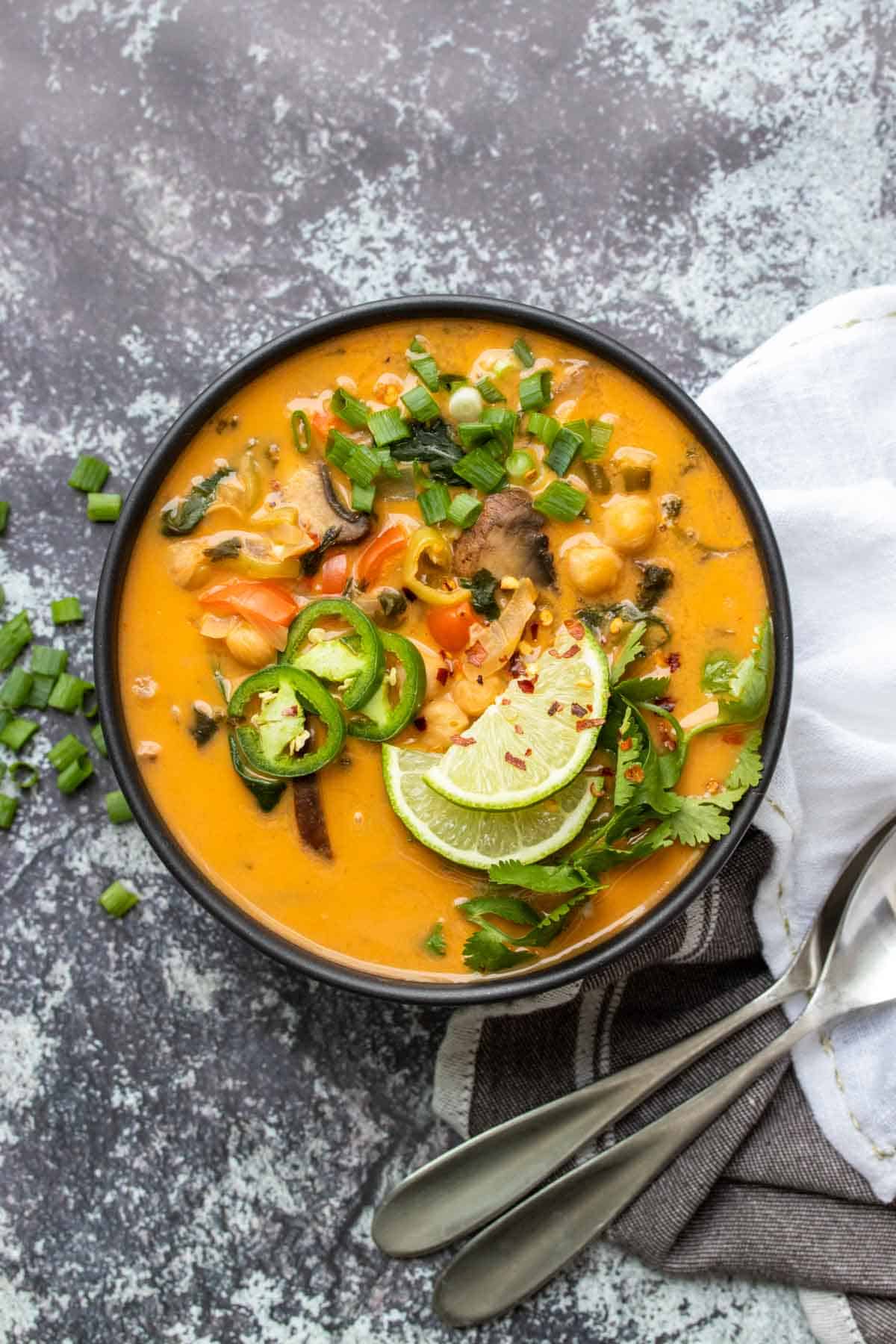 Creamy vegan butternut squash soup with coconut milk is the perfect fall meal. Flavorful with few ingredients and super easy to make!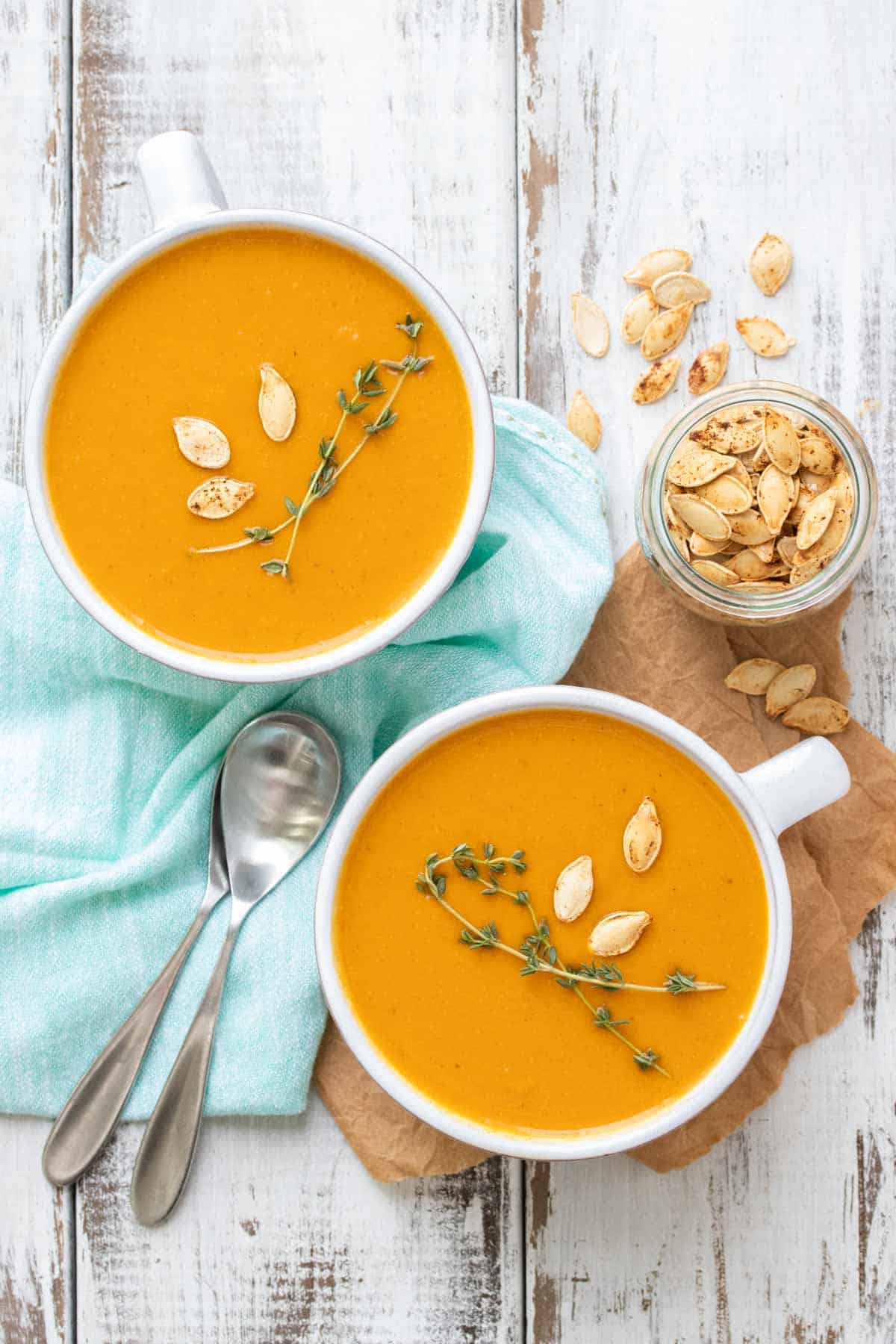 Easy Gluten-Free Vegan Black Bean Burgers
Looking for the perfect easy recipe for a quick dinner? These gluten-free vegan black bean burgers are low fat, full of protein and take 10 minutes to prep!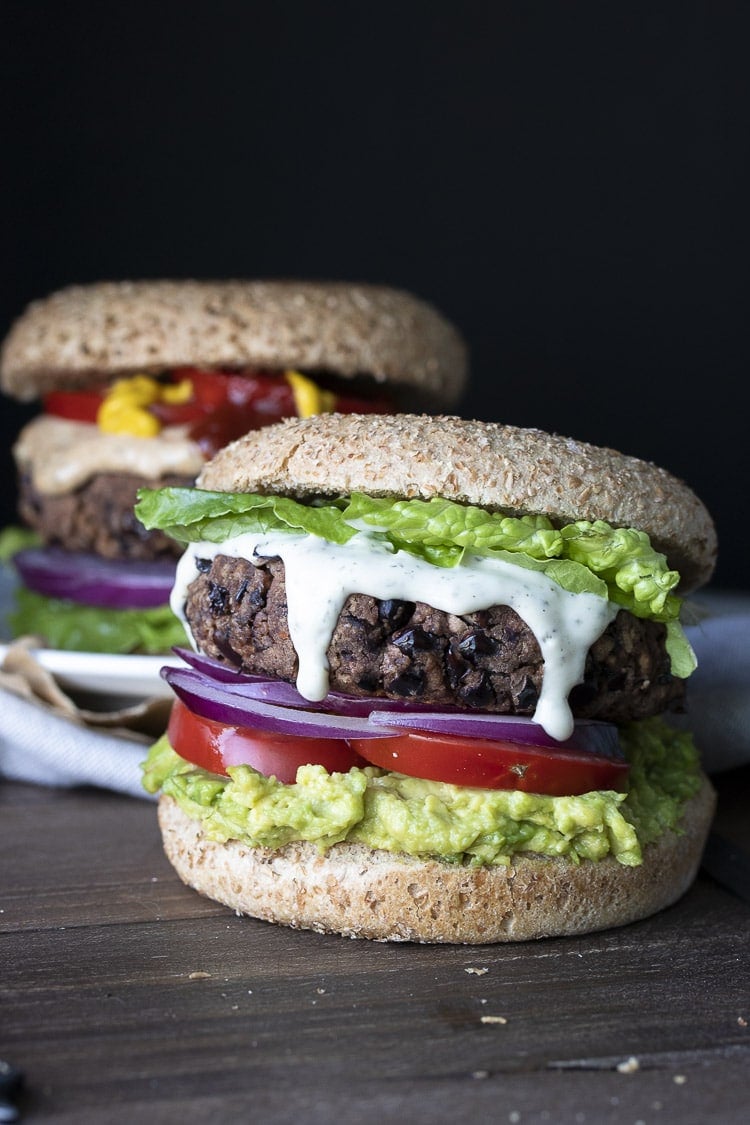 Baked Lima Bean Recipe (Gigantes Plaki)
This traditional Greek baked lima bean recipe with added veggies is a one stop meal. Gigantes Plaki is loaded with protein, perfect for all ages and so flavorful!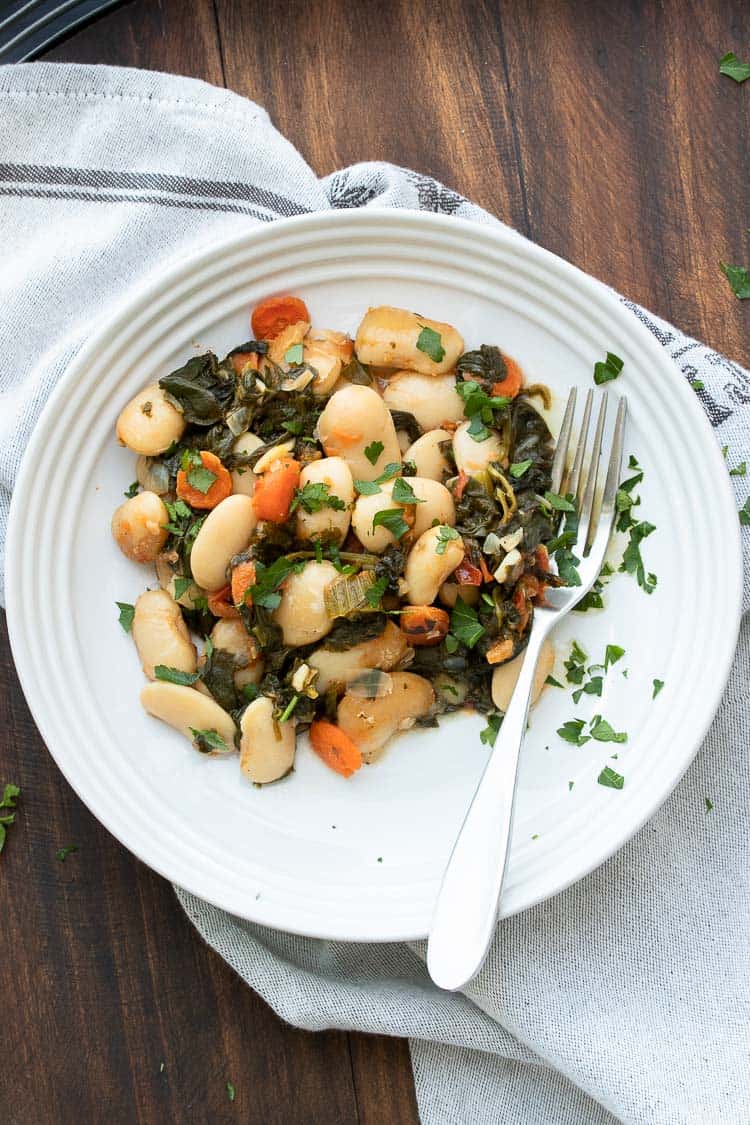 Vegan Yemista Greek Stuffed Tomatoes and Peppers
Taking tradition to the next level with these vegan Greek stuffed tomatoes and peppers. These Yemista are a healthy satisfying meal that screams the flavors of Greece!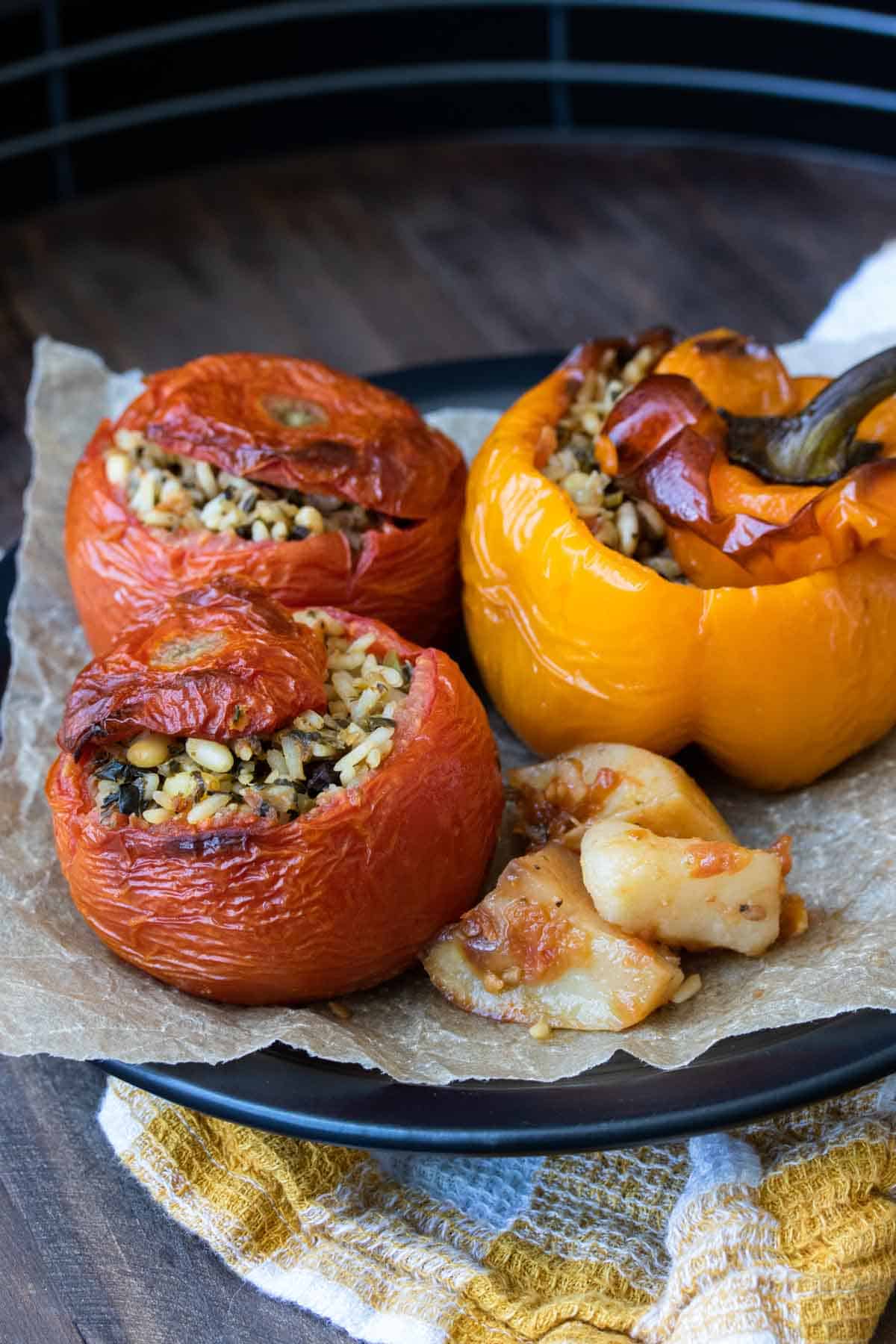 Healthy Vegan Gyros with Tempeh
Your favorite Greek greasy indulgence gets a make over! Now super healthy, vegan Greek gyros, loaded with protein and full of pure authentic flavors and seasonings.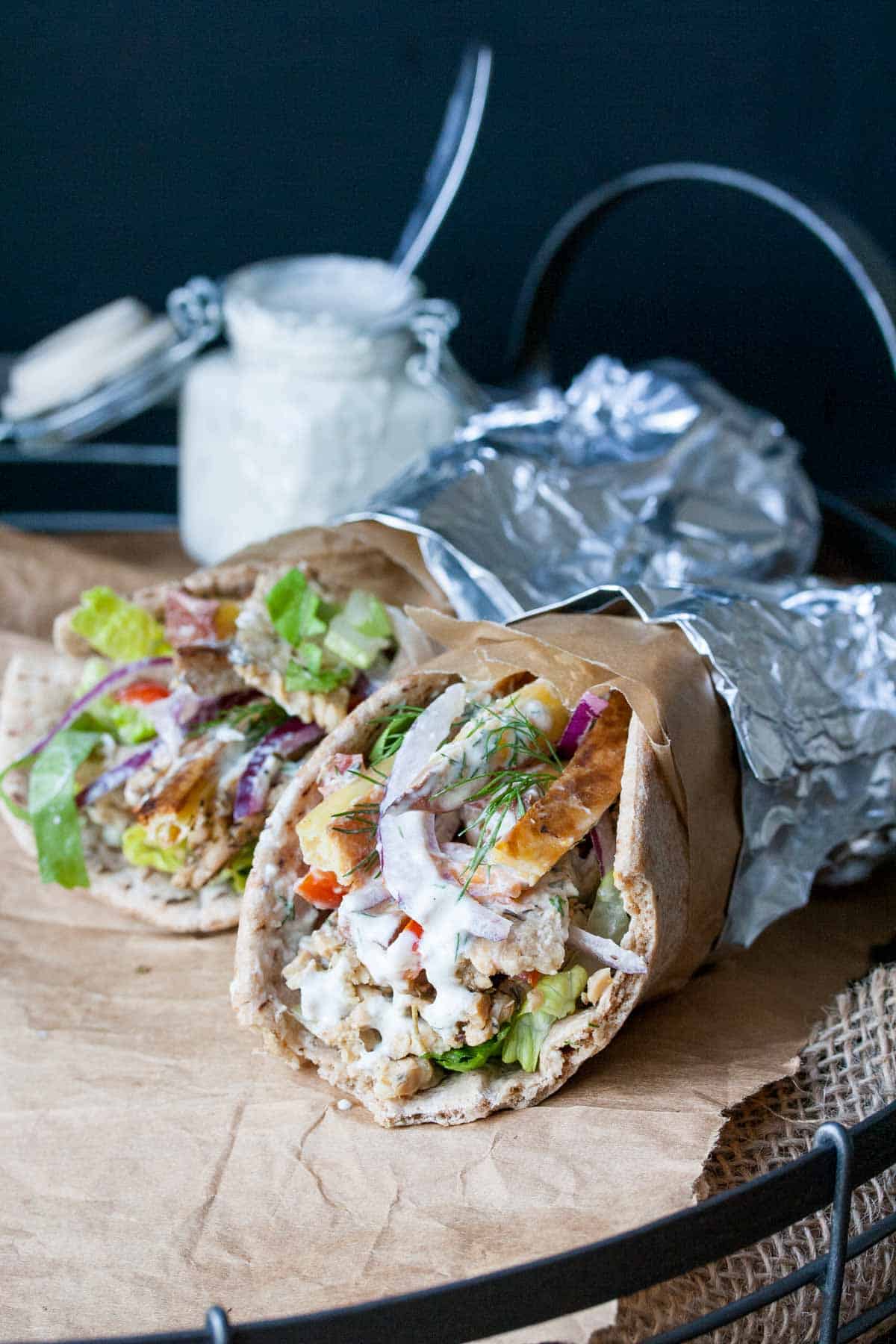 Healthy Vegan Condiment Recipes
Having a few vegan condiments in your back pocket is key to making simple meals a step up without a lot of work. These are a few of the recipes we always have laying around in the fridge and pantry.
Grateable Vegan Parmesan Cheese
Grateable Vegan Parmesan like you've never seen. 5 ingredients and 5 minutes to freshly grated Parmesan every night of the week!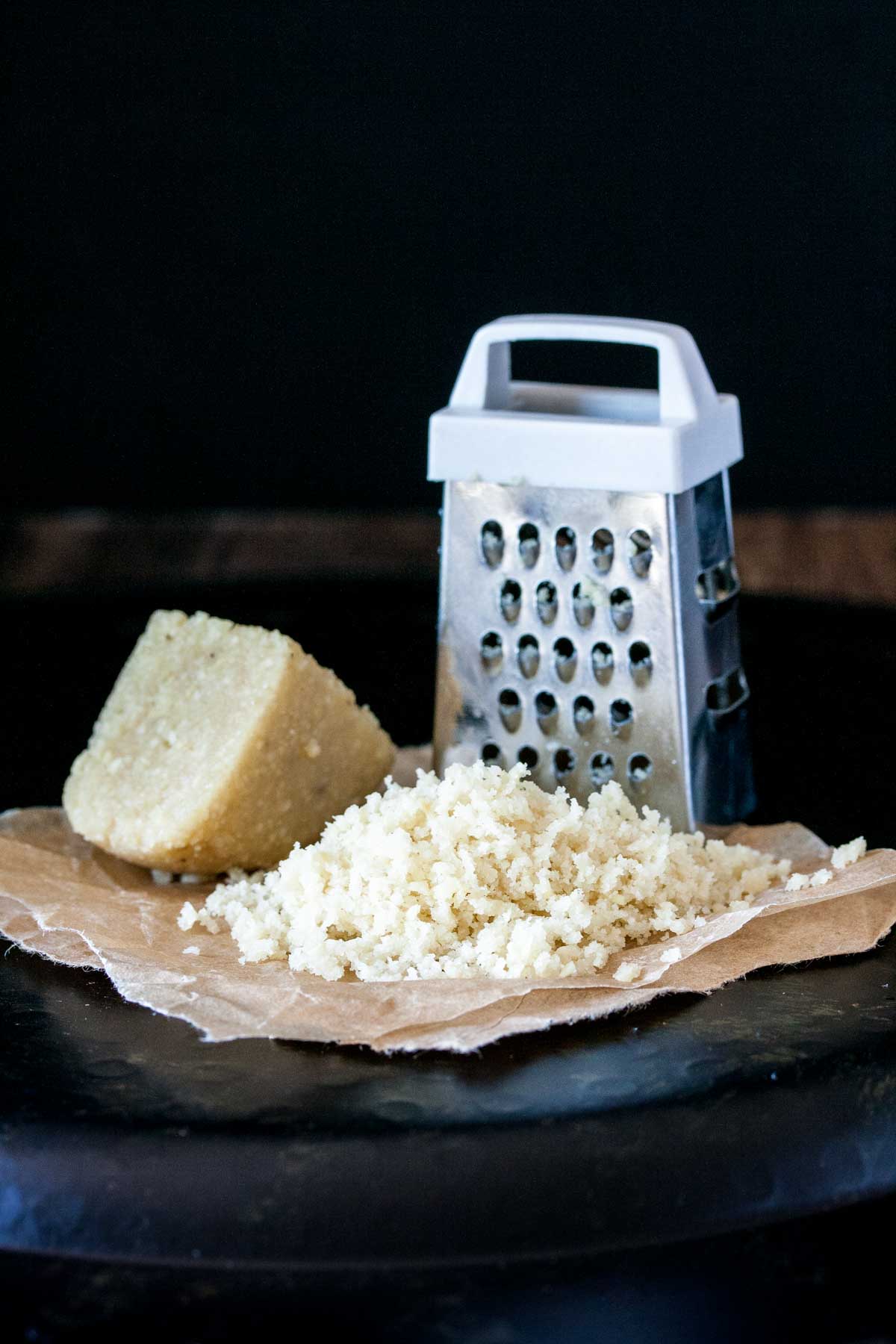 The Best Vegan Sour Cream Recipe
This vegan sour cream recipe is the closest homemade version to the real thing I have ever had. Both flavor and texture are so close to the dairy version!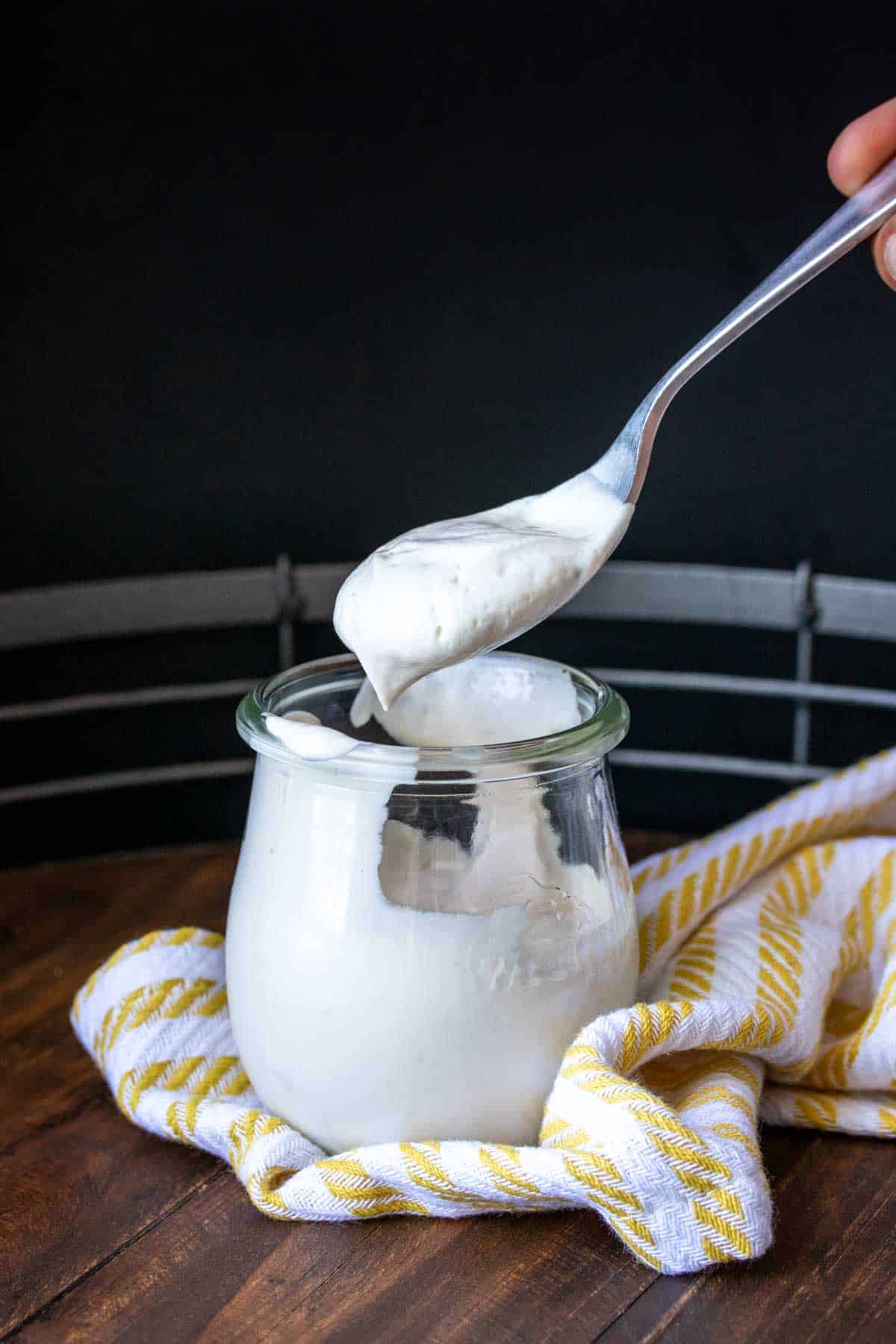 A vegan cashew ricotta cheese recipe that takes only 5 minutes to make. Creamy in flavor and the perfect texture for everything from lasagna to pizza!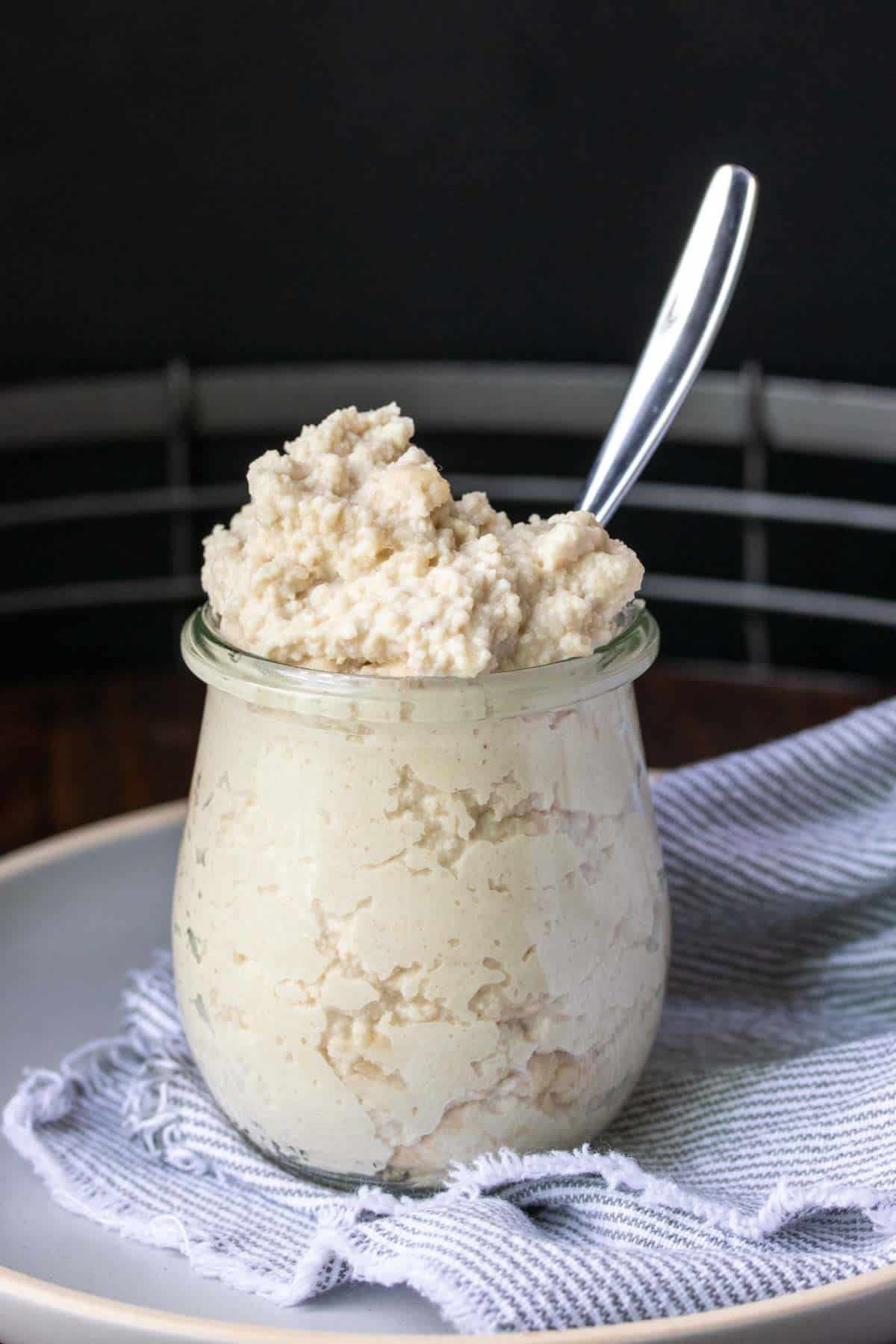 An easy vegan remoulade with a cajun flair made with whole food ingredients. You will never know there is no mayo or oil!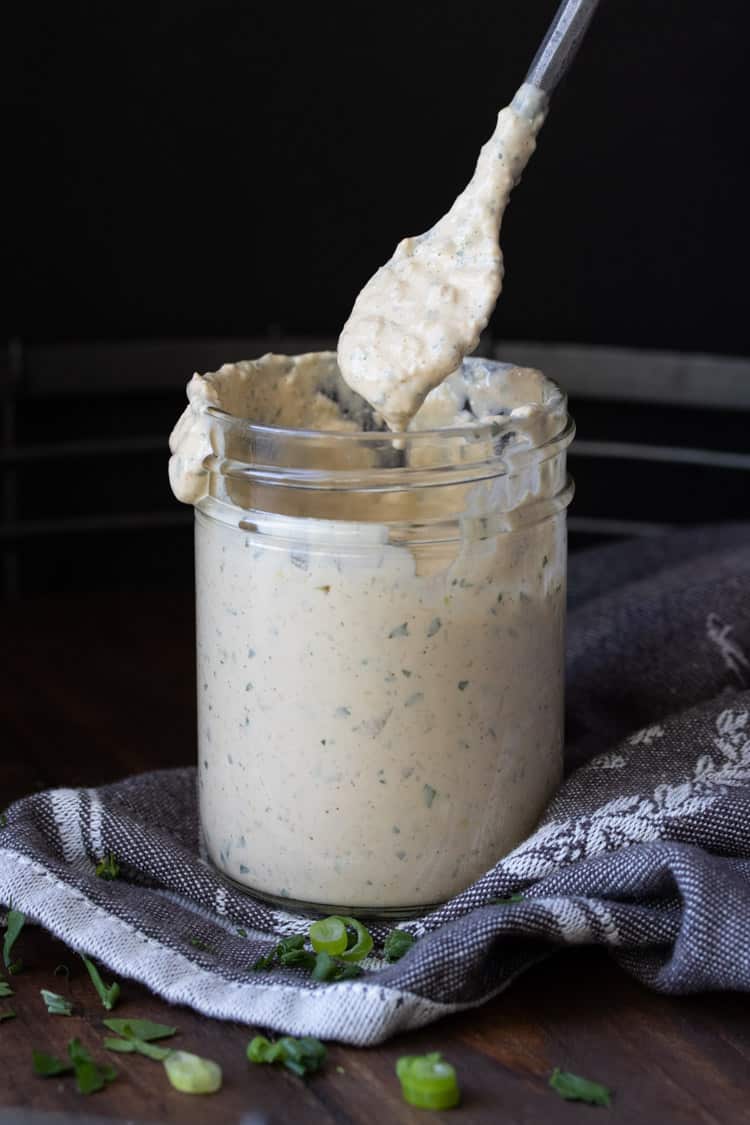 Healthy Vegan Dessert Recipes
I always need a little sweet treat to finish up a savory meal. It doesn't have to be anything big, but I have what I call my dessert compartment. It's always ready for a little something. Here are some healthier versions of traditional desserts that I love.
Gluten-Free Vegan Strawberry Shortcake
Gluten-free vegan strawberry shortcake that's slightly crisp on the outside and perfectly soft in the middle. It only takes 30 minutes from start to finish!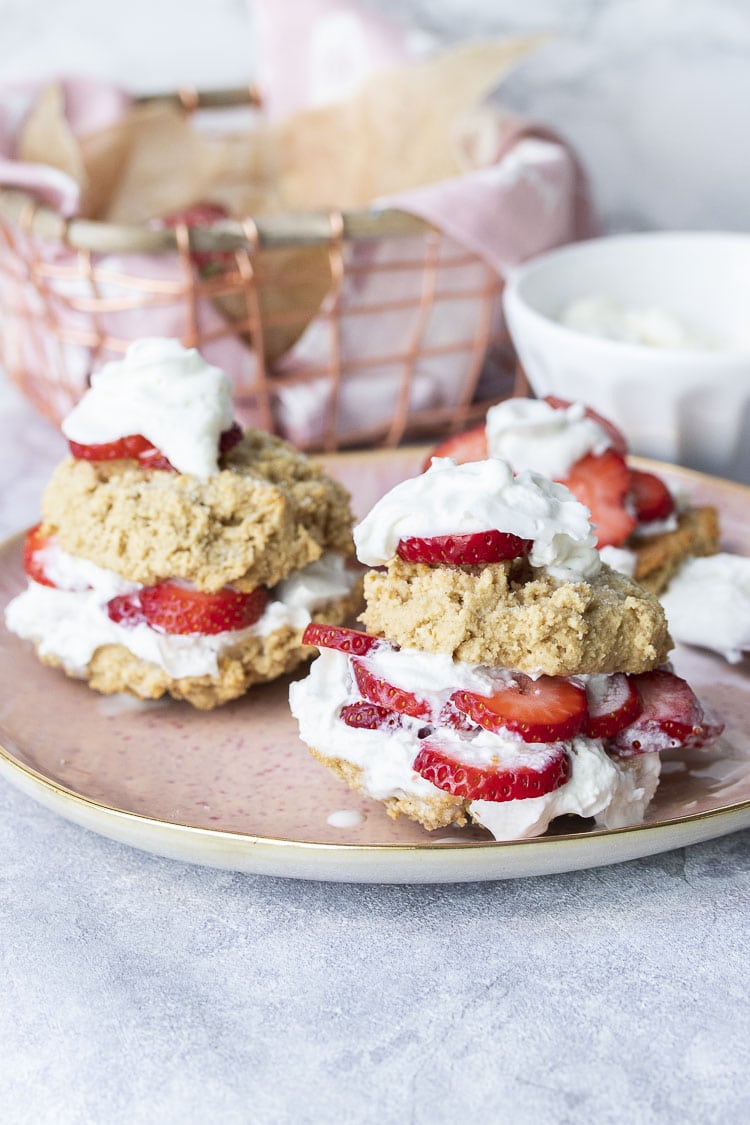 Raw Vegan Protein Packed Brownie Batter Bites
Made with whole foods in mere minutes, these raw brownie bites are packed with protein and the perfect after school snack! There is even a nut-free option making this the ultimate allergy friendly recipe.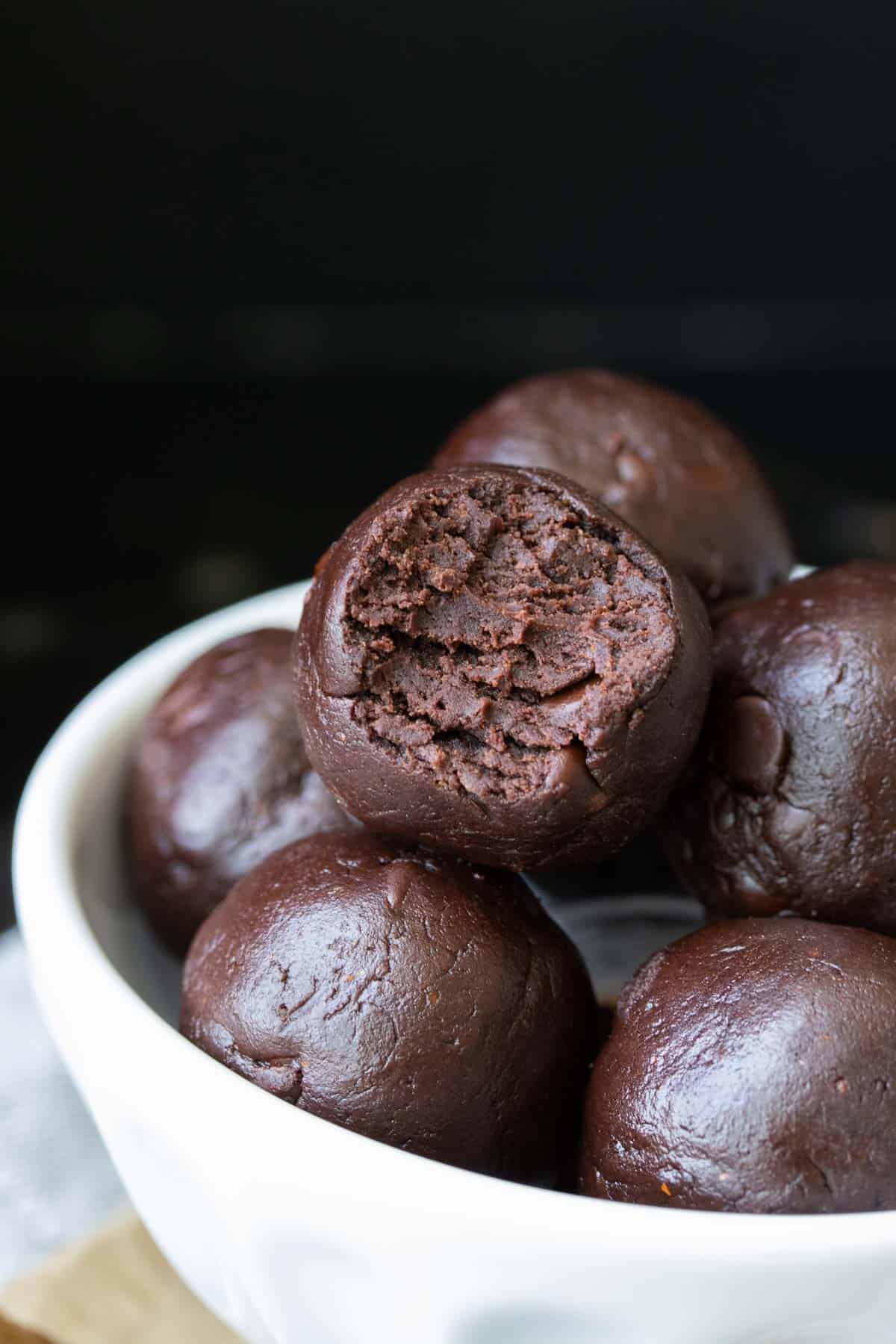 A vegan apple crisp using simple whole food ingredients to create an indulgence that's out of this world delicious, healthy and gluten free!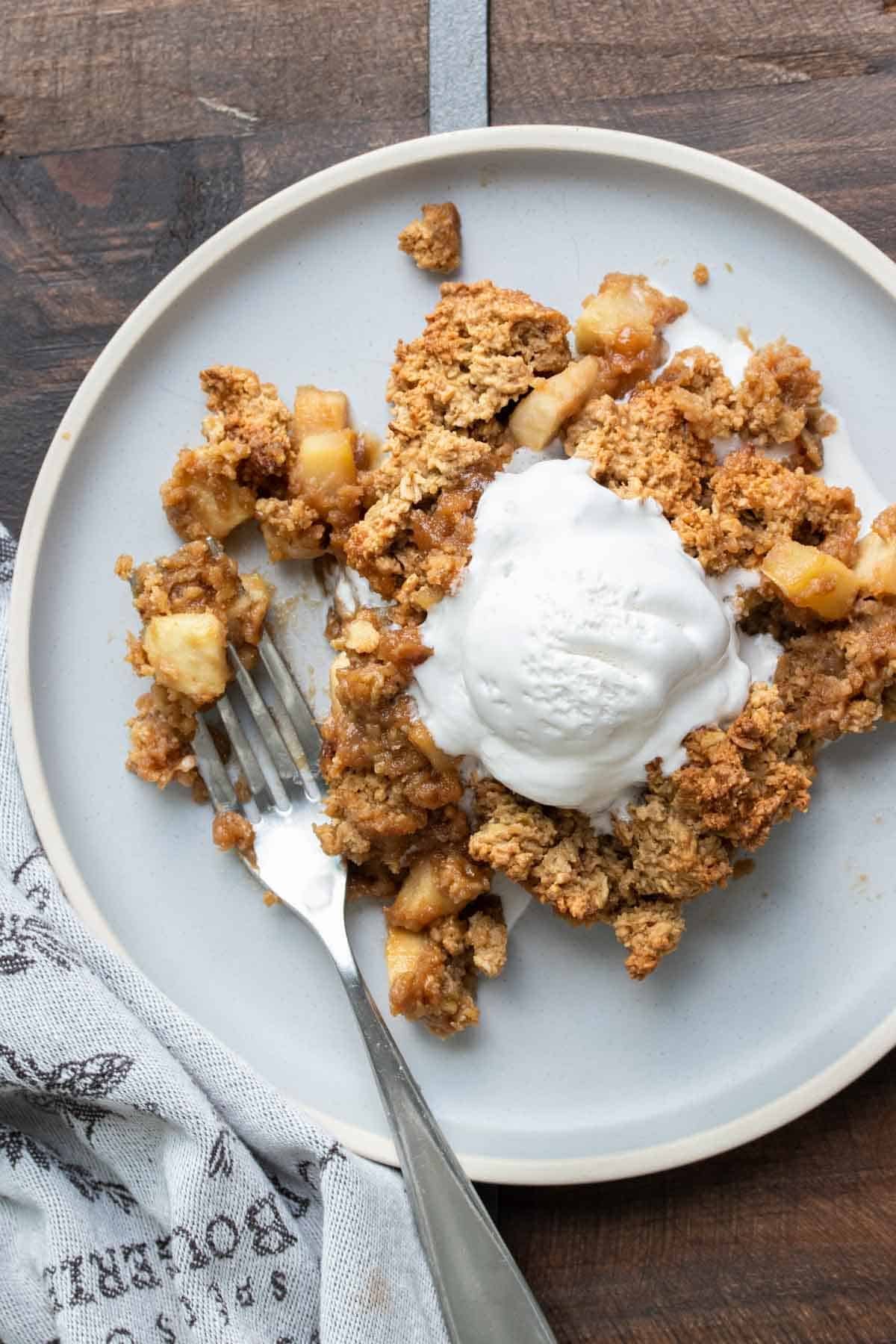 Healthy Peanut Butter Banana Oatmeal Cookies
Nine ingredients and less than 30 minutes to incredible healthy peanut butter banana oatmeal cookies. Crispy edge and melt in your mouth middle, perfect for breakfast or a healthy snack!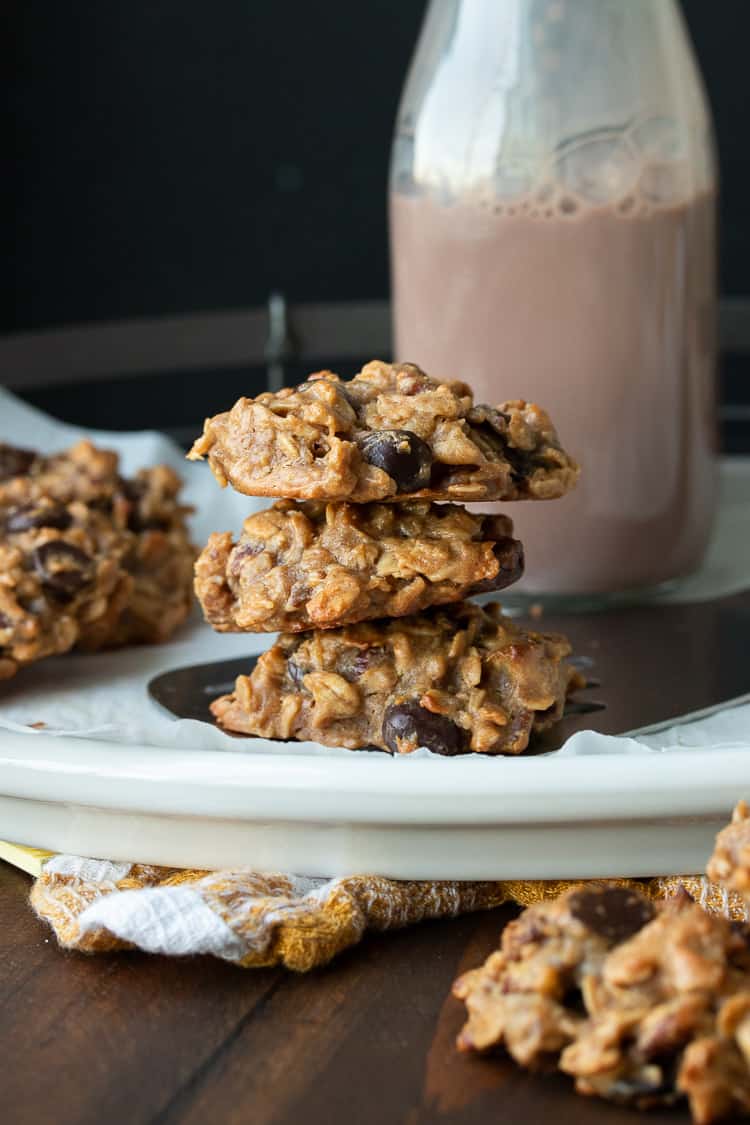 How can I make vegan eating easier?
While starting to learn any new way of eating can be overwhelming, when it comes to eating plant-based and vegan, it can actually be quite simple. The rule of thumb I use when creating new recipes is:
Roast whatever veggies I have.
Add some beans or vegan sausage to the mix.
Serve over my favorite grain
Cover with sauce (I make a sauce or two every week and keep it in the fridge).
This will give you a simple meal and keep it quick and easy. However I have other resources you can look at if you want some more guidance and support with eating vegan meals: