Creamy, tangy with a spicy bite to it! This pistachio buffalo cream sauce is quick and easy to make and great on everything from tacos to burgers!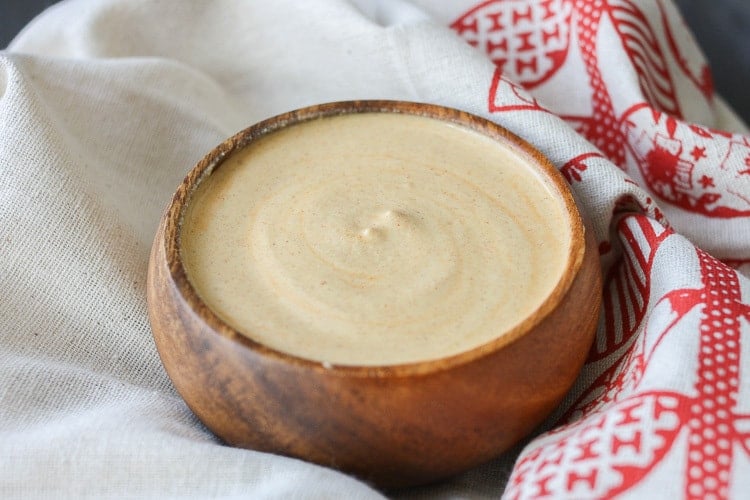 This super quick and easy sauce has become one of my favorite ways to mix it up with my adoration of hot sauce! It's no secret, I LOVE hot sauce. My husband thinks I have a certified addiction and has often told me I need intervention, typical reaction from a hot sauce hater.
He thinks that I'm burning the baby in my belly by all that I eat. I put it on everything! Literally...I don't know if I can survive without it. What do you mean that's the definition of addiction?! I don't have a problem, it's totally normal to need hot sauce with every meal.
In fact, my body tolerates it so well, I can eat it even during pregnancy with no complications. In fact, I get heartburn if I don't have it! So in my book, if my body likes it, then it's as necessary as water. Which reminds me, I should probably work on drinking more to help balance out the sodium in the hot sauce 😉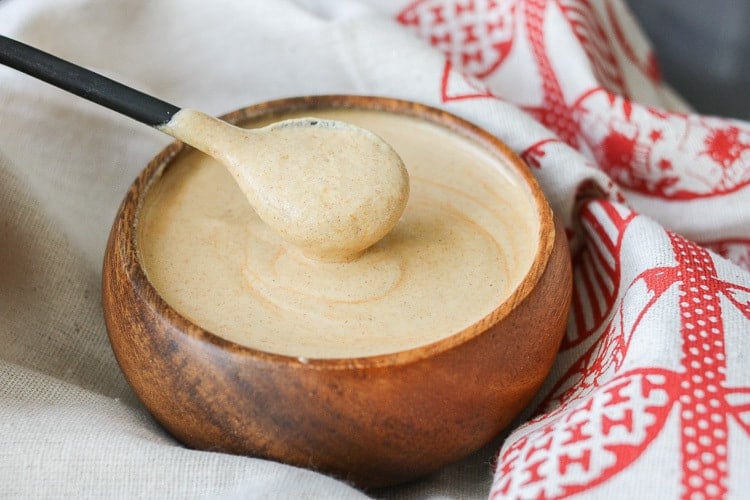 So in my quest to find new and inventive ways to incorporate this amazing condiment into my diet, I came across the idea of creating a vegan creamy version. I didn't like the idea of cashews, as they are too sweet.
Even my cashew walnut cream just didn't hit the nail on the head. And then in the midst of my "creating with pistachios obsession" (okay maybe I do get into just a few obsessive stages), the light bulb went off and BAM, pistachio cream was born.
Pistachios are the perfect nut to accompany buffalo sauce. The rich flavors of both go together like peanut butter and jelly. I LOVE the combo and I know you will too!
So go put those pistachios on your shopping list and make this. You won't regret it! And just wait until you see what it's going on next...you will die!!! Stay tuned for something mouthwatering!
As always, I love comments on the blog if you make it, so make sure to let me know! You can also tag me on Instagram at veggiesdontbite #veggiesdontbite so I don't miss it! Hope you enjoy!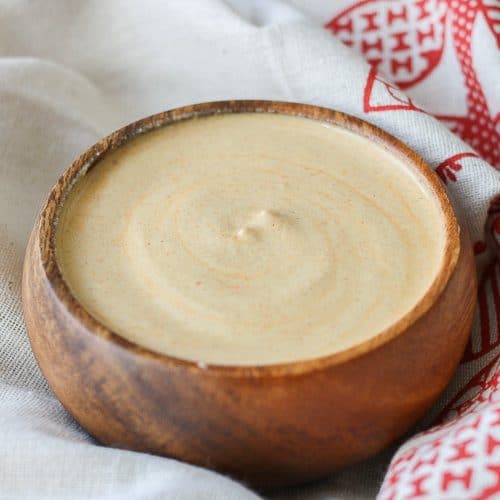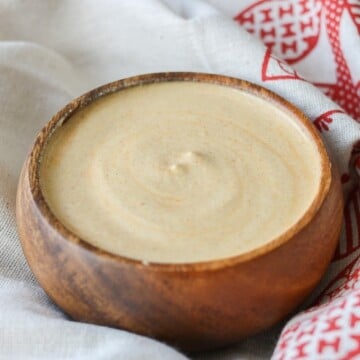 Pistachio Buffalo Cream
Creamy, tangy, with a spicy bite to it! You will use this quick and easy to make sauce in everything from tacos to burgers!
Ingredients
1 cup  raw unsalted pistachios
2 tablespoons - ¼ cup buffalo cayenne pepper type hot sauce like Franks (depending on how spicy you like it)
½-1 cup water if needed, depending on how much buffalo sauce you use and how thin or thick you want it
Instructions
Soak pistachios overnight to soften, especially if not using a high speed blender. Pistachios are fairly soft without soaking, but this will yield a smoother and fluffier sauce.

Place ingredients into a high speed blender or food processor and blend until smooth. Douse everything you eat with it. It's amazing!
Notes
You can also use roasted pistachios but you may get a slightly different taste. Make sure they are unsalted though as the cayenne pepper sauce has plenty of salt and it will be much too salty with both.
Recipe by Veggies Don't Bite, visit our site for more great plant-based recipes.
Nutrition
Calories: 336kcalCarbohydrates: 17gProtein: 12gFat: 26gSaturated Fat: 3gCholesterol: 0mgSodium: 176mgPotassium: 604mgFiber: 5gSugar: 4gVitamin A: 155IUVitamin C: 6.6mgCalcium: 63mgIron: 2.4mg
Nutrition and metric information should be considered an estimate.
Never miss a recipe!
Sign up here and get a FREE quick and easy meal guide!