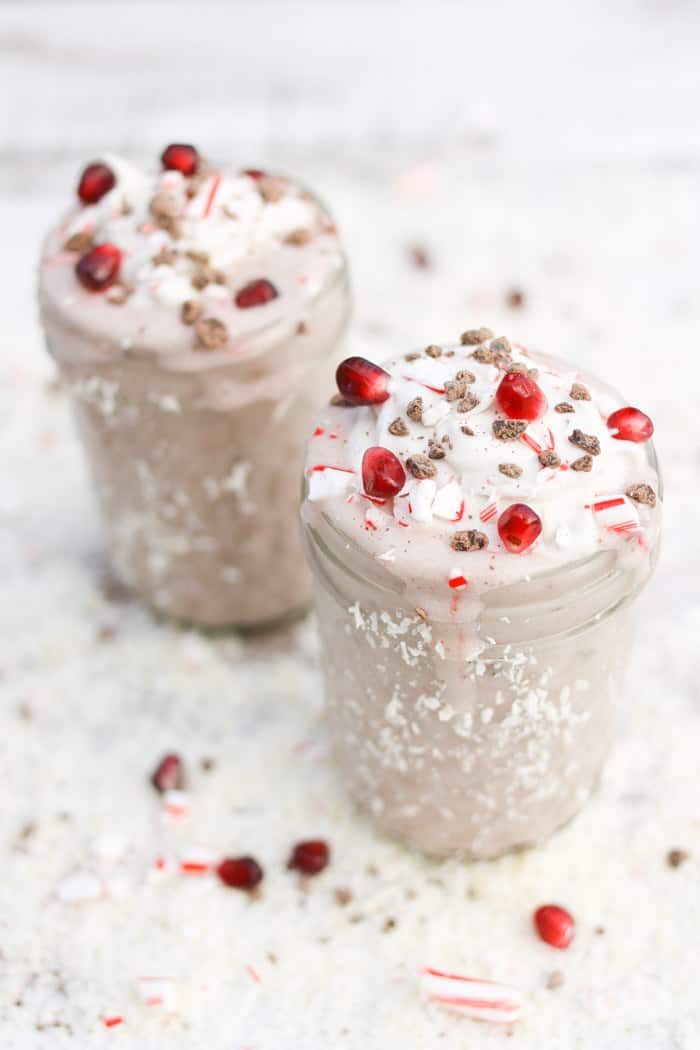 Yes, you read that right. Chocolate and peppermint all in one glass. It's amazing. Just look at it?! The deep dark flavor of chocolate combined with sweet spicy peppermint gets me every time. And the colors just go fabulously, so I was left with no choice but to make them live in harmony right inside my mason jar.
Truth be told, I was planning on posting all about my fabulous, well almost fabulous, main dish I am serving this year for Christmas dinner. But it's just not blog ready yet. I need one more trial, Christmas, before it will be perfect and I don't want to share the amazingness of it unless it's just right. So lucky for all of you, this little treat that I've been playing around with for some time made it's way in instead. And I definitely don't regret it! My kids told me I was amazing when I surprised them with this as a pre dinner snack, so in the end, even if everyone else thinks this is crazy, my boys don't and that's my goal! They couldn't keep their hands off!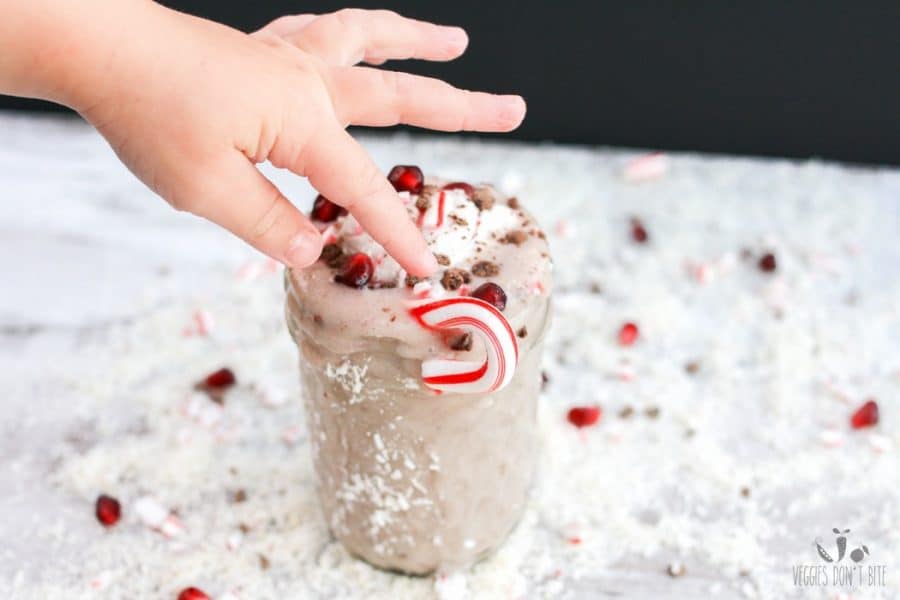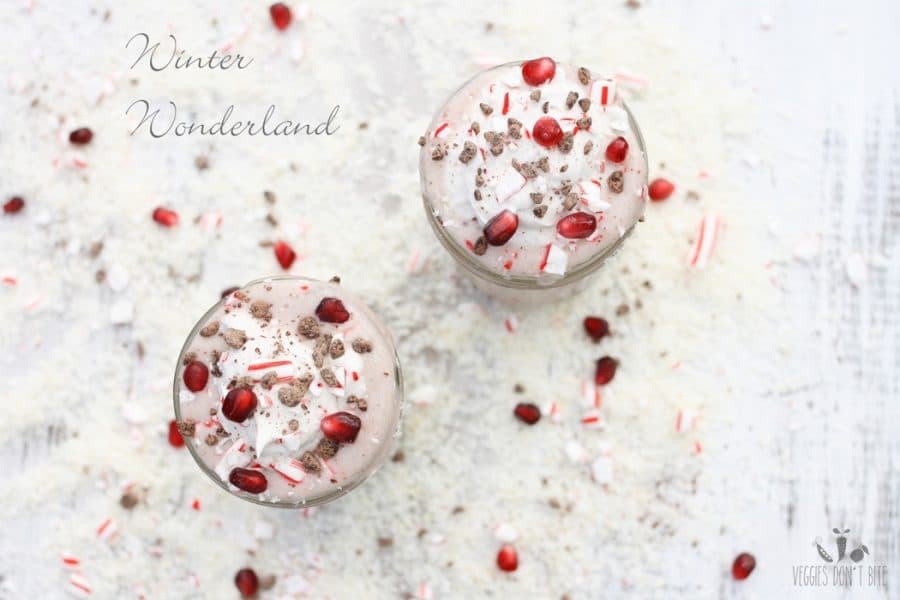 Although I shy away from using banana for my frozen treats unless it involves a peanut butter or chocolate rich indulging dessert, this time I wanted something super quick and easy so bananas it was. The peppermint really covers the taste of banana here, so it works well to give that smooth creaminess without the banana flavor. Throw in some chocolate and maybe even candy cane topping, and you're golden, even if bananas aren't your thing. The pomegranate seeds fully serve for the sole purpose of color. There isn't much to taste in them here, but they gave me that touch of pink color I was going for. These little guys are potent when it comes to dying things, so I'm glad this time they worked in my favor instead of my white t-shirt! So run to your freezer and put in those bananas, because you will definitely want to try this one! Super quick and easy, and a great bribe for those you love...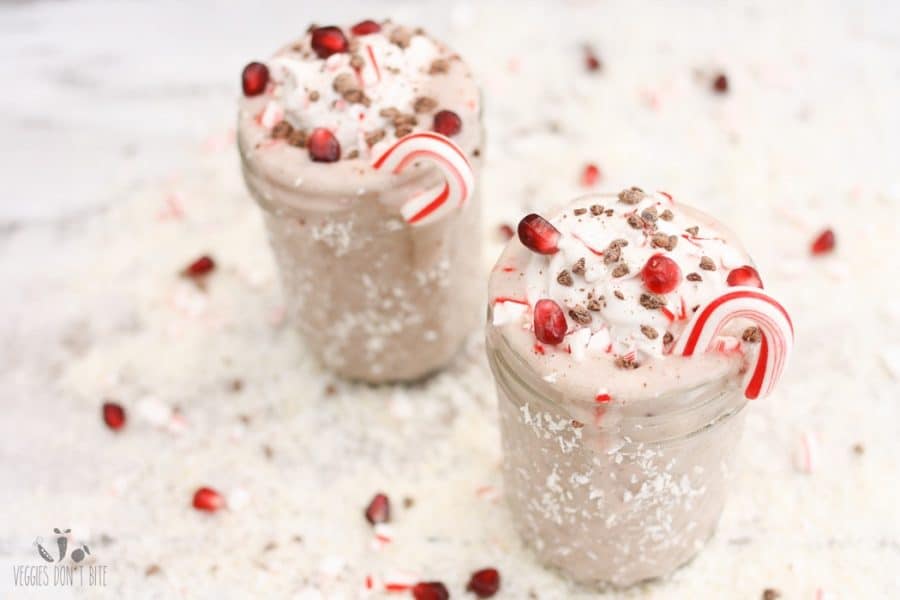 As always, don't forget to comment on the blog if you make it, I love hearing all the feedback! You can also tag me on Instagram at veggiesdontbite #veggiesdontbite so I don't miss it! Hope you enjoy!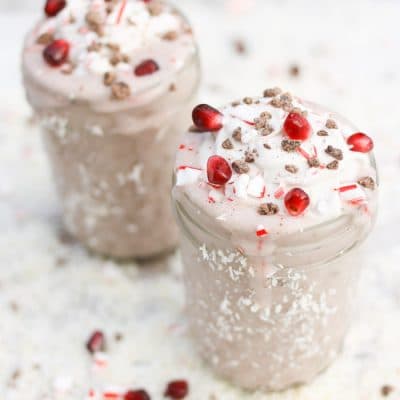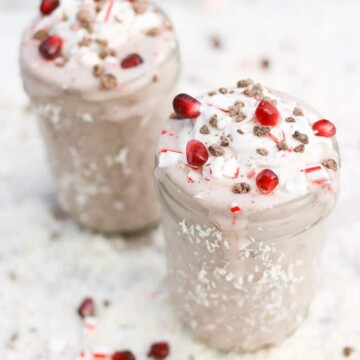 Chocolate Covered Candy Cane Milkshake
Notes
Chocolate and peppermint, all without unhealthy processed ingredients, need I say more? Indulge in this cool winter treat and leave your tastebuds dancing!
Ingredients:
note: I used a dark chocolate bar because I love the flavor, but feel free to use whatever you enjoy. You could also use all coconut milk for a very rich shake instead of part being a lighter milk. The whipped topping and candy cane are fully optional but really add to the visual effect. Leave the candy cane off for a refined sugar free treat.
Instructions:
Place milks, bananas, pomegranate seeds and peppermint extract into a blender or high speed blender. Blend until thick and creamy. Add chopped chocolate and pulse a few times to combine but do not blend and lose the pink color. Serve with whipped topping and crushed candy cane for a full visual effect and tasty treat.
Recipe by Veggies Don't Bite, visit our site for more great plant-based recipes.
Nutrition and metric information should be considered an estimate.
Never miss a recipe!
Sign up here and get a FREE quick and easy meal guide!