It's that time of year…summer, barbecues, cool refreshing meals…This vegan arugula salad recipe fits the bill. I first created this last year for a recipe competition. While looking for a last minute fun dish for 4th of July, I found it in the archives and decided it was prefect! Thank goodness because after two failed desserts I needed something good or I was going to cry. I added my new Maple Miso Balsamic Sauce to this as dressing and man oh man did it take it up a notch!
This is a perfect easy dish to bring to that summer barbecue, especially your 4th of July party with all the color it has! You will drool at the combination of sweetness and tang not to mention the crisp, crunchy and soft textures throughout this vegan arugula salad. I love having the variety in my meals, it makes eating so much more fun. Like a huge party in my mouth!
I know you will love it, and don't you want to be the talk of the party as your guests devour every last bit of the dish you brought?! So run to the store, grab the mere 10 ingredients you need (including those in the dressing, what?!) and get cooking. Make sure to let me know how it turns out! You can leave a comment here, find me on Facebook or tag me on Instagram at veggiesdontbite #veggiesdontbite so I don't miss it!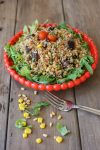 Summer Steel Cut Oat Salad with Maple Miso Balsamic Dressing
Summertime calls for easy delicious salads that are filled with fresh ingredients. This vegan arugula salad is tangy, yet sweet, and easy to make!
Ingredients
2

cups

gluten free steel cut oats

cook with water or veggie broth

2

cups

pitted cherries

2

ears fresh corn on the cobb

or 2 cups frozen corn

6

cups

arugula

1

cup

pine nuts

1/2

cup

chives

a splash of veggie broth for sautéing corn

Maple Miso Balsamic Dressing
Instructions
Cook oats like you would rice, using 2 cups water or veggies broth on the stove top or

rice cooker

.

Meanwhile, wash cherries, corn, chives and arugula. Chop only 2 cups of the arugula and chop chives. Pit and slice cherries in half. If using fresh corn on the cobb, slice the kernels off the cobb.

While oats are cooking, sauté corn kernels using veggie broth until golden. Remove from heat.

Make Maple Miso Balsamic Dressing if haven't already.

When oats are done cooking, place in a large bowl and fluff with fork. Add corn, cherries, the 2 cups of chopped arugula, pine nuts and chives and mix well.

To assemble, place 1 cup of leftover arugula in each plate, top with oat mixture and drizzle with maple miso balsamic dressing.
Recipe Notes
If you don't care if this is gluten free then you can use regular steel cut oats. Any variety of cherries will work, but I used sweet red cherries. You can use water instead of veggie broth, but the broth gives the oats a really good taste after cooking.
Tips to prep ahead: Wash and chop cherries and veggies. Cook Oats. Make dressing.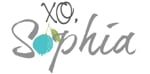 This post is also part of a Meat Free Mondays post, see it here…