This roasted butternut squash salad is rich and savory with the absolute perfect flavor. It's filled with healthy ingredients making it an amazing vegan salad choice!
I am only a salad fan when the flavors are legit. And this delicious salad tastes amazing!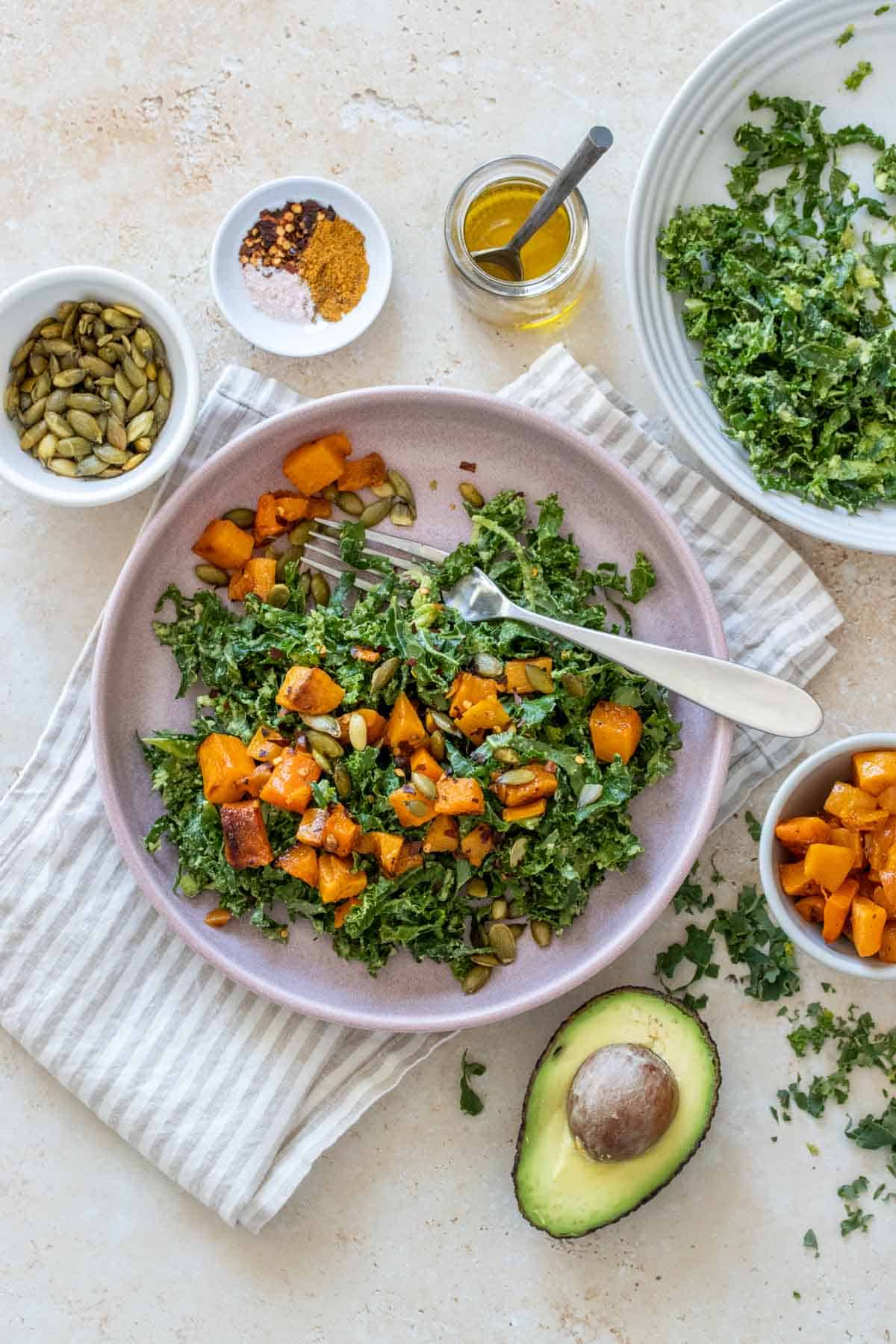 This is a cookbook review written by me on behalf of Kim-Julie Hansen, for which I received a free copy of the book. All the opinions and text are my own.
This post was originally published on January 20, 2019.
I love a good salad when it is filled with super flavorful ingredients, has healthy fats, and loads of texture. Much like my lentil quinoa salad, this butternut squash salad has it all!
How To Make Roasted Butternut Squash Salad
Getting this salad on the table takes very little effort from you. Most of the work is done by the oven, which takes the most time but is hands off!
This butternut squash salad also uses very simple ingredients, but put together they are loaded with flavor and texture!
Ingredients
Here is what you need to make this amazing recipe:
Butternut squash
Olive oil
Salt
Avocado
Kale
Pumpkin seeds
Curry powder
Red pepper flakes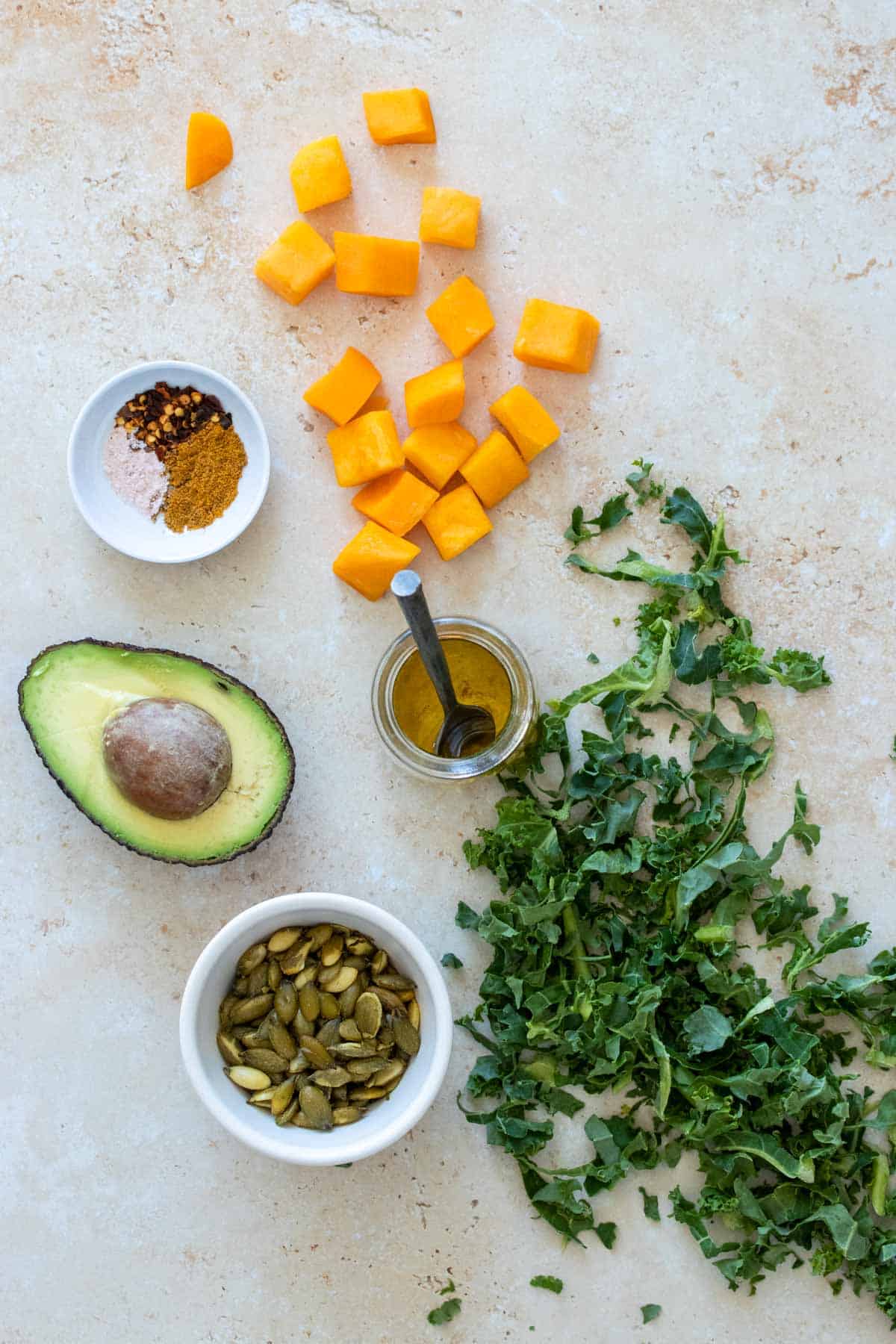 Step by Step Instructions
This is what you need to do:
Roast the butternut squash.
Toast the pumpkin seeds.
Massage the avocado and greens together.
Build the salad.
Eat!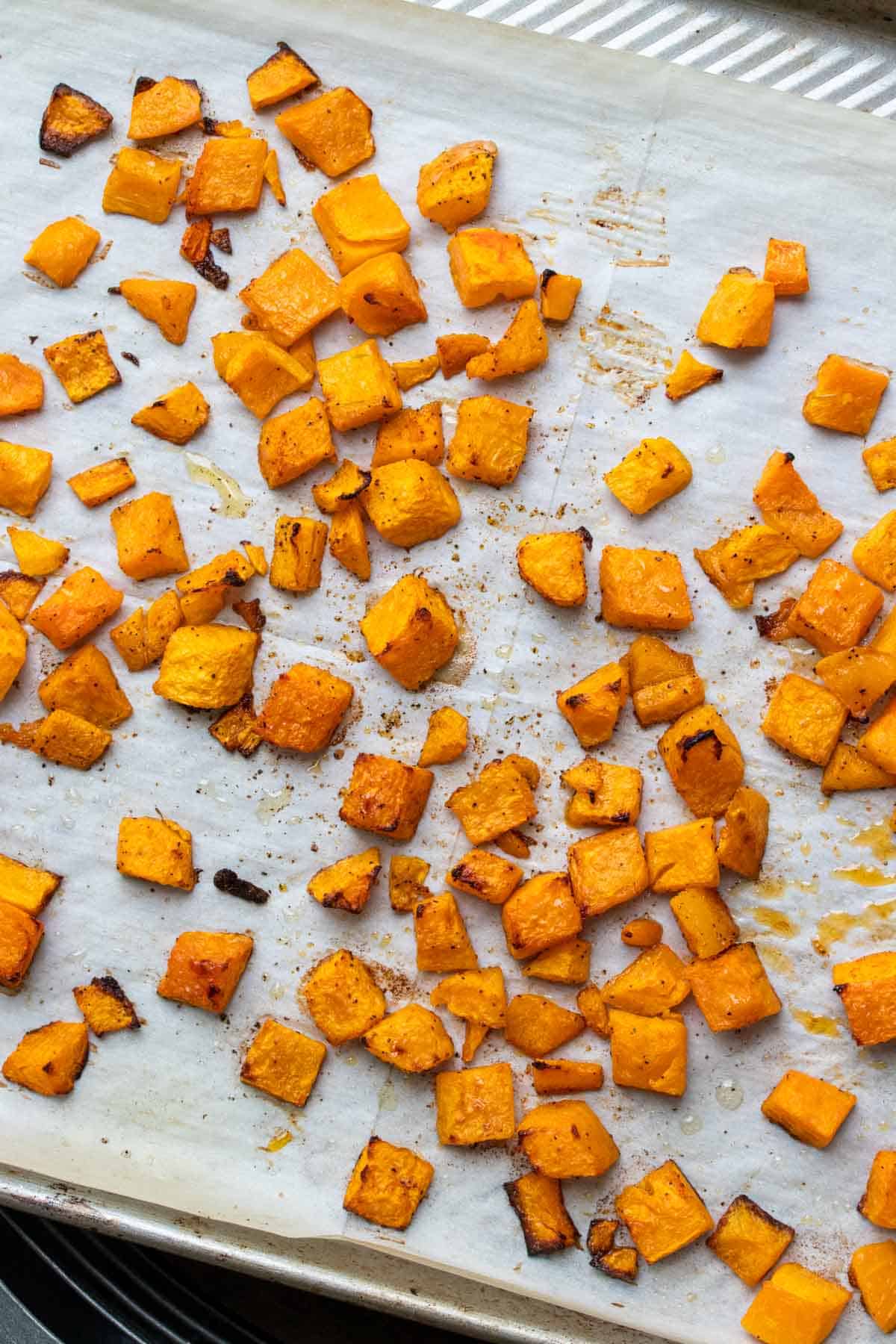 Serving Suggestions
Pair this roasted butternut squash salad with any of the following plant based recipes for a fabulous meal: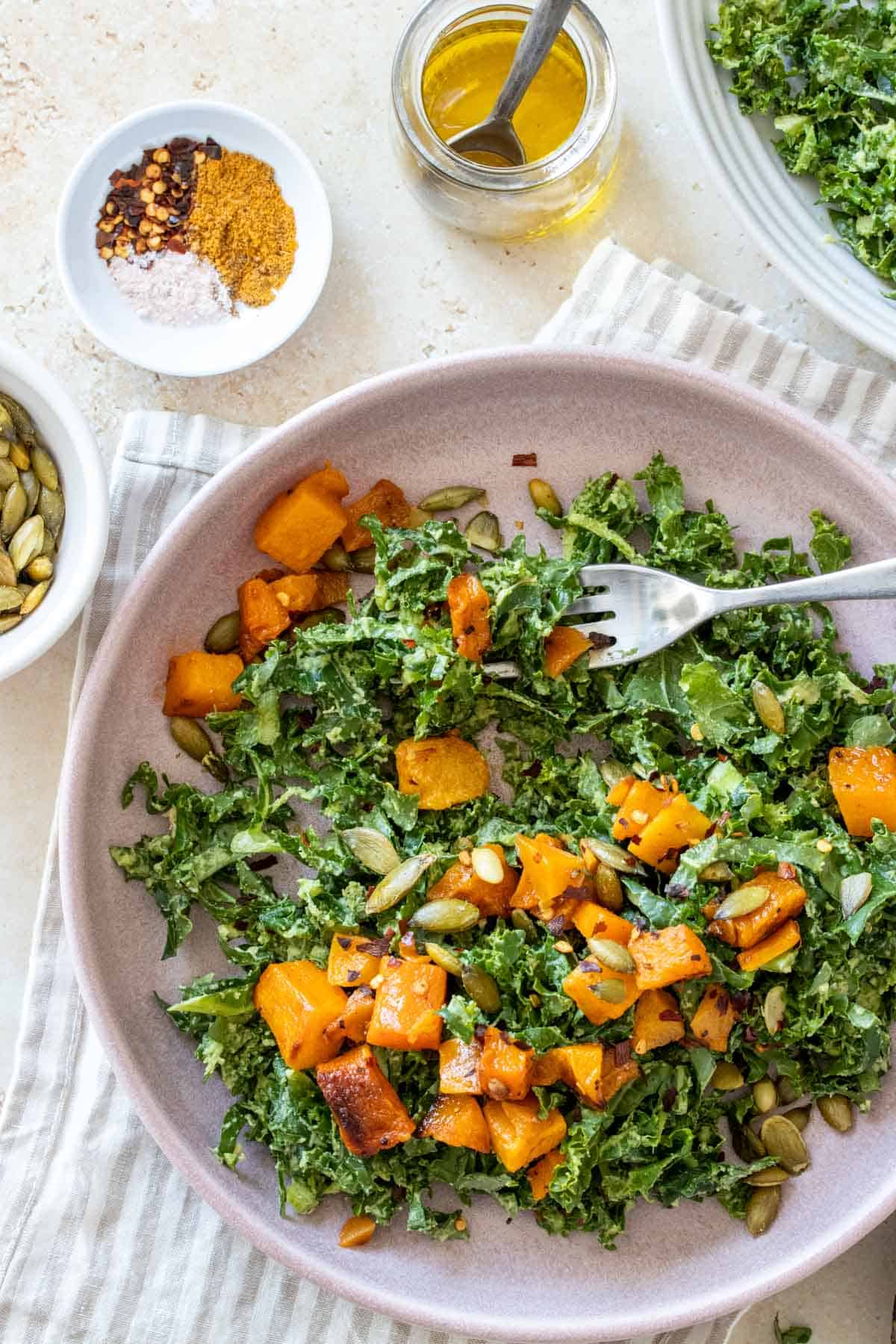 Substitution Suggestions
I made a few adaptions to this massaged kale salad to fit what we liked (my kids are weird and really like salad).
I took out the collards.
Used smoked paprika instead of curry.
Added the crushed red pepper to the adult portions only.
This recipe comes from the book, Vegan Reset, by Kim-Julie Hansen, much like a lot of the recipes in this book, it was simple to make but had ingredients I knew would bring it to the next level.
Her book is loaded with simple, veggie filled and healthy recipes. But they each have a little something that takes them up a notch.
This book is not just recipes, it is 28 days of vegan meal plans. Yep, 4 whole weeks. Each week starts with a shopping list, then moves on to meal prep. She lays out every meal for every day.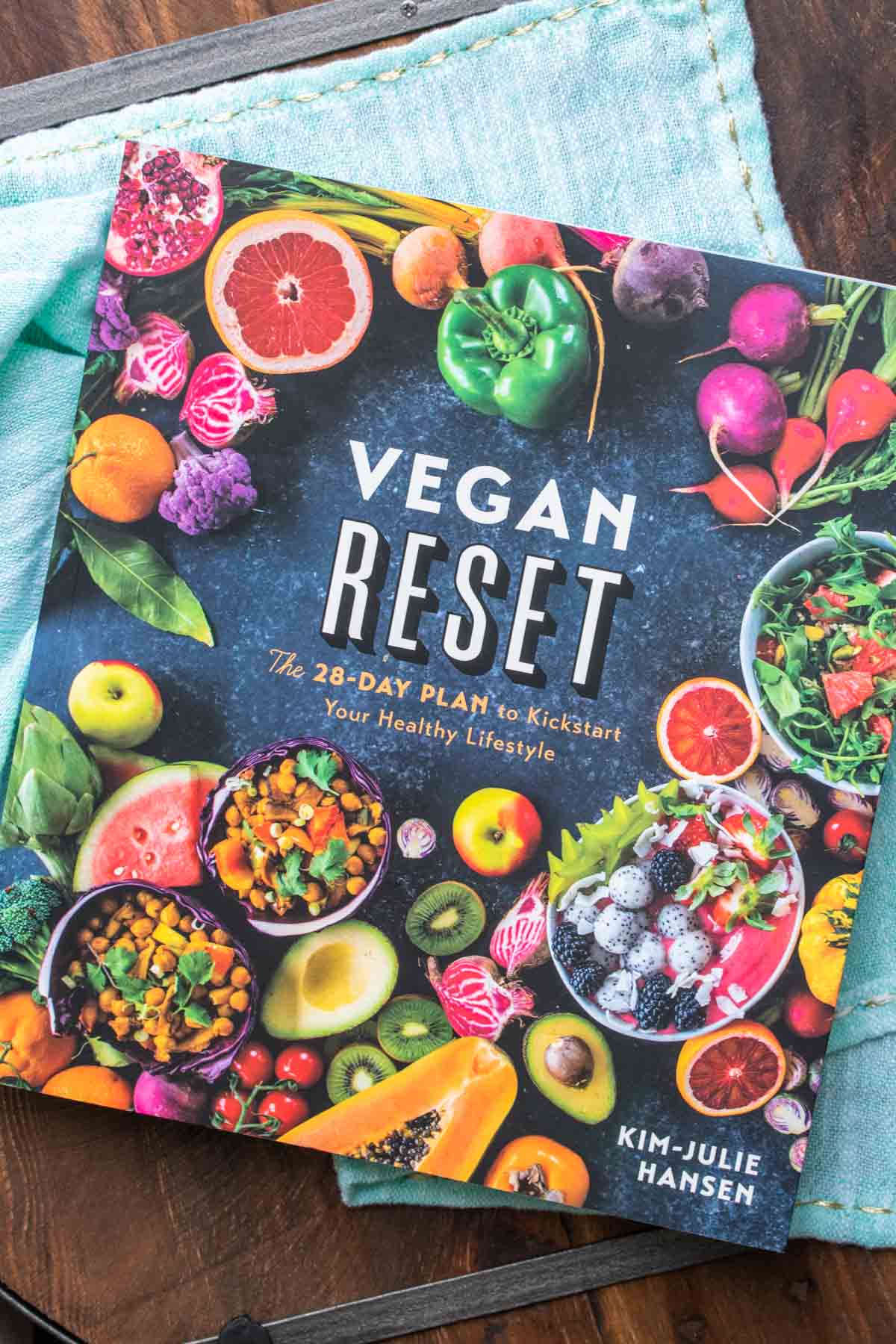 Prep Ahead Tips
Roast the butternut squash up to 3 days in advance and store in an airtight container in the refrigerator.
You can reheat the squash in the oven, on the stovetop, in an air fryer, or the microwave.
Toast and season the seeds ahead of time as well, simply keep in an airtight container in the pantry until you're ready to use.
Common Questions
What flavors go well with butternut squash?
Butternut Squash can be paired with both sweet and savor flavors. For sweet, think cinnamon, nutmeg, cloves, apples, pears, brown sugar, maple syrup, and honey. Savory flavors like rosemary, sage, thyme, nuts, broccoli, carrots, corn, kale, and spinach all pair nicely.
How do you roast butternut squash?
You'll want to start by cutting the squash in half and removing the seeds. Then, you can either roast the butternut squash halves in a 400°F oven, or cut them into cubes first.
Is roasted butternut squash healthy?
Yes! Butternut squash is a great source of fiber and many vitamins and minerals including vitamin A, vitamin C, and potassium.
More Vegan Salad Recipes
These plant based salads make excellent side dishes, but are also great as an entree!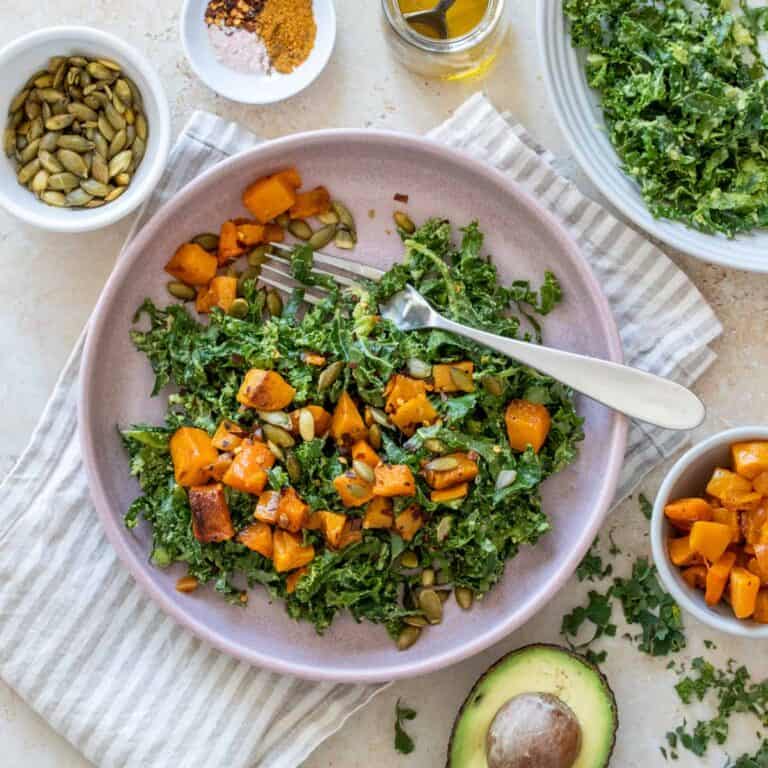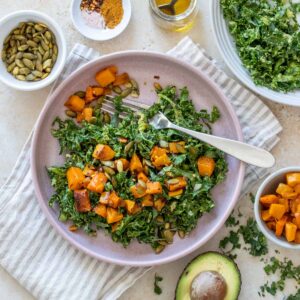 Roasted Butternut Squash Salad with Kale
This roasted butternut squash salad is rich and savory with the absolute perfect flavor. It's filled with healthy ingredients making it an amazing vegan salad choice!
Instructions
Preheat the oven to 350°F/ 177°C. Line a baking sheet with parchment paper.

Spread the squash on the baking sheet, drizzle with oil, and sprinkle with a pinch of salt. Bake for 45 minutes.

In a large bowl, massage the avocado into the kale and collard greens (if using).

Toast the pumpkin seeds in 1 teaspoon oil in a skillet over high heat for 1 minute. 

Reduce the heat to medium, add the curry powder, red pepper flakes, and remaining ¼ teaspoon salt, and toast for 1 to 2 more minutes. Set aside.

Add the butternut squash to the bowl when it's done baking.

Sprinkle the seeds over the salad.
Notes
To make this oil free, simply use veggie broth to bake the squash and saute the pumpkin seeds.
Recipe excerpted from VEGAN RESET © 2018 by Best of Vegan LLC. Photography © 2018 by Best of Vegan LLC. Reproduced by permission of Houghton Mifflin Harcourt. All rights reserved.
Recipe by Veggies Don't Bite, visit our site for more great plant-based recipes.
Nutrition
Calories: 376kcalCarbohydrates: 43gProtein: 12gFat: 22gSaturated Fat: 3gPolyunsaturated Fat: 0gMonounsaturated Fat: 0gTrans Fat: 0gCholesterol: 0mgSodium: 331mgPotassium: 1870mgFiber: 11gSugar: 4gVitamin A: 33790IUVitamin C: 212mgCalcium: 315mgIron: 4.5mg
Nutrition and metric information should be considered an estimate.
Never miss a recipe!
Sign up here and get a FREE quick and easy meal guide!