The food nutrition label makes most people's head spin, but I am here to guide you through understanding it from top to bottom. A must know!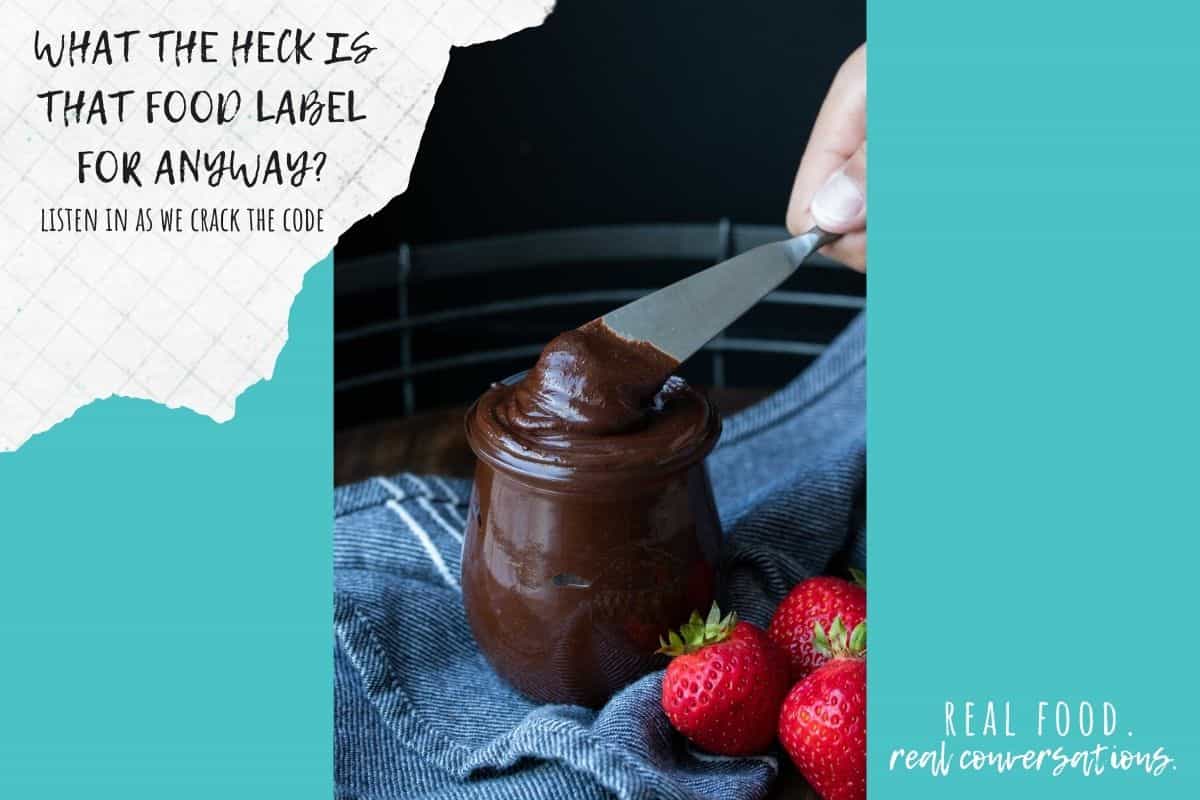 How can we make smart choices in what we buy if we don't even know what the food labels mean? Not anymore! I'm here to help you understand what it all means from top to bottom, and also make sure you know when to beware.
Podcast: Play in new window | Download | Embed

Subscribe now! Apple Podcasts | Google Podcasts | iHeartRadio | Stitcher | TuneIn | Deezer | RSS | More
What is a Food Nutrition Label?
Nutrition labels (or food labels) are required for all packaged foods. While I love having whole fresh foods as a big part of my diet, there are many packaged foods that can still be a great addition to a healthy diet.
Food labels were not always a thing. In the 1970's there was a large increase in prepackaged food, which is when the idea of labeling foods was first introduced. The actual label on foods has only existed since 1994.
The most recent update as of today was done in 2016. Knowing how to read a food label is an important building block for understanding overall health and wellness especially if you have food allergies or other health conditions. However, the food label can't help you unless you understand it.
What is on a food label
There are many parts to a food label. In simple terms, a food label tells you the serving information, calories, nutrients, percent daily values and below the label itself you will find the ingredients and allergens in a packaged food.
Within the nutrition area, you will see an array of information from amounts of macronutrients, cholesterol, sodium, vitamins and minerals.
Reading the Parts of a Food Label
When it comes to reading a food label, starting from the top and going down is the easiest approach. Here we will go through each section, information it contains and how to understand it.
Remember that the information given is for each serving of food (and for some they also include how much in the entire package).
Serving Information
At the very top of the food label is information on serving size and how many servings are in a food. Serving size has recently been changed to be the amount that is most common to consume. Also, if the number of servings falls between one and two, the label must show it as one.
If there is more than one serving, then the label needs to have two columns, one with information per serving and one with information for the entire package.
Servings sizes should be similar across foods to make it easy to compare. Just remember that if you are looking at the information given per serving, that this is the amount of the food you are eating. Or adjust if it is not.
Total Calories
The next area on the food label has the total amount of calories. Calories are basically how much energy a food has. Generally speaking, calories are the area focused on most when it comes to weight.
Many people ask how many calories are too many, while there is not right answer, according to the FDA, a very loose guide is:
40 calories = low
100 calories = moderate
400 or more calories = high
Nutrient Content
The next sections focus on the nutrient content. This is where the bulk of the information lies and there are some key things to pay attention to.
Next to each nutrient in this section you will see a % daily value in each serving. This tells you the percent that nutrient contributes towards the daily diet amount. These are based on a 2,000 calorie diet so the actual amounts you need may change. But looking at the percent will help give you an idea of how much that food contains.
To keep it simple, shoot for high percents for nutrients like fiber, vitamins and minerals, but target low percentages when it comes to saturated fats, sugar and sodium.
Macronutrients
Let's start with the macronutrients. You can read more about what macronutrients are in this episode.
Fat comes first. Fat is a necessary macronutrient that our body needs. However, it is calorie dense and is worth 9 calories per gram. There are 3 main types of fats: saturated, unsaturated and trans fats.
On a food label, they give you the content of saturated fat and trans fat because these are the two types you want to avoid. It is best to consume unsaturated fat as most of your fat intake.
Next is cholesterol. Most of the foods that have a lot of saturated fat, also have high amounts of cholesterol. This needs to be watched, especially if your bloodwork shows this is an area of concern.
Sodium is the next nutrient on the food label. As a healthy adult, the American Heart Association says that you should have no more than 3,000 grams of sodium a day, but aim for 2,300 or less. However if you have high blood pressure, you should aim for no more than 1,500 grams.
Carbohydrates are next. Those reported on the food label are total amounts, then fiber and sugars. The most recent guidelines now require labels also include added sugars. Carbohydrates are necessary for our bodies to function properly and provide a main source of energy. There are 4 calories per gram of carbohydrate.
Fiber is really important for helping our bodies regulate sugar and move food through (aka poop!). It doesn't count towards total carbohydrates since we don't digest it.
Sugars, especially added sugars, should be eaten in moderation. It is recommended to keep added sugars to about 10% of your total daily calories.
The last macronutrient in the food label is protein. Our country is very focused on protein, even though it's fiber that is more of a problem. While protein is important, most of us get plenty of it! There are 4 calories per gram of protein.
How many macronutrients you need to eat really depends on your body and health goal. But in general The Food and Nutrition Board of the Institutes of Medicine gives the following ranges:
Fat = 20% to 35% of calories
Carbohydrates = 45% to 65% of calories
Protein = 10% to 35% of calories
Vitamins and minerals
The next section in the food label lists all of the vitamins and minerals in that food. The goal is to get 100% of your daily value of these, but this will come with a combination of foods you eat.
Don't stress too much about keeping track, if you eat a variety of nutrient dense foods you will hit those goals. It's always important to get yearly checkups as that can help monitor if there is a nutrient you are lacking.
Ingredient list and allergens
Under the food label you will see the list of ingredients found in that food, followed by the most common allergens that food contains.
It's important to know how to read the ingredient list on a food label. The order in which the ingredients are listed and the names of each ingredient tell you a lot about that food.
How a Food Nutrition Label Helps
Overall, being able to understand what a food label means can help you make informed decisions on whether the health and nutrient content claims listed are true and make it easier to make a choice between similar products.
Eating a diet rich in nutrient dense foods like fresh vegetables, fruits and whole grains will keep your body working at it's best. While most of us don't have to track every nutrient to get what we need, it's still important to be informed as to what we put into our body.
Cautions with Nutrition Labels
Using the label in unhealthy ways can be more damaging than helpful with your diet. If you do not have a health reason to track certain things or avoid certain foods, the label should just be used as a loose guide.
If you find yourself using it to cut out large food groups without a valid reason for doing so, then avoiding the label may be a healthier choice for your wellness.
Another caution is the accuracy of what you see in the nutrient information of a food label.
Accuracy of food labels
The accuracy of what a food label lists is mandated in 3 nutrient classes that account account for a margin of error.
Class 1: vitamins, minerals, protein, dietary fiber, or potassium in food that are fortified or fabricated
These must be present at 100% or more of the value declared on the label.
This means that a laboratory analysis of a product must find the amount of the above nutrients present in that product equal to or more than what the label says they are.
Class 2: vitamins, minerals, protein, total carbohydrate, dietary fiber, other carbohydrate, polyunsaturated and monounsaturated fat, or potassium that occur naturally in a food
These must be present at 80% or more of the value declared on the label.
This means that a laboratory analysis of a product must find the amount of the above nutrients present in that product equal to or more than 80% of what the label says they are.
One exception is if a product has a sugar content of 90 percent or more of the total carbohydrates, then it is treated as a class 3 instead. This is to avoid errors due to rounding of numbers.
Class 3: calories, sugars, total fat, saturated fat, cholesterol, and sodium
These must be present at 120% or less of the value declared on the label.
This means that a laboratory analysis of a product must find the amount of the above nutrients present in that product equal to or less than 120% of what the label says they are.
Don't forget to download my free guide for educating yourself on food packaging below!