These vegan peanut butter cookies are so easy to make and only 5 ingredients. They are both grain gluten-free and done in under 30 minutes!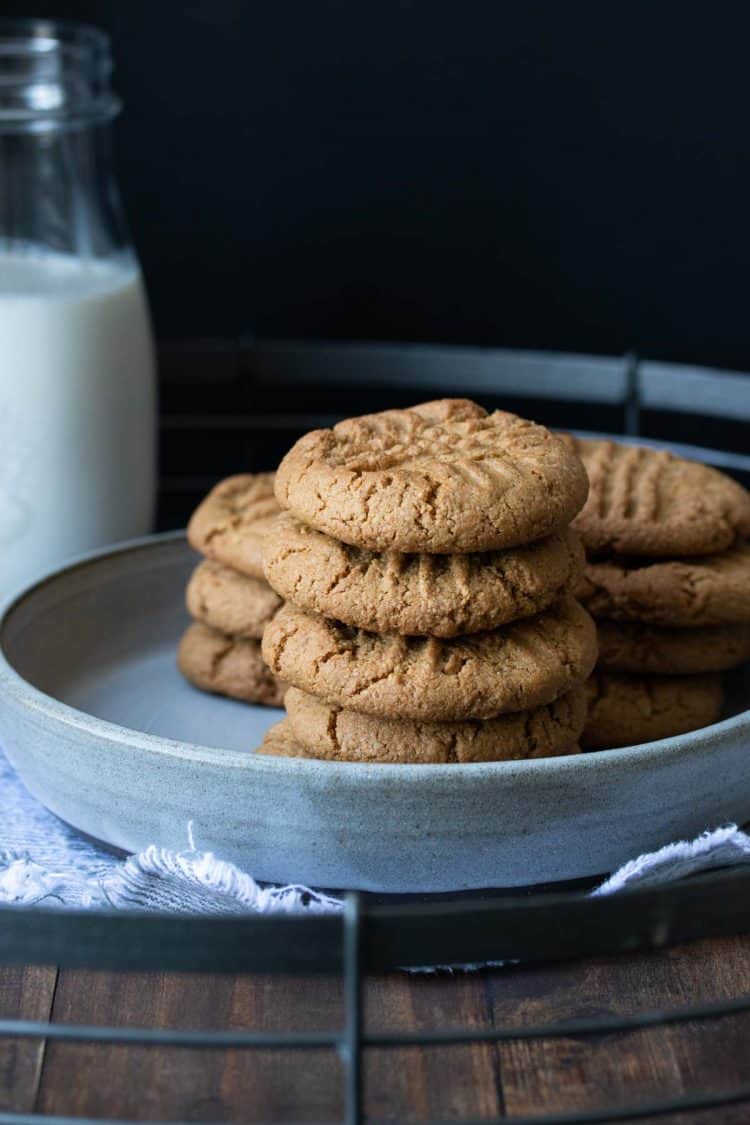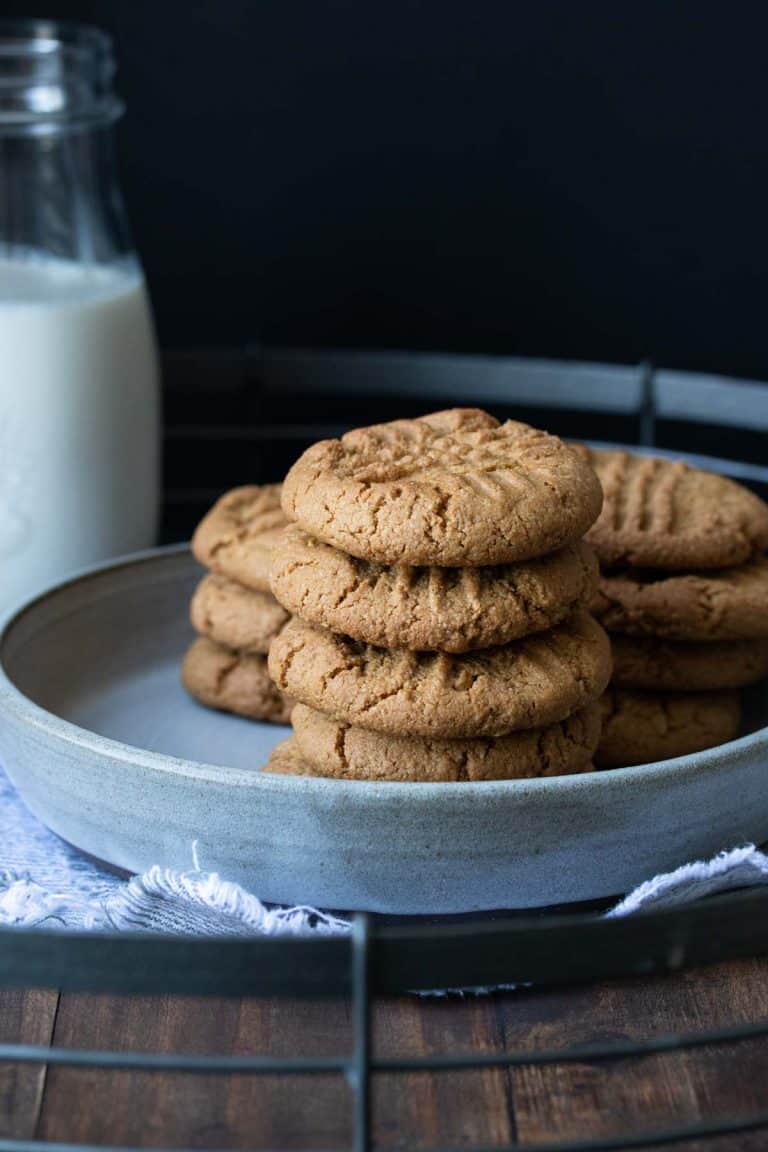 Cookies are a regular member of this family, and with my busy life I need recipes that are easy and fool proof. This is one of those I can whip up any time and the whole family will devour them!
I also like having cookie recipes in rotation that can accommodate dietary needs without any weird ingredients. To learn more about how to figure out what is in those store bought cookies check out this guide on reading food labels.
These gluten-free and vegan cookies are made with simple whole food items you likely have on hand!
Ingredients
Just a handful of items is all you need to make these healthy peanut butter cookies:
Almond Flour
Peanut Butter
Maple Syrup
Baking soda
Sea salt
You can also sub oat flour for some of the almond flour if you want a crispier cookie.
You can use either crunchy or smooth peanut butter for these, I love the added texture of the crunchy!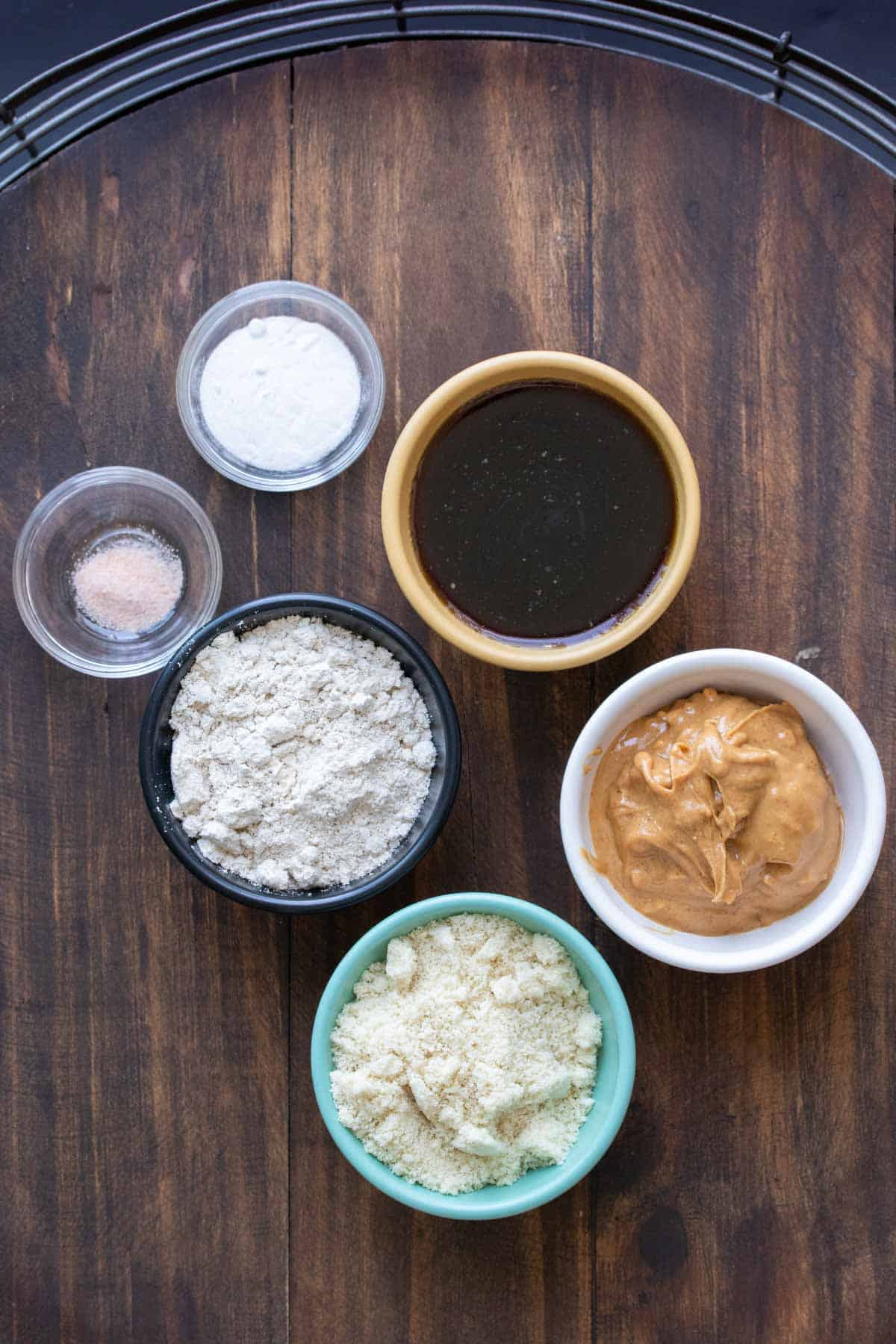 How To Make Vegan Peanut Butter Cookies
These cookies are just TOO EASY to make, with minimal dishes!
Mix all the ingredients well.
Form the dough into balls and use a fork to press down. Then press down again in the other direction to make the criss cross marks.
Bake.
Cool and enjoy!
Preparation tips
When making the vegan peanut butter cookies, these suggestions should come in handy:
Use parchment paper to line your cookie sheet for easy removal of cookies. Parchment also helps crisp the cookie for that perfect outer texture.
To crosshatch the cookies, use a fork to gently press the balls of dough down in one direction, lift up and angle the fork the other way and press down again to create a criss cross pattern.
This recipe can also be used to make blossom cookies. Instead of pressing down with a fork, roll the ball of dough in sugar and bake. Once removed from the oven, top with a vegan chocolate kiss.
Make sure the peanut butter you use isn't too dry. If it is, you can add some oil to make it creamier.
For the best texture you need accuracy with the flours. Which is why I include precise weights. If you don't have a scale, then you can purchase this fairly inexpensive one.
If you prefer to measure, then measure the flours by scooping your measuring cup into the flour versus spooning it into it. This is how I measured when getting my weights.
Storage tips
If these cookies don't disappear immediately, you'll want to make sure you store them properly to keep them fresh. Here's what you can do:
Store in an airtight container at room temperature for 2-3 days.
Avoid refrigerating baked cookies, it will dry them out.
You can also freeze these cookies! Seal them in a freezer safe airtight container for up to three months. Just take out the ones you want to teat and let defrost at room temp then enjoy!
The raw dough can also be frozen. To do so, form the balls and place them in the freezer on a freezer safe dish for 15 minutes before transferring to the container for storage.
Common Questions
Are Vegan Peanut Butter Cookies Gluten-Free?
Yes! Because I used almond flour, this recipe is gluten-free.
How do you make vegan peanut butter cookies from scratch?
Mix dry ingredients, then add in the wet ingredients. Form into balls and place on a parchment lined baking sheet, then press down the balls using a fork in a crosshatch pattern. Bake and enjoy!
Why do peanut butter cookies have fork marks?
Peanut butter cookie dough is dense, so it needs to be flattened out in order for the cookies to bake evenly. An easy way to do this is using a fork to press them down in a criss cross style, which spreads them out in an even fashion.
Why are my peanut butter cookies falling apart?
This could be due to a couple reasons. First, your dough could be too dry if your peanut butter doesn't have enough oil; add a little bit of oil if this is the case. Second, you could be baking them too long. The cookies will continue to cook after they come out of the oven, so make sure to bake as instructed.
How do you store peanut butter cookies?
Store peanut butter cookies at room temperature for 2-3 days in an airtight container.
Can you freeze Vegan Peanut Butter Cookies?
You sure can, before OR after baking! Baked cookies should be sealed in an airtight freezer safe bag or container. To freeze the raw dough, form the balls and place them in the freezer on a freezer safe dish for 15 minutes before transferring to container. Both can be frozen for up to 3 months. Just bring to room temperature before eating or baking!
More Vegan Peanut Butter Recipes
If your love for peanut butter doesn't end at cookies, try some of these other plant based recipes: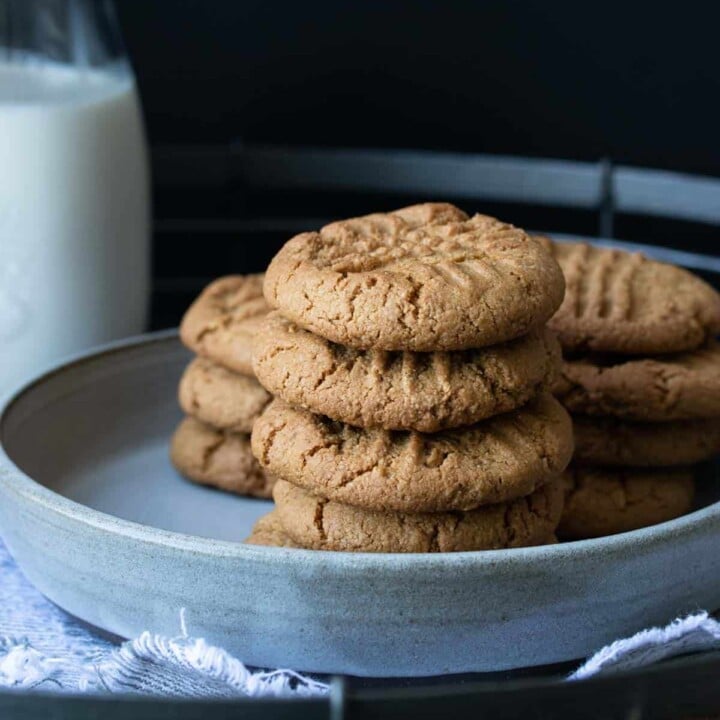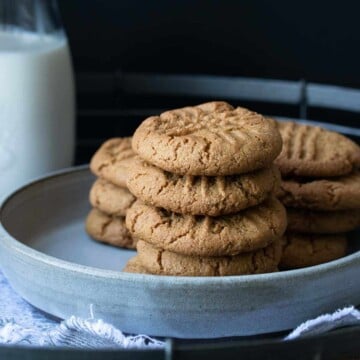 Easy Gluten-Free Vegan Peanut Butter Cookies
These vegan peanut butter cookies are so easy to make and only 5 ingredients. They are both grain gluten-free and done in under 30 minutes!
Ingredients
1 ½ cups fine ground almond flour
1 ½ teaspoons baking soda
¼ teaspoon sea salt (see note)
½ cup creamy or crunchy peanut butter (see note)
½ cup maple syrup
For crispier cookies:
2 tablespoons oat flour take out 2 tablespoons of the almond flour and sub with this oat flour
Instructions
Preheat oven to 350 F/ 175 C.

Put flour, baking soda, and salt in a bowl. Whisk well to remove clumps and combine.

Make a well in the middle and add peanut butter and maple syrup.

Stir to get everything mixed well.

Form into balls and put on a parchment lined cookie sheet.

Using a fork, make a criss cross pattern on the top of the cookies as you press down the balls.

Bake for 13 minutes. Until just beginning to brown on the edges. They cook more as they cool, if you overbake they will be dry.
Notes
If your peanut butter is dry, you will not get cookies that spread as well. You could add a touch of oil to get it creamy.
If your peanut butter has salt, you may not need as much.
Recipe by Veggies Don't Bite, visit our site for more great plant-based recipes.
Nutrition
Calories: 179kcalCarbohydrates: 14gProtein: 6gFat: 12gSaturated Fat: 2gSodium: 231mgPotassium: 100mgFiber: 2gSugar: 10gCalcium: 49mgIron: 1mg
Nutrition and metric information should be considered an estimate.
Never miss a recipe!
Sign up here and get a FREE quick and easy meal guide!