You'll never believe that this light and creamy peanut sauce has a portion of the fat of the traditional version. So flavorful, you'll be eating it with a spoon! This sauce can be used for sauces, dressings, on salads or with noodles and rice it's so delicious and so versatile! My secret ingredient even adds protein, so not only is it delicious, it's also really good for you!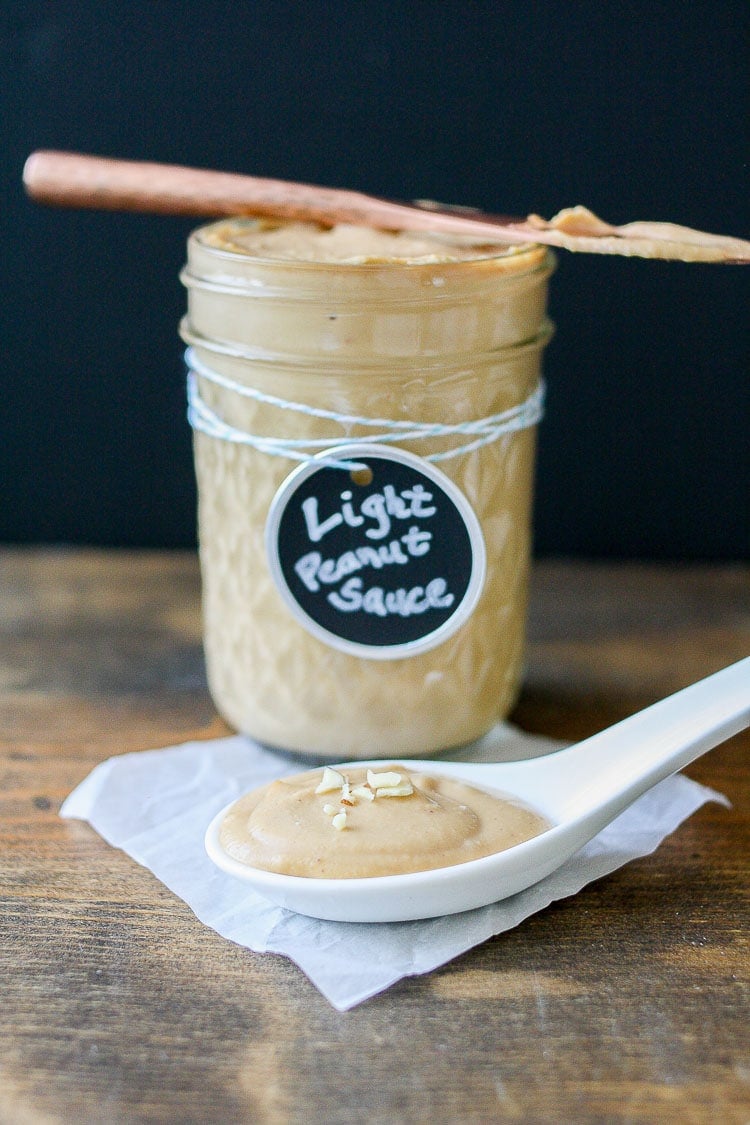 So you may have noticed that I am in a sauce obsession right now. I love sauces! I mean, how can you not? They are so versatile and amazing.
Sauce, dip, dressing...you name it! My recent BBQ Tahini Sauce was a HUGE hit with all of you! Nothing makes me happier than when I see readers making my recipes and tagging me in their pictures. I really just love it. My BBQ Tahini swept Instagram like no other!
I loved all the different uses people found for it. My favorite was someone telling me that they loved eating with a spoon. Like soup. Yup, I am not the only one! Thank goodness!
So in honor of the sauce addiction, I bring to you another ridiculously good sauce that you can eat like soup, Light and Creamy Peanut Sauce. All the flavor and amazingness of full fat peanut sauce in a light and creamy version.
What's The Secret Ingredient?....
It is so good, you'll quickly forget that it isn't extremely fattening and full of oil! I mean, peanut butter has fat. Yes. But this sauce only uses two tablespoons in the whole thing! What's my secret? White beans! They make this sauce so light and creamy without added fat. Plus it adds great protein.
I wasn't sure about them at first, so I started with garbanzo beans. But when I tried the white beans I loved the taste so much better and I was totally wrong at thinking they'd over power in bean taste. I actually think they have less of a bean taste than the garbanzos!
My friend Brandi at The Vegan 8 even tried this for me and preferred the white beans too! She loves the sauce and just like I said, it reminds her of the traditional full fat version but without all that extra unneeded fat!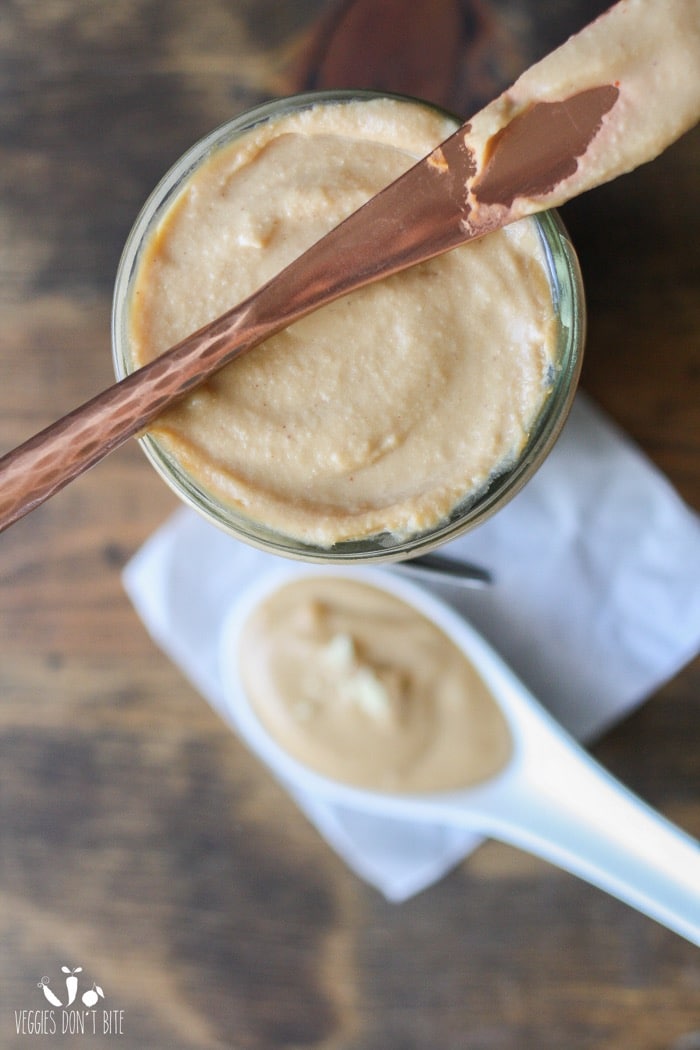 I created this after the success of my Fat Free Roasted Garlic Alfredo. My husband loved it so much that he asked me to create other low fat versions of traditionally fatty sauces. This was next on the list because peanut sauce is so delicious but usually packs in a boatload of calories.
I based the recipe off the peanut sauce in my Veggie Stir Fry Noodle dish. I tried to get the same flavor but in a lower fat version. The beans really let that happen by giving extra volume without detracting from it's taste.
I was so happy with the results that I immediately added it to our list of must have sauces! And can we talk about how easy it is? I mean, there is ONE direction!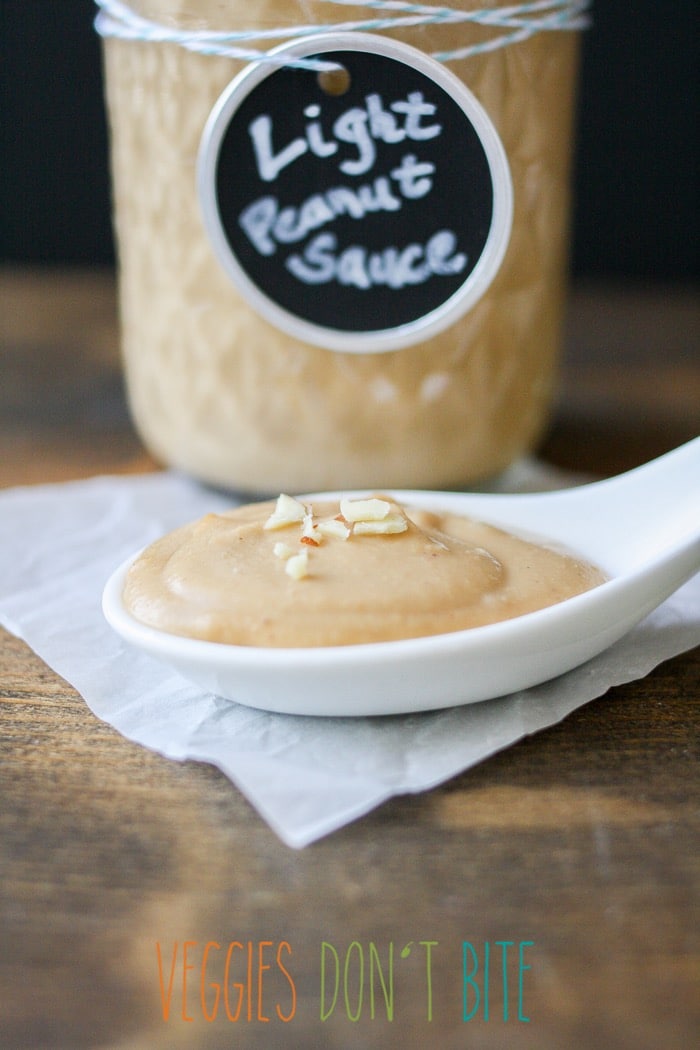 I know you will love this and I can't wait to see all the uses you have for it! I have used it in so many ways already, including eating it like soup 😉 Be on the lookout next week for one amazing way to use this peanut sauce! If you try it don't forget to let me know!
I love hearing your comments on all my recipes. You can leave a comment here, find me on Facebook or tag me on Instagram at veggiesdontbite #veggiesdontbite so I don't miss it!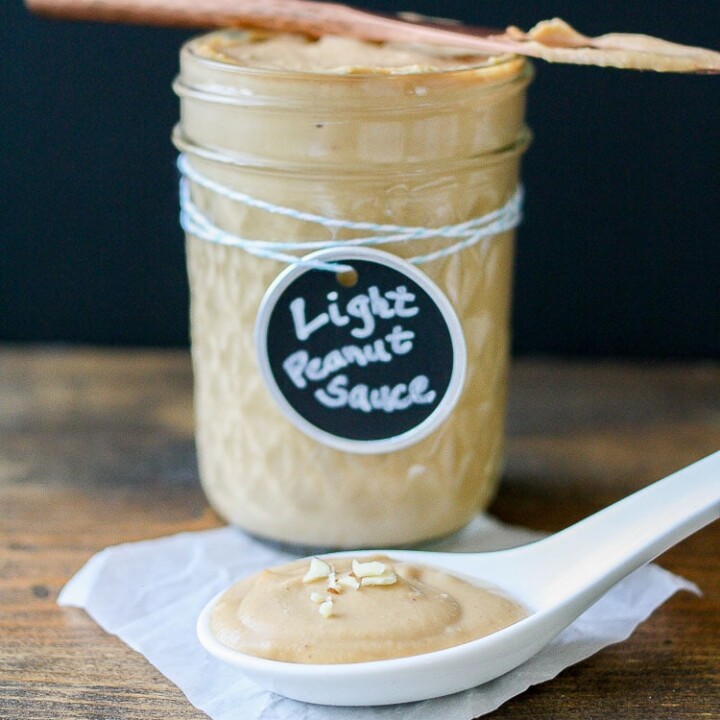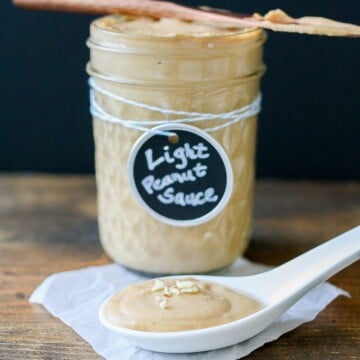 Light and Creamy Peanut Sauce
You'll never believe that this light and creamy sauce has a portion of the fat of the traditional version. It is so flavorful and delicious you will be eating it with a spoon! My secret ingredient even adds protein, so not only is it delicious, it's also really good for you!
Ingredients
1 cup cooked white beans
2 tablespoons peanut butter
2 tablespoons rice vinegar
2-3 medium cloves fresh garlic depending on preferred flavor
3 tablespoons Tamari Liquid Aminos (or Soy sauce for non gluten free version)
2 tablespoons maple syrup
1 teaspoon fresh lime juice
1 teaspoon sriracha optional for heat
1 teaspoon sesame oil optional for added taste
¼ cup water can add more if you want it thinner
Instructions
Put everything into a blender and blend until smooth.

Put on anything!
Notes
You can substitute Tahini for the peanut butter for a nut free version of this sauce. It obviously won't have the peanut butter taste but I tried it and it is a great alternative for those wanting the same effect but not able to have peanuts!
You can omit the sriracha if you don't want any spice at all, but this isn't too spicy as is.
You can also add more water to make this thinner. As it stands, it is a thicker type sauce perfect for Thai type noodles or dipping.
If you want no oil, then omit the sesame oil. You can sub some sesame seeds instead for that touch of flavor.
Recipe by Veggies Don't Bite, visit our site for more great plant-based recipes.
Nutrition
Calories: 579kcalCarbohydrates: 72gProtein: 24gFat: 20gSaturated Fat: 4gPolyunsaturated Fat: 0gMonounsaturated Fat: 0gTrans Fat: 0gCholesterol: 0mgSodium: 1738mgPotassium: 918mgFiber: 10gSugar: 27gVitamin A: 0IUVitamin C: 8.7mgCalcium: 162mgIron: 3.4mg
Nutrition and metric information should be considered an estimate.
Never miss a recipe!
Sign up here and get a FREE quick and easy meal guide!