This superfood stir fry cauliflower rice is an easy way to turn your favorite seaweed sheets into a vitamin packed meal! Add some veggies and you're set!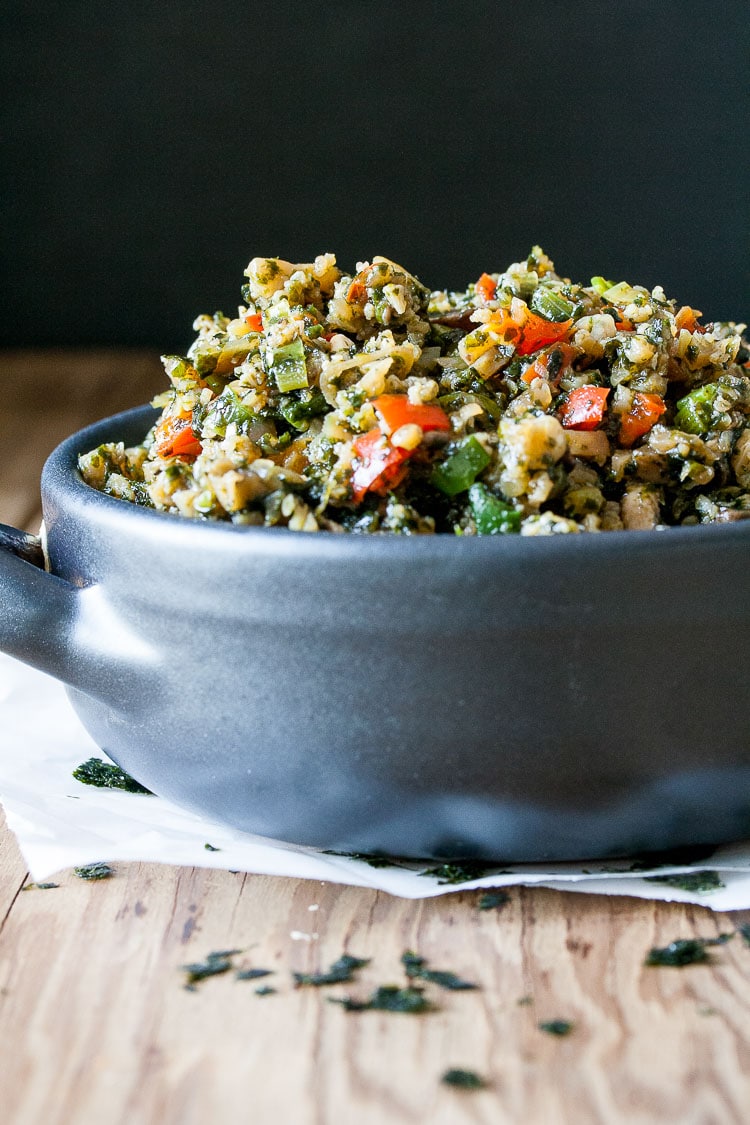 This post was sponsored by GimMe Organic but the content and opinions expressed are fully my own.
Looking to get an extra boost of vitamins and minerals into your everyday meals? Well, I've got the recipe for you! I love it when I figure out quick and easy ways to make healthy food ever healthier! The key is to keep it tasty, so you don't even know that it's extra good for you. This stir fry cauliflower rice is the perfect way to crush those healthy eating goals!
Back in August, I worked with this awesome brand, GimMe Organic and created these Easy Sushi Rolls that my kids still love making.
Kids Love These Seaweed Snacks!
We eat their seaweed snacks every week, and I can't help but get excited that my kids willingly beg for something that's actually super healthy but feels like an unhealthy pre-packaged kid snack. They also have delicious seaweed chips in multiple flavors!
My favorite is the sriracha...mmmm. (Hint: if you click on the links above you can get a nice discount via amazon on their products until January 31! Stock up!) So when GimMe came to me again to create another recipe using their products I didn't even hesitate!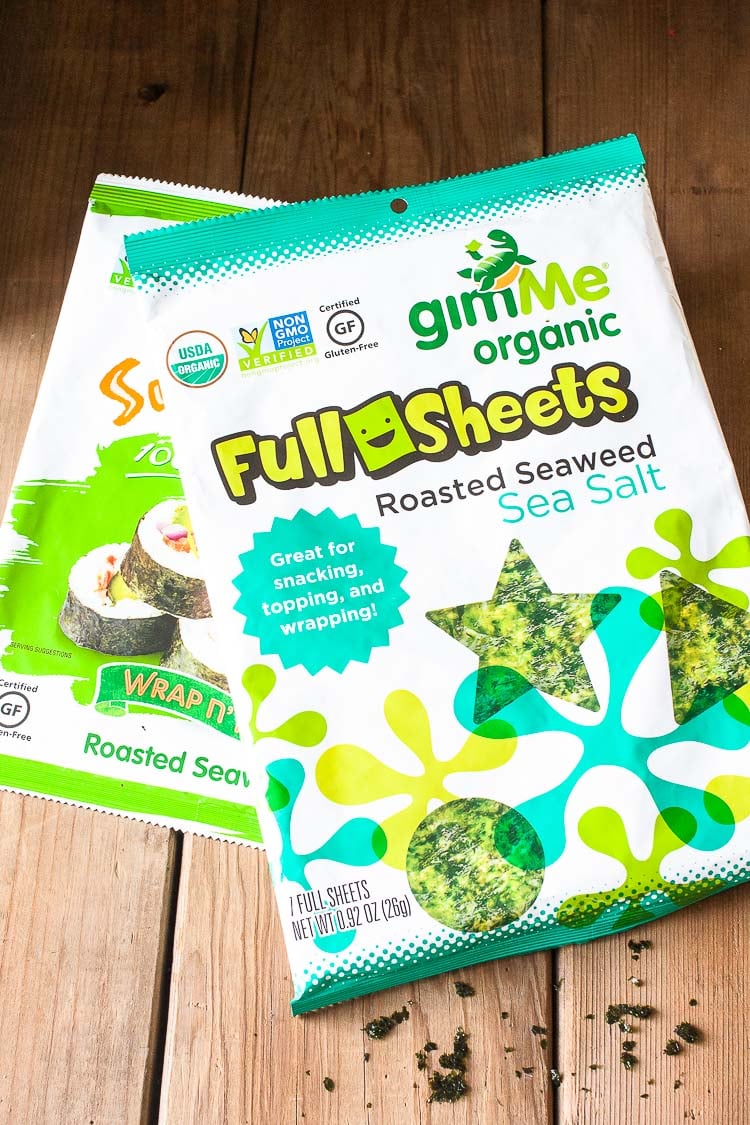 This go around, they wanted me to get creative and repurpose their seaweed sheets in a sneaky yet effective way. No. Problem. I knew I wanted it to be something easy because the ultimate combo when it comes to recipes is healthy but simple.
And this stir fry cauliflower rice hits the nail on the head! It's literally 5 simple steps and 9 easy ingredients to a meal so packed with flavor and nutrients you will wonder where it's been all your life! Oh and for those of you looking for something lower carb and low in calories and fat, yep. It's that too.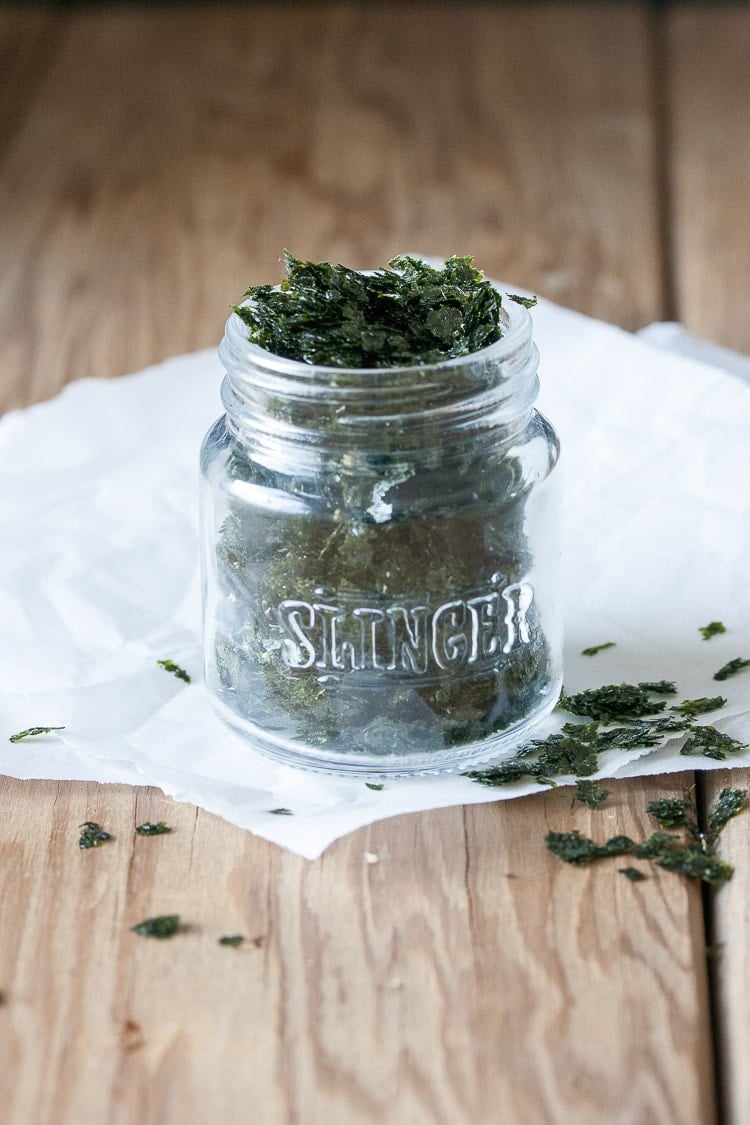 Vitamin Packed Stir Fry Cauliflower Rice in 5 Easy Steps
Pulse seaweed sheets into small flakes
Pulse cauliflower into rice like pieces and chop veggies (Hint: you can buy pre-riced cauliflower and pre-chopped veggies for an even easier meal, SAY WHAT?!)
Saute ingredients
Mix in seaweed flakes
Devour...okay maybe this isn't really a step 😉
Viola! Dinner is served. I mean, does it get any better than easy, flavorful AND healthy? Nope. Not for this mom of 3. On your mark, get set, GO!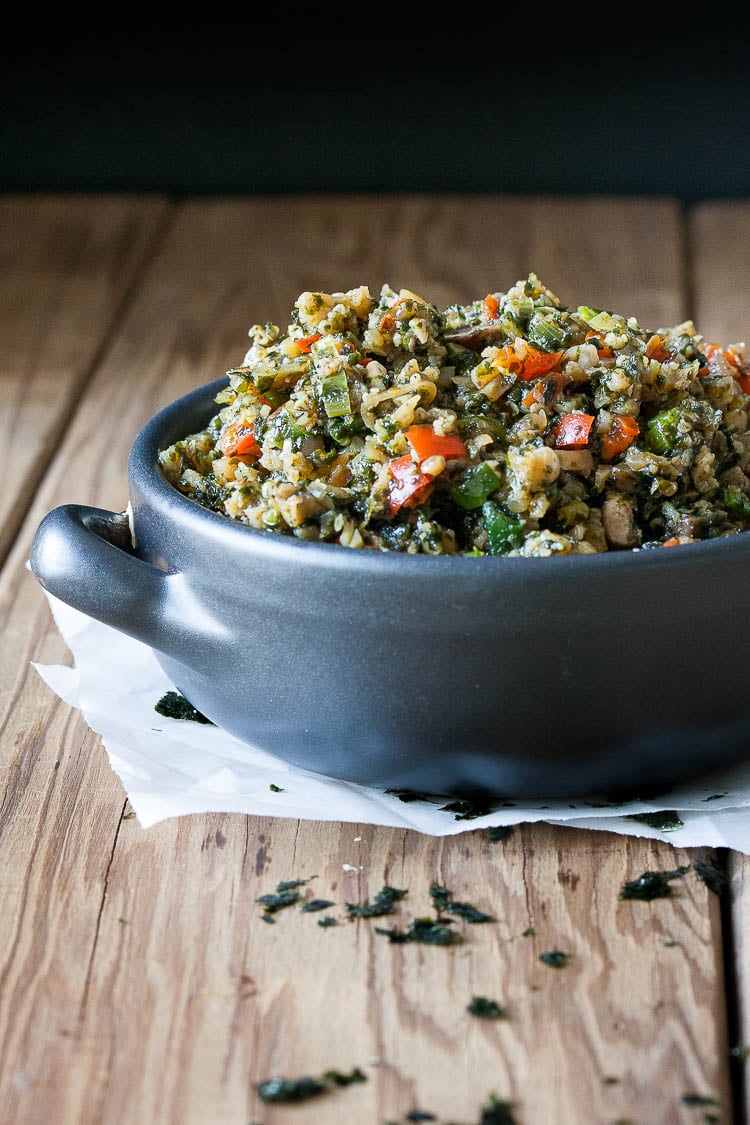 If you're looking for a great pair for this low carb rice for an all around lower carb meal, try my Chinese Style Vegan Orange Cauliflower recipe!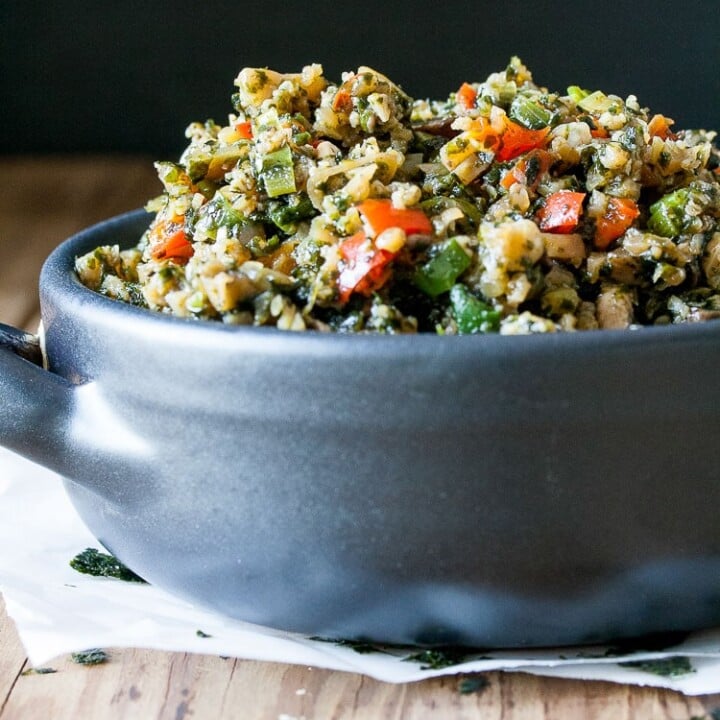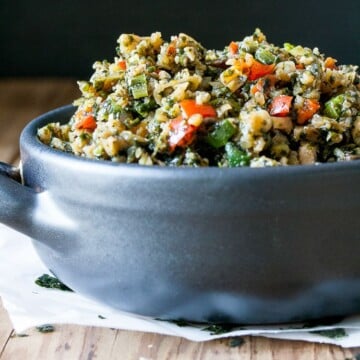 Low Carb Stir Fry Cauliflower Rice
This superfood stir fry cauliflower rice is an easy way to turn your favorite seaweed sheets into a vitamin packed meal! Add some veggies and you're set!
Ingredients
7 full sheets GimMe Organic roasted seaweed
1 medium head cauliflower about 4 cups cauliflower rice if buying prepackaged
2 cups chopped mushrooms
2 cups chopped green onion
1 cup chopped red pepper
¼ cup Tamari or Soy Sauce
4 teaspoons finely chopped garlic
4 teaspoons sesame oil
4 teaspoons maple syrup
Instructions
Place seaweed sheets into a food processor and pulse until they become small flakes.

Make cauliflower rice by cutting head into pieces, cutting out most of the stem. Using a food processor pulse cauliflower until it is in small rice like pieces. You can also use a grater to grate the cauliflower if you do not have a processor.

Saute sesame oil and garlic in a large pan over medium heat until the garlic gets fragrant.

Add in the rest of the ingredients, except the seaweed flakes, and sauté while stirring until everything is cooked through and most of the liquid has evaporated. I prefer mine on the al dente side so taste as you go and remove from heat when you reach your desired consistency. Pour into a large bowl.

Add the desired amount of seaweed flakes to the bowl and mix well to incorporate. Serve as a main dish or as a side to any Asian inspired meal!
Notes
You can sub in any veggies you prefer in this. Add as many seaweed flakes as you want and save the rest to sprinkle on other meals!
Tips to prep ahead: Wash and chop veggies. Rice cauliflower. Grind seaweed into flakes.
Baby/toddler food idea: Great kids meal!
Recipe by Veggies Don't Bite, visit our site for more great plant-based recipes.
Nutrition
Calories: 283kcalCarbohydrates: 44gProtein: 10gFat: 9gSaturated Fat: 1gCholesterol: 0mgSodium: 1140mgPotassium: 1393mgFiber: 11gSugar: 20gVitamin A: 3330IUVitamin C: 141.6mgCalcium: 135mgIron: 3.9mg
Nutrition and metric information should be considered an estimate.
Never miss a recipe!
Sign up here and get a FREE quick and easy meal guide!