Turn plain seaweed snacks into these healthy easy sushi rolls! Let kids build their own roll-ups and watch them eat things they usually balk at!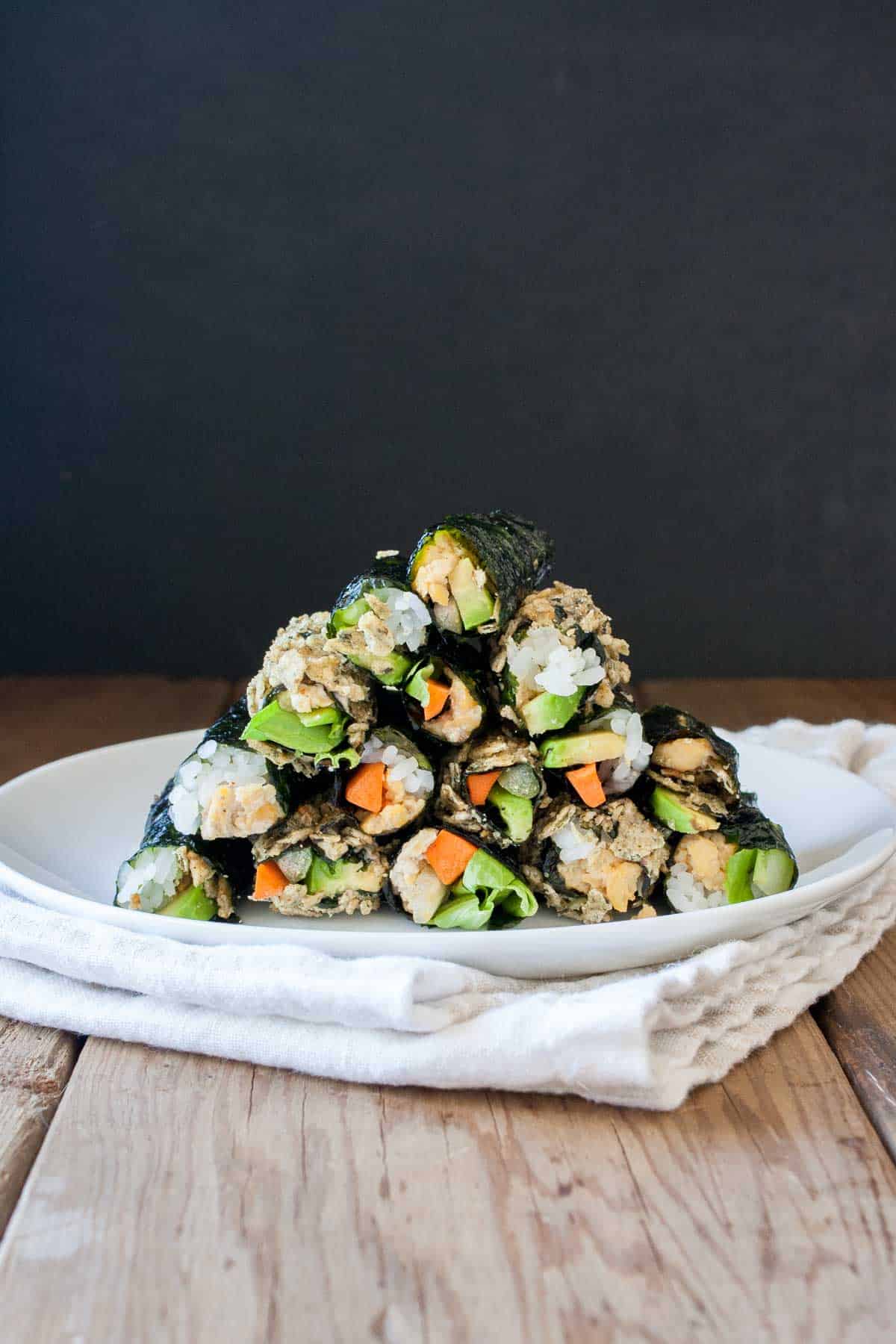 This post was sponsored by GimMe Organics but the content and opinions expressed are fully my own.
Getting your kids to enjoy different types of foods can be a challenge. Heck, even getting some adults to be adventurous can be hard! This is why I teamed up with GimMe Organic to create a fun and healthy snack for all those kiddos (and adults) that hesitate in trying new foods.
These make your own easy sushi rolls use the awesome seaweed snacks to create roll ups you can fill with whatever stuff you love. Kids that make their own snacks, eat their own snacks!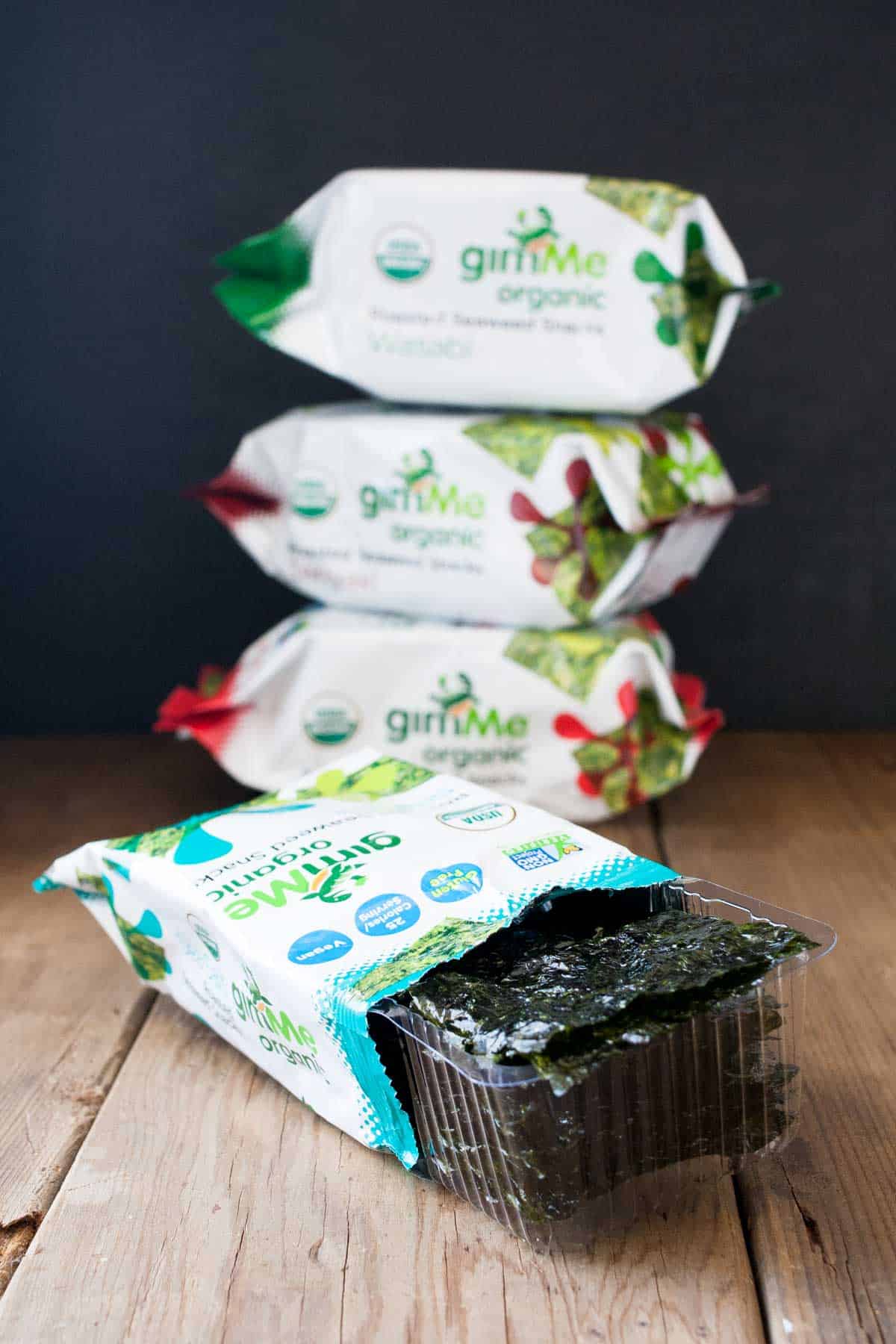 As a mom of three little ones, I have learned that control is something kids love. Much to our dismay, we often need to give up that control to them in order to keep the peace.
One area that this really comes into play is food. I am super lucky in that most of my children are easy going adventurous eaters. But then there's that one. We all have them, and if you don't well lucky you, but for those of us that do this little idea may just be your new best friend!
Letting them take control of their meals is life changing. We do build your own pizzas, fill your own tacos, and now build your own easy sushi rolls!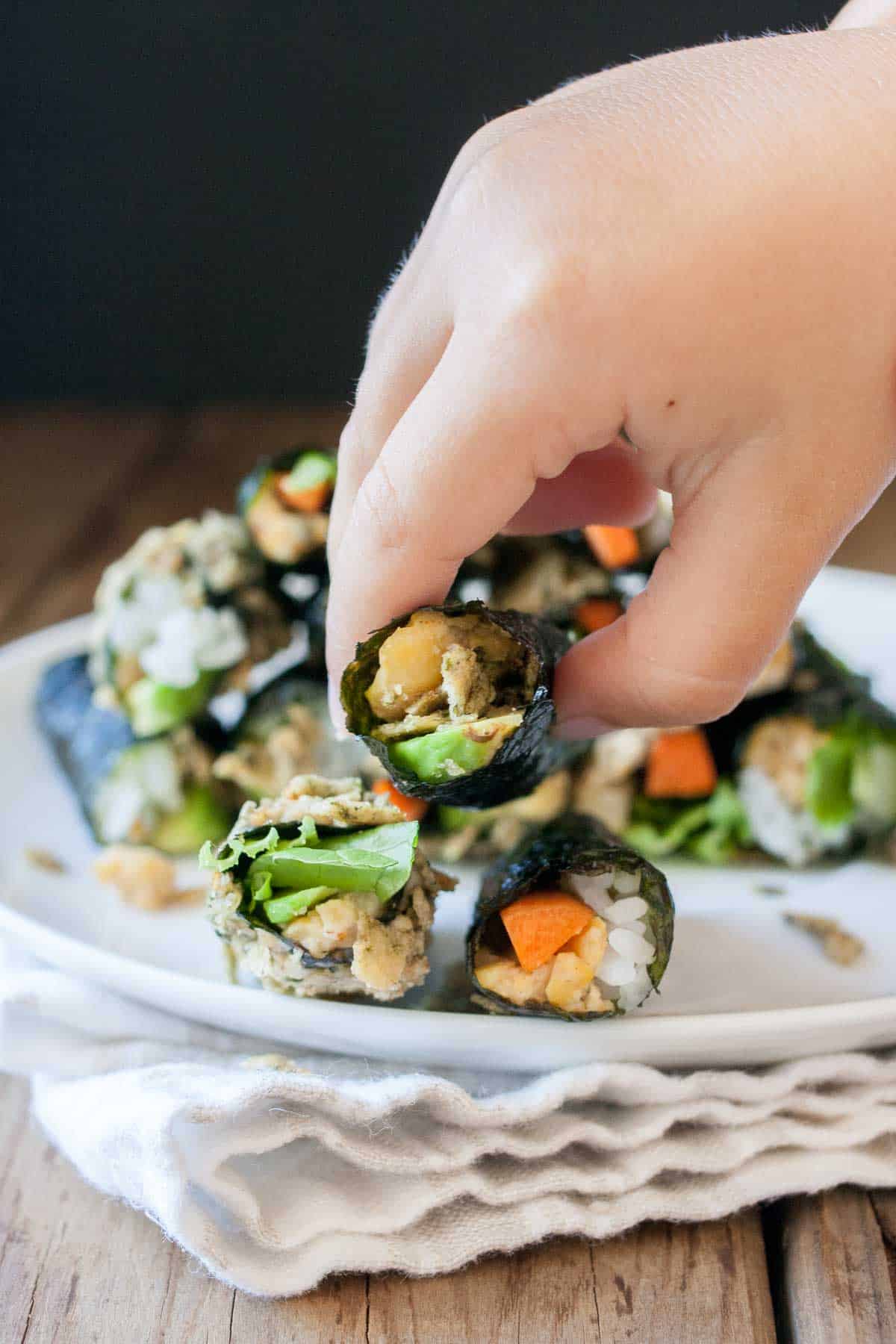 Making real sushi can be challenging, but I found that using the smaller sized seaweed snack pieces make the perfect bite size rolls! So when GimMe Organic got in touch about working together on a post using their products, I jumped at the opportunity. It really is super simple and easy if you follow my directions.
Step 1: Place seaweed snacks between moistened paper towels for 5-7 minutes in order to soften them.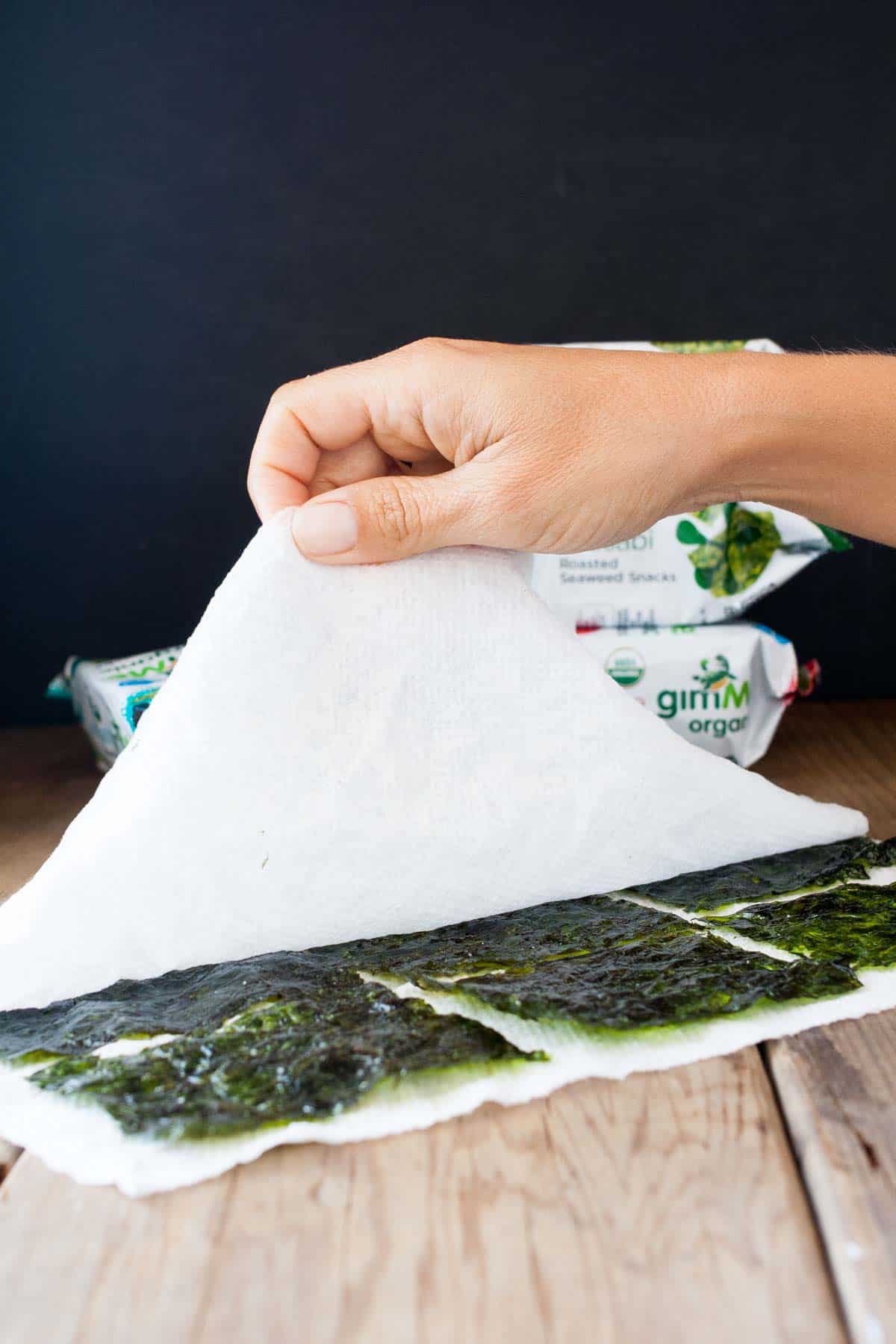 Step 2: Fill with ingredients of choice, making sure not to overdo it.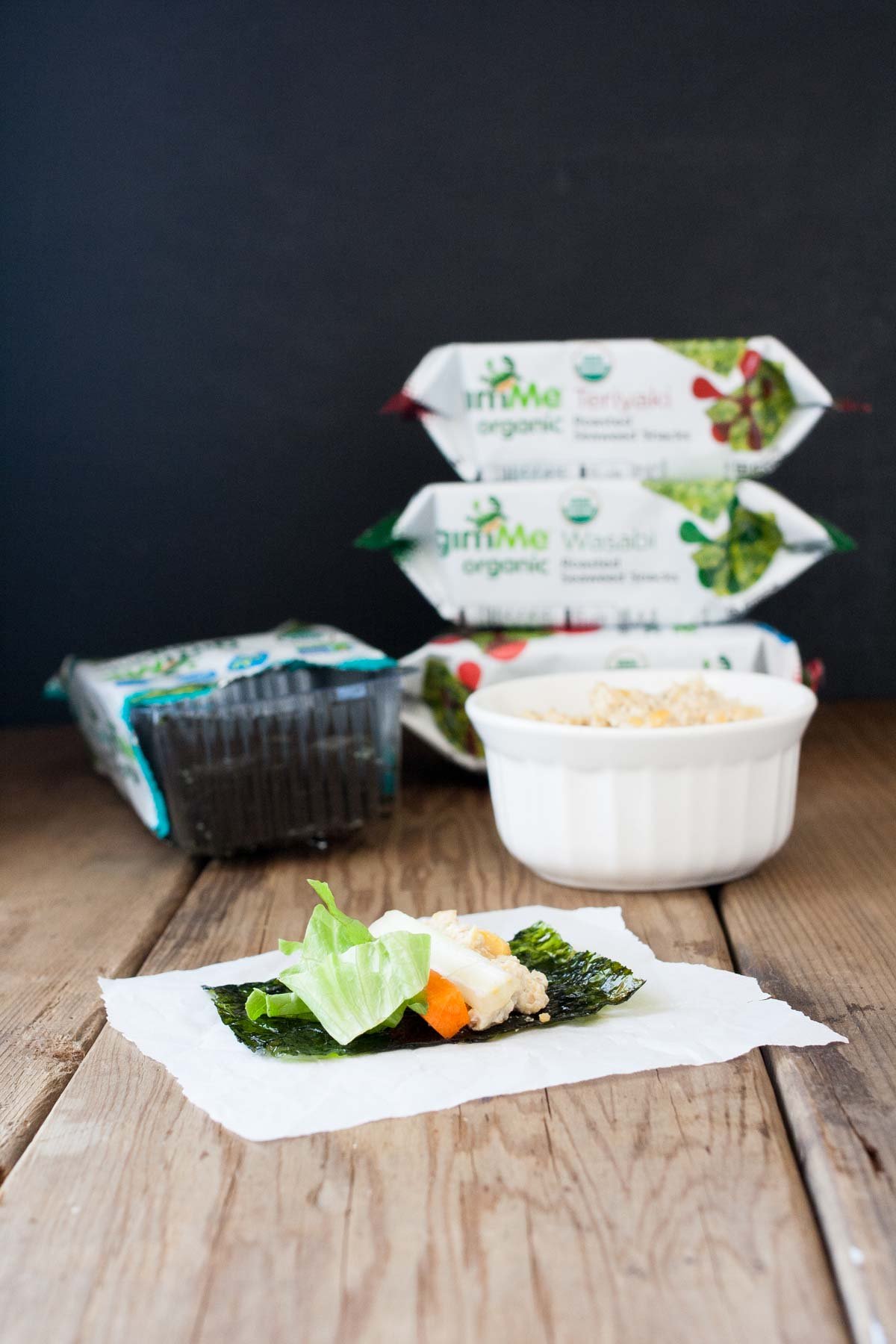 Step 3: Wrap seaweed snack around filling and roll, the ends should stick together because the seaweed snack is moist and softened.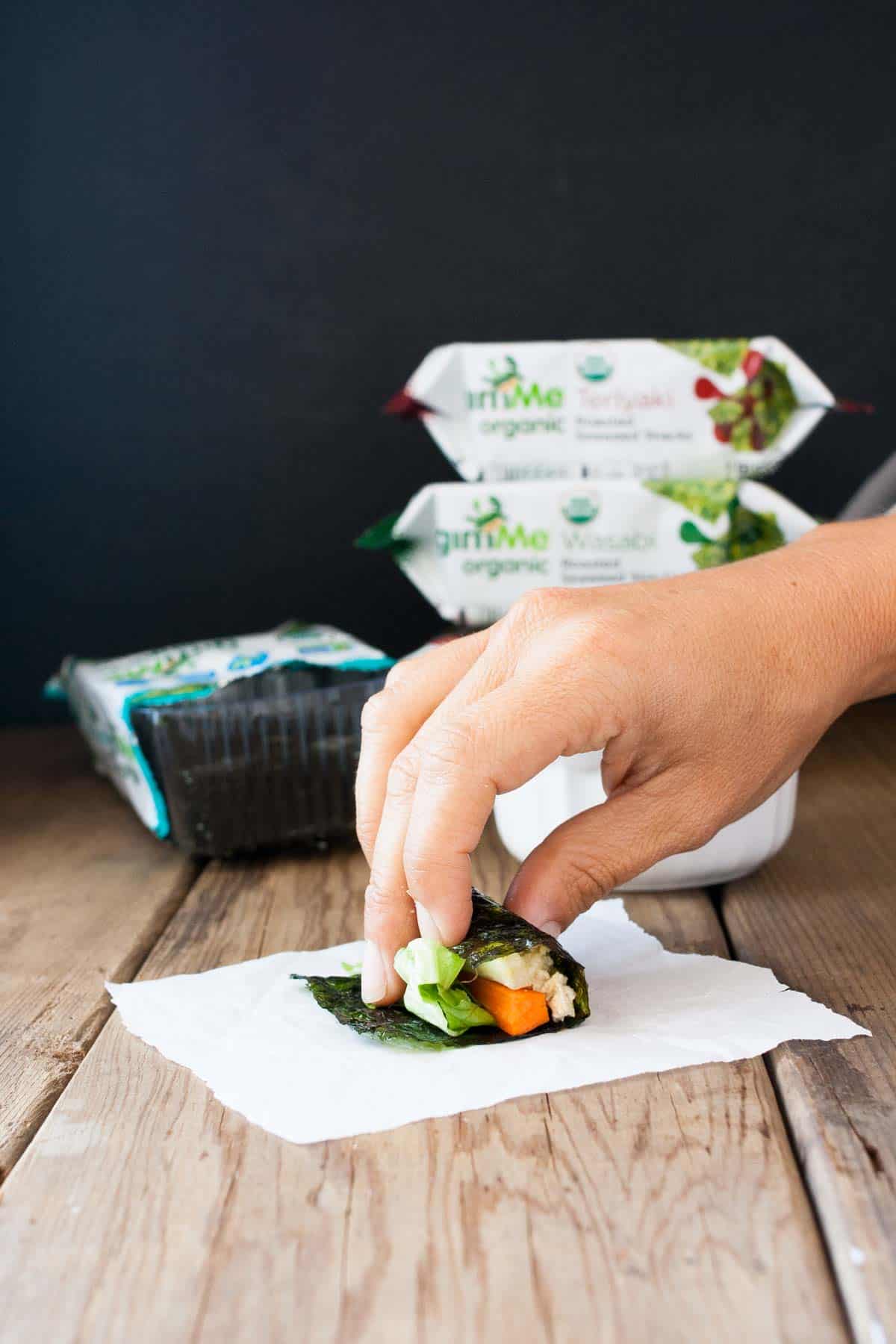 My kids loved putting these easy sushi rolls together! They needed a little help to roll them right, but they were able to take control of what they wanted inside and got excited to eat them after. I put out little bowls of everything they could choose from, and away they went!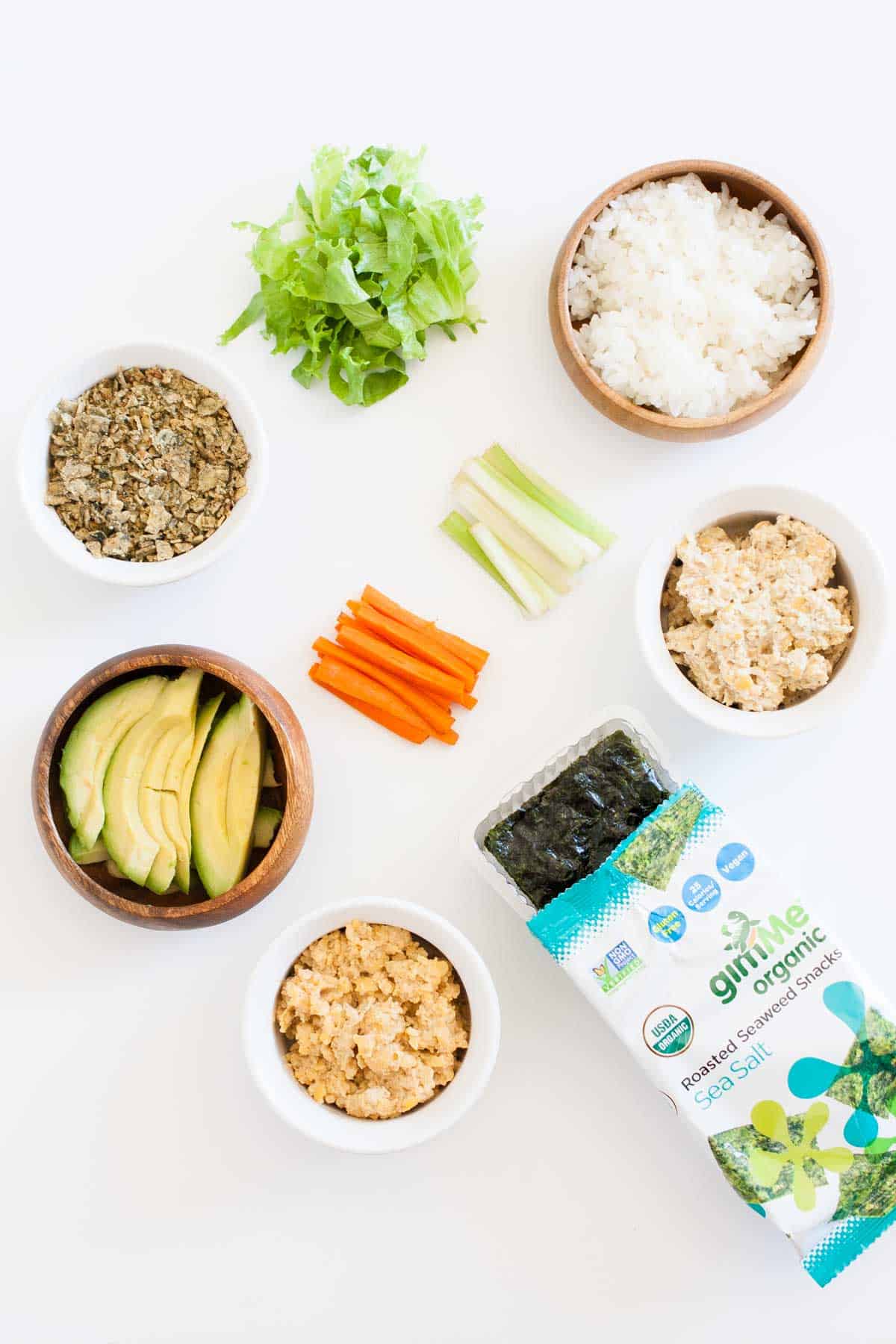 We even made a few of the roll ups crunchy on the outside! How you ask? Simple, once we finished rolling all of them, we took a few, coated the outside with a layer of the sauce we used for a filling ingredient, then rolled it in a bowl of crushed up seaweed chips!
It was SO good and we loved the added texture. GimMe seaweed chips have an amazing crunch and are made with healthy ingredients so they are a perfect choice!
Time to get yourself to the store and grab some GimMe seaweed snacks and chips! Your kids will love making these and you will love them stepping out of their comfort zone. It's back to school for us and these are definitely going in our lunches. Leave me a comment and let me know your favorite combo!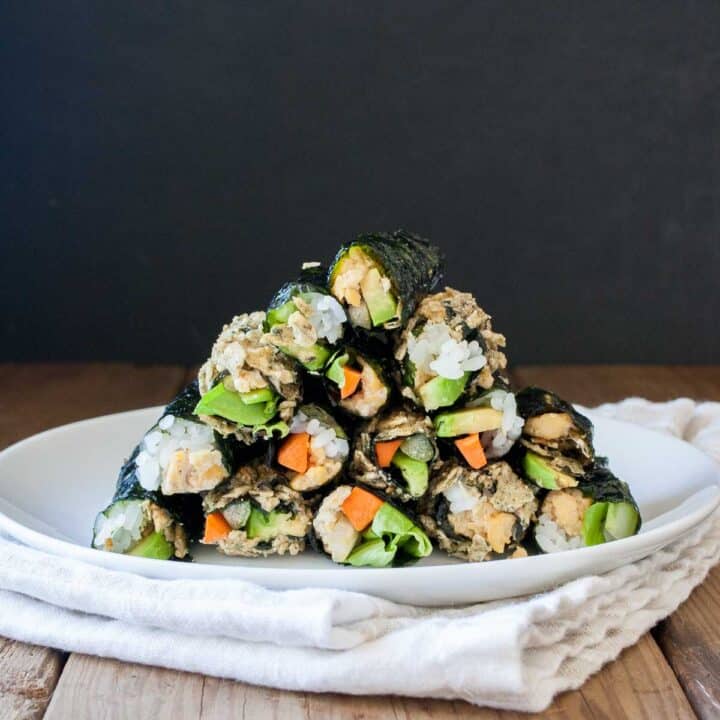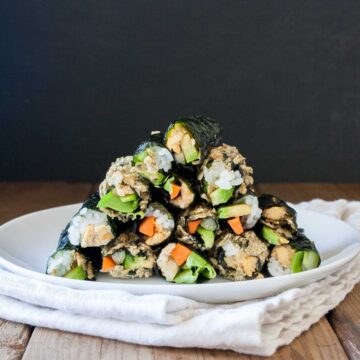 Easy Sushi Rolls: Seaweed Snack Roll Ups For Kids
Turn plain seaweed snacks into these healthy easy sushi rolls! Let kids build their own roll ups and watch them eat things they usually balk at!
Ingredients
2 small packages GimMe Organic seaweed snacks any flavor
1 cup cooked rice sticky white works best but brown can work too
1 cup chickpeas about ½ can, divided
1-3 tablespoons Chili Taco Crema depending on how saucy you want it
1-3 tablespoons Lemon Herb Sauce depending on how saucy you want it
1-3 extra tablespoons sauce to coat some rolls and/or dip rolls into when eating (either one from above will do)
½ avocado sliced into thin slices
½ carrot stick sliced into matchstick sized pieces
½ celery stick sliced into matchstick sized pieces
½ cucumber sliced into matchstick sized pieces
¼ cup shredded lettuce
½ cup crushed GimMe Organic seaweed chips
Instructions
Place seaweed snacks in between two slightly wet paper towels and allow to soften for at least 5-7 minutes. Make sure they aren't too wet or the seaweed snacks will get too soft to work with.

Prep filling ingredients. Cook rice, cut all of the veggies. Mash the chickpeas with a fork, then divide them into two separate bowls and mix in the two sauces, one in each bowl.

You can use as many or few sauces as you want, just don't forget to divide the mashed chickpeas appropriately. Crush the chips.

Begin assembly of the sushi type rolls. Take one seaweed snack out of the paper towel, lay onto a flat surface and add fillings of choice.

Then roll the seaweed snack around the fillings, it should easily stick together in a tight roll, just don't overfill. Mix and match filling ingredients to create a variety of rolls. Let the kids have fun building their own!

If you want to make some of the rolls "crunchy," take a few of the assembled rolls and using a spoon or your finger coat the outside of the roll in sauce. Then slowly roll it around in the bowl of crushed chips to coat the outside with a crunchy exterior!
Notes
These rolls are totally customizable, you can add more or less of each ingredient to make rolls of your choice, and you can also add other ingredients.
Any kind of rice and beans will work, as will sauce of choice. Even just mixing in your favorite mayo or hummus/dip will work. As the recipe is here, it makes 18 rolls with ingredients equally divided throughout.
Tips to prep ahead: Prepare different filling ingredients.
Baby/kid food idea: This is a perfect kid food starting from an older baby or toddler and up. Allow kids to build their own rolls and get creative!
Recipe by Veggies Don't Bite, visit our site for more great plant-based recipes.
Nutrition
Calories: 46kcalCarbohydrates: 6gProtein: 1gFat: 1gSaturated Fat: 0gCholesterol: 0mgSodium: 22mgPotassium: 79mgFiber: 1gSugar: 0gVitamin A: 315IUVitamin C: 1.2mgCalcium: 8mgIron: 0.3mg
Nutrition and metric information should be considered an estimate.
Never miss a recipe!
Sign up here and get a FREE quick and easy meal guide!