Vegan orange cauliflower is the perfect healthy version of a traditional favorite. Crispy, healthy and packed with a punch of flavor!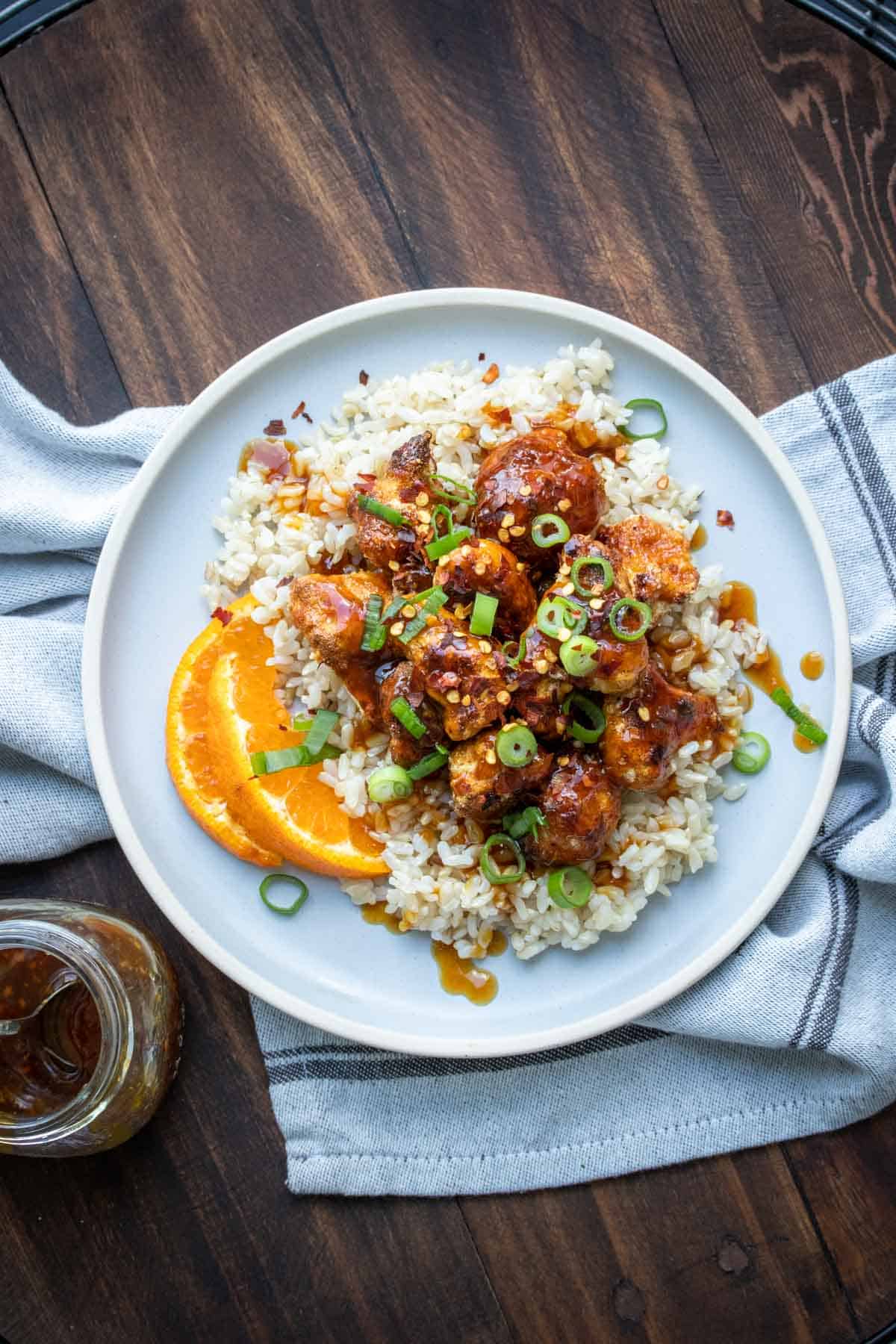 This is a sponsored conversation written by me on behalf of Sumo Citrus. The opinions and text are all mine.
I can't even tell you how many times our Chinese fast food has centered around the traditional orange chicken in the past. I never quite equated the awful belly cramps that came from shoving the stuff down my throat with what I was actually eating.
So when my husband begged me to healthify this one over and over, I finally caved.
Vegan orange cauliflower can be healthy and taste great!
It's not an either or choice when it comes to flavor and healthy ingredients. You can make amazingly satisfying meals without meat and dairy, take these chickpea and spinach enchiladas or this pesto pasta salad. Both filling and full of healthy stuff!
This is my superpower, using plants to make meals that fill your unhealthy food void in a way that makes your body happy. Amazing Vegan Chinese food is possible.
And the best food, always starts with a sauce. The key player in this sauce recipe, is the citrus. And I for one am not going to skimp on that, so I always grab for a Sumo Citrus.
Sumo Citrus
Back in January, I had the pleasure of visiting the Sumo Citrus farm where I learned more than I ever thought I could about this amazing little fruit.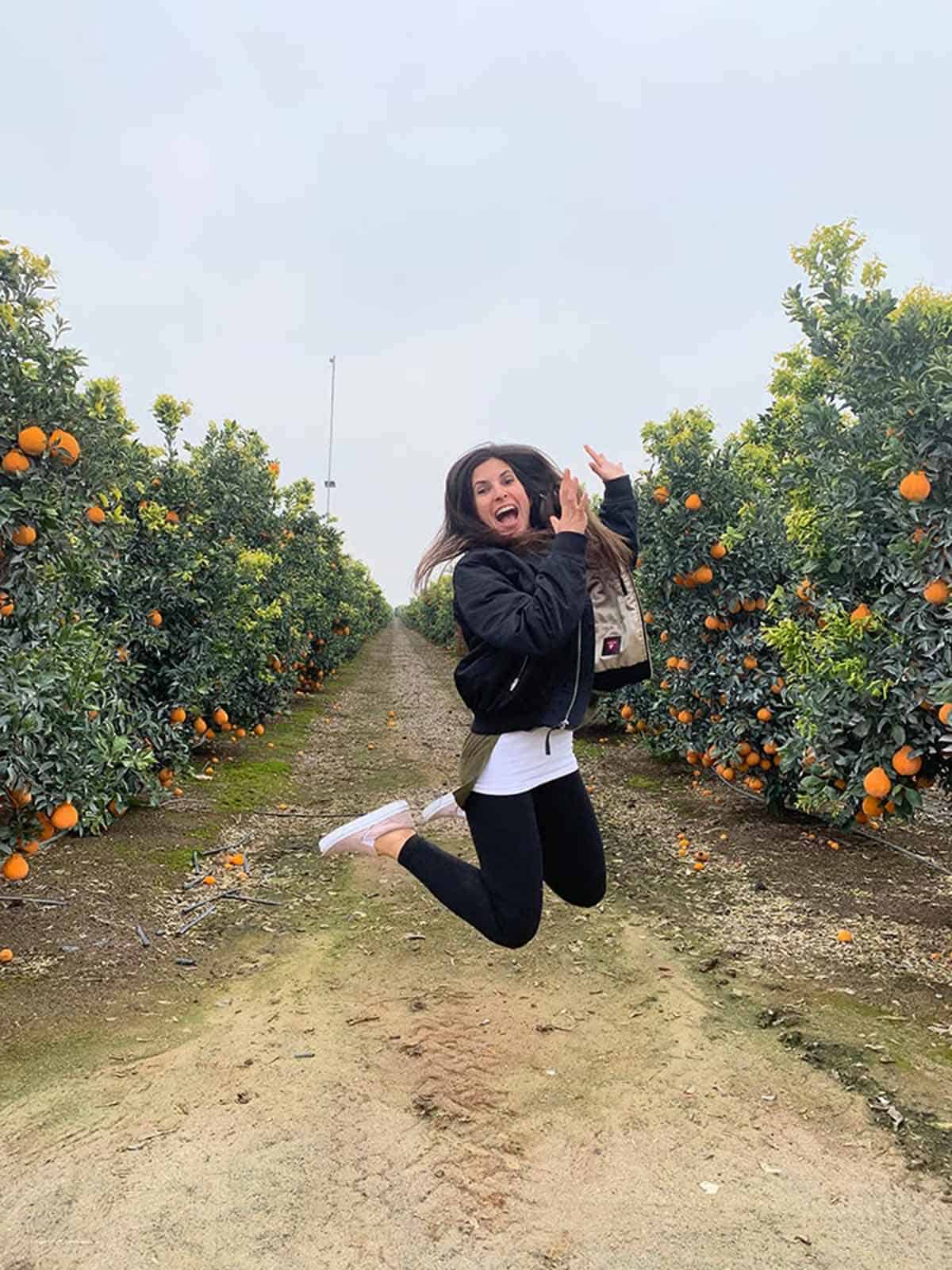 Sumo Citrus originated in Japan, and is the prefect combo of the easy to peel mandarin with the sweet naval orange. They are also seedless, pretty much securing them as a mom's favorite thing ever.
Please tell me I am not the only one that thinks peeling an orange ranks on up there with nails down a chalkboard? Especially when the 3 year old insists he does it himself and takes off one. tiny. piece. at. a. time.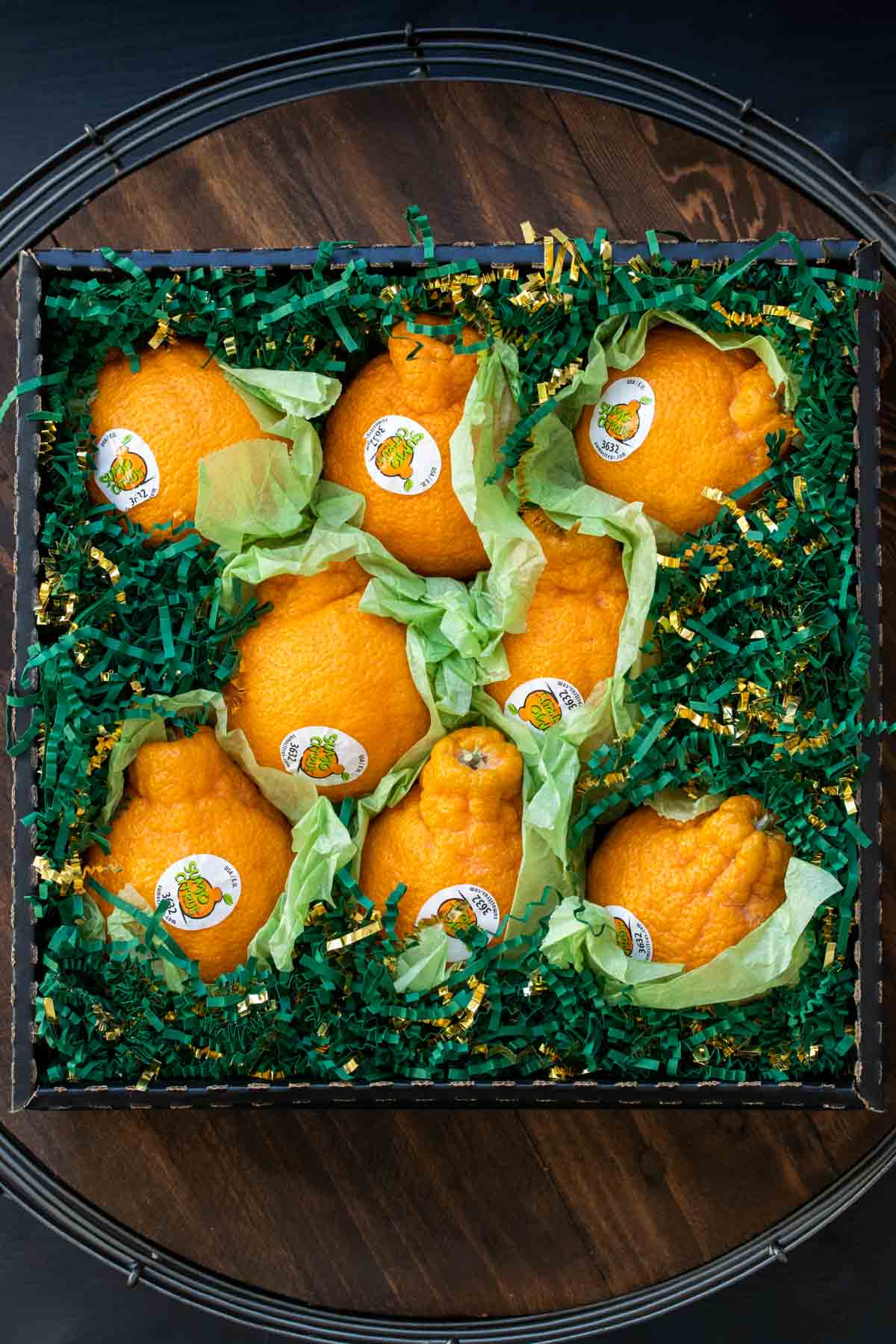 These perfect little beings are only available from January until April, so we will call those the sane months. The work and care that goes into growing these would make your mama proud.
They require a gentle touch, from the clay used to protect their delicate skin from the sun, to the gentle handling methods to prevent bruising.
They are basically the sweetest most amazing citrus ever. The farmers pull off the fruit from the middle of the tree (Sumos love the sun so they leave the outside ones to grab those rays) so that they ones left get sweeter.
They even cure the fruit for 3-4 days after they pick it to reduce the tartness some more. They are basically nature's candy.
I was blown away by all the work that is put into this incredible fruit. From the multiple steps on the farm, to the care they put in the plant. I know that my shopping cart will be taking full advantage of these beauties until they leave us in April!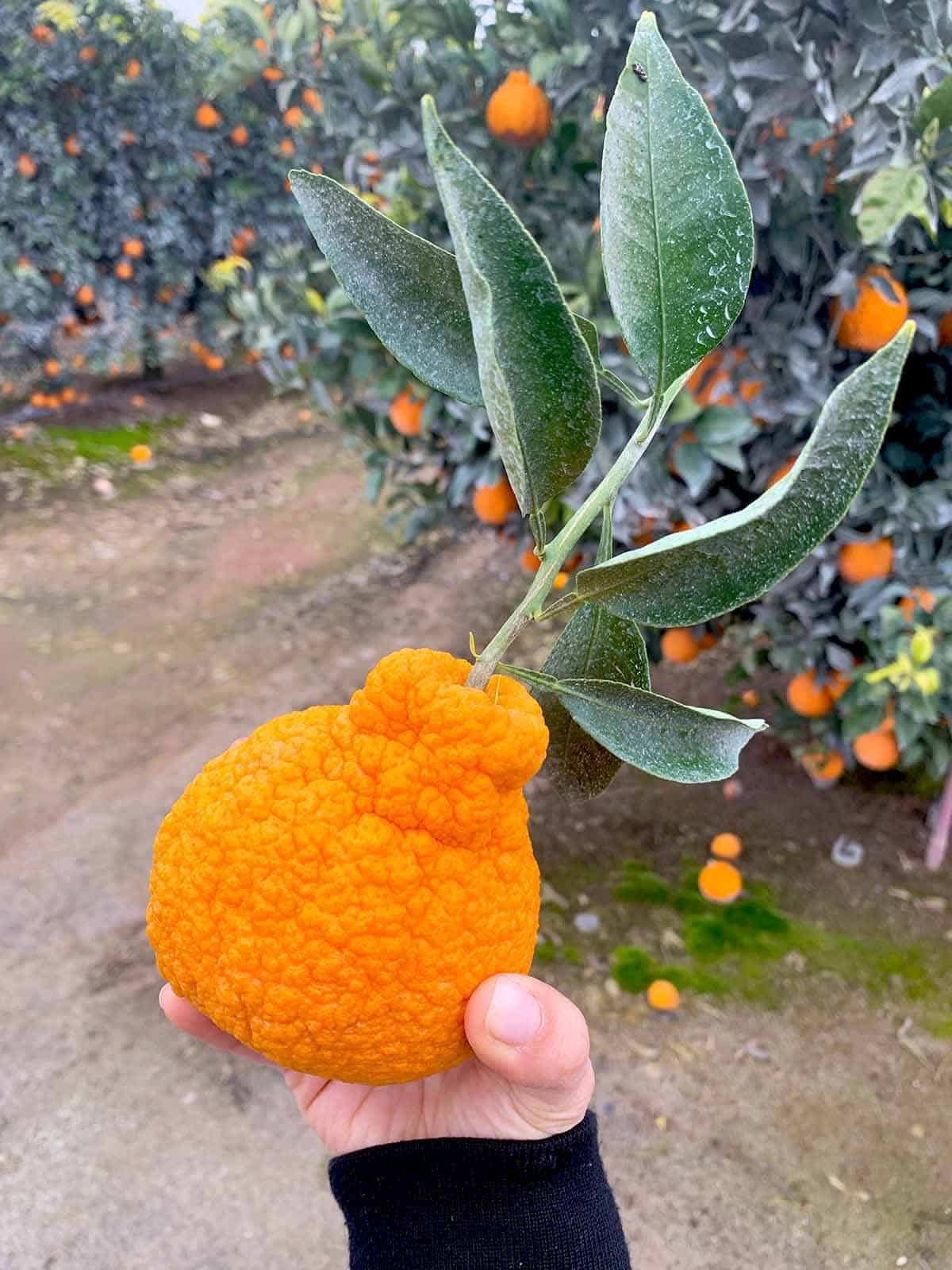 How to make vegan orange cauliflower
This recipe takes the unhealthy deep fried idea of traditional orange chicken and puts on a healthy makeover. I used the same crispy technique I used in my buffalo cauliflower sliders.
The crispiness you get is perfect, especially combined with the sticky orange sauce that uses the Sumo mandarin as its key player.
I love that the sauce doesn't need the cup of refined sugar traditionally used, the maple flavor combined with the amazing mandarin sweetness does the trick perfectly.
Coat the cauliflower with the crispy coating. 
Make sauce. 
Bake. 
Toss in sauce and bake again. 
Serve! 
The crunchy outer shell plus the caramelizing sticky goodness of the sauce, makes this healthy vegan orange cauliflower recipe one I couldn't stop snacking on. I had to yell at myself to stop eating dinner before dinner!
Do you like vegan Chinese recipes? Try these others!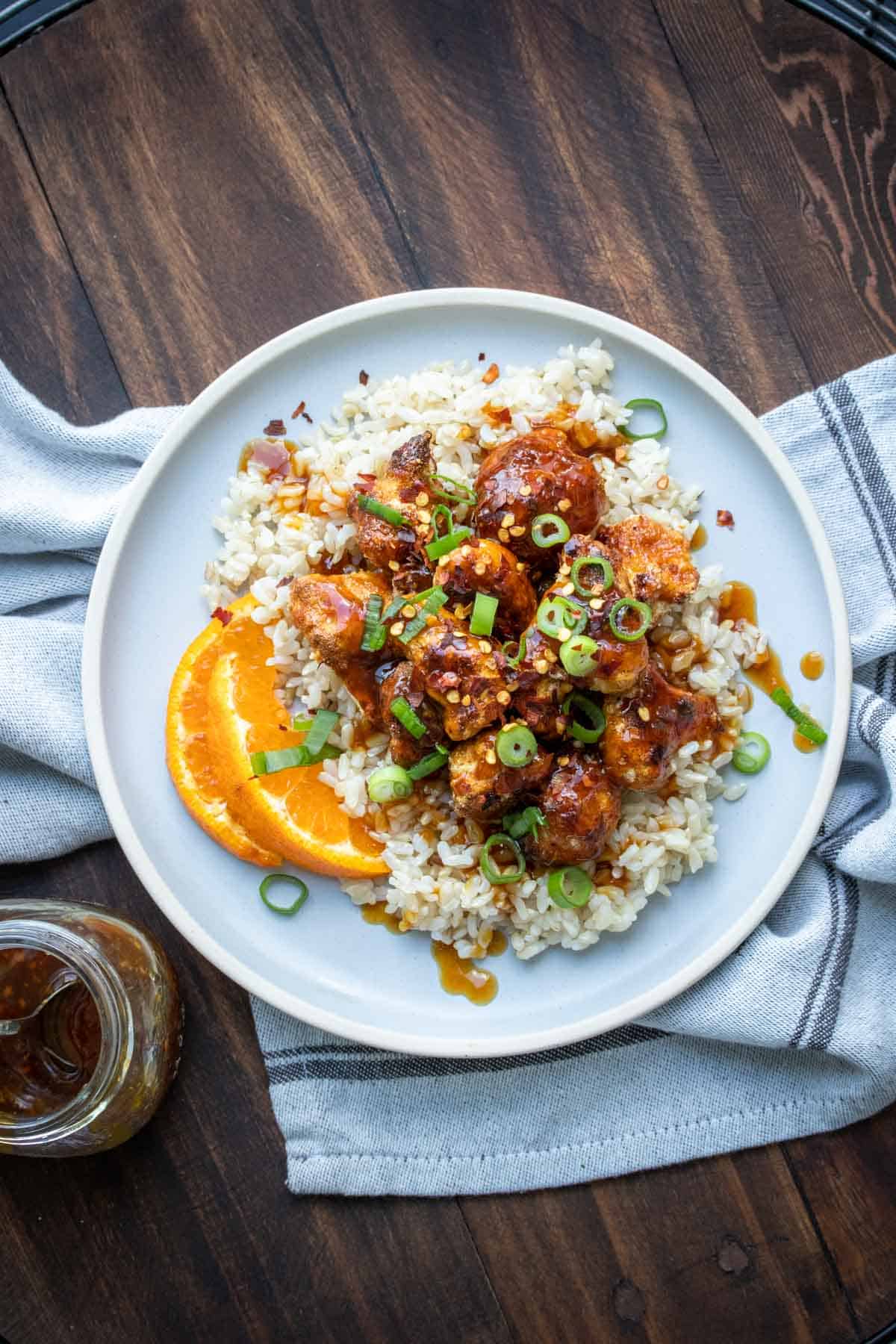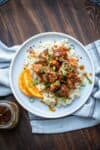 Vegan Orange Cauliflower
Vegan orange cauliflower is the perfect healthy version of a traditional favorite. Crispy, healthy and packed with a punch of flavor!
Keyword:
healthy orange chicken, vegan chinese recipe
Instructions
Preheat the oven to 450°F/ 232°C.

Slice the cauliflower into large bite-size pieces. Or cut into nugget size if making for kids.

Make the crispy coating by mixing together the cornmeal, bread crumbs, ground hemp seeds (or almond flour), and salt, then place it in a shallow baking dish.

You can also put it into a large plastic bag for the shake and bake option.

Make the batter by combining the almond flour, milk, water and baking powder in a bowl until fully mixed. Add a drizzle of oil if you'd like.

Using one hand for the batter and one for the coating (this helps avoid clumping of the coating), dip each cauliflower piece in the batter then place in the coating dish and cover with coating.

Place each piece on a parchment-lined cookie sheet. Make sure to evenly spread out the pieces.

If using the plastic bag, simply place the batter coated cauliflower into the bag and shake to coat in the topping. It should all fit but do it in parts if need be, just make sure to only use half of the coating so that it doesn't all get wet.

Bake for about 25 minutes.

While baking, make the sauce by whisking all ingredients, except the cornstarch and water, in a small bowl.

Add to a pot and cook on medium until it begins to bubble.

Combine the cornstarch and water until dissolved.

Pour into the pot and whisk well. Simmer until it thickens, about 5-7 minutes. It will reduce by about half.

Remove the cookie sheet from the oven and drizzle about ¼ cup sauce on top of the cauliflower pieces, trying to coat the top sides well. Using a pastry brush can help.

Flip them over and drizzle another ¼ cup of sauce on top of the other sides, trying to coat them well. You can use more of the sauce to coat here and then have less to drizzle on top when you eat, it's up to you at what stage you want to use the sauce.

Put them back in the oven and bake for 10 minutes until they're crispy.

Serve immediately over rice with optional toppings!
Recipe Notes
You can use almond flour instead of hemp seeds to make is easier, but I like the final texture the hemp seeds give because of their natural oils.
I use a fine grained almond flour, but because this isn't a baked good, any almond flour would work.
You can add a small drizzle of oil to the batter if you want. It is definitely not needed but can add an extra crispness to the final product.
If you do not have Sumo Citrus, use a mandarin or orange to gain similar results.
Sauce makes about 1 cup.
Nutrition facts do not include all of the batter and coating since all of it is not used. An average of how much used is accounted for.
Baby/Kid Food idea:
To make these kid friendly, do not add the crushed red pepper. Serve as nuggets with sauce as a dipper.
Nutrition Facts
Vegan Orange Cauliflower
Amount Per Serving
Calories 372
Calories from Fat 108
% Daily Value*
Fat 12g18%
Cholesterol 0mg0%
Sodium 948mg40%
Potassium 594mg17%
Carbohydrates 57g19%
Protein 10g20%
Vitamin A 40IU1%
Vitamin C 57.8mg70%
Calcium 176mg18%
Iron 2.6mg14%
* Percent Daily Values are based on a 2000 calorie diet.