Homemade gluten-free croutons are so easy to make. With just a few healthy ingredients, you get a delicious crunchy topping to use any time!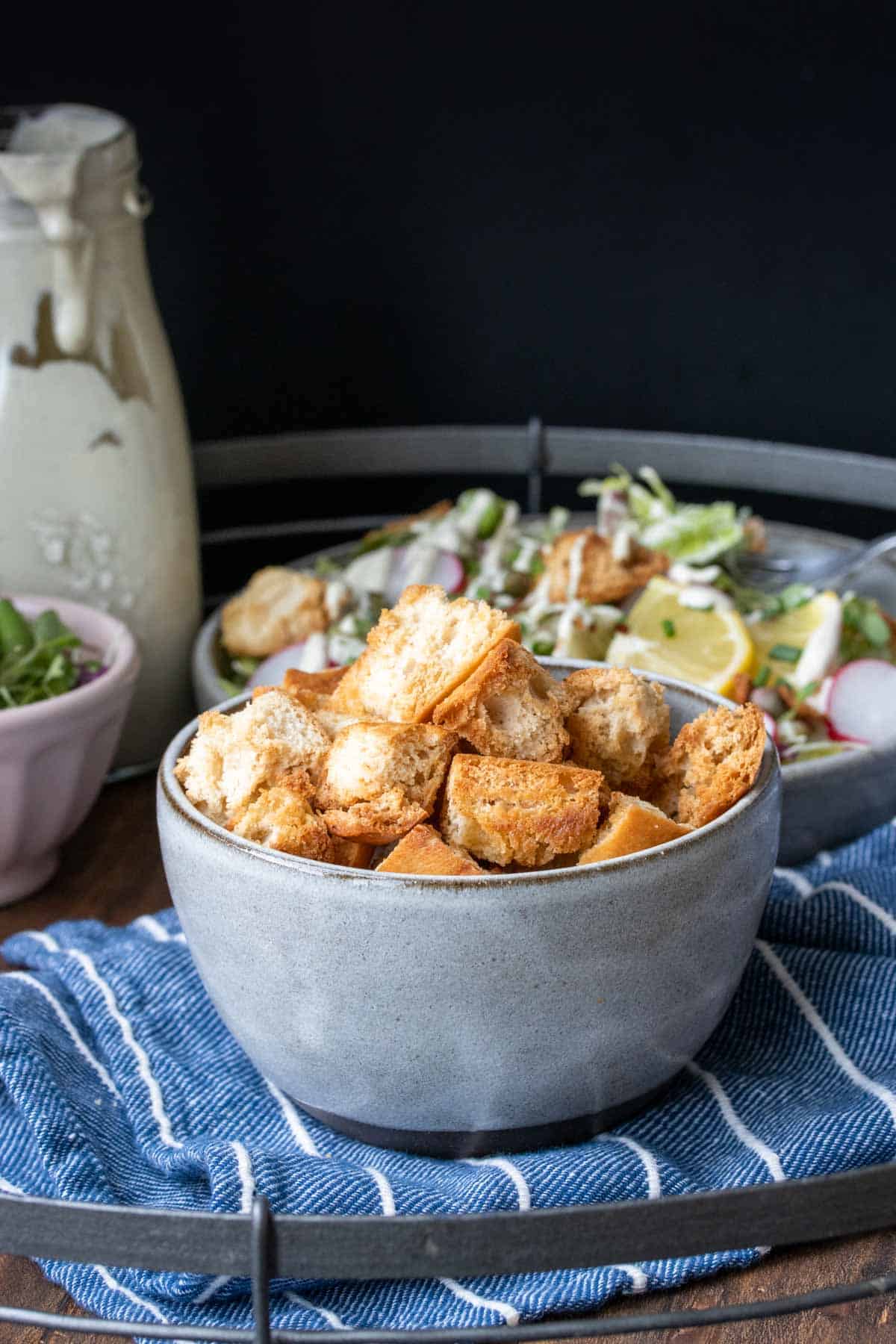 I love crunchy things. I'm a huge texture person, and need that crunch especially on my salads. I never realized how easy it was to make your own croutons. Plus they are so much tastier than store bought!
Homemade croutons have more than just a hard crunch, there's a bit of lightness to them that only fresh croutons have and it's fabulous! Also, I like adding a variety of seasonings to pair with whatever meal they're going on.
Pro tip- make more than you think you'll need because it's hard to stop eating them right out of the oven! Especially because it's so hard to find good gluten-free ones at the store (to learn more about how to figure out what is in those store bought croutons check out this guide on reading food labels).
Ingredients
These gluten-free croutons technically only need one ingredient, but with a couple more they just get better and better! Here's what I suggest:
Cubed gluten-free bread
Garlic
Seasonings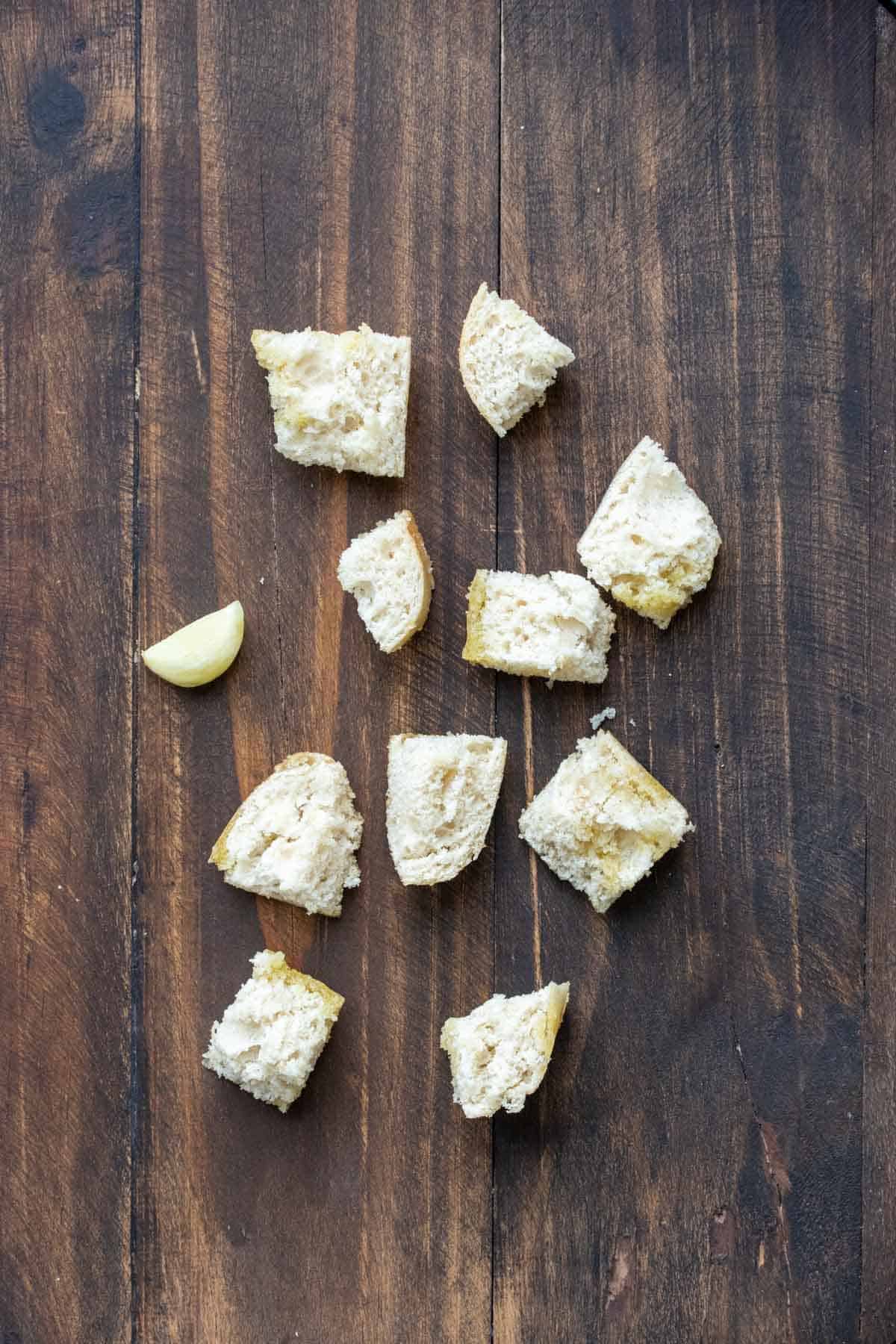 How To Make Gluten Free Croutons
Making your own croutons is so easy to do, and they taste so much better than store bought! You just may never buy them again! Here's what to do:
Rub the bread pieces with a cut clove of garlic.
Mix the bread with oil and seasonings.
Bake.
Enjoy!
Flavor suggestions
The simplicity of fresh garlic, salt, and pepper on these gluten-free croutons is fabulous! But sometimes you need a little something extra. Here are some other seasonings you can try using to mix things up:
garlic powder
smoked or regular paprika
thyme
parsley
Serving suggestions
Croutons add such a wonderful crunch and flavor to so many dishes, here are some ideas of how to use them:
Preparation tips
To make the best ever homemade croutons, make sure to check out these helpful hints:
Any gluten-free bread will work for this recipe. The heartier the bread the crunchier they'll be. Lighter bread will give more of an airy result.
If you don't need gluten-free, use regular bread.
Cube the bread in relatively uniform sizes so they cook evenly. I recommend an inch or smaller.
I used olive oil for this recipe, you can use any oil you prefer, or omit it all together.
A cookie sheet covered with parchment paper will give you the best results (plus it will help with cleanup!).
Bread and the size of your cubes will affect baking time, start checking your croutons around 10 minutes into baking to watch for burning.
Storage tips
Homemade gluten-free croutons are best served fresh, but they will keep longer:
Store leftover croutons in an airtight container at room temp for up to 3 days, after this they'll start to loose crunch.
You can also freeze the croutons! Quality will start to diminish after a few weeks, but they'll be safe for up to 3 months.
However you store them, make sure to try to get as much air out of the container as possible, a sealable bag works best.
Common Questions
Is there gluten in croutons?
Most croutons contain gluten as they're made from bread. However, gluten-free bread can be used to make your own at home!
What can I use instead of croutons?
Adding crunch without croutons can be done by using roasted nuts, chickpeas, or seeds. You can also crisp up polenta or hearty veggies. I also like to use kale chips or vegan bacon.
What croutons are vegan?
Many croutons have been cooked in fat or butter making them not vegan friendly. You can find vegan store bought croutons, but I prefer making my own! One, they taste better. Two, you know exactly what you're getting!
More Vegan Toppings and Sauces
Adding a little something extra to your meals is a nice way to shake things up. Whether you're after more flavor or texture, these plant based recipes have you covered: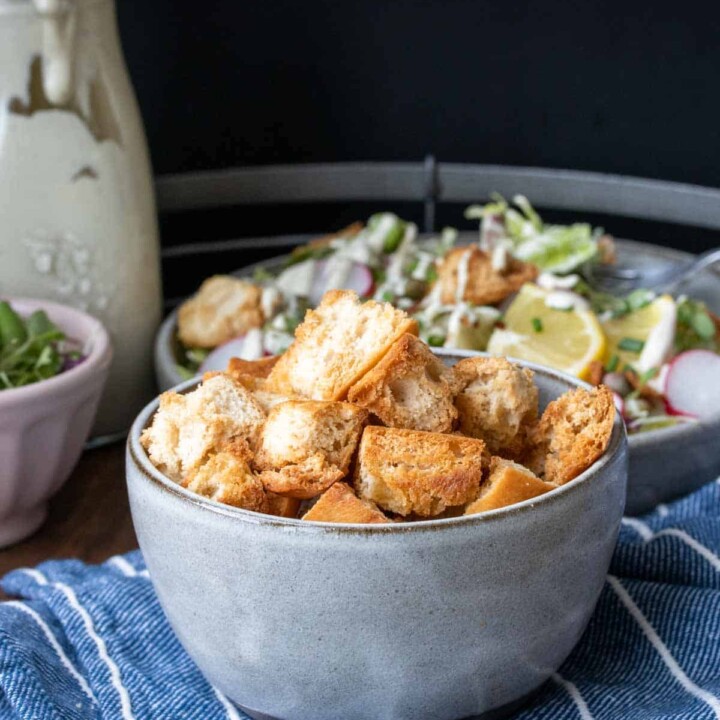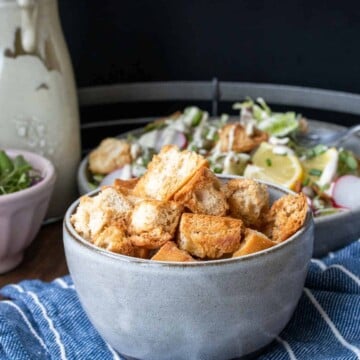 How to Make Homemade Gluten-Free Croutons
Homemade gluten-free croutons are so easy to make. With just a few healthy ingredients, you get a delicious crunchy topping to use any time!
Ingredients
2 cups gluten-free bread , cubed
1 garlic clove , sliced in half
drizzle your favorite oil , optional for baking (I used olive)
¼ teaspoon sea salt
¼ teaspoon freshly ground black pepper
Optional seasoning:
garlic powder
smoked or regular paprika
thyme
parsley
Instructions
Preheat the oven to 350°F.

Rub the bread pieces with the cut clove of garlic

Mix the bread with oil (if using), salt and pepper and any seasonings of choice.

Bake until crispy, about 15 minutes. Start checking at 10 to prevent burning.

Use how you want!
Notes
You can cut the oil out if you don't use oil, it will still get crispy.
Use regular bread if you don't need gluten-free.
Recipe by Veggies Don't Bite, visit our site for more great plant-based recipes.
Nutrition
Calories: 166kcalCarbohydrates: 35gProtein: 5gFat: 2gSaturated Fat: 1gSodium: 130mgPotassium: 5mgFiber: 2gSugar: 1gVitamin A: 1IUVitamin C: 1mgCalcium: 2mgIron: 1mg
Nutrition and metric information should be considered an estimate.
Never miss a recipe!
Sign up here and get a FREE quick and easy meal guide!