Thinking about travel and food you'll be eating can be stressful especially if you eat a plant-based diet. We've got tips to help!
Eating on the go and sticking to foods you prefer to eat can be difficult, you're not alone!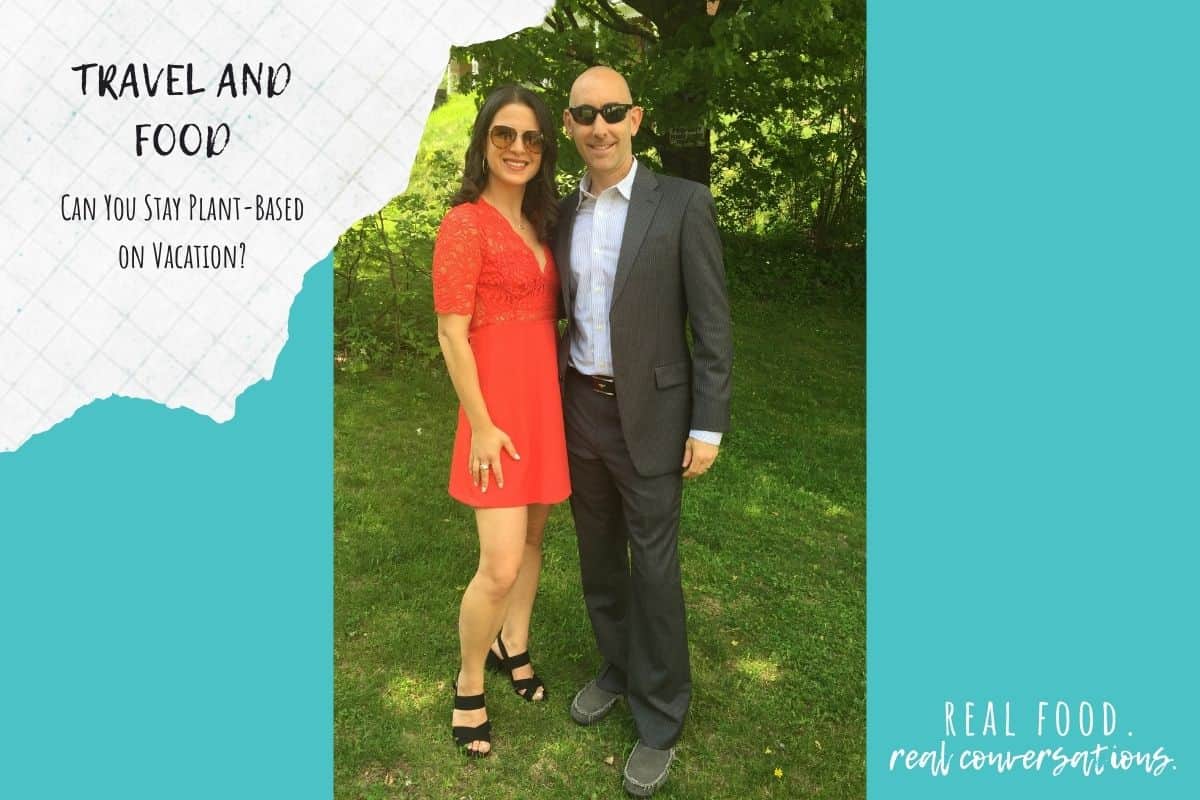 Going on vacation takes a lot of planning, and meals can be a big part of that. Our guests today are experts in all things plant-based and travel so are here to help!
Podcast: Play in new window | Download | Embed

Subscribe now! Apple Podcasts | Google Podcasts | iHeartRadio | Stitcher | TuneIn | Deezer | RSS | More
Adam and Shoshana Chaim are the co-hosts of the popular Plant Trainers Podcast, helping you improve your quality of life through nutrition and fitness. They are both also public speakers and authors of the Yummy Foods Activity Book For Kids. After a major wake-up call with Adam's health resulting in Shoshana's PTSD, their family adopted a plant-based lifestyle and now thrive in all areas of their life.
Shoshana is an expert in plant-based nutrition and cellular communication and wellness. She works with health practitioners and individuals to increase cellular health and achieve rockstar wellness. Adam is a plant-based athlete and nutrition & fitness coach with over 20 years of experience and a certificate in plant-based nutrition. He is a 2X Ironman triathlete, completed several marathons and ultra runs and swims and successfully helps individuals with their nutrition and athletic endeavors big or small. They live in Toronto, Canada with their 2 plant-based thriving kids!
Things to Consider About Meals While Traveling
When there are dietary needs to think about and we leave the comfort of our own homes to hit the road, we need to keep a few things in mind with regards to meals so that our enjoyable vacay doesn't turn into stress.
Here are a few things you can do to look ahead for any roadblocks (see what I did there?) that may come your way:
Know where you are going- there is a difference in staying with someone at a home or if you'll be in a hotel when it comes to meals.
Decide how much you have access too as far as preparing meals- you can bring easy things like bars and oatmeal packets, etc to keep you full.
Figure out how much time you'll have to prepare food- if you'll be busy then you want to bring ready snacks to grab on the go so you don't have to stress.
Research the area you are going to- find the grocery stores and restaurants so you can see what you will have access to when you are there.
Can You Stay Plant-Based While You Travel?
Absolutely! It depends on how much effort you want to put into it. You can be prepared before you go and have it run smoothly, or you can go on the fly and take whatever you can get.
Remember that food doesn't have to be elaborate all the time. As long as you realize the way you eat at home won't necessarily be the same as you eat on the road.
What to Bring With You
You can bring things with you as you travel to make it easy! You can decided if you need a whole other piece of luggage or simply want to tuck things into a bag you already have.
Here are a few ideas:
Blender (like our trusty Vitamix) for making smoothies to get in veggies and fiber and keep you full.
Air fryer to avoid using shared BBQ's, etc
Knife or scissors for whole fruits (carried safely of course).
Bake muffins and cookies before you go.
Ready packed food like bars, tortilla roll ups, veggies, snack packs.
Give kids their own bags with snacks (they can even make their own!).
Tips For Eating Out
When it comes to researching restaurants there are some great tips you can use:
Join a vegan facebook group for the area you are going and ask questions for recommendations in the group.
Do a google search for the area and the restaurants to see the reviews from others on what they ordered.
Call the restaurants in advance to see what they can do to meet your dietary needs.
What to Watch Out For
While you are on the go and traveling to other areas, things can be different. This makes it important to be aware of what you are getting into so you can avoid any stress.
Here are some tips to keep in mind:
If you're going to be with other people, or are worried about asking in person, make sure to call ahead.
Make sure you are being specific in what you are asking for. Don't just say words like vegan or plant-based or gluten-free, explain what it is.
Ask about specific ingredients in things.
Make sure to watch for hidden things like chicken or beef stock in soups or rice, dairy in sauces and dressings, and butter used on buns and bread.