This vegan baked mac and cheese is restaurant flavor but made with healthy whole foods. So creamy and amazing!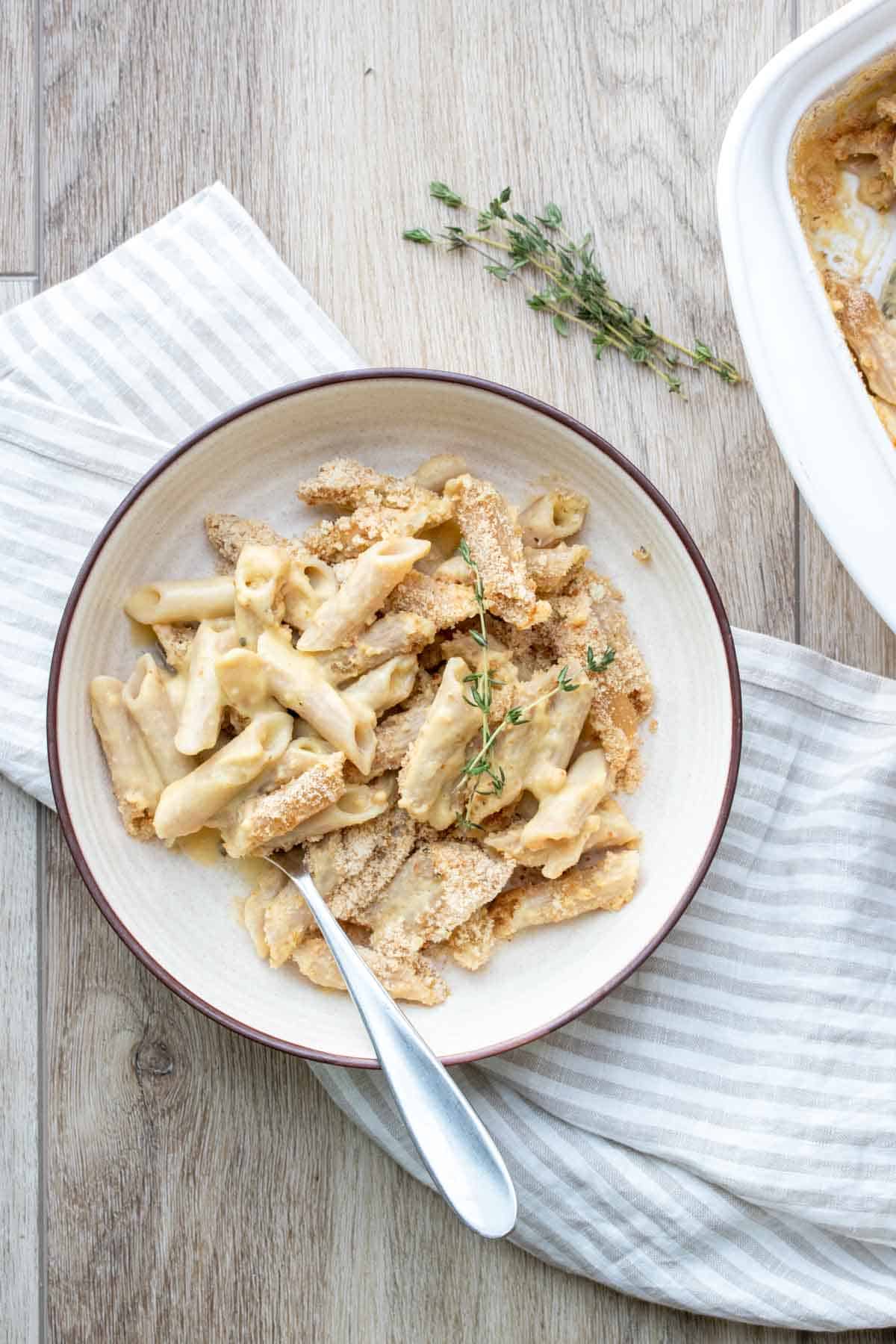 This baked creamy pasta dish reminds me of the indulgent kind I get at a restaurant, that my belly doesn't really love after the fact. So having this to stuff my face with and not endure the pain after is such a treat!
Using a variety of whole food ingredients to recreate the traditionally heavy comfort food not only avoids a food coma, but it is healthier too. Serve with a fresh salad or veggies for a nutritious family meal that will be requested over and over again!
Ingredients
In order to make this vegan mac and cheese you will need the following ingredients:
Pasta
Breadcrumbs
Hemp seeds
Seasonings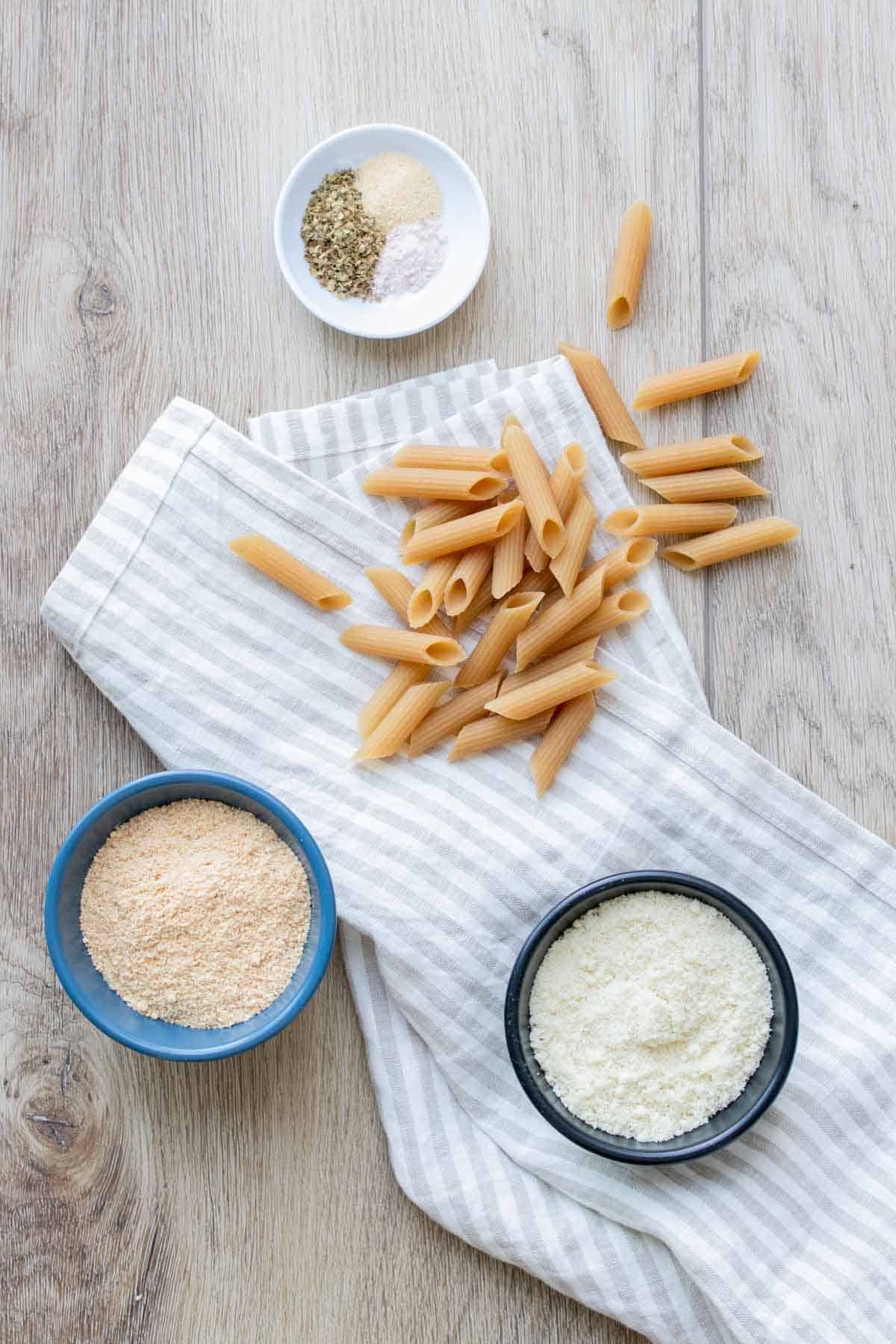 How to Make Vegan Baked Mac and Cheese
This comforting dish is simple to make with just a few steps. Here's what to do:
Blend the cheese sauce with the extra ingredients.
Make the crispy topping.
Mix partially cooked noodles with the cheese sauce.
Pour into a square baking dish and sprinkle on the topping.
Bake until crispy on top.
Serve!
Serving suggestions
Pair this vegan baked mac and cheese with a salad or veggies to create a complete meal the whole family will love!
Mix in suggestions
Add in some extra flavor and nutrients with any of the following:
Broccoli
Carrots
Onions (caramelize them first!)
Spinach
Tips and tricks
Before you get to baking your vegan mac and cheese, check out these helpful hints:
Hemp seeds make the best crispy topping. If you use almond flour make sure to add some butter or oil over the top if you want it crispy.
The mustard seed powder adds a lot of the sharpness. Adjust the amount used to your taste.
When adding the extra ingredients to the cheese sauce go slowly and taste with each addition. Note that it will taste less strong once cooked.
Avoid mushy noodles by only partially cooking them before mixing in. Also, make sure to rinse once you've drained them.
Use gluten-free noodles to keep this recipe gluten-free.
You can prepare this dish ahead of time by making the cheese sauce and the crispy topping.
Keep leftovers in an airtight container in the refrigerator for up to 3-5 days.
You can also freeze it by tightly sealing in a freezer safe airtight container for up to 3 months.
Reheat in a 350°F oven until heated through, or quickly microwave.
Common Questions
What is vegan mac and cheese made of?
There are many ways to make vegan mac and cheese including using store bought dairy free cheese, nutritional yeast, or a cheese tasting sauce made from veggies.
How do you make vegan mac and cheese from scratch?
Make a cheese sauce with ingredients including potatoes, cashews, peppers, carrots, and vinegar. Mix that sauce with cooked noodles and voilà, vegan mac and cheese!
Is almond milk good in mac and cheese?
Almond milk is a good dairy free alternative to regular milk in mac and cheese.
Can you make mac n cheese without milk?
You sure can! This recipe uses veggies, cashews, vinegar, and seasonings to create a creamy sauce that tastes just like the best cheesy sauce you know and love.
More Family Friendly Vegan Recipes
Keep the whole entire family full and happy with these healthy plant based recipes: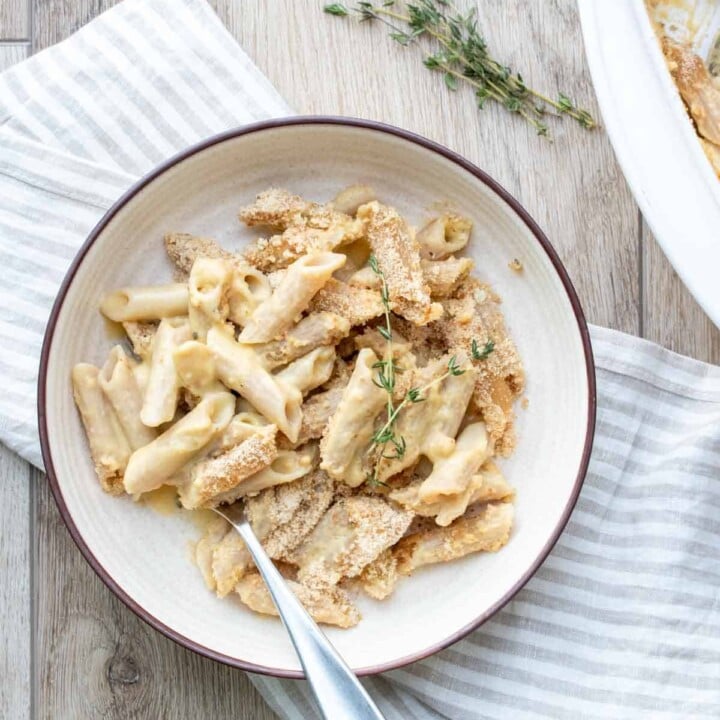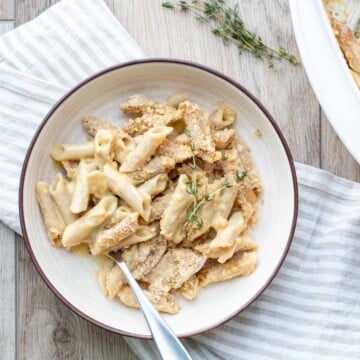 Creamy Vegan Baked Mac and Cheese Recipe
This vegan baked mac and cheese is restaurant flavor but made with healthy whole foods. So creamy and amazing!
Ingredients
2 - 2 ½ cups Vegan White Cheese Sauce , recipe makes about 3 ½ cups
1 ½ cups water , or water from cooking the veggies from the cheese sauce (can also use veggie broth for an extra flavor boost)
1 teaspoon apple cider vinegar (in addition to what is in the cheese recipe)
½ - 1 teaspoon mustard seed powder , take out or use less if you don't want it too sharp (in addition to what is in the cheese recipe)
¾ teaspoon chickpea miso , see note (in addition to what is in the cheese recipe)
1 teaspoon sea salt (in addition to what is in the cheese recipe)
12 ounces your favorite pasta , gluten-free if needed
Crispy topping (makes about 2 ¼ cups):
Instructions
Preheat oven to 350 F (175 C).

Make cheese sauce according to recipe but add in the water, extra apple cider vinegar, mustard seed powder, chickpea miso and salt. Add slowly and taste as you go to get desired flavor. It will taste much stronger and be watery, but this is ok. When baking, it loses a bit of flavor and creaminess so this will make sure that it is perfectly flavored and creamy after baked.

Put all crispy topping ingredients into a food processor if using hemp seeds. Process until well combined. If using almond flour you can just mix it.

Cook pasta according to package directions but cook for about half the time stated. You will be baking this so this prevents mushy noodles. Your pasta should still be hard and not cooked, if you overcook then your noodles will end up mushy after baked, especially if using gluten-free noodles.

Once pasta is done, drain and rinse well to prevent too much starchiness in the baked dish.

Return to the pot and mix in the cheese sauce. Start with 2 cups but if you want it extra saucy add 2 ½.

Pour into a square baking dish. Sprinkle crispy topping over it evenly.

Bake for 15-20 minutes until crispy on top. Start checking at 15 minutes to ensure your pasta doesn't overcook. Different pasta types cook differently. You can also broil the last few minutes to get it brown and extra crisp on the top.

Serve!
Notes
Using hemp seeds gives a more crisp baked topping due to the oils in the hemp seeds. If you use almond flour it would be better to add a little butter or oil over the top to get the same crisp but it is still good without.
If you don't have chickpea miso, you can try using a white miso although it will be a little more mild in flavor so you may need more, especially if you want it nice and sharp tasting.
Tips to prep ahead:
Make cheese sauce and crispy topping.
Baby/toddler food idea:
This can be baked a little longer for baby and pulsed into a smooth or chunkier food. If baby is new to foods, you can also leave out the extra spice/seasoning ingredients in the sauce and it will be less sharp.
Recipe by Veggies Don't Bite, visit our site for more great plant-based recipes.
Nutrition
Calories: 271kcalCarbohydrates: 47gProtein: 8gFat: 6gSaturated Fat: 1gPolyunsaturated Fat: 1gMonounsaturated Fat: 1gSodium: 598mgPotassium: 263mgFiber: 3gSugar: 2gVitamin A: 30IUVitamin C: 11mgCalcium: 23mgIron: 5mg
Nutrition and metric information should be considered an estimate.
Never miss a recipe!
Sign up here and get a FREE quick and easy meal guide!