Fluffy, moist and sinfully delicious! These vegan and gluten-free lemon ricotta pancakes are made of whole foods, making them the perfect choice to start your day in a dessert for breakfast kind of way. You'll never guess there is no dairy, eggs or gluten!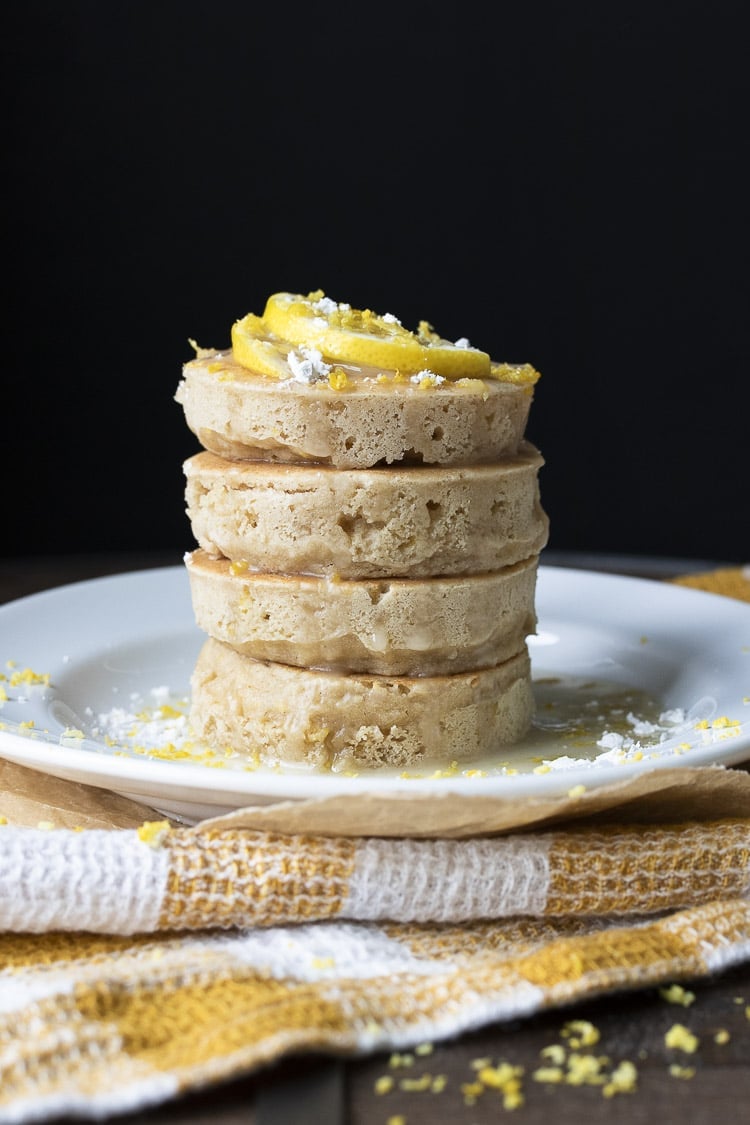 This is a sponsored conversation written by me on behalf of So Delicious. The opinions and text are all mine.
Breakfast is the most important meal of the day, have you heard that one before? Ha! But really, how can you be productive without fuel? I'm definitely not one to preach, because it's hard sometimes. But I try, and now I try extra hard because these pancakes are my new fave! I love starting my day with sneakily healthy food from cookies, to smoothies and now pancakes.
These vegan and gluten-free pancakes are made with whole food ingredients to give your body the best chance at surviving the day. Make them ahead of time, and even take them on the go, super delicious even without all the amazing toppings! You should note that these are not your wimpy pancake.
These are hearty but still light and fluffy, with a slight outer crisp which I LOVE. I am not a fan of mush and things that go soft fast. I do love fluffy pancakes too though, check out my ultra fluffy chocolate pancakes!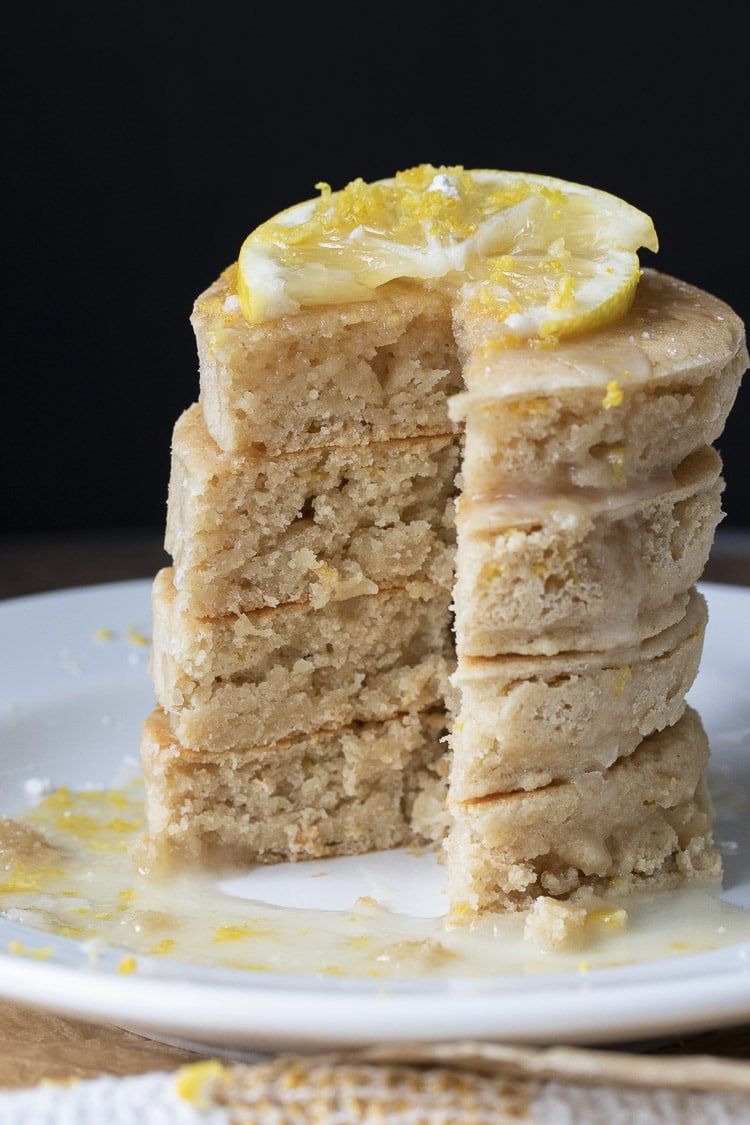 I'm a slave to vegan pancakes
Confession, pancakes and I are not best friends. My family LOVES them, but every time I succumb to the pressure of making them, I feel like I am a slave to the ever-coveted pancake. You cook and cook, only to have your little monsters shove them in their precious little mouths as fast as they can. Then as the light of those last few spoonfuls of batter gets brighter, you begin to salivate knowing it's almost time to enjoy the fruits of your labor. Then you look down. And nothing. They have eaten every. single. one.
But now we can all relax. Because these healthy whole food based pancakes are easy to prep, even if you need another emergency batch all to yourself! I created these wanting a base of nutrient rich ingredients. I started with oat flour because oats are loaded with good stuff to help us start the day right. I put in almonds as my rich "ricotta" base for added protein and healthy fat. I use maple syrup to sweeten without refined sugar. And I use the new So Delicious Organic Almondmilk with Cashew for creaminess and moisture.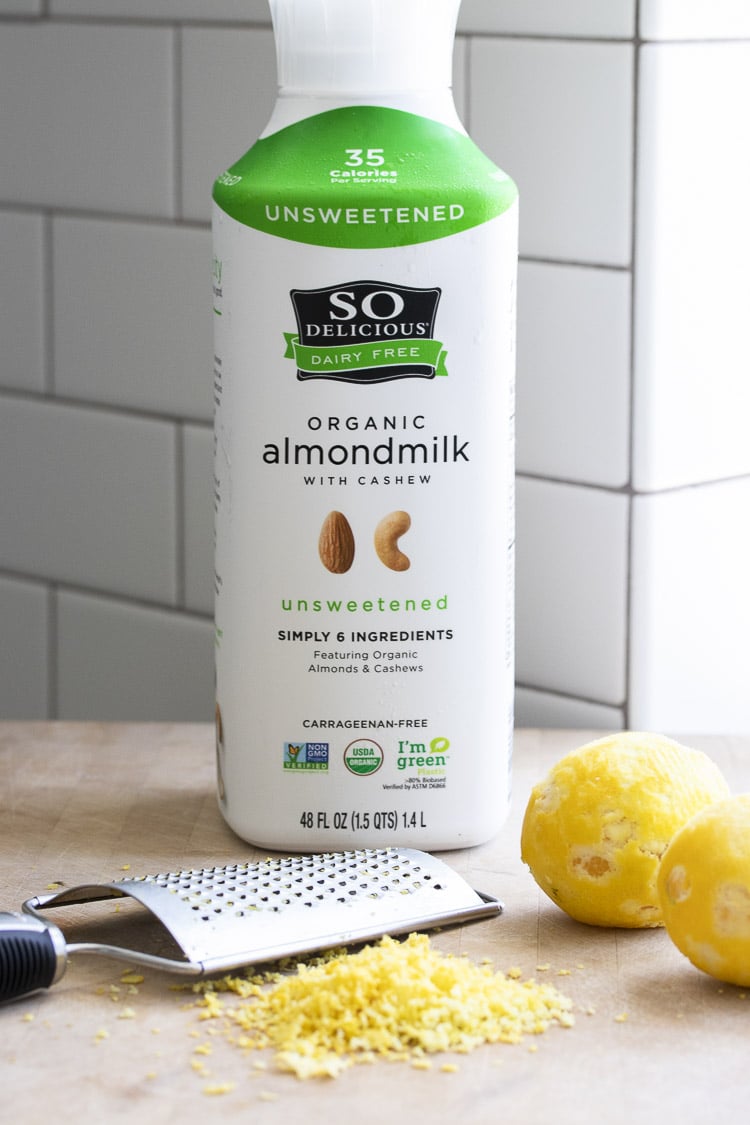 Plant based milk with a purpose
When So Delicious approached me to try their newest baby, I didn't hesitate after hearing all the goodness that came with it. Over the years our family has converted to loving cashew milk over almond, so when we tried this new Organic Almondmilk with Cashew, we instantly loved it! It has the perfect balance of flavor, and simply just tastes fresh! I love the flavor of homemade plant milk, but it's not my reality with all that we drink. So I buy with purpose, and I'm thrilled to see this new variety.
If that doesn't convince you, check out all the amazingness it comes with:
only 7 purposeful ingredients or less
non-gmo project verified, gluten-free and certified vegan
no artificial flavors, colors or preservatives
packaged in a new 80% plant-based bottle, the first of its kind!
did I mention the fresh creamy flavor?
Getting fancy in a simple way
It's really all about the blending and mixing. These vegan and gluten-free lemon ricotta pancakes are hearty enough to fill you up and keep you going all morning thanks to the "ricotta" in the batter. Plus, you can feel fancy telling people what you made for breakfast. Because we all know that life with 3 kids is anything but fancy. It's the small things.
Step 1 is to make sure to soak the almonds overnight. However if you're like me, and forget 9 out of 10 times, you can put them in some hot water while you assemble the other ingredients and accept that you aren't perfect.
Step 2 is quickly mix the dry ingredients, takes about a minute.
Step 3 is drain and rinse the almonds, then pulse them in the food processor first. Don't ask me how many times it took me to learn not to blend them with everything at once. I may still have pancake juice in my hair from last month.
Step 4 is blend the pulsed almonds with the other ingredients to make a "ricotta" mixture. Then take a small bite. OMG. Side note: use this "ricotta" recipe to top all the things.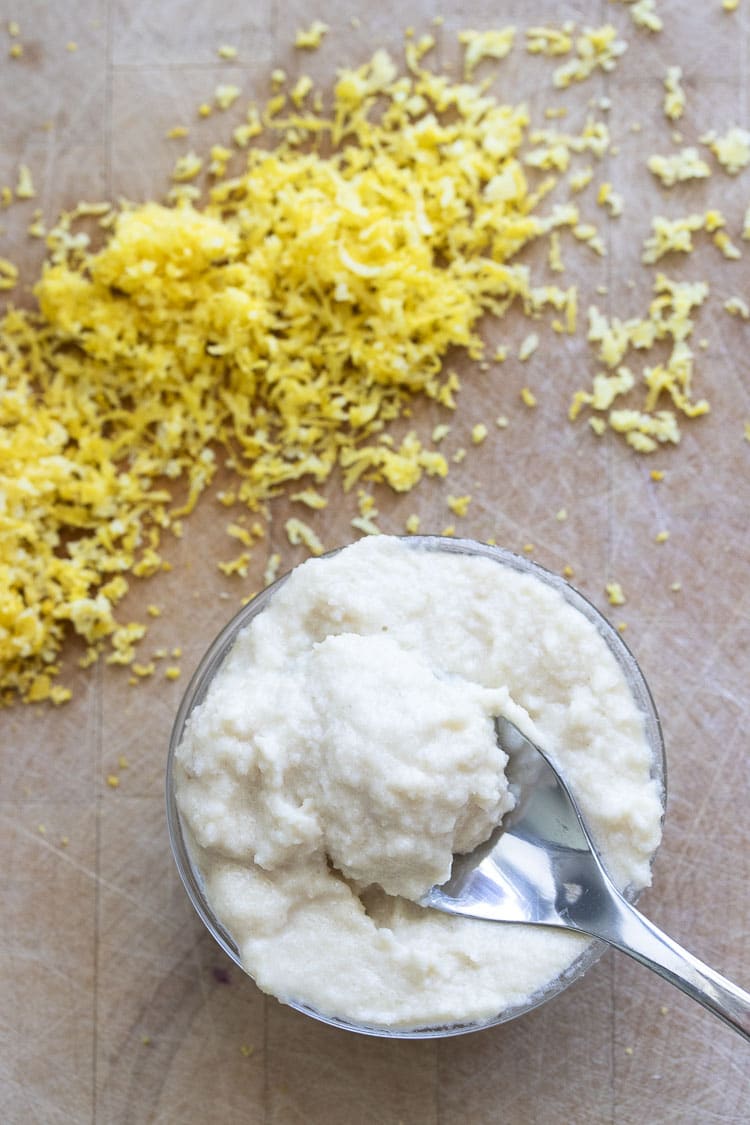 Step 5 is mix the ricotta and other wet ingredients in with the dry.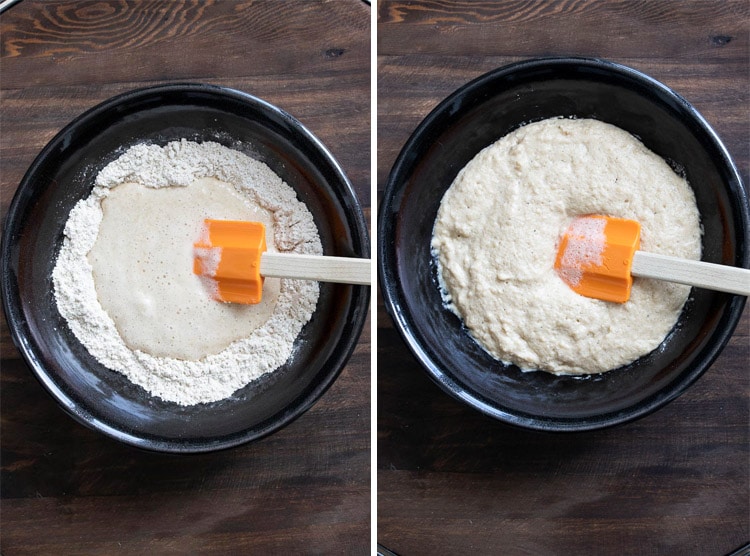 Step 6 is cook the pancakes.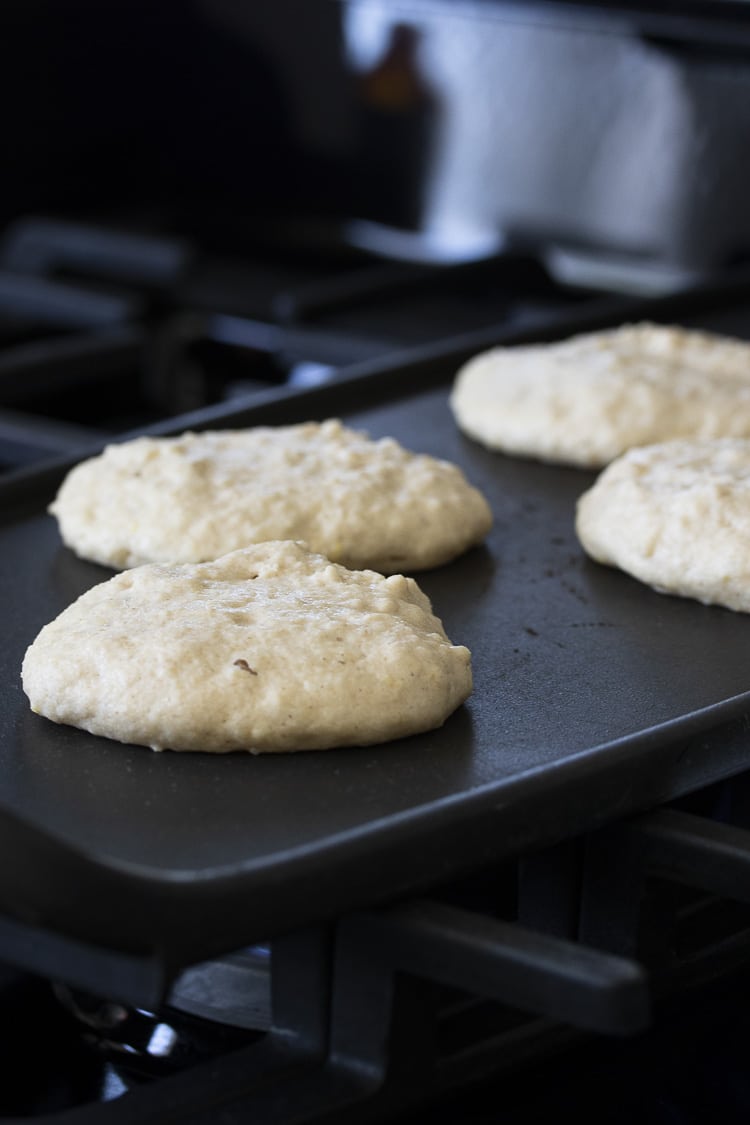 Step 7 is fight for your life so you can actually have a few to yourself.
Serve with the lemon glaze, your mouth will thank me. Or if you prefer to top it with powdered sugar, fruit, nuts or maple syrup, that's amazing too. You can even serve it with a tall glass of milk for an extra boost of yum!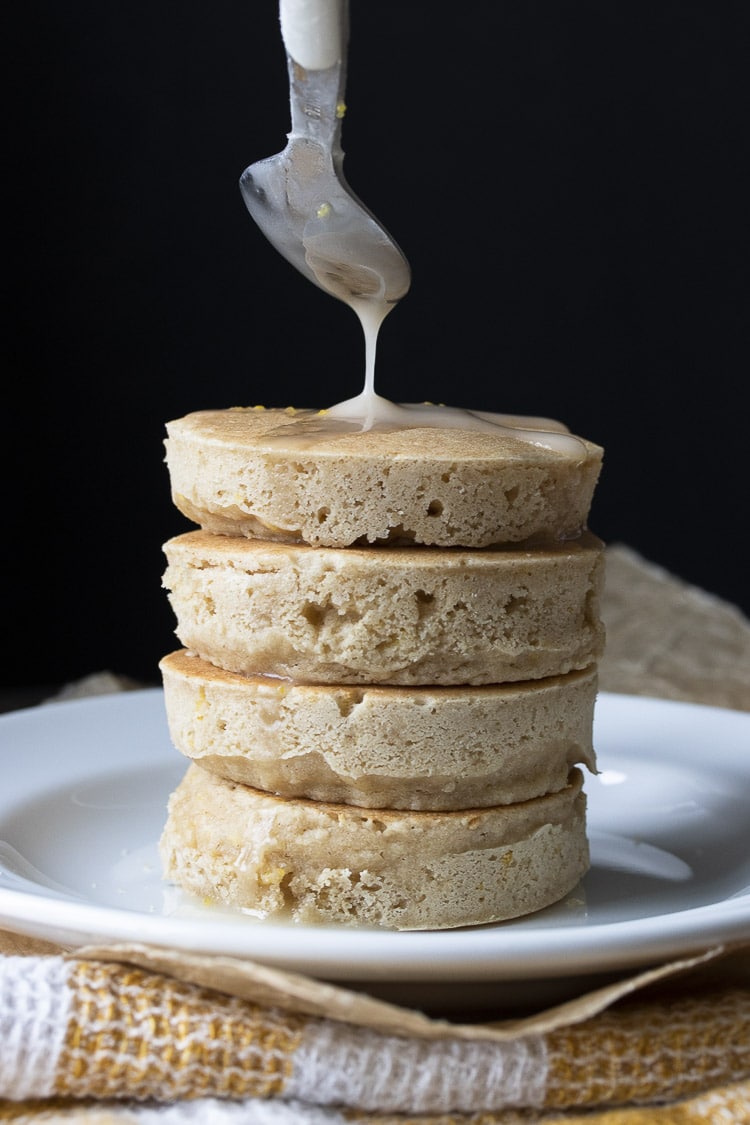 Are you more of a savory breakfast person? Well I have that too!
Creamy Spinach Savory Breakfast Oats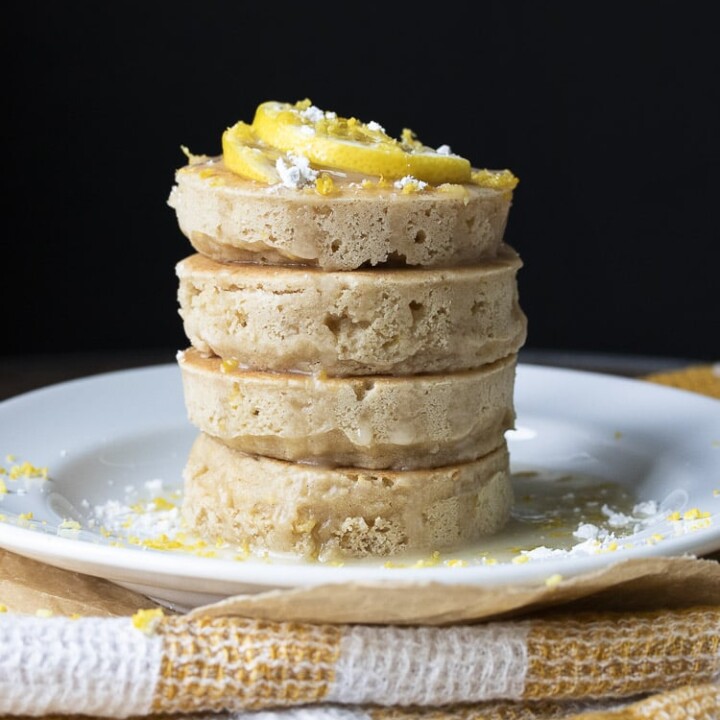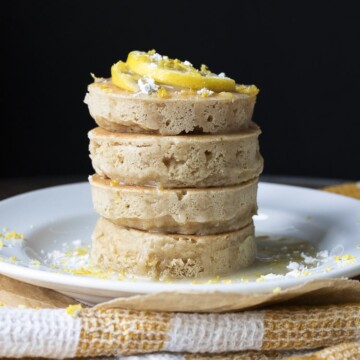 Vegan Gluten-Free Lemon Ricotta Pancakes
Fluffy, moist and sinfully delicious! These vegan and gluten-free lemon ricotta pancakes are made of whole foods, making them the perfect choice to start your day in a dessert for breakfast kind of way. You'll never guess there is no dairy, eggs or gluten!
Ingredients
1 ¼ cup oat flour
3 tablespoons potato starch
1 tablespoon baking powder
¼ teaspoon sea salt , divided
¾ cup blanched slivered almonds
½ cup almondmilk or other dairy free milk , divided into 2 and 6 tablespoons (I used So Delicious Organic Almondmilk with Cashew)
6 tablespoons maple syrup , divided
¼ cup fresh lemon juice , divided
plus 2 tablespoons lemon zest (Meyer lemons work best)
1 tablespoon vanilla extract
Optional Lemon Glaze (optional):
You can also top with powdered sugar, fruit, nuts or maple syrup if you prefer.
Instructions
Turn up the heat on your griddle, you want it nice and hot for cooking the pancakes. You know it's ready when you spray some water on it and you hear it sizzle. Also if it is not non stick you should use a spray oil to avoid the pancakes sticking.

Put the oat flour, potato starch, baking powder and ⅛ teaspoon salt into a bowl and mix well.

Put almonds into a food processor and blend until they are finely ground.

Add 2 tablespoons milk, 3 tablespoons maple syrup, 2 tablespoons lemon juice, vanilla extract and the other ⅛ teaspoon salt. Blend until combined. This is the "ricotta."

Dig a small well in the flour mixture and add the "ricotta" mixture into the well. Next add the 6 tablespoons left of milk, the other 3 tablespoons of maple syrup, the other 2 tablespoons of lemon juice and the lemon zest.

Slowly mix until well combined, do not overmix but make sure there are no clumps. Allow to settle a few minutes so the mixture can fully combine.

Drop spoonfuls (about ¼ cup each) onto the griddle. Cook about 4-5 minutes on each side. They should be slightly brown when ready and come off the griddle easily.

While the pancakes are cooking, make the lemon glaze if using. Whisk powdered sugar, lemon juice and lemon zest in a bowl until smooth.

Allow the pancakes to cool a bit before eating, this lets the texture settle and fully develop. Drizzle with lemon glaze, maple syrup or anything else you prefer and devour!
Notes
Make sure to use blanched almonds, almonds without the skin. Using almonds with the skin will affect the texture.
Also, make sure you follow the instructions and blend them first, if you do not the liquid will spray everywhere.
Any type of lemon works, but Meyer lemons have a sweeter flavor and give the best taste.
If you want to keep these fully refined sugar free, then instead of using white powdered sugar, you can make your own powdered sugar from coconut sugar. Simply put it into a vitamix or other high powered blender and blend on high until you get a fine powder. The flavor will be somewhat different but it will still be tasty.
Tips to prep ahead:
You can make the lemon glaze ahead of time.
Recipe by Veggies Don't Bite, visit our site for more great plant-based recipes.
Nutrition
Calories: 131kcalCarbohydrates: 19gProtein: 3gFat: 4gSaturated Fat: 0gPolyunsaturated Fat: 0gMonounsaturated Fat: 0gTrans Fat: 0gCholesterol: 0mgSodium: 63mgPotassium: 239mgFiber: 1gSugar: 6gVitamin A: 0IUVitamin C: 3.3mgCalcium: 92mgIron: 0.8mg
Nutrition and metric information should be considered an estimate.
Never miss a recipe!
Sign up here and get a FREE quick and easy meal guide!