This savory oats recipe is going to become your new favorite way to start the day. Only seven ingredients and five minutes to a healthy amazing breakfast!
I was skeptical about my oats not being sweet based, but once I started experimenting with savory oatmeal recipes, I quickly became a huge fan!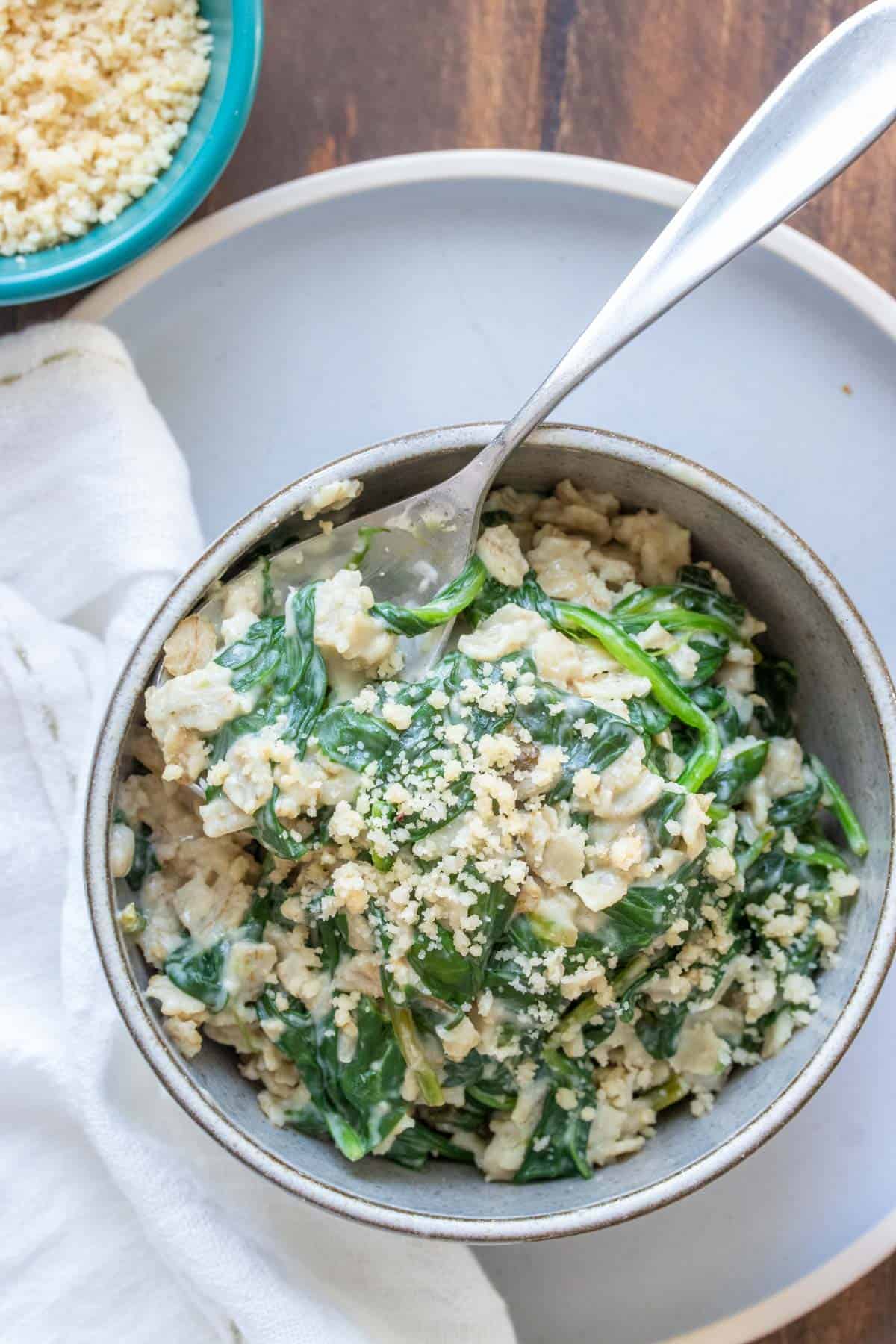 This post was originally published on December 5, 2018.
Most of my oat recipes are on the sweet side, like my baked blueberry oatmeal and vegan overnight oats. But I often crave a savory vegan breakfast so these savory oats with spinach always hits the spot!
Ingredients
Here are the items you need to make this simple savory oatmeal recipe:
Unsweetened cashew milk
Lemon juice
Fresh spinach
Garlic powder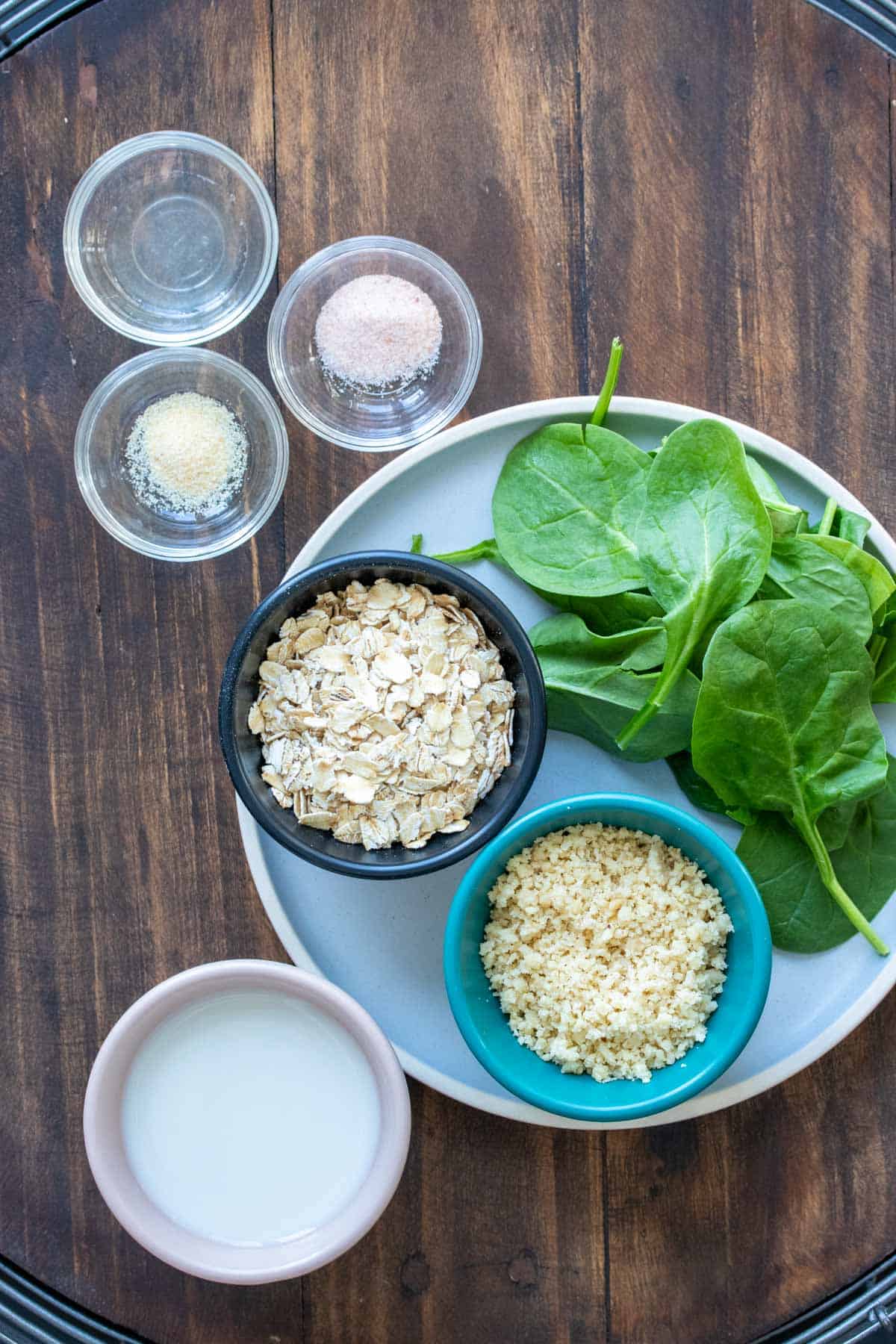 How to Make Savory Oatmeal
If I can get this done before my kids ask for something else, you too can make it. I feel like every time I turn around someone needs me. So when I figured out how fast I could actually have a hot savory breakfast, I jumped in excitement.
True story. Full spontaneous jumping. Which when you're a mom of three, may lead to peeing your pants a little. No shame here. This brekkie is totally worth it.
Be prepared, tighten that pelvic floor, and make this. Here's how:
Sauté the spinach.
Add the oats and milk.
Enjoy!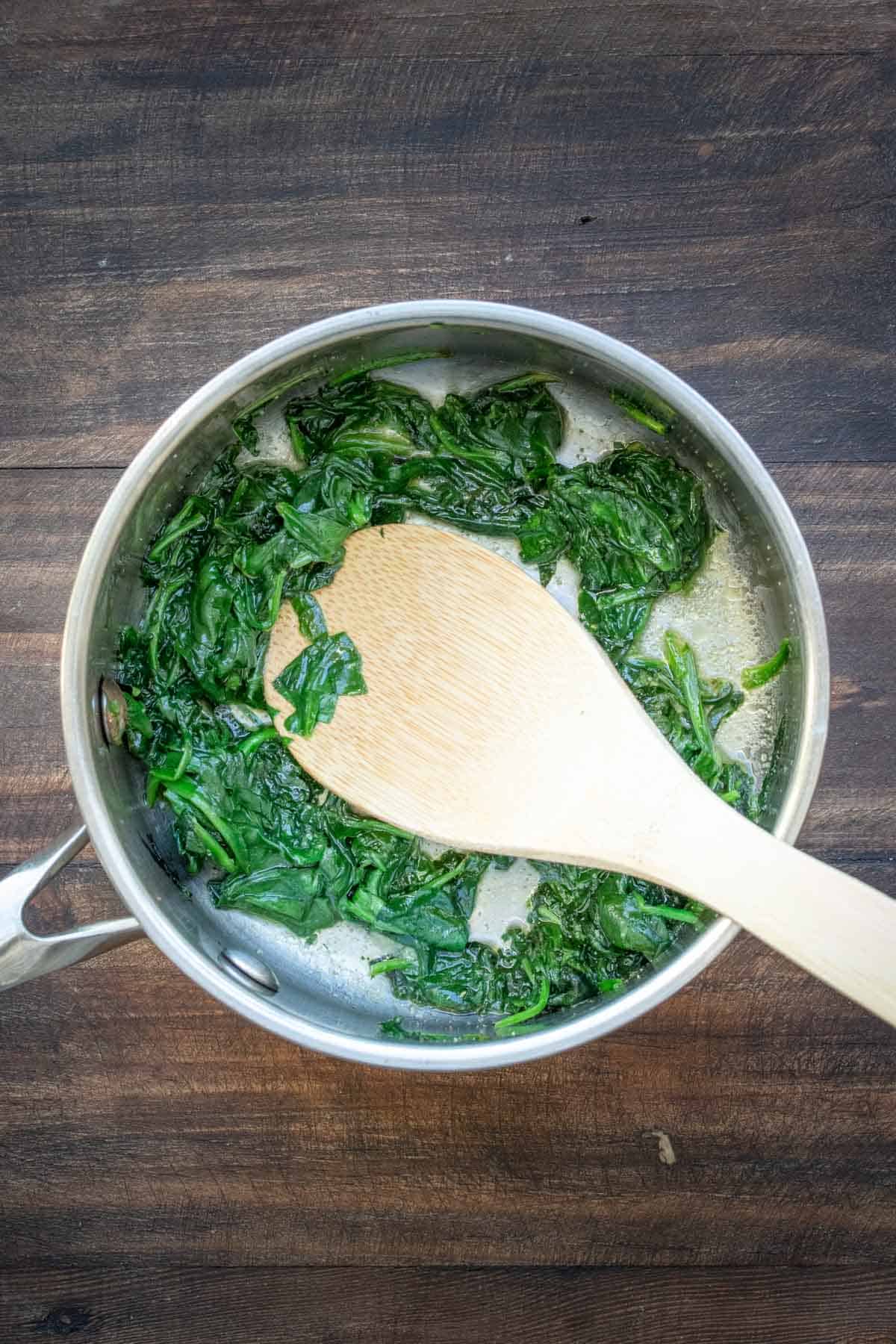 More Savory Oats Flavor Suggestions
The best part of this recipe is that it can be customized any way you want! The simplicity of oatmeal and spinach is great and easy, but it's fun to shake things up! Either add in any of these as a mix in or topping, or create a completely new combination:
Veggies and Greens:
Mushrooms
Bell peppers
Roasted peppers
Asparagus
Cabbage
Sweet potatoes
Zucchini
Roasted garlic
Tomatoes
Avocados
Jalapeños
Sun dried tomatoes
Artichoke hearts
Edamame
Spinach
Arugula
Kale
Cabbage
Sprouts
Green Onion
Protein:
Chickpeas
Lentils
Black beans
Tempeh
Tofu
Sausage (Make your own homemade vegan and gluten free sausage!)
Chopped nuts: Walnuts, cashews, almonds, peanuts, etc.
Seeds: chia seeds, hemp seeds, flax seeds, sunflower seeds, etc.
Sauces and Seasonings:
Fresh herbs: basil, rosemary, thyme, oregano, sage, parsley, or dill
Spices: paprika, cumin, coriander, oregano, basil, chili powder, turmeric, etc.
Savory Flavor Combinations
Not feeling too creative? Try these savory oat ideas:
Onions, peppers, celery, and sausage
Sun dried tomato, basil, and dairy free Parmesan
Veggies and sweet potatoes
Pesto, arugula, sun dried tomatoes
Turmeric and chickpeas
Kale, spinach, zucchini, green onions, and dill
Taco seasoning, black beans, peppers, avocado
Falafel, tzatziki, tomatoes, dill
Vegan egg, mushroom bacon, and avocado
What to Serve with Savory Oatmeal
If you want a complete breakfast spread, here are some plant based recipes you can serve as well:
Preparation Tips
This super simple savory oatmeal recipe is hard to mess up! Here are a few extra suggestions to help you out:
To keep this recipe oil free, use veggie broth to sauté the spinach.
Unsweetened cashew milk is what I like to use, but any dairy free milk will do. Just make sure it's unsweetened and unflavored.

Or, use veggie broth instead of milk

For extra flavorful spinach, check out this recipe for Sautéed Spinach.
Cook a little longer to make the consistency extra thick.
You can also make this in a microwave.

Put the ingredients in a microwave safe mug.
Cook for 2-4 minutes depending on your oats and microwave.
Start at 2 and keep cooking in 30 second increments
Storage Tips
Meal prep overnight oats style. In the morning it's simply heat and serve!
Store prepared oatmeal in the refrigerator for up to three days in an airtight container.
Reheat in the microwave or on the stove.

It will likely thicken so you may need to add more milk to thin it back out.
Common Questions
What can you put in oatmeal to make it taste better?
Anything! You can go the savory route like this recipe with spinach, vegan parmesan, and seasonings. Or, go sweet and add berries and date paste like in this recipe for Berry Cobbler Overnight Oats.
Can you put soy sauce in oatmeal?
Yes, you can put soy sauce in oatmeal. I would recommend adding it to savory flavored oats as opposed to sweet.
Is it OK to eat oatmeal for dinner?
Yes! In our house, food is food and time restrictions don't count. Making savory oatmeal is a great way to make it feel more like dinner. Add more veggies or serve with a loaded salad for a complete meal.
What does salt do in oatmeal?
Salt enhances flavor, so by adding it to oatmeal you're bringing out the flavor of the oats as well as any additions you've made.
More Vegan Oatmeal Recipes
Oats are so versatile! Check out all these plant based recipes: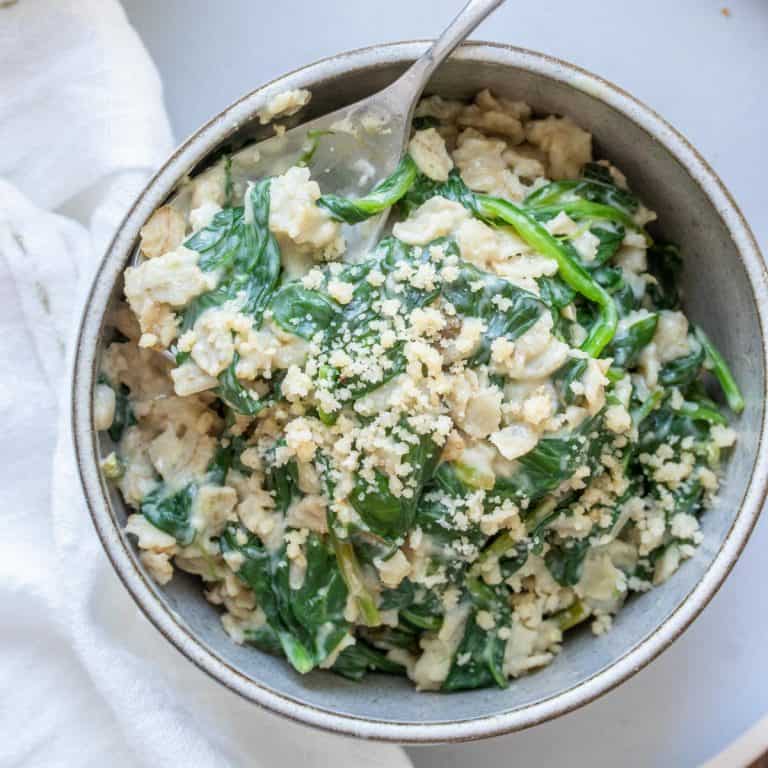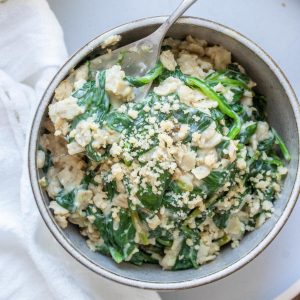 Savory Oats Recipe
This savory oats recipe is going to become your new favorite way to start the day. Only seven ingredients and five minutes to a healthy amazing breakfast!
Instructions
Mix the lemon juice and milk and set aside.

Sauté the spinach with the garlic powder and salt using oil, or broth if you don't use oil, until slightly wilted. About 2 minutes

Add in the milk mixture and the oats and stir until thick and you've reached desired consistency. About 2-3 minutes.

Top with Parmesan if using and enjoy!
Notes
Make this as thick and cooked as you prefer.
The Parmesan is optional but highly recommended.
You can also make this in a microwave by putting the ingredients in a microwave safe mug and cooking for 2-4 minutes depending on your oats and microwave. Start at 2 and keep cooking in 30 second increments.
Recipe by Veggies Don't Bite, visit our site for more great plant-based recipes.
Nutrition
Calories: 187kcalCarbohydrates: 31gProtein: 7gFat: 4gSaturated Fat: 0gPolyunsaturated Fat: 0gMonounsaturated Fat: 0gTrans Fat: 0gCholesterol: 0mgSodium: 677mgPotassium: 481mgFiber: 5gSugar: 0gVitamin A: 5625IUVitamin C: 18.8mgCalcium: 81mgIron: 3.3mg
Nutrition and metric information should be considered an estimate.
Never miss a recipe!
Sign up here and get a FREE quick and easy meal guide!