Gluten-free vegan strawberry shortcake that's slightly crisp on the outside and perfectly soft in the middle. It only takes 30 minutes from start to finish!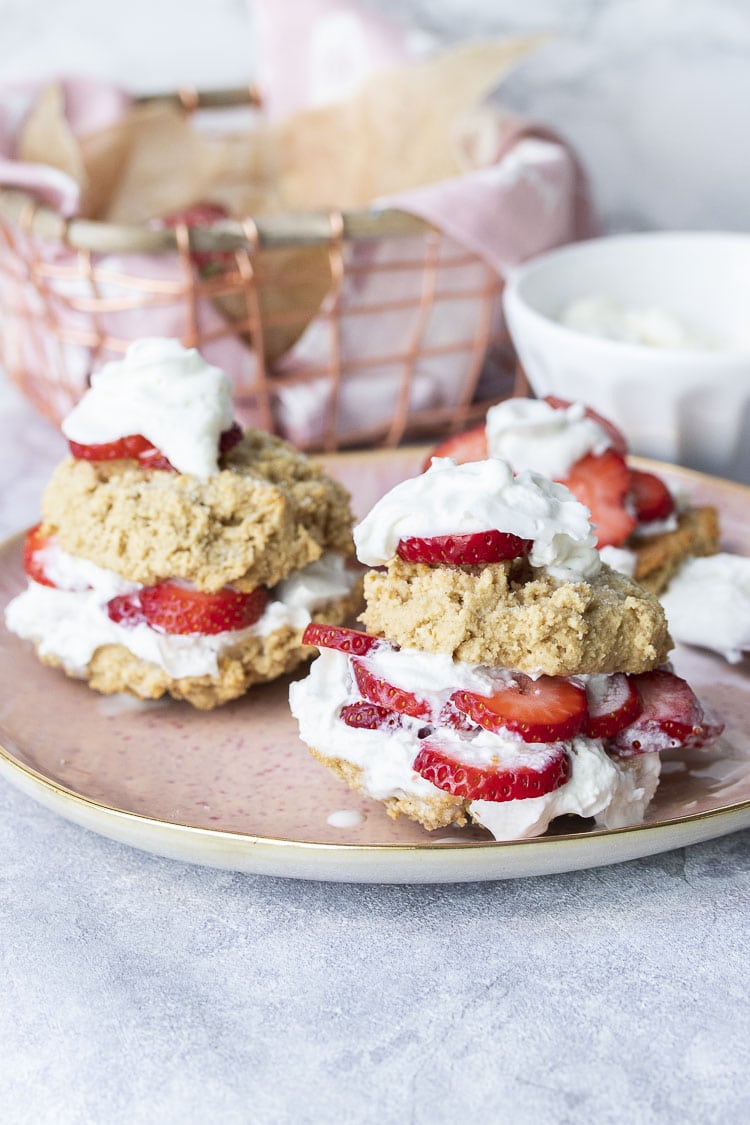 This recipe was originally published on 6/30/14
We are definitely not against treats around here, but this mama is all kinds of lazy these days. So when I can create a recipe that takes 30 minutes from start to finish, including cleanup, it becomes a regular!
This vegan strawberry shortcake is absolute perfection. From first spoonful of flour to freshly baked strawberry shortcake biscuits, this is a super easy and quick healthy dessert that you can even serve at breakfast.
Gluten Free and Vegan Strawberry Shortcake
Strawberry shortcake combines some simple but amazing flavors. It typically includes:
a biscuit of some sort
strawberries
a type of sweet creamy topping
The biscuit is the star of this vegan strawberry shortcake recipe. Even though they are gluten free, they have the perfect combination of a crisp exterior and soft inner core. It has a perfect hint of sweetness, so that you can still taste the fresh flavors from the strawberries.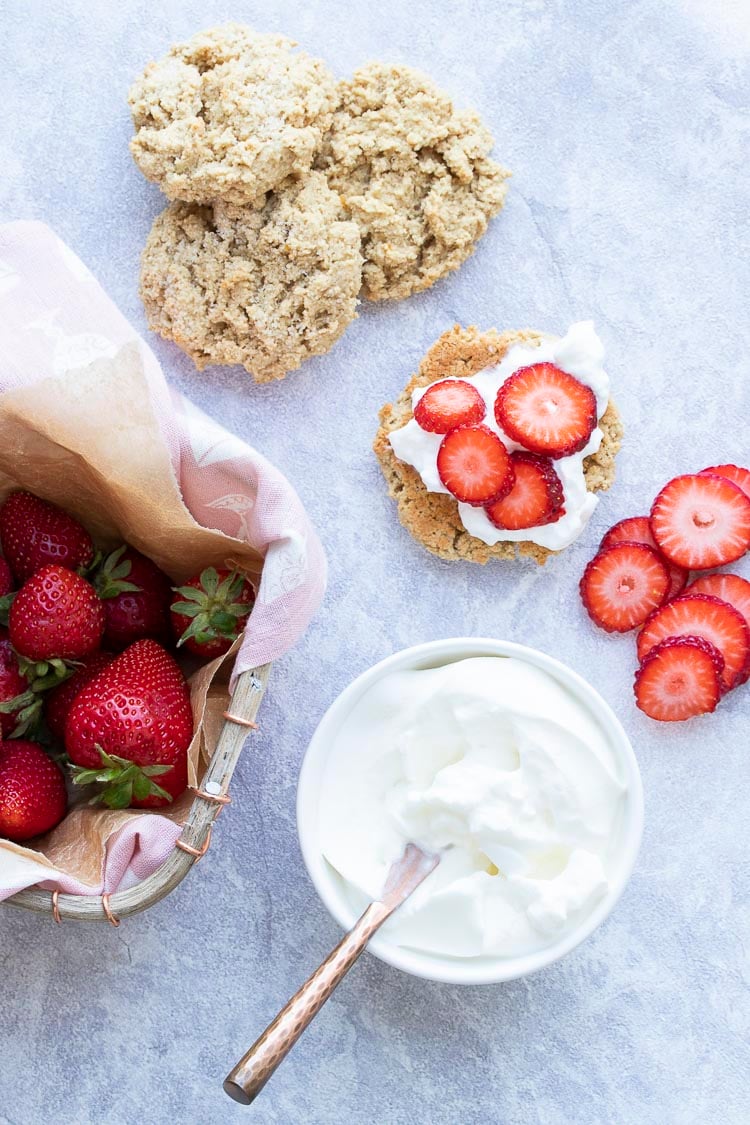 Why is it called shortcake?
Even though you sometimes see strawberry shortcake served with a spongy angel food type cake, many will argue this is not the traditional version. "Short" is an old English word that actually means crisp.
So the biscuit version of the dessert is where the name came from.
Can strawberry shortcake be made in advance?
This is the perfect recipe to prep the day before and have it ready to serve when you are ready. Although these biscuits are incredible fresh from the oven, they hold really well for the next day.
The strawberries can be sliced and stored in the fridge as well. Top with your favorite store bought whip, or make your own ahead of time. No one will be able to guess that this strawberry shortcake is both vegan and gluten free!
Is strawberry shortcake healthy?
Just because these are gluten-free and vegan strawberry shortcake biscuits, it doesn't automatically mean they are healthy. You always need to look at the ingredients in a recipe.
The good news is that I use healthy whole foods here! We have oat flour, which is basically oatmeal, mixed with almond flour, which is basically nuts, as the base.
They are only sweetened with a bit of maple syrup, which keeps them free of refined sugar and allows them to have just a small hint of sweetness. When paired with fresh fruit, the natural flavors really mesh well and come through.
They are so versatile, you really can serve them any time of day. Here are a few ways we have shoved them into our mouths:
Breakfast: top with strawberries, berries of any kind, or even peaches and drizzle with your favorite yogurt
Snack time: serve topped with jelly and/or even a small swipe of vegan butter
Dessert: indulge a little and cover them with the fruit and your favorite vegan whipped topping
On the go: bring with you anywhere for a quick way to cut the hanger in all children and adults
Step By Step Vegan Strawberry Shortcake in 30 Minutes
I have made these at least 20 times in the last few weeks. The last 10 times, I timed myself. 30 minutes, including baking and clean up.
Mix the wet and dry ingredients in a bowl. Be careful not to overmix, you want nice soft puffy dough. This yields the absolute perfect texture.
Drop into spoonfuls on a cookie sheet and bake.
Load up with strawberries and your favorite whip!
How do you measure flour when baking?
PSA: it really does matter how you measure your flours when baking. I am a mom of 3, and honestly don't really have the time to put every little thing on a scale. But as long as you're consistent with how you measure, a scale isn't really necessary for most things.
To prove this theory I decided to do some testing for you all. I measured the oat flour, almond flour and potato starch in two different ways and weighed them each time. I did this about 3 times each way just to make sure I was getting the same results.
Way 1: spoon the flour into the measuring tool then use a knife to flatten. Results:
½ cup oat flour was 50 grams
½ cup almond flour was 40 grams
2 tablespoons potato starch was 18 grams
Way 2: dip the measuring tool into the flour to get amount needed then use a knife to flatten. Results:
½ cup oat flour was 62 grams
½ cup almond flour was 48 grams
2 tablespoons potato starch was 20 grams
The reason that you get more when you dip it in versus spoon the flour in is because dipping packs more flour into the measuring tool. Spooning it in simply piles up the flour until you have enough.
Neither way is wrong, but you need to do it the same way as the recipe in order to get the right results. In this recipe I used way 2, dipping the tool into my flour.
Try these other great dessert recipes!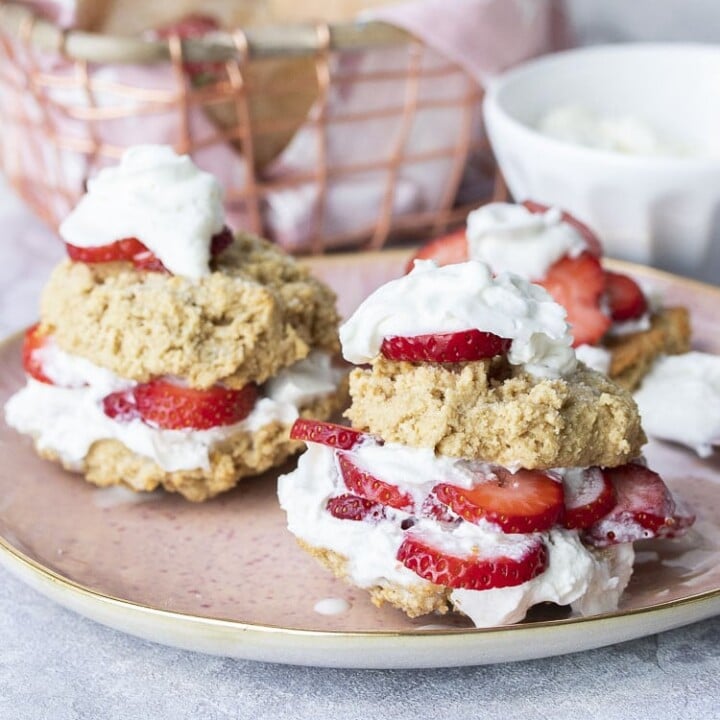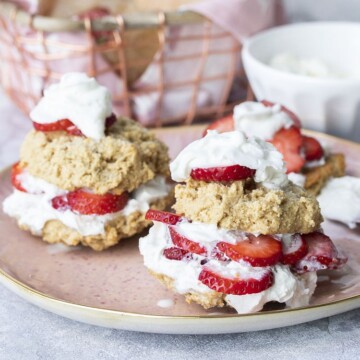 Gluten-Free Vegan Strawberry Shortcake
Gluten free vegan strawberry shortcake that's slightly crisp on the outside and perfectly soft in the middle. It only takes 30 minutes from start to finish!
Ingredients
½ cup oat flour
½ cup fine ground almond flour
2 tablespoons potato starch
1 ½ teaspoons baking powder
1/16 teaspoon sea salt , just a pinch
¼ - ½ teaspoon lemon zest , adjust for more or less lemon flavor
2 tablespoons cashew or almond milk
1 tablespoon lemon juice
3 tablespoons maple syrup
2 teaspoons vanilla extract
Sprinkle of cane sugar for topping , optional
Instructions
Preheat oven to 350 F (175 C).

Put oat flour, almond flour, potato starch, baking powder, sea salt and lemon zest into a medium mixing bowl. Whisk until combined and there are no clumps.

Make a little well in the middle of the mixed dry ingredients. And pour in milk, lemon juice, maple syrup and vanilla extract.

Slowly combine with a spoon or spatula, mix until just combined but don't over mix.

Allow to sit for a few minutes, use this time to put away the ingredients, put used items in the sink and wipe off the counters.

Drop spoonfuls onto a parchment lined cookie sheet, you should get 6 larger biscuits. See photo in post for how they should look.

Sprinkle with a touch of cane sugar if preferred.

Bake for 15 minutes, ovens vary but you want them to be just getting brown on the tips. They will cook more as they cool.

Use this time to wash the used utensils and cut strawberries (or whatever fruit you are using).

Once done, allow to cool completely. Then serve with fruit and whipped cream.

You can serve them sandwich style with the fruit and whipped cream inside or as individual biscuits topped with fruit and whipped cream. If you serve them sandwich style, you will get 3 servings. If you serve them individually you will get 6 servings. I used about ½ cup of sliced strawberries per serving.
Notes
Nutrition info is for biscuits only.
I measured the flours by scooping the measuring tool into the flour and then scraping the extra off with a knife. Make sure to measure the grams or use this method for accurate results.
Be aware of the almond flour you use because some produce less fluffy results than others. I use the Wellbees brand, but most fine grain ones should work. Another reader had to add 2 more tablespoons of almond flour due to the brand she used, so if your dough is not thick like the photo above try this.
These are great with many kinds of fruit especially berries or peaches. Also serve with yogurt for a healthy breakfast option.
If eating these the next day, allow to cool completely, then store in a partially covered container. Pop them in the toaster oven to warm before eating, this brings back the touch of crisp exterior.
If you follow the directions exactly, these take 30 minutes from start to finish, including clean up.
Tips to prep ahead:
You can cut the fruit and make the whipped cream if you are making home made.
Recipe by Veggies Don't Bite, visit our site for more great plant-based recipes.
Nutrition
Calories: 135kcalCarbohydrates: 18gProtein: 3gFat: 5gSaturated Fat: 0gPolyunsaturated Fat: 0gMonounsaturated Fat: 0gTrans Fat: 0gCholesterol: 0mgSodium: 33mgPotassium: 187mgFiber: 1gSugar: 6gVitamin A: 0IUVitamin C: 1mgCalcium: 87mgIron: 0.9mg
Nutrition and metric information should be considered an estimate.
Never miss a recipe!
Sign up here and get a FREE quick and easy meal guide!