This vegan whipped cream is made with three ingredients in two easy steps! It is the perfect dairy free alternative with amazing flavor.
You can use this plant-based whipped cream substitute in all recipes that call for regular whipped cream. It goes with anything and everything or can even be a simple dip for things like fruit!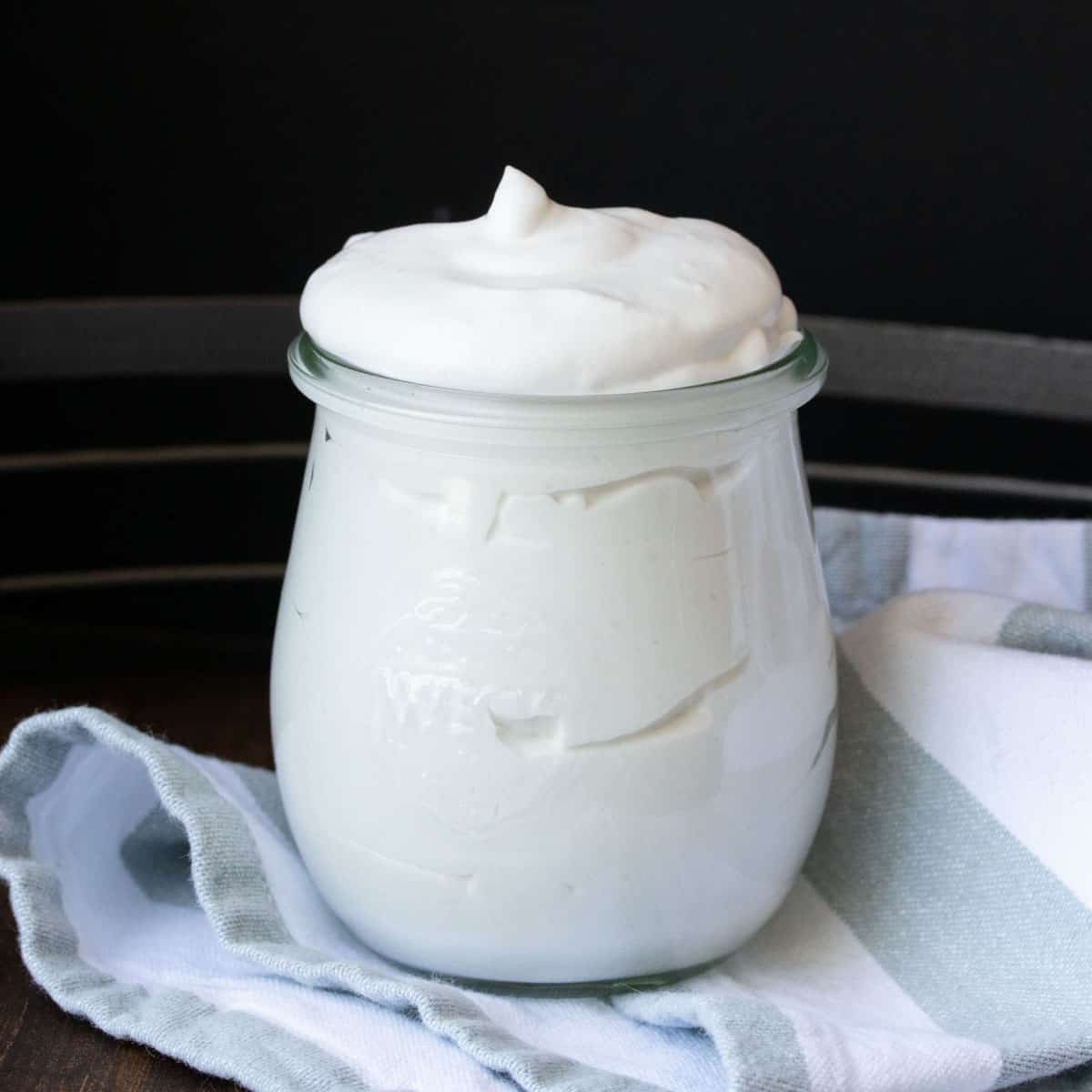 This post was originally published on September 3, 2022.
I use this vegan whip cream with so many of my desserts. It a staple in my vegan dessert lasagna recipe and my vegan trifle, but also goes perfect with vegan peach cobbler or vegan strawberry shortcake!
Ingredients
Making whipped cream vegan isn't as hard as you'd think. Traditionally, a heavy cream is used, so to make it vegan, you just need to alter the cream! Here are the main ingredients for this recipe:
Full fat coconut milk or coconut cream
Sugar
Vanilla (optional)
Using coconut milk allows you to get the perfect whipped topping but dairy free. My favorite brand is Thai Kitchen because it is consistently creamy. But there are others that work too.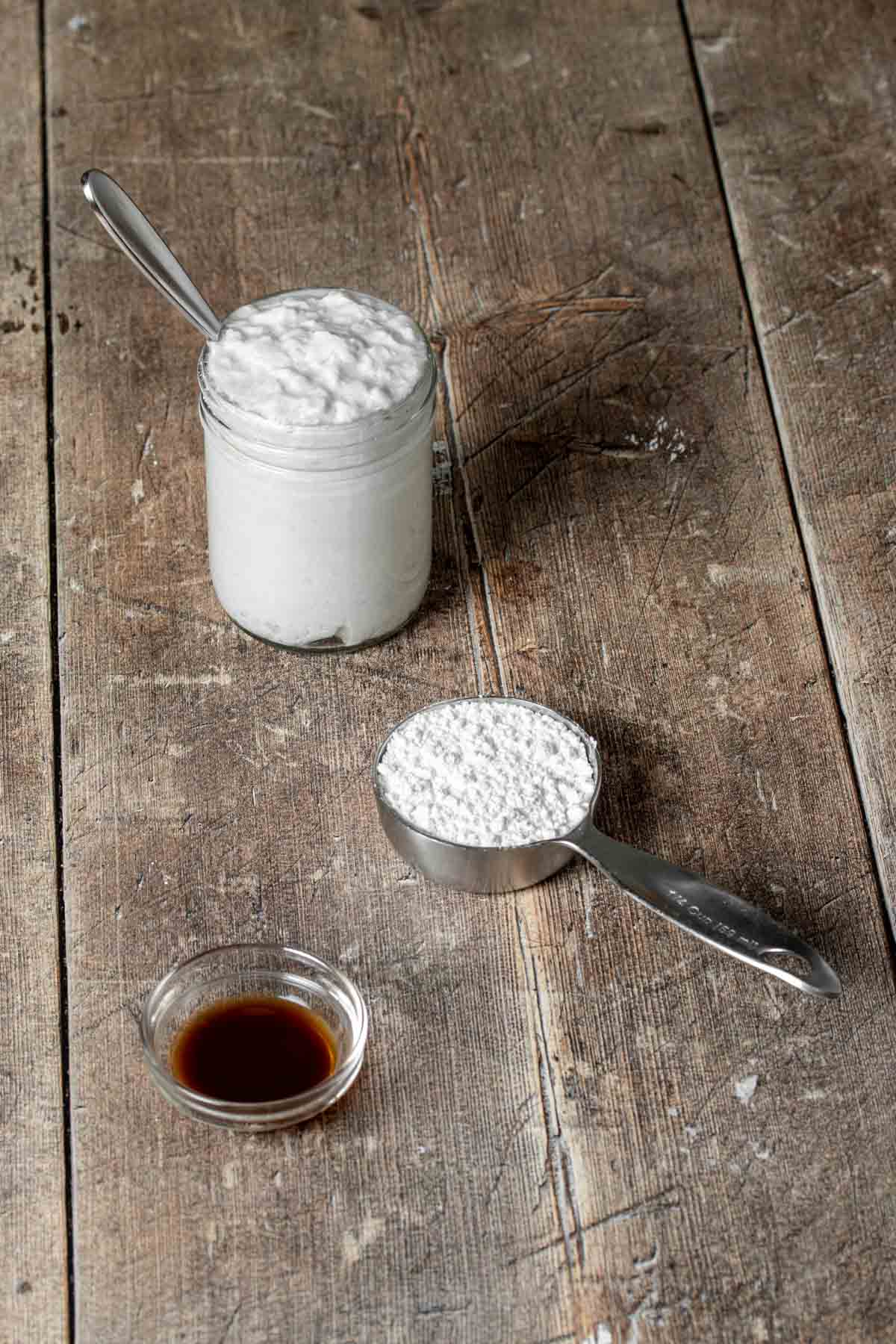 Can you Whip Coconut Milk?
Unlike its dairy counterpart, coconut milk cannot simply be poured into a bowl and whipped. In order to get the fluffy and airy texture with those perfect peaks you need to separate the fat.
When you chill a can of full fat coconut milk in the refrigerator, a thick layer forms on the top called coconut cream. This thick cream is scooped out without the liquid on the bottom. Once that's done you can whip coconut cream into plant based whipped cream!
How To Make Vegan Whipped Cream
The process for making vegan whip cream is pretty much the same for making the dairy kind, here's what you do:
Measure the coconut cream and other ingredients into a bowl.
Whip until fluffy.
Enjoy!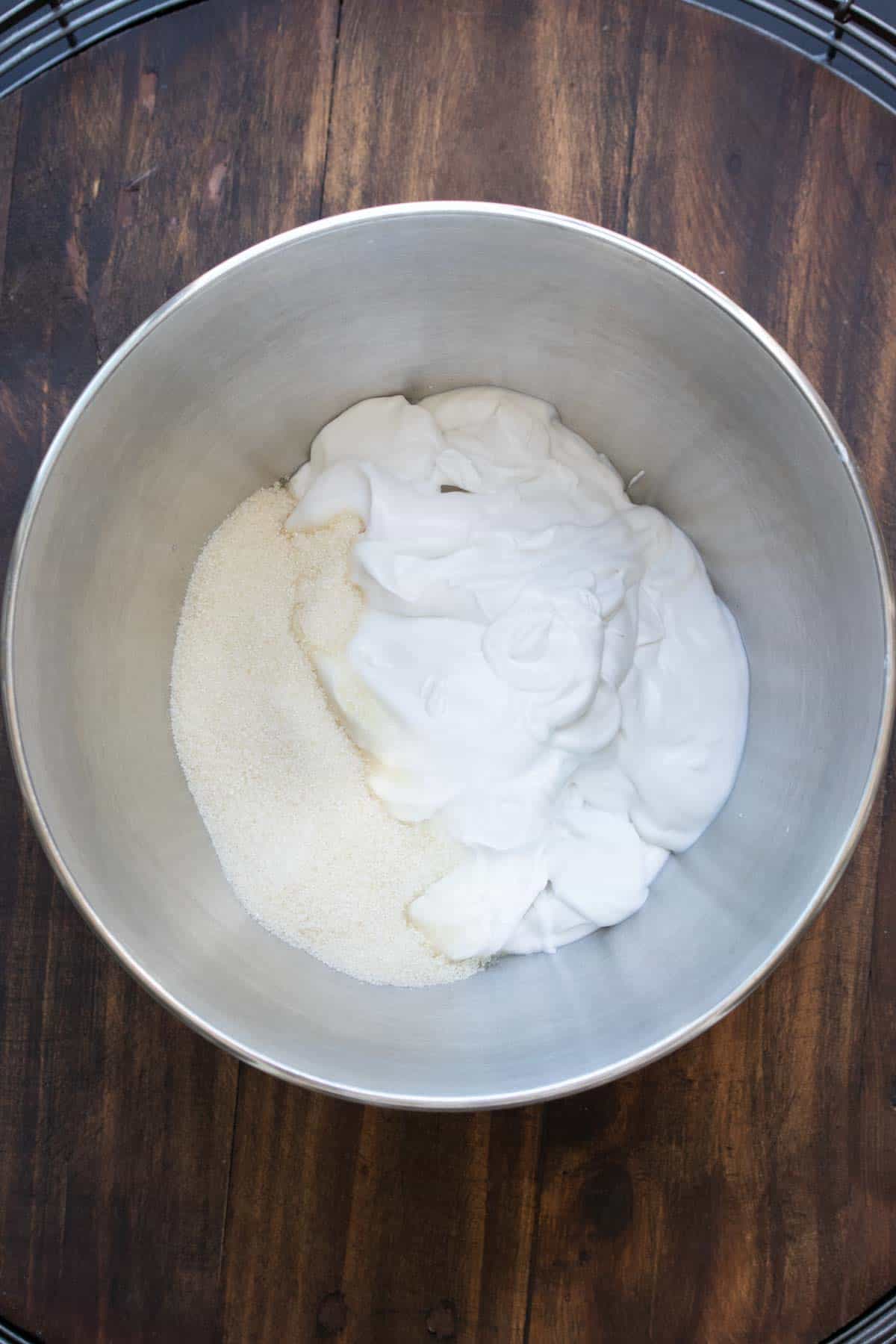 Tips for Separating the Cream
There is a method to getting this vegan whipped cream recipe to come out perfect, and that starts with separating the coconut cream from the watery part.
You need to start with full fat coconut milk, it won't come out right with low fat.
Put the can of milk into the fridge overnight.
Be careful not to shake the container when you take it out, the cream will be floating on top of the water.
Then you simply scoop it out!
Tools for Whipping the Coconut Cream
There are few different options when it comes to the methods. Here are all the ways I've tried from least energy to most energy:
Whisk attachment on my Kitchen Aide Stand Mixer
Whisk by hand
Flavor Suggestions
If you want to add more taste to your plant based whipped cream, you can mix in things like extracts and dry flavors. Here are some ideas:
Cocoa powder
Vanilla powder or extract
Peppermint extract
Blend freeze dried fruit into a powder
Essential oils certified for food grade use
Melted peanut butter or peanut butter powder
Seasonings like cinnamon, or for Fall try pumpkin pie spice!
Uses for Vegan Whipped Cream
This whipped cream can be served as a garnish or incorporated in other recipes. Here are some of my favorite ways to eat it:
As a frosting for cupcakes
As a dip for fruit or graham crackers
Storage Tips
This whip cream recipe is best served immediately. However, it is possible to still prepare it in advance.
The longer it is stored the less fluffy, smooth, and creamy it will be.
Place it in an airtight container and store in the fridge or freezer.
Refrigerate if you're enjoying the same day.
If it will be longer stick it in the freezer.
Defrost at room temp until it is soft enough to use.
Common Questions
Is whipped cream vegan?
Usually no, as whipped cream is generally made with dairy filled heavy cream.
What is a vegan substitute for whipping cream?
Coconut cream is best for making whipped cream. But, if you need heavy whipping cream for cooking, you can try any plant based milk with cornstarch, cashew heavy cream, or even tofu blended with soy milk.
What is vegan whipped cream made of?
Most vegan whip cream recipes, like this one, are made with coconut cream. However you can also make it with aquafaba, which is the liquid in a can of chickpeas.
How do you thicken coconut whipped cream?
The thickness of the coconut cream is enough to whip up a nice thick fluffy whipped cream without needing to add anything extra. Some coconut milk has gums in it, which can also help.
Can you make vegan whipped cream ahead of time?
Homemade whipped cream is best fresh. But you can make it earlier in the day and store it in the fridge or freezer until you are ready to use.
Can you make whipped cream from almond milk?
You can, but you will need extra ingredients such as cornstarch, xanthan gum, or gelatin.
More Dairy Free Recipes
Dairy Free alternatives are easy to make at home with whole food plant based recipes, here are some more of our favorites: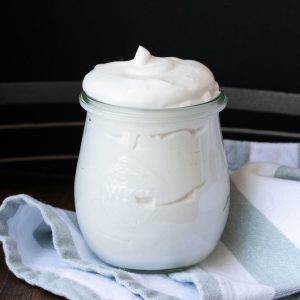 Easy Vegan Whipped Cream Recipe
This vegan whipped cream is made with three ingredients in two easy steps! It is the perfect dairy free alternative with amazing flavor.
Equipment
Mixer , either hand mixer or a stand mixer work
Ingredients
3 cups coconut cream , see note
4-6 tablespoons cane or powdered sugar
2 teaspoons vanilla extract , or 1 teaspoon vanilla bean powder (optional)
Instructions
For best results chill your mixing bowl in the freezer before making this.

If using coconut milk, take it out of the refrigerator and slowly open the cans. Using a spoon, scoop and measure out the top thick white layer and put it into the mixing bowl. Try not to get any of the water that has settled at the bottom.

If using coconut cream, simple measure it and put it in the mixing bowl.

You can also add the other ingredients now, or wait to add them after some whipping.

Using a beater or whisk attachment on a stand mixer, beat the thick coconut cream until nice and fluffy.

If you didn't add the sugar and vanilla, add it now and beat again until mixed in.

Serve on anything and everything!
Notes
Coconut cream is the top layer from a can of full fat coconut milk, stored in refrigerator for 2-3 days or freezer for 2-3 hours. You need about 1 can of full fat coconut milk to get ½ - 1 cup coconut cream (it varies by brand). Some brands also sell the cream alone (like Thai Kitchen).
The brand of coconut milk will make a difference as they are all different in flavor and texture. So the end result may be more or less whipped. A smooth coconut cream will work best.
Powdered sugar leads to the lightest texture, but cane sugar works too. You can also use maple syrup or date paste but it will affect the end texture a bit.
This makes about 4-5 cups, depending on how whipped it gets. Serving size is ¼ cup.
Recipe by Veggies Don't Bite, visit our site for more great plant-based recipes.
Nutrition
Calories: 157kcalCarbohydrates: 6gProtein: 1gFat: 15gSaturated Fat: 14gSodium: 9mgPotassium: 158mgSugar: 4gVitamin C: 1mgCalcium: 13mgIron: 2mg
Nutrition and metric information should be considered an estimate.
Never miss a recipe!
Sign up here and get a FREE quick and easy meal guide!