Roasted veggie tacos topped with citrus salsa are the perfect healthy way to mix up Mexican food! Easy to make with one pan and add your favorite toppings.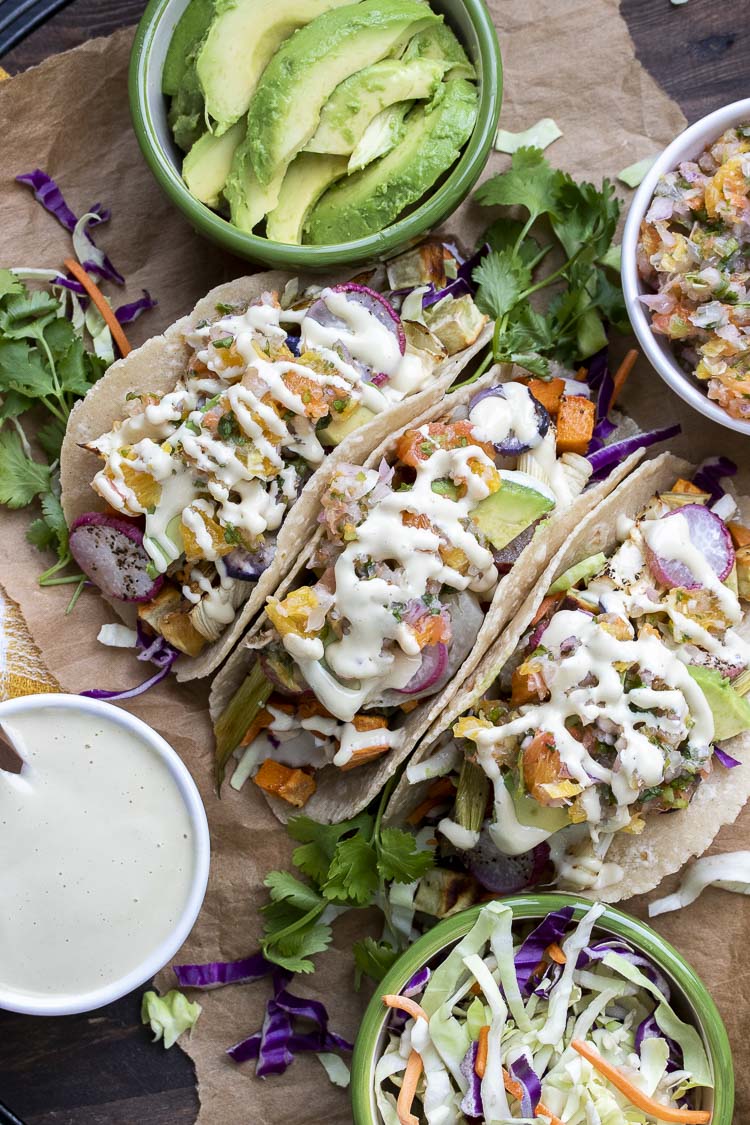 This recipe was originally published on 7/2/18
Tacos are life. As in any day of the week and not just Tuesdays life. We stuff them with anything and everything, and I am always on the hunt for new amazing combos.
With summer and warmer weather, I crave fresh and light ingredients, so when I experimented with some out of the box veggies and found a combo so delicious even my kids shoveled them in, I just had to post.
Roasted Veggie Tacos
You really don't need fancy stuff to make good food. Real veggies taste incredible with just a simple salt, pepper and roast. They are so versatile with how you can use them, but we especially love them in tacos.
What vegetables go good in tacos?
You really can put any veggie in a taco. Some typical ones you see are:
onions
tomatoes
zucchini
peppers
chiles
avocado
lettuce
cabbage
But roasting can completely change or enhance the flavor of veggies, so mixing it up is a fun way to keep things exciting. Case in point, fennel and radishes. Raw, they both have a sharp flavor not favored by many.
Toss them in some salt and pepper, drizzle of broth or oil and throw them in the oven....you come out with this incredible taste and you won't believe it's the same veggie!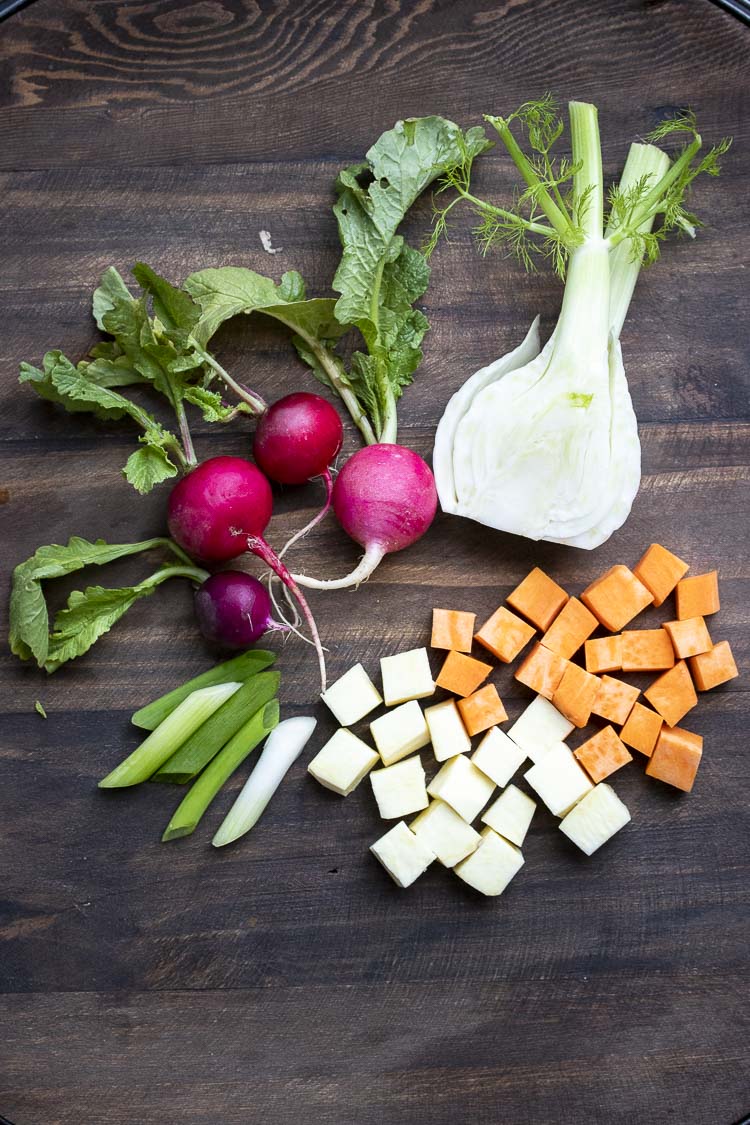 Roasting can also caramelize veggies. One of my favorite veggies to roast and grab that caramelized flavor is sweet potatoes. Truth, I don't really love sweet potatoes unless they are french fries, or roasted until crisp.
I love the savory flavor that roasting gives them with that undertone of sweetness. They go perfect when paired with roasted fennel and radishes, and then throw in some tangy citrus salsa and OMG talk about taking food to the next level.
What do you put on veggie tacos?
I am a load them up kind of veggie taco eater. I love adding a variety of textures and flavors to my food, especially my tacos. As my husband and I always say, we need the crispy with the soft.
When it comes to tacos, the best simple way to throw in a perfect crisp is cabbage. Super simple, cut it really thin and toss it into the taco as a base.
Sometimes I like to flavor the cabbage with things, but if you add sauce, there is no need. You can toss the cabbage with the sauce if you prefer, but I just layer them together in the taco because who needs extra steps...the quicker I get them into my mouth, the better.
Couple the crispy cabbage with a nice soft tortilla, and that is the perfect texture combo.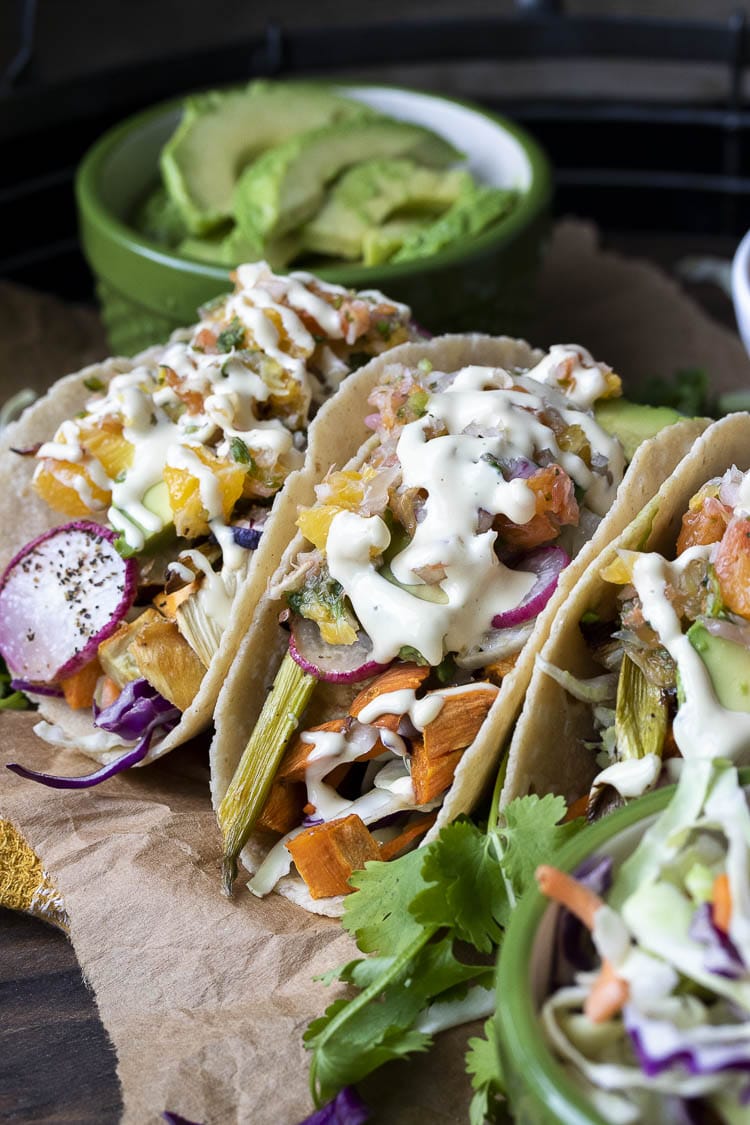 Are corn tortillas vegetarian or vegan?
If your tortilla doesn't include milk or eggs, it's vegan! And also then vegetarian. The best tortillas are the most simple: corn, lime and maybe oil. You can even make them at home like I do here with this homemade corn tortilla recipe.
I love a good tortilla, anything that tastes like cardboard just won't do. So if you can't find them at your local store, just make them yourself!
Making the Perfect Roasted Veggie Tacos
The great thing about veggie tacos is they are easy to prep so you can have dinner for a few days. You can even repurpose the ingredients for things like:
bowls
burritos
add them to dips
quesadillas
They are easy to make since it's basically a one sheet pan kind of meal. You decide what toppings you want, homemade or store bought, whatever you pick to make it best for you!
Roast the veggies.
Make the toppings you want while they are cooking, I suggest you make the citrus salsa and citrus cream sauce (it's amazing how you can get two incredible toppings with this one recipe!).
Build and eat!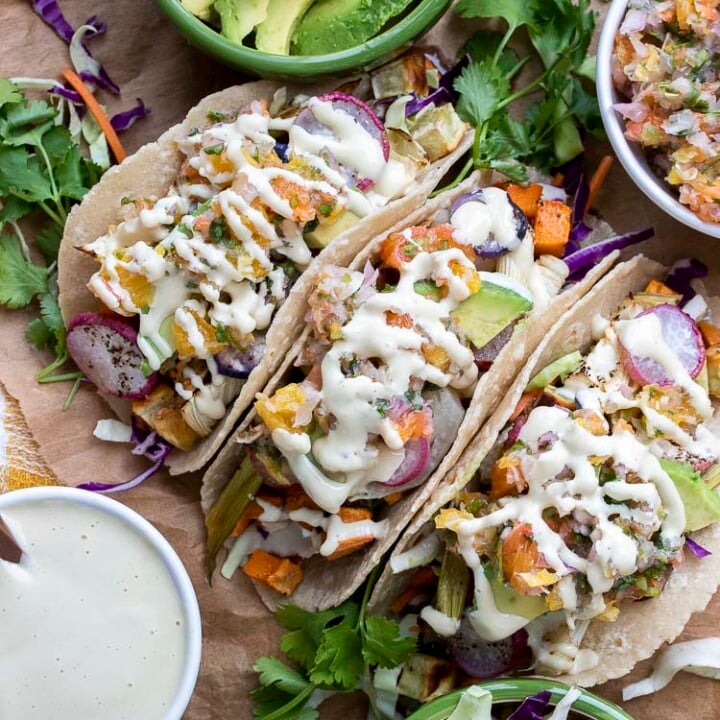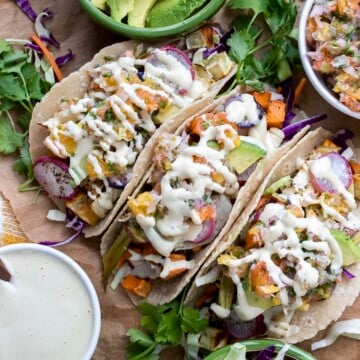 Roasted Veggie Tacos with Citrus Salsa
Roasted veggie tacos topped with citrus salsa are the perfect healthy way to mix up Mexican food! Easy to make with one pan and add your favorite toppings.
Ingredients
1 bulb fennel , sliced
1 bunch radishes about 8-9, sliced
1 small sweet potato , chopped
3 green onions , cut into long slices
¾ teaspoon sea salt
½ teaspoon ground black pepper
Drizzle of veggie broth or your favorite oil for roasting
Optional But Highly Recommended Toppings:
Instructions
Preheat oven to 400 F (205 C)

Toss fennel, radishes, sweet potato and green onions with salt, pepper and a drizzle of broth or oil.

Place on a parchment lined baking sheet and roast them at 400 F for 45 minutes.

While they are cooking, make citrus salsa and citrus cream sauce if they are not prepared. Prep cabbage and avocado.

When the veggies are done, assemble tacos by putting cabbage at the bottom of the tortilla, then topping with roasted veggies, salsa, cream sauce and avocado. Devour.
Notes
This recipe makes an average of 9 tacos but can make more or less depending on how much you fill them.
Nutrition information does not include the optional toppings, you can find the nutrition information for the citrus salsa and citrus cream in the link provided.
Tips to prep ahead:
Make the citrus salsa and cream sauce. You can also roast the veggies and prep the cabbage for easy to throw together tacos the day of. The avocado should be sliced fresh so it doesn't brown.
Recipe by Veggies Don't Bite, visit our site for more great plant-based recipes.
Nutrition
Calories: 67kcalCarbohydrates: 14gProtein: 1gFat: 0gSaturated Fat: 0gPolyunsaturated Fat: 0gMonounsaturated Fat: 0gTrans Fat: 0gCholesterol: 0mgSodium: 205mgPotassium: 179mgFiber: 2gSugar: 0gVitamin A: 90IUVitamin C: 4.7mgCalcium: 38mgIron: 0.6mg
Nutrition and metric information should be considered an estimate.
Never miss a recipe!
Sign up here and get a FREE quick and easy meal guide!