These easy vegan gluten-free falafel are baked to perfection. They are full of protein, amazing kid food and and can be used in so many ways!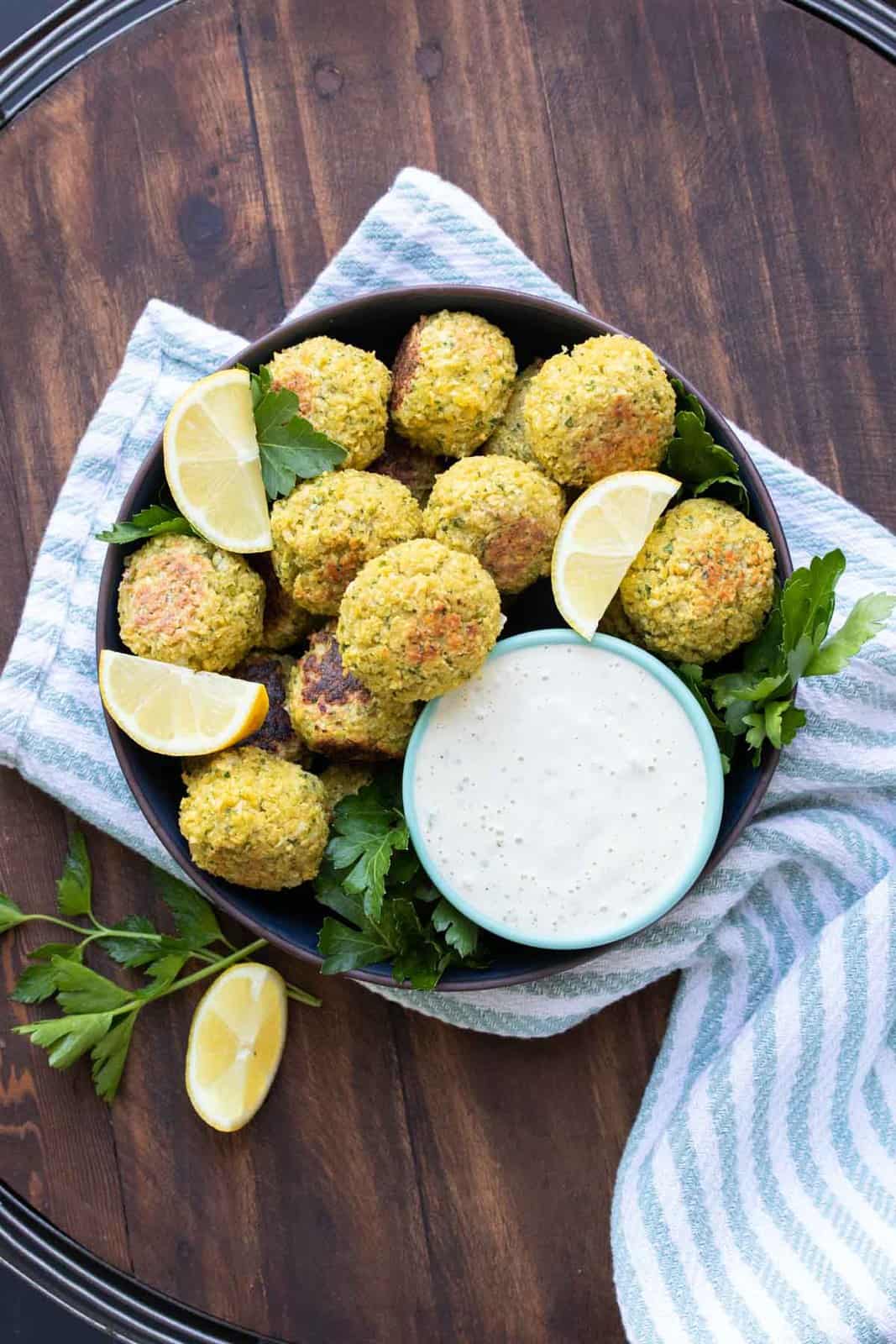 This post originally published on
The thing I love most, is when I make a meal that every one will eat. This is what happened the first time I made these baked falafel. They are the perfect family meal, because everyone can eat them how they want!
Vegan Gluten-Free Falafel
This recipe will become an easy staple in your meals. It's simple enough in flavor so your kids will like it, but pairs well with all the things to bring in that flavor.
Side note, did you know that you are born with all of your taste buds, but as you age they slowly die off? This is why old people need lots of salt, and babies should be eating low salt plain food!
When we call kids "picky" we really aren't keeping in mind that what they taste is a lot more pronounced than what we taste. Which is why I love this recipe!
This recipe came from a beautiful book, Cut The Sugar, by my friend Ella Leche from the blog Pure Ella. It focuses on recipes that are lower in sugar, along with ways on how to cut back sugar overall.
It is filled with over 100 sugar-free or low sugar recipes, all whole food based, easy and mouthwatering!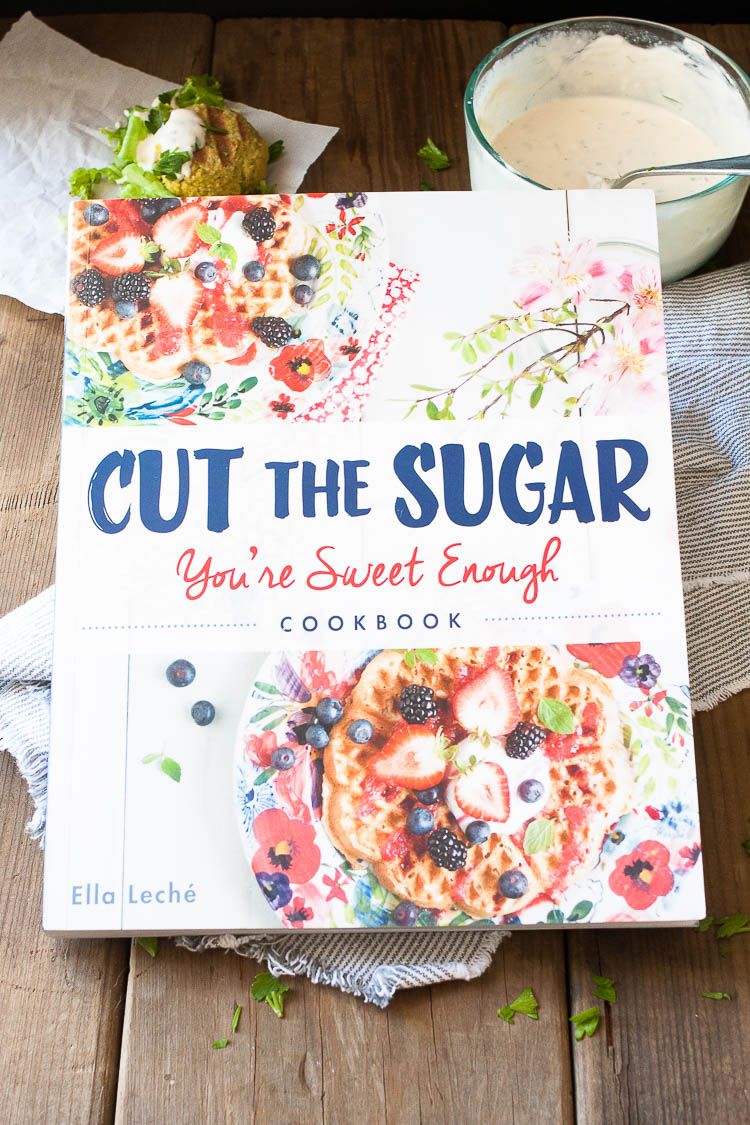 Is falafel gluten-free?
It all depends on the ingredients. Traditional falafel is mostly chickpeas, so would be gluten-free. Some recipe add flour to help with structure, so you'd have to make sure the flour used is gluten-free.
This recipe calls for tapioca starch, which is gluten-free, and also holds together the structure here very well!
Basic ingredients
The traditional falafel recipe contains the following ingredients:
Dried chickpeas, soaked overnight
Onion
Garlic
Fresh herbs
Spices/seasonings
Many newer recipes add flour or eggs to help with structure. But it's not often needed if you soak the chickpeas long enough and blend them well,
Why can't you use canned chickpeas?
Canned chickpeas won't give you the same texture as using fresh chickpeas. Using canned chickpeas usually results in a falafel that is too mushy and tends to fall apart.
If you needed to use canned chickpeas, you'd need to make sure you dry them off completely before using them. But they still will not have the best overall texture.
I grew up in a house where we soaked our beans, they give such a great texture to things. Just look at my whole food based Vegan Taco Meat , the dried chickpeas give it that chewy texture it needs!
Why do you need baking powder?
Baking powder helps the falafel get nice and fluffy on the inside. This recipe doesn't use it, but uses tapioca starch instead which yields a similar result. It helps these falafel end up with that perfect texture!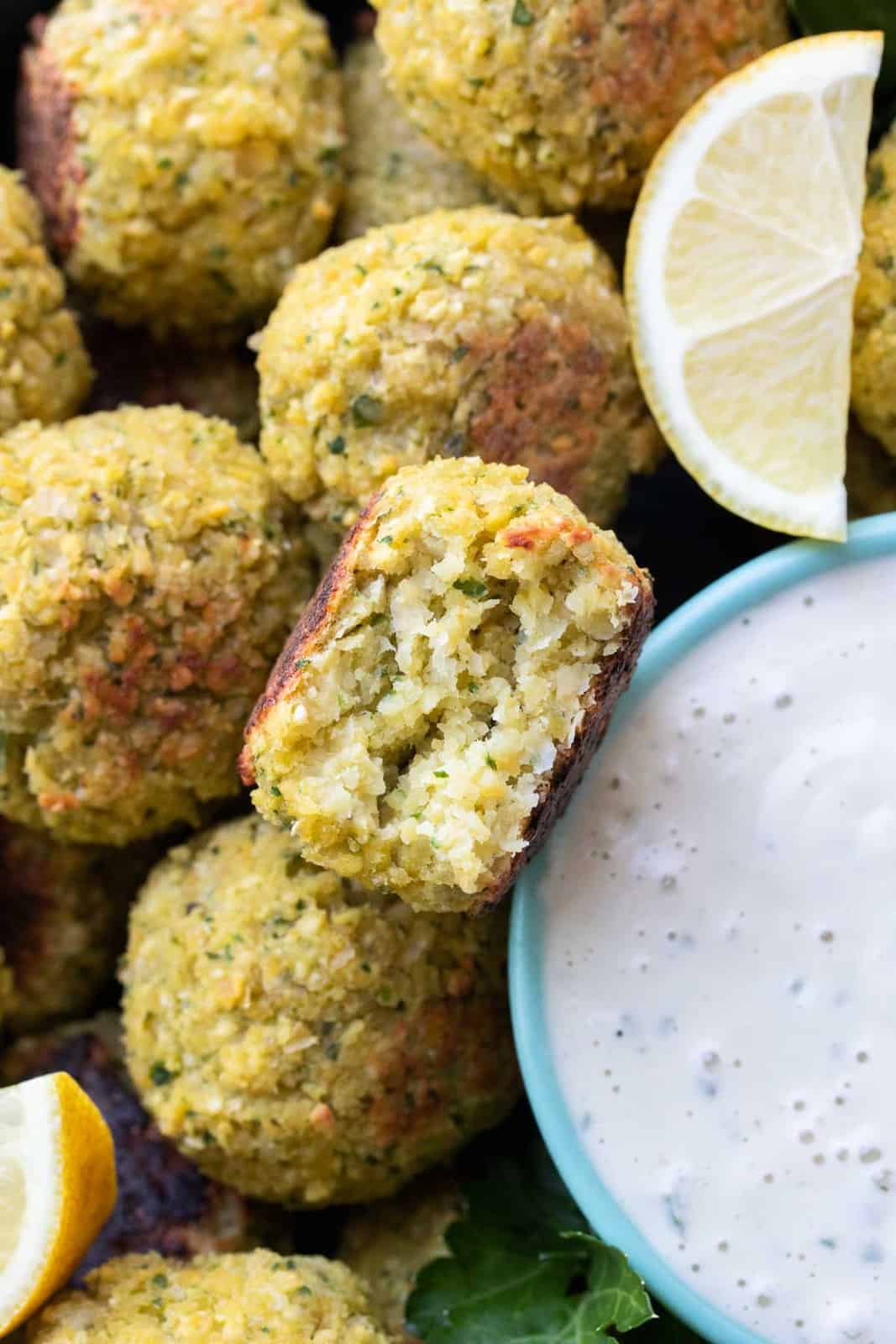 Tips to prep ahead and make in bulk
These falafel are the perfect recipe to have in the freezer for those crazy nights. It's easy to prep the mixture ahead of time. It's actually best to prep it the night before and let it set in the fridge. This will let it hold together better!
When making in bulk, you want to freeze these raw. All you need to do is shape the falafel, the put them on a parchment lined cookie sheet and freeze. Once frozen, store the balls in a plastic freezer bag or freezer friendly air tight container. They are good for up to about a month.
How To Make Vegan Gluten-Free Falafel
Pulse to make the falafel mixture.
Shape into balls.
Bake, or fry if you prefer.
Serve with yummy sauce!
Baking tips
Traditionally, falafel is fried. But It is possible to bake them and still get that crispy outer coating! The best way to do so is to use parchment paper. Parchment helps crisp the edged of whatever it is you are baking on it.
If you are totally oil free, you can even get a great crisp without the oil by using parchment paper.
Tips for shaping
Falafel has an awesome signature round shape. This gives the perfect ratio of outer crispy edge, and soft center. To get the right shape, you can use a few different techniques:
Use an ice cream scoop or melon baller.
Spoon mixture into your palm and shape into a ball with your hands.
Use two spoons, one to scoop the mixture and then the other to press it together and form a ball.
How to use falafel
The best thing about having falafel for dinner is how easy it is to use them in various ways. This makes for a dinner that everyone will eat! Here are our favorite ways to use these vegan gluten-free falafel:
How to add veggies
You definitely add veggies into falafel. You just need to make sure the veggies you are using do not have too much moisture. I would stick to a 50/50 ratio between veggies and chickpeas. Here are the veggies I think would work best:
Spinach
Chard
Kale
Collards
Broccoli
Cauliflower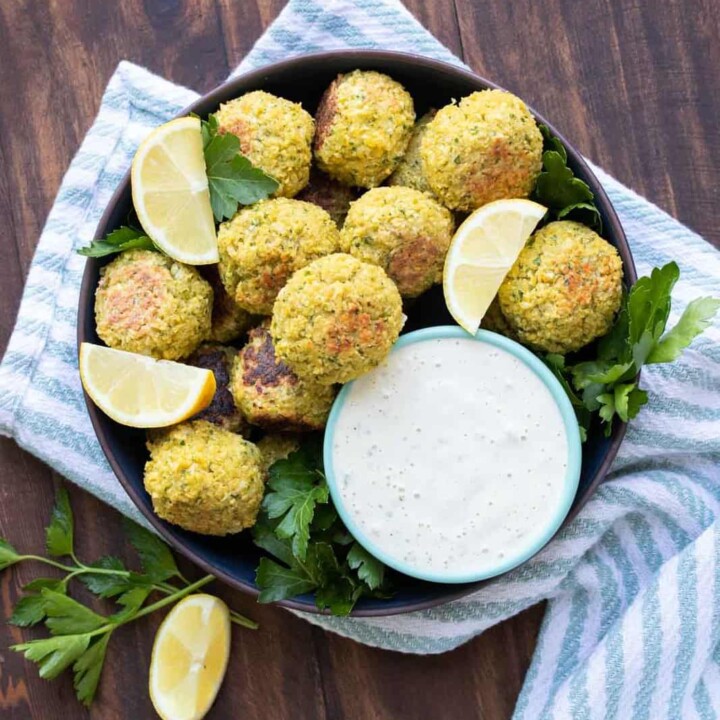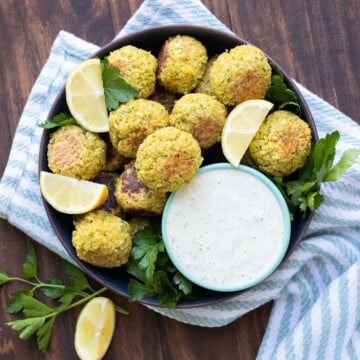 Baked Vegan Gluten-Free Falafel
These easy vegan gluten-free falafel are baked to perfection. They are full of protein, amazing kid food and and can be used in so many ways!
Ingredients
Falafel
1 ½ cups dried chickpeas , soaked in water for at least 6 hours
3 cloves garlic , peeled
1 small onion , coarsely chopped (I used 1 cup)
¼ cup chopped flat-leaf parsley
1 tablespoon tapioca starch , or any starch of your choice such as potato starch or cornstarch
2 teaspoons ground cumin
1 ½ teaspoons sea salt
1 teaspoon ground coriander (I left this out)
Freshly cracked black pepper , I used ½ teaspoon
½ cup grapeseed oil or neutral oil of your choice , see notes for oil free
Optional sauce for dipping
Instructions
Drain the chickpeas and place in a food processor. Add the garlic, onion, parsley, tapioca, cumin, salt, coriander, and pepper to taste. Process on high speed until everything is well blended. Halfway through, turn off the processor and scrape down the sides to incorporate all the ingredients.

Remove the blade from the processor bowl. Scoop a spoonful of mixture into your hand and shape into a ball or egg. Continue with all the mixture.
If baking:
Put balls of falafel on a parchment lined baking sheet.

Bake at at 350 F/ 175 C for 15 minutes on each side.
If frying:
Heat a frying pan over medium heat and add oil. To test the oil, simply drop in a tiny piece of the chickpea mixture; if the oil gently bubbles around it, you're good to go. If it just sits there, give it more time to heat up. If it makes cracking noises and bubbles strongly, it is too hot. Adjust your heat accordingly.

Drop the falafel balls in gently; do not throw them, as that could cause splattering and you might get burned. Put in as many as can fit without crowding. You should be able to move them around and flip them and they should not overlap.

Cook for about 3 minutes on the first side. Look for a golden yellow color. Gently flip with a long fork or tongs and cook on the other side, about 2 minutes. Remove with a slotted spatula or spoon and drain on a paper towel-lined plate. Serve with the tahini sauce
To make the sauce:
in a food processor or a small bowl, combine all of the ingredients. If mixing in a bowl, be sure your garlic is minced very finely. If the sauce is too thick, add a teaspoon warm water and blend until the sauce is a little thinner. The sauce will keep in an airtight container in the refrigerator for up to 5 days.
Notes
You can use canned chickpeas but the end result will not be the same. It won't be as fluffy and have the same texture.
I was also able to grill them on a non stick pan without oil.
I got 20 falafel balls with this recipe.
Nutrition facts are for the falafel only, oil-free version.
Tips to prep ahead:
soak the chickpeas, make the sauce.
Baby/toddler food idea:
great food for little ones. For older baby or toddler make into nugget bite pieces and give sauce to dip.
This recipe was reprinted from Cut The Sugar with permission from Ella Leche.
Recipe by Veggies Don't Bite, visit our site for more great plant-based recipes.
Nutrition
Calories: 299kcalCarbohydrates: 51gProtein: 15gFat: 5gSaturated Fat: 1gSodium: 803mgPotassium: 744mgFiber: 14gSugar: 9gVitamin A: 379IUVitamin C: 11mgCalcium: 104mgIron: 6mg
Nutrition and metric information should be considered an estimate.
Never miss a recipe!
Sign up here and get a FREE quick and easy meal guide!