It's quick, it's full of protein, low fat and can be used in so many ways! This easy vegan falafel is your new weekly staple. Simple yet so flavorful!
As a busy mom of three kids, or really any busy person, having a simple but healthy go-to meal is a must. Especially important is one that won't invoke tantrums or food being thrown.
So when I set out to find a recipe in this beautiful new book, "Cut The Sugar" by Ella Leche, of the blog Pure Ella, to share with you all, I searched for something my whole family would love.
There are so many amazing looking recipes in this book, but when I came across her simple vegan gluten free falafel recipe I was sold. I figured that at least 4 of us would eat it, the 4 year old is a ticking time bomb so we pretty much accept the nightly dinner tantrum, so the odds were good enough for me. Vegan falafel it was! And that tahini sauce…
Ella's "Cut The Sugar" book is filled with over 100 sugar-free or low sugar recipes, all whole food based, easy and mouthwatering! It is a practical, real-life approach to reducing sugar the healthy way so you don't feel deprived, because we all need those treats.
This is not a sugar-detox book but instead will help you change your relationship with the foods you love and solve your cravings the healthy way. There are recipes for breakfast, lunch, dinner, snacks, and even dessert! I had a hard time choosing which recipe to showcase, but the vegan falafel was just calling my name.
Naturally, it's easy to make gluten free falafel by subbing the flours. But I loved that this one used one of my favorites, tapioca starch, to help get the right texture.
I also loved that this easy vegan falafel was made the traditional way, with soaked dried chickpeas instead of canned. I grew up in a house where we soaked our beans, and I actually have been working on a recipe using this soaked chickpea strategy (it's not falafel but something I wanted to have a similar texture), so as soon as I saw her recipe I knew I had to try it.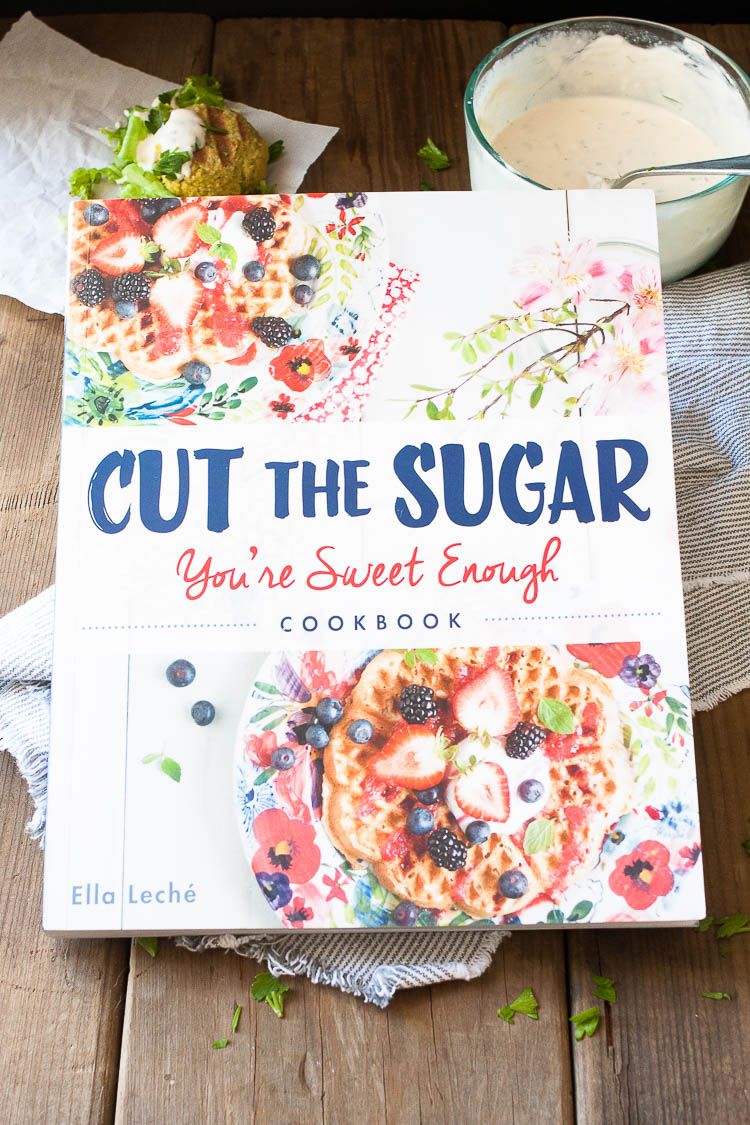 Easy Vegan Falafel Heaven!
The one surprise that I had: EVERY SINGLE PERSON IN MY FAMILY DEVOURED IT. Yes friends. The normal nightly dinner tantrum by said four year old did not happen. I literally sat there mouth hung open when I heard " Mommy, these nuggets are SO good." Ummm, okay.
He ate 5. And even though I was kinda mad that the leftovers I had planned for the next night were gone, I was so happy to have found something he liked, I just kept giving him falafel. And he kept eating it. Let's just say that these will be a weekly dinner, so thank goodness they are SO easy to make!
Some other recipes you may love:
Banana-Sweetened Blueberry Protein Pancakes
Creamy Avocado-Cucumber Rolls
Chocolate-Dipped Almond & Cacao Nib Biscotti
Pure Goddess Salad
Brussels Sprout, Pea & Fresh Dill Soup
Raw Berry Swirl Raw Cheesecake
Simply Divine Raw Chocolate Truffles
If you're looking for a beautiful book and especially if you are trying to cut your sugar, this one is fabulous! Give this easy vegan falafel a try, and you'll see just how easy they are.
Perhaps you have a dinner hater you can woo?? Leave me a comment here and let me know, who's most likely to throw food in your family? You can also find me on Facebook and on Instagram, tag me at veggiesdontbite AND #veggiesdontbite so I don't miss it. I love hearing from you all everywhere!
Easy Vegan Gluten Free Falafel with Tahini Sauce
It's quick, it's full of protein, low fat and can be used in so many ways! This easy vegan falafel is your new weekly staple. Simple yet so flavorful!
Keyword:
gluten free falafel, low sugar dinners
Ingredients
Falafel
1 1/2

cups

dried chickpeas

soaked in water for at least 6 hours

3

cloves

garlic

peeled

1

small onion

coarsely chopped

1/4

cup

chopped flat-leaf parsley

1

tablespoon

tapioca starch or any starch of your choice

such as potato starch or cornstarch

2

teaspoons

ground cumin

1 1/2

teaspoons

sea salt

1

teaspoon

ground coriander

Freshly cracked black pepper

1/2

cup

grapeseed oil or neutral oil of your choice
Tahini Sauce
1/2

cup

tahini

3

cloves

garlic

crushed

1/2

teaspoon

fine sea salt

2

tablespoons

extra-virgin olive oil

juice of 1/2 lemon

1

teaspoon

finely chopped fresh flat-leaf parsley

optional
Instructions
Drain the chickpeas and place in a food processor. Add the garlic, onion, parsley, tapioca, cumin, salt, coriander, and pepper to taste. Process on high speed until everything is well blended. Halfway through, turn off the processor and scrape down the sides to incorporate all the ingredients.

Remove the blade from the processor bowl. Scoop a spoonful of mixture into your hand and shape into a ball or egg. Continue with all the mixture.

Heat a frying pan over medium heat and add oil. To test the oil, simply drop in a tiny piece of the chickpea mixture; if the oil gently bubbles around it, you're good to go. If it just sits there, give it more time to heat up. If it makes cracking noises and bubbles strongly, it is too hot. Adjust your heat accordingly.

Drop the falafel balls in gently; do not throw them, as that could cause splattering and you might get burned. Put in as many as can fit without crowding. You should be able to move them around and flip them and they should not overlap.

Cook for about 3 minutes on the first side. Look for a golden yellow color. Gently flip with a long fork or tongs and cook on the other side, about 2 minutes. Remove with a slotted spatula or spoon and drain on a paper towel-lined plate. Serve with the tahini sauce
To Make The Sauce
in a food processor or a small bowl, combine all of the ingredients. If mixing in a bowl, be sure your garlic is minced very finely. If the sauce is too thick, add a teaspoon warm water and blend until the sauce is a little thinner. The sauce will keep in an airtight container in the refrigerator for up to 5 days.
Recipe Notes
I made with without oil, I grilled them on my inside mini grill and they firmed up perfectly. You could probably also bake them as well.
I was able to get 20 falafel balls with this recipe.
Tips to prep ahead: soak the chickpeas, make the sauce.
Baby/toddler food idea: great food for little ones. For older baby or toddler make into nugget bite pieces and give sauce to dip. This recipe was reprinted from Cut The Sugar with permission from Ella Leche.
Nutrition Facts
Easy Vegan Gluten Free Falafel with Tahini Sauce
Amount Per Serving
Calories 787
Calories from Fat 486
% Daily Value*
Fat 54g83%
Cholesterol 0mg0%
Sodium 455mg19%
Potassium 890mg25%
Carbohydrates 59g20%
Protein 20g40%
Vitamin A 400IU8%
Vitamin C 12.7mg15%
Calcium 150mg15%
Iron 7mg39%
* Percent Daily Values are based on a 2000 calorie diet.