This vegan potato salad is one of my husband's favorite recipes! It is made with all whole foods, no mayo, and pairs perfectly with just about anything.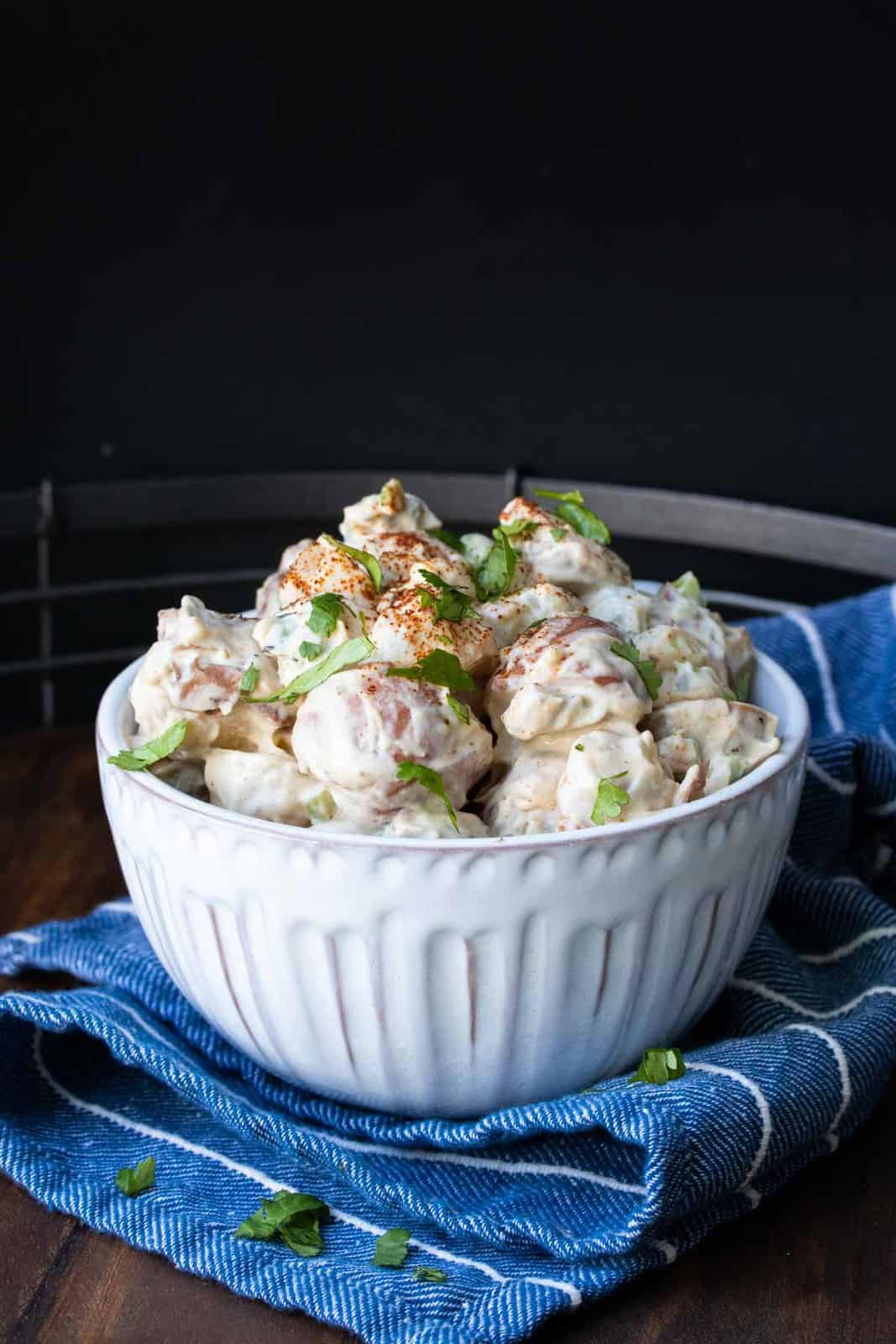 This creamy version tastes better than the original mayo filled kind. It's made with ingredients you can easily find and the flavor is amazing! Plus, it's easy to make and gets better as the days go on so a perfect make ahead recipe.
Vegan Potato Salad
Potato salad is an American classic, perfect for picnics, barbecues or cookouts. It's my favorite time of the year! But traditional potato salad makes me feel full and heavy. It doesn't do wonders to my belly. So I set out to create a vegan version my body loved!
Does potato salad contain dairy?
Traditionally potato salad can be based on a combo of mayonnaise, buttermilk and/or sour cream. So definitely can have it's fair share of dairy. However, this is a vegan potato salad recipe so it is dairy-free!
Do you peel potatoes before boiling?
This really depends on personal preference. Some people prefer the smooth peeled potato consistency. I however like the little bit of color the skin gives to the potato salad, plus the texture it brings in, but it's up to you!
If you want a peeled potato, you can also boil with the skins on, then take the skin off after. It comes off super easy!
Why does my potato salad get watery?
This is definitely an issue when making potato salad. There are a few key tricks to making sure you don't end up with a watery mess.
First, the type of potato you use matters. You want to use firm or waxy potatoes, like yukon gold or red potatoes, and avoid starchy potatoes, like russets.
Make sure to drain them well after cooking. Lay them out to cool and dry completely before continuing with the recipe. You can also pat them dry with a paper towel.
Allow them to cool and dry all the way before mixing the potato salad. As things cool, they release water, so if you make it too soon that water will go into the salad.
Add the salt to the dressing not the potatoes. Salt draws water out of things. So if you salt the potatoes first, they will seep water. By adding the dressing in, they will absorb that first.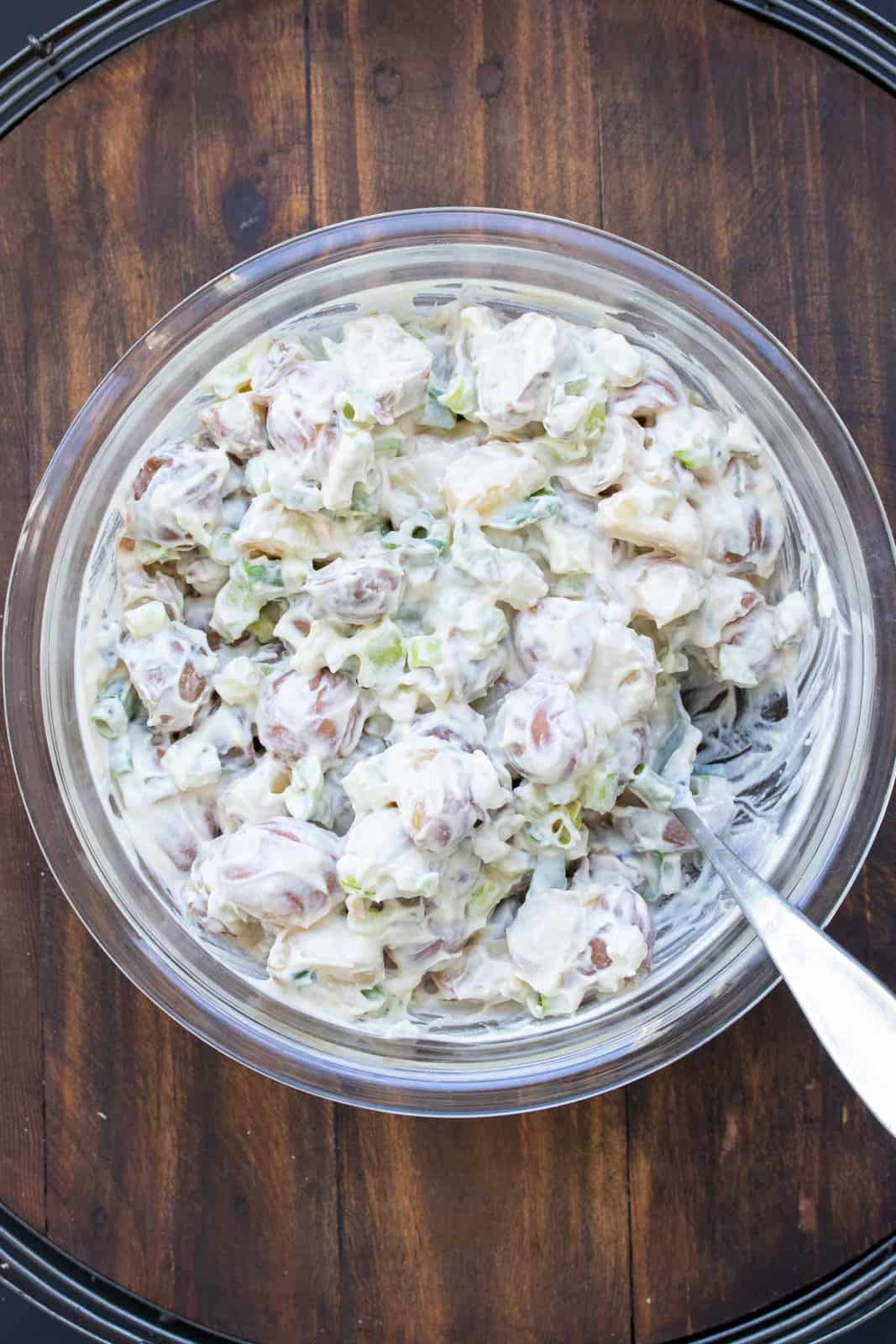 Is it better to boil potatoes whole or cut up?
Potatoes that are cut up will cook more quickly. However you are also giving them a bigger surface area to absorb water. So you need to figure out what you prefer. I like to use the small roasting potatoes because all I need to do is cut them in half.
But overall, this won't matter too much as long as you follow all the other tips!
Tips for making ahead of time
The great thing about this recipe is that it gets better with age. The flavors meld together well so it's even more amazing the next day! To make this even easier, you can cook the potatoes ahead of time and put them in the fridge so they have plenty of time to cool.
Day of, simple make the dressing and combine! You could also make the dressing ahead of time, but at that point you may as well mix it all up since it would give it time to be even more flavorful
Make sure to store in an airtight container. It will last about 5-7 days in the fridge. If you are going to a vegan picnic or barbecue, this is a perfect dish to bring. It travels well and is a huge crowd pleaser!
How Do You Make Vegan Potato Salad From Scratch?
This recipe is super easy and simple. You can prep part of it ahead of time, and it is even yummier the next day!
Make the dressing.
Cook the potatoes and gather all the ingredients.
Mix everything together.
Serve!
Mix in ideas
You can easily make this vegan potato salad recipe your own by adding in veggies you love. Other than the traditional celery, green onions and pickles I used, here are some other things that would be delicious:
Bell peppers
Jalapeno peppers
Red onion
Broccoli
Zucchini
Radish
Avocado
Fresh herbs like parsley or basil
Bacon like this Vegan Coconut Bacon
Potato chips
Chopped nuts or seeds
What to serve with potato salad
This recipe goes with so many great things! It's perfect for a picnic food themed dinner too. Here are some of our favorites: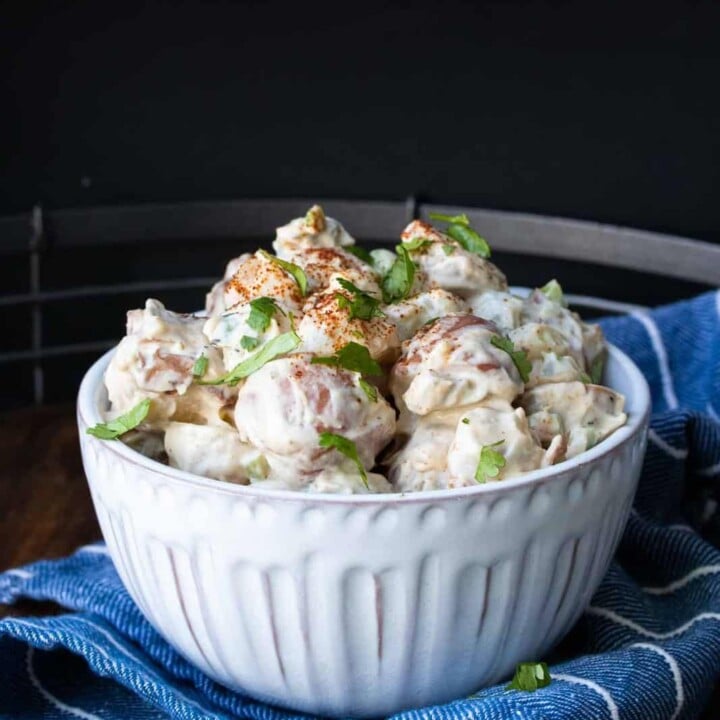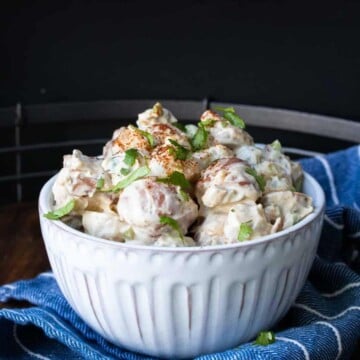 Vegan Potato Salad Recipe
This vegan potato salad is one of my husband's favorite recipes! It is made with all whole foods, no mayo, and pairs perfectly with just about anything.
Ingredients
2 pounds potatoes (see note)
1 cup chopped celery
1 cup sliced green onions
½ cup chopped dill pickles
½ teaspoon ground black pepper
Paprika , optional for garnish
Dressing:
1 cup raw cashews (see note)
¼ cup cooked potato
½ cup cooked white beans , rinsed and drained
¾ cup water
2 tablespoons dill pickle juice
1 ½ teaspoons sea salt
1 clove garlic
¼ teaspoon ground mustard seed
Instructions
Put potatoes (can be whole or cut) into a pot and cover with water. Put top on and bring to a boil, about 5-10 minutes depending on stove.

Reduce heat to a rolling boil and cook until you can pierce them with a fork, about 20 minutes.

While they are cooking, make the creamy dressing by putting the ingredients into a high speed blender and blend until creamy and smooth.

Once potatoes are done, drain and rinse in cold water and pat dry. Allow to cool completely. Cut if you boiled them whole.

Put the cut potatoes into a bowl and add the creamy dressing. Add the celery, green onions, pickles and pepper.

Mix well.

Place in the fridge to allow the flavors to mix in.

Serve with paprika if desired!
Notes
Use a waxy firm potato like a red or Yukon gold. Starchy potatoes like russets will get mushy. I like using the small round roasting potatoes.
If you are not using a high speed blender you can either soak the cashews overnight or grind them into a fine powder using a coffee grinder.
Tips to prep ahead:
Cook potatoes. Make dressing.
Baby/toddler food idea:
Great kid food. Make sure celery and green onion are chopped into small pieces.
Recipe by Veggies Don't Bite, visit our site for more great plant-based recipes.
Nutrition
Calories: 238kcalCarbohydrates: 32gProtein: 10gFat: 10gSaturated Fat: 2gSodium: 735mgPotassium: 933mgFiber: 6gSugar: 2gVitamin A: 264IUVitamin C: 22mgCalcium: 85mgIron: 7mg
Nutrition and metric information should be considered an estimate.
Never miss a recipe!
Sign up here and get a FREE quick and easy meal guide!