The search is over, this is not just another vegan ranch dressing. This is the absolute best vegan ranch dip recipe there is! Tastes just like the original!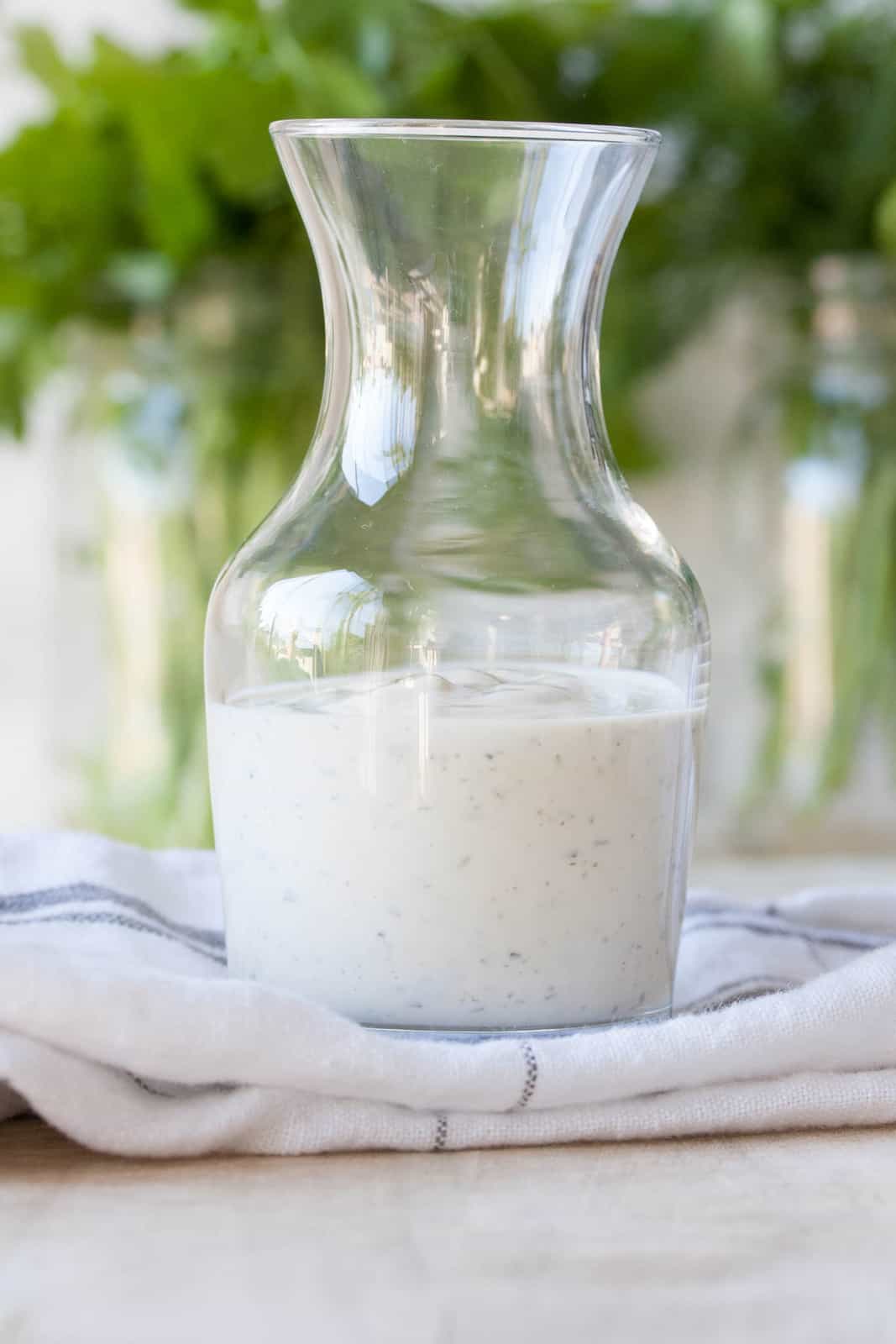 Let's talk ranch. I have tried a few different recipes out there. Some not bad, but none that could stand up next to regular ranch and fool anyone. I swear I have served my vegan ranch dressing to many people and
no one had any idea it was vegan.
Vegan Ranch Dressing
When I created my recipe I had regular ranch taste tests with friends to compare each step of the way. This is legit people. This vegan ranch dressing is the real deal.  It's a weekly staple and my kids will eat anything as long as it is dipped in mommy's ranch!
Some of our favorite things to use it with are:
The norm veggies, crackers, chips, etc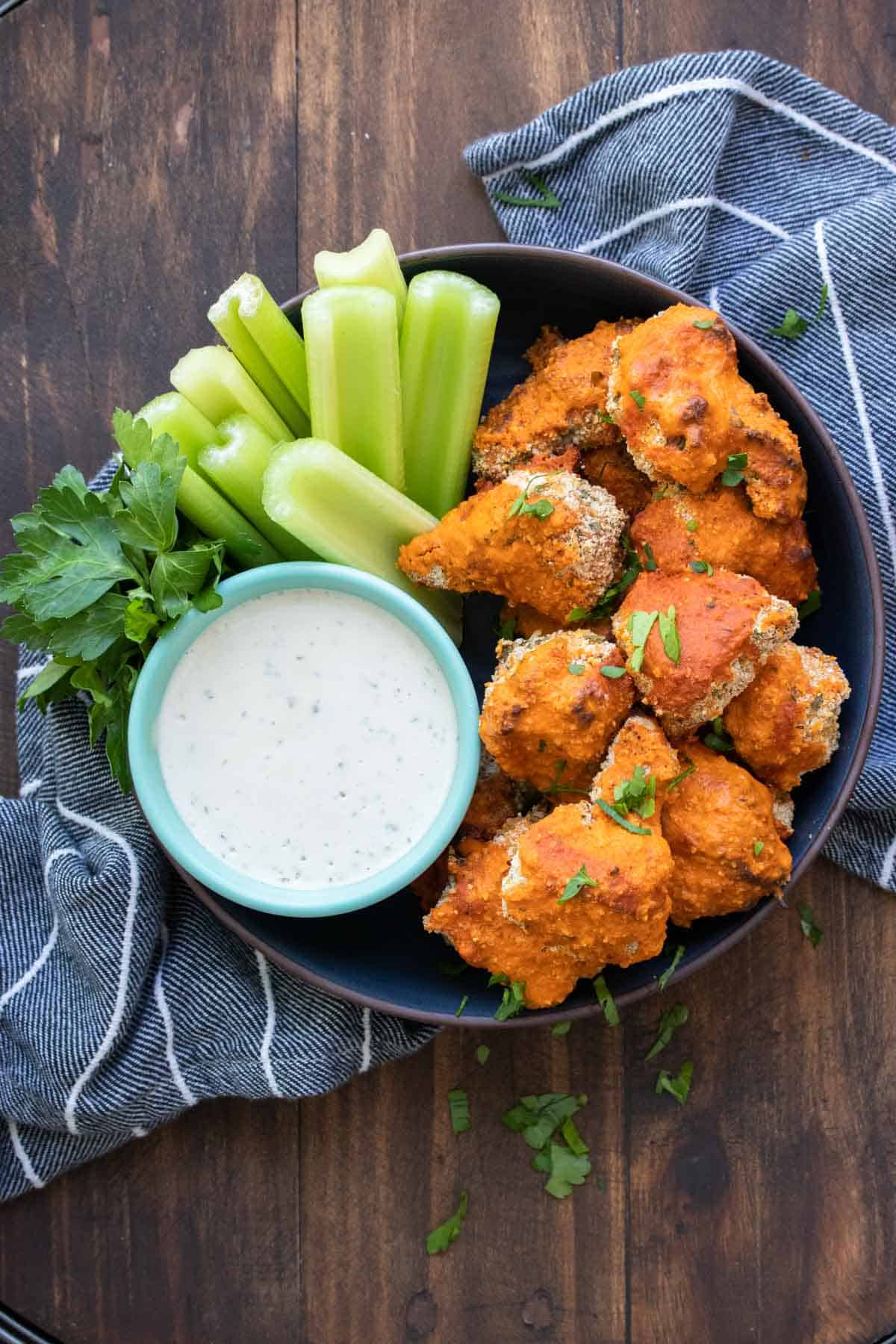 The best thing about having a few loved dips and dressings in your back pocket is weekly prep. I discourage the use of full recipes for your entire weekly meal plan. I encourage having many days when you make quick and easy meal ideas.
Having a dip or dressing ready to go in your fridge at all times, helps these quick and easy meals come together! If you want some tips on meal preps and plans check out my Ultimate Guide to Vegan Meal Prep with Grocery Lists.
Also you can read all about How to Meal Prep Vegetables for Easy Meals. Having veggies ready to go along with this vegan ranch dressing has saved my after school snack crazy so many times!
Can a vegan eat ranch dressing?
Generally speaking, no, ranch dressing has a dairy base. But this is exactly why I wanted to create this recipe. I KNEW there had to be a way to mimic that delicious ranch dressing taste and make it dairy free.
What is the best vegan ranch?
This one of course! If you're looking for store-bought, there are some options out there, but nothing that tastes like the real deal in my opinion. PLus many are not made with whole foods. Which is fine for once in a while, but I feel best when I am sticking to mostly whole foods as much as I can!
This vegan ranch dressing is hands down one of the best one I've tasted.
Is ranch dressing really bad for you?
It really depends on what you classify as bad for you. Nutritiously speaking, store bought dressing can have processed ingredients and preservatives, plus it is high in sodium. Even homemade ranch can be high in saturated fat.
However, this recipe is made with all whole foods, is fully plant-based so dairy free, and full of nutrition!
Traditional and vegan ingredients
Traditional ranch dressing is usually a combination of mayo, sour cream, buttermilk and spices. But I used all whole foods to create this vegan ranch! Here is what I used to get that ultra creamy rich base without the diary:
Cashews- still my favorite way to get ultra creamy vegan dip results.
Dairy free milk- to add more creamy flavor while thinning out the texture.
Lemon- help counteract the sweetness of cashews and contributes to the characteristic ranch tang.
White distilled vinegar- also helps balance out the sweetness, and is the best way to get that tang ranch dressing needs.
Storing tips
This vegan ranch dressing is good in your fridge for about 7 days. However if you don't think you will finish it all, you can freeze it! All you need to do is store in an air tight container. I like to put a layer of plastic wrap touching the top of the dressing to help avoid freezer burn.
When you are ready to eat, defrost on the counter then whisk it up to get the texture back. It won't be exactly as it was fresh, but it still works great!
How To Make Vegan Ranch Dressing
Place all ingredients, except the spices, into a blender and blend.
Add spices and pulse until mixed.
Refrigerate to thicken then serve with EVERYTHING!
Tips for cashews
If you don't have a high speed blender, it will be harder to get that ultimate creamy texture. But I have a few tricks that work great! Here are some of the best ways to avoid a gritty end result:
Soak the cashews overnight.
Boil the cashews for 20-30 minutes.
Grind the cashews dry using a coffee grinder or spice grinder. Then use the powder directly in the blender.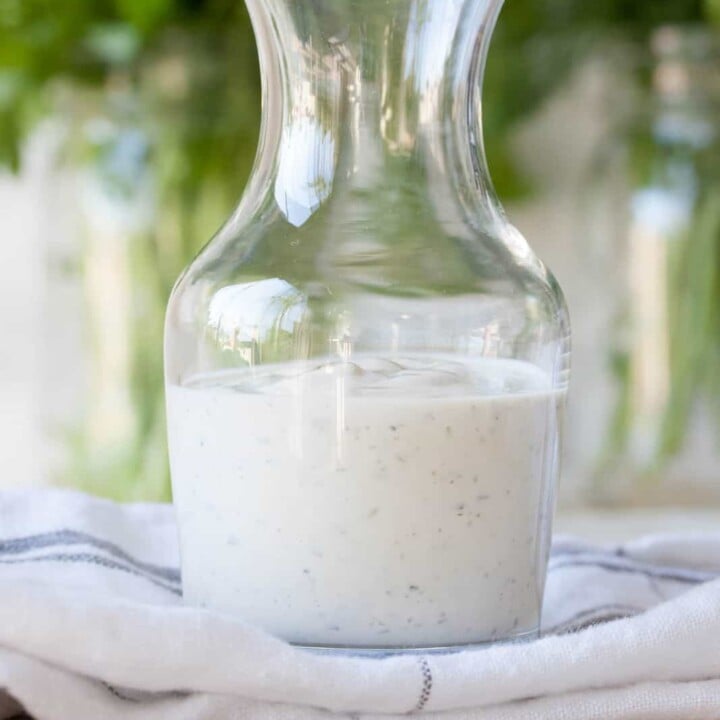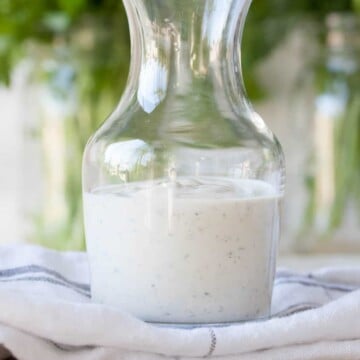 The Best Homemade Vegan Ranch Dressing
The search is over, this is not just another vegan ranch dressing. This is the absolute best vegan ranch dip recipe there is! Tastes just like the original!
Ingredients
1 cup unsweetened plain cashew or almond milk
14 teaspoon distilled white vinegar , (¼ cup plus 2 tsp)
5 teaspoon fresh lemon juice
1 ½ cups raw cashews , (see note)
1 ¼ teaspoon sea salt
2 teaspoon dried parsley
1 teaspoon garlic powder
1 teaspoon minced onion
½ teaspoon onion powder
½ teaspoon dried dill
¼ teaspoon ground black pepper
⅛ teaspoon mustard powder
Instructions
Place the cashew milk, vinegar and lemon juice in a bowl and allow it to sit while you assemble the rest of the ingredients.

Add the milk mixture, cashews and salt into a high-speed blender and purée until smooth.

Add the parsley, garlic powder, onion, onion powder, dill, black pepper and mustard powder to the blender and pulse until well mixed. Refrigerate the dip to thicken.

Serve with everything!
Notes
If you are not using a high speed blender, there are a couple of options for making your sauce smooth: You can use a coffee grinder to grind everything to a fine powder, or make sure to soak your cashews overnight, or for at least 2 to 3 hours. If you forget, you can also boil them for 30 minutes.
This makes about 2 cups. Serving size is ¼ cup.
Baby/Kid Food idea:
Serve this with everything!
Recipe by Veggies Don't Bite, visit our site for more great plant-based recipes.
Nutrition
Calories: 142kcalCarbohydrates: 8gProtein: 5gFat: 11gSaturated Fat: 2gSodium: 349mgPotassium: 164mgFiber: 1gSugar: 2gVitamin C: 1mgCalcium: 9mgIron: 2mg
Nutrition and metric information should be considered an estimate.
Never miss a recipe!
Sign up here and get a FREE quick and easy meal guide!