This low-fat vegan taco meat is like no other you've seen before! It's made of whole foods, but with a texture that is spot on to the traditional taco!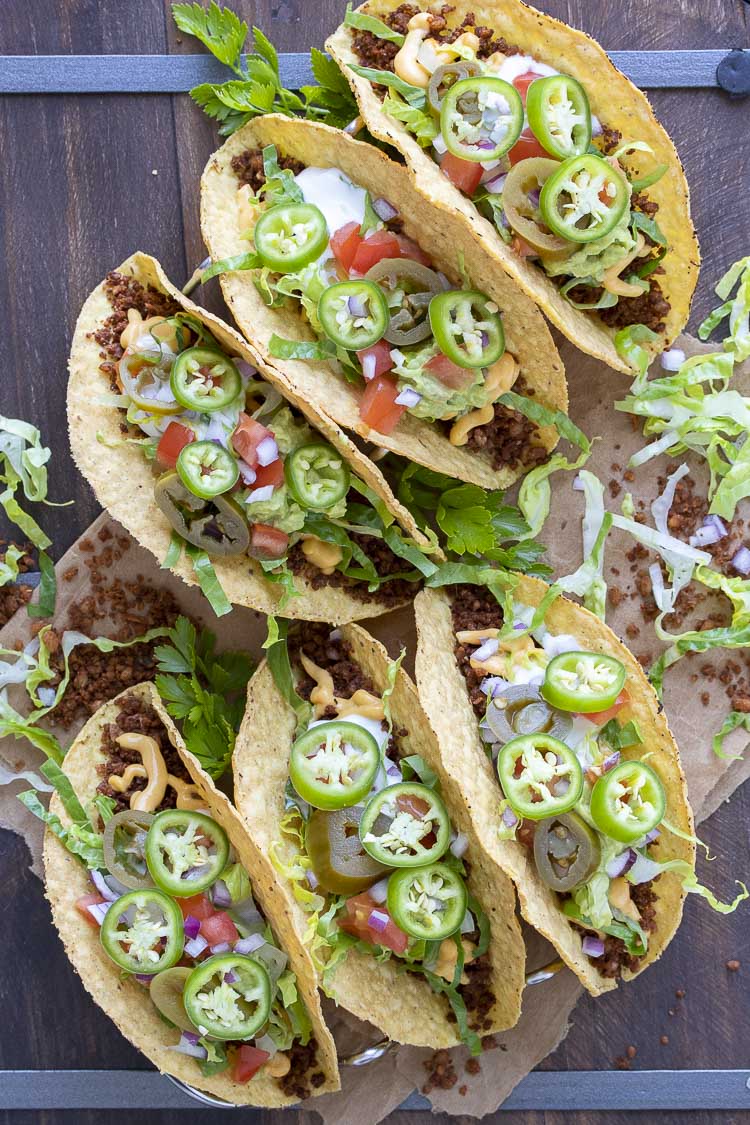 This recipe was originally published on 4/29/18
I love that this vegan taco meat is a healthy option that is not made with processed ingredients. Plus it is packed with protein, uses only 7 ingredients and no oil. The texture is crumbly yet chewy, and is perfect for all things taco!
Healthy Vegan Taco Meat
As much as we love a good black bean filling, there is always that craving for a traditional crunchy "meaty" taco. Most of the options out there for that perfect meaty texture are made of processed ingredients.
Since we eat processed foods sparingly, but we eat tacos on the weekly, we needed another option. So I made one.
This vegan taco meat isn't too wet, so your crunchy tacos stay crunchy, it has that signature crumbly texture, and that perfect chew!
What is vegan taco meat made of?
I wanted this made of only whole foods. No processed stuff. I also wanted it allergy friendly, which means no nuts. Finally, I wanted this to have a short list of ingredients.
I nailed it with 7 amazing whole foods, including the salt (technically you can make it with 6 if you use water instead of broth!). Each one contributes to that spot on meaty texture:
dried chickpeas- this will not work as well with canned. Reason being, soaking a dried chickpea allows for a slight chew in the texture.
short grain brown rice- long grain will not work here. The short grain brown rice has that perfect chew to it, which is a huge part of the texture in this vegan taco meat.
red onion- adds a depth of flavor reminiscent of real crumbled taco meat.
veggie broth- just enough to cook the onion to that prefect soft consistency and keep this recipe low-fat and oil free. Do not add any more liquid or it will yield a mushier end result. You can use water too if you don't have broth and are too lazy to go to the store.
seasoning- I use my new favorite homemade taco seasoning (it has an important secret ingredient!), also don't forget to add your salt as my homemade taco seasoning is salt free.
breadcrumbs- I trialed, and errored, many options to help absorb that last bit of liquid, and breadcrumbs were the stand out winner.

Grain free version of taco meat
If you're looking for something that is grain free (ie no rice), then this option made of walnuts and lentils is perfect.
Vegan Taco Toppings
We love making a taco bar so that everyone can create tacos to their liking. There is nothing worse that whining at dinner when all you want is to enjoy your tacos!
Here are some of our favorite toppings:
my famous vegan cheese sauce
guacamole (this loaded guacamole is amazing)
roasted salsa (the one from my cookbook is incredible)
lettuce
tomatoes
red onion
green onion
pickled jalapenos
fresh jalapenos
cilantro
hot sauce
And of course, putting all this goodness in a delicious crunchy taco shell is our favorite taco holder. You can use a soft tortilla too, but that crunch you get with a crispy taco is unreal!
Are corn taco shells vegan?
Like I say with most things, you need to read the ingredients. The best corn tortillas are simple with basic ingredients. Simple corn, lime and some sort of oil. If that's all they have, then they are vegan!
Making Tacos With Vegan Taco Meat
A few steps and you've got easy vegan tacos everyone will love. The taco meat also freezes well so I often double it for future use.
Make vegan taco meat of choice.
Build your tacos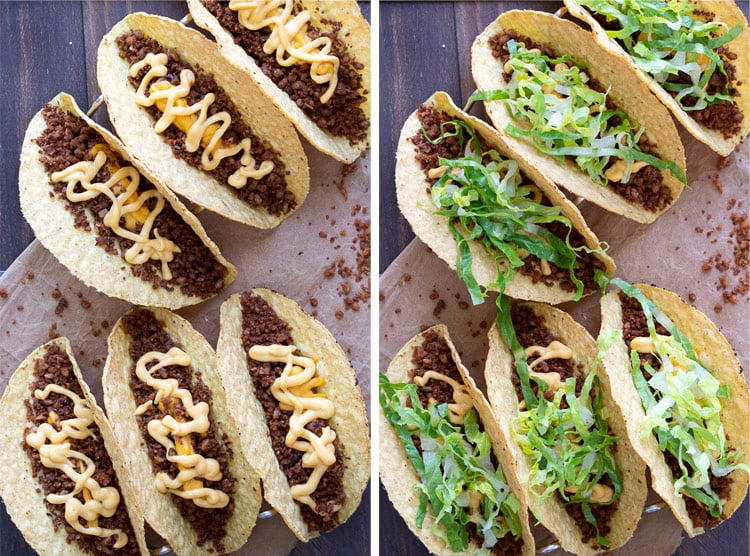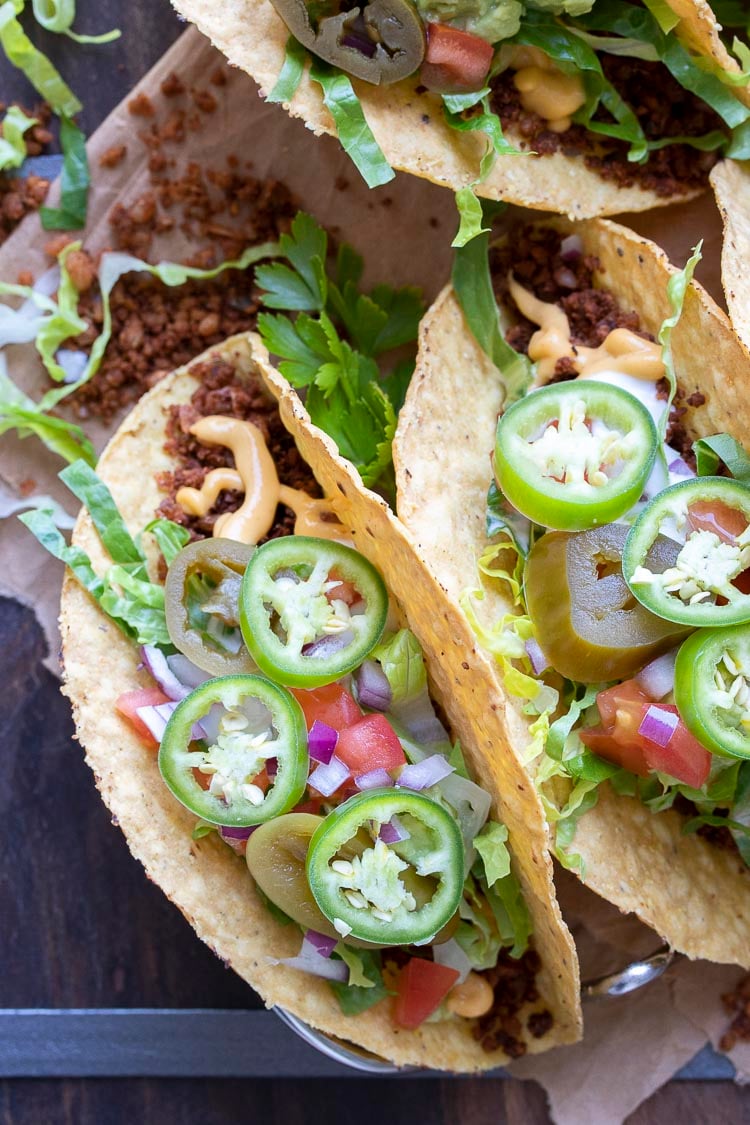 It's that easy. I love this vegan taco recipe because everyone can build their own so there is no whining. Our biggest issue is they keep wanting more, and then try and eat ours!
PSA, if you smother your tacos in jalapeños or hot sauce, the kids won't beg like little puppy dogs for a bite of yours. If you're feeling really spicy, try this spicy cilantro sauce. It's delish!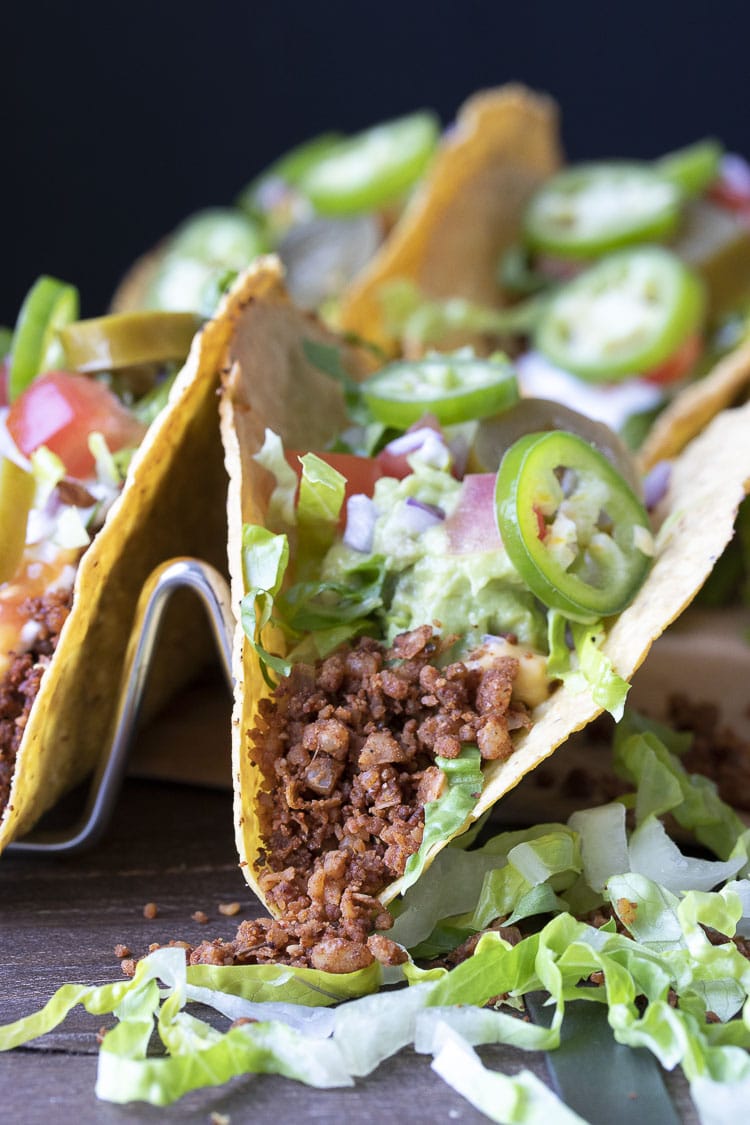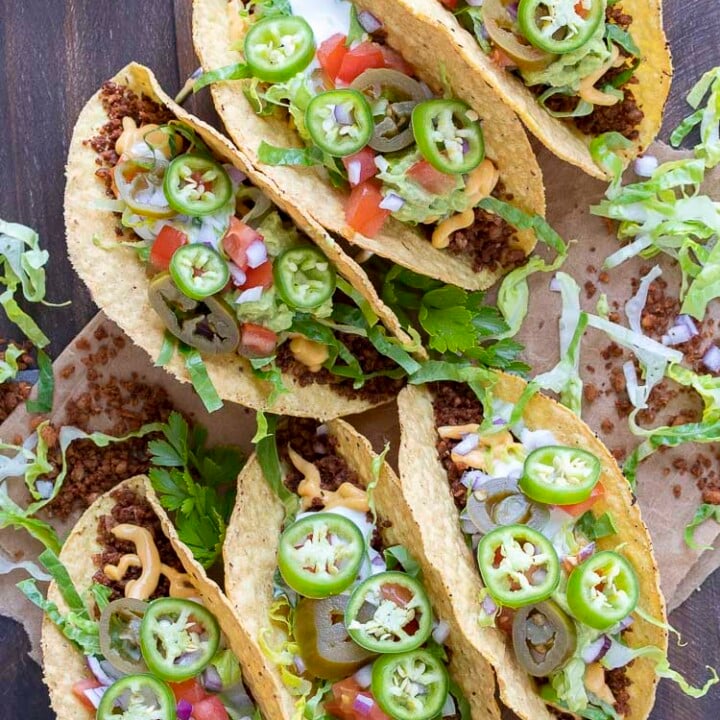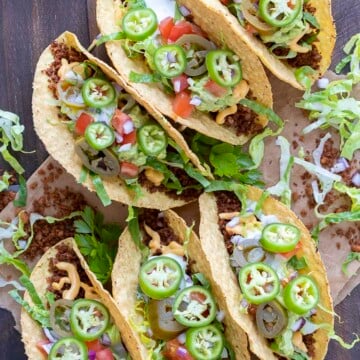 Low-Fat Vegan Taco Meat (Made with Whole Foods)
This low-fat vegan taco meat is like no other you've seen before! It's made of whole foods, but with a texture that is spot on to the traditional taco!
Ingredients
Taco meat:
½ cup dried chickpeas soaked overnight (measure before soaking)
¼ cup short grain brown rice (see note)
½ cup chopped red onion
¾ teaspoon sea salt (see note)
5 tablespoons taco seasoning (store bought or homemade)
¼ cup veggie broth , low sodium if needed (you can also use water if you don't have broth)
2 tablespoons breadcrumbs , gluten free if needed
Tacos:
12 crispy taco shells or soft taco sized tortillas (you can also make your own crispy shells)
Shredded lettuce
Chopped tomatoes
Mild nacho pickled jalapeño slices
Fresh jalapeño slices
Instructions
Put the rice in a medium sized pot and fill it with water, make sure you have plenty of water so that when you add the chickpeas it will cover them.

Partially cover and bring to a boil (about 7-8 minutes, depending on stove top).

Turn the heat down to medium and cook partially covered an additional 10 minutes (should be about 17-18 minutes total rice cooking time). The texture of the rice should be just beginning to get chewy, not hard but not fully cooked.

Add the soaked chickpeas and cook an additional 8 minutes.

Drain and rinse and immediately put the mixture in a food processor. Make sure you have drained it well so there isn't any residual water in the food processor.

Add the taco seasoning into the food processor and pulse once or twice to combine. Adding the taco seasoning in right away when the mixture is hot, allows the flavors to meld together well.

While the rice and beans are boiling, you can cook the onion in a separate pan, or you can wait until they are done cooking and use the same pot to cook the onion in.

Saute the chopped onion with salt and veggie broth over medium heat for about 4-5 minutes, until it is soft and most of the liquid has evaporated.

Transfer onion mixture into the food processor.

Pulse until you get a nice crumble. Add breadcrumbs and pulse 2-3 more times to incorporate.

Put into a bowl, give it a good mix and allow it to settle in the fridge for at least 30 minutes. This helps the flavors and texture fully develop. If you are eating it that day, you can also let it settle on the countertop so that you don't have to reheat it.
For easy oven baked crispy tacos:
Fill hard tortilla shells with a little bit of the taco meat, top with 1-2 tablespoons of cheese sauce, if using. Then cover with more taco meat. This helps the cheese sauce stay away from the taco shell so the shell does not become soggy when baking.

Bake at 350 F (175 C) for 12-15 minutes or until the shells begin to brown.

Allow to cool 5 minutes, then add your favorite toppings and dig in!
For traditional tacos:
Bake tacos according to package directions, make your own crispy taco shells or use soft corn tortillas.

Fill the tortillas with taco meat, top with cheese sauce and any of your other favorite toppings and enjoy!
Notes
The hardest part about making this recipe is remembering to soak the chickpeas the night before. If you forget, you can easily get away with soaking them for 4 hours in a pinch and be fine. You can also boil them prior to cooking them with the rice.
This recipe makes about 3 cups taco meat. Nutrition is for the taco meat portion of the recipe only, and accounts for ½ cup. Values will change depending on what tortillas and toppings you use.
If you plan to make this ahead of time and eat it over the course of a few days, you may need to add a bit more broth so that it doesn't dry up. You can always warm it up with a touch of broth as well.
Make sure you use short grain brown rice and not long grain. The short grain rice helps gives this a meaty chewy texture.
Adjust the salt for the ingredients you use. My homemade taco seasoning does not have added salt. I also use low sodium veggie broth.
The toppings are all optional and just ideas. I highly recommend the cheese sauce recipe paired with this taco meat. I also love topping my tacos with guacamole, shredded lettuce, fresh tomato and red onion and pickled jalapeno slices. Mix and match and create your own favorite loaded taco!
See post for the lentil/walnut version of taco meat.
Tips to prep ahead:
Cook rice and beans
Make taco seasoning if not buying
Baby/toddler food idea:
Serve as a taco bowl or as a burrito with grilled seam to close for easy eating.
Recipe by Veggies Don't Bite, visit our site for more great plant-based recipes.
Nutrition
Calories: 130kcalCarbohydrates: 24gProtein: 4gFat: 1gSaturated Fat: 0gPolyunsaturated Fat: 0gMonounsaturated Fat: 0gTrans Fat: 0gCholesterol: 0mgSodium: 270mgPotassium: 276mgFiber: 4gSugar: 2gVitamin A: 10IUVitamin C: 1.7mgCalcium: 23mgIron: 1.2mg
Nutrition and metric information should be considered an estimate.
Never miss a recipe!
Sign up here and get a FREE quick and easy meal guide!