This falafel sandwich is quick and easy making it a great family meal for busy nights. Filled with protein, easy to prep and customizable!
We use pita bread, onions and tzatziki to serve. If you make the falafel and tzatziki sauce the day before (or use store bought), putting these together takes less than 20 minutes!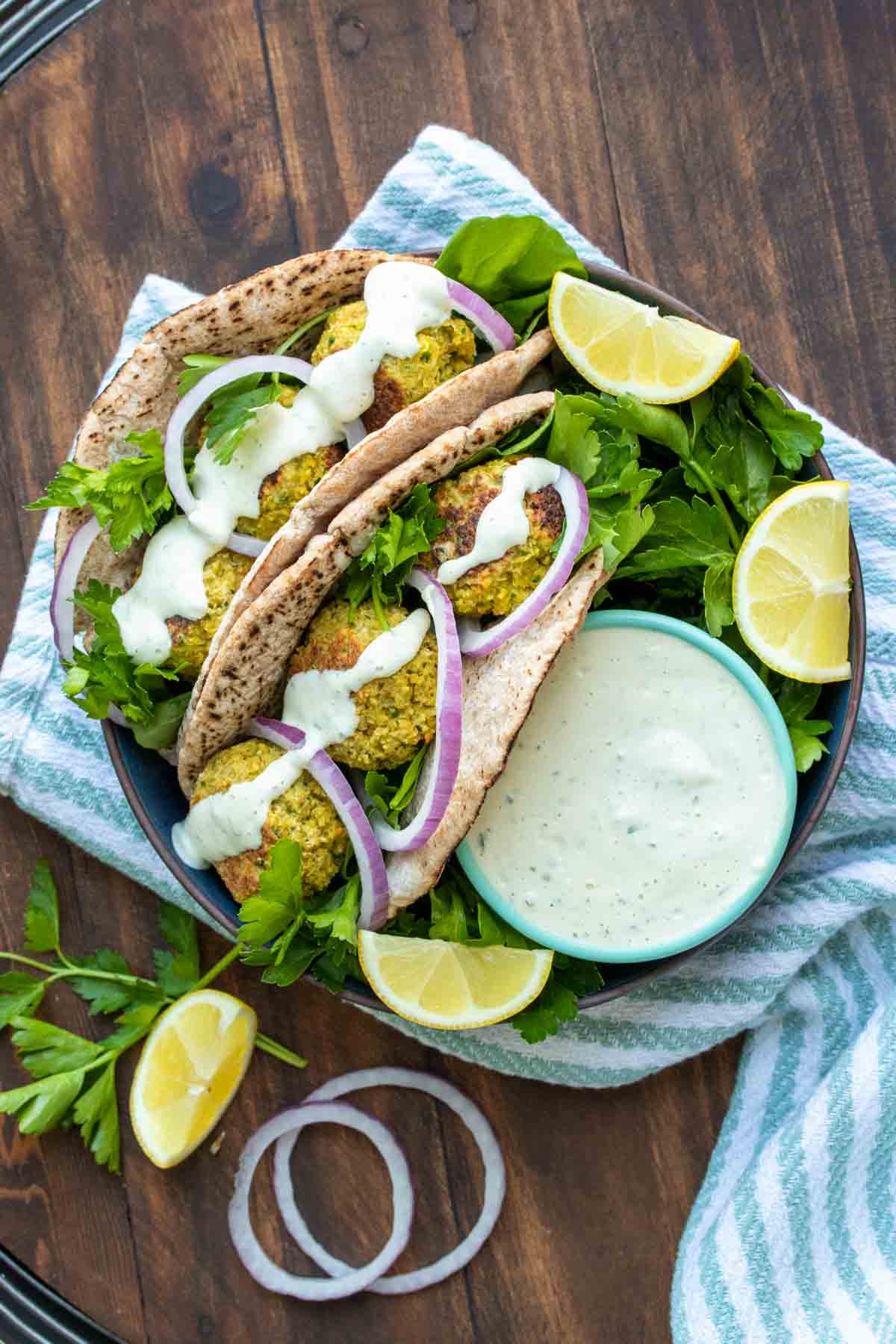 This post was originally published on September 18, 2022.
To keep this vegan all you need to do is use my vegan falafel (which is baked instead of fried!) and vegan tzatziki sauce. They are both easy to prep ahead and absolutely delicious! I also use gluten-free pita bread to make these falafel pita sandwiches gluten-free.
Ingredients
Falafel and pita bread are vying for the title of number one flavor combination! Warm, soft, pita bread slathered with tasty sauces, topped with crispy yet tender and super flavorful falafel, then loaded with fresh toppings? Yes. Please!
As customizable as this recipe is, the basic falafel sandwich ingredients you need are:
Pita bread - or flatbread, lavash, sandwich bread, or lettuce wraps!
Toppings - see below for ideas!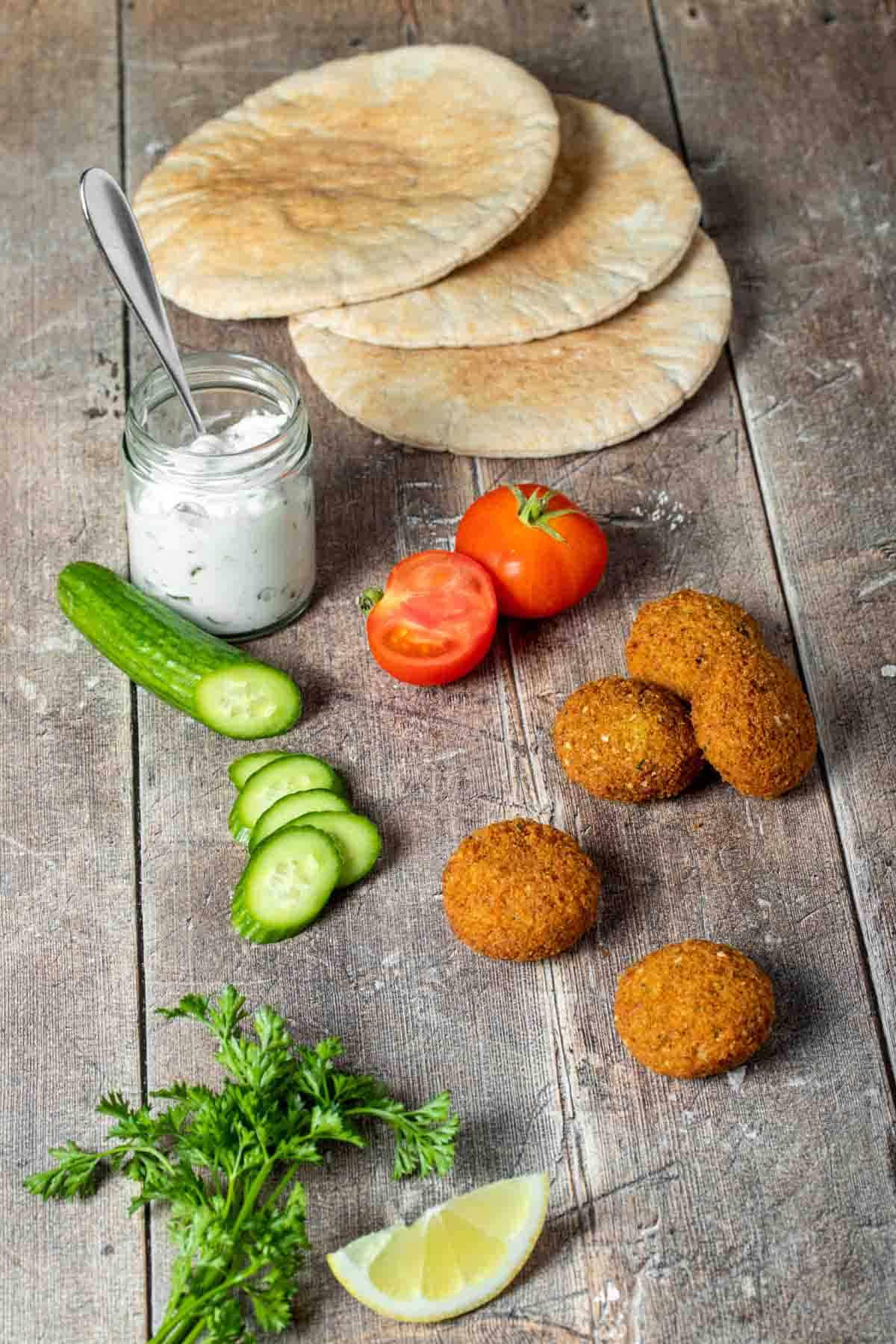 How to Make a Falafel Sandwich
Once the falafel and sauce are made, the rest of this falafel sandwich recipe is too easy:
Bake your falafel.
Spread sauce on a piece of pita (or other bread).
Place the falafel in the pita.
Add cucumbers, tomatoes and/or any other toppings you like.
Serve!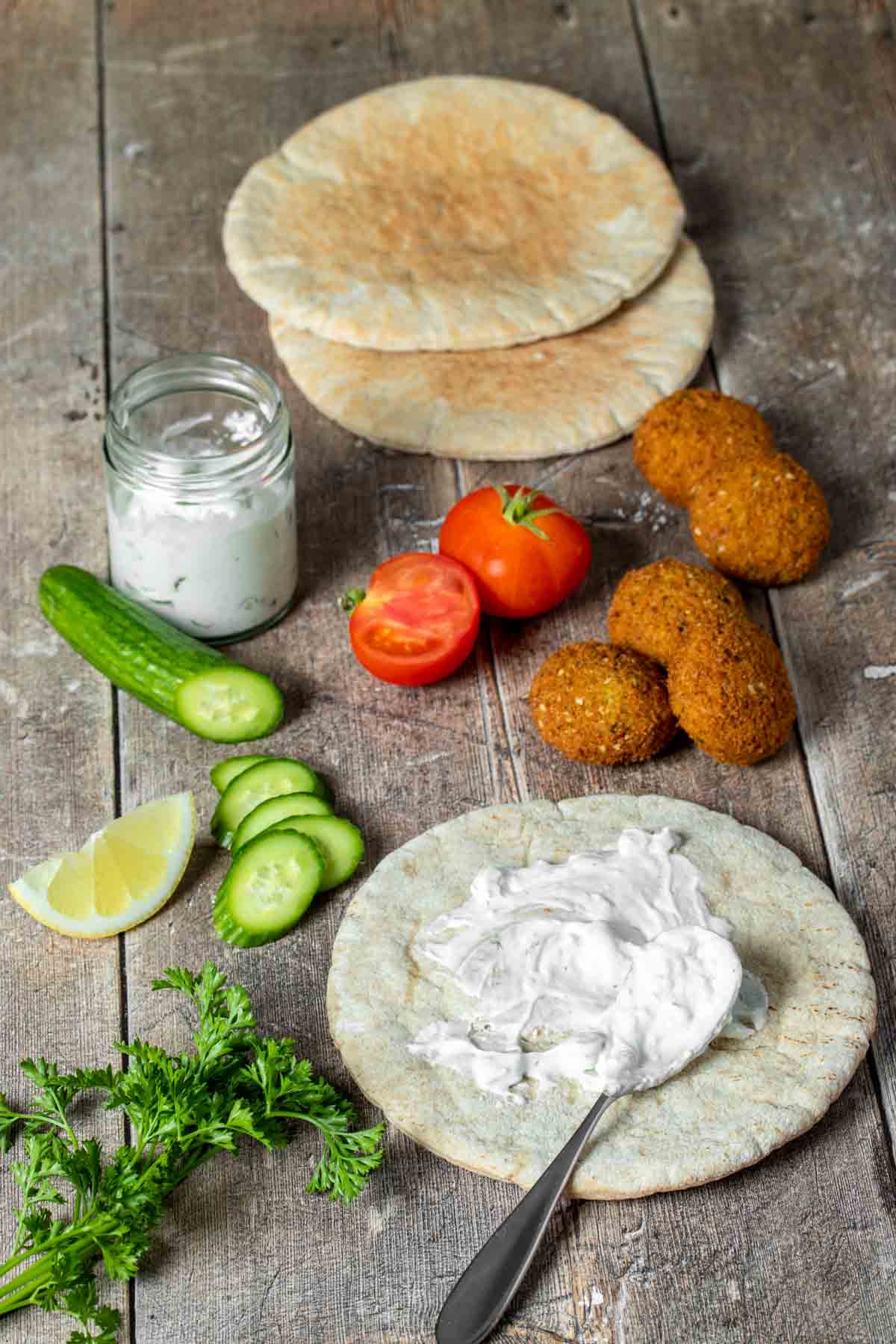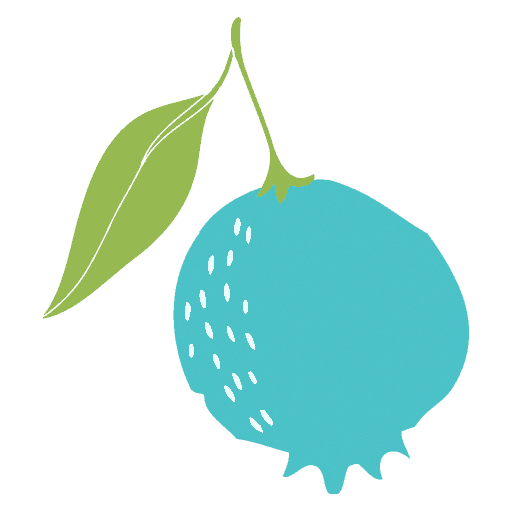 NOTE: You can print the FULL recipe with all ingredients & detailed instructions below!
Pita Sandwich Ideas
The toppings for a falafel sandwich are totally personal preference for flavor. But there are some that are more common that others. Here are some of our favorite falafel topping ideas:
Harissa
Cucumber
Tomato
Lettuce
Dill
Red onion
Parsley
Arugula
Fresh lemon
Tabouli
Baba ganoush
Pickled onions
How to have a DIY falafel sandwich bar
This is a perfect family friendly meal idea! It gives control to the kids which will result in less whining!
Decide the topping choices as a family, let everyone pick something then add in things you want them to try or at least be exposed to.
Put all of the topping choices in their own bowls on the counter.
Start with the bread/pita/etc on the plate, then add the falafel before letting everyone load their own falafel pita sandwich up with toppings of their choice.
Make it fun by giving names to the different combos!
What to Serve with Falafel Pita Sandwiches
Make a full meal by pairing these sandwiches with these healthy plant based sides: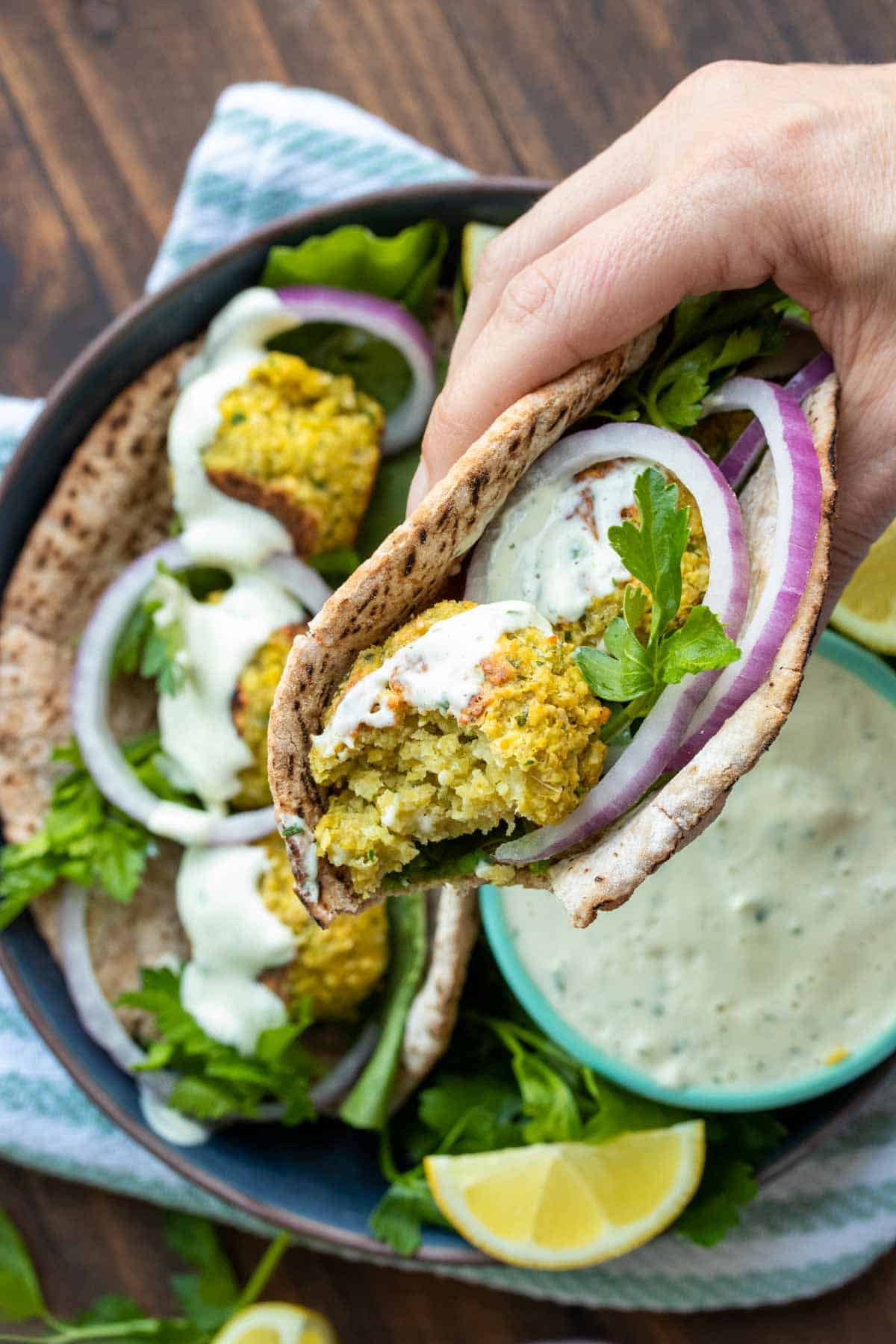 Meal Prep and Storage Tips
You can definitely prep this vegan falafel sandwich ahead of time! The key is to keep the falafel in an airtight container until ready to use, then reheat in the oven to crisp them up again. Here is how I prep them:
Two days before - make the sauce I am using.
Day before - make the falafel and cut/chop all toppings. Bake them a few minutes less so they aren't 100% done. You can also just make the falafel mixture and shape and bake day of.
Day of - put falafel on a parchment lined baking sheet and bake for about 10 minutes at 300 until warmed and crisp.
Cooked falafel will keep in the refrigerator for up to 3-5 days, or the freezer for up to 3 months.
Common Questions
What's in falafel?
These traditionally deep fried balls made from chickpeas also include herbs and spices. The mixture is formed into balls, or sometimes patties, then baked or fried until hot and crispy.
What does falafel taste like?
The fresh ingredients in falafel give it an herby taste, while the chickpeas create the mild base. It's savory and fresh, and downright amazing!
Is falafel Greek?
While the flavors of falafel go great with Greek flavors, the dish actually originated in Egypt! Now the vegetarian recipe is enjoyed worldwide.
What goes with falafels?
Popular pairings include tahini sauce, tzatziki, hot sauce, salad, vegetables, and pita bread.
Do you eat a falafel sandwich hot or cold?
Falafel is best when served hot and fresh. Most people do not prefer the texture of cold falafel but it really comes down to personal preference.
Is a falafel sandwich healthy?
Heck yes! At least this one is. It's full of protein, topped with veggies, and smothered in healthy fats from the sauce!
More Vegan Sandwich Recipes
If this falafel sandwich recipe was a hit, try these other plant based favorites: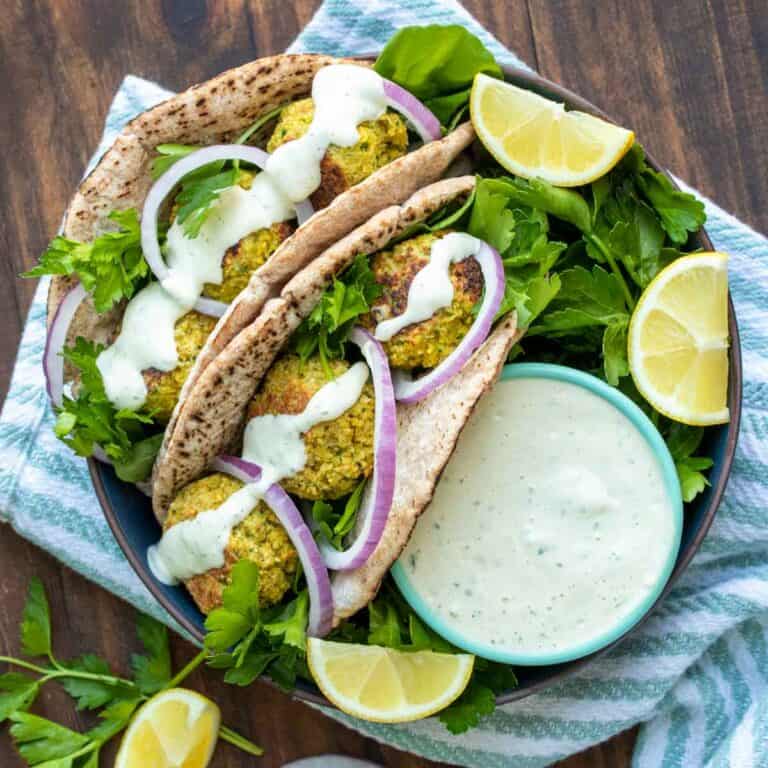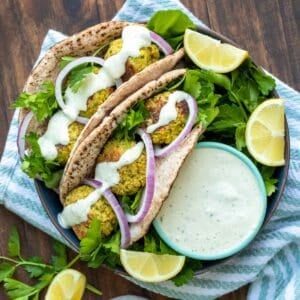 Falafel Sandwich in Pita
This falafel sandwich is quick and easy making it a great family meal for busy nights. Filled with protein, easy to prep and customizable!
Ingredients
1 recipe Vegan Gluten-Free Falafel (you will have a few extra falafel)
6 pita bread, flatbread, or other bread of choice (you can use lettuce leaves too)
1 ¼ cups vegan tzatziki , or tahini sauce (make about half the recipe)
Instructions
Make the falafel.

Prep all your toppings of choice.

Build the sandwiches by placing 3 falafel into each pita bread (or bread of choice).

Top with about 2 tablespoons sauce.

Add the other toppings and enjoy!
Notes
The falafel makes 20 so you will have a few left over.
Nutrition facts are for the falafel, pita and tzatziki only. They will change depending on how they are served.
Tips to prep ahead:
Make the sauce, falafel and toppings of choice. 
Recipe by Veggies Don't Bite, visit our site for more great plant-based recipes.
Nutrition
Calories: 372kcalCarbohydrates: 58gProtein: 17gFat: 9gSodium: 735mgPotassium: 584mgFiber: 13gSugar: 7gVitamin A: 337IUVitamin C: 9mgCalcium: 76mgIron: 8mg
Nutrition and metric information should be considered an estimate.
Never miss a recipe!
Sign up here and get a FREE quick and easy meal guide!