Looking for gluten-free food options at Disneyland and California Adventure? Use this comprehensive guide for the best meals, snacks, and treats!
Enjoy a worry-free dining experience and make the most of your visit to the happiest place on earth!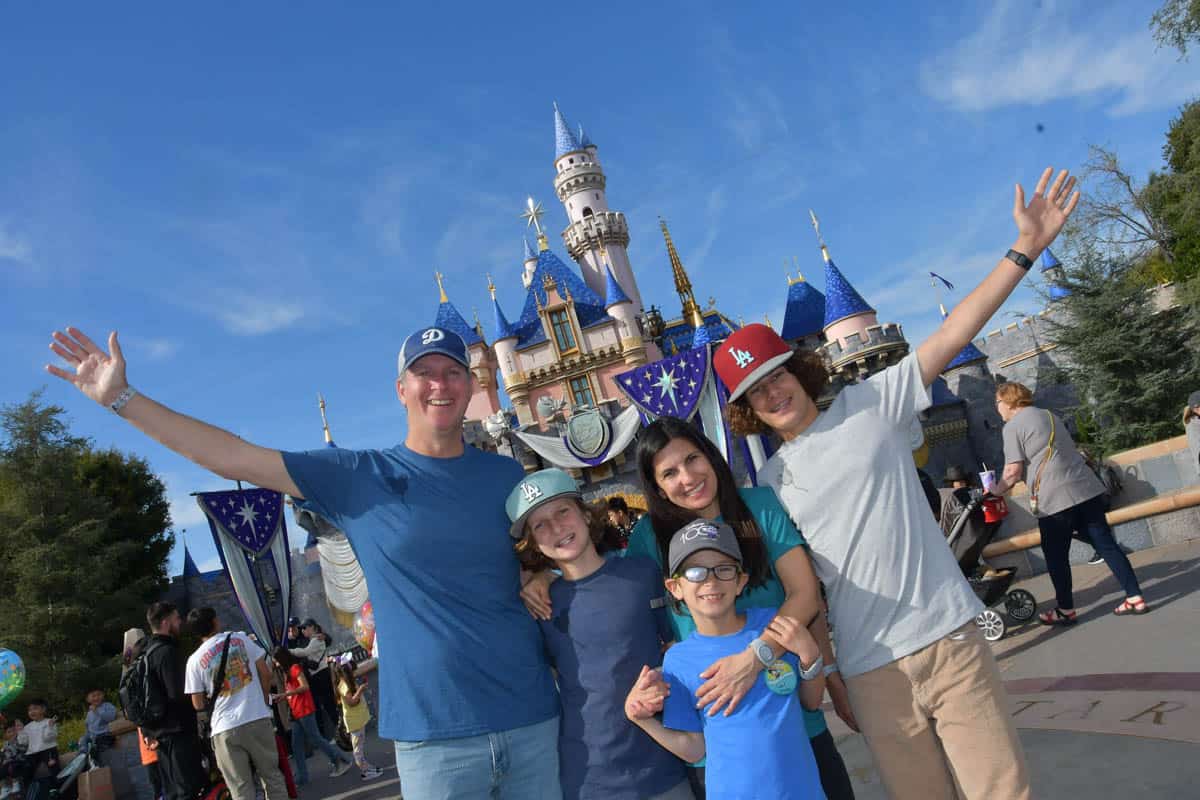 This post was sponsored by Disney Parks but the content and opinions expressed are fully my own.
We love visiting both Disneyland and California Adventure, but with varying dietary needs, eating at theme parks can be tough. Especially for me being gluten free!
Since we want to spend most of our time on all our fave rides, having a gluten free food guide to follow helps us plan ahead and enjoy our visit to the fullest.
Luckily, both Disney parks offer a variety of gluten-free options for guests to enjoy, from sit-down restaurants to quick service kiosks and even all the snack stands.
There are also a number of vegan food options at Disneyland and many options at the Disney Food and Wine Festival that I've covered in their own guide!
Disclaimer- always double check with the chef with any dietary needs since menus always change. Disney Parks are all very accommodating and will make sure what you are eating is safe for you.
Why Gluten-Free Options Matter
For people with celiac disease or gluten intolerance, eating gluten can cause a range of uncomfortable symptoms including bloating, nausea, joint pain, inflammation and fatigue.
Some people without a medical condition even prefer to avoid gluten. That's why it's so important for theme parks like Disneyland and California Adventure to offer gluten-free options on their menus.
Not only does it make dining easier and more enjoyable for those who can't eat gluten, but it also ensures that everyone with dietary needs or preferences can find something delicious to eat.
Gluten-Free Options at Disneyland
At Disneyland, there are plenty of gluten-free options to choose from, whether you're in the mood for a full meal or a quick snack.
Snacks
Since walking a lot is something everyone does while visiting Disneyland parks, snacks are a must. Here are some gluten free snack options you can find!
Popcorn - Good news, all flavors including butter, kettle corn, and caramel corn) are gluten free.
Pickles
Fruit
Roasted Turkey Legs
Corn on the cobb
Packaged gluten-free muffins
Packaged chocolate chip cookies
Mickey Ice Cream Bars
Outshine Frozen Fruit Bars
Minute Maid Frozen Lemonade
Cotton Candy
Gibson Ice Cream Parlor - they usually have some gluten free ice cream available.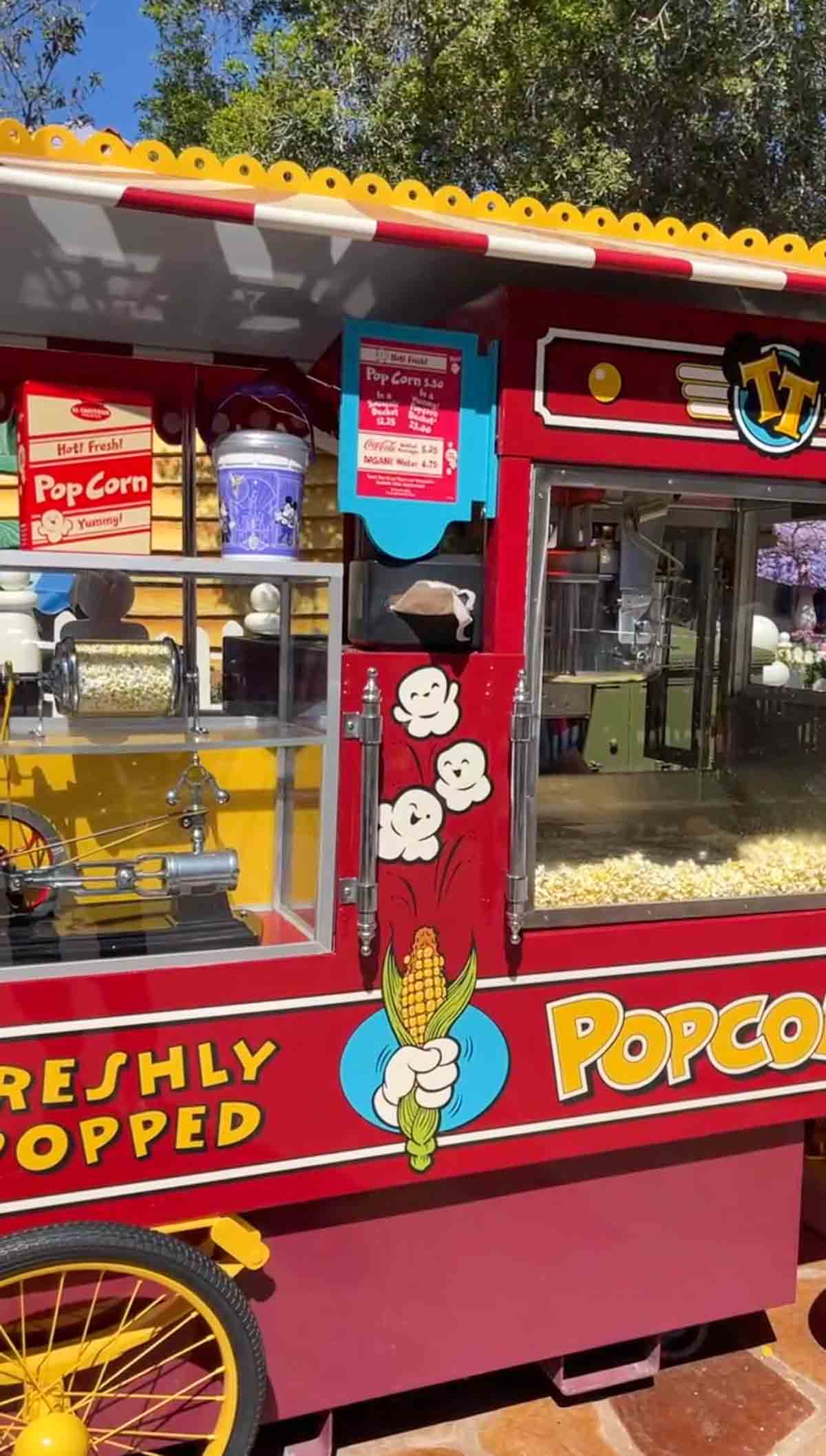 Quick service
Need more than a nosh, but don't want to dine at a table service restaurant? Grab a bite at one of the many quick service restaurants, all of which you can order online ahead of time!
Alien Pizza Planet – They have gluten/wheat allergy friendly pizzas, both pepperoni and cheese as well as their Astro Antipasto Salad or the Satellite Salad.
Bengal BBQ – In addition to some snacks and drinks you'll find a variety of skewers. The sauces have gluten, but you can ask for them without the sauce. There's also a hummus trio that is not made with any gluten.
Café Daisy – Find a pepperoni pizza flop over or cheesy pizza flop over (think calzone style), and a yummy chili cheese sauce perfect for dipping.
Docking Bay 7 – Get the Endorian Roasted Chicken Salad, super yum!
Galactic Grill – In the morning you can find a loaded breakfast sandwich. They also offer a fruit POWER pack which includes a mandarin orange, yogurt smoothie, and carrots. Gluten free lunch and dinner options include a cheeseburger or chopped salad, as wells as a kids hamburger, french fries, and a fruit bar.
Harbour Galley – The POWER Packs and fruit salad are the only gluten free options.
Hungry Bear – They have gluten-free buns for the cheeseburgers and impossible burgers, as well as gluten free French fries and a strawberry fruit bar. The kiddos can get a kids gluten free hamburger or POWER Pack.
Jolly Holiday Bakery Café – You can order the gluten free toasted cheese sandwich and tomato basil soup as a combo or on their own. There's also a gluten free turkey sandwich (for adults and kids), gluten free blueberry muffins and chocolate chip cookies.
Red Rose Taverne – Head here in the morning for a gluten free breakfast of scrambled eggs, a mandarin orange, and bacon or sausage. Later on come back for their harvest bowl, a cheeseburger, cheese pizza, or chicken chopped salad. Kids can grab a POWER pack or a hamburger meal.
Refreshment Corner – Ask for a gluten free hot dog basket, chili dog, or chili, and don't forget the chocolate chip cookie!
Tiki juice bar - Dole Whip: The most popular is the plain pineapple. But I have an obsession with the chile mango flavor. It has chunks of mango, pineapple and cucumber then drizzled with chamoy and a chile lime seasoning. Incredible!
Tiana's Palace - Under construction currently but the old location had some gluten free options so excited to see what the new menu is!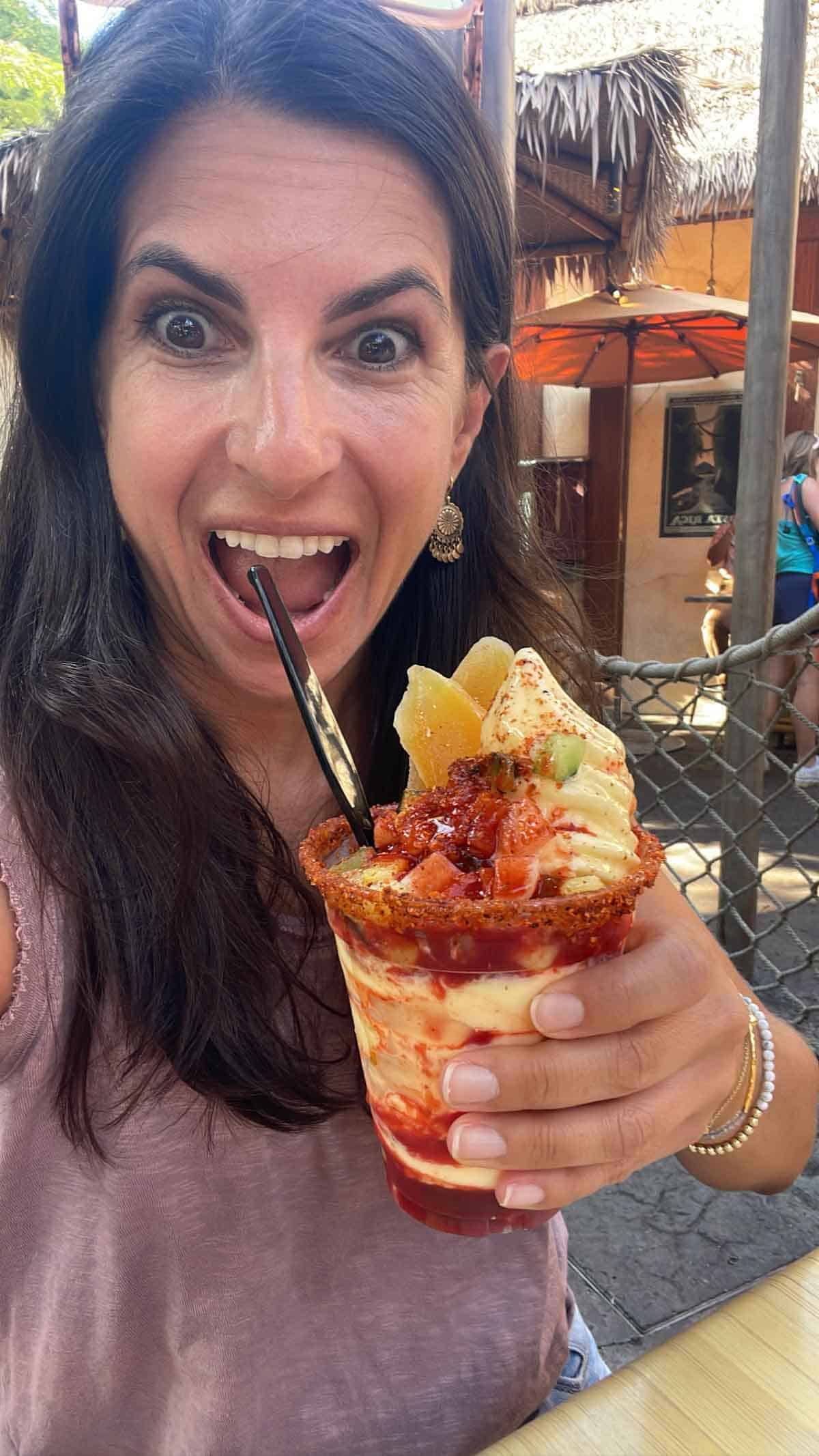 Sit down dining
For table service dining, Disneyland has a number of restaurants that cater to gluten-free guests providing a variety of meal options. The following restaurants at Disneyland offer gluten free options, simply ask your server!
River Belle Terrace
Plaza Inn - ask which items in the buffet are gluten free, and even a few items are available upon request from the kitchen
Carnation Cafe
Riverbelle Terrace
Cafe Orleans
Blue Bayou
Oga's Cantina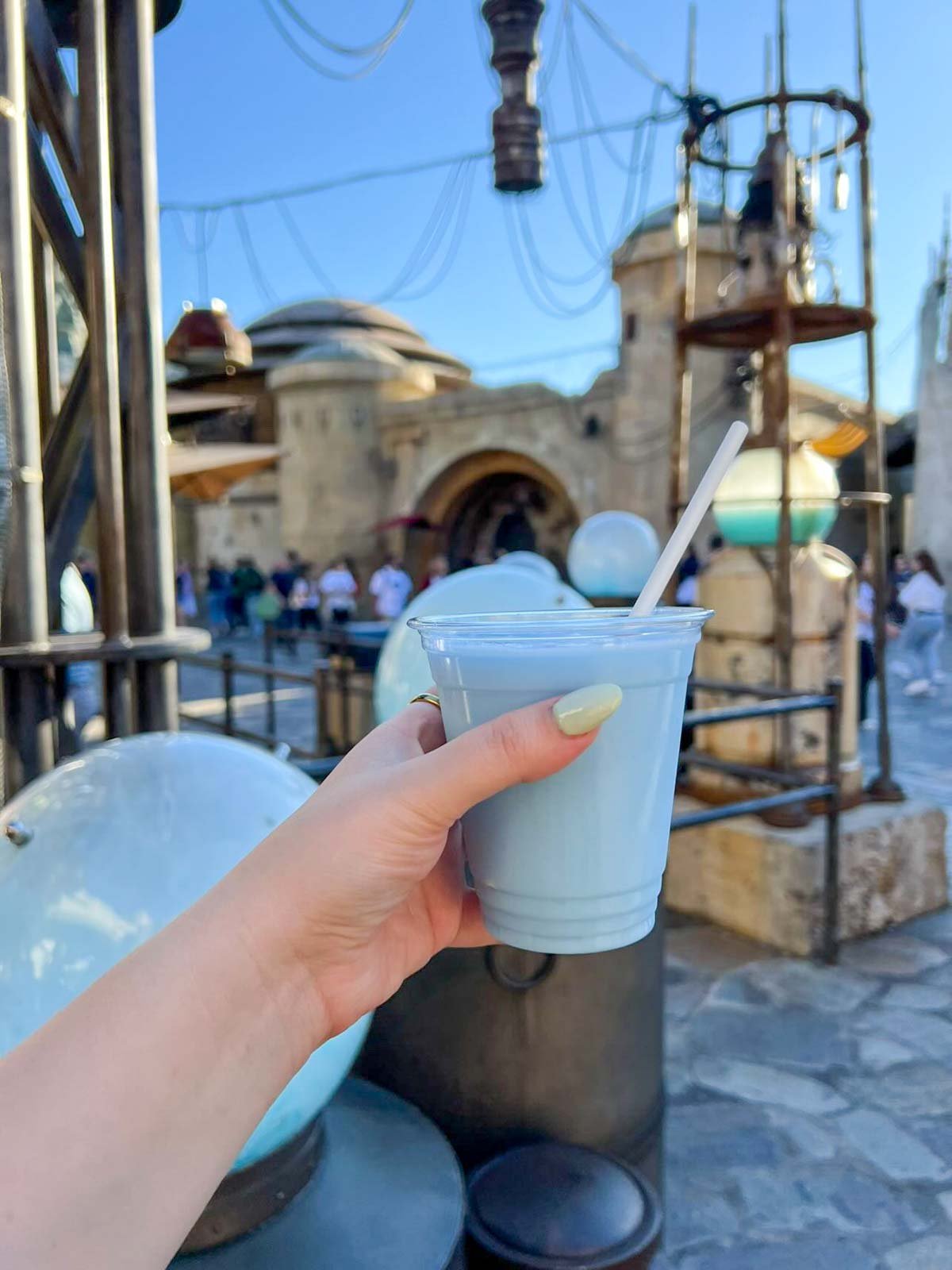 Gluten-Free Options at California Adventure
Just like Disneyland, California Adventure has plenty of gluten-free options available throughout the park. I was able to try a lot of the goodies at the Disney California Adventure Food and Wine Festival!
Snacks
As with Disneyland, California Adventure offers a number of gluten free snacks all throughout the park at stands and quick service restaurants. Here's what you can usually find:
Popcorn
Pixar Pier Parfait
Turkey leg
Fruit
Pickles
Strawberry fruit bar
Cotton candy
Mickey Ice Cream Bars
Frozen banana
Churro toffee
Caramel apples
IncrediCookie gluten-friendly cookie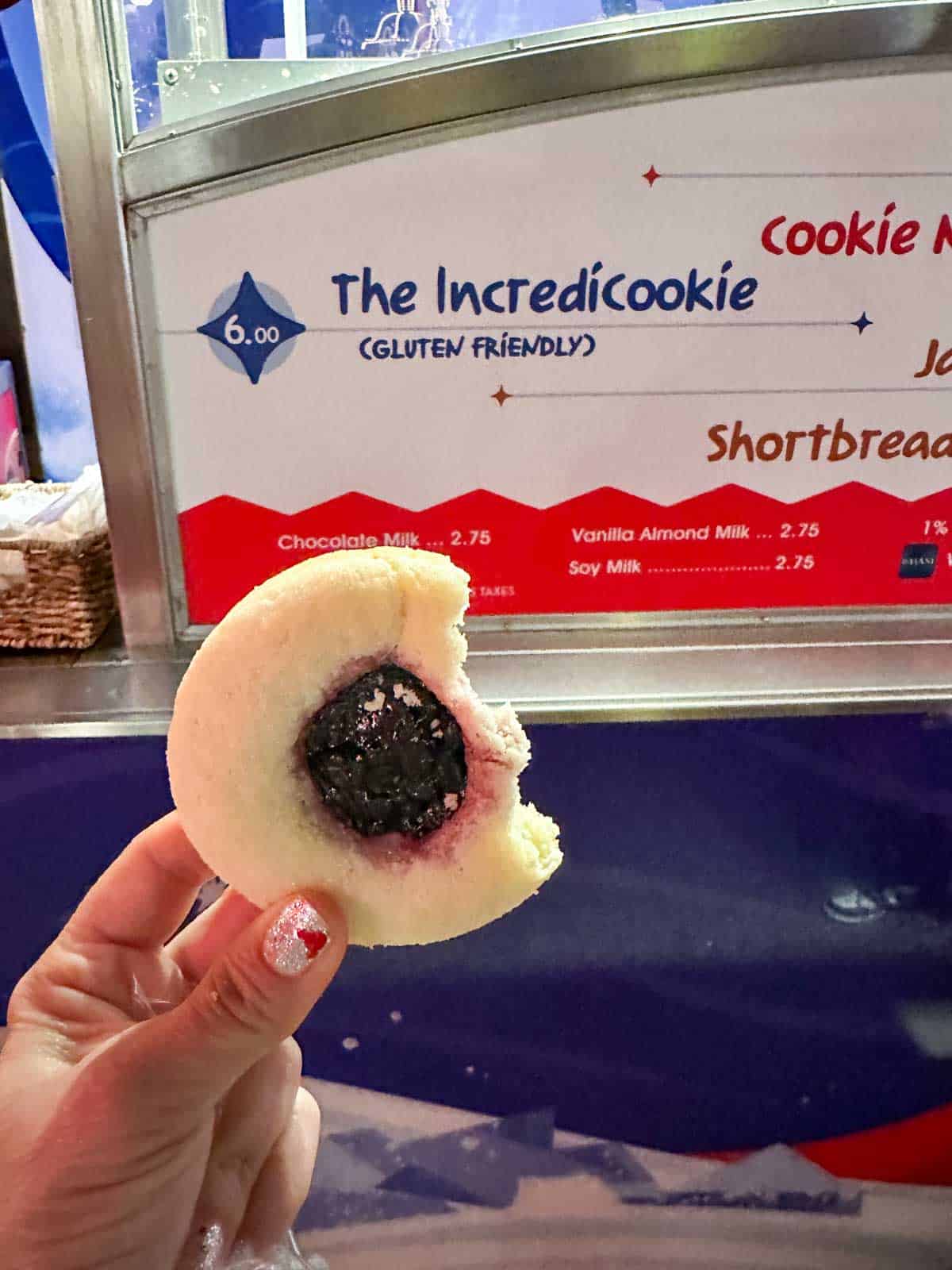 Quick service
Cucina Cucamonga - Lots of options including quesabirria street tacos, carne asada tacos, pollo asada tacos, al pastor tacos, potato tacos, cilantro lime rice, and frijoles charros which are pinto beans with chorizo and bacon!
Flos V8 Cafe - Gluten free buns are available for both the cheeseburger and impossible burger. There is also a cobb salad, club sandwich, and a kids burger available. Don't forget dessert! Slurp up a classic shake in either vanilla, chocolate, or strawberry.
Lucky Fortune Cookery - Try the teriyaki chicken or spicy Szechuan chicken. Kids can have their own chicken and rice meal.
Smokejumpers Grill - Gluten free versions of their double cheeseburger, impossible burger, grilled chicken sandwich, grilled chicken salad, crinkle cut fries, kids burger, and milkshakes are all available.
Pym's Test Kitchen - A number of options such as the PB3 Magnificent Sandwich (Hot Peanut Butter and Jelly with Caramelized Bacon!) which is served with a Micro-Sized Banana Smoothie and Crispy Potato Bites, or a Pym-ini Sandwich (Salame Rosa with Pistachios, Rosemary Ham, Provolone and Sun-dried Tomato Spread) served with Marinara Dipping Sauce and Arugula Salad. There is also a kid's Pym-ini and PB&J.
Sit down dining
For sit-down dining, many restaurants offer plenty of great options and you can even ask for a gluten free menu. Make sure to let your server know about your dietary needs.
Carthay Circle
Pym's Test Kitchen
Wine country trattoria
Mendocino terrace
Lamplight lounge
Magic key Terrace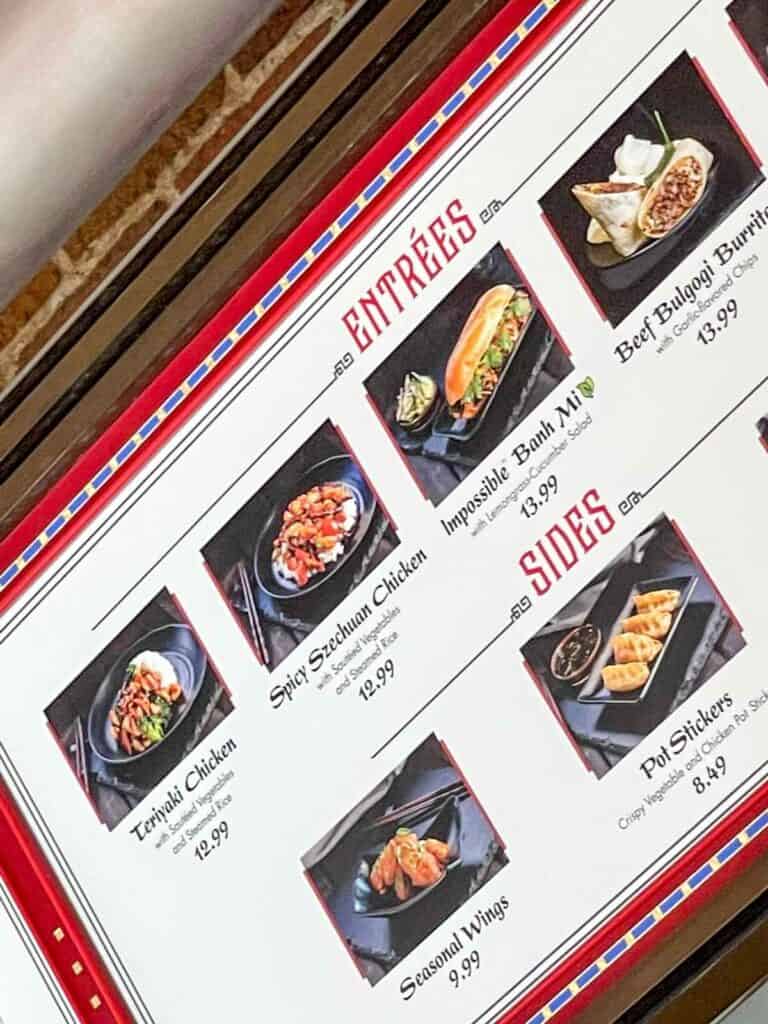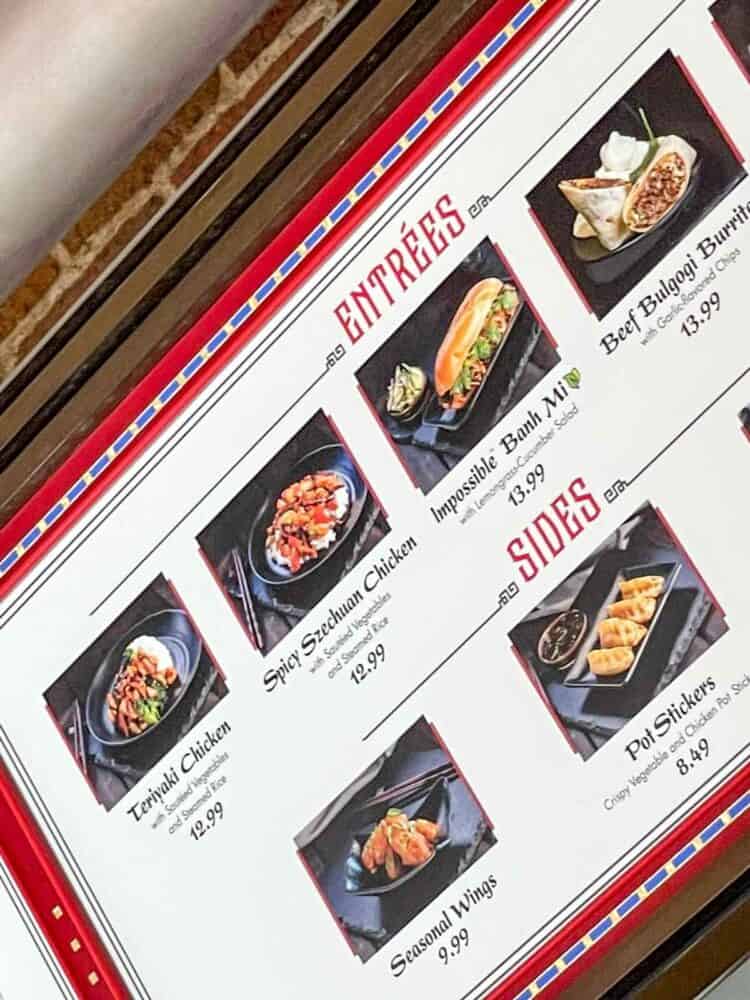 Gluten-Free Options in Downtown Disney
Downtown Disney is the shopping and dining district that's located just outside the Disneyland theme park gates. While it's not technically part of the park, there are many great places to eat with gluten free options!
Quick Service
There are a wide variety of places in downtown Disney where you can get snacks and meals quickly that offer gluten free options. These include both sweet and savory!
Crazy Shake Window by Black Tap - Ask which milkshakes are gluten free. You can modify some to make them gluten free by omitting items.
Earl of Sandwich - Soup and salad choices.
Jamba Juice - Smoothies.
Salt and Straw - All ice cream is gluten free unless otherwise specified.
Napolini Pizza Parlor - Some pasta options available.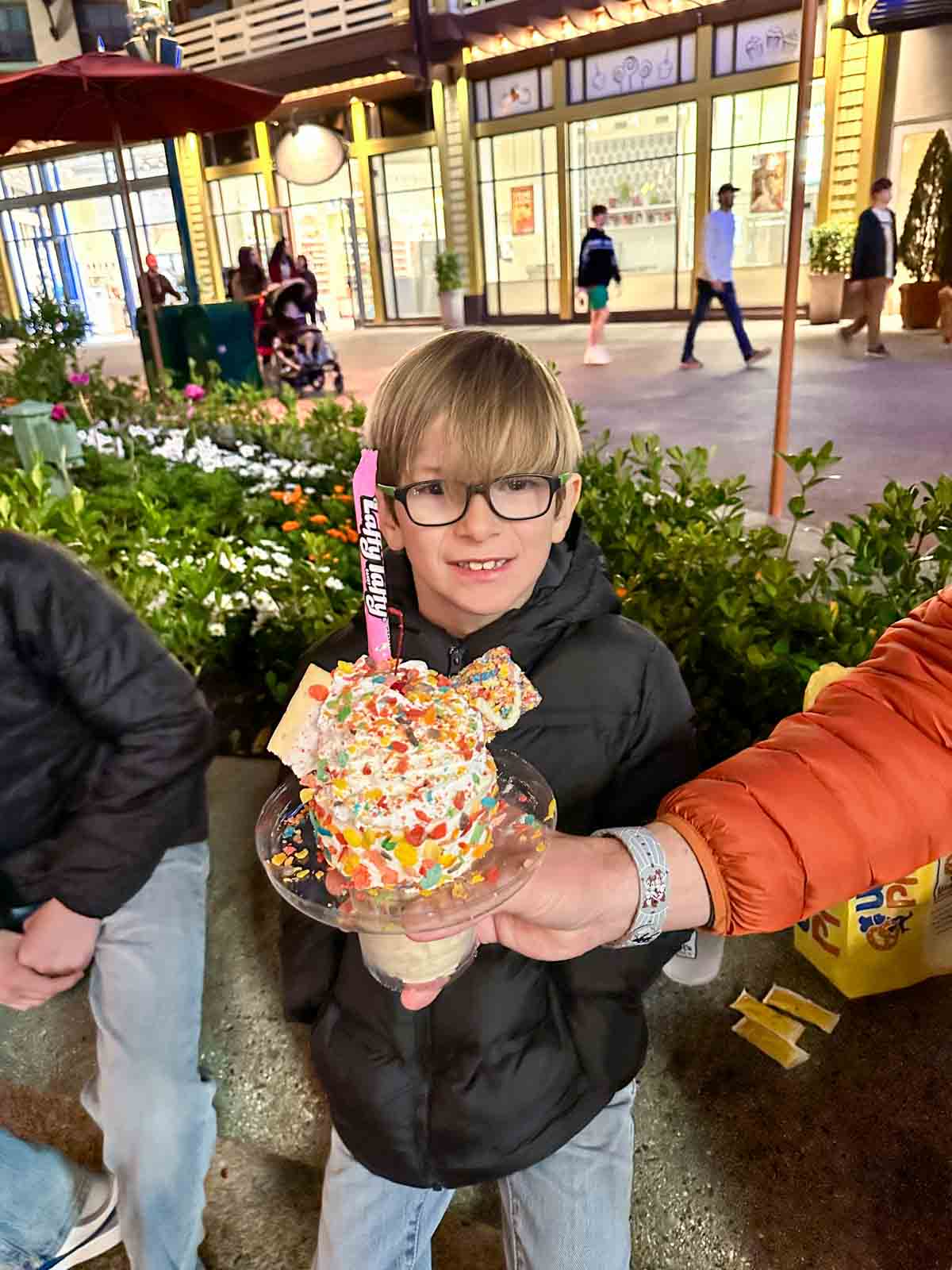 Sit down dining
Since downtown Disney is not located in the actual parks, it's a great place to visit for dinner even if you aren't visiting the parks themselves. Luckily there are a lot of options for gluten free diners.
Catal Restaurant - Lots of options including salads, meat, seafood, paella, and even crème brûlée!
Uva Bar and Cafe - No special gluten free menu but if you ask there are options they can offer.
Earl of Sandwich - Only soups and salads are gluten free here.
Black Tap - Gluten free burger buns are available.
Ballast Point Brewing - Ask about the current offerings, at the very least they should have gluten free buns for their burgers.
Ralf Brennan's Jazz Kitchen - Gluten free options include salads, wings, jambalaya, and a variety of meat and seafood dishes.
Tortilla Jo's - Our favorite! Honestly too many gluten free menu items to mention because there are SO MANY! Definitely recommend having a least one meal here.
Naples Ristorante - A number of salads, pasta, and seafood all looked good.
Splitsville Luxury Lanes - A few sushi rolls and edamame are available, and I've heard good things!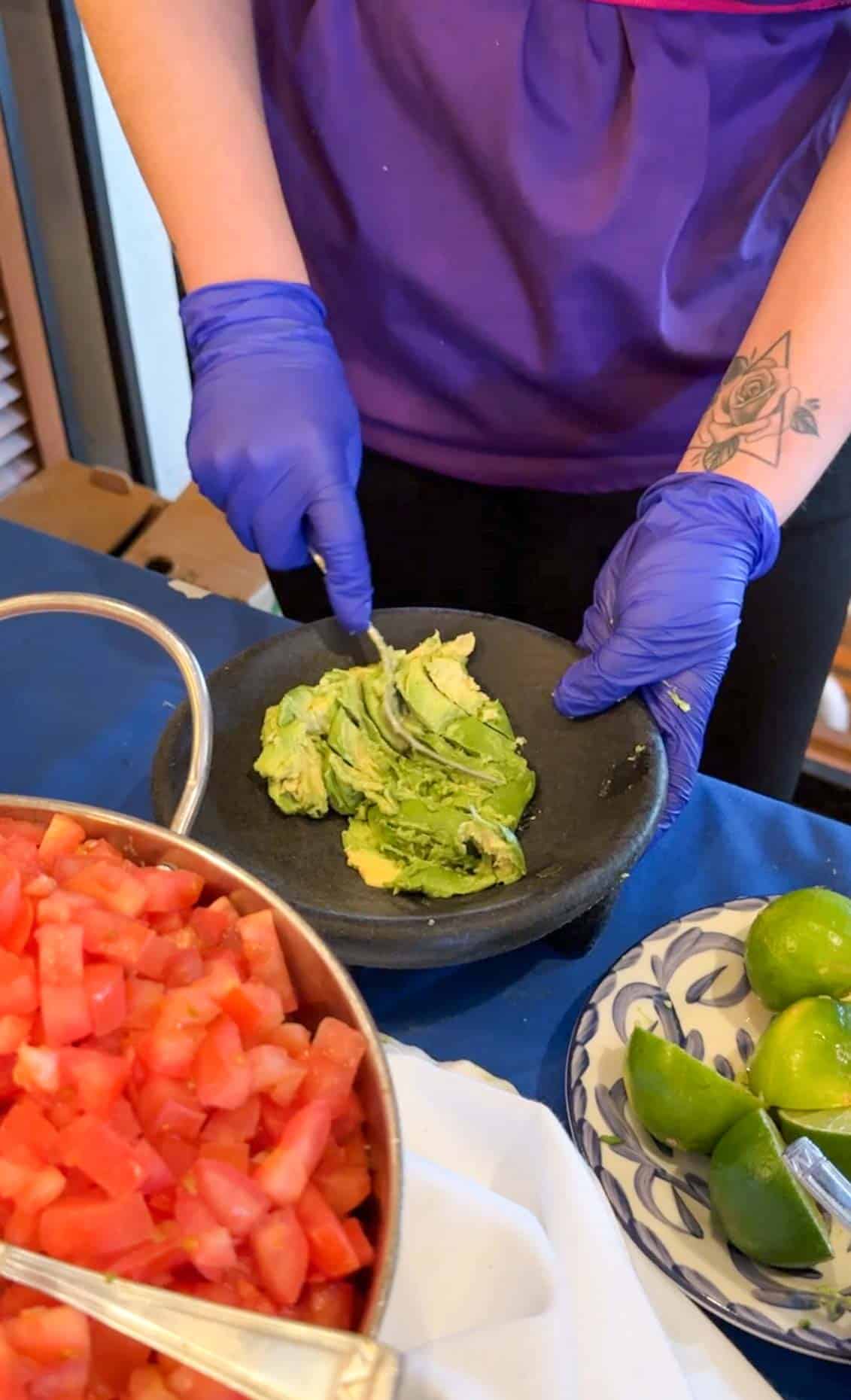 Tips for finding gluten free food at Disneyland and California Adventure
Scope out the menus online ahead of time so you have a game plan of what gluten free food you want to try.
Use the Disney app to your benefit! You can click on mobile order and browse the quick service restaurants and their menus. This is where you will find the allergy friendly menus. If you have an allergy it is a good idea to still order in person.
Be aware of cross contamination, some items without gluten may run the risk of being compromised.
Make sure to inform the cast members at each stand and restaurant of your allergy or sensitivity.
Keep in mind special orders can sometimes take special time, which means you may have to wait a little longer for your food. Be happy, you're still at the happiest place on earth after all!
If you are make dining reservations, note your dietary restrictions on the reservation.
Since you are allowed to bring your own food into Disneyland parks it is a good idea to pack at least a few of your own gluten free snacks.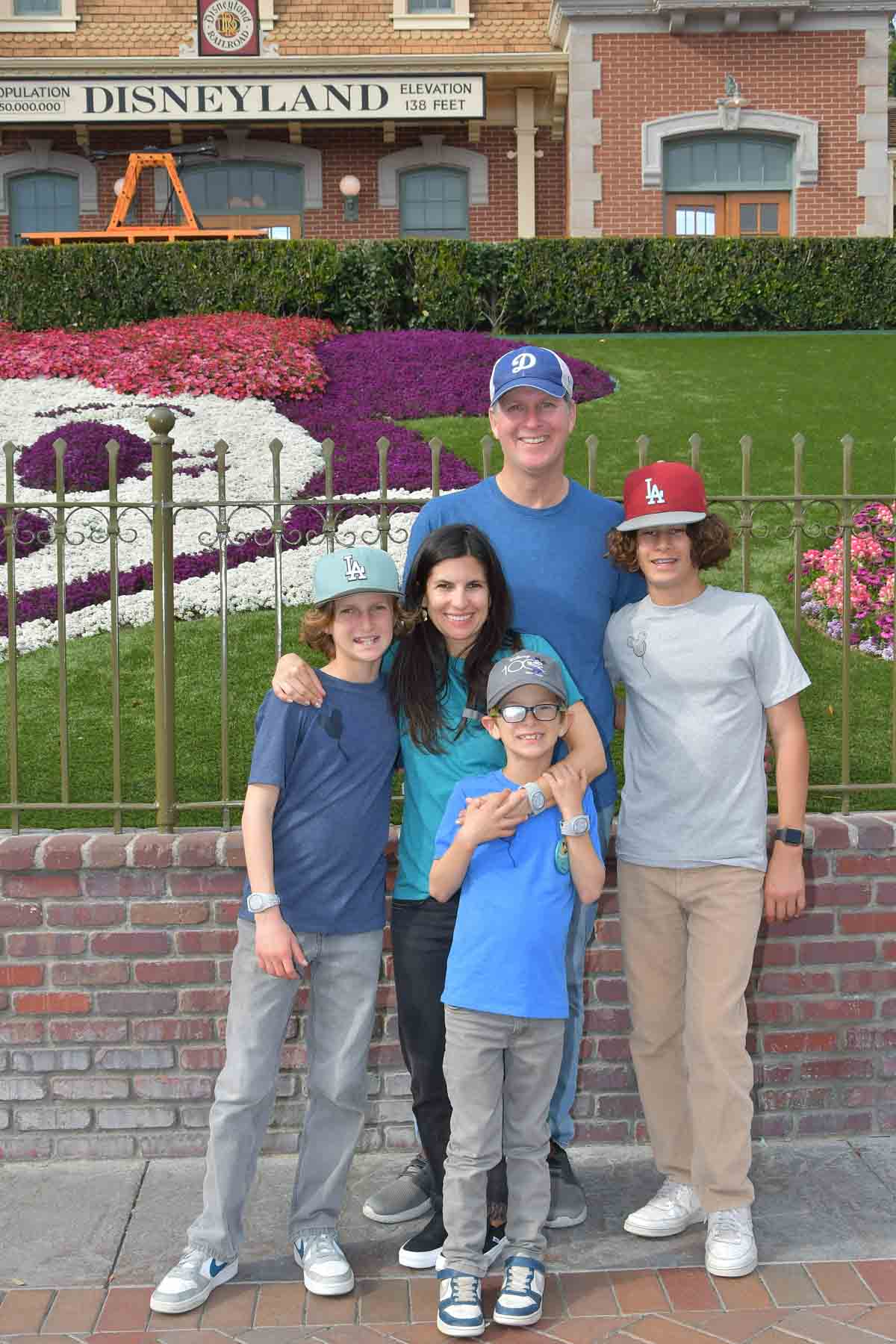 Special Considerations for Gluten-Free Dining
While Disneyland and California Adventure both do a great job of providing gluten-free options, it's still important to double check everything and communicate about your dietary needs.
Be sure to let restaurant staff or chefs know that you are gluten free, and ask about any precautions they take to prevent cross-contamination. If you say you have an allergy, versus a preference, a chef will come out to talk to you personally.
Don't hesitate to ask questions, they're all more than willing to help you find gluten free options. You can even ask for the specific ingredient information.
When your food is served, double check with the cast member that is handing it to you that it is indeed gluten free.
You may see "gluten-friendly", "allergy-friendly", or "gluten-free" on the menus, if cross-contamination is a concern of yours make sure to ask the cast member what the distinctions mean for that item.
Whether you visit Disneyland and California Adventure often or planning your first trip, having a guide for gluten-free options available throughout the parks can be so helpful.
With a little planning and communication, you can enjoy so many amazing meals and snacks without worrying about gluten!