Butternut squash burgers made with 7 ingredients and as easy as roast, pulse, shape and cook! Switch up your regular burger routine with this flavor bomb of fall flavors. Mix and match the toppings for your favorite combos every time.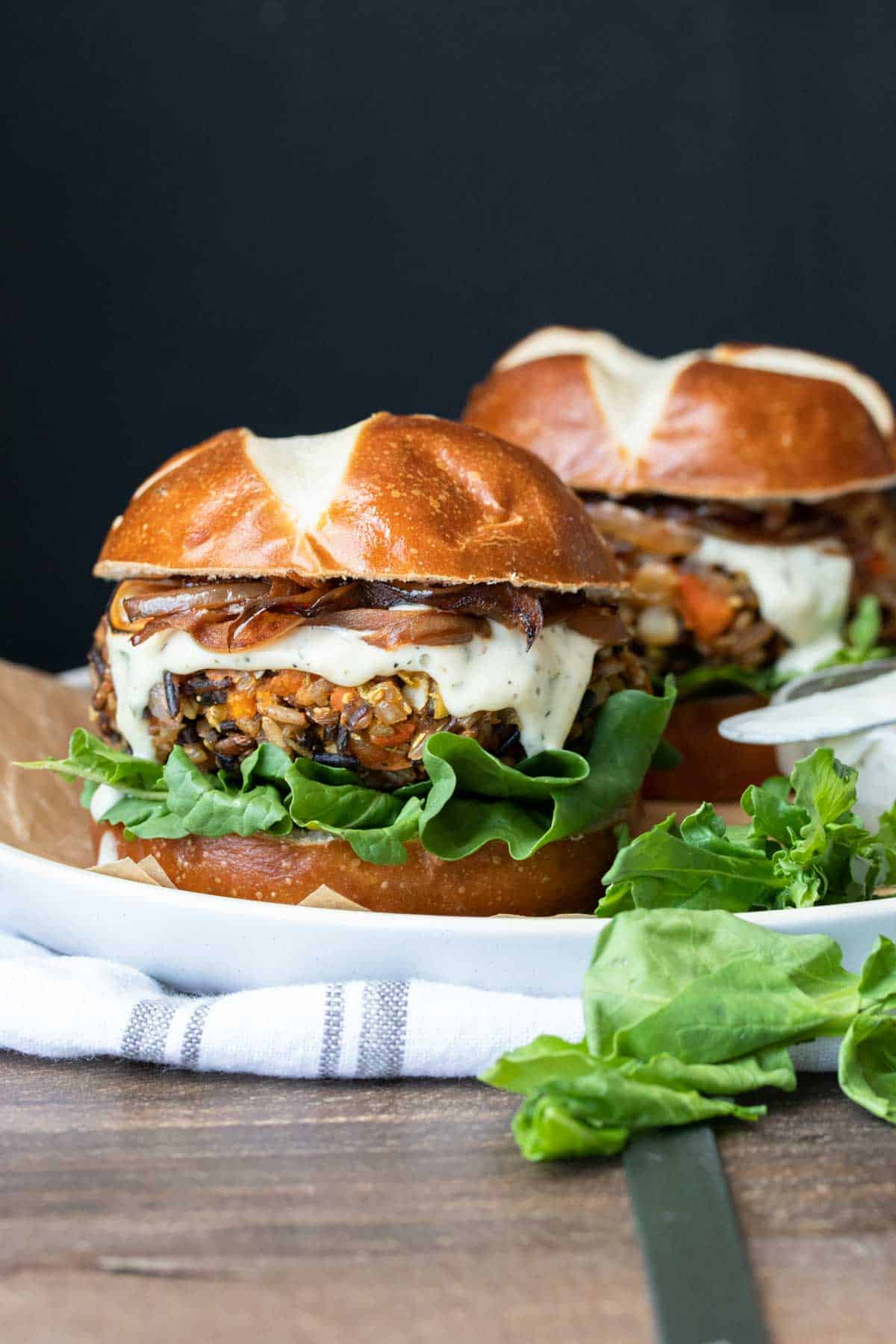 There is nothing like a burger and fries, but the best part about veggie burgers is that you can mix up the flavors so easily. As you can see in my cookbook,
Vegan Burgers and Burritos
, there is no stopping with the flavor combinations! I literally have 27 burger recipes in it!
This burger is similar to the autumn burger in my book, but with a few slight differences. So for those of you who don't have it, it's a little sneak peek at what you will see there. If you enjoy the recipe, I'd love it if you bought the book and checked out all the other recipes!
I usually keep my burgers pretty simple, roast some veggies or cook rice if needed, pulse in a food processor, shape and cook. They all freeze well and keep in the fridge so prepping them before the day you need them is key to a fast dinner.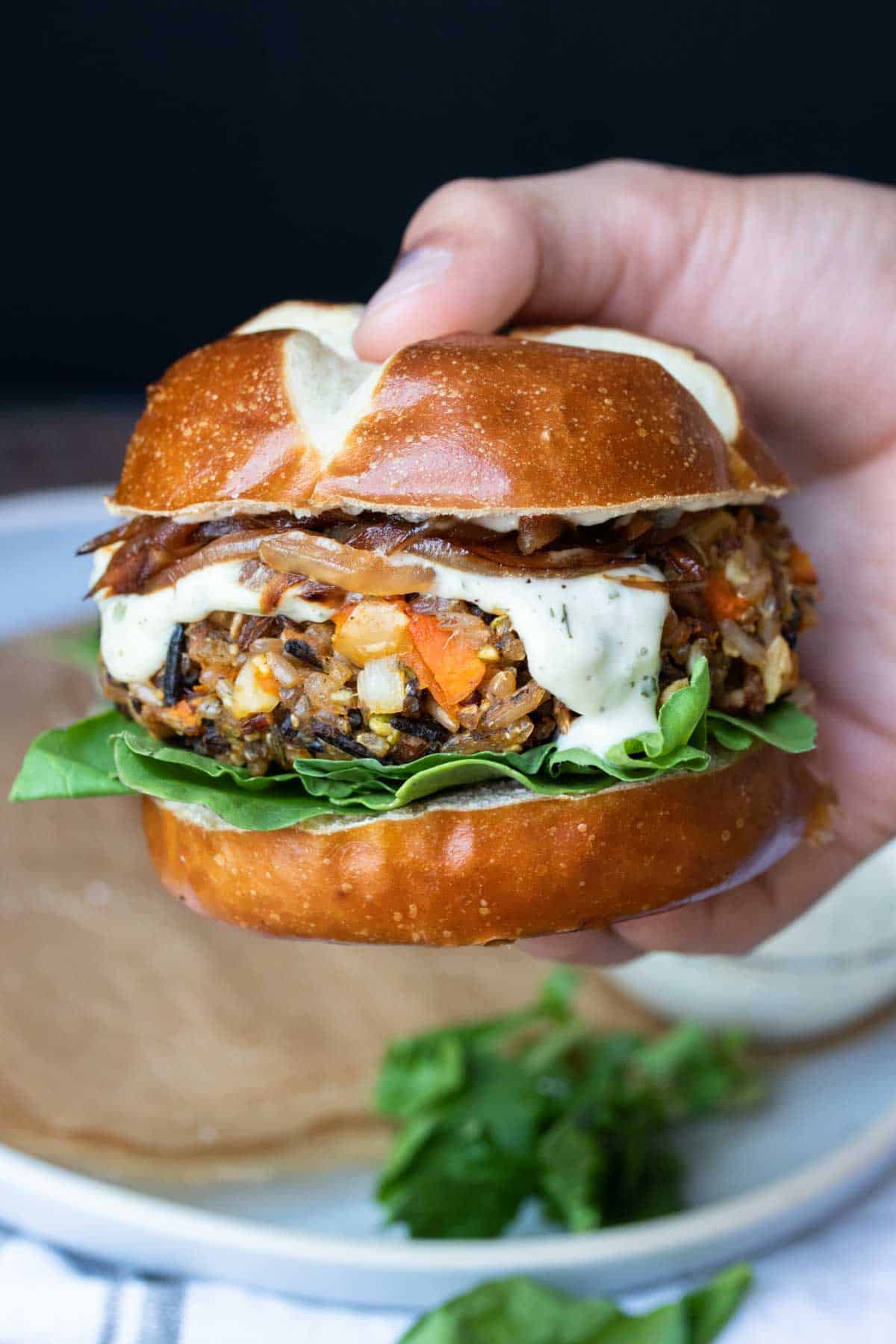 This butternut squash burger is customizable and so flavorful on it's own, you don't even need much. You can eat it in a bun, or even with a lettuce wrap or on a salad. Drizzle on a bit of dressing, side of baked fries and you're good to go!
You can also pair it with the avocado and kale salad for a whole well rounded meal!
How to make easy butternut squash burgers
Although there is some cooking time involved here, the active prep part is quick and easy. Prep the day before and take all the manual labor out of dinner for a smooth meal time.
Roast veggies and cook rice. 
Pulse veggies and then rice in the food processor. 
Mix together using your hands and shape into patties. 
Cook and top with all the things! 
More Vegan Burgers and Sandwiches You Might Like
This recipe was originally posted in October of 2015.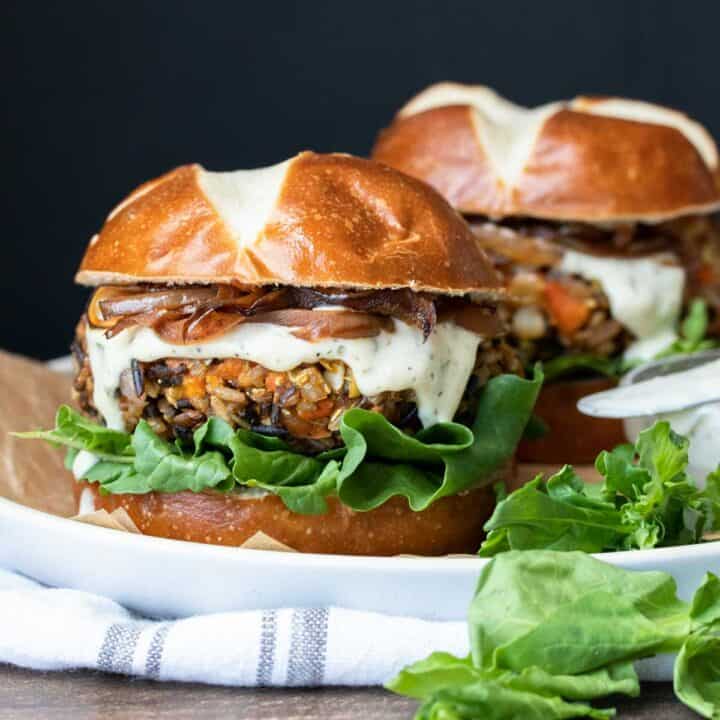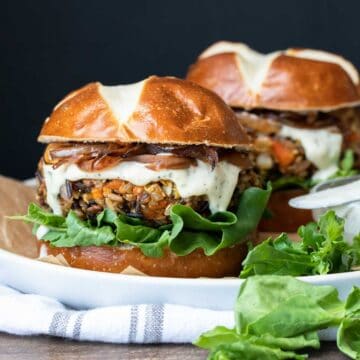 Butternut Squash Apple Burgers
Butternut squash burgers made with 7 ingredients and as easy as roast, pulse, shape and cook! Switch up your regular burger with this flavor bomb of fall.
Ingredients
2 cups cooked rice (I use brown or a wild blend) , about 1 cup dry (cook according to package directions)
1 ½ cups diced butternut squash , about half of one small sized squash
½ cup chopped shallots
1 cup diced granny smith apples , about one small apple
¼ teaspoon sea salt , divided
1 tablespoon fresh thyme
2 tablespoons pumpkin seeds , unsalted or adjust salt
Serving suggestions:
Caramelized onions
lettuce or arugula
burger buns , I used pretzel rolls
Instructions
Preheat oven to 400F/ 205 C.

Place diced squash on a parchment lined cookie sheet, sprinkle with ⅛ teaspoon salt and bake for 15 minutes.

At the 15 minute mark, add apples and shallots to the cookie sheet and sprinkle with the other ⅛ teaspoon salt. Bake another 30 minutes. Set aside to cool while you assemble everything else.

Put the veggie mix in a food processor with the thyme and pulse until chunky. Do not puree into a mush or paste. Add to a large bowl.

Next add the cooked rice and pumpkin seeds to the food processor and pulse until chopped a bit but still chunky. Add to the bowl.

Mix everything well. Add more salt if preferred.

Shape into 4 patties, then cook on stove top in a pan over medium heat for 7-9 minutes on each side or until browned. Keep pan covered to help the burger cook throughout and not dry out. If you're mixture was on the wetter side, then leave uncovered. Let sit for a few minutes after cooking to help the burger get more stable before eating.

Serve with toppings of choice!
Notes
You can use any rice you prefer, just make sure it's hearty and not too mushy.
If you want to roast the squash/apples/shallots with a drizzle of oil you can, however I did not and it turned out great.
I like these with both the aioli or the ranch with caramelized onions on top. Mix it up however you choose!
If your mixture seems dry, you make not have cooked the rice enough. If it is too wet, you probably overcooked the rice or used too much water to cook it. 
Tips to prep ahead:
Roast the veggies/fruit, make the rice and/or sauces ahead of time.  You can also make the patties and store in the fridge until the next day.
Baby/Kid Food Ideas:
Form these into small nugget sized pieces or even balls. Serve ranch as a dip.
Recipe by Veggies Don't Bite, visit our site for more great plant-based recipes.
Nutrition
Calories: 250kcalCarbohydrates: 51gProtein: 6gFat: 4gSaturated Fat: 0gPolyunsaturated Fat: 0gMonounsaturated Fat: 0gTrans Fat: 0gCholesterol: 0mgSodium: 133mgPotassium: 269mgFiber: 5gSugar: 4gVitamin A: 5680IUVitamin C: 15.3mgCalcium: 32mgIron: 1.1mg
Nutrition and metric information should be considered an estimate.
Never miss a recipe!
Sign up here and get a FREE quick and easy meal guide!