Discover the delicious world of vegan food at Disneyland! From quick bites to sit-down meals, there are plenty of options available for all dietary needs.
This guide will help you explore the diverse and innovative vegan food and drinks at both Disneyland and California Adventure. Satisfy your cravings while enjoying the magic of the parks!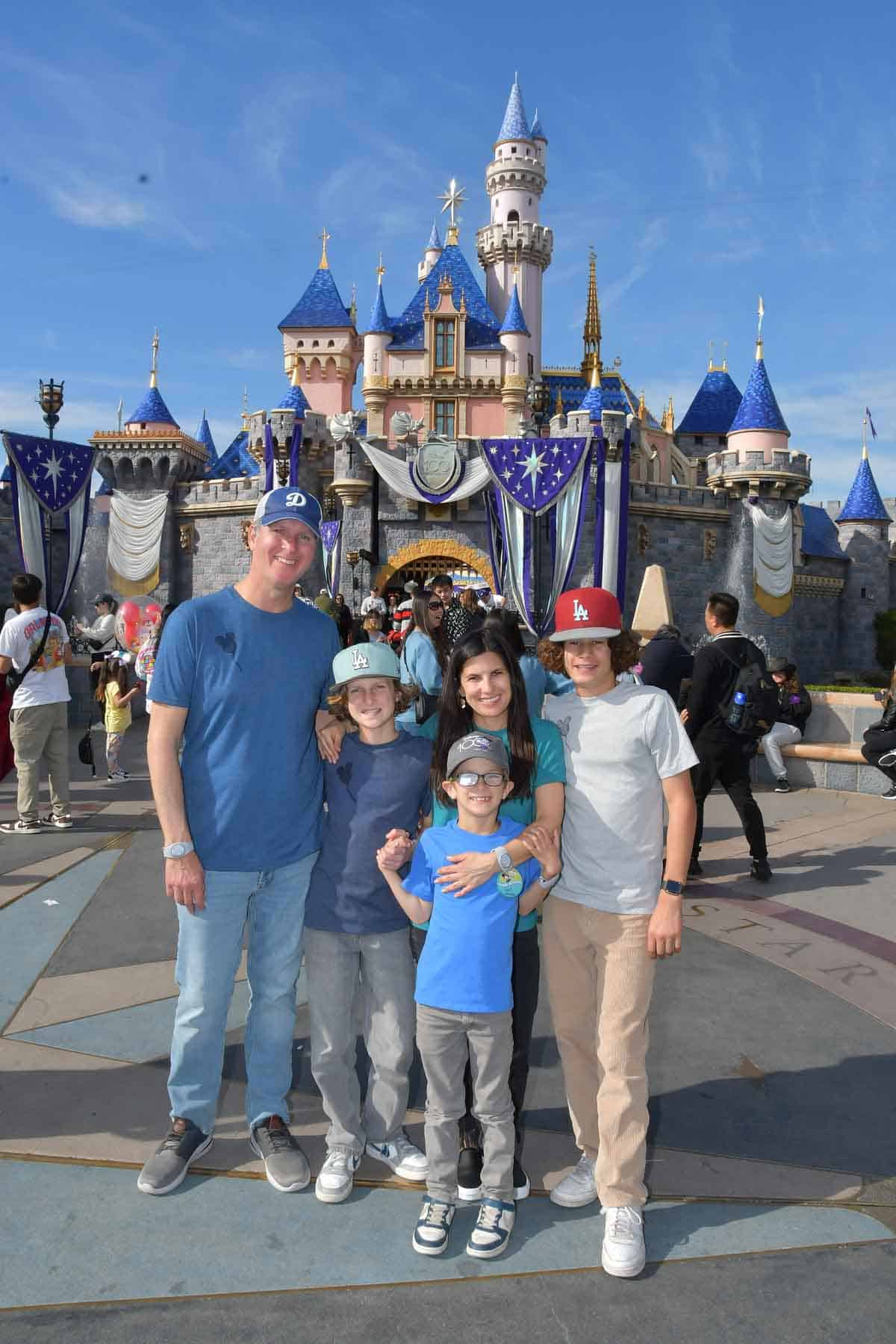 This post was sponsored by Disney Parks but the content and opinions expressed are fully my own.
This recipe was originally published on 2/20/2017
Making sure you have vegan food options when traveling is so important. It can make or break your day! I am breaking down everything both Disneyland and California have to offer.
The Importance of Vegan Food Options
Since most people go to Disneyland to enjoy the park and ride the rides, you don't want to spend too much time trying to find what to eat. Whether it is a dietary preference or allergy, having a guide to help you get the food you need fast is so helpful!
This list of vegan food options at both Disneyland and California Adventure is a mix of options we have tried ourselves and those that readers have shared with me.
It is not everything that Disneyland and California Adventure has to offer, but I tried to make it as comprehensive as I could.
Each dining location is trained to work with dietary needs so ask when you get there! Also, menus change all the time so make sure to keep that in mind as you go through this list.
Also make sure to check out my full guide on Gluten Free Food at Disneyland and dietary options at the Disney Food and Wine Festival too!
Disclaimer- always double check with the chef with any dietary needs since menus always change. Disney Parks are all very accommodating and will make sure what you are eating is safe for you.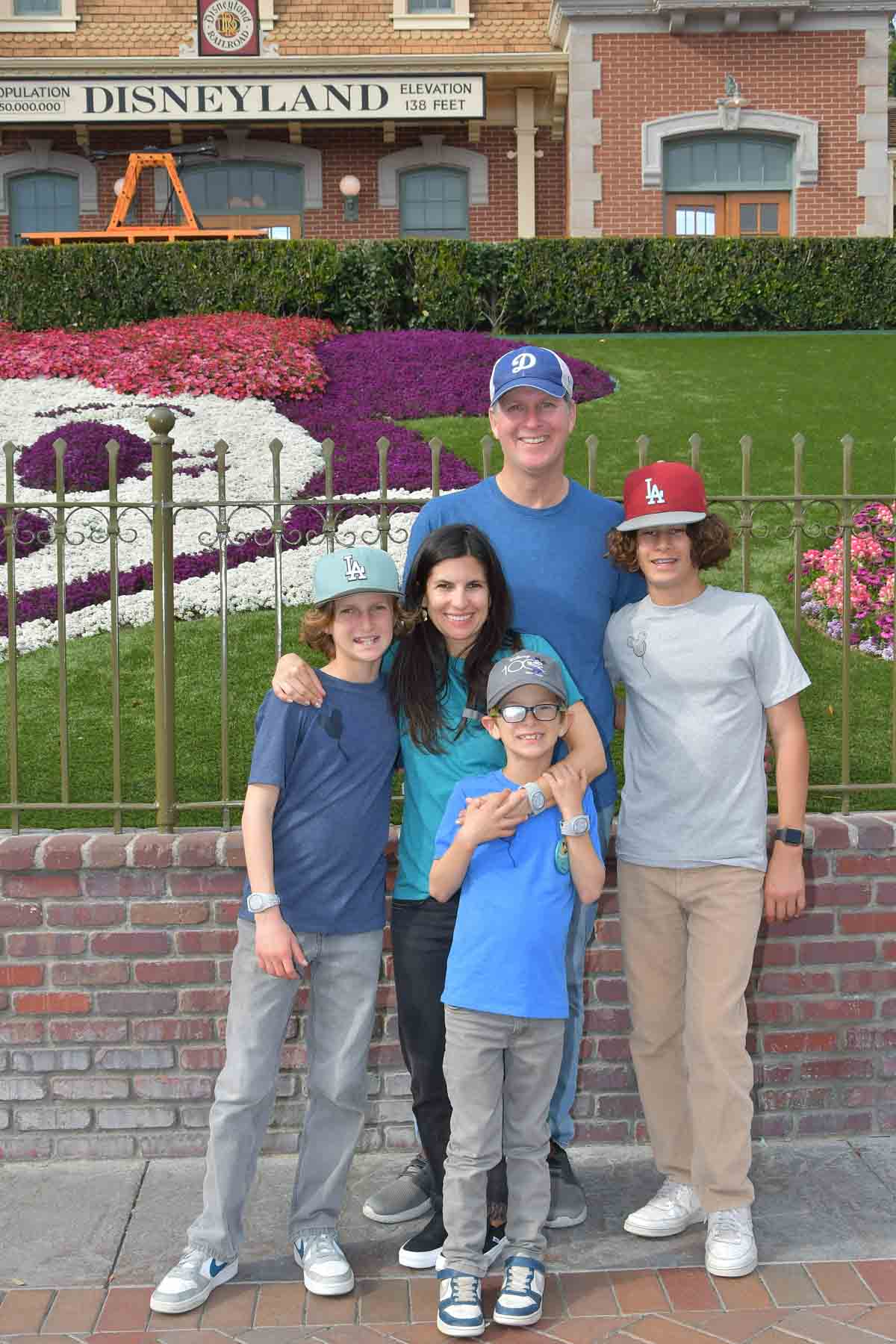 Vegan Food at Disneyland
Vegan Snacks
All over the park you'll find stands offering a variety of snacks. Disneyland has done a great job including plenty of vegan options including healthy snacks and treats.
Mickey Pretzel: SO good!
Fruit cups and fruit from the fruit carts all over the park
Chips (non dairy based)
Cotton candy
Frozen lemonade
Pre-packaged kettle corn
Hummus
Pickles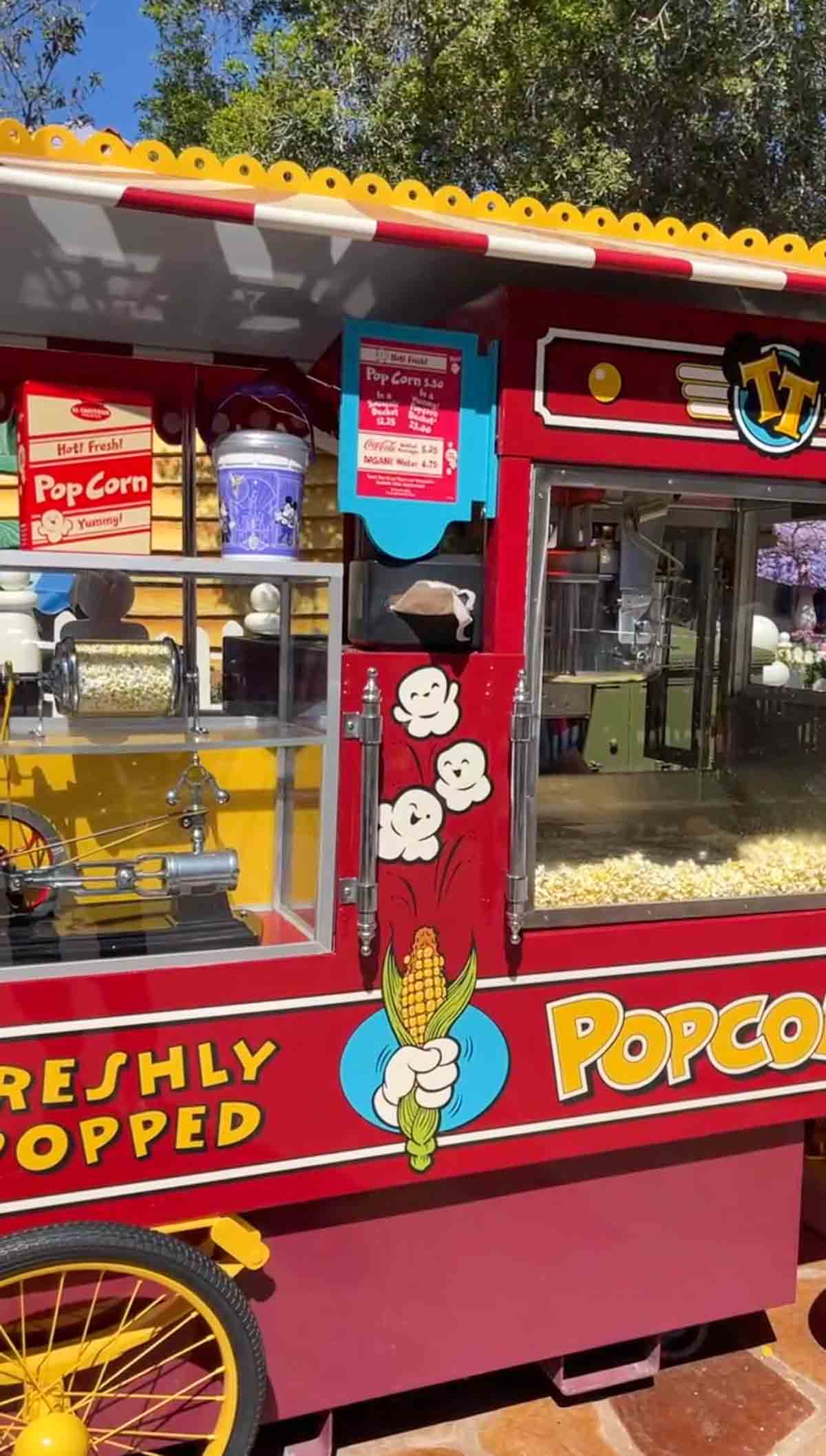 Main Street
As you enter the park you first stroll down Main Street, and the smells from each restaurant will draw you in! Whether you are looking for Breakfast, Lunch, or Dinner, you'll find a number of vegan options to choose from.
Carnation Cafe- Overnight Oats, Carnation Garden Salad, Veggie Burger: this was a decent lunch option. Since I tend to be a burger snob, I didn't love it but it was a good option with fries for lunch.
Market House- (AKA Starbucks) just like their locations outside of the Magic Kingdom, the Starbucks at Disneyland has vegan options available including their Impossible™ Breakfast Sandwich.
Plaza Inn- Hash browns and Mini Mickey Waffles. A reader said that the vegan waffles are only available in the morning so you may want to ask. For lunch you can order the penne pasta with marinara, ask for no cheese and vegan pasta to be sure.
Jolly Holiday Bakery- Cranberry-Pecan Salad, Breadsticks.
Gibson Girl Ice Cream Shoppe- Tofutti, there is sometimes a vegan alternative for ice cream but check for availability. A reader said that they told her they don't have it anymore but things change all the time.
Candy palace & Candy Kitchen- Rice milk chocolate bar, dark chocolate bar, and sugar cookies.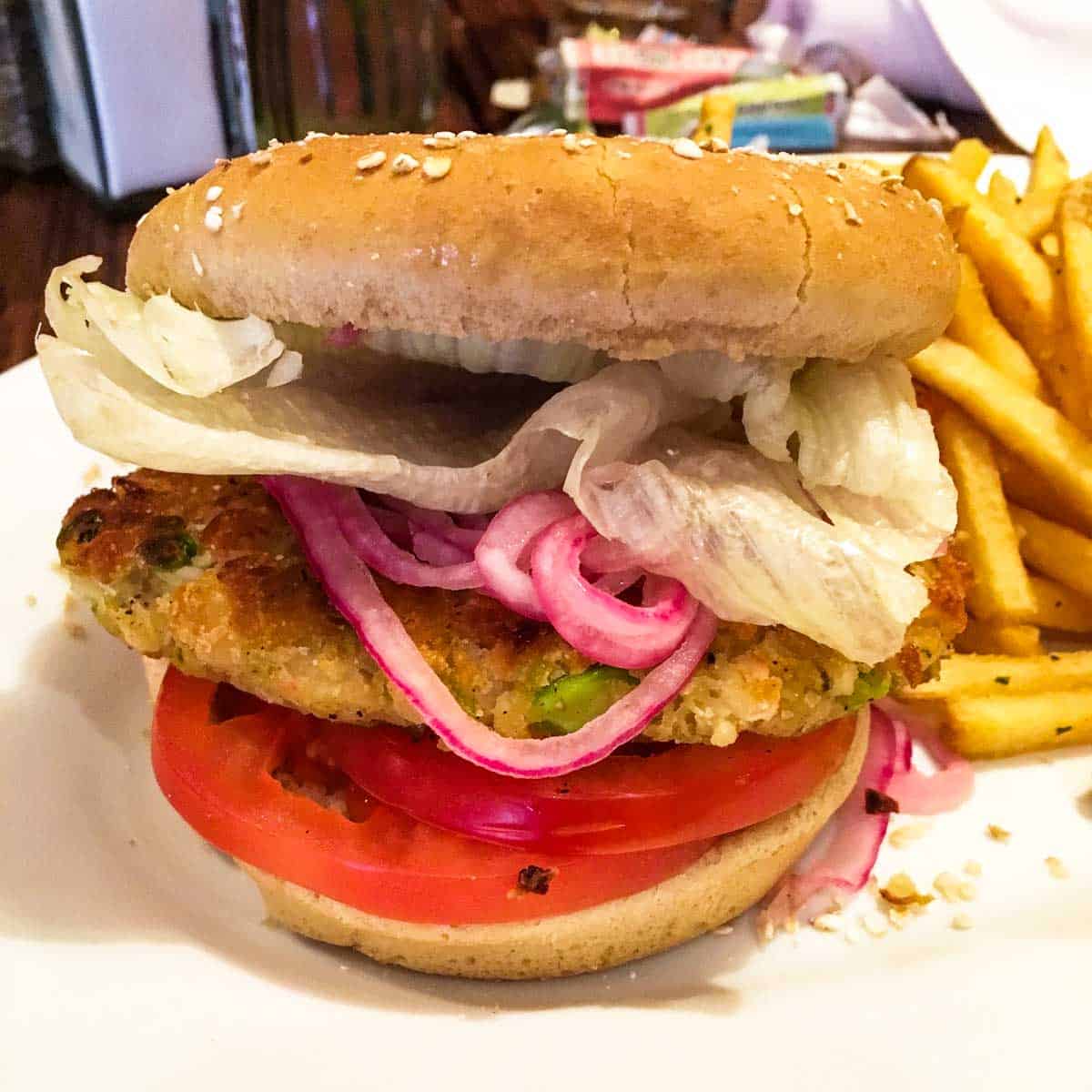 Adventureland
After hopping off of Indian Jones, grab a bite! One of my favorite vegan Disney foods can be found in this part of the park.
Tiki Juice Bar and Tropical Hideaway- Dole Whip: The most popular is the plain pineapple. But I love the chile mango flavor more than I like to admit. It has chunks of mango, pineapple and cucumber then drizzled with chamoy and a chile lime seasoning. Incredible!
Bengal BBQ- Veggie skewer, hummus trio, pineapple spear, dill pickle.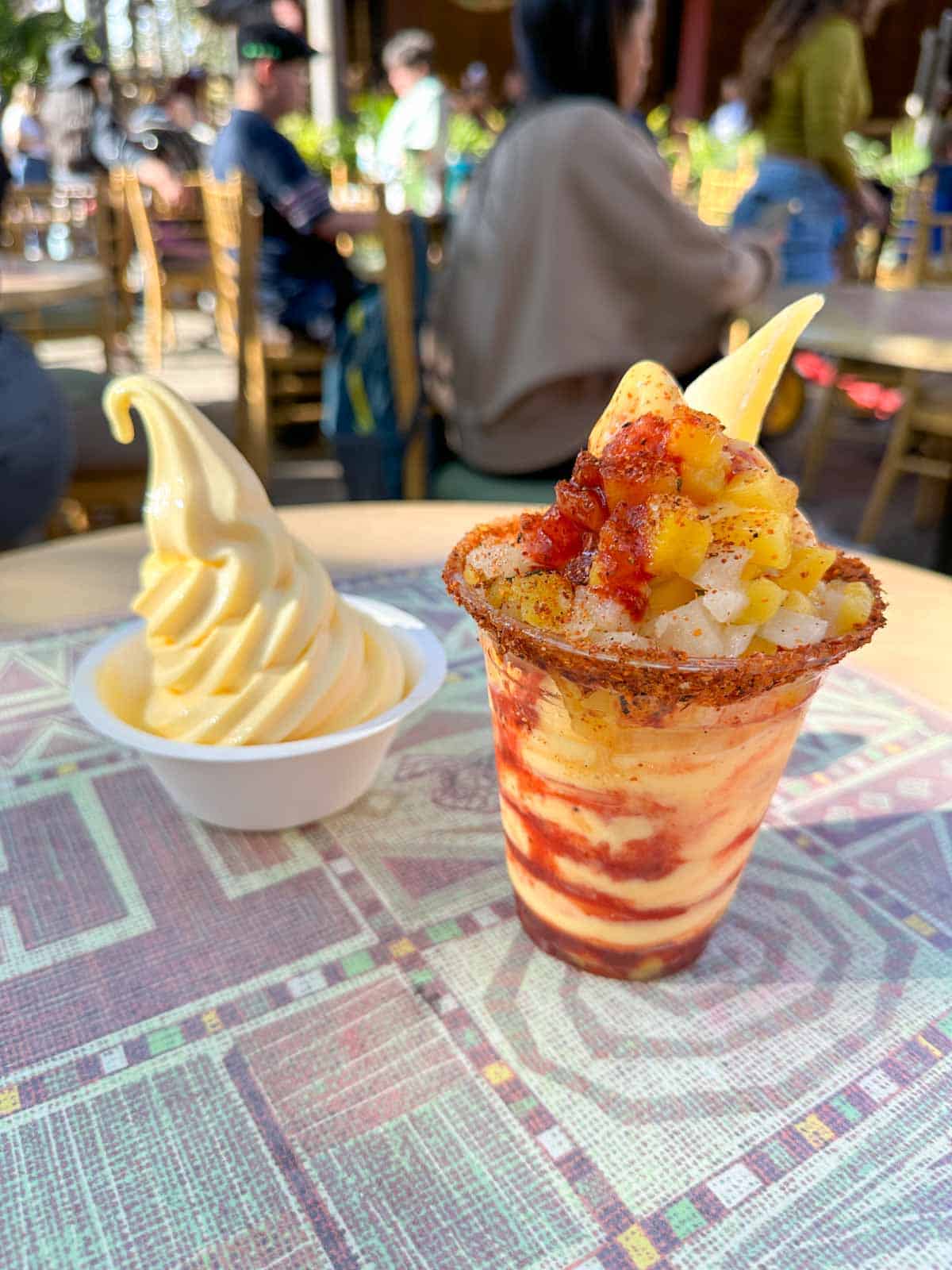 New Orleans Square
Not quite as many vegan Disney foods in this part of the park but you still have some choices! Definitely check the snack stands, in addition to these restaurants.
Royal Street Veranda- Vegetable Gumbo in Sourdough Bread Bowl. A reader updated that the vegan gumbo is no longer available. Make sure to ask before you order!
Blue Bayou Restaurant- Roasted Mushroom Ragu, Hearts of Palm Escabèche, and Crème Brûlée (definitely ask about this one, they have it listed as a plant based offering but the description doesn't sound like it is?).
Cafe Orleans- Farmers Market White Bean Hummus, French Onion Farro Risotto, Crème Brûlée
Critter Country
This part of Disneyland is best to hit for lunch or dinner time, I didn't see any breakfast options.
Hungry Bear Restaurant- Classic Impossible™ Cheeseburger and French fries.
Harbour Galley- Mushroom, Vegetable and Farro Stew, so cozy!
Frontierland
After you ride Big Thunder Mountain Railroad, chug over to any of these eateries with vegan options.
Rancho del Zocalo Restaurant- Cauliflower Tacos, and also everything that is vegetarian can be ordered vegan except the enchiladas.
River Belle Terrace- Black Bean & Chickpea Chopped Salad, Corn on the Cob Succotash, BBQ Tofu, Pear Oat Cobbler.
The Golden Grill and Stage Door Cafe- Impossible™ Chili Cheese Fries.
Mickey's Toon Town
This part of the park is best to grab a little snack, you can usually find any of the following at the snack stands.
Fruit
Chips (non dairy based)
Hummus
Dreyer's whole fruit bar
Fantasyland
While you're waiting in the incredibly long line for Peter Pan, place a mobile order for these fun and tasty vegan foods in the area.
Maurice's Treats- The boysen apple freeze looked so good but the line was too long and we had to meet friends.
Edelweiss Snacks- Corn on the cobb with no butter.
Red Rose Taverne- Little Town Harvest Bowl, Enchanted Cauli-Flower Sandwich, and Potato Bites.
Troubadour Tavern- Plantain Chips.
Tomorrowland
No matter the time of day, you can find vegan food in this part of Disneyland. In addition to snacks listed already, these are their current offerings.
Alien Pizza Planet- Impossible Bolognese, Satellite Salad, and they also have gluten-free pizzas and salads!
Galactic Grill- A new vegan breakfast bowl is made of Impossible sausage, Just Egg and vegan cheese! They also have a gluten free fruit cup, Veggie Wrap, and French fries. And some delicious frozen drinks.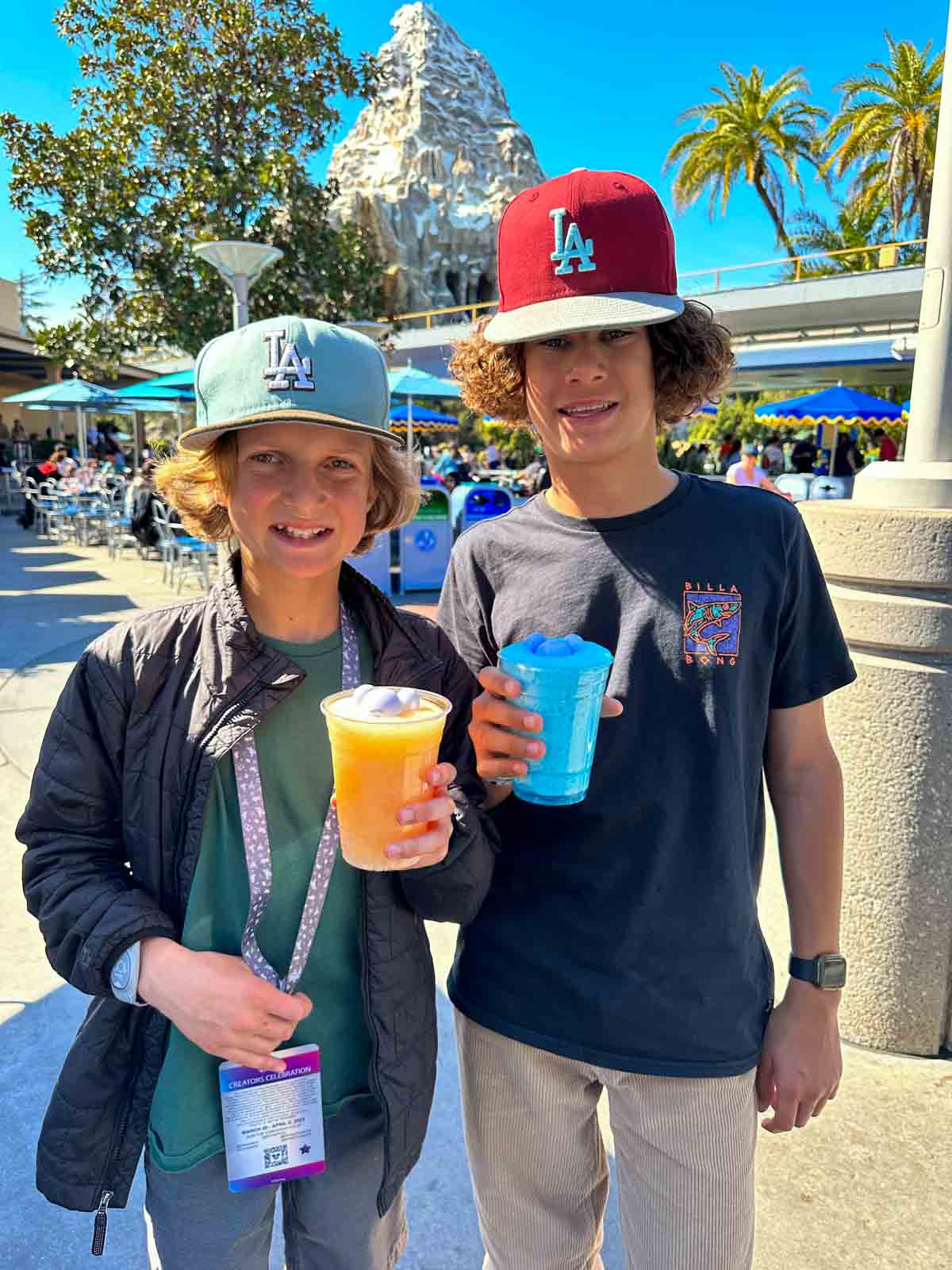 Star Wars Galaxy's Edge
If you haven't explored this newer addition to Disneyland yet you definitely need to! You are transported to another world, and lucky for us this world has vegan options!
Ronto Roasters- Ronto-less Garden Wrap made with Impossible plant-based sausage, spicy kimchi slaw, sweet pickled cucumber and a Gochujang spread. It is wrapped in pita bread.
Docking Bay 7- Felucian Garden Spread with plant based "kefta" meatballs, hummus, and a tomato cucumber relish served with pita bread. They also offer a Gluten free Endorian Salad, ask for no chicken, and the Kid's Ithorian Garden Patty Bao Bun.
Milk Stand- The blue and green milk is made of rice and coconut milk.
Kat Saka's Kettles- Vegan Popcorn in a sweet and spicy mix. There is also a Chocolate Popcorn with Crait Red Salt.
Oga's Cantina- Lots of great cocktails and beer to try.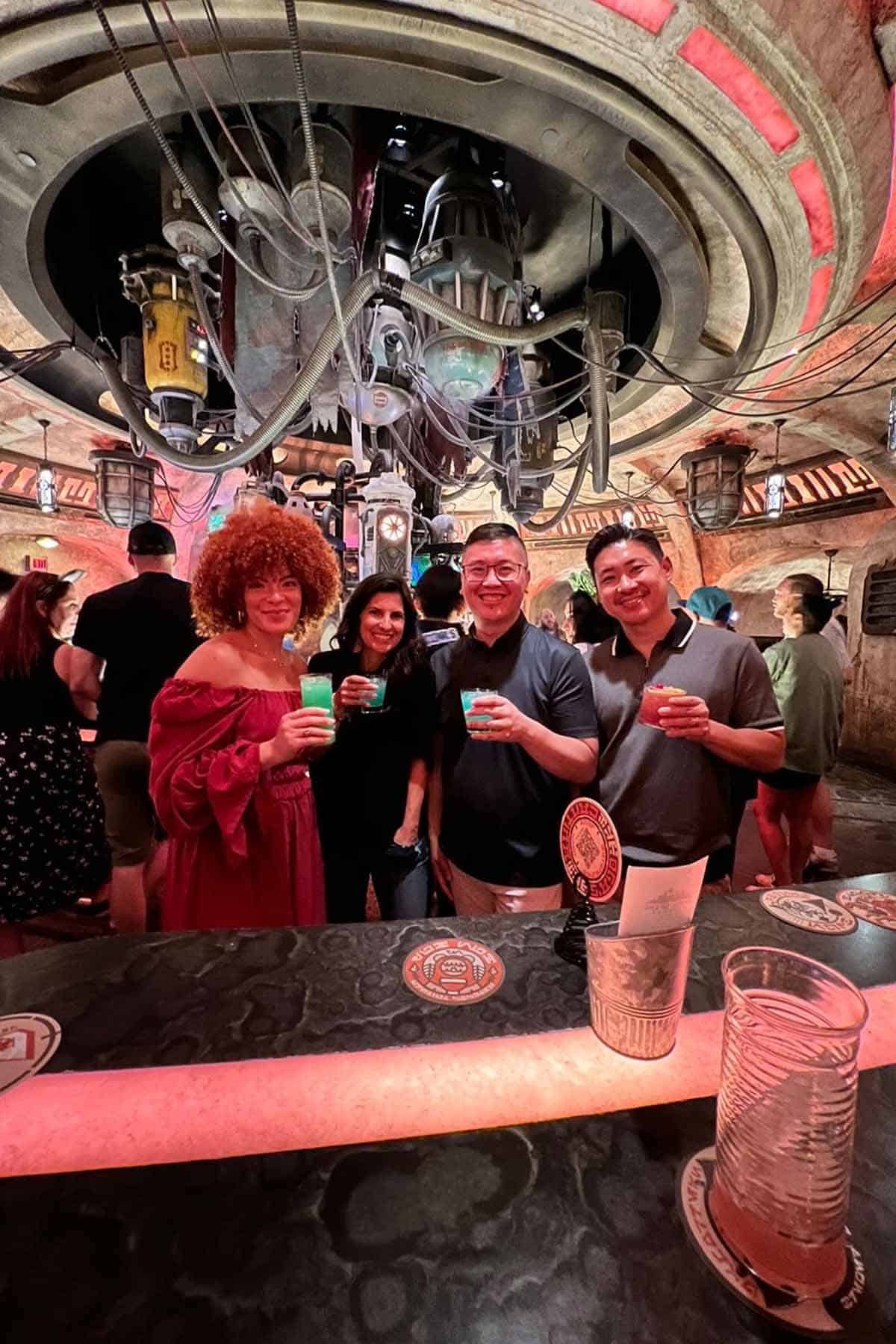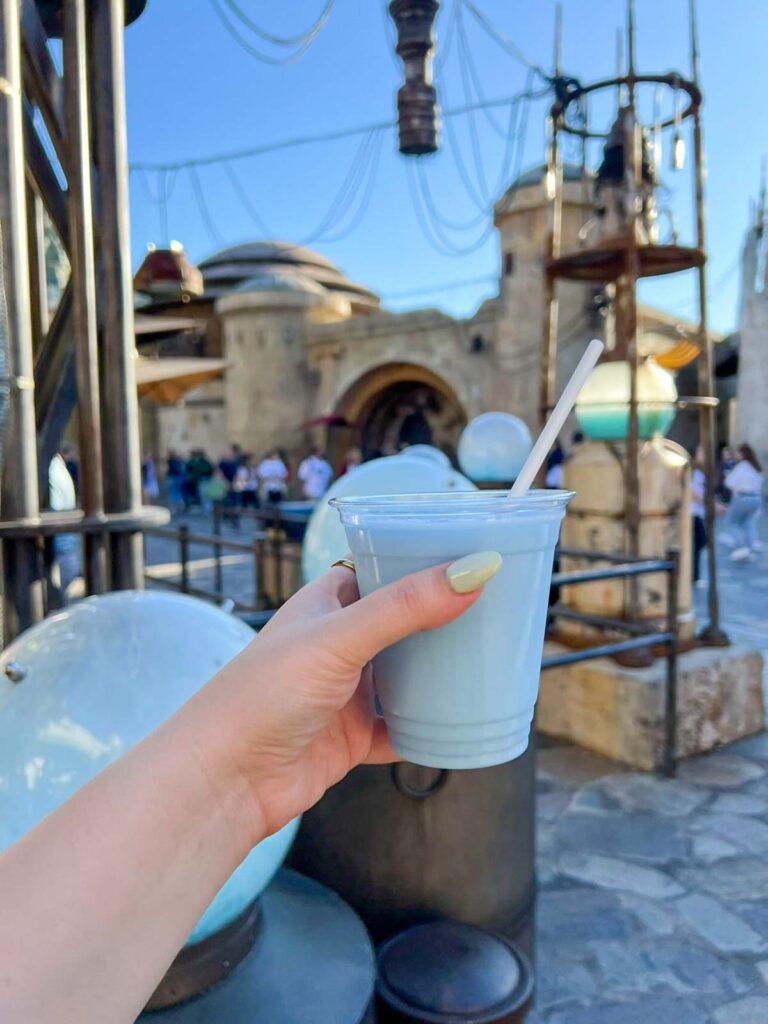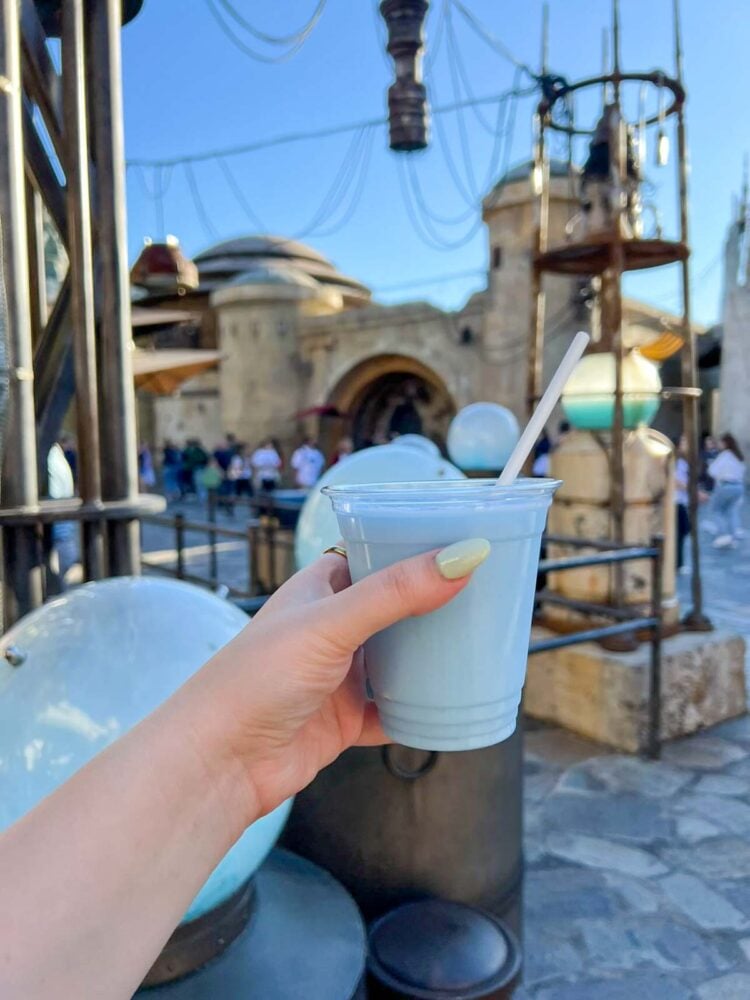 Vegan Food at California Adventure
Just across the way from Disneyland you'll find another park filled with lots of amazing vegan food! If you really want to get a good taste, make sure to check out the Disney California Adventure Food and Wine Festival!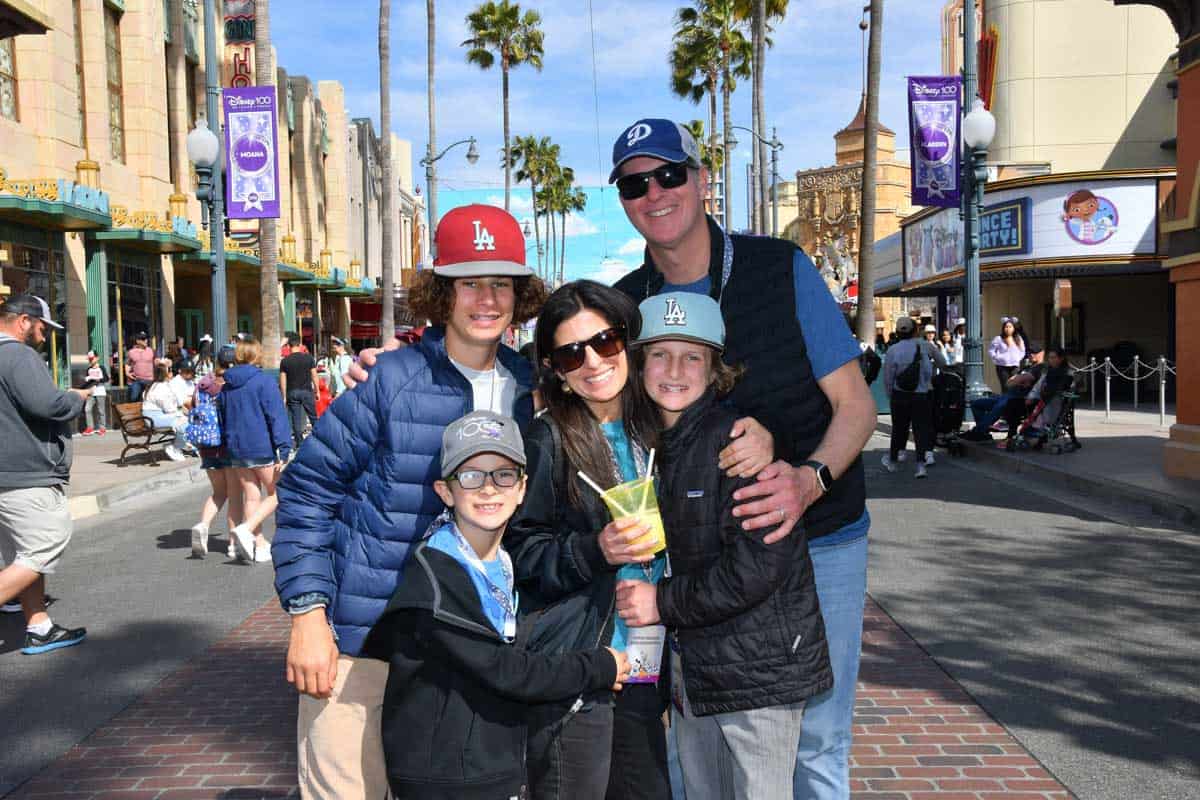 General Goodies:
Many of the markets and snack stands at California Adventure have vegan food options including all of these.
Dreyer's whole fruit bar
Frozen lemonade
Coffee drinks with soy milk
Hummus
Chips (non dairy based)
Fruit
Buena Vista Street
As you enter the park you'll walk through Buena Vista Street. Just like Main Street at Disneyland, you can find vegan food for breakfast, lunch, or dinner.
Carthay Circle- This restaurant only has a couple off menu things that are vegan. Usually they are a pasta and a vegan veggie tower made with seasonal produce. I also heard about a veggie sushi roll wrapped in rice paper at the bar.
Clarabella's Ice Cream Parlor- Berry sorbet bar covered in dark chocolate and dairy free chocolate chips (I asked the manager and she did tell me it was completed dairy free).
Fiddler, Fifer & Practical Cafe- (AKA Starbucks) same as the one over in Disneyland, this location has the menu items you're familiar with including the Impossible™ Breakfast Sandwich (remove the cheese and egg).
Hollywood Land
Just off of Buena Vista Street you'll find this fun little area with plenty of vegan food choices.
Award Weiners- Plant-based Philly Dog. They used to have a portobello philly steak sandwich but not sure if it's there anymore.
Fairfax Market- Hummus and Veggies, Fruit, Guacamole and Chips, chips, pickles, carrots and broccoli, applesauce.
Schmoozies- Any smoothie can be customized without dairy items.
Studio Catering Company- Plant-based Al Pastor Loaded Potato.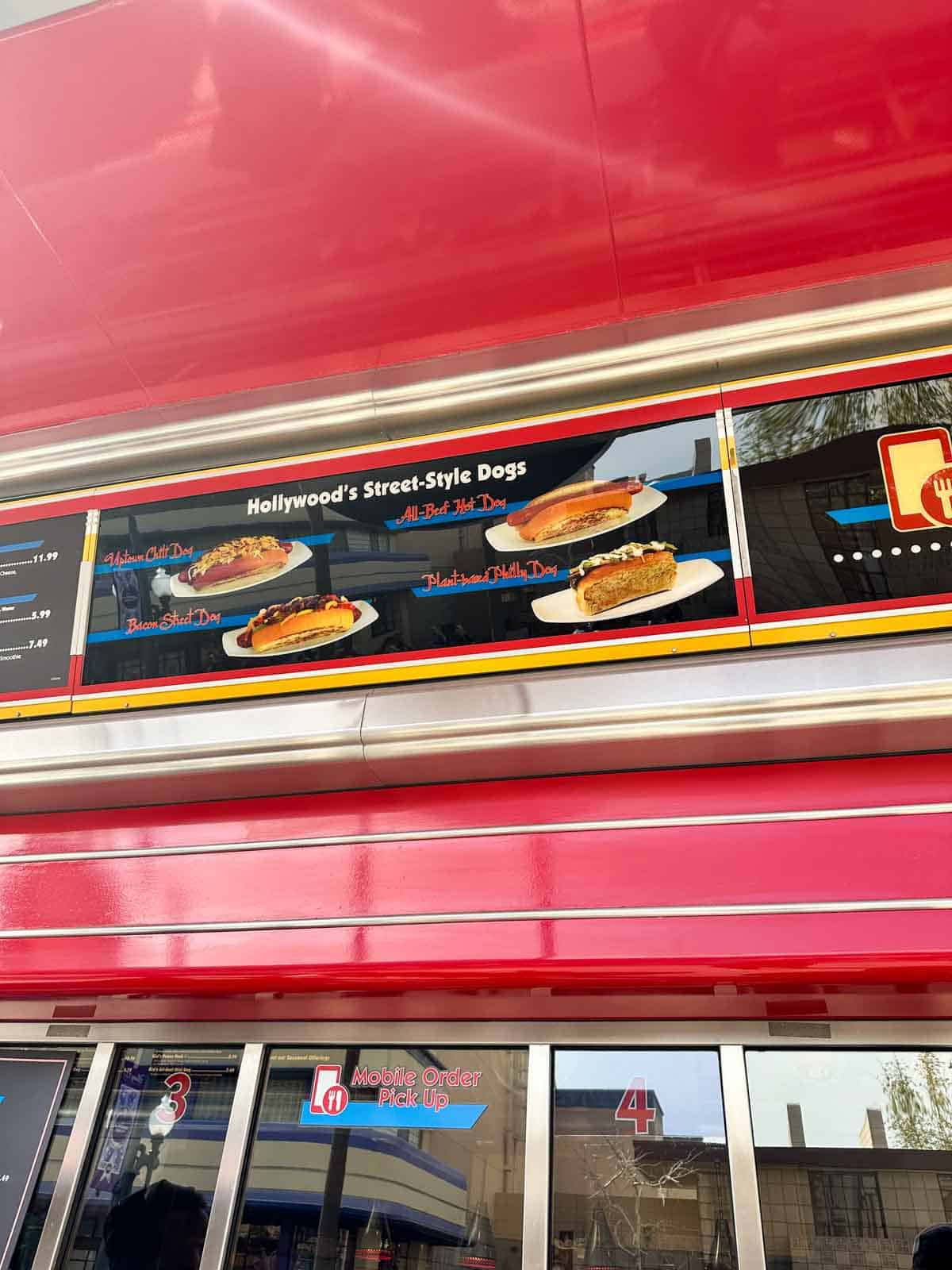 Avengers Campus
Definitely hit this part of the park for some vegan breakfast, lunch, or dinner!
Shawarma Palace- Impossible™ Breakfast Sha-warm-up and the Impossible Victory Falafel.
PYM Test Kitchen- Impossible™ Quantum Garden Breakfast, Impossible Spoonful, Mini Pasta and Impossible Meatballs.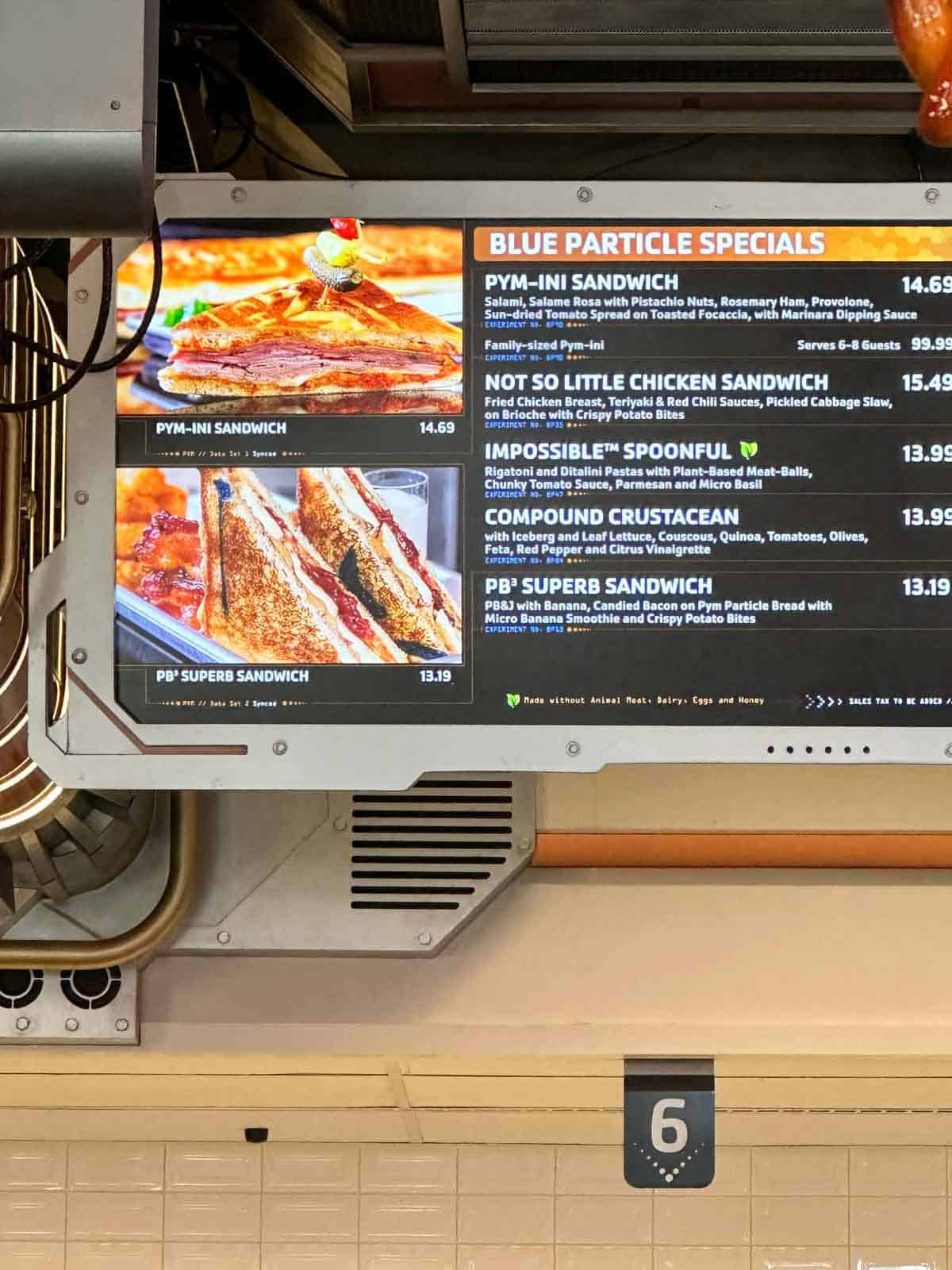 Cars Land
The vegan food is more limited in this part of DCA, but there will still be all the snack listed above.
Cozy Cone- Vegetarian chili in a pretzel cone: This was really good, order without cheese. The cone has egg so is not vegan, and it's not gluten free, but you can always just eat the chili and not the cone, or ask for the chili in a separate container.
Flo's Cafe- Impossible™ Burger.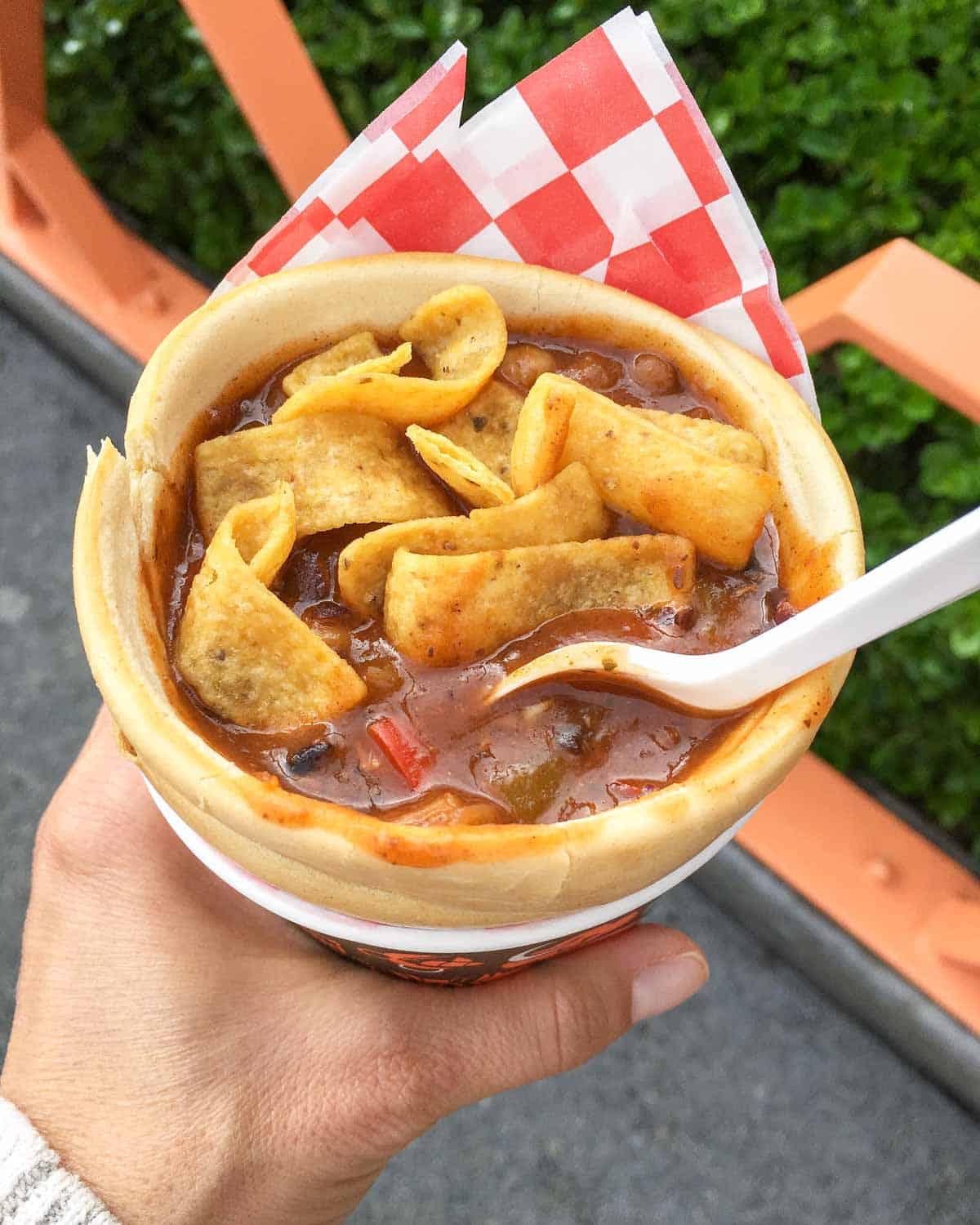 Pacific Wharf
You'll find a lot of restaurants and food stands in this part of California Adventure, and most of them have at least one vegan option.
Cocina Cucamonga Mexican Grill- Tacos Dorados de Papa, and you can also order the vegetarian items like tacos or burritos without cheese, sour cream or enchilada sauce. Enchiladas cannot be made vegan because of the sauce.
Lucky Fortune Cookery- Impossible™ Bánh Mì.
Pacific Wharf Cafe- Vegetarian chili if they have it that day. Asian Tofu Salad, and sourdough bread.
Wine Country Tratoria- Tomato Salad and Spaghetti Aglio Olio. This was a yummy pasta with veggies and cooked with olive oil, garlic and red chili flakes! Ask for vegan pasta to make sure it's fully vegan.
Ghirardelli Soda Fountain- Non-Dairy Hot Fudge Sundae, and the Vanilla Coconut Ice cream is non-dairy.
Rita's Baja Blenders- A quick stop place for delicious frozen margaritas!
Pixar Pier
If you don't have a strong stomach I suggest riding the Incredicoaster AFTER eating. Once you're ready, look for these vegan foods.
Lamplight Lounge- Potato Flautas (brunch menu only), Brussels Caesar, Pastrami-spiced Impossible™ Burger, Chorizo Nachos, Brownie with ice cream and a berry topping. They also have plant based / vegan off menu items you can ask for. They are the Vegan Nachos which are a vegan version of the Lobster Nachos and Vegan Potato Skins. You can also modify the Avocado Toast to be vegan but double check the bread used. Plus there are lots of great drinks!
Adorable Snowman Frosted Treats- It's Lemon!, It's Lemon and Mango Swirl!, and It's Mango! are all vegan flavors, as well as the Pixar Pier Frosty Parfait.
Jack-Jack Cookie Num Nums- soy milk, vanilla almond milk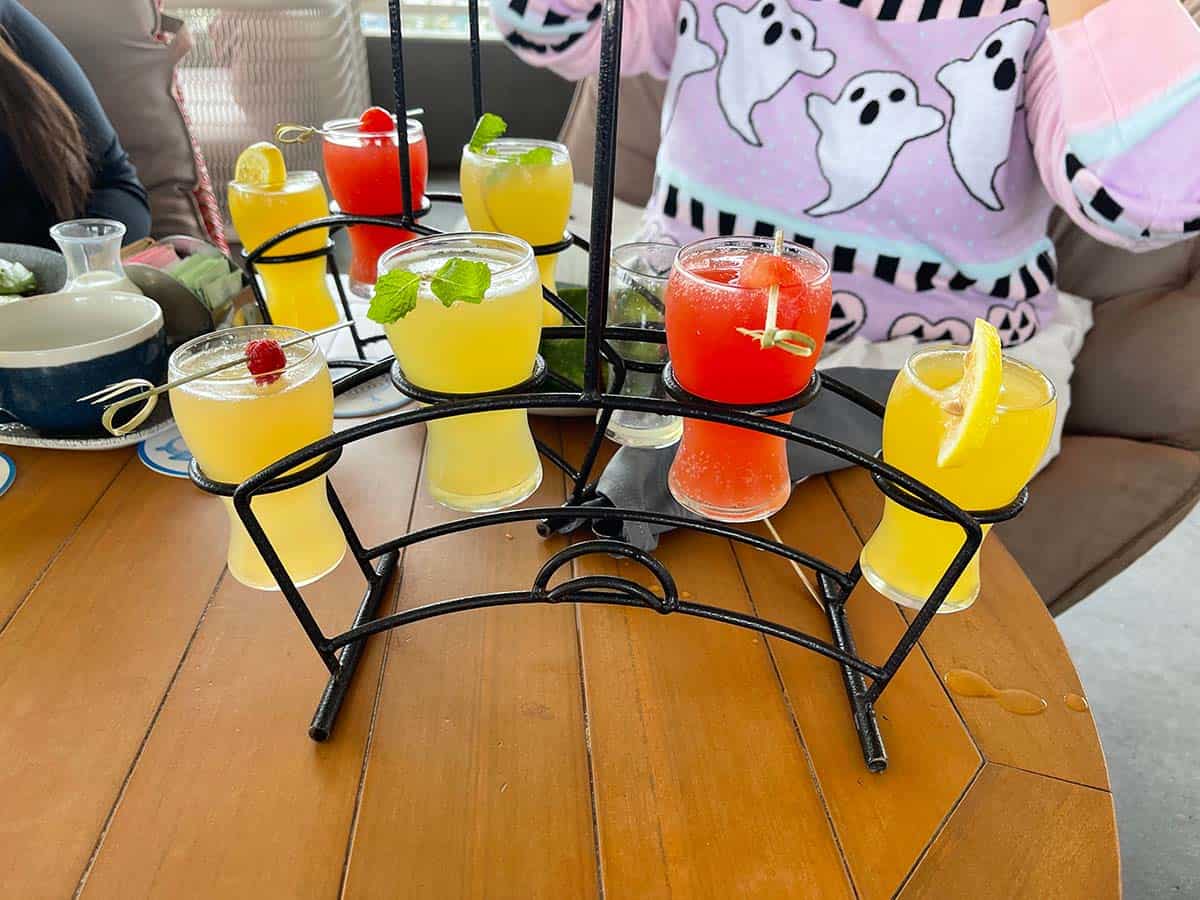 Paradise Gardens Park
There are a few places to eat in this area of California Adventure, but the most exciting is Paradise Garden Grill because it has a seasonal menu that changes depending on what is currently happening at the park.
Boardwalk Pizza and Pasta- Spaghetti with Impossible™ Meatballs, or order the vegetable pizza with no cheese. They may also still have a vegan pizza, but it is special request only. Field Greens or Side Salad.
Bayside Brews- Mickey Mouse Pretzel
Paradise Garden Grill- everything here is currently plant based due to the 2023 Disney California Adventure Food and Wine Festival!

Torta de Chilaquiles- plant based, vegetarian
Bulgogi Fried Rice- kid friendly, plant based, vegetarian
Impossible™ Gyro Fries- kid friendly, plant based, vegetarian
Buffalo Mac and Cheese- plant based, vegetarian
Peach-Blueberry Cobbler- kid friendly, plant based, vegetarian
Kids Quesadilla- kid friendly, plant based, vegetarian
Kids Mac and Cheese- kid friendly, plant based, vegetarian
Grizzly Peak
Work up an appetite on the Redwood Creek Challenge Trail before heading over to this restaurant.
Smokejumpers Grill- Double Impossible™ Cheeseburger and fries. A reader told me about the awesome vegan burger here! You need to specify vegan, but they have a build your own burger bar with loads of veggie toppings. Sounds amazing and I am definitely trying it next time!
Vegan Food in Downtown Disney and Disney Hotels
From quick bites to fine dining experiences, there are plenty of vegan-friendly options available in Downtown Disney and the Disney Hotels. Disney's chefs take great care in creating innovative and flavorful vegan options that you're sure to love!
Whether you're staying at a Disney Hotel or just visiting Downtown Disney, you're sure to find a variety of vegan options to suit your taste buds.
Overall make sure to ask about any breads like buns and sliced break and also if you care about a shared fryer for fries and things like crispy Brussels sprouts.
Downtown Disney
Sit Down Dining
Downtown Disney has some of my favorite restaurant options with plenty of vegan things to choose from. They are always super accommodating with making non vegan meals vegan as well!
Catal Restaurant- Ask to make sure the vegetarian paella is vegan, Pan con tomato and sauteed mushrooms.
Uva Bar- Avocado toast with no egg, bacon or aioli, guacamole, green goddess hummus, modify some of the salads, veggie burger and regular and sweet potato fries.
Naples Ristorante- Not the best as everything has to be modified versions of what they serve. You can omit the cheese on a pizza and have the house salad. Also ask about the vegan bread options.
Ralph Brennan's Jazz Kitchen- Impossible™ Burger without sauce, vegan pasta. Ask about the vegan jambalaya.
Black Tap Burgers and Shakes- Impossible™ all American Burger, fries, crispy Brussels sprout, guac and chips, Vegan Black N'White Cake Shake or vegan versions of their classic shakes (but Nutella has milk in it). Whipped cream has dairy.
Splitsville- Edamame, fries, vegan version of veggie roll with regular ponzu (kimchi has fish), Impossible™ Burger no sauce or cheese, and a vegan version of the veggie bowl.
Ballast Point- Fries, chips, pretzel sticks, vegan cauliflower tacos, vegan mushroom sandwich, kale and Brussels sprouts salads, vegan brownie sundae.
Tortilla Jo's- My favorite place! The tableside guacamole and homemade tortillas are second to none! You can modify any salad and use the vegan quinoa meatballs for tacos, burritos, and more. The vegetarian burrito is also vegan. You can also create veggie fajitas or enchiladas without cheese. The black beans and cilantro lime rice are the vegan versions.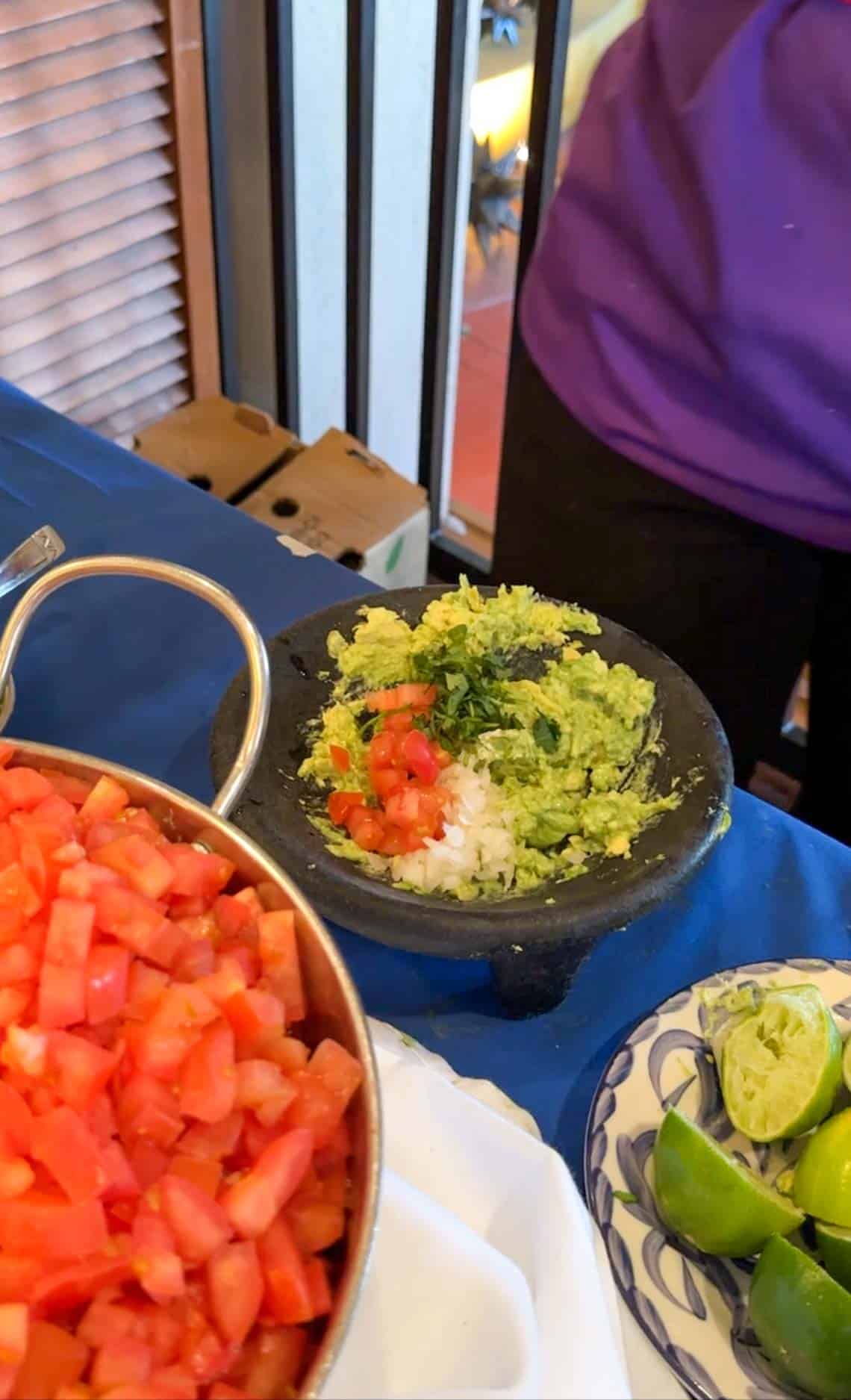 Quick Serve
These are great options, both sweet and savory, if you need something to grab and go or coming back late after a long day at the park.
Earl of Sandwich- Create a vegan sandwich with all the veggies.
Napolini- This is the quick service for Naples sit down restaurant. You can get a pizza with no cheese.
Taqueria- This is the quick service side of Tortilla Jo's and equally as amazing. I love that you can build your own bowl, taco, burrito or nachos. The vegan quinoa meatballs as a great protein option. Top with your favorite toppings but make sure you choose the black beans and cilantro lime rice.
Ralph Brennan's Jazz Kitchen Express- Since it is the express version of the restaurant they may not be able to serve vegan jambalaya but you can ask.
Wetzels Pretzels- Original pretzels or pretzel bites but no butter.
Starbucks- Coffee drinks with oat, soy, almond or coconut milk.
Salt and Straw- Vegan flavor options for the season and the regular freckled mint chip and marionberry sherbert.
Sprinkles- Vegan Red Velvet cupcake.
Marceline's Confectionary- Kettle corn, plain candied apples (check the ones with toppings for topping ingredients, snack mixes, other candy.
Jamba Juice- Most of their smoothies and smoothie bowls can be made vegan with dairy free milk but they also have a plant based menu. They also have an impossible breakfast sandwich but you would need to take out the egg and cheese.
Crazy Shake- This is the quick service for Black Tap Burgers. Ask for the Vegan Black N'White Cake Shake or vegan versions of their classic shakes (but Nutella has milk in it). Whipped cream has dairy.
Disney Hotels
Ask for vegan menus at any of the restaurants in the Disney hotels. I will give a brief overview at what I have seen overall. Here are the hotels and what restaurants each have:
Disneyland Hotel: Trader Sam's, Tangaroa Terrace, Goofy's Kitchen and The Coffee House
Grand Californian: Napa Rose, Storytellers Cafe, Hearthstone Lounge, and Craftsman Grill and Bar.
Paradise Pier: Guests here are given access to the restaurants at Grand Californian and there is a self service market near the entrance.
Vegan Food Options
Here are some ideas for vegan options at restaurants throughout the Disney hotels. You can also ask for specific menus or off menu vegan items!
Mickey pancakes
Mickey waffles
Veggie hash
Fresh fruit
Chia pudding
Impossible meatballs
Pizzas no cheese
Vegan version of rice bowls
Impossible™ Burger
Modifications to salads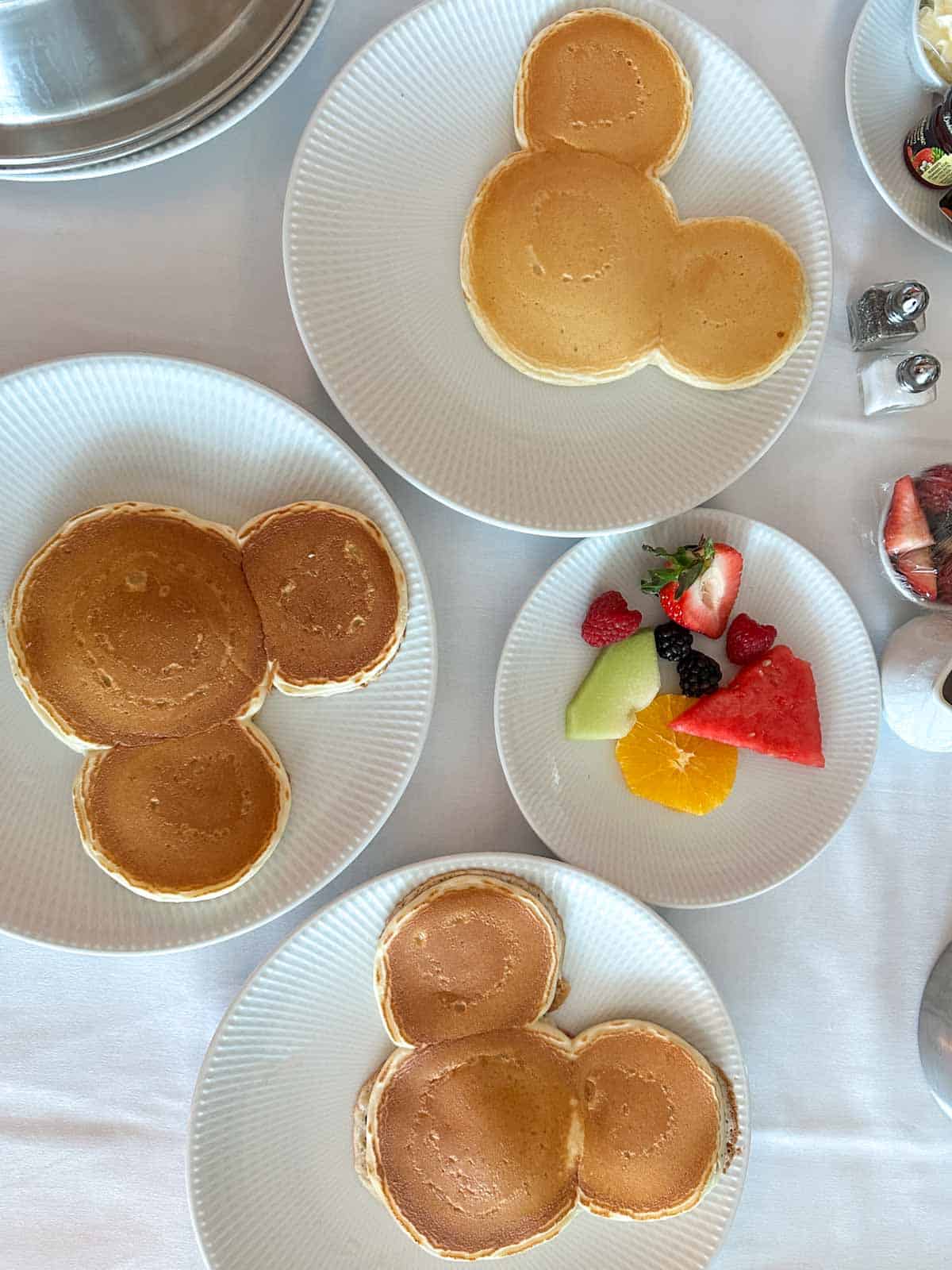 Tips for Vegan Dining
Both Disneyland and California Adventure do a great job of providing options for plant based dietary preferences. However it's still important to talk to each place you eat and communicate about your dietary needs.
Be sure to let restaurant staff or chefs know that you a need vegan or plant based options, and ask about their procedures to prevent cross-contamination if you are concerned about that. If you say you have an allergy, versus a preference, a chef will come out to talk to you personally.
Don't hesitate to ask questions, they're all more than willing to help you find vegan options. You can even ask for the specific ingredient information.
When your food is served, you can also double check with the cast member that is handing it to you that it is vegan or plant based.
Some menu items have a plant based distinction, but make sure to ask the cast member what the distinctions mean for that item.
Having this guide to get you through ordering food and snacks when you visit Disneyland and California Adventure can be so helpful and save you time.
With a little planning and communication, you can enjoy so many amazing meals and snacks and leave the worry behind!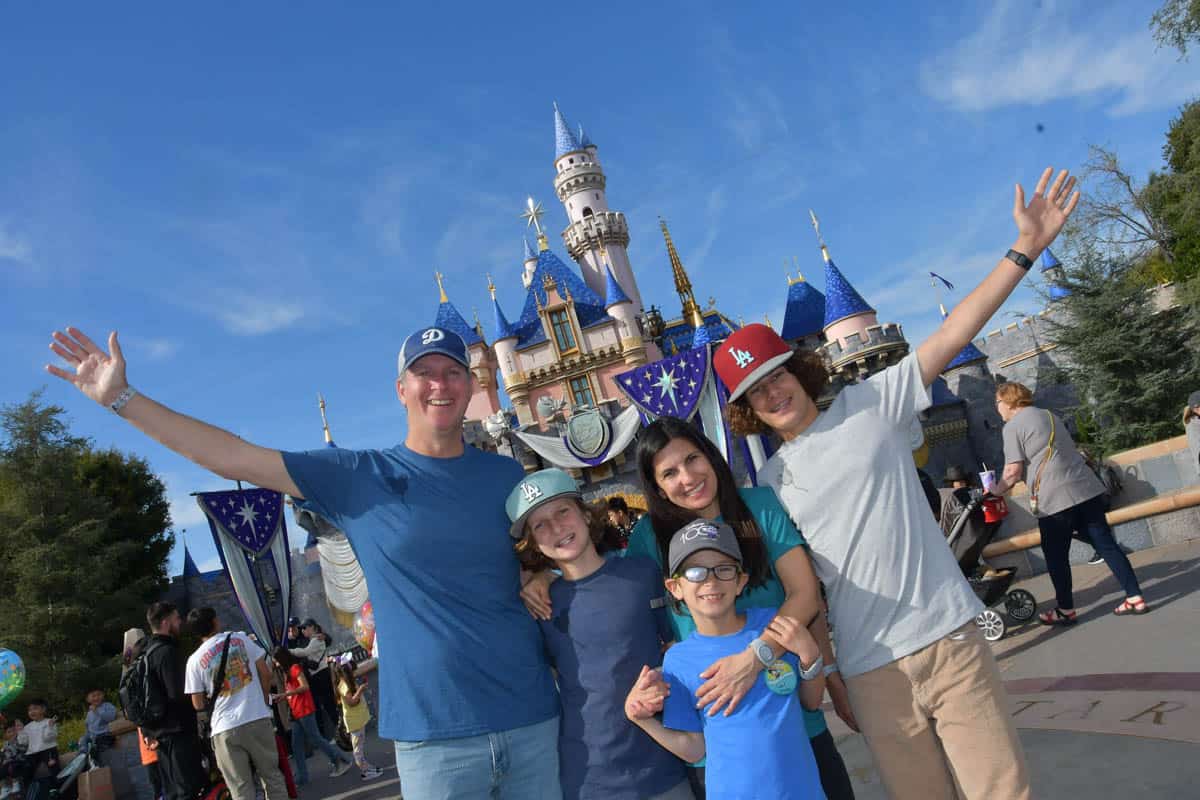 And as always, make sure you have fun first and foremost as this is the happiest place on earth!