This guide to vegan food at Disneyland will give you all you need for an amazing day! I am also including gluten free options!
Making sure you have gluten free and vegan food options when traveling is so important. It can make or break your day! I am breaking down everything both Disneyland and California have to offer.
I got two free tickets from Disney to write this post but the content and opinions expressed are fully my own.
This recipe was originally published on 2/20/2017
This list of vegan food options at both Disneyland and California Adventure is a mix of options we have tried ourselves and those that readers have shared with me.
This vegan food list is not everything that Disneyland has to offer, but I tried to make it as comprehensive as I could.
The items that I list here are what I believe to be vegan with the research I did. I did not go through the extensive process of asking each chef to verify everything on this list.
However each dining location is trained to work with dietary needs so ask when you get there! Also, menus change all the time so make sure to keep that in mind as you go through this list.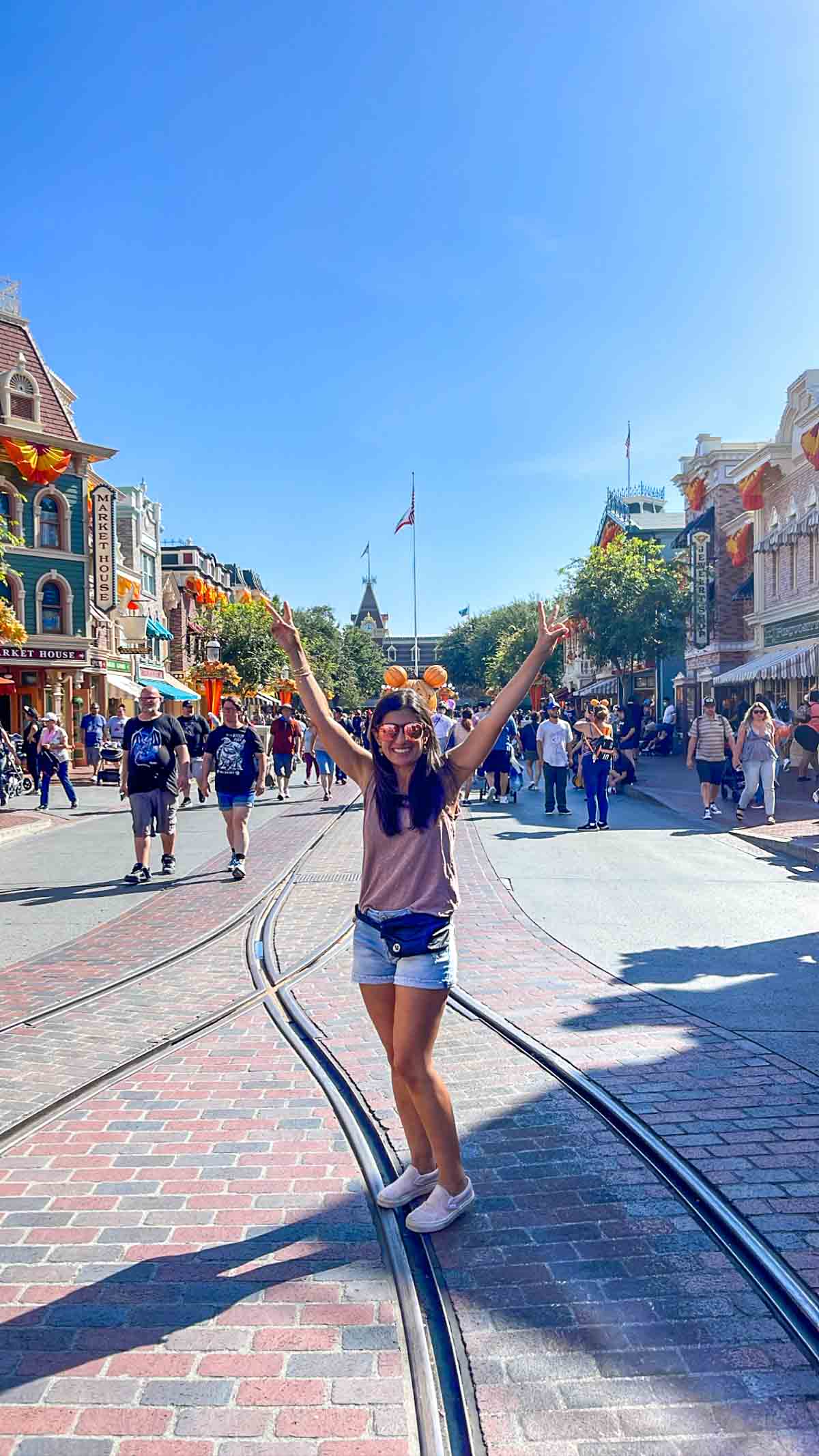 Vegan Food at Disneyland
Vegan Snacks
All over the park you'll find stands offering a variety of snacks. Disneyland has done a great job including plenty of options including healthy snacks and treats.
Mickey Pretzel: SO good!
Fruit cups and fruit from the fruit carts all over the park
Chips (non dairy based)
Cotton candy
Frozen lemonade
Pre-packaged kettle corn
Hummus
Main Street
As you enter the park you first stroll down Main Street, and the smells from each restaurant will draw you in! Whether you are looking for Breakfast, Lunch, or Dinner, you'll find a number of vegan options to choose from.
Carnation Cafe- Overnight Oats, Carnation Garden Salad, Veggie Burger: this was a decent lunch option. Since I tend to be a burger snob, I didn't love it but it was a good option with fries for lunch.
Market House- (AKA Starbucks) just like their locations outside of the Magic Kingdom, the Starbucks at Disneyland has vegan options available including their Impossible™ Breakfast Sandwich.
Plaza Inn- Hash browns and Mini Mickey Waffles. A reader said that the vegan waffles are only available in the morning so you may want to ask. For lunch you can order the penne pasta with marinara, ask for no cheese and vegan pasta to be sure.
Jolly Holiday Bakery- Cranberry-Pecan Salad, Breadsticks.
Gibson Girl Ice Cream Shoppe- Tofutti, there is sometimes a vegan alternative for ice cream but check for availability. A reader said that they told her they don't have it anymore but things change all the time.
Candy palace & Candy Kitchen- Rice milk chocolate bar, dark chocolate bar, and sugar cookies.
Adventureland
After hopping off of Indian Jones, grab a bite! One of my favorite vegan Disney foods can be found in this part of the park.
Tiki Juice Bar and Tropical Hideaway- Dole Whip: The most popular is the plain pineapple. But I love the chile mango flavor more than I like to admit. It has chunks of mango, pineapple and cucumber then drizzled with chamoy and a chile lime seasoning. Incredible!
Bengal BBQ- Veggie skewer, hummus trio, pineapple spear, dill pickle.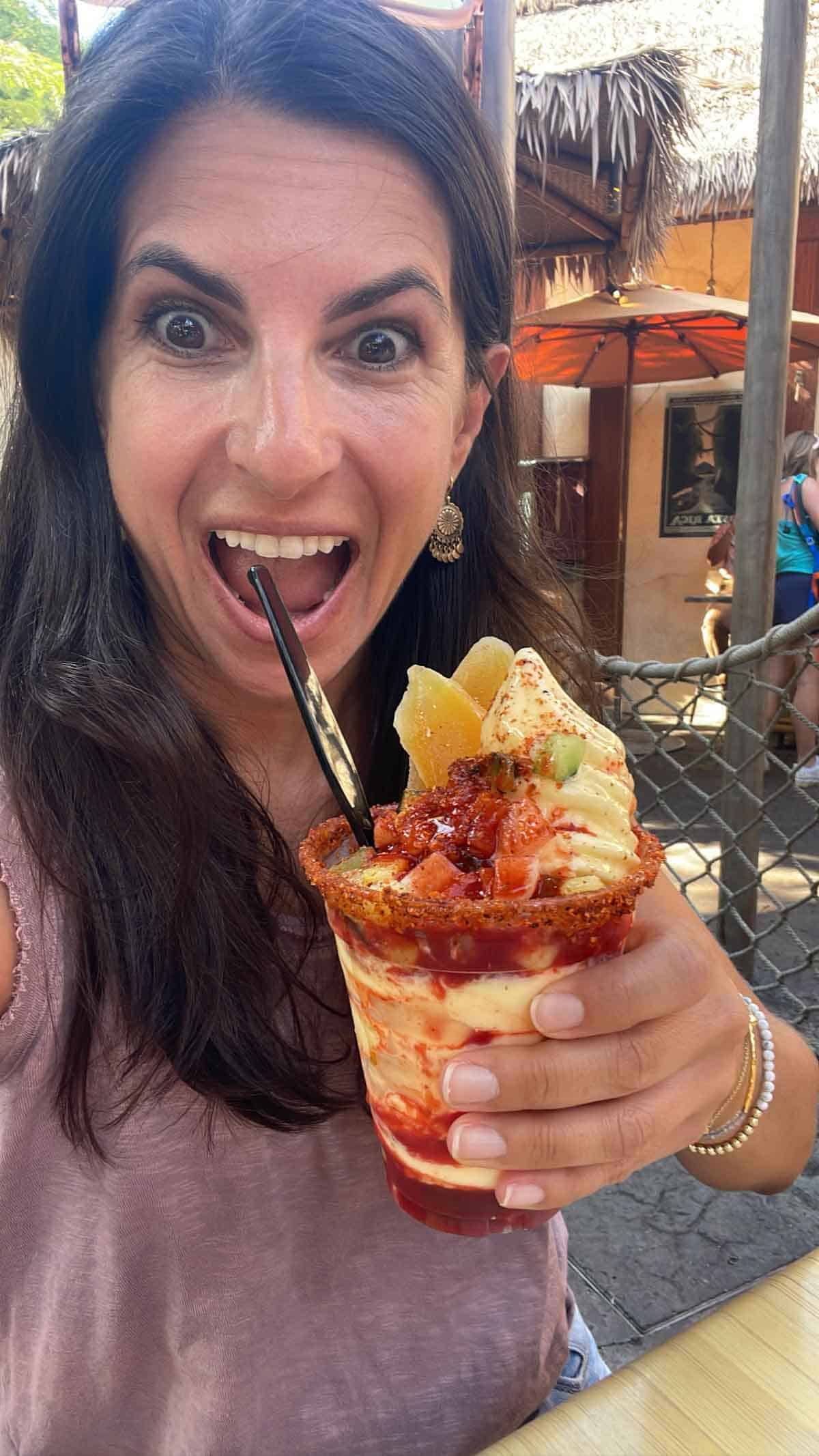 New Orleans Square
Not quite as many vegan Disney foods in this part of the park but you still have some choices! Definitely check the snack stands, in addition to these restaurants.
Royal Street Veranda- Vegetable Gumbo in Sourdough Bread Bowl. A reader updated that the vegan gumbo is no longer available. Make sure to ask before you order!
Blue Bayou Restaurant- Roasted Mushroom Ragu, Hearts of Palm Escabèche, and Crème Brûlée (definitely ask about this one, they have it listed as a plant based offering but the description doesn't sound like it is?).
Cafe Orleans- Farmers Market White Bean Hummus, French Onion Farro Risotto, Crème Brûlée
Critter Country
This part of Disneyland is best to hit for lunch or dinner time, I didn't see any breakfast options.
Hungry Bear Restaurant- Classic Impossible™ Cheeseburger and French fries.
Harbour Galley- Mushroom, Vegetable and Farro Stew, so cozy!
Frontierland
After you ride Big Thunder Mountain Railroad, chug over to any of these eateries with vegan options.
Rancho del Zocalo Restaurant- Cauliflower Tacos, and also everything that is vegetarian can be ordered vegan except the enchiladas.
River Belle Terrace- Black Bean & Chickpea Chopped Salad, Corn on the Cob Succotash, BBQ Tofu, Pear Oat Cobbler.
The Golden Grill and Stage Door Cafe- Impossible™ Chili Cheese Fries.
Mickey's Toon Town
This part of the park is best to grab a little snack, you can usually find any of the following at the snack stands.
Fruit
Chips (non dairy based)
Hummus
Dreyer's whole fruit bar
Fantasyland
While you're waiting in the incredibly long line for Peter Pan, place a mobile order for these fun and tasty vegan foods in the area.
Maurice's Treats- The boysen apple freeze looked so good but the line was too long and we had to meet friends.
Edelweiss Snacks- Corn on the cobb with no butter.
Red Rose Taverne- Little Town Harvest Bowl, Enchanted Cauli-Flower Sandwich, and Potato Bites.
Troubadour Tavern- Plantain Chips.
Tomorrowland
No matter the time of day, you can find vegan food in this part of Disneyland. In addition to snacks listed already, these are their current offerings.
Alien Pizza Planet- Impossible Bolognese, Satellite Salad, and they also have gluten-free pizzas and salads!
Galactic Grill- A new vegan breakfast bowl is made of Impossible sausage, Just Egg and vegan cheese! They also have a gluten free fruit cup, Veggie Wrap, and French fries.
Star Wars Galaxy's Edge
If you haven't explored this newer addition to Disneyland yet you definitely need to! You are transported to another world, and lucky for us this world has vegan options!
Ronto Roasters- Ronto-less Garden Wrap made with Impossible plant-based sausage, spicy kimchi slaw, sweet pickled cucumber and a Gochujang spread. It is wrapped in pita bread.
Docking Bay 7- Felucian Garden Spread with plant based "kefta" meatballs, hummus, and a tomato cucumber relish served with pita bread. They also offer a Gluten free Endorian Salad, ask for no chicken, and the Kid's Ithorian Garden Patty Bao Bun.
Milk Stand- The blue and green milk is made of rice and coconut milk.
Kat Saka's Kettles- Vegan Popcorn in a sweet and spicy mix. There is also a Chocolate Popcorn with Crait Red Salt.
Oga's Cantina- Lots of great cocktails and beer to try.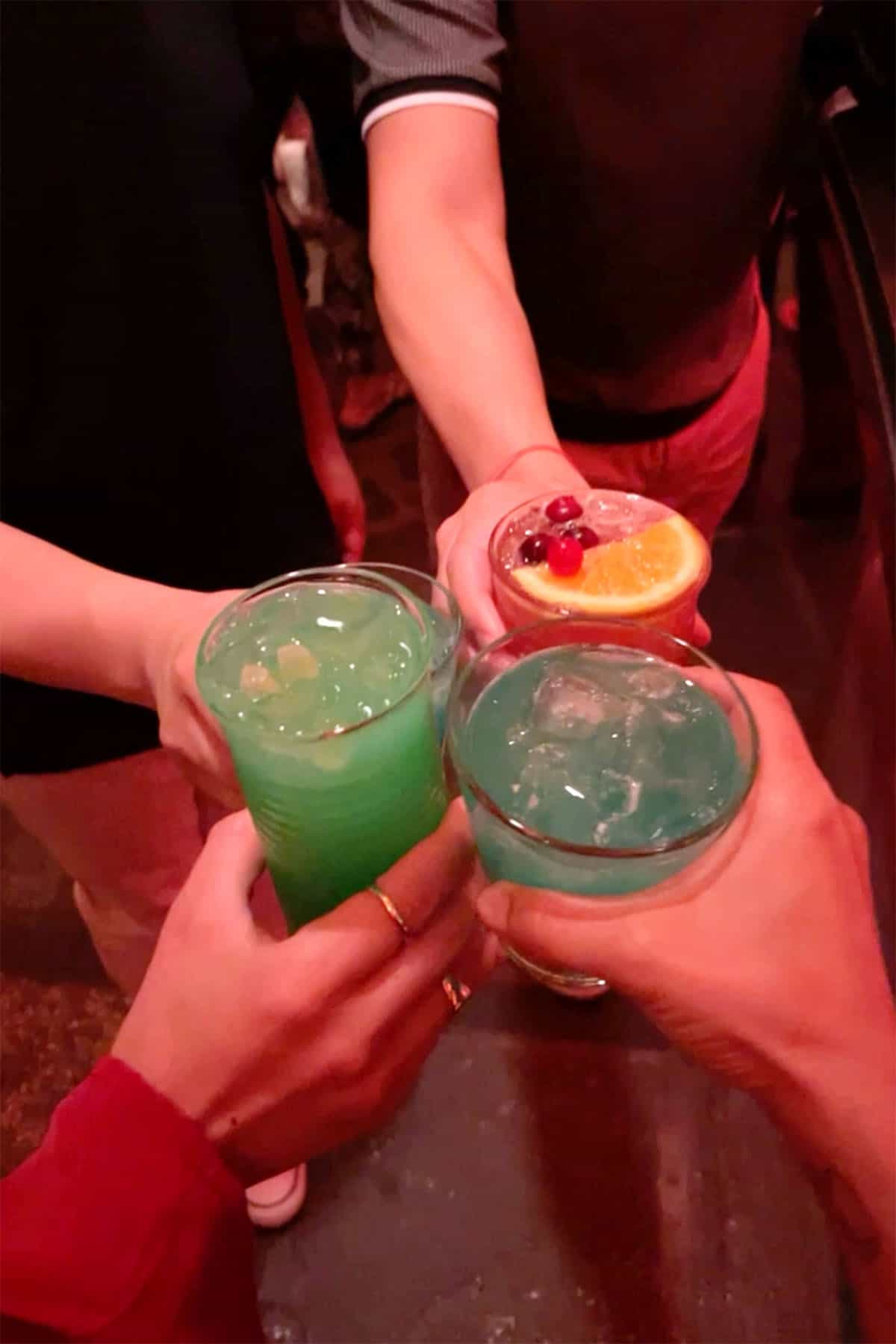 Vegan Food at California Adventure
Just across the way from Disneyland you'll find another park filled with lots of amazing vegan food!
General Goodies:
Many of the markets and snack stands at California Adventure have vegan food options including all of these.
Dreyer's whole fruit bar
Frozen lemonade
Coffee drinks with soy milk
Hummus
Chips (non dairy based)
Fruit
Buena Vista Street
As you enter the park you'll walk through Buena Vista Street. Just like Main Street at Disneyland, you can find vegan food for breakfast, lunch, or dinner.
Carthay Circle- This restaurant only has a couple off menu things that are vegan. Usually they are a pasta and a vegan veggie tower made with seasonal produce. I also heard about a veggie sushi roll wrapped in rice paper at the bar.
Clarabella's Ice Cream Parlor- Berry sorbet bar covered in dark chocolate and dairy free chocolate chips (I asked the manager and she did tell me it was completed dairy free).
Fiddler, Fifer & Practical Cafe- (AKA Starbucks) same as the one over in Disneyland, this location has the menu items you're familiar with including the Impossible™ Breakfast Sandwich.
Hollywood Land
Just off of Buena Vista Street you'll find this fun little area with plenty of vegan food choices.
Award Weiners- Plant-based Philly Dog.
Fairfax Market- Hummus and Veggies, Fruit, Guacamole and Chips, chips, pickles, carrots and broccoli, applesauce.
Schmoozies- Any smoothie can be customized without dairy items.
Studio Catering Company- Plant-based Al Pastor Loaded Potato.
Cars Land
The vegan food is more limited in this part of DCA, but there will still be all the snack listed above.
Cozy Cone- Vegetarian chili in a pretzel cone: This was really good, order without cheese. The cone has egg so is not vegan, and it's not gluten free, but you can always just eat the chili and not the cone, or ask for the chili in a separate container.
Flo's Cafe- Impossible™ Burger.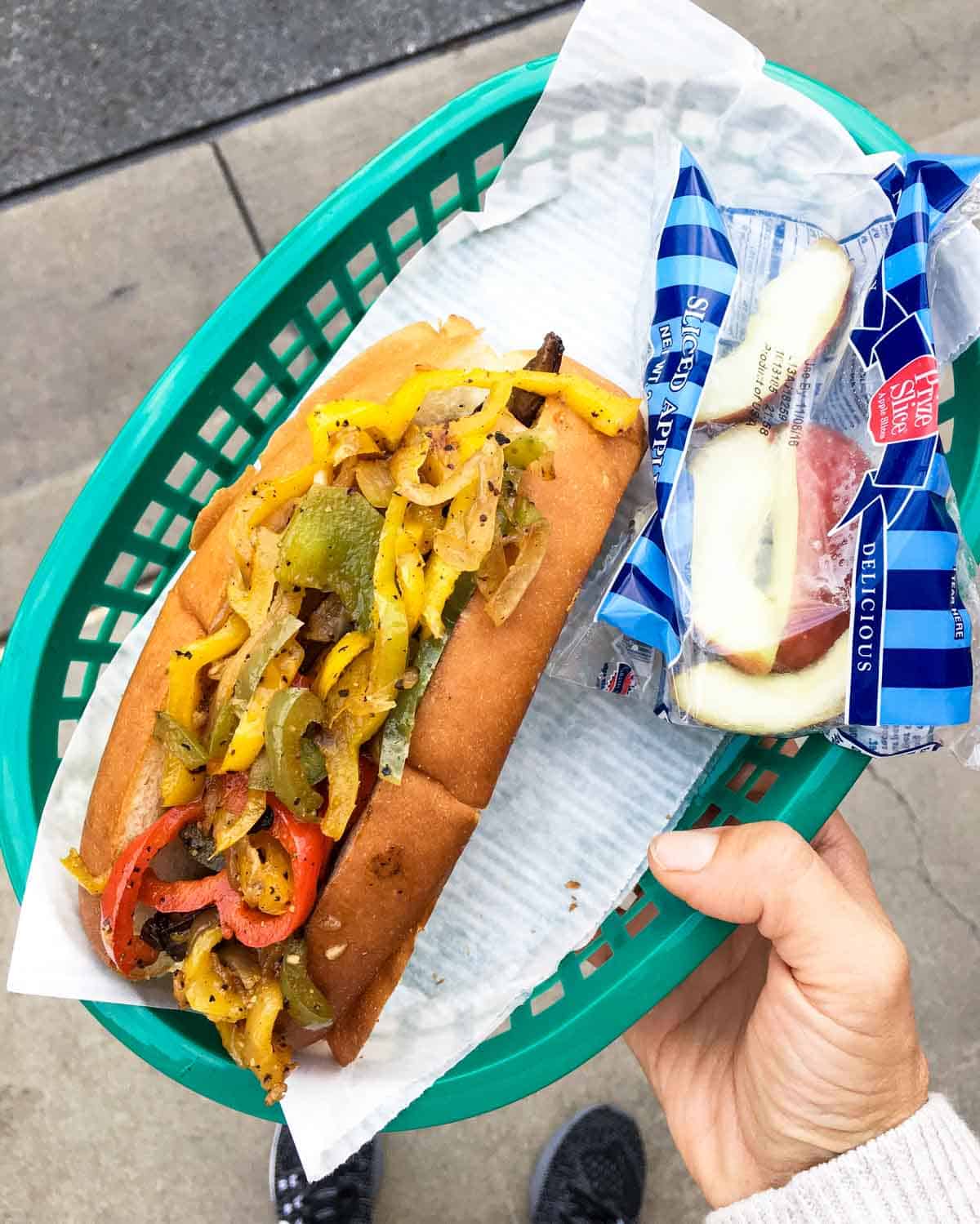 Pacific Wharf
You'll find a lot of restaurants and food stands in this part of California Adventure, and most of them have at least one vegan option.
Cocina Cucamonga Mexican Grill- Tacos Dorados de Papa, and you can also order the vegetarian items like tacos or burritos without cheese, sour cream or enchilada sauce. Enchiladas cannot be made vegan because of the sauce.
Lucky Fortune Cookery- Impossible™ Bánh Mì.
Pacific Wharf Cafe- Vegetarian chili if they have it that day. Asian Tofu Salad, and sourdough bread.
Wine Country Tratoria- Tomato Salad and Spaghetti Aglio Olio. This was a yummy pasta with veggies and cooked with olive oil, garlic and red chili flakes! Ask for vegan pasta to make sure it's fully vegan.
Lamplight Lounge- Potato Flautas as is. Brussels Caesar, Pastrami-spiced Impossible™ Burger, and a brownie. They also have plant based Chorizo Nachos in the lounge.
Ghirardelli Soda Fountain- Non-Dairy Hot Fudge Sundae, and the Vanilla Coconut Ice cream is non-dairy
Pixar Pier
If you don't have a strong stomach I suggest riding the Incredicoaster AFTER eating. Once you're ready, look for these vegan foods.
Paradise Garden Grill- Impossible™ Albondigas Soup.
Boardwalk Pizza- Spaghetti with Impossible™ Meatballs, or order the vegetable pizza with no cheese. They may also still have a vegan pizza, but it is special request only.
Adorable Snowman Frosted Treats- It's Lemon!, It's Lemon and Mango Swirl!, and It's Mango! are all vegan flavors, as well as the Pixar Pier Frosty Parfait.
Grizzly Peak
Work up an appetite on the Redwood Creek Challenge Trail before heading over to this restaurant.
Smokejumpers Grill- Double Impossible™ Cheeseburger and fries. A reader told me about the awesome vegan burger here! You need to specify vegan, but they have a build your own burger bar with loads of veggie toppings. Sounds amazing and I am definitely trying it next time!
Avengers Campus
Definitely hit this part of the park for some vegan breakfast, lunch, or dinner!
Shawarma Palace- Impossible™ Breakfast Sha-warm-up and the Impossible Victory Falafel.
PYM Test Kitchen- Impossible™ Quantum Garden Breakfast, Impossible Spoonful, Mini Pasta and Impossible Meatballs.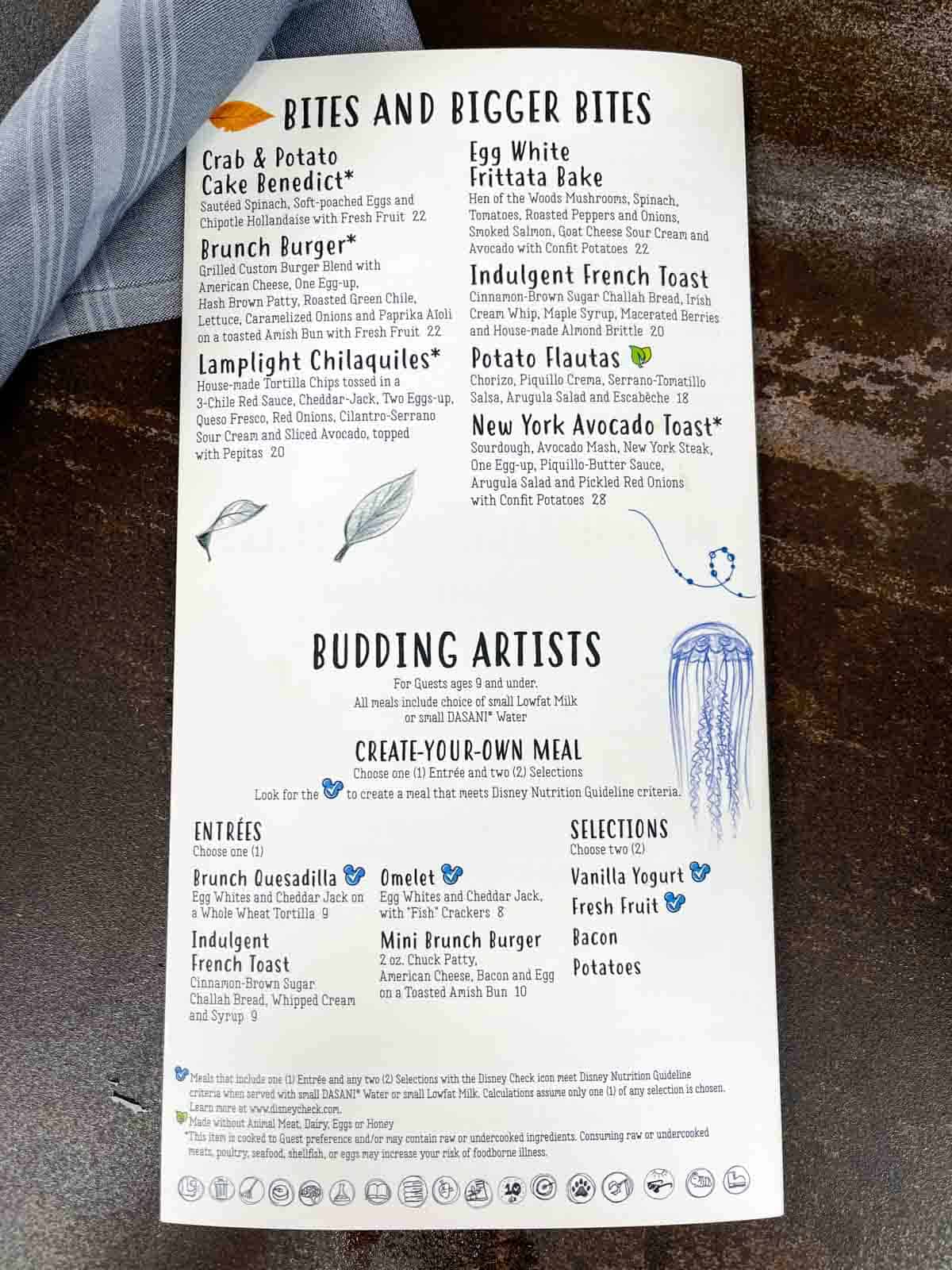 Disney California Adventure Food and Wine Festival 2018
Disney also sponsored me to attend the Food and Wine Festival in 2018. I have not been back since, but hope to go to another in the future.
This was an incredible experience with so many vegan options!
Not only does this amazing festival have food and drinks, but there are loads of fun activities for all ages. Here are some of the highlights:
Junior Chef Experience where kids ages 3-11 have some hands on fun led by Chef Goofy to make magical treats!
Family friendly seminars
Cooking demonstrations
Live music
Special dinners
and more!
See the official Disney website for specific details for future food and wine festivals.
The following is a list of vegan items and some ideas on how you can make the vegetarian food items vegan.
Top Vegan Food Items
Spiced Oumph! on Pita with Avocado Hummus and Garlic Sauce (found at Avocado Time)- This was an "I can't believe it is vegan" food item!
Compressed Asian Cucumbers with Green Sauce, Toasted Almonds and Sea Beans (found at Eat Your Greens)- Super flavorful and surprising how good it was!
Grilled & Chilled Artichoke Hearts with Romesco (found at I Heart Artichokes)- This was incredible!!
My Favorite Cocktails and Drinks
I love to taste different wines, beers, cocktails and drinks everywhere I go. Since I was driving home, I was not able to have much but I did have a few tastes of some amazing stuff!
Keep in mind that not alcohol is vegan so double check if that is important to you.
Beet Kombucha Sangria (found at Eat Your Greens)- This was the best Sangria ever!!
Health-Ade Beet Kombucha with Wild Berry FOMZ (found at Eat Your Greens)- If you like beets, then you'll love this. I am not a huge beet fan.
Strawberry Frose (found at Strawberry Patch)- This was delish even the small sip I had!
Watermelon Lemonade (found at Peppers Cali-Ente)- This was really good! I love the habanero twist and Tajin rim.
Meyer Lemon Ginger Mule (found at Citrus Grove)- I did not try this but I drooled as I walked by!
Vegetarian food items and how to make them vegan
If you want to expand your food choices you can always ask about removing ingredients to make some vegetarian items vegan. Here are some ideas:
Grilled Asparagus Ceasar Salad (found at Eat Your Greens)- Ask to have it plain without the Ceasar dressing on top.
Strawberry and Coconut Rice Frushi (found at Strawberry Patch)- Not sure if the yogurt is inside but if not ask to have it without the yogurt sauce.
Watsonville Strawberry Pie (found at Strawberry Patch)- This has a dairy custard center but it is topped with strawberries and you may be able to simply ask for fresh strawberries.
And as always, make sure you have fun first and foremost as this is the happiest place on earth!