A soup with simple flavors, stacked with protein and iron, and amazing taste. This Greek lentil soup brings me the comfort of home every time.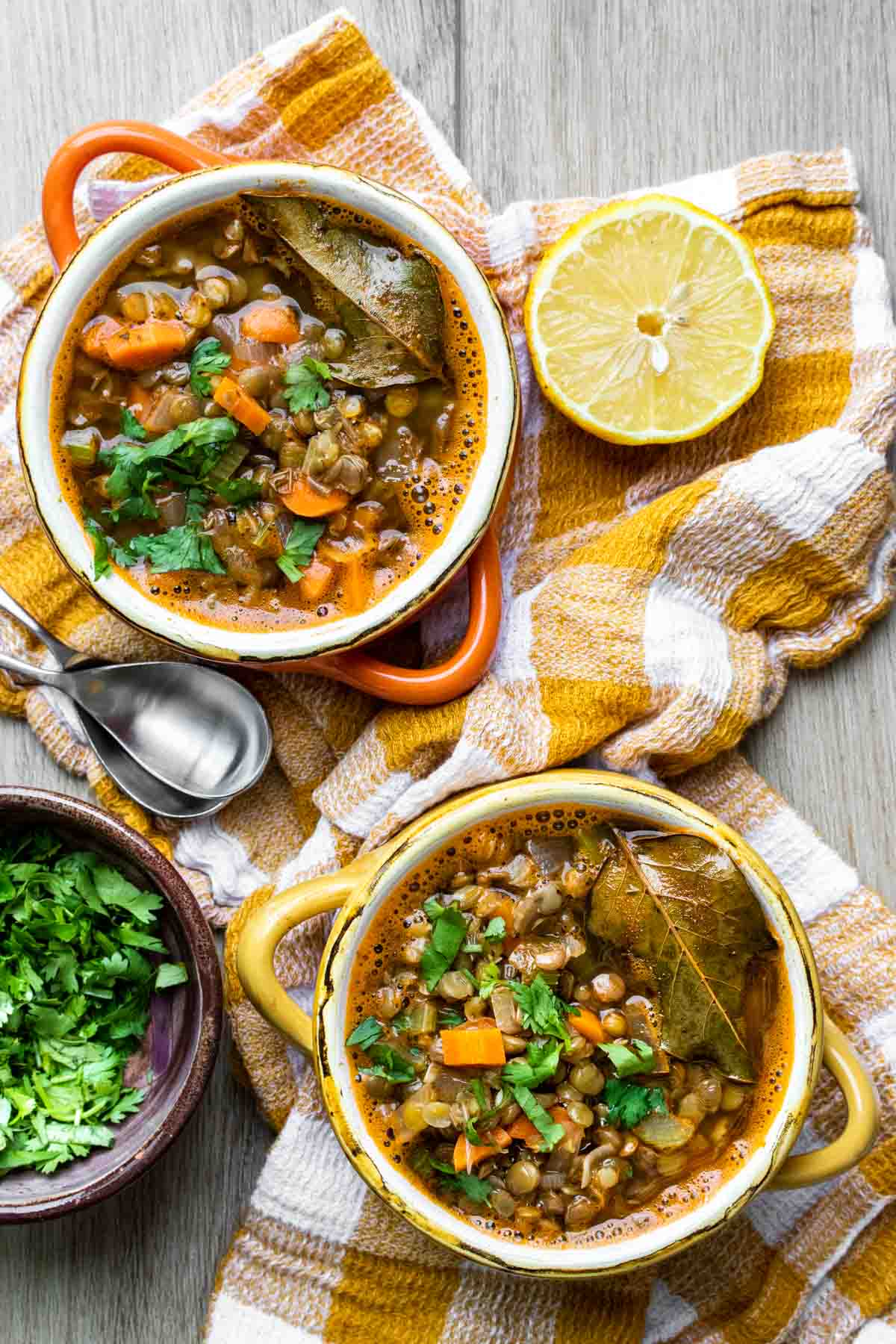 This post was originally published on May 27, 2015.
This recipe reminds me of my childhood. I love the simplicity, how both my dad and I top it off with hot sauce and how nutritious it is!
Fakes is the Greek name for lentil soup. This hearty soup is a popular family friendly meal that is not only delicious, but nutritious as well! Just like any classic recipe, there are many variations, but the following is our favorite plant based way to make it.
Ingredients
The cozy flavors are created with just a handful of wholesome ingredients. Here is what you need:
Lentils
Onion
Carrots
Celery
Garlic
Seasonings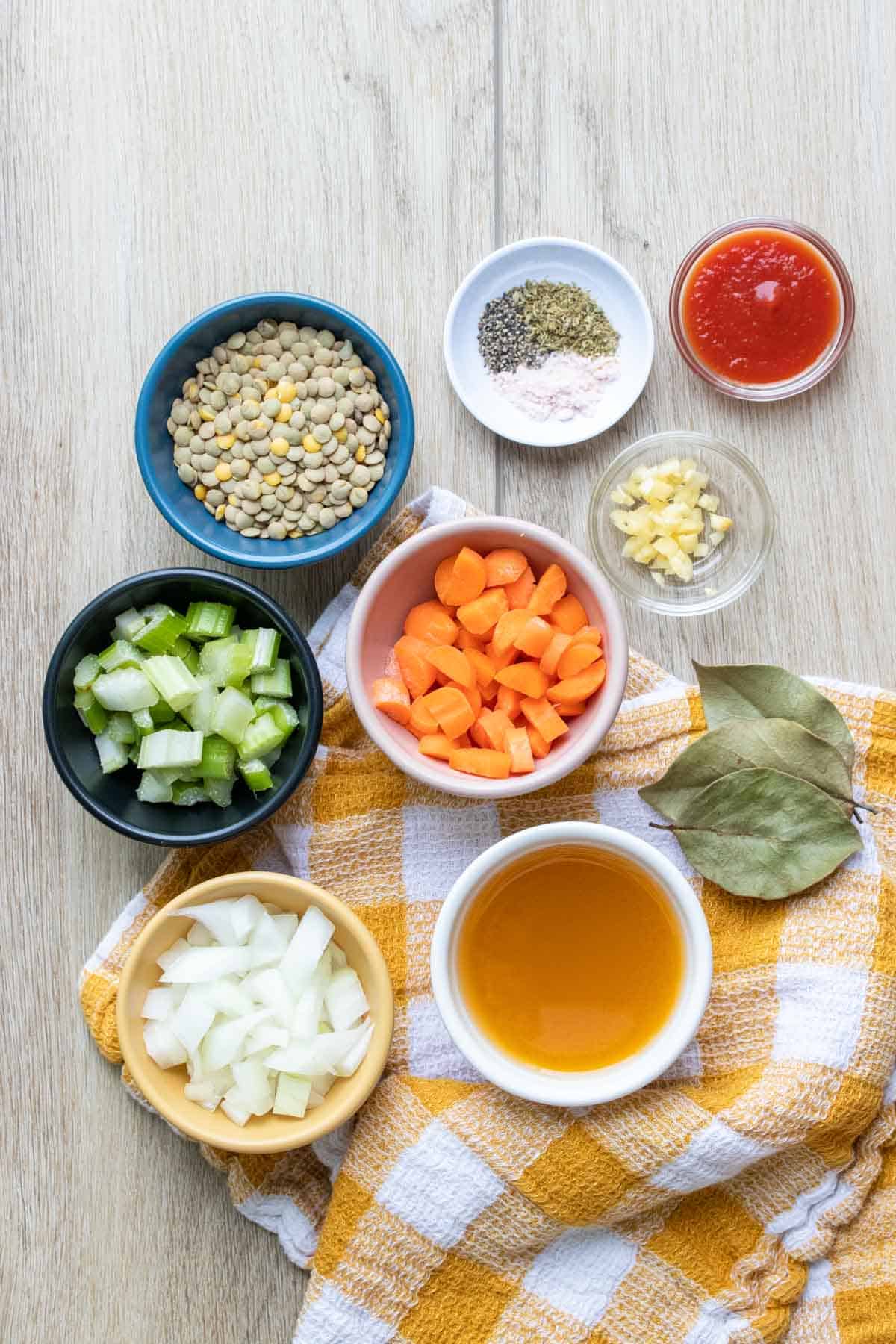 How to Make Lentil Soup
This comforting soup is so easy to put together, which makes me love it even more! Here's what to do:
Rinse and partially cook the lentils. Strain and set aside.
Sauté the veggies and garlic.
Add the lentils, tomato sauce, and spices.
Add broth and bay leaves, then simmer.
Enjoy!
Flavor suggestions
This classic recipe is excellent as it is, but sometimes it's fun to change up the flavors a bit. Get creative and experiment each time you make it.
We prefer French green lentils for a firmer consistency but any type can be used. Green are the most "al dente", brown are a little softer and red are the softest. I wouldn't suggest red as they may get too mushy. Keep an eye on your lentils while pre-cooking to make sure they are cooked enough as they vary in cooking time depending on the color used.
Adjust the amounts of oregano, salt, and pepper to fit your preference.
A sweet or yellow onion will give the best taste without overpowering the other flavors. Feel free to use a red onion as well for a stronger taste.
Mix in extra veggies! Try roasted peppers, peas, spinach, green beans, or anything you have on hand.
Try out a variety of herbs and spices like thyme, rosemary, cumin, coriander, paprika, or cayenne pepper.
Serving suggestions
This soup is traditionally topped with white vinegar and lemon juice, but I like drizzling on some hot sauce. Dress it up any way you like and pair with some drop biscuits, or any of the following recipes:
Meal prep and storage tips
Do a little preparation in advance to make things easier. You can

wash and chop the vegetables and rinse and partially cook the lentils

ahead of time.
The cooked lentil soup can be kept in an airtight container in the refrigerator for up to 5 days.
You can also freeze this soup for later! Seal in a freezer safe airtight container and freeze for up to 3 months.
Re-warm the soup either on the stovetop or in the microwave.
Common Questions
What are the health benefits of lentil soup?
Not only are lentils loaded with protein, iron, and fiber, but they are a great source of B vitamins, magnesium, zinc and potassium as well.
What does lentil soup taste like?
Lentil soup ends up tasting like they veggies and herbs you use. Because the lentils themselves are mild, they absorb the flavors of whatever they are cooked in.
Do you cook lentils before adding to soup?
Partially pre-cooking the lentils before adding to a soup is a good idea to make sure they are cooked enough. However, if you don't mind simmering your soup for a long time, they can also be added in uncooked.
What goes with lentil soup?
Topping lentil soup with vinegar, lemon juice, or hot sauce tastes amazing. Crusty bread is ideal for dipping, and fresh salads make a nice accompaniment for a complete meal.
Should I Use Green Or Brown Lentils?
It depends on what texture you prefer. Green lentils are a bit more 'al dente', where brown lentils are more tender.
Do You Have To Soak The Lentils First?
Nope! Lentils do not need to be soaked before cooking.
More Vegan Soup Recipes
Cozy up with any of these healthy plant based soups all Fall and Winter long: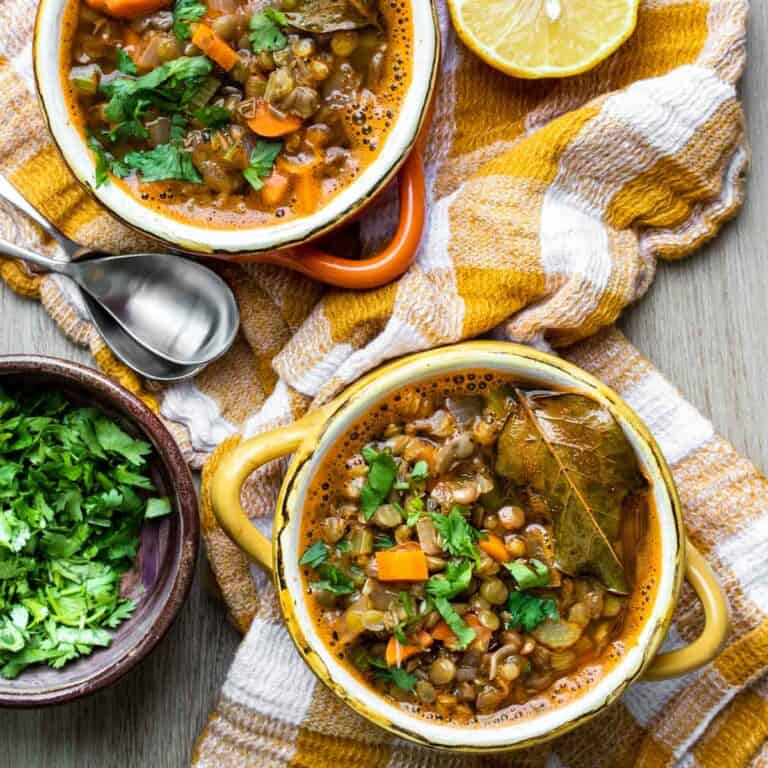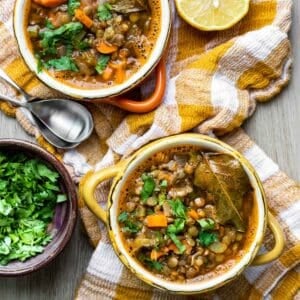 Easy Greek Lentil Soup (Fakes Recipe)
Greek lentil soup, also called Fakes soupa, has simple ingredients and is full of protein and iron. It's super healthy, easy to make and tastes incredible!
Ingredients
1

cup

lentils

, see note

1

cup

sweet or yellow onion

1

cup

chopped carrots

, about 2 large

1

cup

chopped celery

, about 2 sticks

drizzle

oil to sauté

, or broth if you don't use oil

3

cloves

garlic

, chopped

2 – 4

tablespoons

tomato sauce

1-2

teaspoons

dried oregano

½ – 1

teaspoon

sea salt

¼ – ½

teaspoon

ground black pepper

5-6

cups

veggie broth

, low sodium if needed

3

bay leaves
Traditional toppings to drizzle on top:
vinegar

lemon juice

hot sauce

(not traditional but I love it)

fresh parsley
Instructions
Rinse the lentils and add them to a pot. Cover with water and bring to a boil. Cook for about three minutes or until half done. Strain and set aside.

In the pot, sauté the onion, carrot and celery with oil or broth until semi soft, about 5 minutes. Add the garlic and sauté for about one minute.

Add lentils and tomato sauce and stir for one minute. Start with 2 tablespoons tomato sauce and add more according to preferred flavor. Then add oregano, salt and pepper.

Add the 5 cups of veggie broth, and bay leaves.

Bring to a boil and simmer over very low heat until lentils and vegetables are cooked, about 15 minutes. Check periodically to see if more broth is needed.
Notes
The oregano, salt, and pepper can be adjusted to achieve the flavor you want.
I use French green lentils in this because I like the firmer consistency of lentils, but you can use any color. Green are the most "al dente", brown are a little softer and red are the softest. I wouldn't suggest red as they may get too mushy. But make sure to check your lentils while pre-cooking to make sure they are cooked enough as they vary in cooking time depending on color used.
Traditionally this soup is also topped off with the white vinegar and lemon juice, but I prefer to add a touch of hot sauce like my dad!
Tips to prep ahead:
Wash and chop the veggies. Rinse and partially cook the lentils.
Baby/toddler food idea:
Blend soup with an immersion blender or put into blender for baby food. If your baby is still sensitive to acidic food like tomatoes, do not add tomato sauce. You can serve to toddler as is or strain out broth for a less messy meal. You can also pulse to make it a thicker porridge like meal.
Recipe by Veggies Don't Bite, visit our site for more great plant-based recipes.
Nutrition
Calories:
186
kcal
Carbohydrates:
33
g
Protein:
11
g
Fat:
1
g
Saturated Fat:
1
g
Polyunsaturated Fat:
1
g
Monounsaturated Fat:
1
g
Trans Fat:
1
g
Cholesterol:
1
mg
Sodium:
393
mg
Potassium:
637
mg
Fiber:
14
g
Sugar:
6
g
Vitamin A:
4492
IU
Vitamin C:
8
mg
Calcium:
58
mg
Iron:
4
mg
Nutrition and metric information should be considered an estimate.
Never miss a recipe!
Sign up here and get a FREE quick and easy meal guide!