These vegan taquitos are the best around! Made with simple whole food ingredients, filled with hidden veggies and taste like junk food even though they are healthy.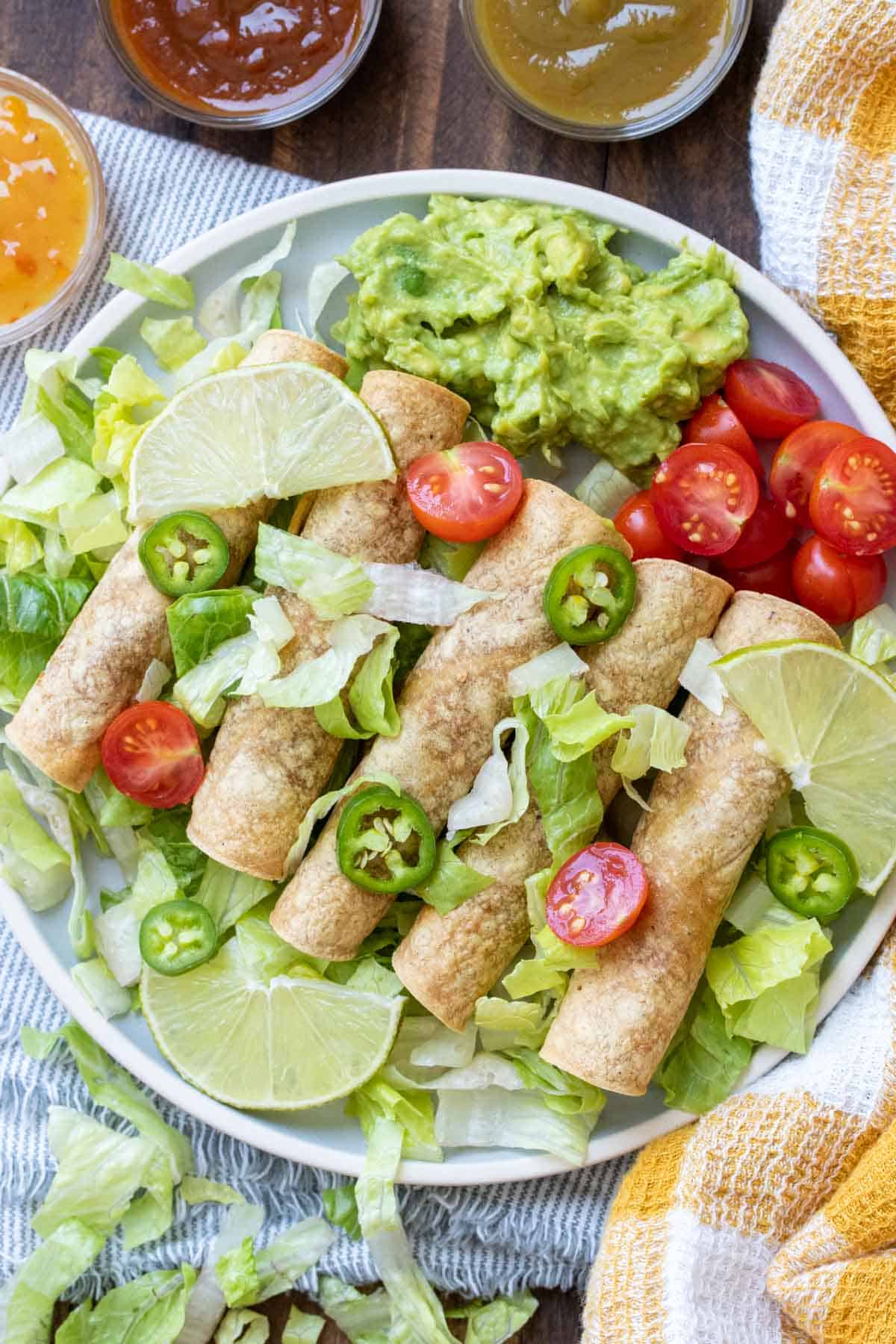 This is a sponsored conversation written by me on behalf of Mi Rancho. The opinions and text are all mine.
This post was originally published on September 9, 2019.
They pair amazing with homemade guacamole, fresh Mexican salsa and my incredible vegan cheese sauce!
My husband lovingly refers to these taquitos as Jack in the Box tacos without the crappy feeling after eating them. I take that as a solid win! Between these and my kids favorite vegan tacos, we have happy smiles all around.
How to Make Vegan Taquitos
By using only the best plant-based ingredients and skipping the frying you can create the most delicious rolled tacos that are way healthier than the taco shop!
Ingredients
Lentils
Veggies
Mild or sweet pepper, or diced green chiles
White distilled vinegar
Seasonings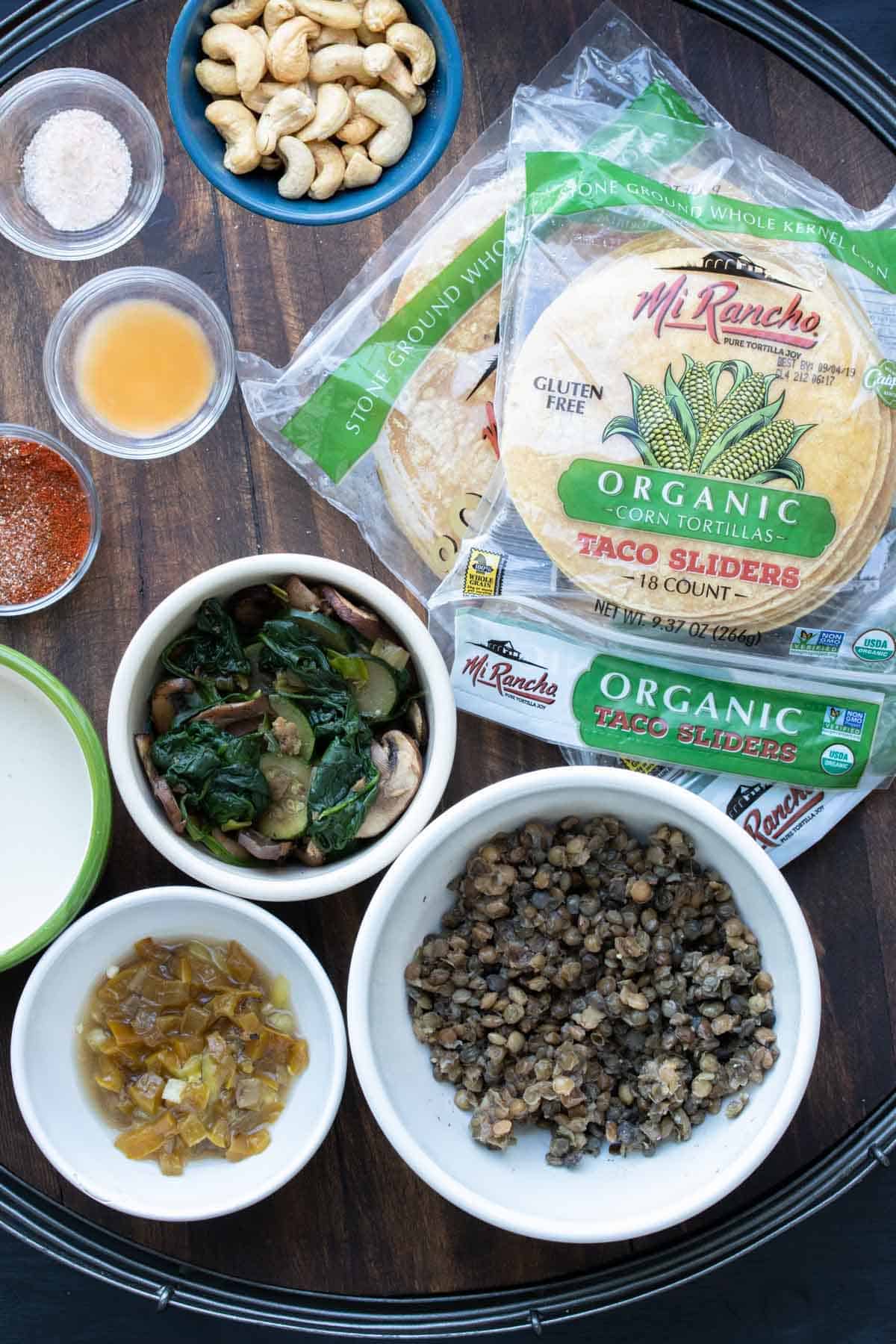 We have been using Mi Rancho corn tortillas for years. Not only because they are made from few whole food ingredients but because this brand knows what they are doing. The tortillas are soft, taste homemade, and for those of you that avoid oil, they are oil free!
The amazing flavor comes from this special process called nixtamalization. It's a slow process that brings out the very best in these corn tortillas. Learn more about it here in this video!
They also boast other great characteristics:
organic
non GMO
gluten-free
no added sugar or salt
11-18 grams of whole grains per serving (depending on the size)
I also love the company itself. They are family owned (love supporting family owned businesses) and they have been making tortillas for 80 years! I mean, mind blowing right? That's called dedication and it's no wonder they are so good!
They started as a small Mexican grocery store in Oakland and through hard work built themselves into a premium tortilla manufacturer. I just love a good story…such a sap.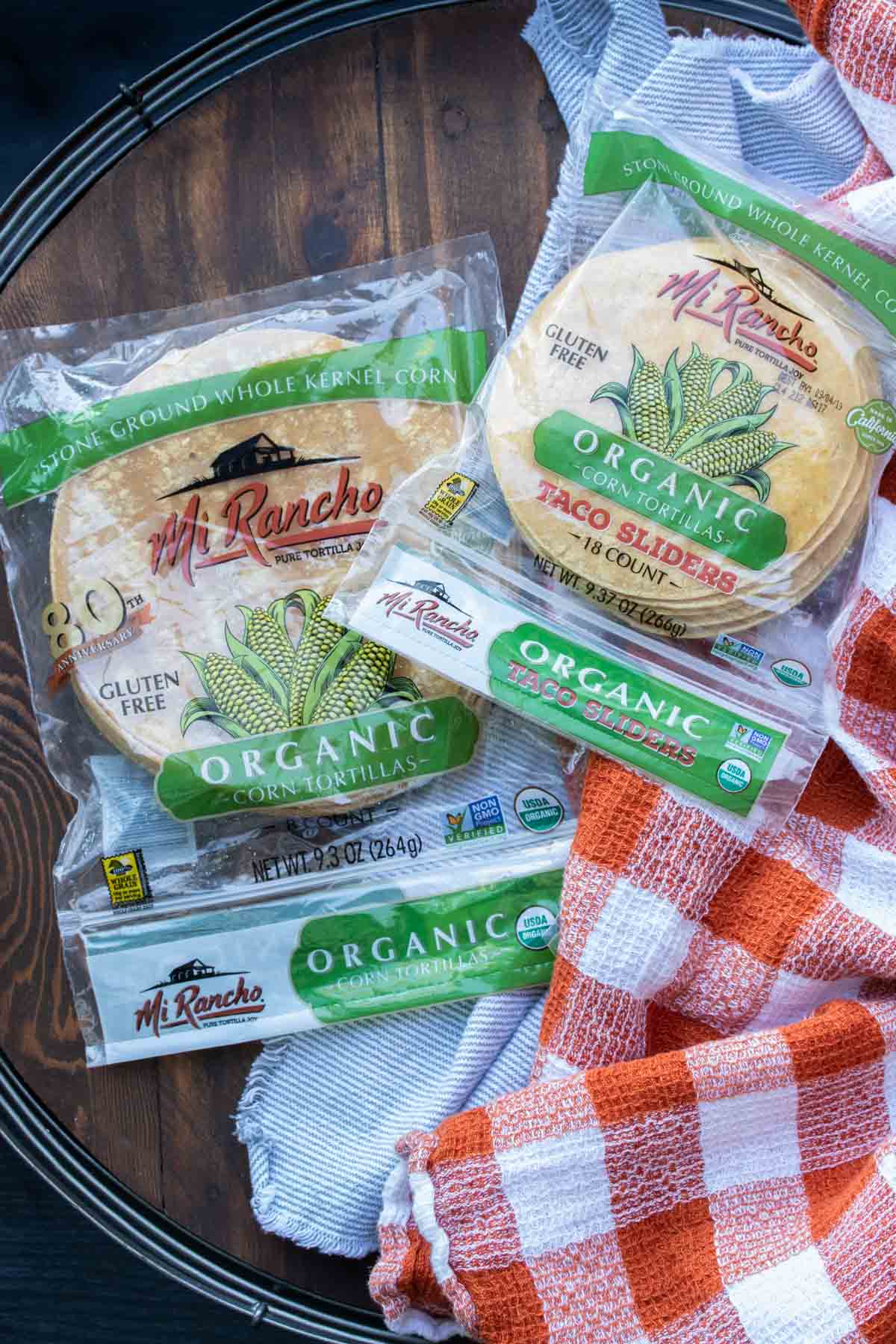 Step by Step Instructions
Put all filling ingredients in a food processor and blend until smooth.
Place the filling in the center of a tortilla.
Fold over the edge and roll it up.
Arrange the rolled taquitos on a parchment lined cookie sheet and bake until crisp.
What to Serve with Vegan Taquitos
While this vegan taquitos recipe is delicious on its own, I love serving them loaded up with toppings along with sides for an even more amazing meal.
Topping ideas:
Shredded lettuce
Jalapeño slices
Side dish ideas: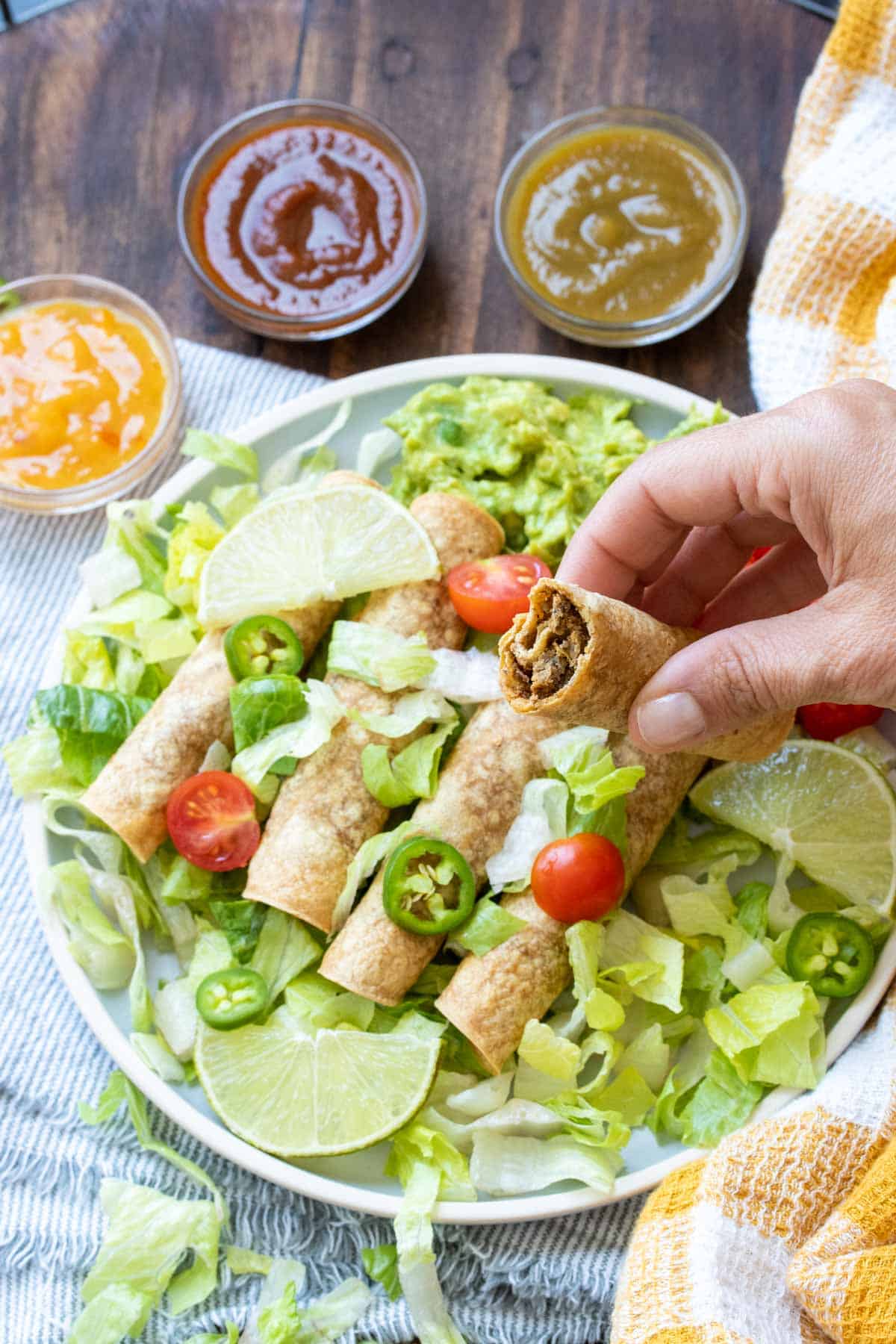 Preparation Tips
Soak the cashews before using so they purée better. You can also grind them dry with a coffee grinder.
The amount of salt will depend on if your veggies have been cooked with salt. If using leftovers, then don't add any extra salt until you try the filling.
Prep ahead by making the filling in advance and store it in fridge until you are ready to use.
Make sure at least 1/2 cup of the veggies are either a fresh mild or sweet pepper or diced green chiles in the can. It just adds a good flavor punch to the final result.
The remaining cup can be anything you have lying around. Use up leftovers, those veggies about to go bad, whatever! I would only caution using anything too sharp in flavor because you don't want it to take over. My favorite veggies to use are:

spinach
mushrooms
zucchini/squash

The recipe also calls for a cup of lentils. After trying multiple types of beans, these were our favorite. However many other beans will work. Black beans or pinto beans are the next best substitute, but if you wanted to try another kind too, go for it!
Tips for making mini sized vegan taquitos
One of my favorite things about Mi Rancho, is their organic taco slider tortillas. I love that they are the perfect size for party appetizers and for little fingers to hold. Plus, I can eat more since they are small. It doesn't really count when you eat little things right?
When I make this vegan taquitos recipe for party snacks, I have a good system that gets a ton done in a quick time. Here is what I do:
Wrap the tortillas in a damp paper towel, heat in the microwave to get them even softer and super pliable.
Set a stack of the tortillas on the table with my filling and a parchment lined cookie sheet.
Put some filling in the center of the tortilla at the top of the stack.
Roll it by putting the edge right in the middle of the filling, and tightly roll so that the filling spreads to the end and seals it.
Put on the parchment paper seam side down. No toothpick is needed because the tortillas are so soft that they easily stick with the addition of the filling.
Repeat until done!
Storage Tips
Once you've made a bunch of the taquitos, you can bake and serve them right away or you can freeze them. There are many ways that these can be frozen:
Half bake, freeze, then bake the rest of the way right before you will eat them.
Freeze unbaked, then fully bake once you are ready to eat. The only downside with this is because they haven't baked at all, you will need to freeze in a flat single layer to keep them together and keep their shape.
Freeze just the filling and put together when ready to eat.
I wouldn't recommend fully baking them and freezing because once you defrost you will need to bake them again to get them crispy and then they will end up over baked.
Here is how I prep my taquitos for putting them in the freezer:
make sure they are completely cool
wrap in parchment
wrap in foil
put in an airtight container or ziploc freezer bag
Common Questions
What's the difference between flautas and taquitos?
The main difference between the two, is that taquitos (like these vegan taquitos) are made from corn tortillas, while flautas are made from flour tortillas. Taquitos are also generally smaller and more-so served as appetizers, while flautas are bigger and a main meal. I love both, and use the Mi Rancho Flour tortillas when making flautas.
How do you freeze taquitos?
Let them cool completely before wrapping in parchment paper, then foil, and then finally sealing in an airtight container.
Are taquitos healthy?
The classic taquitos you'll find at your local restaurant are not very healthy since they are generally fried. However, it's easy to make a healthy baked version at home with this easy recipe.
More Vegan Taco Recipes
We love rolled tacos, but the classic form is amazing too! Try out these tasty plant based taco recipes: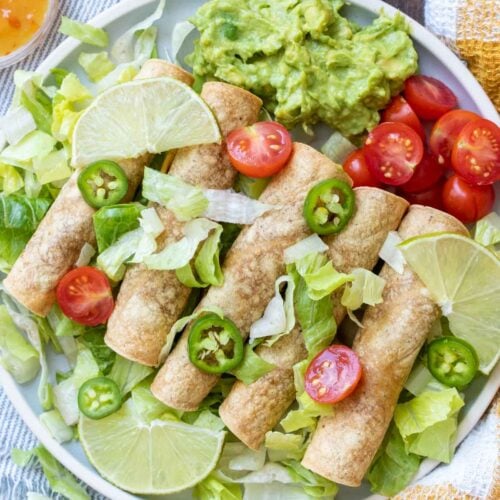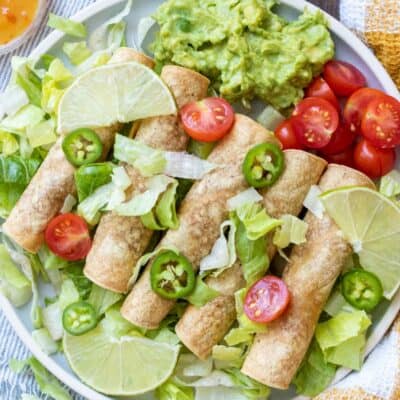 The Best Vegan Taquitos Recipe
These vegan taquitos are the best around! Made with simple whole food ingredients, filled with hidden veggies and taste like junk food even though they are healthy.
Ingredients
1

cup

cooked lentils

1

cup

cooked veggies

(see note)

½

cup

chopped mild or sweet pepper

,or diced green chiles (a 4 ounce can)

½

cup

raw cashews

, soaked overnight (see note)

1

tablespoon

white distilled vinegar

1

tablespoon

water

1

teaspoon

chili powder

1

teaspoon

onion powder

1

teaspoon

smoked paprika

¼ – ½

teaspoon

sea salt

, taste and add more if needed (see note)

9

regular sized corn tortillas

, or 18 taco slider sized ((I use Mi Rancho brand for both sizes)
Optional Toppings:
Shredded lettuce

Jalapeno slices
Instructions
Preheat the oven to 400 F/ 205 C

Put all ingredients in a food processor and blend until smooth.

Warm the tortillas to make them softer and able to stick together to seal the taquitos. Wrap them in damp paper towels, then wrap that in a kitchen towel. Heat them in the microwave for about 1 minute. Check and heat in 15 second increments until soft and pliable. The kitchen towel helps seal in the heat to almost steam the tortillas.

Carefully so you don't burn yourself, put 1 ½ -3 tablespoons (depending on tortilla size) of filling in the center of a tortilla.

Fold over the edge so that it lands in the middle of the filling, exposing a little bit on the edge. This will help seal the taquito.

Roll on the tighter side, but not so tight that you squeeze out all the filling. You want the edge of the tortilla to seal down with a bit of filling.

Place on a parchment lined cookie sheet. Repeat until done.

Bake for 30-35 minutes until crisp.

Serve fresh with toppings of choice!
Notes
This recipe works great with almost any veggie, but avoid any that have super strong flavors. I love zucchini, spinach and mushrooms.
Because a food processor is recommended for this recipe, I suggest you soak the cashews so they puree easier. You can also grind them dry with a coffee grinder.
The amount of salt will depend on if your veggies have been cooked with salt. If using leftovers, then don't add any extra salt until you try the filling.
The filling makes about 2 cups.
Serving size is 1 regular sized taquito or 2 mini sized.
This recipe makes 9 regular sized taquitos or 18 mini ones.
Nutrition info is for the taquitos only.
Tips to prep ahead:
Make the filling and store in fridge or freeze until ready to use. You can also make the taquitos and freeze them for later use.
Recipe by Veggies Don't Bite, visit our site for more great plant-based recipes.
Nutrition
Calories:
138
kcal
Carbohydrates:
21
g
Protein:
6
g
Fat:
4
g
Saturated Fat:
1
g
Sodium:
84
mg
Potassium:
229
mg
Fiber:
5
g
Sugar:
1
g
Vitamin A:
1249
IU
Vitamin C:
4
mg
Calcium:
33
mg
Iron:
2
mg
Nutrition and metric information should be considered an estimate.
Never miss a recipe!
Sign up here and get a FREE quick and easy meal guide!