Learn how to throw a party for all eaters with less stress and more fun! Get everything you need from planning to when your guests arrive!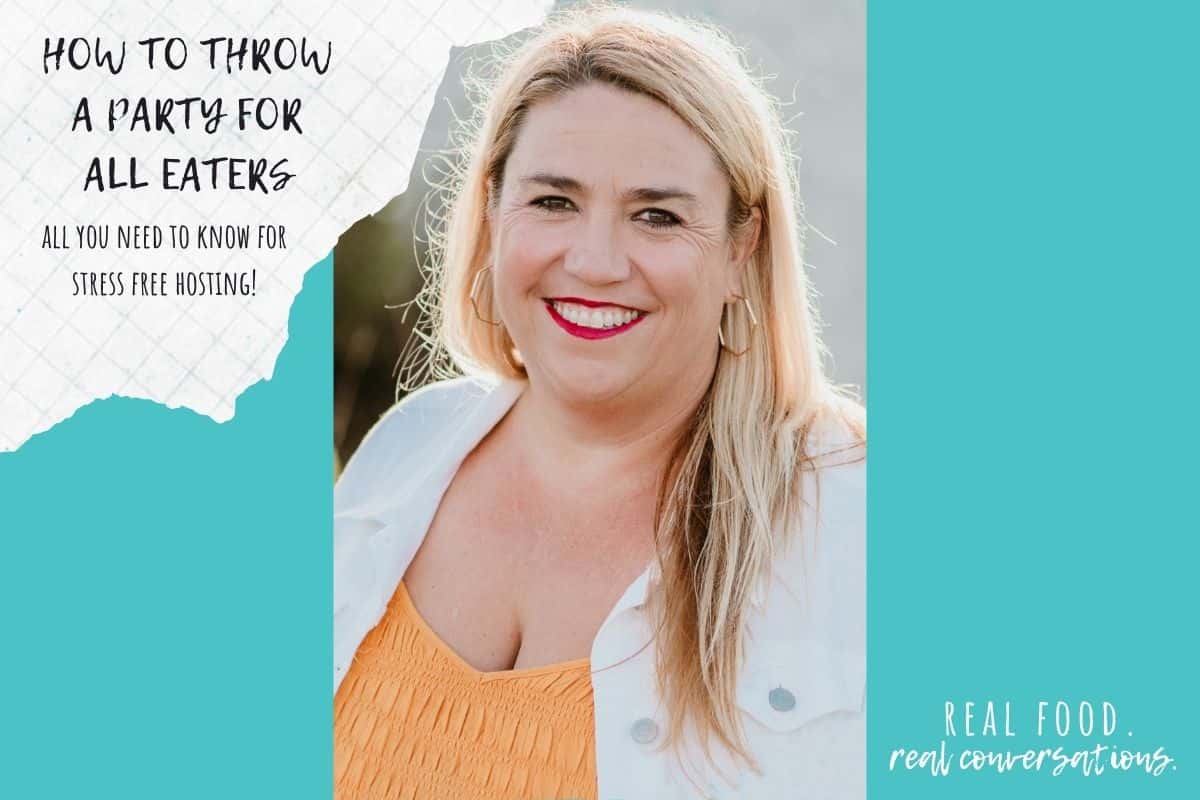 I love a good party, but throwing a bash that everyone will enjoy can be stressful! Alli is a party master and she's dishing out all she knows!
Podcast: Play in new window | Download | Embed

Subscribe now! Apple Podcasts | Google Podcasts | iHeartRadio | Stitcher | TuneIn | Deezer | RSS | More
Alli Ward is the head Maker behind Made with Happy. She is a color obsessed creative mom sharing easy crafts, Home DIY Projects, Entertaining Ideas and Travel that the whole family will love! We at Made with HAPPY are all about celebrating the HAPPY everyday!
And while you are doing all your planning and prepping, check out Alli's amazing crafts to keep the kids busy!
Planning a Party
When it comes to entertaining, there are so many aspects. But if you break them down and tackle one thing at a time, it's much easier. Here are some questions to ask yourself when you plan your next party:
Who is coming? Is it kids or adults?
How many people will you have? How big is your space?
Is there a theme? Is it the holidays, a birthday or just any day kind of party?
What is the flow? Is it an open house or a scheduled activity party? Will you be sitting or standing?
What are you going to serve?
Are you going to decorate?
Do you need to tidy up?
Tips for Parties
If you get overwhelmed easily, here are some tips to get you started. Throwing a party can be easy and fun if you go into it with the right tools.
Start small. Plan a small dinner party, invite a few close friends or even one other family. A small kids only party is a good start point too.
If you know what guests are coming, you can have an idea of where to go from there with the rest of the party planning.
Get everyone's dietary needs. This makes it easier to make sure you are serving something for everyone.
Decide on drinks. If you're serving alcohol, make sure you have an option for those that don't drink.
If you decorate, keeping it simple can go a long way.
Having parties is about getting together and relationships, it's not about keeping busy because people just want to spend time with you. So keep it simple.
Kids Parties
Throwing a party for kids can be a good way to get your feet wet with entertaining. Kids are easy to please and keep happy!
You need to decide if you are just having kids or if you will have the adults as well. This will drive the rest of the decisions.
Also, decide how long the party will be and at what time. If it's in between mealtimes then you do not need many snacks. If the party is only a few hours, you won't need to worry about people being fed too much.
If you have the adults, you'll want a few snacks for them too. But if it's only kids, you can keep it very simple with a few snacks your kids love. You can even buy individual snack bags and put them in a basket for easy grab and go.
Keep the decor simple, kids truly don't care. Heading to your local dollar store is a great way to keep it very inexpensive.
If you have a theme, focus on getting one thing from that theme to save money. Then buy things within that themes color. For example, streamers are lower in cost and can be used in many ways!
Have one section that is theme focused, it can be the food table or even just an entrance decor, and then use pops of color to bring the theme other places. You can keep it simple with one or two banners or get fancier with themed food.
A photo wall can be fun and cheap. Use those streamers by taping them down a wall as the background, add a ballon or two and grab dress up stuff from your kids toys to use.
Prepping Ahead
Making sure you have planned ahead will keep the party much less stressful. Here are things you need to plan:
Food- what to serve and how much
Drinks- alcohol or not
Seating- have seats for half the people if it is a flow type of party and not a sit down.
Decor- keep it simple and inexpensive
Decide what you can do ahead and what has to be done day of
Drinks
First and foremost, make sure to have water available. It seems to be one thing people forget. You will also want to have a non alcoholic option if you are serving alcohol.
When it comes to alcohol, you'll need to decide what kind of party you are throwing. If it's a Christmas party for example, people will be drinking but if its a casual get together maybe not as much.
First decide if you will offer beer and wine or hard alcohol as well. Then you need to decide how much.
Having 3-4 drinks per person is average but it depends on the length of the party and time of day. If it's during the day, people may not drink as much. But if it's an evening event they may drink more.
One bottle of wine has an average of 4 drinks. Hard alcohol is usually 1-2 ounces per drink. But you know your audience best and if they are big drinkers.
For hard alcohol, have a selection. Vodka tequila and rum are most popular and easiest to mix with. Having a signature drink can also be easy and fun!
Make sure to take mixers into account and buy enough to match the hard alcohol. It's okay if you overbuy, you can always save it for next time.
Food, how do you accommodate different diets?
With food, too much is better than too little but you don't want to over do it, people aren't living at your house so it's ok if they don't leave overly full. If you're having a dinner party, you will want your guests to be more satisfied.
Heavy appetizers are a great choice for parties. It's easy and the perfect way to serve multiple diets (check out this vegan snack list for ideas).
Overall, you want to have 1-2 appetizers per dietary restriction. Some can cross over so keep that in mind.
Appetizers usually have about 24-36 pieces each, which will feed about 4-5 people. So if you are having 20 people and want them to feed them enough, think about having about 4-5 different appetizers.
Charcuterie boards or grazing boards are also a great choice because they can feed a lot and they are easy. They can count for about 2 appetizers each or more depending on how big you make them.
To make it super simple, put down butcher paper and put everything right on there. Build them for all types of eaters, making sure to separate sections for dietary restrictions especially if there are allergies.
You can also do make your own bars like nachos, chili, sandwiches, and even desserts! The possibilities are endless.
To decide how much food you need you need to think about the time frame of the party, how long it will be and if it's eating time.
You can also do a main dish like pasta, pizza or burgers and salads. But that can get a little more tricky with making sure everyone has something to eat. Make sure to have more of each option in case people grab something out of their dietary norm!
You can also have people bring stuff to complement what you make, this will help those nervous about finding something to eat if they have dietary needs.
Days Before the Party
You will want to plan out your tasks so you don't get left with doing it all the day of the party. There are many things you can do ahead of time.
Do the decor and set up the table the days leading up to the party. This will make sure your space is ready for guests. Set the menu and do all the shopping so you are ready to go.
When it comes to food, look at the timing of each thing you are making and make the things ahead that you are able to. Don't make things that all need many hours to prepare.
Dips, casseroles, pasta salads, etc can be made before and baked the day of the party to cut down on time. That leaves the time the day of to set up charcuterie boards and other things that need to be fresh.
You can also buy things to make it easier. You don't have to do it all!
Day of the Party
If you plan ahead, the day of the party will be simple. Keep your time in check, people may come right on time or may be late so accommodate for both scenarios.
Go with the flow and don't stress too much. Not everything will go as planned but that's ok!
Overall, have the party. Keep it simple and enjoy spending time with those you love! And when in doubt order out!