This creamy butternut squash pasta is vegan, so easy and uses a special ingredient that cuts the overall fat. But the flavor is still unreal!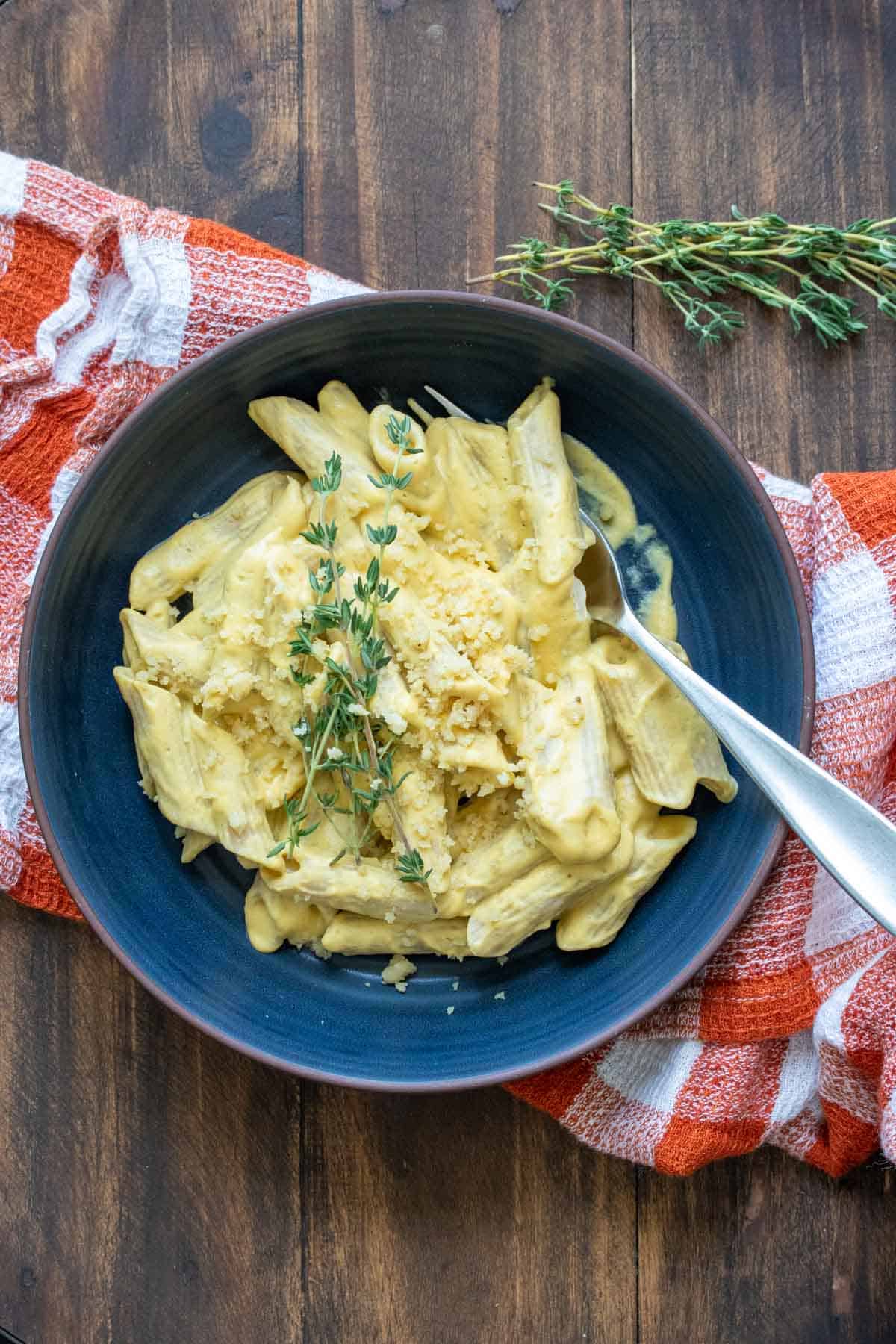 This post was sponsored by PB2 Foods but the content and opinions expressed are fully my own.
I can't stop eating this butternut squash pasta sauce with a spoon! It's so rich and delicious which is mind blowing since it doesn't use whole cashews.
Ingredients
To make this delectable butternut squash pasta sauce, you'll need the following:
Butternut squash , about 15 ounces or 3 cups chopped
Shallots , about 4-5 or 4.5 ounces or ¾ cups chopped
Garlic , medium sized (adjust for your preferred garlic flavor)
Apple cider vinegar
Oil or broth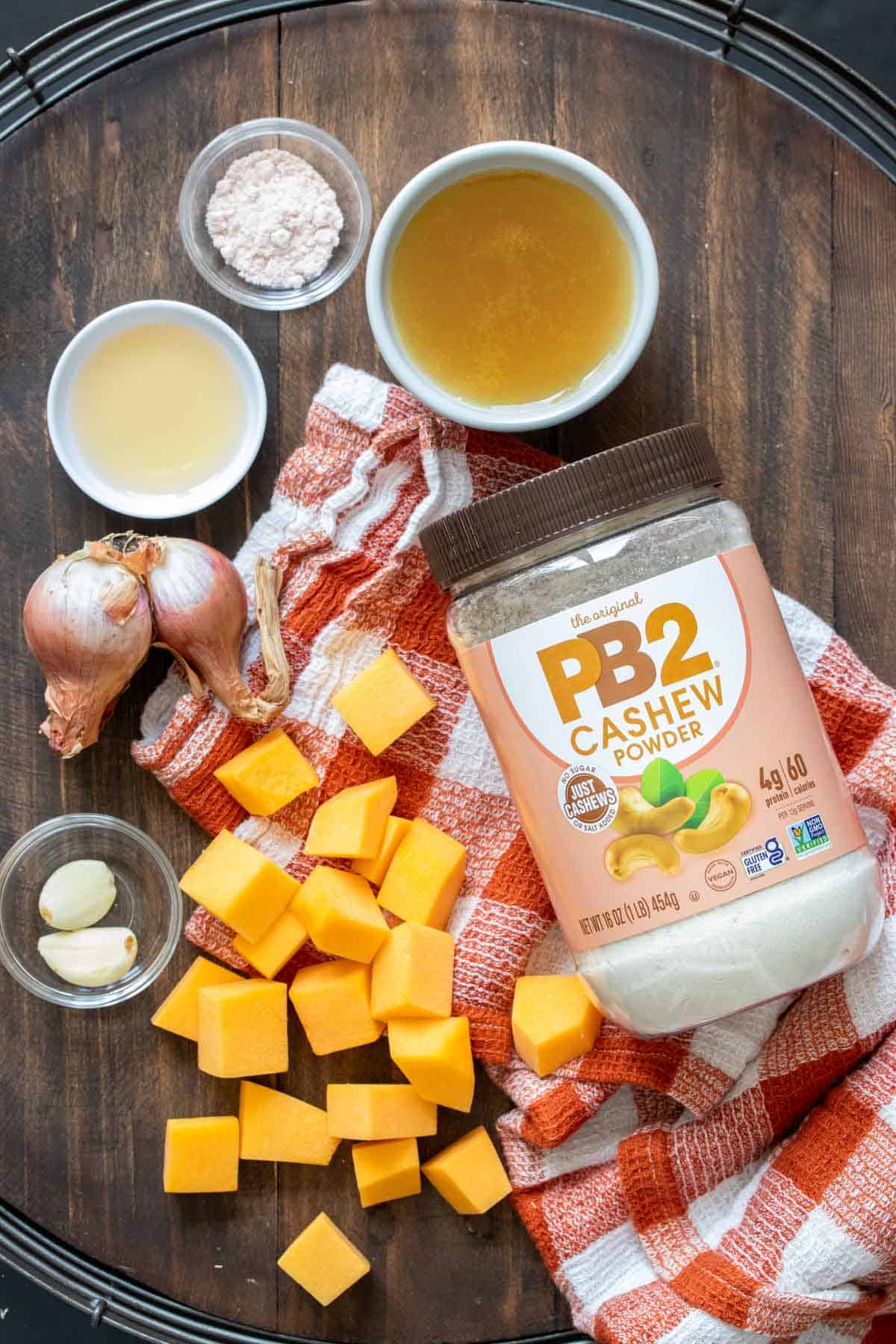 By this point you likely know the magical powers of cashews and how wonderfully creamy they can make a recipe. However, there's the soaking and blending that can make the process a little long. But now, there's a shortcut! By using PB2 Cashew Powder, you can create all the best healthy and creamy dishes in no time!
Not only is it easier to use than whole cashews, but it's healthy too! It has less fat and fewer calories, because they press out the oil and blend the cashews into a fine powder. It's still a great source of protein, and because literally the only ingredients is cashews, it's gluten-free, vegan, kosher, and free of preservatives!
While this powder can be used for baking and in smoothies, I wanted to create a savory pasta dish. And let me tell you, it did not disappoint!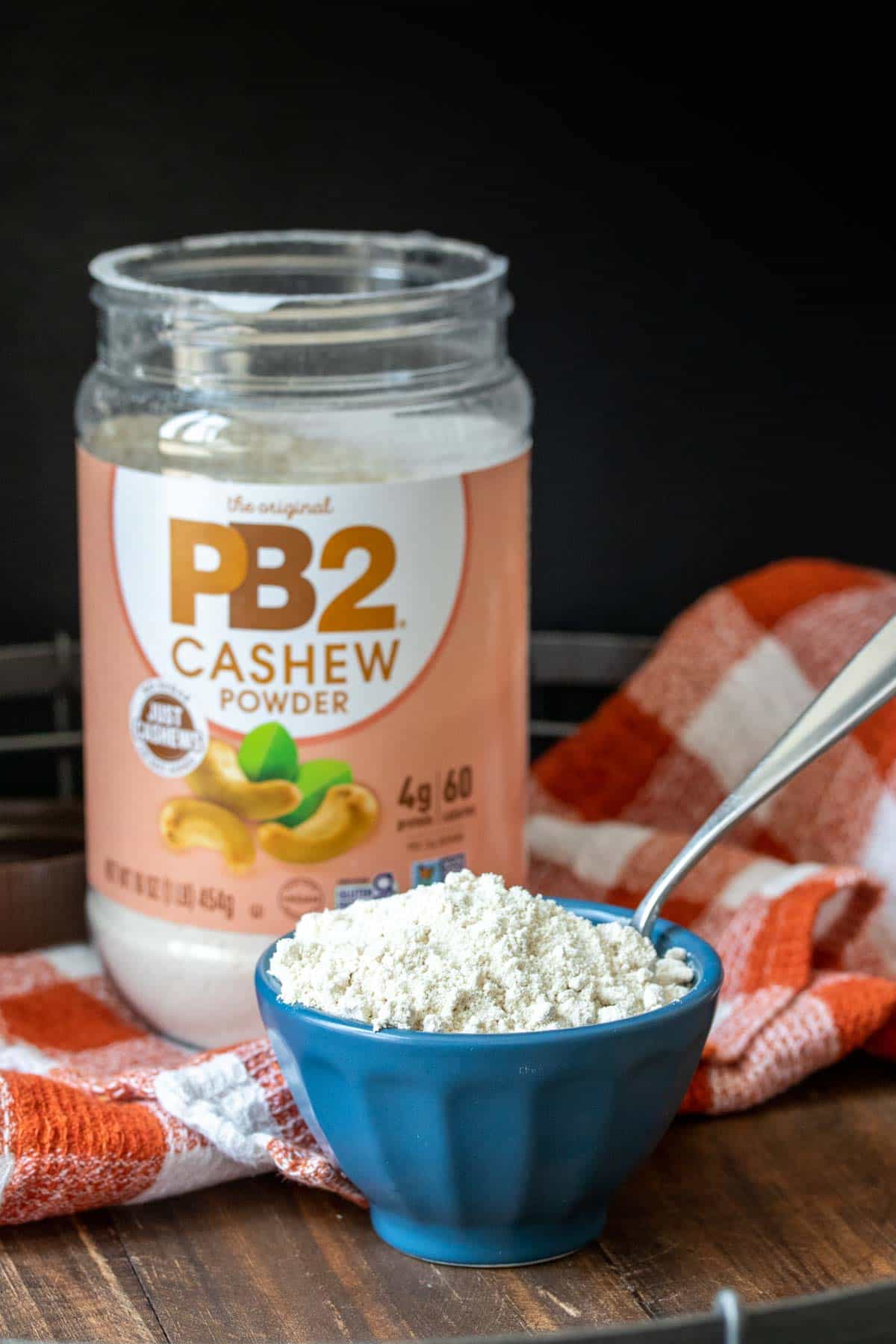 How to Make Butternut Squash Pasta
This pasta sauce is so simple to make, but the flavors are amazingly deep due to the roasting. Here's what to do:
Roast the butternut squash, shallots and garlic.
Blend roasted veggies with broth, cashew powder, and vinegar and pour over your pasta.
Serve and enjoy!
Serving suggestions
This butternut squash pasta sauce is so good, you want to make sure you get the most sauce per bite! Bigger pasta shapes are ideal since they have more surface area to soak up the goodness. Some great pasta shapes to try include:
Penne
Rigatoni
Ziti
Pappardelle
Bucatini
Garnish with fresh herbs like thyme, rosemary, or sage and a sprinkle of Vegan Parmesan! You can serve this as a complete meal, or pair with any of the following:
Tips and tricks
Before you set out on your butternut squash pasta journey, make sure to check out these helpful hints:
If you don't have shallots you can substitute for sweet or yellow onion.
The low calorie and low fat powdered cashew helps give this sauce the creamy texture. If you can't wait to try the sauce without it, you can use 1 cup raw cashews.
If you are using whole cashews, soak them first if you don't have a high speed blender, or use a coffee grinder to create a powder.
Line the baking sheet with parchment paper while roasting. It avoids sticking and makes for easy cleanup!
Adjust the thickness of the sauce with veggie broth, add more to make it thinner.
Peeled and cubed squash is best for roasting. You can prepare a fresh squash, or make it easy and use previously frozen!
You can make this sauce ahead of time and store in an airtight container in the refrigerator for up to 5 days.
Reheat on the stovetop over medium-low heat, or pop in the microwave.
Common Questions
Does butternut squash work for spaghetti?
If you love subbing out spaghetti squash for pasta and want to try the technique with butternut squash, don't. The butternut squash does not have the same stringy texture and will not shred into 'noodles'. However, the flavor tastes great with pasta so definitely pair the two!
What flavors go well with butternut squash?
This gourd pairs well with both sweet and savory flavors. Thyme, sage, rosemary, garlic, cumin, cayenne, pepper, cinnamon, cloves, and nutmeg are all popular spices to use.
Is butternut squash a good carb?
One cup of cubed butternut squash contains 16 grams of carbohydrates. This wholesome food packs in a ton of nutrients and fiber, and are a healthy addition to your menu.
Do you have to peel butternut squash?
While technically edible, most choose to avoid eating the skin on butternut squash. The peels can be tough to remove, so some people choose to cook with the skin on then remove afterward. Using a sharp vegetable peeler is best for removing the skin before cooking.
More Vegan Butternut Squash Recipes
The every popular healthy gourd goes well in so many dishes! Try out these plant based recipes: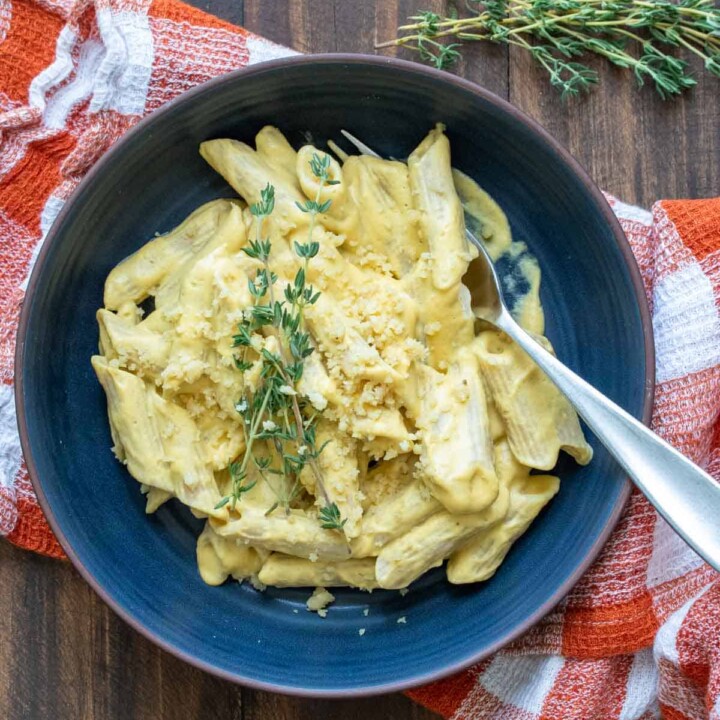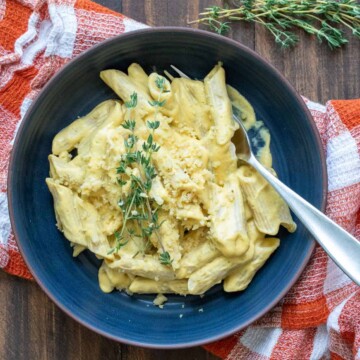 Creamy Vegan Butternut Squash Pasta
This creamy butternut squash pasta is vegan, so easy and uses a special ingredient that cuts the overall fat. But the flavor is still unreal!
Ingredients
429 grams butternut squash , about 15 ounces or 3 cups chopped
130 grams shallots , about 4-5 or 4.5 ounces or ¾ cups chopped
2 cloves garlic , medium sized (adjust for your preferred garlic flavor)
¾ - 1 teaspoon sea salt
Drizzle of oil or broth to roast
1 ½ - 2 cups veggie broth , low sodium if needed (depending on how thick you want it)
½ - 1 cup PB2 cashew powder , see note for other options
1 tablespoon apple cider vinegar
Instructions
Preheat the oven to 450 F/ 230 C

Mix the squash, shallots and garlic with ½ teaspoon of the salt and oil if using.

Put the mixture on a parchment lined cookie sheet.

Bake for 35 minutes until the squash is cooked and brown on the edges.

Meanwhile, cook the pasta according to package directions.

When the butternut squash is done, add to a blender with the broth, cashew and vinegar.

Blend until smooth. Add more salt as you prefer.

Serve mixed with pasta and thyme or parmesan!
Notes
The powdered cashew helps give this sauce a creamy yet lower fat and calorie option. If you do not have it, you can use ½ - 1 cup raw cashews (soaked if you don't have a high speed blender or powder them using a coffee grinder).
Adjust the cashew to get the creaminess you prefer.
You can sub sweet or yellow onion for the shallots.
The nutrition facts are for the sauce only. It makes about 2 ½ - 3 cups depending on how much broth you use. Serving size is about ½ - ¾ cup.
Recipe by Veggies Don't Bite, visit our site for more great plant-based recipes.
Nutrition
Calories: 142kcalCarbohydrates: 25gProtein: 6gFat: 3gSaturated Fat: 1gPolyunsaturated Fat: 1gMonounsaturated Fat: 1gTrans Fat: 1gCholesterol: 1mgSodium: 469mgPotassium: 635mgFiber: 5gSugar: 7gVitamin A: 11402IUVitamin C: 26mgCalcium: 77mgIron: 2mg
Nutrition and metric information should be considered an estimate.
Never miss a recipe!
Sign up here and get a FREE quick and easy meal guide!