A light and airy whipped hummus with hints of lemon and Kalamata olives. It's whipped consistency will keep you coming back for more!
Battling The Morning Sickness
It's no secret that this pregnancy has been a doozy with morning/all day sickness for me. It's hard for me to stick to my normal healthy diet, the thought of a cooked vegetable sends me to the nearest trash can.
Being so healthy normally, this is a tough pill for me to swallow. On top of it all, I am anemic during pregnancy so keeping my iron up is a must. Because I am trying to do it through food versus pills, I asked my mom to make me some simple hummus to see if I could keep that down. She told me she had the perfect idea, a new really light and fluffy one she just created with a secret ingredient!
The day she brought me that hummus was life changing. My body loved it, it felt as though it needed it. I ate a little every hour or so, sometimes even straight with a spoon! And once I was done, I felt miraculously better.
I couldn't explain it, I just felt better. Still tired with an overall yuckiness, but that bile/vomit in the throat like I need to puke any second, was gone!
Then a few days ago, I had an awesome follower of mine send me the link to an article explaining the background science of morning sickness and why beans are a cure. I was intrigued.
Going Into Detail Here…What Causes Morning Sickness
The article explains that our pregnancy hormones cause our liver to produce extra amounts of bile, which is what causes our morning sickness (and I can taste the bile, so it makes sense!). Soluble fiber is found in large amounts in beans, and it attaches to the bile and takes it out of our body through bowel movements (sorry have to explain it, lol).
Therefore the bile is not recycled into the liver. Well, the less bile in our system, the less nauseous we feel.  So the article says if you eat beans when you start to feel nauseous it will help. Well, I am here to tell you that it does!
My hummus mystery is starting to make sense. I can't vouch that this is the "be all end all" answer because I just started trying this, but I plan to keep it going and pray that this helps! So far, if I eat my beans, I am able to get out of bed and function at a 50% "me" rate versus the 5% I have been at.
This is a huge step! My husband of the year, who has literally taken over every duty in this house, will be jumping for joy to have a little help. I don't know what I would do without him, and my mom that fills in when he is gone.
The Secret To Making The Best Whipped Hummus
So it begins, my hummus diet. Every week my mom comes to visit and she brings me hummus, and every day I eat it. Of course, I knew I had to share this amazing recipe with all of you!
It's light, fluffy, full of air. Whipped in every sense of the word. What's her secret? Soda water. Yup, the bubbly liquid helps create this amazing whipped hummus. Combined with a touch of lemon, and the hint of vinegar and salt from the Kalamata olives, this is my perfect pregnancy food.
It settles my stomach and gives me all the protein and iron I need. I can literally feel my body thriving as it goes through my system. Completely amazing! Hope you can enjoy and share with a sick pregnant person near you!
Switch It Up
If you're not pregnant and can handle more adventurous flavors then here are some ideas for you;
Paprika
Red pepper flakes
Cumin
Turmeric
Sun dried tomatoes
Roasted red bell pepper
Spinach
More Dips You Might Like;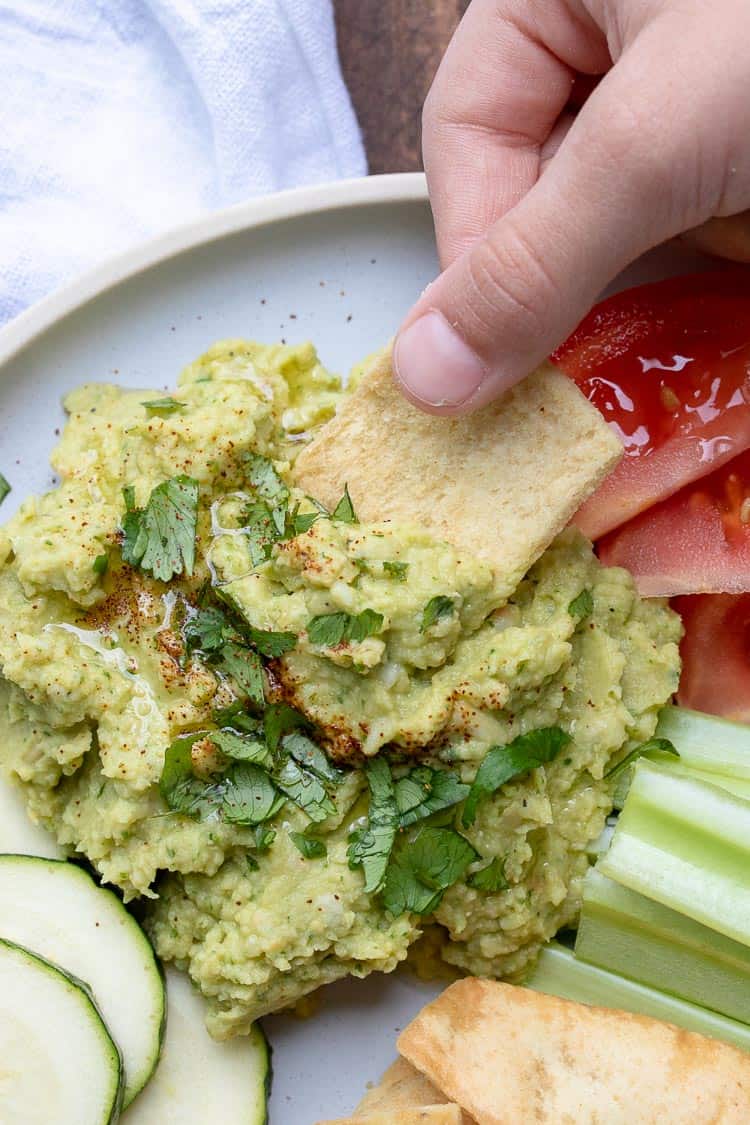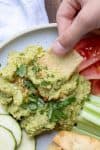 Secret Ingredient Greek Hummus
A light and airy whipped consistency with hints of lemon and Kalamata olives. This flavorful Greek hummus is the perfect appetizer or snack!
Keyword:
Homemade Hummus, vegan hummus
Instructions
Place all ingredients into a food processor and mix until smooth. You can also use a blender but you may need a touch more liquid to get the blender to blend.

Serve with pita bread, crackers, and/or raw veggies.
Recipe Notes
The olive oil is optional for added flavor and creaminess, but you can leave it out if you aren't using oil.
This makes about 3 cups. Serving size is 1/2 cup.
Nutrition facts include using 1 tablespoon of olive oil.
Nutrition Facts
Secret Ingredient Greek Hummus
Amount Per Serving
Calories 28
Calories from Fat 18
% Daily Value*
Total Fat 2g 3%
Cholesterol 0mg 0%
Sodium 133mg 6%
Potassium 38mg 1%
Total Carbohydrates 1g 0%
Protein 0g 0%
* Percent Daily Values are based on a 2000 calorie diet.