A light and airy whipped consistency with hints of lemon and Kalamata olives. This flavorful Greek hummus is the perfect appetizer or snack!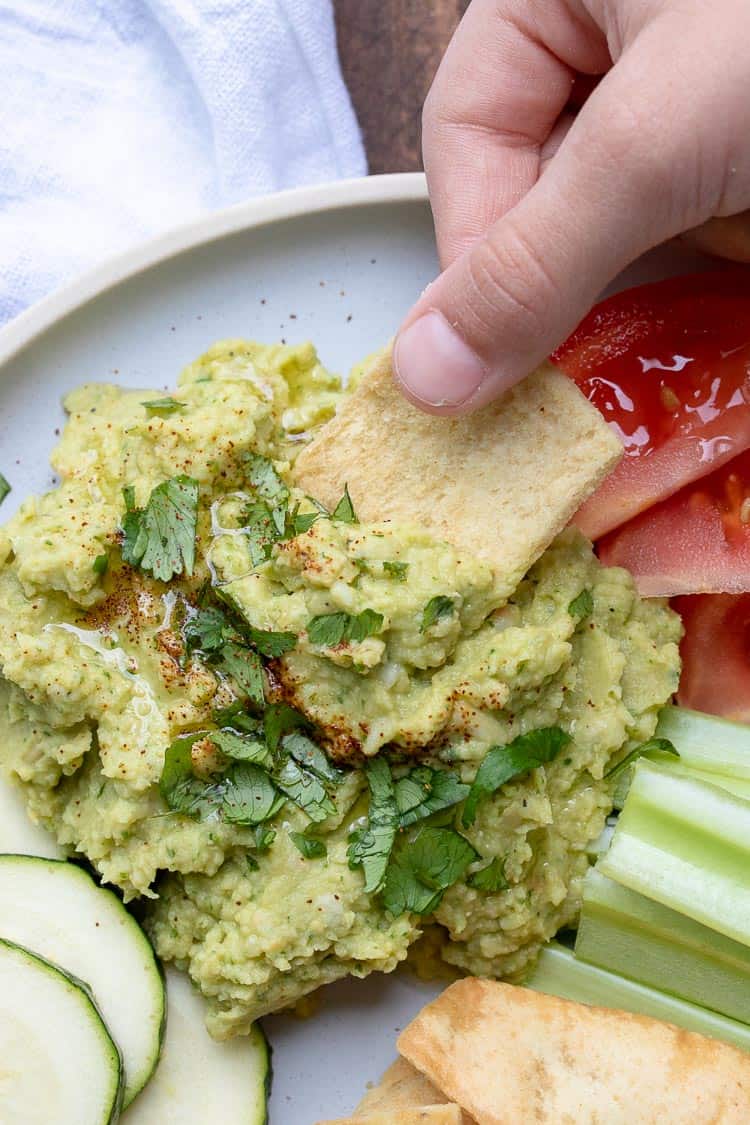 This recipe was originally published on 6/30/14
My mom has been making this secret ingredient Greek hummus for most of my life. I have always loved the texture and flavor, and also how easy it is to change it up so we don't get bored!
Greek Hummus
Many times when there is a Greek option at a regular restaurant, it usually comes with kalamata olives as a topping. Growing up with olive trees in my yard, the tangy salty Greek olive is a staple memory. And they often went into many of our dishes.
The tang of this Greek hummus is amplified with the addition of olives. It's plenty delicious without them, but I love that extra layer of flavor they give!
Is hummus a traditional Greek food?
Hummus has been around for a really long time, but originally it started in the eastern Arab countries that were known for growing chickpeas.
Growing up going to Greece every summer, hummus was never a staple in the tavernas and homes we frequented. Even though it is found in Greece, there are many other dishes that better represent the Greek culture.
Who first invented hummus?
So many countries like to claim that hummus started with them. But based on what I have read, the oldest evidence of hummus came from Egypt. Chickpeas were a common food in the Arabic countries according to history. Hummus actually means chickpea in Arabic!
Greece and Egypt were trade partners, so it would explain how the dish made it's way into the Greek cuisine. Along with hummus, there are many other similarities in Greek and Arabic foods.
The top two foods, other than hummus, that I have seen cross both cultures are:
Baklava
Stuffed grape leaves
Making a Vegan Hummus
Hummus is super easy to make, and the variations are endless. There are more recipes than you can keep up with online! But there are some standard ingredients that most of them have:
chickpeas
tahini
lemon juice
garlic
Because my mom can't stand tahini, so this is a hummus recipe without tahini, and instead added Greek olive oil to gain the creaminess.
Is there any dairy in hummus?
Traditionally, hummus is vegan by accident. However it is very customizable, so as long as your take on this traditional dish doesn't have any dairy, eggs or meat products, you are good to go in the vegan department.
Some variations do call for yogurt, so that would be one ingredient I would watch out for.
Hummus in fact is an awesome vegan food, and one I often turn to in restaurants to snack on. It is full of plant-based protein and fiber and low in the carb department.
The Secret ingredients for the perfect Greek hummus
My mom's hummus is light, fluffy, full of air. Whipped in every sense of the word. What's her secret? Soda water.
Yup, the bubbly liquid helps create this amazing whipped like texture. Here is the easy sure fire method for her Greek hummus recipe without tahini:
Put everything into a food processor.
Blend until smooth and fluffy.
Serve with just about anything and everything!
If you don't want to get bored, try switching up this Greek hummus with some other fun ingredients:
Paprika
Red pepper flakes
Cumin
Turmeric
Sun dried tomatoes
Roasted red bell pepper
Spinach
More vegan dips to make you drool: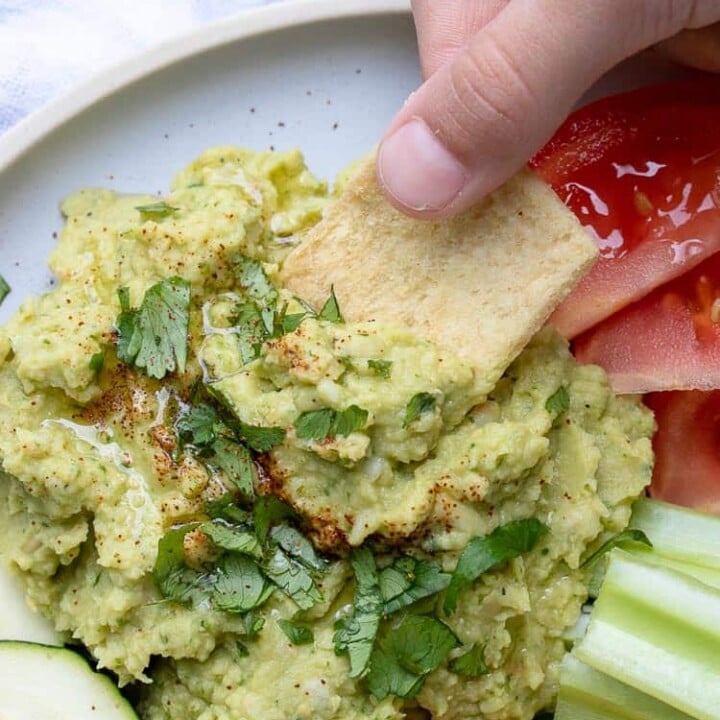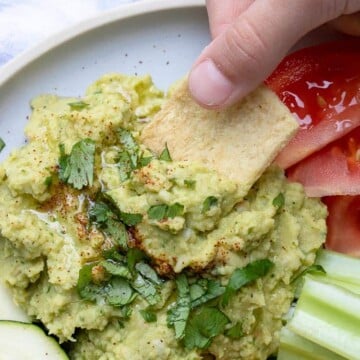 Secret Ingredient Greek Hummus
A light and airy whipped consistency with hints of lemon and Kalamata olives. This flavorful Greek hummus is the perfect appetizer or snack!
Instructions
Place all ingredients into a food processor and mix until smooth. You can also use a blender but you may need a touch more liquid to get the blender to blend.

Serve with pita bread, crackers, and/or raw veggies.
Notes
The olive oil is optional for added flavor and creaminess, but you can leave it out if you aren't using oil.
This makes about 3 cups. Serving size is ½ cup.
Nutrition facts include using 1 tablespoon of olive oil.
Recipe by Veggies Don't Bite, visit our site for more great plant-based recipes.
Nutrition
Calories: 261kcalCarbohydrates: 40gProtein: 13gFat: 6gSaturated Fat: 1gSodium: 143mgPotassium: 451mgFiber: 11gSugar: 7gVitamin A: 470IUVitamin C: 12mgCalcium: 76mgIron: 4mg
Nutrition and metric information should be considered an estimate.
Never miss a recipe!
Sign up here and get a FREE quick and easy meal guide!