This easy bruschetta is the perfect vegan appetizer you can throw together in minutes! It's gluten free, flavorful and has an extra bonus of added protein!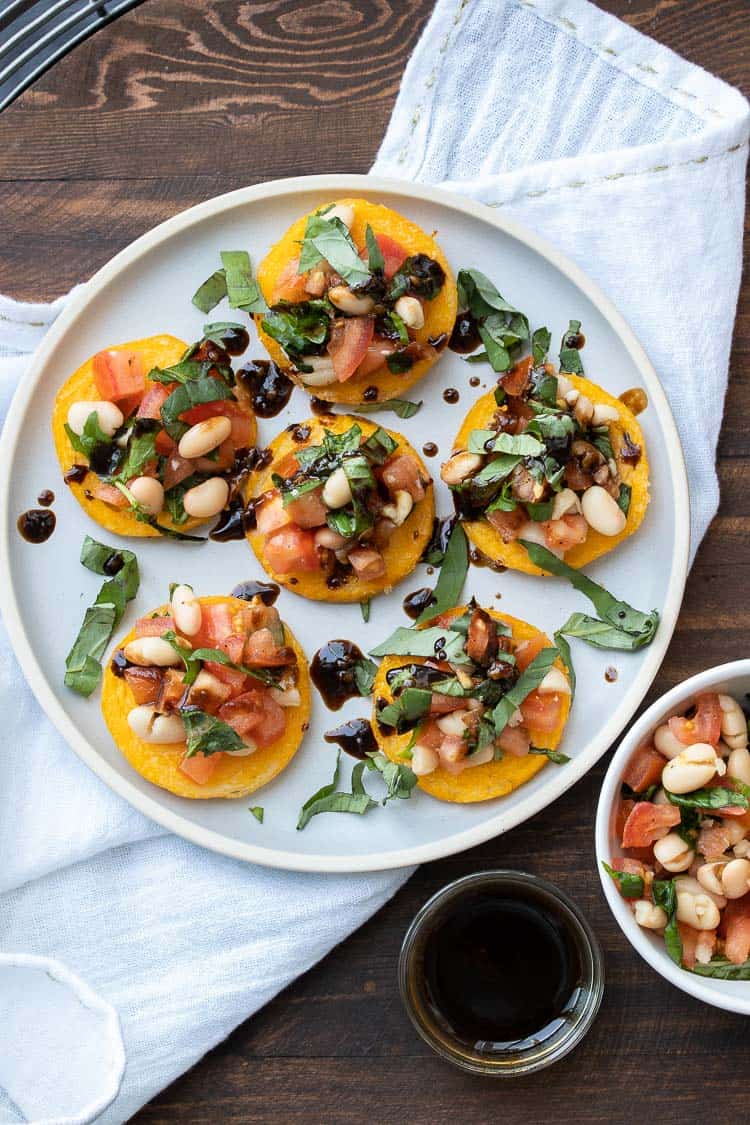 This recipe was originally published on 6/30/14
I love mixing it up when it comes to traditional recipes. Which is why when I decided to make bruschetta, I wanted a hearty feel so I packed it with white beans for added protein and served it over baked crispy polenta rounds.
The flavor punch from the balsamic sauce and optional arugula, makes this one of my favorite vegan appetizers!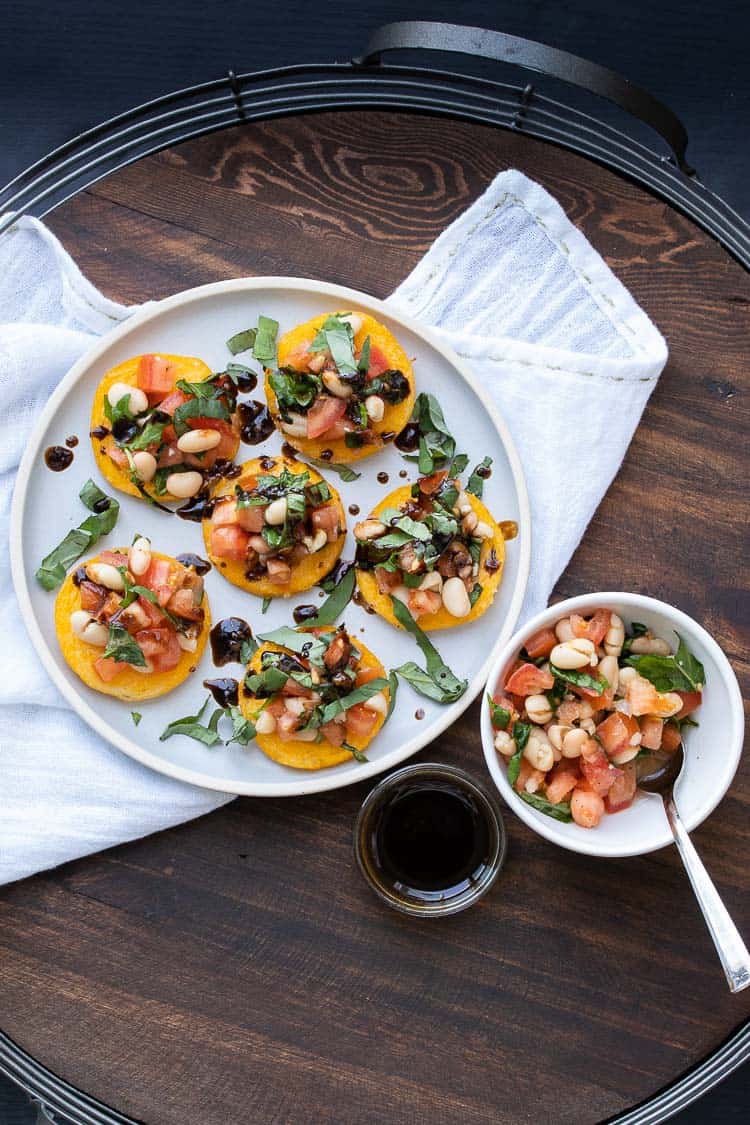 What is Bruschetta?
Traditionally, bruschetta is an appetizer made of toasted bread served with tomatoes, basil, and garlic. It's Italian in origin and really freaking good.
I love that it's easy to whip up, super customizable and really colorful. When summer rolls around and we're bursting with tomatoes, we literally eat it on the daily. So I wanted to come up with a way that we could feel like we were eating a well rounded meal.
Which is why I decided I needed to throw in:
protein
greens
When I think of Italian, white beans come to mind as a perfect pair to that sweet tomato flavor. I also loved the idea of a little bite to counteract that, so I threw in some optional arugula. My hubby is not a fan, so it must always be an option over here.
What kind of bread can you serve with bruschetta?
Any kind of bread really works when it comes to bruschetta, there isn't a hard fast rule.
As much as I love that white doughy Italian bread we used to stuff our face with, my body sadly is starting to have some major issues with it. So while I still enjoy it from time to time, I wanted a sub.
So I turned to polenta, to gain that gluten free option but not lose that yumminess. Have you ever tried crispy baked polenta rounds? You are missing out if not!
I tested and trialed these every which way, and in the end it was the oil free slice and bake version that won us all over. Still creamy soft on the inside but with a perfect outer crisp!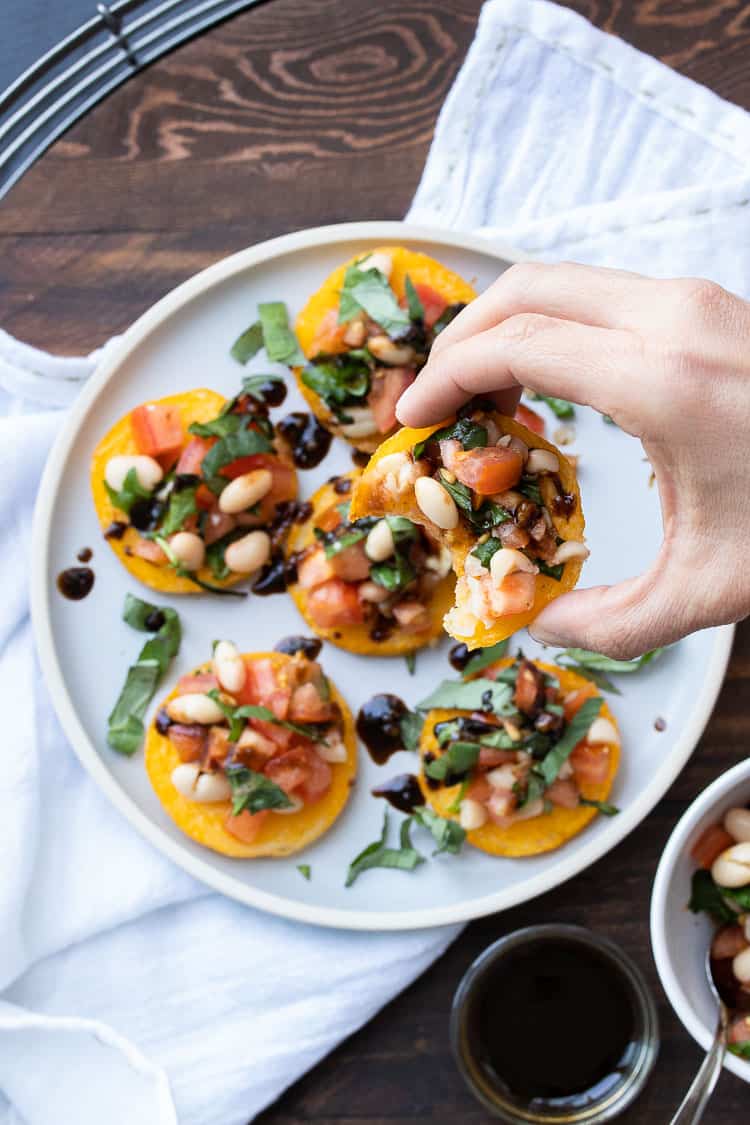 Should bruschetta be served warm or cold?
The best thing about bruschetta is how customizable it is. I love it every which way. Warm. Cold. Room temp. It doesn't really matter, ultimately it depends on the recipe you are using.
For this recipe, I thinks it's really good either way, the warm baked polenta goes great with cold topping. But if you want to warm the bruschetta topping up too, it works!
How long does bruschetta last in the fridge?
If this vegan appetizer makes it past that day, I'll be surprised. But if you find yourself with leftovers, I'd say it's best eaten within 2-3 days. It will last longer but the longer you let it sit, the tomatoes, basil and arugula start to wilt and texture wise it gets soggy.
How to Make Vegan Bruschetta
I don't call this easy bruschetta for nothing! It's such a simple recipe for as flavorful as it is.
Slice and bake the polenta.
Mix the bruschetta topping ingredients together (you can also make the balsamic drizzle now too, it's just a mix and serve recipe).
Top and enjoy!
If you're having a party I suggest mixing the topping up and making the balsamic drizzle the night before. Then bake and serve fresh!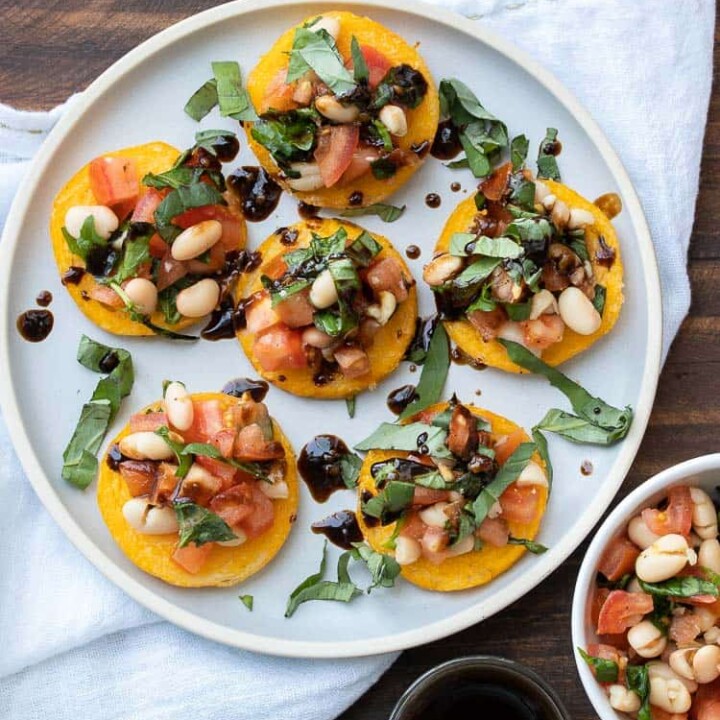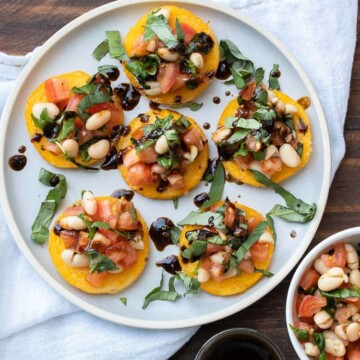 Easy Vegan Bruschetta with Baked Polenta Rounds
This easy bruschetta is the perfect vegan appetizer you can throw together in minutes! It's gluten free, flavorful and has an extra bonus of added protein!
Ingredients
1 sleeve of polenta (a sleeve is 18 ounces)
4 fresh tomatoes , chopped
½ cup sliced basil
½ cup sliced arugula , optional for a kick
1 cup white beans , like great northern or cannellini
2 teaspoons chopped garlic , about 2 large cloves
½ teaspoon sea salt
¼ teaspoon ground black pepper
A drizzle of olive oil , optional
Miso Balsamic Dressing , see note
Instructions
Preheat oven to 400F/ 200C.

Slice polenta into ¼ inch rounds, place on a parchment lined baking sheet and bake for 40 minutes or until they begin to get golden brown and crispy.

While baking, place all ingredients, except for the balsamic, into a large bowl and combine well.

You can also make the balsamic drizzle now if it isn't made.

Once the polenta is done and cooled a bit, top it with the bruschetta mix and drizzle some Miso Balsamic Dressing over the top. Serve immediately
Notes
I measure the basil and arugula loosely packed.
You can just use balsamic vinegar for a quick option instead of the dressing.
This makes about 16 rounds of polenta pieces. Serving size is about 4.
Tips to prep ahead:
Make the balsamic drizzle.
Mix up the bruschetta topping the night before.
Recipe by Veggies Don't Bite, visit our site for more great plant-based recipes.
Nutrition
Calories: 85kcalCarbohydrates: 16gProtein: 5gFat: 0gSaturated Fat: 0gPolyunsaturated Fat: 0gMonounsaturated Fat: 0gTrans Fat: 0gCholesterol: 0mgSodium: 427mgPotassium: 473mgFiber: 3gSugar: 3gVitamin A: 1240IUVitamin C: 18.8mgCalcium: 48mgIron: 1.2mg
Nutrition and metric information should be considered an estimate.
Never miss a recipe!
Sign up here and get a FREE quick and easy meal guide!