Rich, thick and amazingly decadent without all the unhealthy ingredients. This frozen hot chocolate oat smoothie is so good, you'll have no idea it's vegan!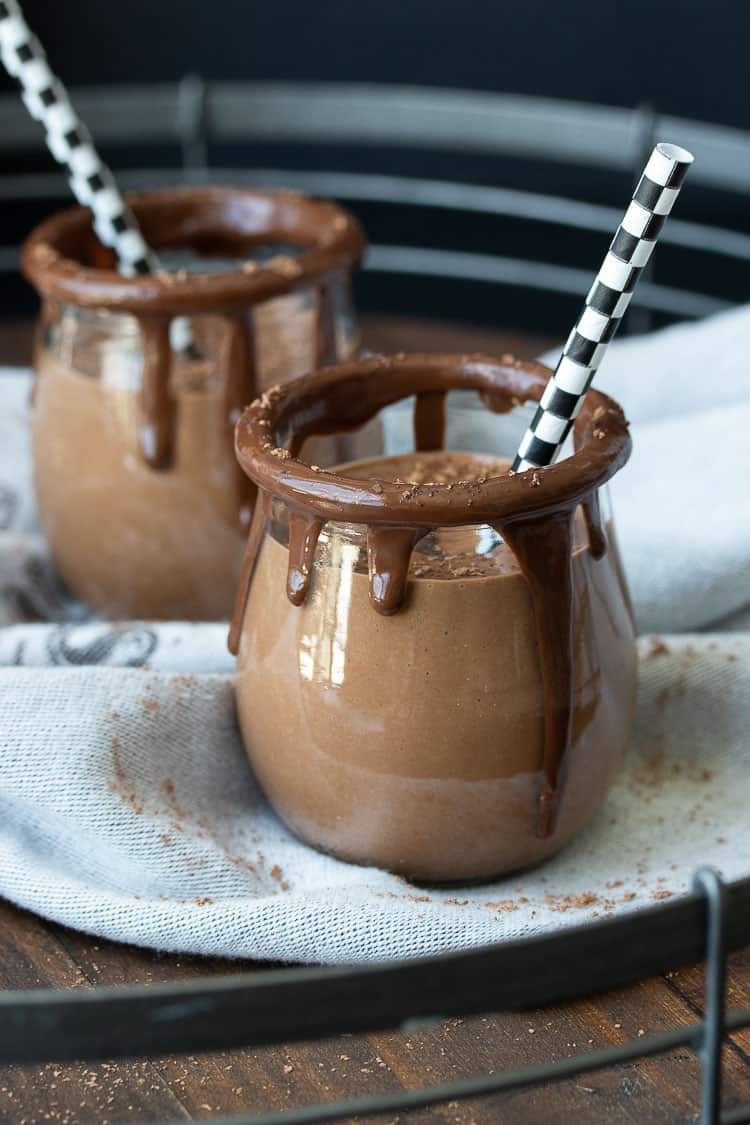 This is a sponsored conversation written by me on behalf of NOW Foods. The opinions and text are all mine.
There is nothing quite like feeding that sweet treat craving without compromising how you'll feel after. This
chocolate oat smoothie
is just that. So velvety smooth and delicious, you'll be
floored it isn't made with dairy
.
Frozen Hot Chocolate Flavored Smoothie
My love for a rich and creamy hot chocolate runs deep, and my cravings don't really understand seasons. So I had to adapt my favorite treat for the heat of the summer.
With summer comes less clothing, so sticking to something somewhat healthy is definitely preferred. And the best is when that somewhat healthy is a whole lot of tasty.
Rich flavor without all the dairy is possible thanks to great dairy free milks and the richness of coconut cream. My other key player here is oats. Oats are filled with fiber and healthy minerals, plus help add the creamy thickness to this vegan chocolate smoothie.
When it comes to oats, the brand I love is NOW Foods. They have a perfect mild oat flavor and just the right amount of softness when cooked. Texture is really important to me, so the right brand of oats is high on my priority list!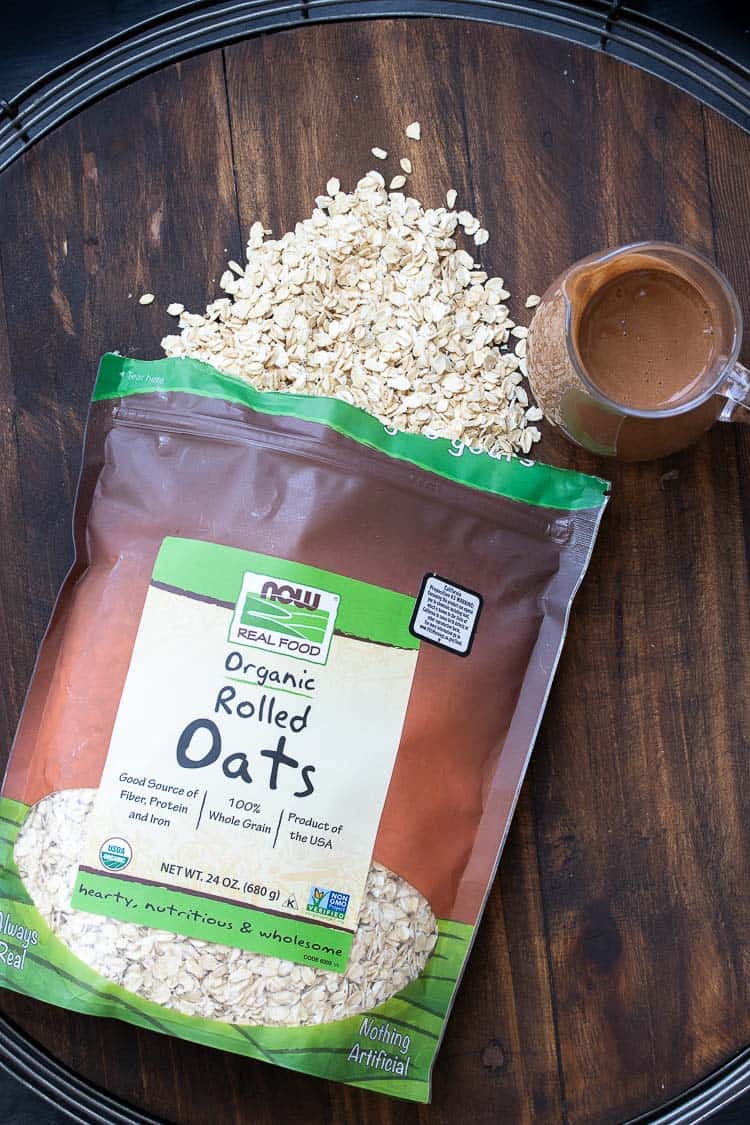 Are uncooked oats bad for you?
Oats are a really healthy food. And eating raw oats is perfectly safe providing you eat them with some liquid. This can be in the form as soaking them, pouring milk over them and eating them like cereal or blending them in a smoothie.
Oats have a lot of fiber, and anytime you eat fiber you want to pair it with liquid. Reason being is that when your fiber to liquid ratio is too high, it can cause gastrointestinal issues like gas and bloating.
The other issue with raw oats is a substance they have called phytate. The processing oats go through destroys the enzyme needed to break phytate down. So the phytate binds with the minerals in the oats and prevents you from absorbing them.
Soaking oats helps reduce the amount of phytate and then you can absorb those minerals.
Can you put raw oats in a smoothie?
Absolutely! This is a great way to get that liquid paired with raw oats. Oats help thicken a smoothie and also contributes to the creaminess.
Oats are super healthy and a great way to sneak some extra health benefits into smoothie. Just like I do here!
What oats should I use in a smoothie?
There are two main kinds of oats, rolled and steel cut. Steel cut contain the whole oat grain so are more firm and textured.
Rolled oats are flattened during processing so they are flaky and soft. They also absorb liquid much better. The NOW Foods oats I used here absorb liquid perfectly!
The best choice for smoothies is rolled oats because of their ability to get soft and absorb the liquid. They blend smoothly and basically disintegrate during blending.
How to Make a Healthy Chocolate Oat Smoothie
Chocolate is generally looked at as an indulgence, but when paired with the right ingredients it can be part of a healthy treat.
This vegan chocolate smoothie is not only simple and easy to make, but it's list of ingredients are much healthier than the typical dessert treats out there. And the flavor and texture is so ultra rich and creamy you'd have no idea!
There is a secret ingredient here that helps give this chocolate oat smoothie it's rich taste. Tomato paste! You're going to think it's a misprint, but it's not. Trust me on this one.
The tang in the tomato paste brings out the rich chocolate flavor in this vegan smoothie. It adds that extra layer of flavor that takes this from good to fabulous! I first used this technique in my S'Mores Lava Cake!
Making the best chocolate oat smoothie in two ways
There is a quick way to make this vegan smoothie and a longer way for ultimate creaminess. Both are super easy but the longer way really ups the flavor and texture!
Put all ingredients into a blender and blend.
Pour half into ice cube trays and freeze overnight.
The next day blend the frozen cubes and milk.
Enjoy the ultimate decadence!
If you need instant gratification, here is the quick version
Put all ingredients plus the ice into a blender.
Blend until smooth and enjoy!
Try these other great smoothie options!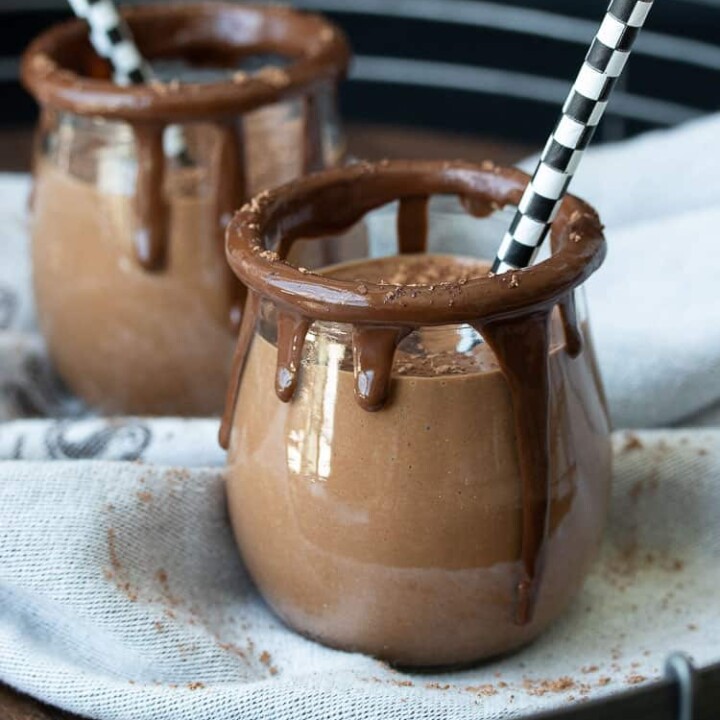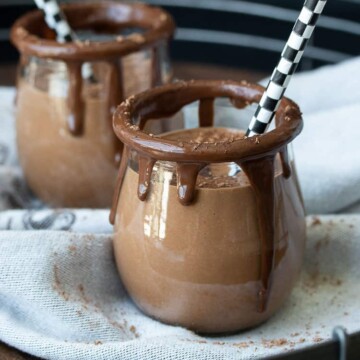 Frozen Hot Chocolate Oat Smoothie
Rich, thick and amazingly decadent without all the unhealthy ingredients. This frozen hot chocolate oat smoothie is so good, you'll have no idea it's vegan!
Ingredients
1 ½ cups dairy free milk , I used cashew
½ cup rolled oats , gluten free if needed (I use the NOW Foods brand)
¼ cup coconut cream , the layer off the top of a can of full fat coconut milk
1 tablespoon tomato paste
¼ teaspoon sea salt
¼-1/2 cup extra dairy free milk , for blending the next day
If making the quick version:
Instructions
Add everything (except the extra milk) into a blender and blend until smooth and creamy. Do not add the ice if you are making the regular version.

Pour half of the chocolate milk into ice cube trays. I got about 17-18 ice cubes. Store the rest of the chocolate milk in the fridge.

Freeze overnight.

The next day, let the extra chocolate milk sit on the counter a bit, or heat for 20 seconds in the microwave, to allow it to get thinner as it thickens in the fridge.

Blend the ice cubes, the leftover chocolate milk and the extra milk until smooth and creamy!
Quick version:
Blend all ingredients, plus about 20 ice cubes, in a blender until smooth.
Notes
To make this nut free, use soy, coconut or rice milk. Although it may not be as creamy.
Start with ¼ cup extra milk when blending and add more as needed.
The tomato paste is not a typo, it is a secret ingredient that gives chocolate an extra layer of richness
If you do the quick version, you may need more ice depending on your blender and how thick you want it. Start with 20 and add more as you go.
This makes 3 cups of chocolate milk, after you freeze half into cubes, you will have 1 ½ cups left.
Recipe by Veggies Don't Bite, visit our site for more great plant-based recipes.
Nutrition
Calories: 543kcalCarbohydrates: 58gProtein: 8gFat: 33gSaturated Fat: 0gPolyunsaturated Fat: 0gMonounsaturated Fat: 0gTrans Fat: 0gCholesterol: 0mgSodium: 380mgPotassium: 48mgFiber: 7gSugar: 37gVitamin A: 0IUVitamin C: 0mgCalcium: 182mgIron: 0.6mg
Nutrition and metric information should be considered an estimate.
Never miss a recipe!
Sign up here and get a FREE quick and easy meal guide!
If you want to give these oats a try, you can receive $10 off your nowfoods.com purchase of $40 or more (before taxes and shipping). Must use coupon code SOPHIANOW10 in the Promotion Code field at checkout. 
Offer only available on nowfoods.com. Offer valid January 1, 2019 through 11:59 PM CT March 31, 2019. Some exclusions apply. Limit one coupon code per transaction.  Offer cannot be used on previous purchases. NOW Health Group, Inc. has the right to end any promotion at any time