Amazing food doesn't need to be complicated. Simple fresh ingredients come together for a delicious punch of flavor in this spaghetti with charred tomatoes!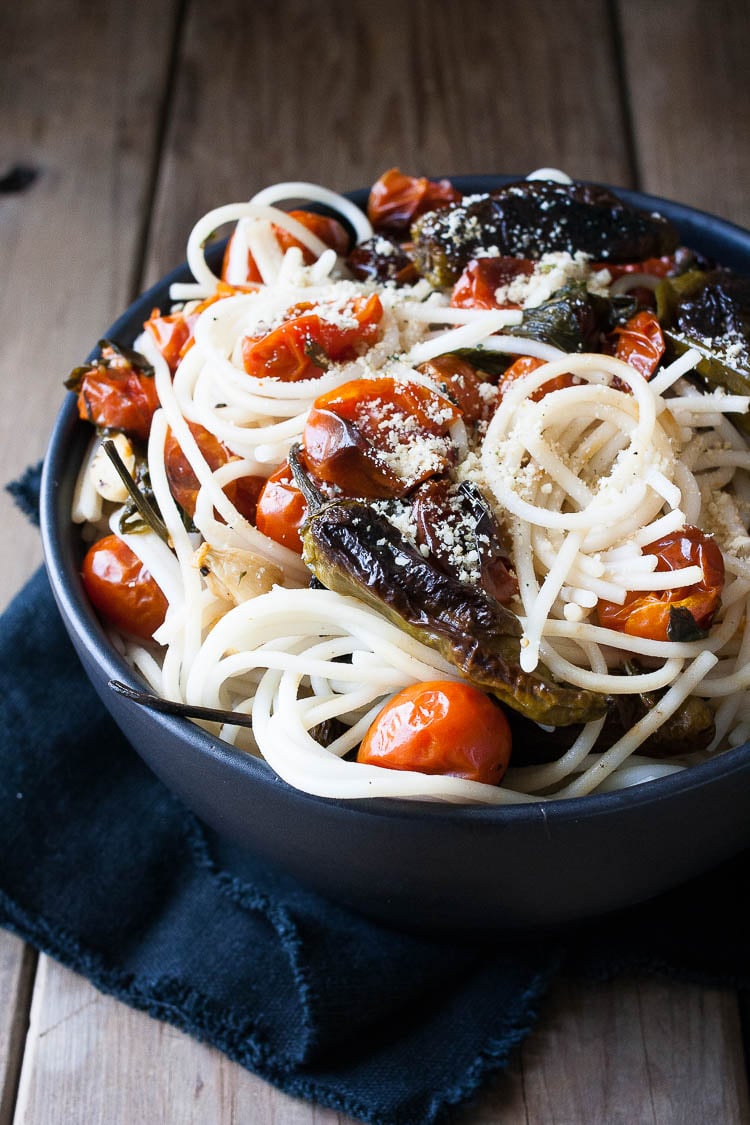 Summer craves fresh simple food, but simple does not mean lacking in flavor. After long days out in the warm sun, swimming, beach fun and long busy days keeping my kids entertained, I need something fulfilling and delicious.
I also need something easy. Easy and quick, because hungry kids does not equal a quiet house. This is what led me to the creation of throwing charred tomatoes and shishito peppers over spaghetti and calling it a day. What started as a throw together meal, has now become a weekly staple!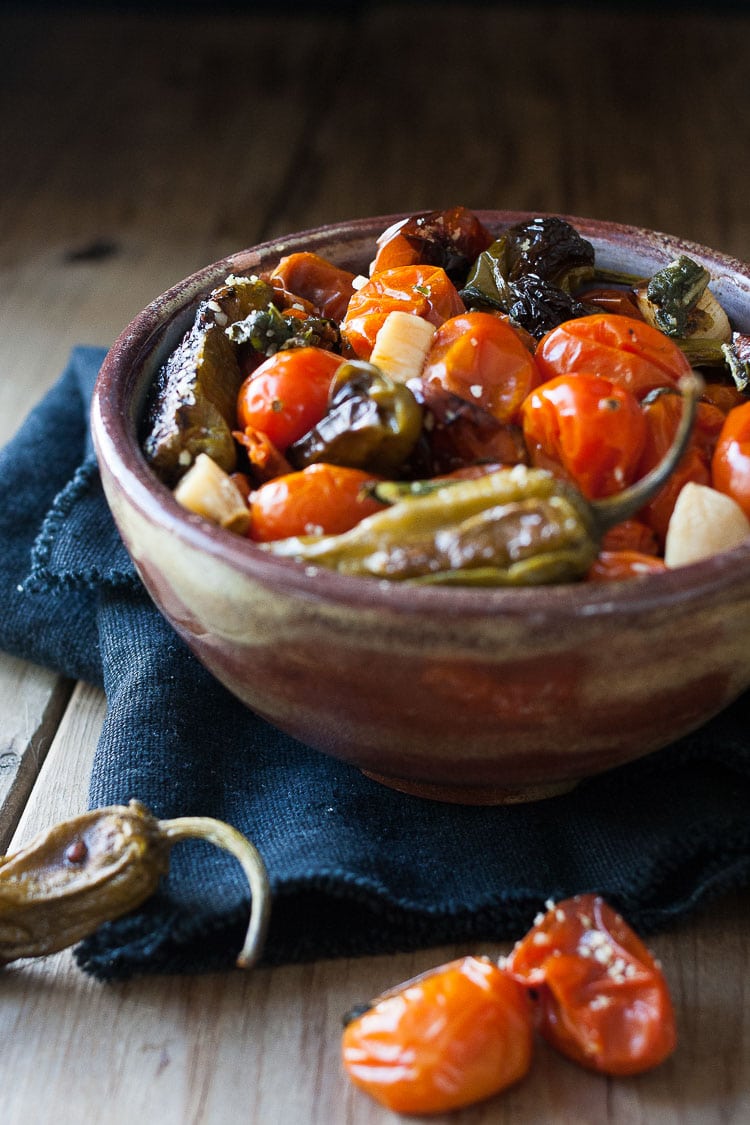 My family loves pasta. We eat it every single week, usually for multiple meals. But when it comes to pasta, we are not easy to please. I have tried almost every single gluten free pasta out there, and hands down one of my absolute favorite, is the Living Now pasta line by NOW Foods.
In fact, I posted about it in my Roasted Butternut Squash Spinach Pasta. Still, now 9 months later, we absolutely love this brand! Both taste and texture are spot on with regular old pasta. No chewy, rubbery noodles. No soft and mushy. Nice al dente bite every time, just how we like it!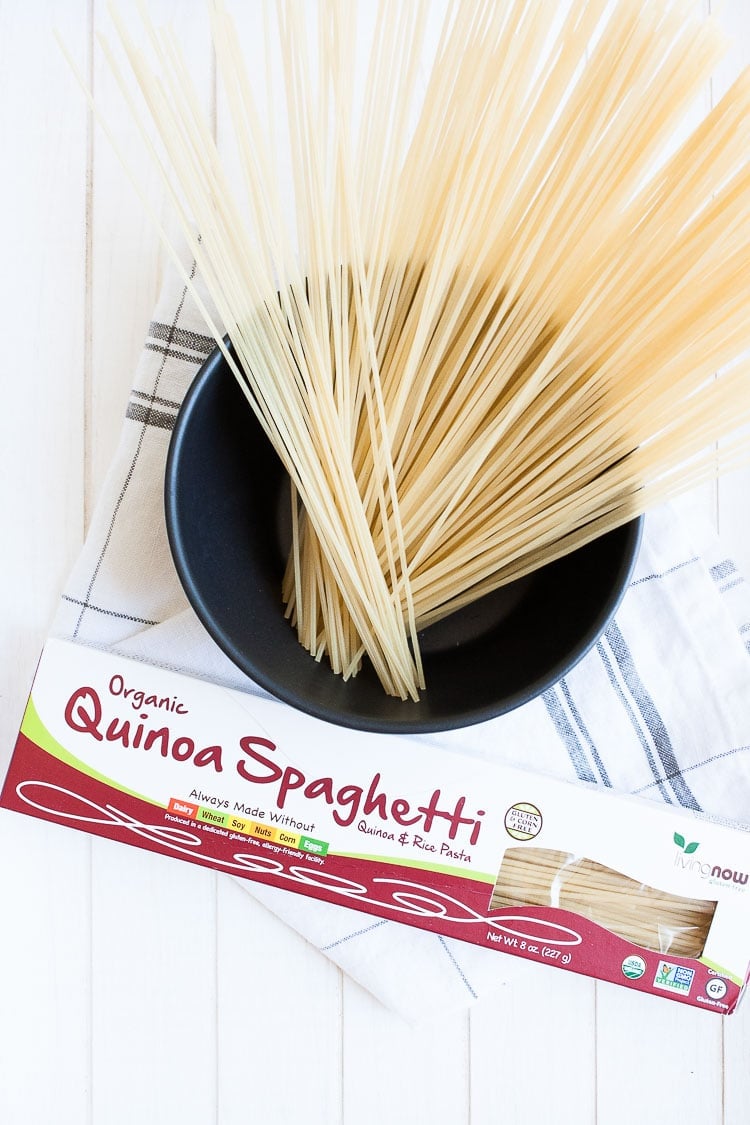 Summer Dreamin' Of Charred Tomatoes
So when summer rolls around, and we still want to enjoy our favorite pasta filled meals, but crave fresh and light ingredients, I create quick and easy recipes like this one with freshly charred tomatoes and shishito peppers, mix them with fresh garlic and basil, roast until perfection and devour.
It has been a winner every single time. Even the kids like it (although they aren't as risky with the peppers as we are)!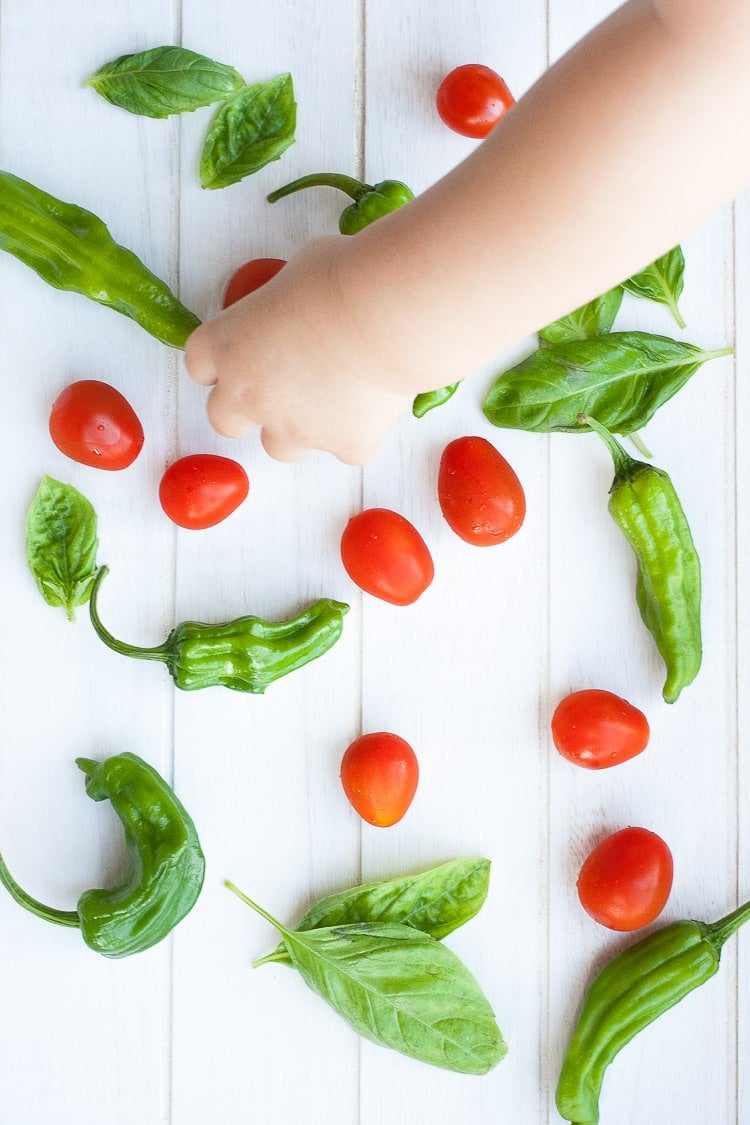 This is one of the easiest meals I have ever made, not to mention one of the most flavorful. Charred tomatoes are not given enough credit!
The great thing about it is you can throw it in the oven and take care of other things like changing laundry loads, cleaning up for the day, taking kids off of other kids, prepping lunches for the next day, telling the baby not to pull the cats tail...you know, the norm. But there's something so nice about not having to do all that while cooking an elaborate dinner!
Why this is one of the best and easiest meals to enter your kitchen:
Fresh flavors
6 simple ingredients, plus salt and pepper
5 simple steps
Kid friendly
Filling and so flavorful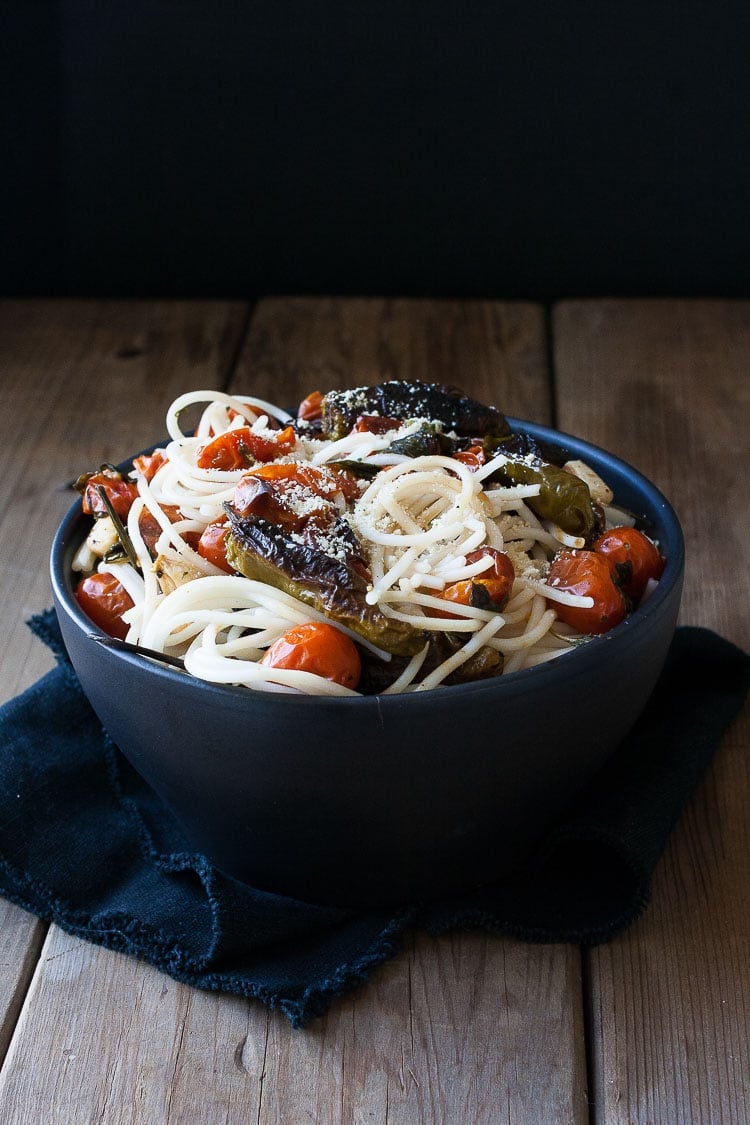 So no excuses!! You need to make this this week. It's SO good, we just can't stop eating it.
Leave me a comment here and let me know what you think. Are you surprised at how something so simple can have such bold flavors? Show me your beautiful creations by tagging me on Instagram at both @veggiesdontbite #veggiesdontbite so I don't miss it! You can also find me on Facebook, I love hearing from you all! Whatever you do, try this for dinner. I promise you won't regret it!
Here are some great additions to try during your next pasta night!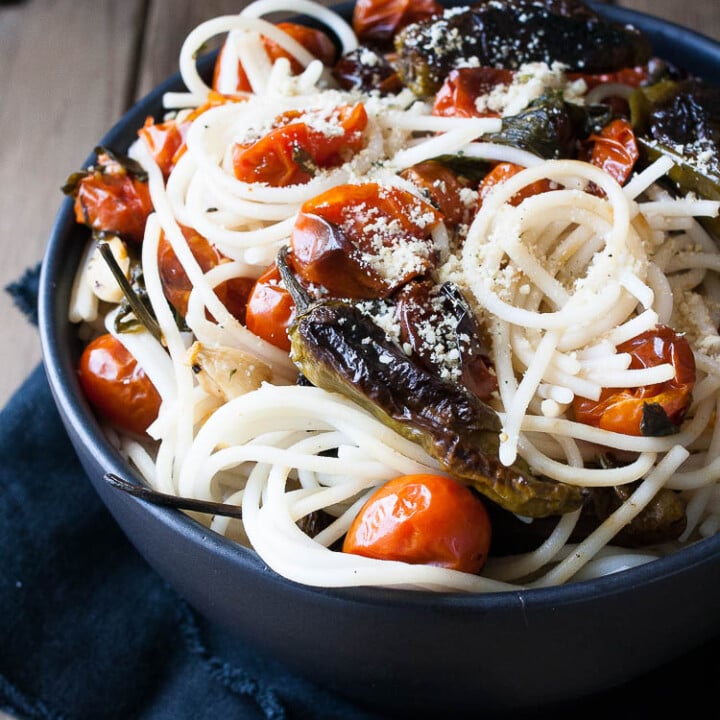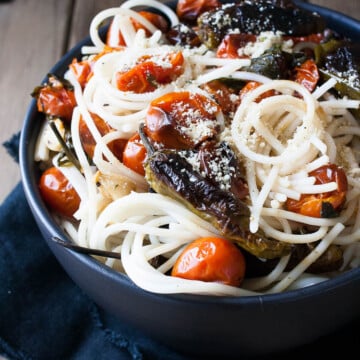 Spaghetti with Charred Tomatoes and Shishito Peppers
Amazing food doesn't need to be complicated. Simple fresh ingredients come together for a delicious punch of flavor in this spaghetti with charred tomatoes!
Ingredients
8 cups cherry or grape tomatoes
3 cups shishito peppers
10 cloves fresh garlic
1 loosely packed cup basil
1 teaspoon Himalayan pink salt
dash of ground black pepper
drizzle of veggie broth or your favorite roasting oil if you use oil , low sodium if needed
16 ounces spaghetti I use NOW Foods gluten free spaghetti
Hemp Almond Parmesan optional for topping
Instructions
Preheat oven to 375°F (190°C). Wash tomatoes, peppers and basil.

Place in a large bowl with garlic and add salt, pepper and broth or oil. Mix well to coat.

Place on a parchment lined cookie sheet and bake for about 45 minutes or until they begin to char. Start checking at 35 minutes as oven temps can vary.

While the veggies are roasting, cook spaghetti according to package directions. Make Hemp Almond Parmesan if using.

When veggies are done, mix in with spaghetti and top with Hemp Almond Parmesan. Devour.
Notes
You can adjust the ingredients for your individual taste, add more or less of each thing depending on what you like.
I have also used padron peppers here with success. You can make this oil free by using veggie broth to roast, however there are a lot of oils with great flavor that can be used to contribute to the flavor profile of this dish.
Tips to prep ahead: Wash tomatoes, peppers and basil. Make Hemp Almond Parmesan.
Baby/kid food idea: Although shishito peppers are pretty mild, you may want to leave them out. Everything else can be cut up into toddler bite sized pieces and served to an older baby or toddler. Make sure baby is old enough to tolerate the acidity of tomatoes.
Recipe by Veggies Don't Bite, visit our site for more great plant-based recipes.
Nutrition
Calories: 508kcalCarbohydrates: 104gProtein: 19gFat: 2gSaturated Fat: 0gPolyunsaturated Fat: 0gMonounsaturated Fat: 0gTrans Fat: 0gCholesterol: 0mgSodium: 629mgPotassium: 1128mgFiber: 7gSugar: 13gVitamin A: 1870IUVitamin C: 160.1mgCalcium: 81mgIron: 4mg
Nutrition and metric information should be considered an estimate.
Never miss a recipe!
Sign up here and get a FREE quick and easy meal guide!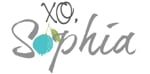 This post was sponsored by NOW Foods but the content and opinions expressed are fully my own.