This hearty and flavorful whole foods plant-based vegan lentil bolognese is the best way to satisfy any pasta craving. These flavors are pure deliciousness!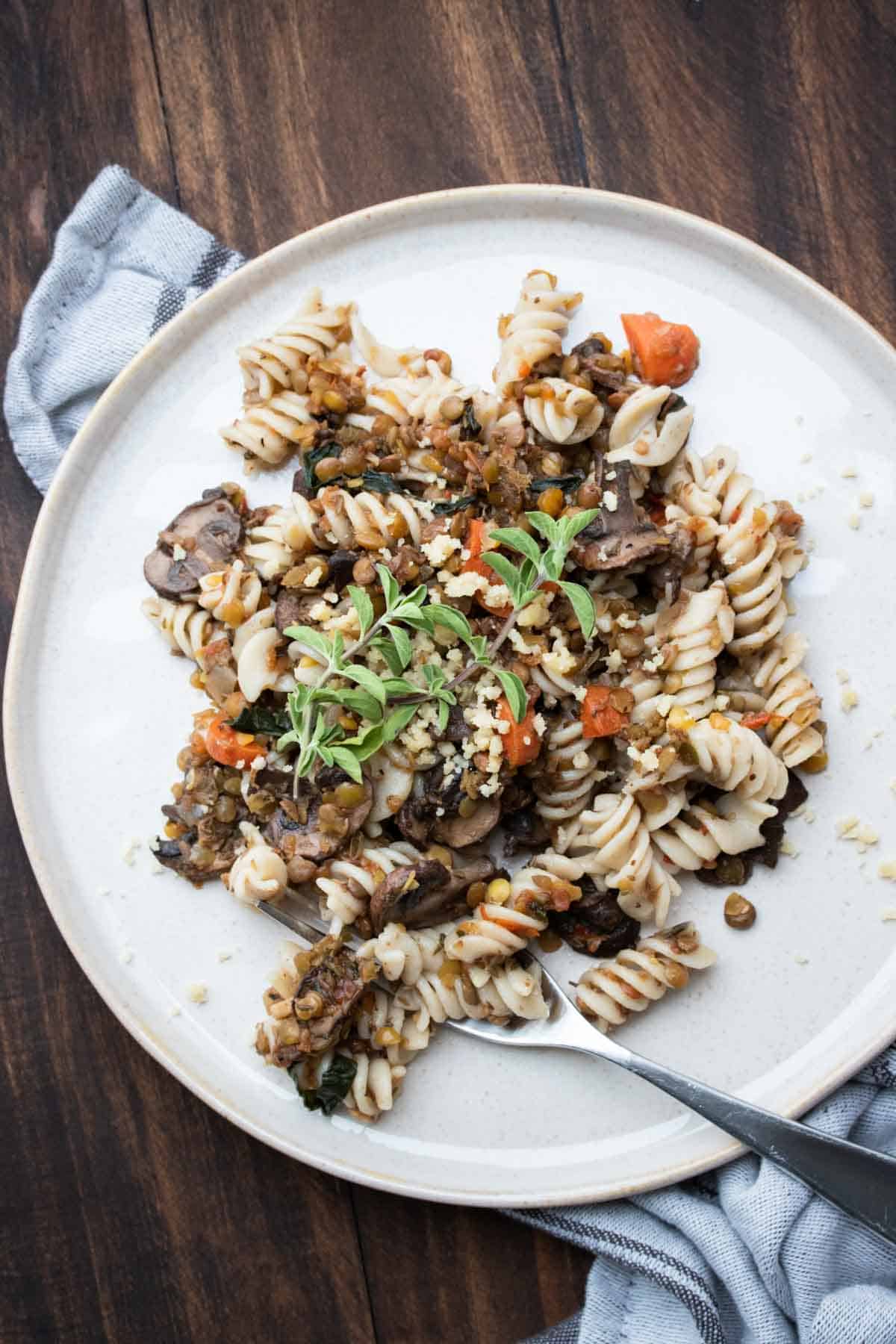 Originally published January 11, 2016.
Growing up my mom's bolognese sauce was probably my all time favorite pasta she made. I can still vividly remember loving it as a child. I knew it was something I wanted to recreate asap so I now have a pretty amazing replacement!
Vegan Lentil bolognese
The secret to this vegan bolognese... is mint. Fresh delicious mint. My mom always put mint in her bolognese and it's genius. Seriously, the taste is incredible! It adds such an awesome level of flavor.
And mixed with fresh basil and oregano, then combined with fresh, not jarred, tomato puree just makes this dish. There's something about fresh tomato puree that gets me every time. Plus all the hidden veggies make this an awesome dish to serve to picky kids who don't want to try new things!
How do you "veganize" bolognese?
Traditional bolognese is a meat based sauce. Some have vegetables, some have milk, and some even have other meats like ham. It takes on many forms and personalizations. I even have a few different versions myself. You can try this Classic Healthy Bolognese Sauce (Vegan) that takes on a "ham" like flavor with a special secret ingredient.
In order to veganize this sauce, you need to pick out the dairy and meat components and find good replacements. While others simple use store bought vegan dairy and meat replacements, I like to recreate things with whole foods.
In this particular recipe I use lentils to recreate the meaty texture and flavor, like I did for my Vegan Shepherd's Pie. I also added some extra veggies and herbs because I wanted to hit the flavor that my mom makes, which is more of a Greek twist.
When it comes to lentils, you need to make sure you are using the right kind. The spectrum of lentils goes from soft to firm. Red and yellow lentils are the softest because they are split so are best used in recipes like dal or curry. If you want a super soft end result, red lentils work well.
For a bit more texture and chew you want to choose a brown, green or black lentil base. Brown is the softest of the three, so you still need to be careful not to overcook it. Green are firmer and black are the most firm. They both give a great chew to dishes where you are trying to recreate a meaty texture.
Benefits of lentils
Lentils have so many benefits! The main three that I love the most are the protein, fiber and iron they provide. They are also a great source of B vitamins, magnesium, potassium and zinc.
Lentils also have compounds called phytochemicals which are great for fighting off disease. They are a great meat alternative and overall well rounded food.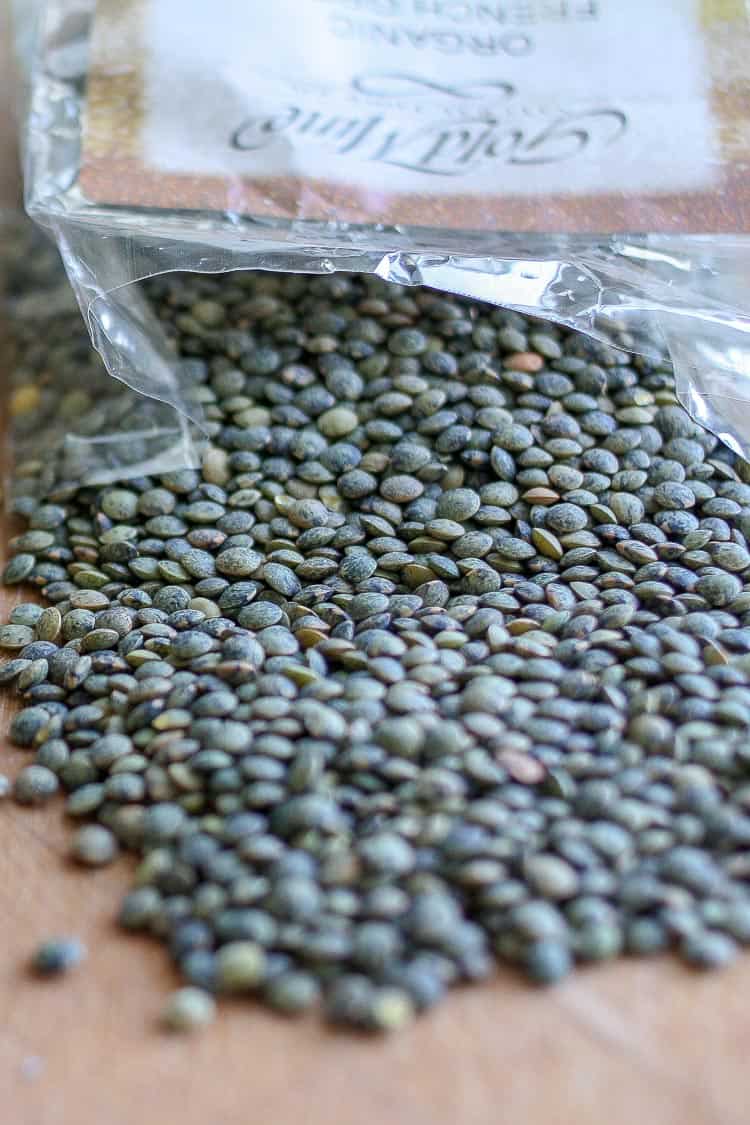 How do you flavor lentils?
Lentils don't have that much flavor, but will take on the flavors of whatever you put in them. Depending on the type of lentil you use, you will have undertones of sweet to earthy so pair the end result you are looking for with the type of lentil you use.
How long does it take to cook lentils?
Lentils don't take too long to cook, but it depends on the type of lentil. For split lentils like red or yellow, it only takes about 5-7 minutes. For whole lentils, about 15-20 minutes. (I've done a whole post on how to cook lentils that you may find helpful!)
Does celery go in bolognese?
Because bolognese can have many versions, some people do choose to add it. I don't put celery in this vegan bolognese, but it won't negatively impact the recipe if you wanted to add this in.
What can I add to bolognese sauce?
The basics for a bolognese sauce are meat or meat substitutes, veggies and a tomato base with herbs. The most traditional veggies to add are carrots, onions and celery (also called mirepoix mix), but you can always add other veggies of your choice. In this recipe I use finely chopped kale.
What does bolognese sauce taste like?
Bolognese is compared most closely to Italian Ragu. The tomato flavor is prevalent, but it can also take on the flavor of the veggies you add in. Some bolognese has a smoky flavor due to the addition of ham.
Does lentil bolognese freeze well?
Absolutely! I love doubling my recipe and freezing it. Here is what I do so the sauce freezes best:
Make sure it's completely cool.
Store in an airtight container.
Place a sheet of plastic wrap over the top so that it is touching the sauce, this helps avoid freezer burn.
When you are ready to eat, allow it to defrost on the counter, then heat in the microwave or on the stovetop.
How To Make Vegan Lentil Bolognese
Pulse the lentils to break them up a bit (you can also do this at the end).
Sautee the lentils with the onion and garlic to toast them up.
Add in everything else.
Serve and enjoy!
Serving tips
I love putting this bolognese over pasta, but I also have many other uses for it! Here are some of our favorites: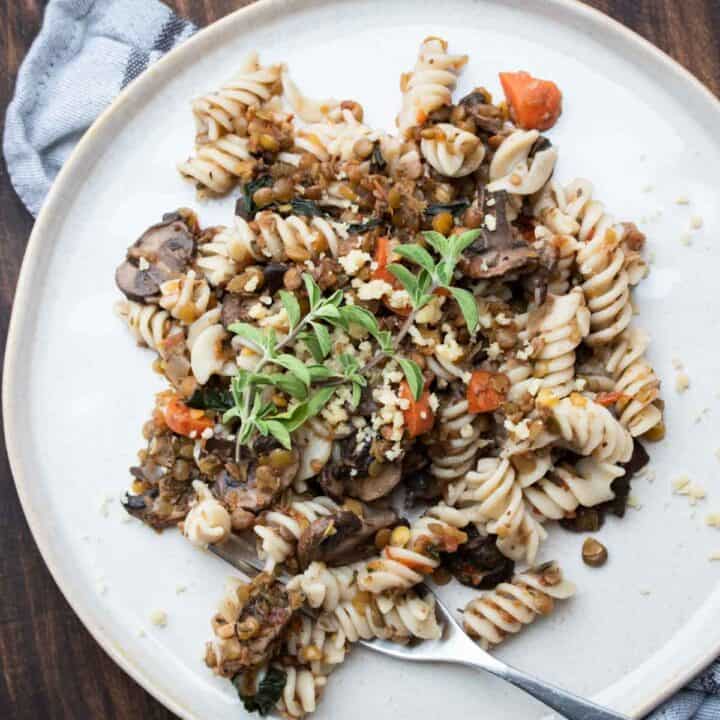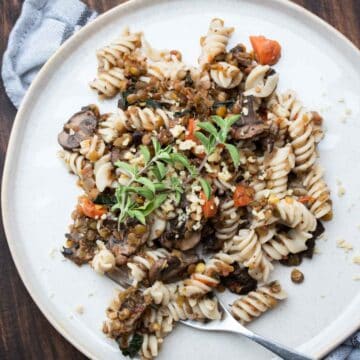 Vegan with Lentil Bolognese Recipe
This hearty and flavorful whole foods plant-based vegan lentil bolognese is the best way to satisfy any pasta craving. These flavors are pure deliciousness!
Ingredients
2 cups dried green or brown lentils , pulsed in a food processor to chop a bit if preferred (see note)
1 ½ pounds fresh tomatoes
2 tablespoons chopped fresh basil , measure packed
2 tablespoons chopped fresh mint , measure packed
2 tablespoons chopped fresh oregano , measure packed
1 cup chopped yellow or sweet onion
Your favorite oil for sautéing , or veggie broth if oil free
1 tablespoon chopped garlic
1 pound mushrooms , sliced
1 cup finely chopped carrots
1 cup finely chopped kale
1 cup water , plus more if needed
1 ½ teaspoons sea salt
¼ teaspoon ground black pepper
Instructions
Pulse dry lentils in a food processor (or blender) to break up a bit, or you can do this at the end. Set aside.

Puree tomatoes in a food processor. Add the basil, mint and oregano and pulse to chop.

In a pot on medium heat, sauté the onion in oil or broth until translucent, about 3-4 minutes. Add the garlic and sauté for 30 seconds or so.

Add in the lentils and sauté until well coated and they begin to toast, about 3-5 minutes.

Add the mushrooms, carrots and kale and sauté for a few more minutes.

Add in the tomato mixture, water, salt and pepper and cook until a rapid simmer is reached.

Lower heat until you maintain a gentle simmer. Cover and cook about 20-25 minutes or until lentils are tender and sauce is thickened. Add warm water to the pot if the sauce begins to get too dry.

If you are using precooked lentils add them after the sauce is done simmering, stir, taste to see if you want more salt or pepper and enjoy.

Serve over your favorite pasta or even spaghetti squash for a lower carb meal!
Notes
Green lentils remain the most firm after cooked, but take longer to cook. Brown can sometimes get mushy if overcooked but still retain their shape well. Red or yellow lentils become mushy quickly so unless that is the consistency you are looking for, don't use them. 
You can use precooked lentils, but add them at the end like the instructions say.
I like to pulse my lentils a bit in a food processor while dry to get a chopped up feel. You can also pulse this after it is cooked. You can also just keep them whole and it's just as good.
This is not a "saucy" recipe, but if you prefer it to have more liquid you can add more tomatoes or even some crushed or chopped jarred tomatoes.
Tips to prep ahead:
Wash and chop all veggies and herbs
Baby/toddler food idea:
Serve the sauce as is for an older baby, puree for babies needing smoother meals.
Recipe by Veggies Don't Bite, visit our site for more great plant-based recipes.
Nutrition
Calories: 222kcalCarbohydrates: 40gProtein: 16gFat: 1gSaturated Fat: 1gSodium: 417mgPotassium: 985mgFiber: 18gSugar: 6gVitamin A: 4338IUVitamin C: 28mgCalcium: 84mgIron: 5mg
Nutrition and metric information should be considered an estimate.
Never miss a recipe!
Sign up here and get a FREE quick and easy meal guide!