3 ingredients and low effort makes for the best dinner! This spinach tomato pasta sauce will blow you away at how easy and flavorful it is.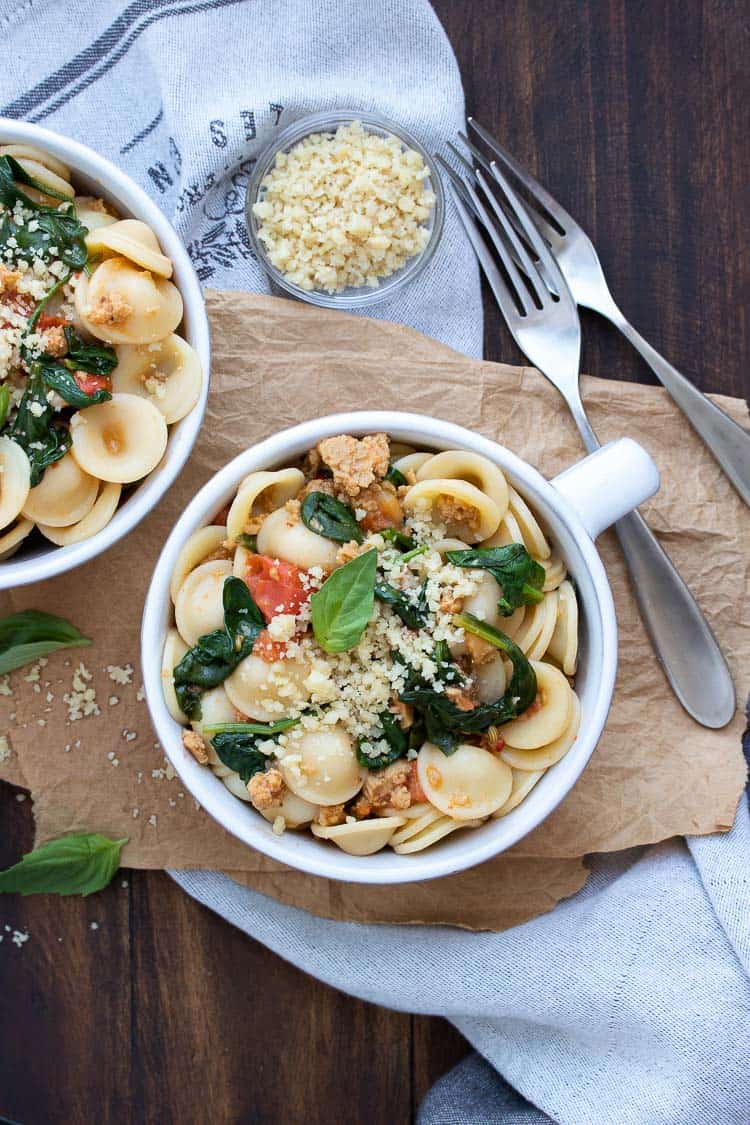 This recipe was originally published on 5/15/14
Food doesn't have to be complicated. Sometimes, all it takes is a few ingredients to make a meal that everyone will eat. I love me some creative all out recipes, but sometimes I don't have the energy to get past step 3.
I used to hate recipes.
Chew on that a bit. Pun intended.
There was a time when all I did was grocery shop like a maniac with no rhyme or reason, and then come dinner time, I would grab things out of the fridge and go at it like the crazy chef from the muppets.
Often, what I was aiming at making turned into something else, and I went with it. This is how we came up with this recipe, lovingly referred to it as "Pasta Sauce by Accident."
Spinach Tomato Pasta Sauce with only 3 ingredients
Having 3 ingredient recipes in your back pocket is a fabulous way to keep on track with healthy eating for those crazy nights. Simple can often lead to amazing.
There are only 3 things you need to make this pasta with spinach and tomato: spinach, tomato and a good flavored vegan sausage. The seasonings in the sausage cook with the fresh tomatoes and spinach to make a flavorful sauce without adding anything extra!
Here are the easy steps for making this vegan pasta with spinach:
Saute the sausage.
Add the tomatoes.
Add the spinach
Serve over whatever you desire!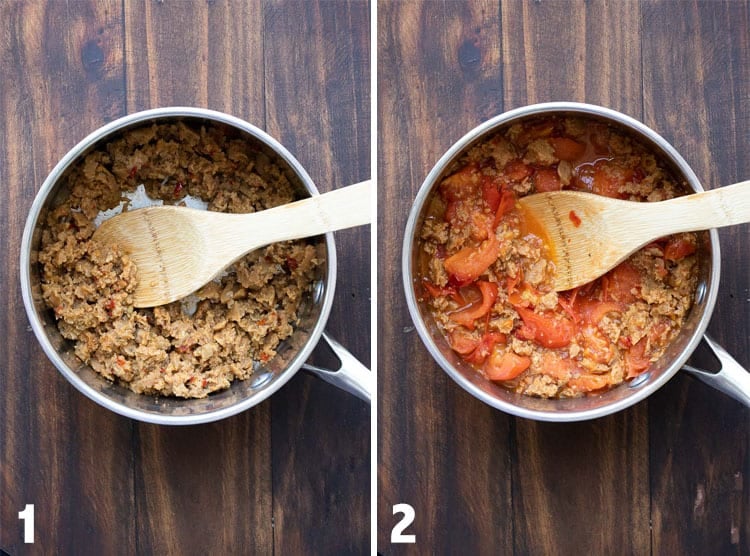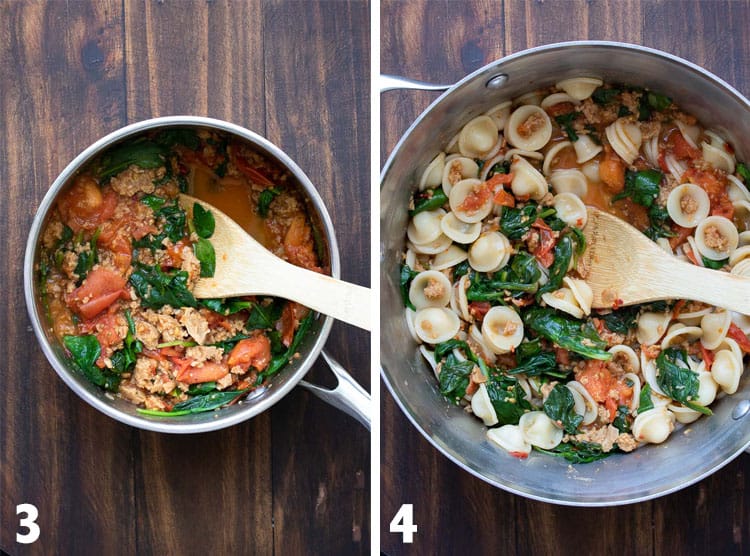 How can I take this spinach tomato pasta sauce up a notch?
As easy as delicious as this is as written, you can definitely adapt it to match your level of fancy. I often throw in other things, depending on what is about to go bad in my fridge. Here are some of my top faves:
Add more red pepper flakes for an extra kick, you can also use fresh chili
You could add other veggies you have such as zucchini or peppers
Try adding other fresh herbs such as basil, rosemary or thyme
You can throw in some beans, like white beans, for added protein
How do I serve this pasta sauce with spinach and tomato?
This recipe is easily adaptable for your whole family. You can serve it over just about anything! We have two favorite ways that we eat it every time we make it:
Over the kids favorite pasta, because if they get to choose the shape they whine less
Over spaghetti squash (see my recipe for spaghetti squash bowls on how to prepare it best)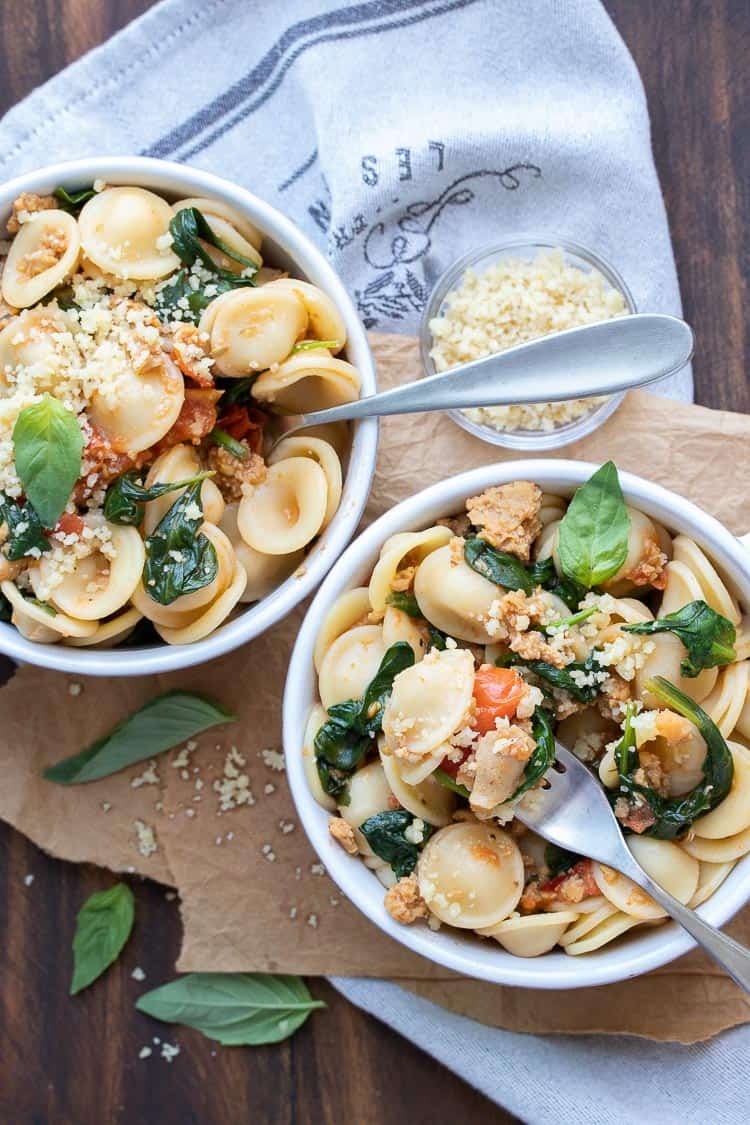 What do you use spinach for? How can I use the leftover?
Spinach is one of my favorite most versatile veggies! I have so many ways to use it. Here are a list of the ones most loved by readers: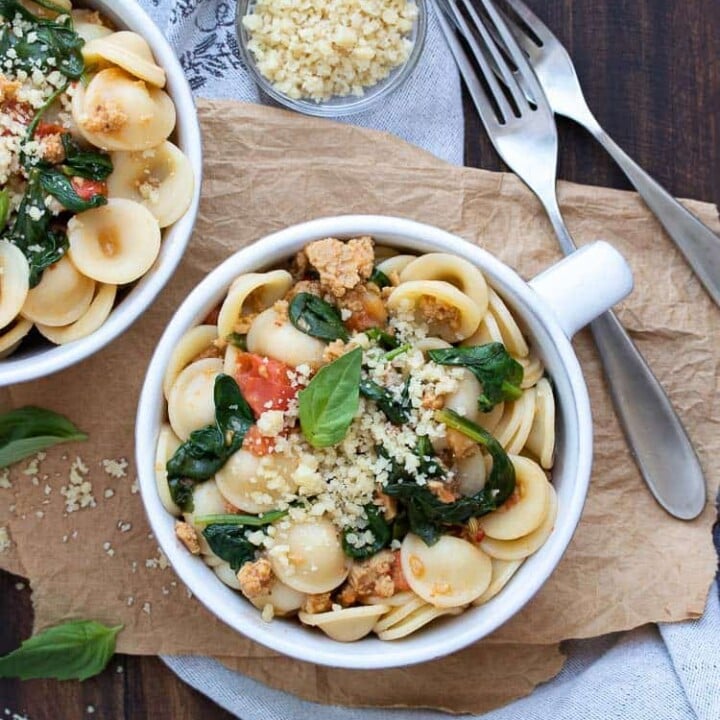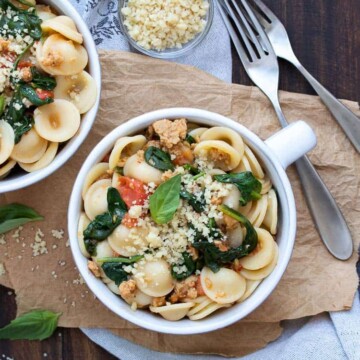 3 Ingredient Spinach Tomato Pasta Sauce
3 ingredients and low effort makes for the best dinner! This spinach tomato pasta sauce will blow you away at how easy and flavorful it is.
Ingredients
2 links Italian flavored vegan sausage , not breakfast sausage size but regular sausage size (see note)
8 fresh tomatoes , cut into large pieces (I use medium sized vine ripened tomatoes)
4 cups fresh spinach , roughly chopped (can also use chard)
¾ cup water or veggie broth for sautéing , or a drizzle of oil
optional for added flavoring:
¼ cup fresh oregano , or about 1 tablespoon dried oregano
1 cup fresh basil , or about 3 tablespoons dried basil
½ cup fresh parsley , or about 2 tablespoons dried parsley
1 teaspoon chopped garlic
1 teaspoon crushed red pepper
Instructions
Crumble or slice the sausage and saute in water, broth or oil until it begins to brown. About 5 minutes

Add in tomatoes and cook until they soften and the sauce is slightly thickened. About 5 minutes.

Add spinach. If using extra spices and/or seasonings, add now.

Allow sauce to simmer for 10 minutes or until thickened.

Serve over your favorite pasta, spaghetti squash or anything else you prefer!
Notes
Nutritional information is for the sauce only.
If you like your sauce more saucy, then add some broth or water.
There are many store bought plant-based sausages. A good soy free option is the brand Field Roast. A gluten free brand is Beyond Meat. You can also make your own by using my vegan sausage recipe. If you use a sausage that is not flavored, you will need to saute it with salt and seasoning first.
The salt from the sausage is plenty (as long as it is a flavored kind), but if you need more feel free to add it in.
Recipe by Veggies Don't Bite, visit our site for more great plant-based recipes.
Nutrition
Calories: 166kcalCarbohydrates: 16gProtein: 17gFat: 4gSaturated Fat: 0gCholesterol: 0mgSodium: 326mgPotassium: 750mgFiber: 3gSugar: 7gVitamin A: 4860IUVitamin C: 42.2mgCalcium: 54mgIron: 1.5mg
Nutrition and metric information should be considered an estimate.
Never miss a recipe!
Sign up here and get a FREE quick and easy meal guide!