Looking for a healthy indulgent sweet treat that's easy to make and a hit with the whole family? This vegan frozen yogurt bark will be your new go to snack!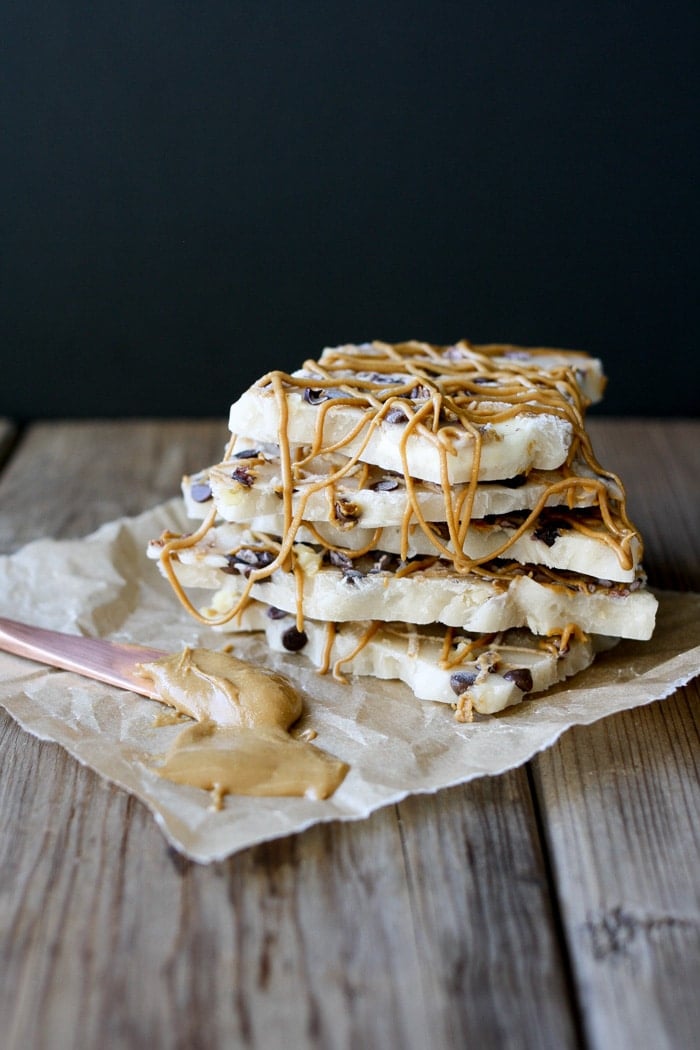 Get Out Of Your Boring Snack Rut
Quick go to snacks are a must for most of us, especially when you have a family to feed. I know I'm not the only one that's been given the look of death when you once again present your hungry brood with the same old snack.
If looks could kill...I would not be here today. And let's be thankful they can't, because this is something you're going to want! May I present you with the answer to mundane snack time: Vegan Chunky Monkey Frozen Yogurt Bark! Easy, check. Tasty, check. Happy family, check. My work is done here.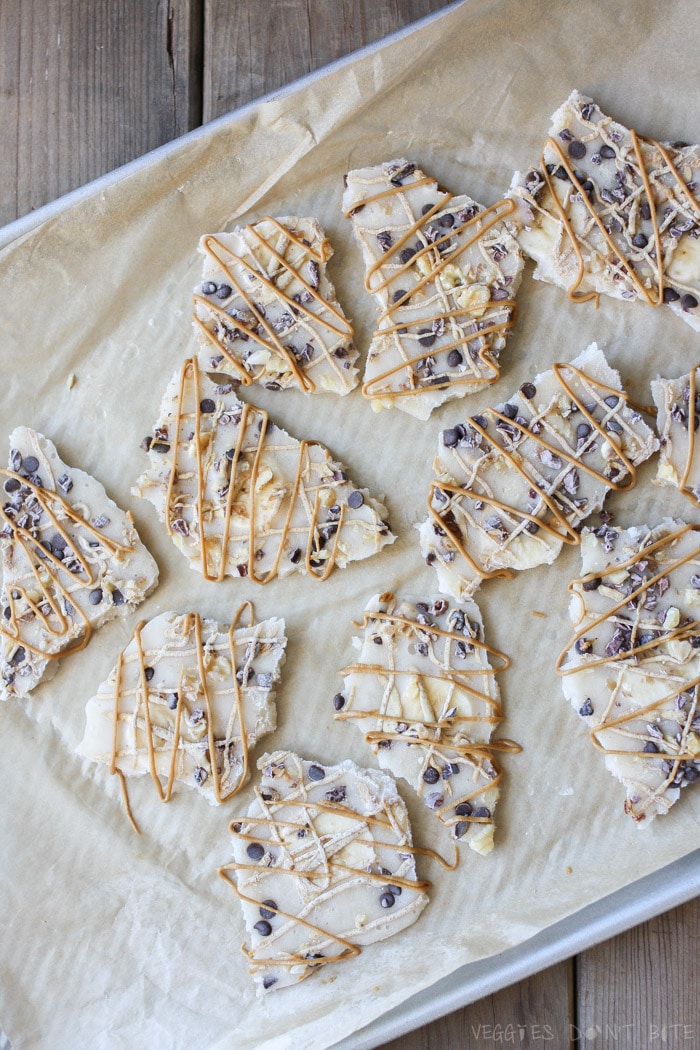 Yogurt Bark Snack Of Dreams
So how do you throw together something this fabulous? Well, it starts with a few containers of Dream Non-Dairy Yogurt! I used the coconut version for this, I found that it froze a little better and gave it that thick creamy taste.
Blend it up with some ripe banana for natural sweetness, throw in some walnuts, crunchy cacao nibs and sliced bananas (maybe vegan chocolate chips if you're feeling really fancy) and you've got yourself a vegan frozen yogurt bark that you will not be able to keep around.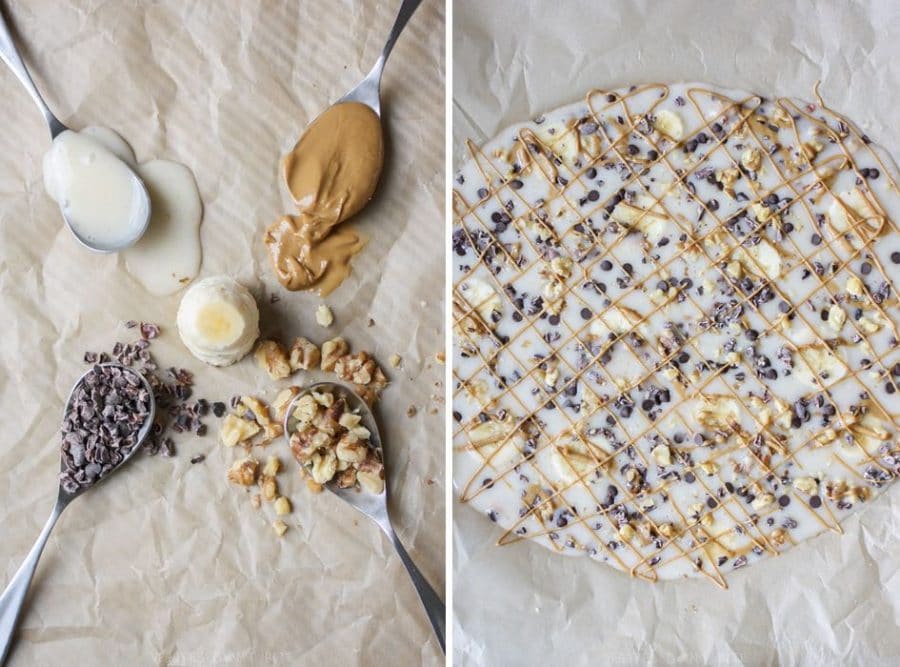 It's amazing how easy it is to use a simple container of Dream Non-Dairy Yogurt and transform it into a fun and tasty snack. I mean, one minute you're eating yogurt, the next you can use that same yogurt for something that looks like it took effort to put together! In reality you literally throw the ingredients on and let the freezer do the rest.
Winner winner, yogurt snack for dinner! And it's super healthy, so if you wanted you really could eat it for dinner. And who wouldn't want frozen yogurt bark for dinner?!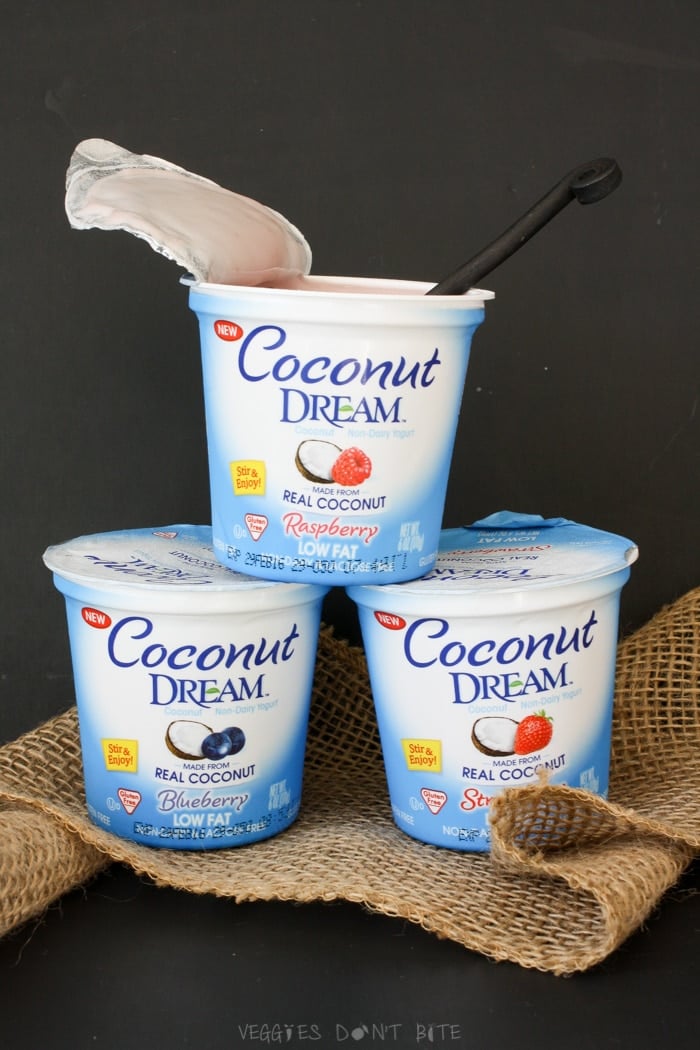 So grab yourself some Dream Non-Dairy Yogurt, whip this bark up and wow your friends and family. It's fail proof and tasty. Move over Pinterest fails, because this will be a success! Let me know what you think, do you like Chunky Monkey?
If you do, you totally should also try my Chunky Monkey Cookies. I can't wait to hear what you think! Leave me a comment here, find me on Facebook or tag me on Instagram at veggiesdontbite #veggiesdontbite so I don't miss it! Happy barking! The frozen yogurt kind...not like a dog 😉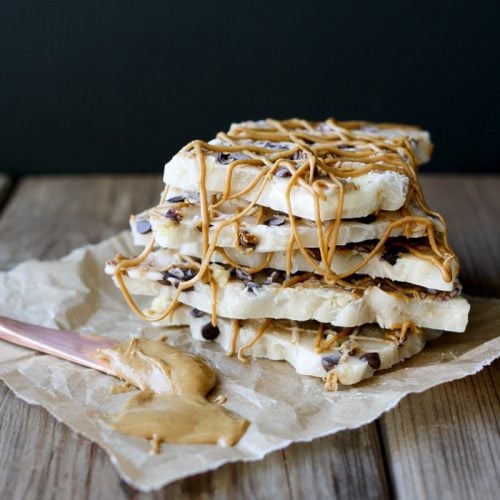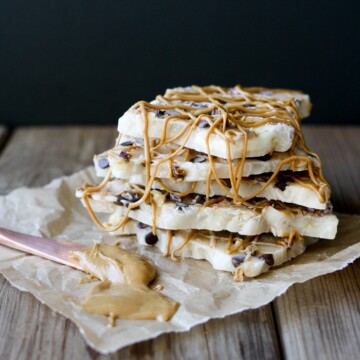 Vegan Chunky Monkey Frozen Yogurt Bark
Looking for a healthy indulgent sweet treat that's easy to make and a hit with the whole family? This vegan frozen yogurt bark will be your new go to snack!
Ingredients
2 containers vanilla Dream Non-Dairy Coconut Yogurt 6 ounces each, about 1 ½ cups total
1 medium ripe banana about ¾ cup mashed
½ medium banana sliced into ⅛ inch pieces
4 tablespoons chopped walnuts
2 tablespoons cacao nibs
2 tablespoons soft peanut butter
2 tablespoons vegan chocolate chips optional for sweeter flavor
Instructions
Add yogurt and ripe banana to a food processor and blend until smooth.

Spread mixture on a parchment lined cookie sheet until about ¼ inch thick.

Drop sliced bananas, chopped walnuts, cacao nibs and chocolate chips if using into the yogurt.

Put peanut butter into a plastic bag and cut the corner off. Squeeze bag to drizzle peanut butter all over yogurt.

Place in freezer overnight. Once frozen, break apart into large pieces. You can also drizzle more peanut butter on right before serving.
Notes
Adding the chocolate chips adds a little more sweetness to this, without them is more of a strict healthy treat.
For a nut free version, sub sunflower seeds for walnuts and use sun butter for the peanut butter.
Baby/toddler food idea: Add only banana until child is old enough to eat hard foods.
Recipe by Veggies Don't Bite, visit our site for more great plant-based recipes.
Nutrition
Calories: 102kcalCarbohydrates: 9gProtein: 2gFat: 7gSaturated Fat: 2gCholesterol: 0mgSodium: 14mgPotassium: 101mgFiber: 1gSugar: 5gVitamin A: 10IUVitamin C: 1.6mgCalcium: 14mgIron: 0.7mg
Nutrition and metric information should be considered an estimate.
Never miss a recipe!
Sign up here and get a FREE quick and easy meal guide!