Nine ingredients and less than 30 minutes to incredible healthy peanut butter banana oatmeal cookies. Crispy edge and melt in your mouth middle, perfect for breakfast or a healthy snack!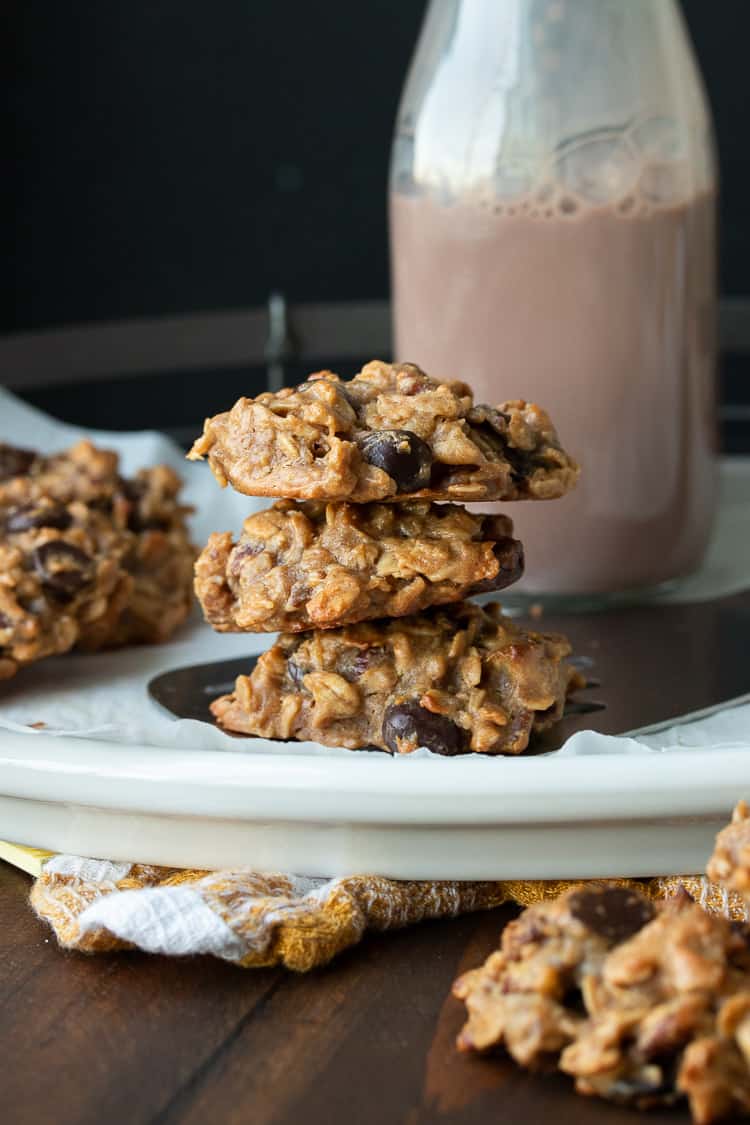 This recipe was originally published on 3/10/14
Cookies are a food group. At least in our house. So coming up with healthier versions that taste amazing is a non negotiable item. I'm all about balance but when you're scarfing cookies down at the rate you should be eating veggies, it's time to step up your nutrients in the cookie game.
What cookies are the healthiest?
Using mostly whole foods is a great way to get a lot of nutrients in your recipes. These peanut butter banana cookies are made with some legit ingredients:
oats
peanut butter
banana
date paste
pecans
chocolate chips
All of those, minus the chocolate chips, are pretty nutrient dense. You can even sub cacao nibs for the chocolate chips for ultra healthy breakfast cookies (but hey, I'm all about a touch of chocolate in my life).
You not only need to look at the ingredients in a recipes, but when you are buying those ingredients, you need to look at the labels themselves. Let's take peanut butter for instance, there should be 1-2 things on the ingredient list: peanuts and maybe salt.
Many jars out there include added sugar, oil and other add ins that are simply not necessary! Do you need help understanding the ingredients on a food label? I have an awesome information guide. Click here to get it for free!
Are cookies good for breakfast?
Is the sky blue? Of course they are good for breakfast, especially when they are healthy peanut butter banana oatmeal cookies.
But really though, I can't stress this enough. Read the labels if you are buying them. If the ingredients are mostly whole foods, then you're probably good.
Are homemade cookies healthier?
Some of the time the answer is yes. And for these peanut butter banana oatmeal cookies, definitely yes. But again you need to read labels.
I mean, we all know that freshly baked cookies are best right out of the oven. So it makes sense. Not that it isn't ok to have unhealthy cookies sometimes. Or any time. Balance is key, I talk more about this in my podcast episode about finding that perfect balance!
But these healthy vegan cookies are done and cleaned up in under 30 minutes so really, why would you buy cookies anyway?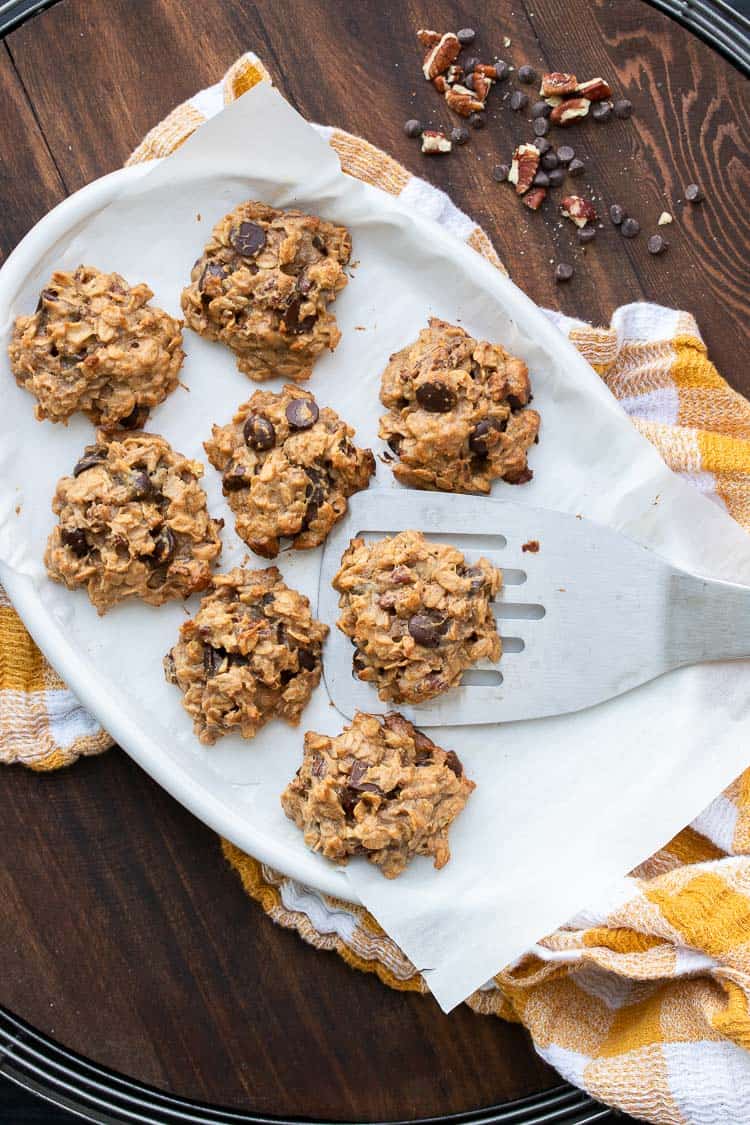 Are vegan cookies healthier?
Not necessarily. I'm going back to what I have hammered into your head, read the labels! Most cookies that are not vegan are filled with butter and sugar, so I wouldn't call them healthy. But nothing wrong with it once in a while.
What is the healthiest alternative to added sugar?
Since the only natural sugars come from milk and fruit, I love using date paste to sweeten my healthy sweet treats. It's so simple to make, basically dates and water, and it keeps for a long time in the fridge. Plus it gives the perfect texture to these peanut butter banana cookies!
I make it every few weeks, and store it in a glass jar. You can even freeze it if you wanted.
When I am not using date paste, my second go to is maple syrup. While it is not a natural sugar, it's glycemic index isn't as high as other added sugars and I love the flavor.
How do you make healthy peanut butter banana oatmeal cookies?
If I told you it took me shorter time to make these cookies than it did to get my son to eat a bite of lasagna would you believe me? Well it did. Because these babies are "don't look away long enough for your 3 year old to try riding the cat" fast.
Mix the wet ingredients. 
Add the dry ingredients. 
Add the chocolate chips and pecans. 
Bake. 
Shove into mouth before the kids see. 
If you liked this healthy treat, check out some of the others!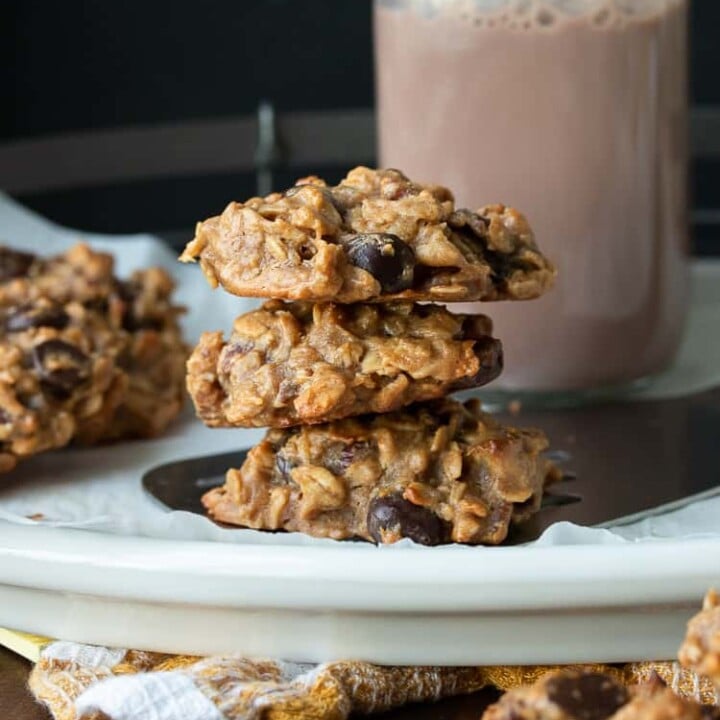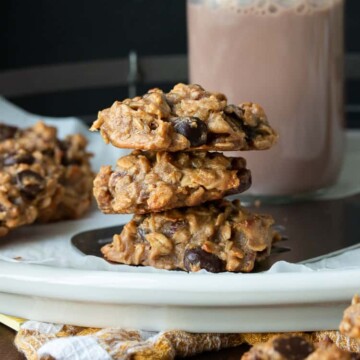 Healthy Peanut Butter Banana Oatmeal Cookies
Nine ingredients and less than 30 minutes to incredible healthy peanut butter banana oatmeal cookies. Crispy edge and melt in your mouth middle, perfect for breakfast or a healthy snack!
Instructions
Preheat oven to 350°F/ 180°C

Mix the peanut butter, banana, maple syrup and vanilla extract in a bowl until combined, I used a whisk. It's okay if there are some banana chunks.

Add the oats, baking soda and salt to the bowl and mix well with a spoon.

Fold in the chocolate chips and pecans.

You can put the mixture in the fridge to firm up a bit while you clean up if you want it to be a touch easier to scoop.

Using a spoon or small ice cream scooper, drop balls of dough on parchment lined cookie sheets. These retain shape and don't spread much.

Bake 17-20 minutes or until brown on edges. Cookies will harden a bit more as they cool.
Notes
You can use almond butter too, or try sunflower seed butter for a nut free option.
These are very forgiving and adaptable. Use add ins of your choice, just remember to keep the total to around 1 cup (the amount of chocolate chips and pecans) because if you add to much the dough won't stay together. 
Serving size is one cookie.
Recipe by Veggies Don't Bite, visit our site for more great plant-based recipes.
Nutrition
Calories: 148kcalCarbohydrates: 14gProtein: 3gFat: 9gSaturated Fat: 2gPolyunsaturated Fat: 0gMonounsaturated Fat: 0gTrans Fat: 0gCholesterol: 0mgSodium: 112mgPotassium: 131mgFiber: 2gSugar: 7gVitamin A: 0IUVitamin C: 0.4mgCalcium: 10mgIron: 0.5mg
Nutrition and metric information should be considered an estimate.
Never miss a recipe!
Sign up here and get a FREE quick and easy meal guide!