Protein packed Italian food filled with hidden veggies? Yes please! These vegan stuffed shells with cauliflower ricotta won't let you down.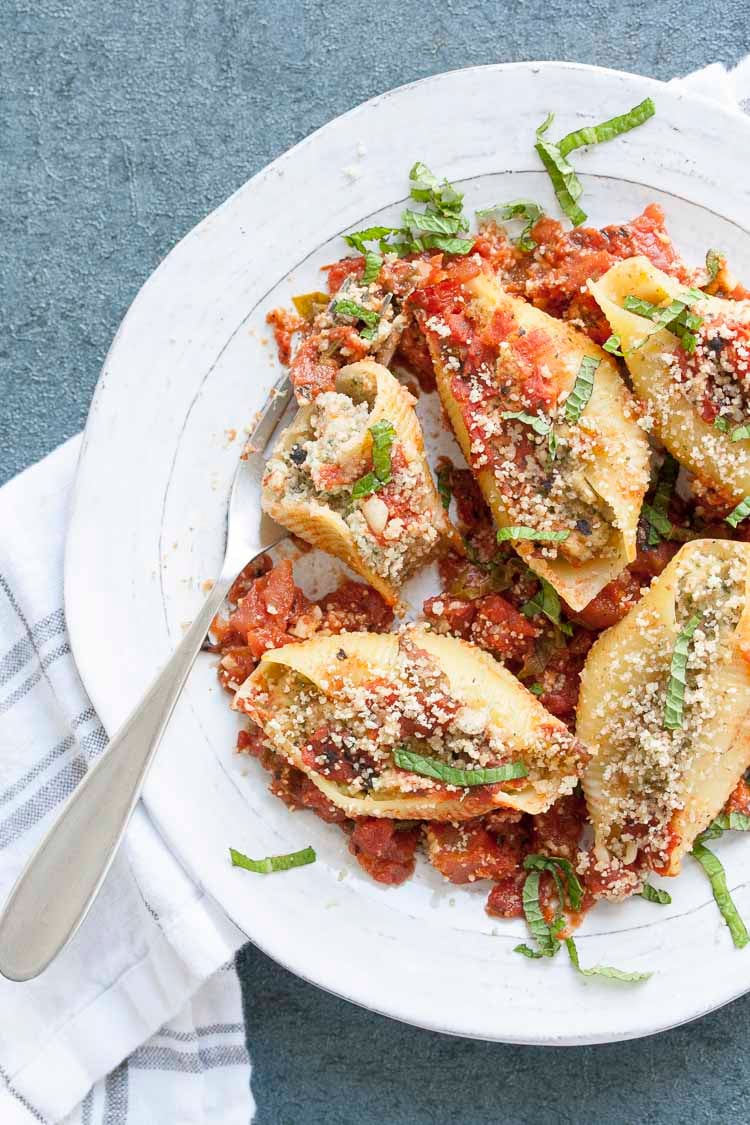 This is a sponsored conversation written by me on behalf of Silk. The opinions and text are all mine.
So where do you get your protein? I'm sure many of you plant-based friends have heard that a time or two...Or ten.  I'm here to give you yet another great answer to that question. Stuffed shells. Really? Yep.
I've stuffed these babies with a low fat (you read that right) version of typical cashew based ricotta. I replaced half of the nuts with cauliflower to make this creamy delicious cauliflower ricotta that will blow your mind. And taste buds too! Get ready to rumble people.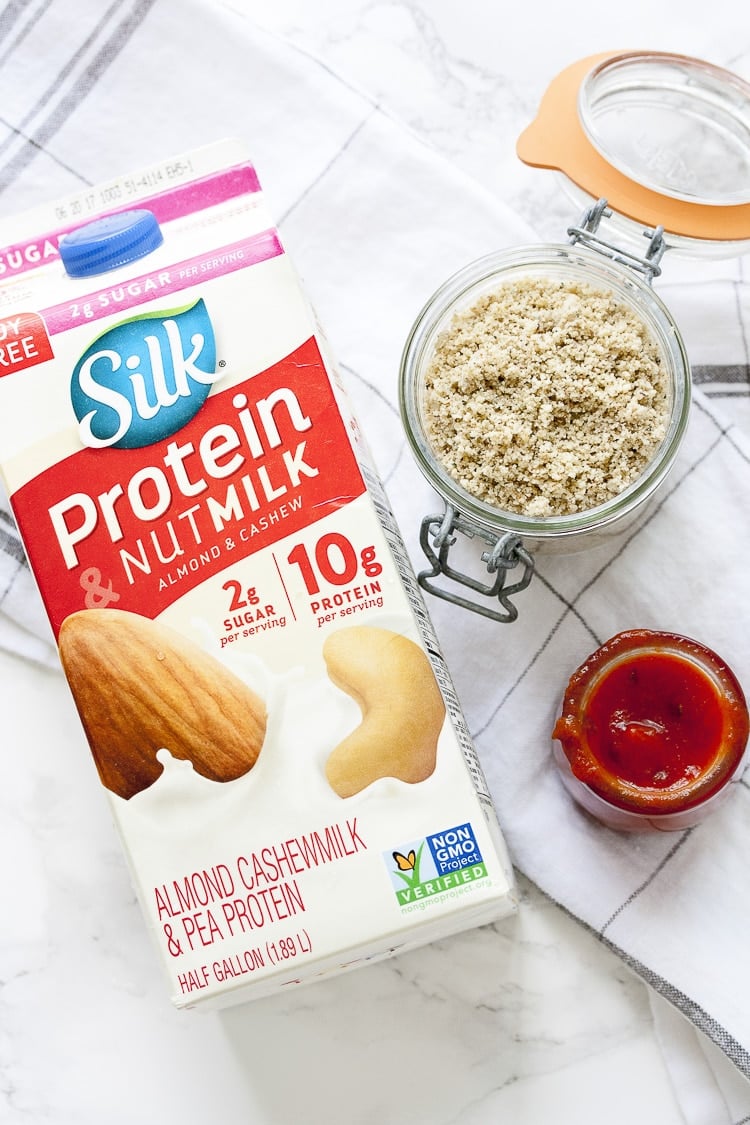 Hiding protein everywhere!
When my next job assignment with the Silk brand was to showcase their NEW Protein Nutmilk, I took it and ran. It's easy to throw that amazing protein boost in a smoothie, pudding, or other sweet treat. But the real question is, can you really use it for other stuff?
I'm proving right here, right now, the answer to that is a big fat yes. My hubby questioned my creativity on this one, but you heard crickets as he shoveled these babies into his mouth.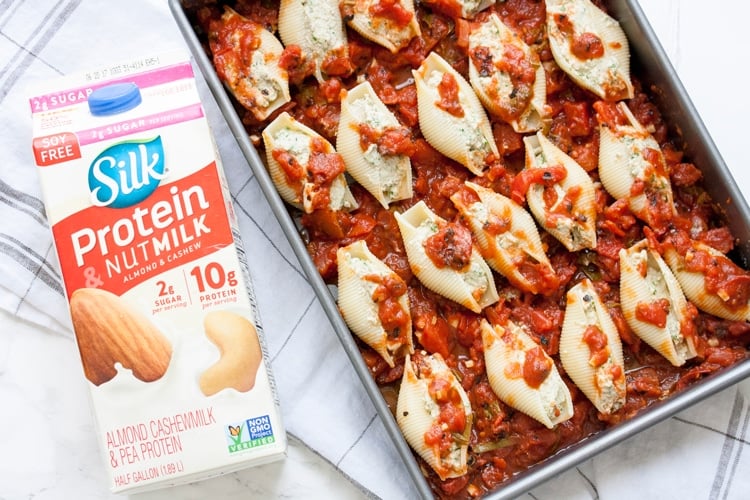 Ingredients are everything
The key to getting that perfect taste using this new protein milk is the right combination of ingredients. The milk comes in two varieties, low sugar and vanilla (that has more sweetness in it). Make sure for savory uses you grab the low sugar. Don't ask me how I learned this lesson the hard way. **hides trash full of failed recipe trial**
Both of them are soy free, use a combo of almond and cashew milk and the protein is from 100% peas. There are 10 grams of plant based protein in every cup! This is a pretty thick milk, so perfect in my opinion to put in recipes for added creaminess.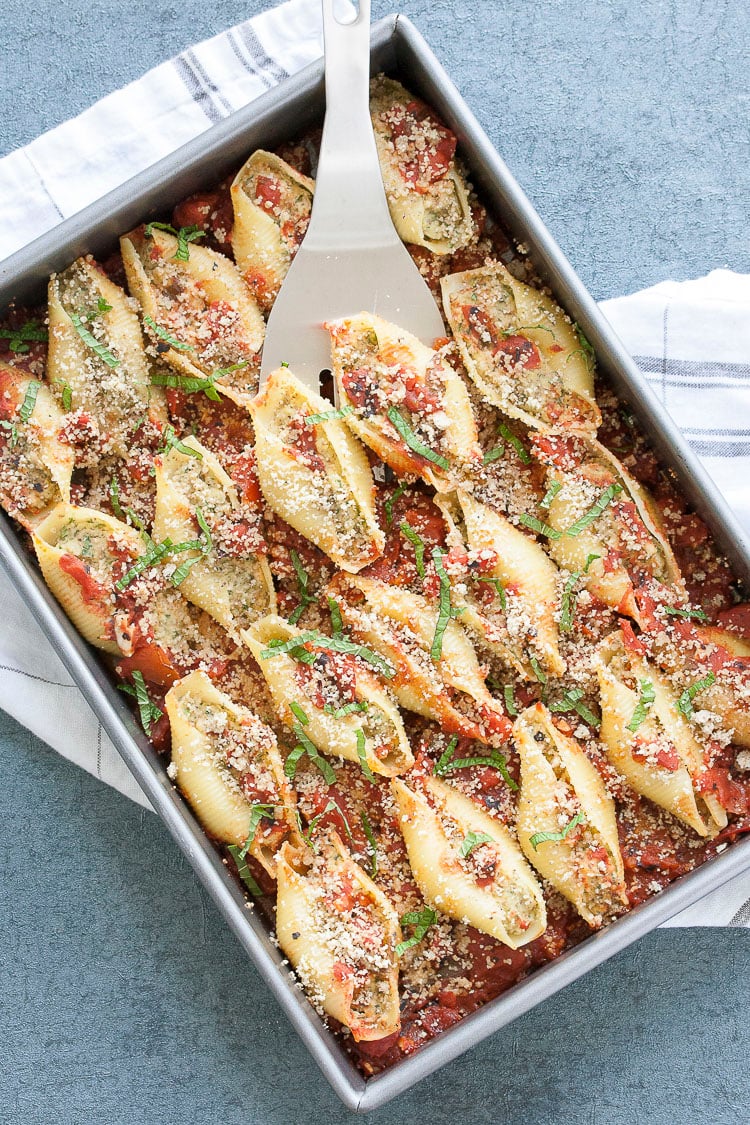 Reasons to snuggle this cauliflower ricotta:
Lower in fat than traditional cashew ricotta.
Added protein.
Stuff it in anything from shells to simply your mouth.
Simple blend and ready recipe.
Added greens, so basically it has everything.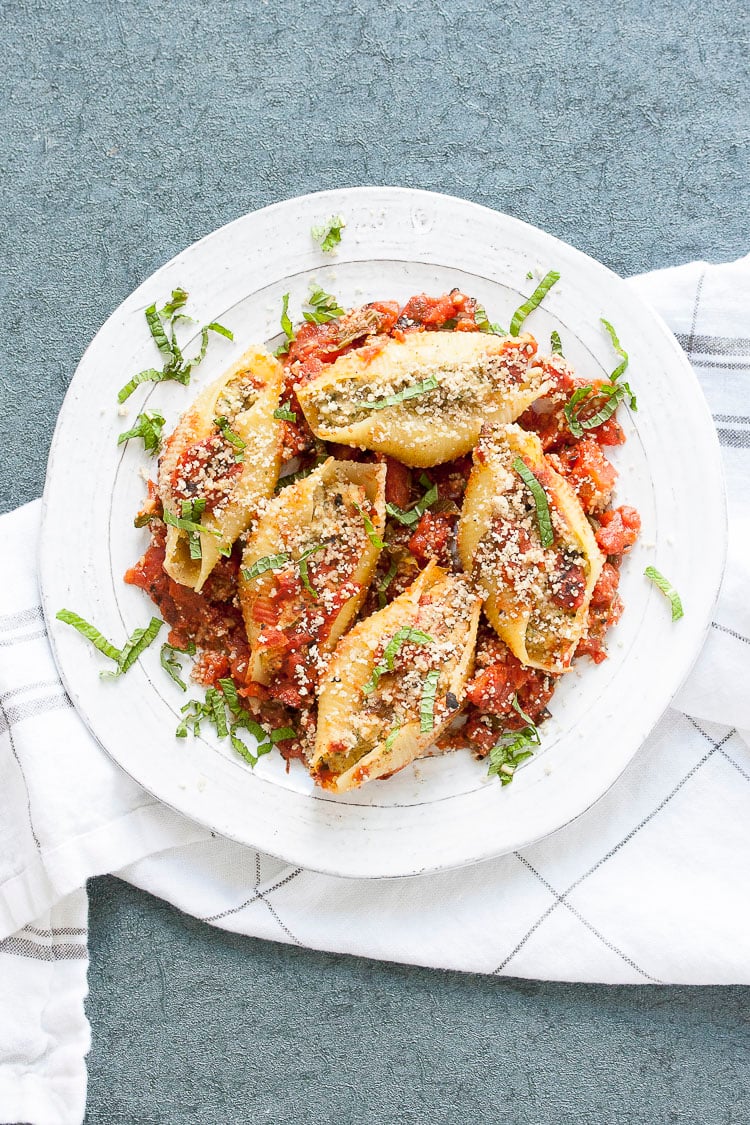 Other high protein recipes you will love: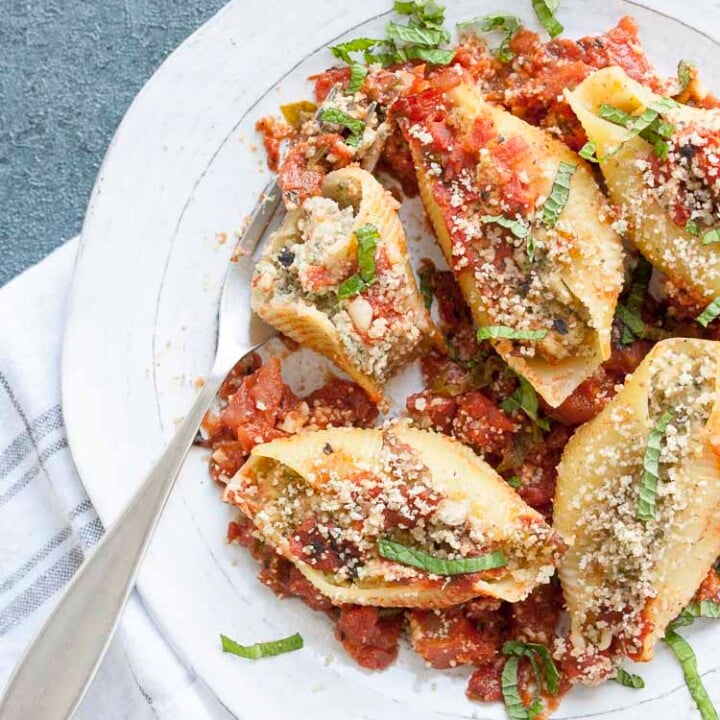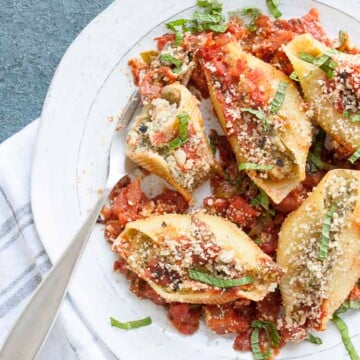 Vegan Stuffed Shells With Cauliflower Ricotta
Protein packed Italian food filled with hidden veggies? Yes please! These vegan stuffed shells with cauliflower ricotta won't let you down.
Ingredients
20 jumbo shells
1 cup raw cauliflower (cut into small enough pieces to fill the cup)
½ cup raw cashews (see note)
½ cup raw almonds (see note)
½ cup unsweetened cashew or almond milk (or use low sugar Silk Protein Nutmilk for a higher protein meal)
½ cup veggie broth , low sodium if needed
4 cloves garlic
½ teaspoon sea salt
¼ teaspoon ground black pepper
1 cup fresh spinach
Roasted Tomato Sauce:
8 cloves garlic , chopped
19 tablespoons veggie broth , low sodium if needed (1 cup plus 3 tablespoons, see note)
56 ounces diced fire roasted tomatoes (two 28 ounce cans)
1 cup fresh basil , chopped
2 teaspoons sea salt (not needed if tomatoes have salt)
Instructions
Preheat oven to 350 F (175 C)

Cook shells to al dente texture, according to package directions. I cooked mine for about 6 minutes.
Make the roasted tomato sauce:
Add the chopped garlic and 2 tablespoons of veggie broth (or you can use a drizzle of oil) and sauté over medium heat for 1-2 minutes until fragrant.

Then add the rest of the ingredients and turn the heat down to medium-low. Allow to simmer while preparing the rest of the meal.
Make almond cashew Parmesan:
Add all ingredients into a food processor and blend until you get a crumbled Parmesan like texture.
make ricotta filling
Blend cauliflower, cashews, almonds, nutmilk, broth, garlic, salt and pepper in a food processor. Keep blending until you get a ricotta like texture.

Add in spinach and pulse to incorporate.
Assemble shells:
When the shells are done, rinse with cold water so they aren't too hot to handle.

Put 1 cup of the tomato sauce in the bottom of a 9 x 12 baking dish.

Stuff each shell with 1 ½ - 2 tablespoons of filling and place side by side in the baking dish.

Drizzle the rest of the tomato sauce on top, then sprinkle with ¼ cup Parmesan.

Bake covered for 25 minutes. Uncover and bake an additional 10 minutes.

Allow to set about 5-10 minutes after baking. Serve while still nice and warm!
Notes
Recipe makes 20 shells, servings size is 4 shells.
Because you are not looking for a perfectly smooth texture, and because you are baking this dish, you do not need to soak your nuts. I did not. However if you want a smoother ricotta you can.
You can also use a drizzle of oil instead of the 2 tablespoons of veggie broth to sauté the garlic.
If you want to use the ricotta as a topping for something, use less liquid to make it thicker and more stable. Start with only a few tablespoons of each liquid and add more to get the texture you like.
Tips to prep ahead:
Make ricotta, tomato sauce and parmesan.
Baby/kid food idea:
Serve ricotta filling with very cooked mushed pasta shells, make sure ricotta is pureed well. Simply cut into small pieces for older baby.
Recipe by Veggies Don't Bite, visit our site for more great plant-based recipes.
Nutrition
Calories: 511kcalCarbohydrates: 55gProtein: 19gFat: 25gSaturated Fat: 3gPolyunsaturated Fat: 1gMonounsaturated Fat: 1gTrans Fat: 1gCholesterol: 1mgSodium: 884mgPotassium: 521mgFiber: 8gSugar: 11gVitamin A: 2117IUVitamin C: 20mgCalcium: 222mgIron: 6mg
Nutrition and metric information should be considered an estimate.
Never miss a recipe!
Sign up here and get a FREE quick and easy meal guide!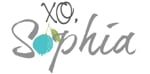 This is a sponsored conversation written by me on behalf of Silk. The opinions and text are all mine.