This vegan ricotta cheese recipe is easy, uses simple ingredients and perfect for everything from lasagna to pizza. The flavor is spot on!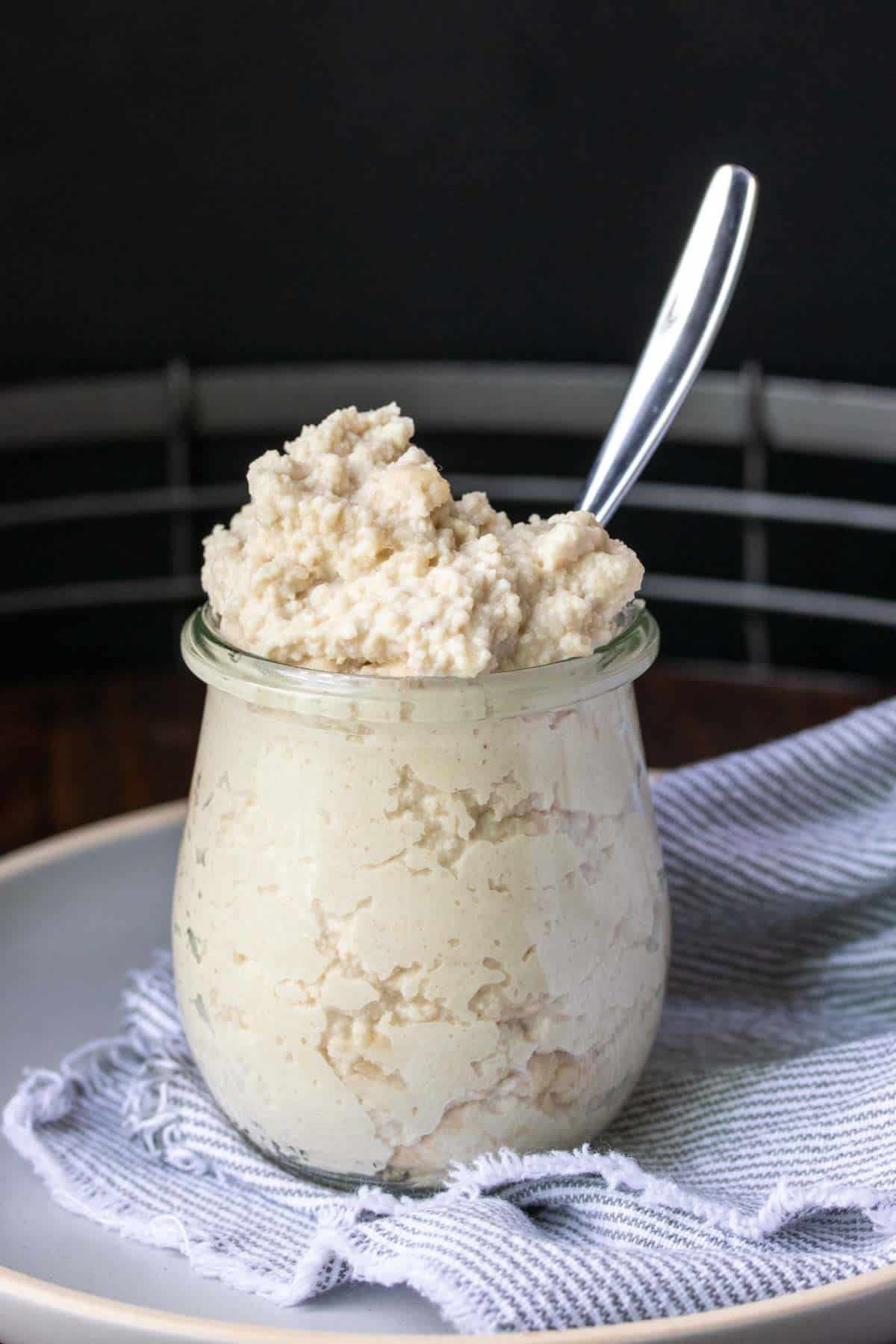 This recipe was originally published on 11/18/13
This is the perfect alternative for any recipe that calls for traditional ricotta cheese. Dairy free ricotta made simply and with whole foods!
Whatever your reason for needing to cut dairy, it's amazing to see what options are out there and what you can do with other ingredients to mimic the flavor and texture of items with dairy.
Ingredients
It really doesn't get more simple than this! Only a few ingredients and some water is all you need to make Vegan Ricotta Cheese:
Distilled white vinegar
Seasonings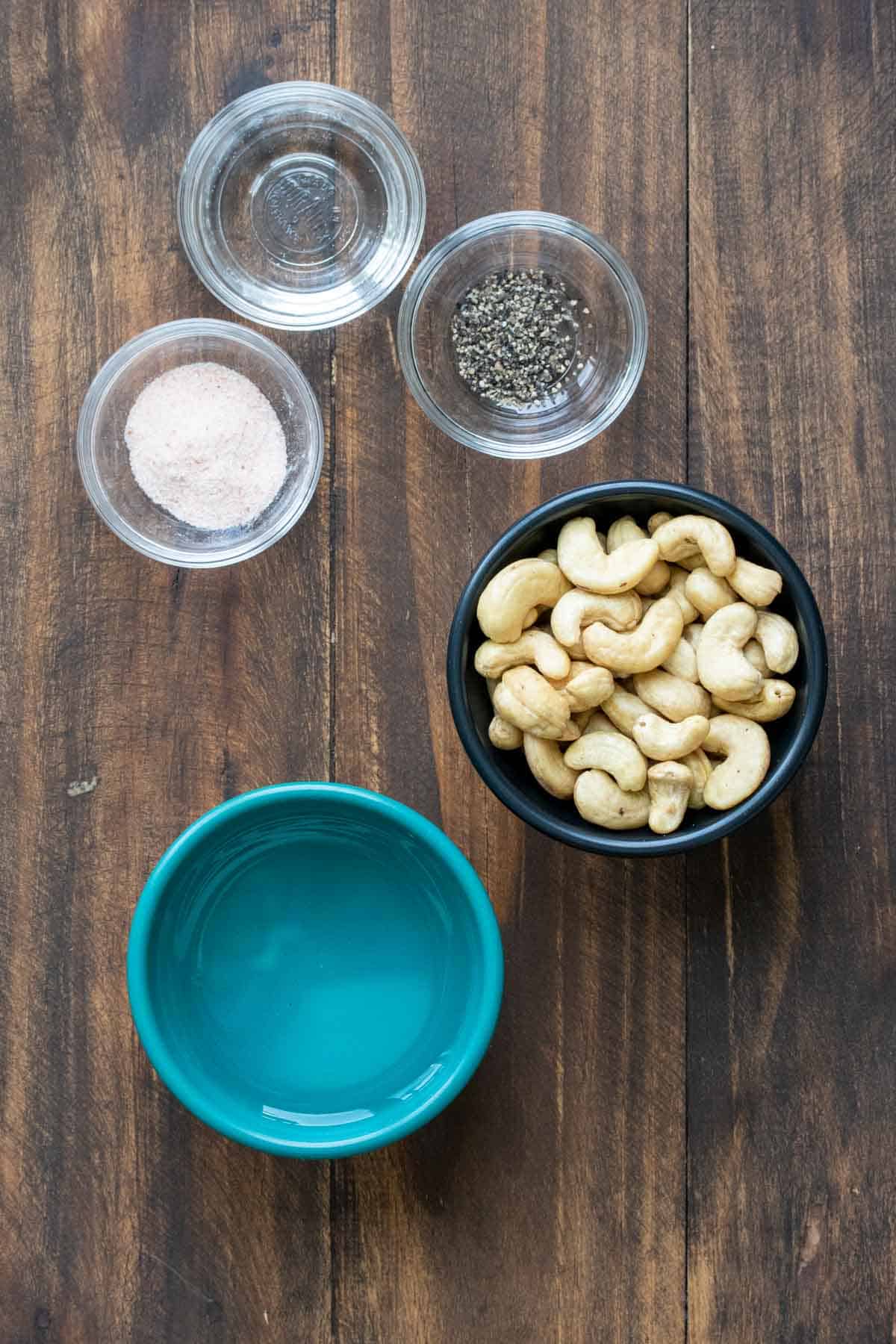 How to Make Vegan Ricotta
Making vegan cashew ricotta cheese is extremely easy. Here's what to do:
Put ingredients into the food processor and blend.
Use in everything!
How to use vegan ricotta
Ricotta cheese is something that we use often. There's so many great recipes that use ricotta, especially for our favorite, lasagna. Here are some tasty vegan recipes to try it in:
Tips and tricks
When making your homemade vegan ricotta, keep these suggestion in mind:
Using a food processor works best for texture because it allows the mixture to blend well with the small amount of liquid you use.
If you don't have a food processor, you can use a blender. However, due to the small amount of liquid you'll have to stop and mix it often to get the ingredients moving.
Soak cashews overnight or boil them for 30 minutes to soften.
You can use raw slivered almonds instead of cashews for a very similar result. Another nut will work as well, but the flavor will be a bit different.
Store in an airtight container in the fridge, for up to 5-7 days.
You can also freeze it! Keep in a freezer safe airtight container for up to 3 months. Defrost before using.
Common Questions
What is vegan ricotta made of?
There are many ways people make vegan ricotta, tofu is one option. But my go to involves either cashews or almonds.

I use an almond based ricotta in these lemon ricotta pancakes, but I love the creaminess of cashews in general. The texture and flavor is pretty spot on, and it mixes well into any recipe.
What is a good substitute for ricotta cheese in lasagna?
Ricotta is an easy thing to substitute when trying to avoid dairy. You can use this vegan ricotta cheese recipe, but there are other things I do sometimes as well.

I like to use a vegan cream sauce instead of ricotta in some recipes, or you could even buy or make a vegan mozzarella. Another option if you're trying to add in more veggies, is to use riced cauliflower.

How do you store vegan ricotta cheese?
Once made, store your cashew ricotta in an airtight container in the fridge. It also freezes well, so you can make it in bulk for easy use when needed.

All you need to do to make sure it freezes well is cover the top of the cashew ricotta with plastic wrap, press does so it provides a seal. Then cover with the container top. This helps prevent freezer burn.
What can you do with vegan ricotta?
So many things! Make pizza, lasagna, ravioli, pasta galore! Or make pancakes, desserts, and even spread on crackers for a snack!
More Vegan Cheesy Recipes
If cheese is life but you're not eating dairy, check out these plant based alternatives: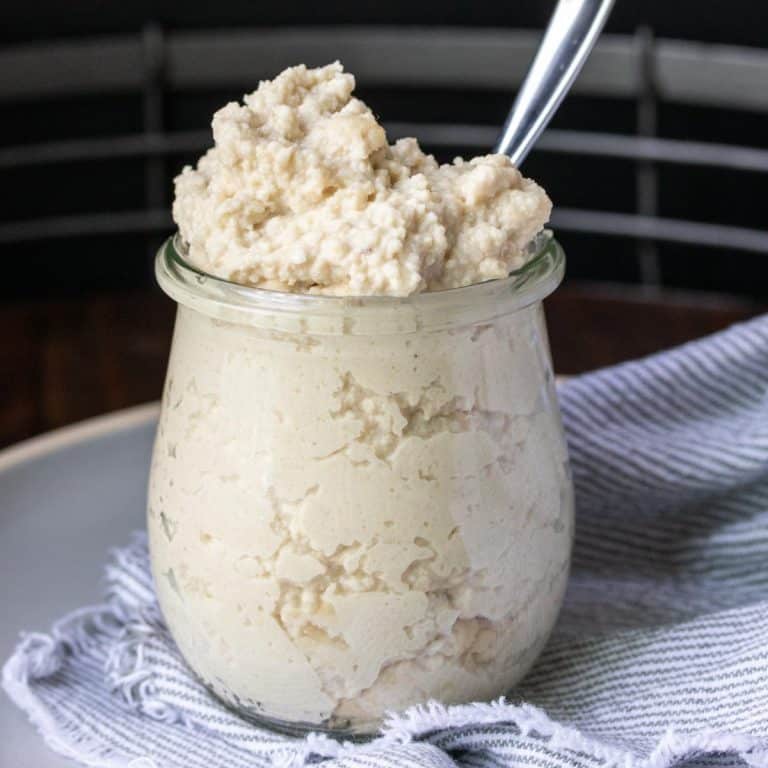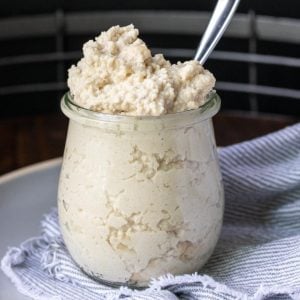 Easy Vegan Cashew Ricotta Recipe
This cashew ricotta recipe is so easy to make using 3 simple ingredients and water. It's vegan and the perfect sub for any recipe!
Ingredients
2 cups raw cashews , soaked overnight (see note)
¼ cup water , add more if you want a more liquid texture
3 tablespoons distilled white vinegar
½ teaspoon sea salt
¼ teaspoon ground black pepper , optional
Instructions
Put all ingredients into a food processor and blend until it resembles a ricotta like texture.

Use as needed for anything and everything!
Notes
Soak cashews overnight or boil them for 30 minutes to soften.
You can use raw slivered almonds instead of cashews for a very similar result. Another nut will work as well, but the flavor will be a bit different.
This recipe makes about 2 cups of ricotta, serving size is ¼ cup.
Recipe by Veggies Don't Bite, visit our site for more great plant-based recipes.
Nutrition
Calories: 180kcalCarbohydrates: 10gProtein: 6gFat: 14gSaturated Fat: 3gSodium: 134mgPotassium: 213mgFiber: 1gSugar: 2gVitamin C: 1mgCalcium: 12mgIron: 2mg
Nutrition and metric information should be considered an estimate.
Never miss a recipe!
Sign up here and get a FREE quick and easy meal guide!